Comfort food meets party food in this yummy pineapple pulled pork recipe. These open-faced pulled pork sliders with pineapple slaw, served on rounds of toasted sweet Hawaiian bread, are perfect for your next party!
This time of year, I CRAVE comfort food. As the temperatures drop, the sky darkens earlier, and the rains fall, I want warm, rich, comforting dishes. Dishes that I can throw into the slow cooker and fill the house with amazing, mouthwatering aromas.
Fall is also indoor potluck season and the start of holiday party season. So why not create comfort food that can easily be enjoyed as party food as well?
That's exactly what I did when creating this pineapple pulled pork recipe. I took a basic slow cooker recipe that I love (slow cooker pulled pork) and turned it into the perfect party appetizer!
Pineapple Pulled Pork Sliders and Slaw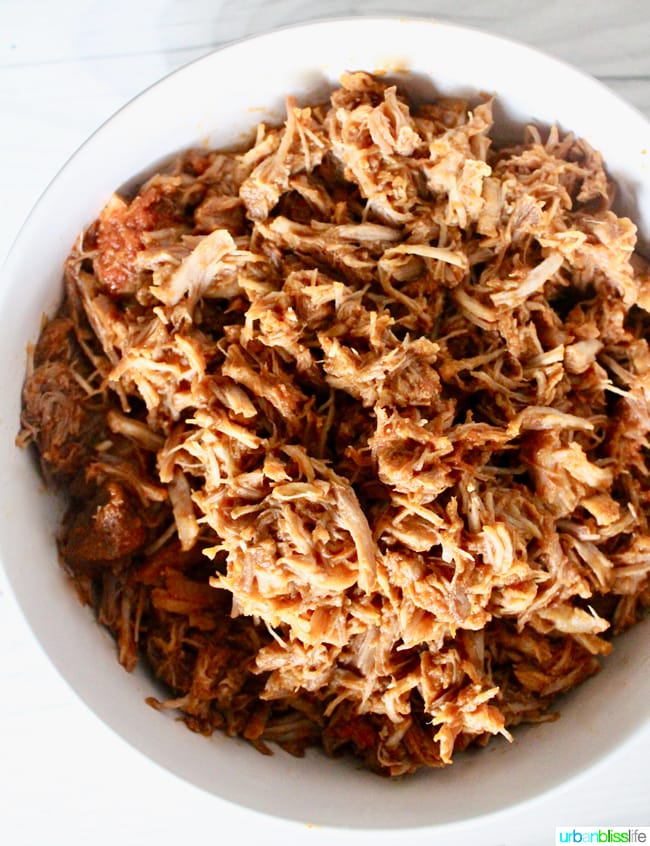 My slow cooker gets a workout during the fall and winter, and slow cooker pulled pork is one of those dishes that makes its way to our family table at least once a month.
It's easy, low maintenance, and tastes super delicious. Plus: it's oh so satisfying, and ultra comforting.
If you're having guests over or you are bringing a dish to a friend's party, it's easy to turn this family fave into a party dish!
Simply make the pulled pork in your slow cooker as usual.
Then, make a slaw to top the pulled pork.
This pineapple slaw recipe is fast and easy as well. And, if you are NOT entertaining guests, you can still use this slaw on regular size pulled pork sandwiches.
I also like that the slaw brings a little but of a summer, island feel to the dish. It pairs beautifully with the flavors of the pulled pork, and with the Hawaiian bread slices.
I actually created this recipe a while back for Franz Bakery. The bread you see here is their Hawaiian Bread. If you can find it in your local grocery store, I highly recommend it for this dish!
If you can't find it locally, you can use any other similar Hawaiian sliced bread. You can also use regular Hawaiian rolls sliced in half.
When the sweet Hawaiian bread, colorful and crunchy pineapple slaw, and rich, tender slow cooker pulled pork come together, it's like magic.
Comfort food meets party food.
Bonus: it makes for a beautiful presentation on your potluck or party food table!
Wine Pairing
It may be your first instinct to pair these pineapple pulled pork sliders with a red wine. However, the tropical flavors of the pineapple and the fresh vegetables in the slaw call for a crisp, dry white wine. The 2016 Ilahe Grüner Veltliner ($17) has light citrus aromas and balanced acidity that complements the bright Hawaiian flavors in these pulled pork sliders with pineapple slaw.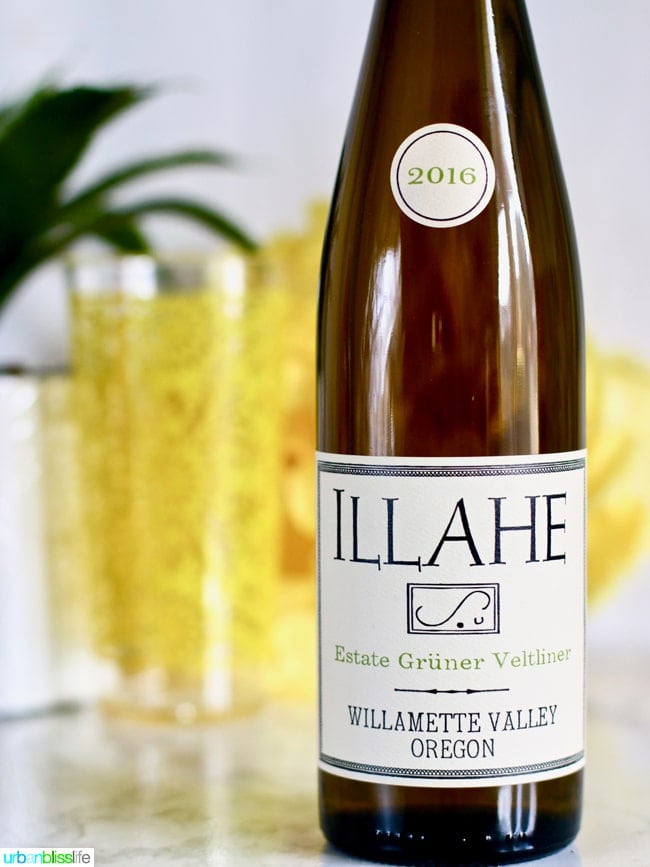 You could also pair this dish with a Sauvignon Blanc, an Albariño, or an Italian Arneis wine.
Pineapple Pulled Pork Sliders and Slaw recipe
Ingredients
10

slices

of Hawaiian sliced bread or other thick

sweet sliced bread
Pulled Pork ingredients:
1

lb

boneless pork shoulder

½

cup

sliced onion

1

clove

minced garlic

3

tablespoons

brown sugar

1

teaspoon

paprika

½

cup

apple cider vinegar

1 6-

oz

can tomato paste

1 6-

oz

can pineapple juice
Pineapple Slaw ingredients:
½

cup

pineapple cut into very small cubes

¼

cup

red cabbage

very thinly sliced

½

cup

cabbage

thinly sliced

1

tablespoon

finely chopped cilantro or parsley

1

tablespoon

lime juice
Instructions
To make the pulled pork:

Salt and pepper the pork on all sides.

In a large bowl, combine remaining pulled pork ingredients (onion through pineapple juice) to make the sauce.

Add pork to a slow cooker, then pour sauce over the pork and mix until pork is fully coated.

Cook in the slow cooker on high for 4 hours.
To make the slaw:
In a large bowl, combine all slaw ingredients and mix well. Refrigerate while the pulled pork cooks.
Assemble the sliders:
Preheat oven to 350 degrees.

Using a round cookie or pastry cutter (about 2- ½" in diameter), cut out two circles from each slice of bread.

Place bread rounds on a baking sheet in one layer and bake until lightly toasted, about 5 minutes. Remove from oven.

Top each baked bread round with about one tablespoon of pulled pork, then top with about one tablespoon of pineapple slaw.

Serve hot or cold.
Notes
Note: you will likely have some pulled pork and pineapple slaw leftover. These can be refrigerated and kept in an airtight container for 2-3 days. Enjoy the leftovers with full slices of Franz Hawaiian bread for delicious lunch sandwiches!