From vibrant salads to high quality steaks to towering desserts, you'll find a commitment to excellence and focused execution at the Michael Jordan Steak House that is indicative of the restaurant's legendary namesake.
Michael Jordan Steak House at Ilani
Las Vegas meets Chicago meets the Pacific Northwest at the third and newest Michael Jordan's Steak House location.
Tucked toward the back of Ilani Resort in Ridgefield, Washington, located about 30 minutes north of Portland, Oregon, this is a steak house worth the drive.
Upscale casual dining
This steak house - founded by and named after basketball legend Michael Jordan - is the most upscale of Ilani Resort's many restaurant offerings. [Read my review of Ilani Resort's Line and Lure Seafood Kitchen and Tap.]
If you're looking for a quality meal for a date night, birthday or anniversary dinner, or just a nice night out with your gambling girlfriends, Michael Jordan's Steak House is a great spot. My husband and I recently enjoyed a lovely date night at Line and Lure and Michael Jordan's Steak House. Here's a look at some of the dishes we tried.
Soups and salads
Since we had appetizers at Line and Lure, my husband and I skipped those. Although, the Oysters on the Half Shell ($19) and the Deviled Short Rib ($18) both sound amazing.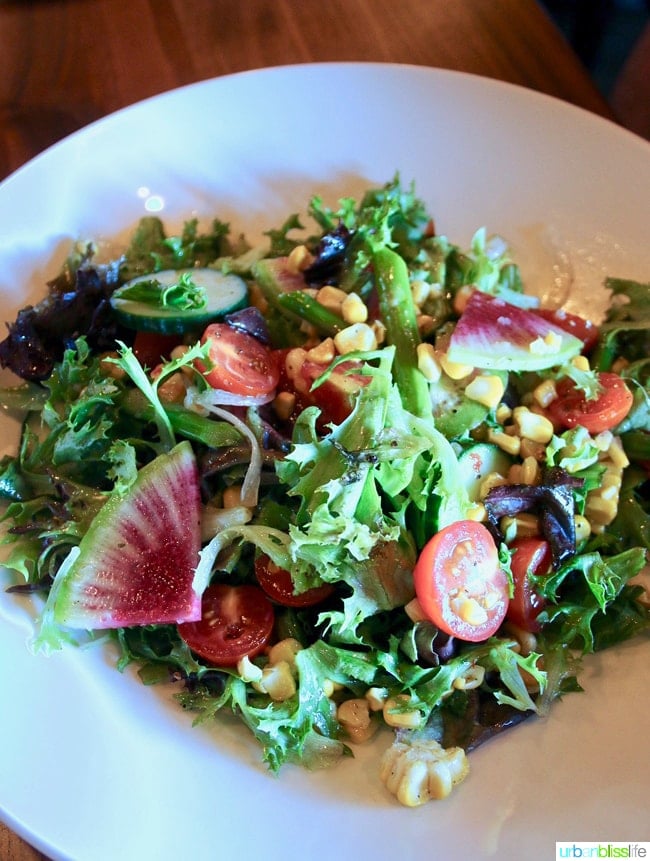 Being a steak house, there are no small portions here - and that includes salads. My husband ordered the Chopped Vegetable Salad ($11). It was a colorful bed of mixed greens topped with corn, tomatoes, cucumbers, watermelon radish, and sweet onions. Loved all of the textures in this vibrant salad.
I ordered and thoroughly enjoyed a large bowl of Lobster Bisque, which was served pour-over style tableside. It was a nice elegant touch that set the stage for the sophisticated, creamy bisque topped with fresh lobster and microgreens.
Entrees
Michael Jordan's Steak House offers a good selection of seafood entrees as well as, of course, steaks.
My Seared Scallops special was served in a cast iron pan, which made a beautiful presentation.
The scallops were nicely seared and served on a bed of black eyed peas, corn, tomatoes, zucchini, and topped with fresh micro greens. I loved the scallops! The only thing that was a miss for me was the black eyed peas; I thought the texture didn't gel well with the veggies and scallops. Otherwise, this was a winning dish.
Steak lovers will surely leave this restaurant happy, but make sure you budget ahead if you plan to partake in one of the steak options. These are high quality steaks expertly prepared and cooked, and are priced accordingly.
Choose from a large variety of steaks - from New York Strip ($52) to Dry Aged Porterhouse ($99) to Bone-In Ribeye ($55).
You can also top your steak with your choice of fancy butters, shrimp scampi, or a trio of sauces.
My husband ordered the Filet Mignon ($48) with Bernaise Butter.
Oh my. This steak. This is how steak should be cooked.
It was tender, juicy, and full of savory peppery flavors. At 10 ounces, the filet mignon was just right for an entree size. And, my husband savored every single bite of this steak.
It could go without saying, but when you dine at Michael Jordan's Steak House - you most definitely must order a steak!
23-layer chocolate cake
Think you're full after those apps, salads, soups, and larger-than-life entrees? Think again! You don't go here to eat lightly, my friends.
No matter how much you have eaten during your meal at Michael Jordan's Steak House, you must - I repeat: you MUST - order the 23-Layer Chocolate Cake ($14)... 23 layers in honor of Michael Jordan's legendary career as #23.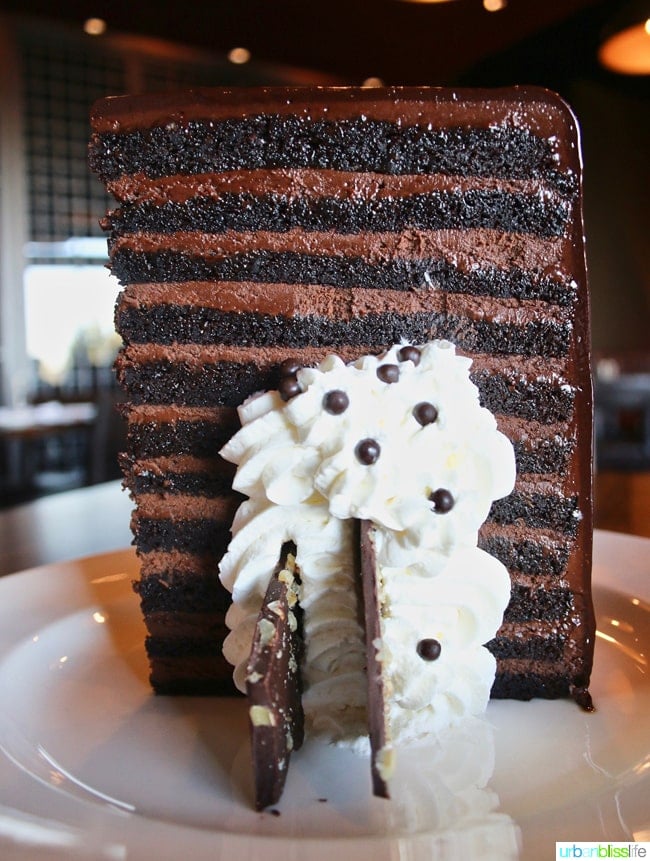 With alternating layers of rich chocolate cake and sweet chocolate frosting, the 23-Layer Cake is cloaked in an outer layer of divine chocolate ganache and served with a side of whipped cream and - what else? - more chocolate.
I love this cake. We took leftovers of it home and my daughter fell in love with this cake. This cake is everything, all that, and more.
Wash this decadent dessert down with a glass of port or a Walla Walla Syrah or Merlot. The wine list at Michael Jordan's Steak House is nicely curated, with a good selection of local and international wines.
Visit
My husband and I really enjoyed our dinner at Michael Jordan's Steak House, and a large part has to do with the incredible service here. The waitstaff are helpful, friendly, and knowledgeable, with a good handle on timing to transition from one course to the next.
We also have to give a big shout out of thanks to Manager Brian Napiany. Brian has worked in the casino business for over a decade and his commitment to quality customer service shows when you watch him interact with all of the diners - and in how his staff mirror his friendly, helpful attitude.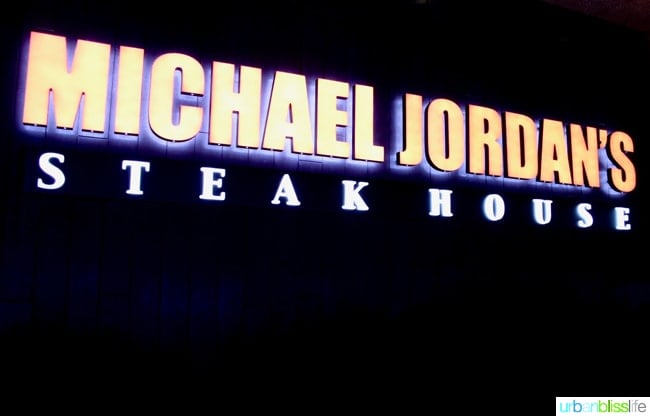 I wouldn't go to Ilani Resort again to gamble (I am not a gambling gal), but I would most definitely return to dine at Michael Jordan's Steak House. The ambience is casual (you can dress up or dress down here) but upscale, and the food and drinks are thoughtful, sophisticated, and delicious.
Ilani Resort
1 Cowlitz Way
Ridgefield, WA 98642
phone: 360.727.2140
HOURS
Sunday - Thursday, 11:00am - 11:00pm
Friday & Saturday, 11:00am - 1:00am
Weekend Brunch, 11:00am - 4:00pm
For more information and to make reservations, visit the Michael Jordan's Steak House website. There is also the flagship location in Chicago, and another location in Connecticut.
We were treated to a complimentary meal courtesy of Michael Jordan's Steak House. As always, all opinions and photos are my own. If you dine here, you may see me sitting in the corner proudly chowing down on a slice of 23 Layer Cake.