This shrimp pesto pizza is flavorful and satisfying. Perfect way to jazz up pizza night!
Let's talk pizza. Do you do Friday night pizza nights?
According to Packaged Facts, each man, woman and child in America eats an average of 46 slices (23 pounds) of pizza a year. Per person. That's a lot of pizza!
But, I'm pretty sure my family eats about that much each year. Because I'm dairy-free, I usually have to order just a salad and garlic rolls when we get pizza delivered. But when we make pizza from scratch at home, I get to make delicious pizza that I can eat and enjoy!
Jump to:
🍕 Homemade pizza dough and spinach pesto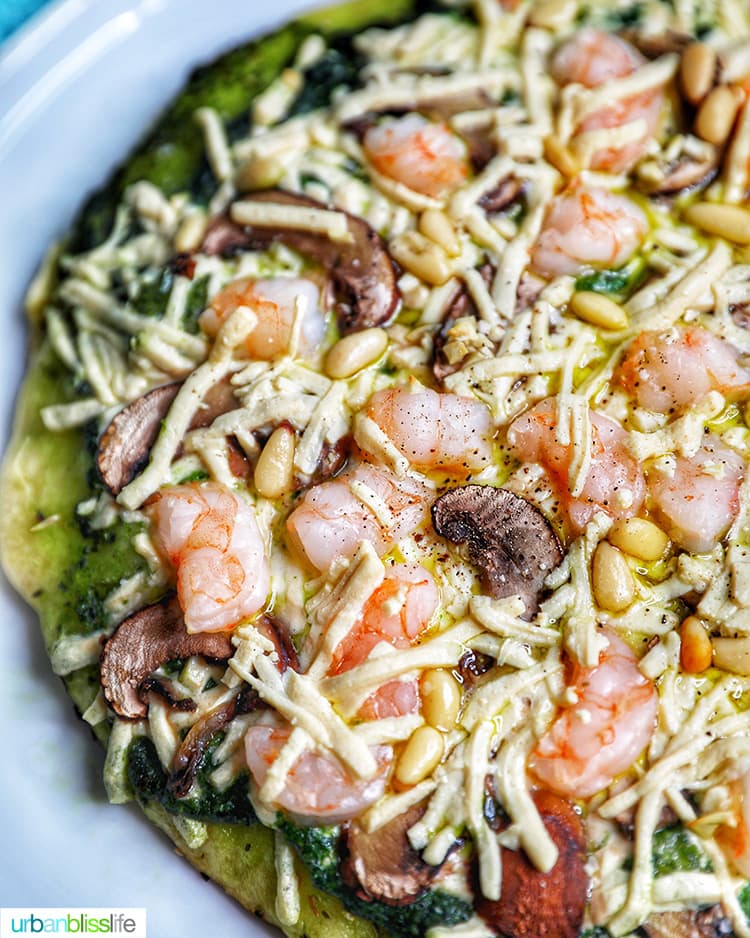 Earlier this week, I shared two super easy recipes:
That's what I use as the base for this Shrimp Pesto pizza.
However, if you are totally short on time but still want to make this pizza, you can use store-bought pizza crust and store-bought, jarred pesto sauce. No judgment!
But, if you do have a little extra time, want to save money, and want a healthier pizza - try to make the dough and pesto from scratch when you can. :)
🍤 Shrimp pesto pizza
Because I'm dairy-free, I use dairy-free mozzarella-style shreds on my pizza. If you don't have any dairy issues, then go for full mozzarella.
This pizza is a nice blend of land and sea: I love how the earthiness of the mushrooms balances the brininess of the shrimp. And pesto goes so well with both!
While I do not put pine nuts in my pesto sauce, I did opt to sprinkle some on top of the pizza. I like the little added crunch it gives.
This is one of my regular pizzas that I make at home. It's great for leftovers the next day, too! I hope you enjoy it as much as I do!
More pizza recipes
Did you make this recipe? Don't forget to leave a 5-Star 🌟🌟🌟🌟🌟 rating in the recipe card, and if you really loved it, please leave a comment further down on the page. Thank you!
PIN IT: