Visiting Greece? Consider spending a day visiting the ancient village of Olympos on Karpathos Island.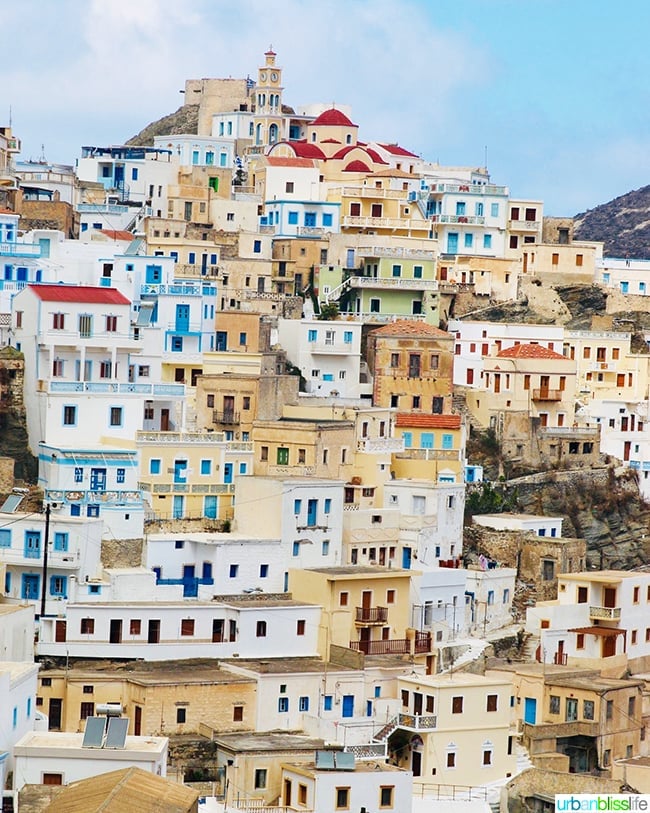 During my time on the island of Karpathos, we spent a day visiting the small, remote village of Olympos.
The road to Olympos from the port is a windy one. It weaves up and down steep hills and then the village comes into view: classic Greek white houses with bright blue trim, colorful rooftops, and jagged rock peek out from the mountainside.
It is a stunning village from a distance, filled with even more beauty and tradition once you explore the village on foot.
Jump to:
✈️ Getting to Olympos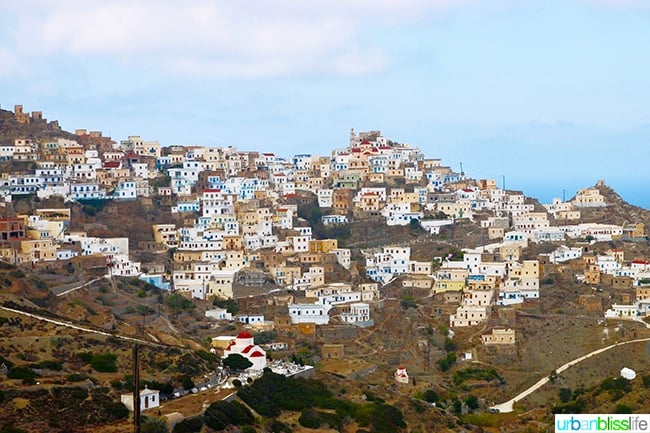 Until recently, the only way to reach the village of Olympos was by boat. There is one road that now connects Olympos to the Karpathos capital of Pigadia, which is about 36 miles (58 km) away.
Still, I recommend taking a boat from Pigadia to Olympos. You'll dock in the port town of Diafani, and then take a car up to Olympos. For this reason, it's important to book a rental car ahead of time, or book one of the many tours of the village.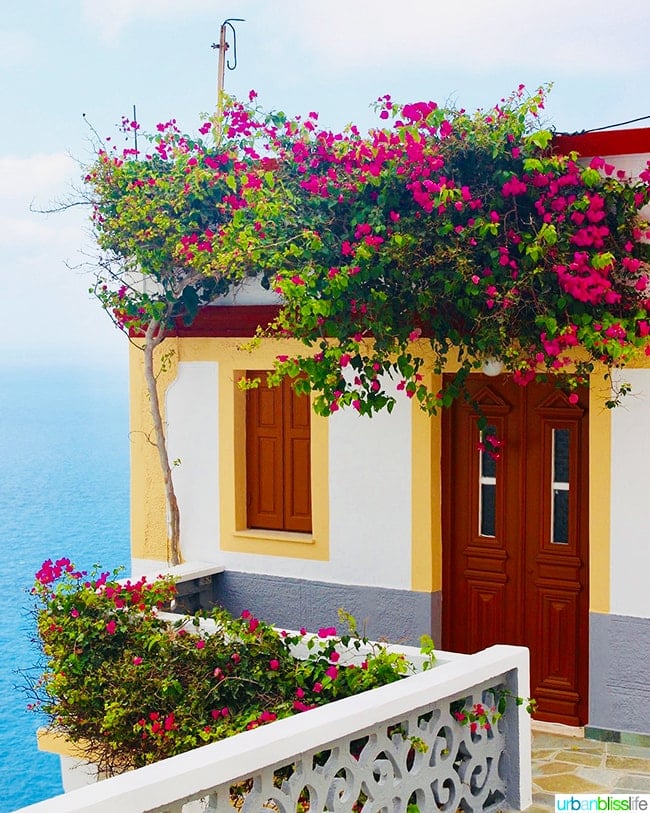 Our group had arranged a tour of Olympos with Ecotourism Karpathos. Our guide, Evangelia, is a native of Olympos whose family has lived in the village for generations.
Before reaching the main village, we made a quick stop at the ancient agriculture village of Avlona.
Avlona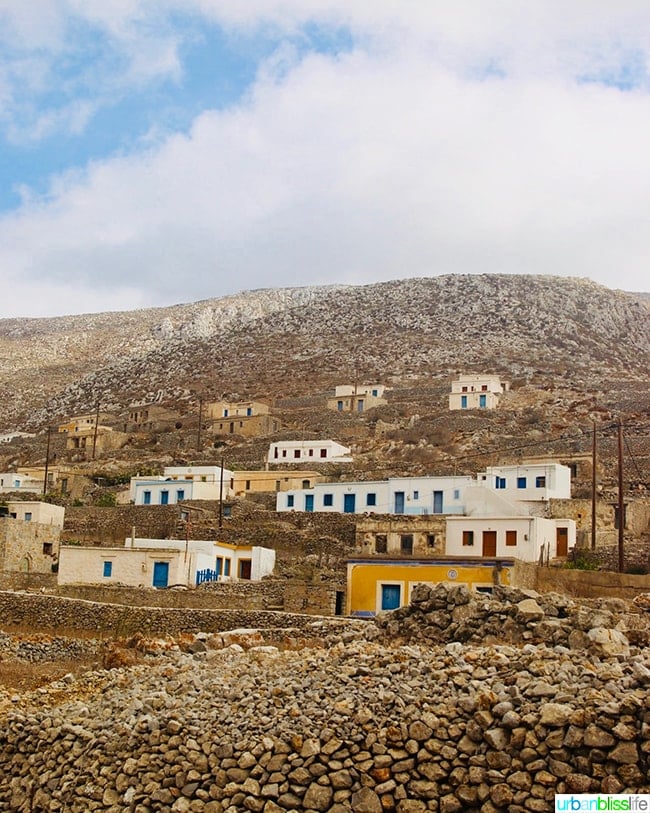 Nobody actually lives in the small village of Avlona. This settlement is part of the community of Olympos, where the residents of Olympos own property. Here, they grow their wine, vegetables, fruit, bread, and more for their own families and to sell to others on the island.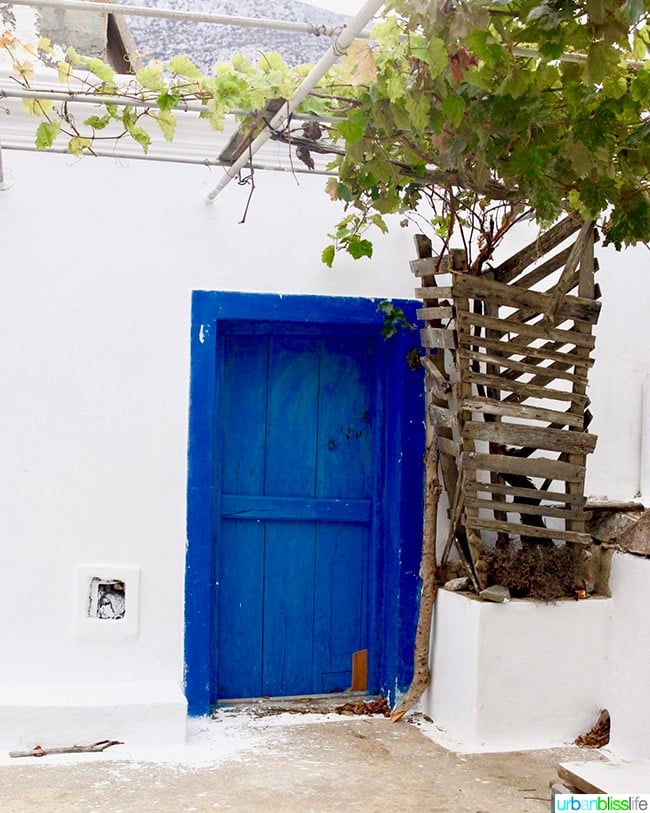 The tiny village is like a magical step back in time. I was amazed that this dry, seemingly barren section of land is actually a fertile farming area, but the residents successfully employ dry farming methods that have been passed down for centuries.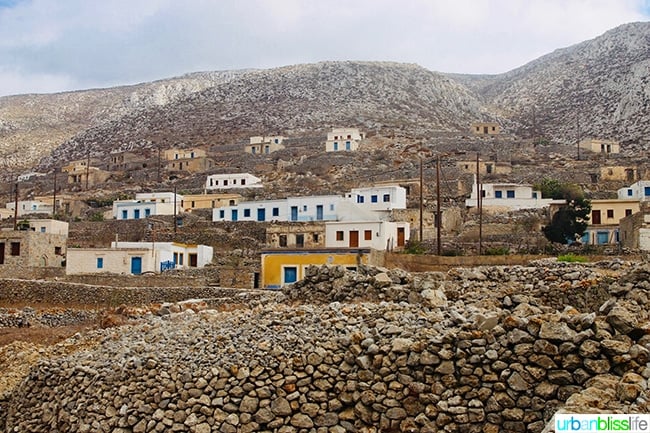 Olympos village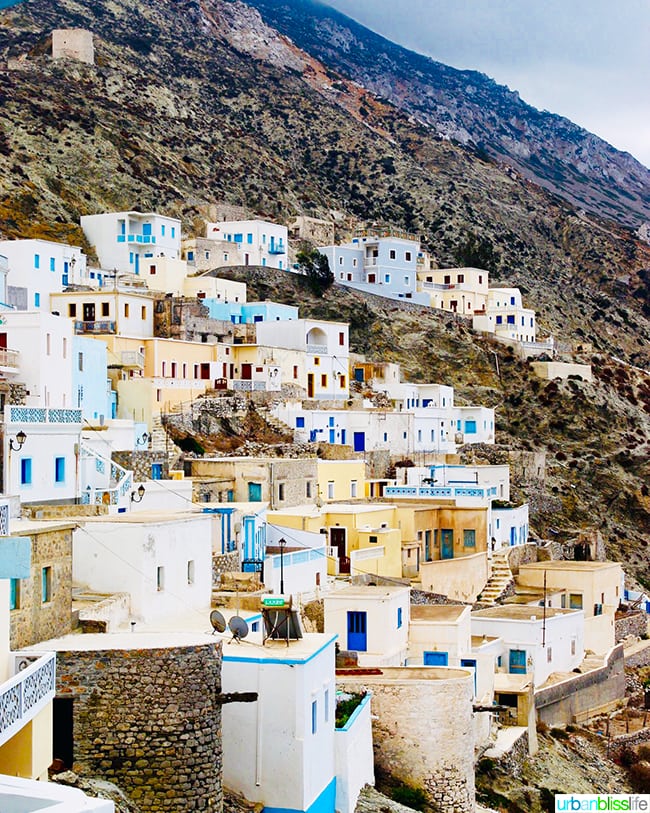 From Avlona, we drove up and around the mountain just a few miles to reach Olympos. If you're driving, you'll want to park your car at the edge of the main village, and then walk the rest of the way.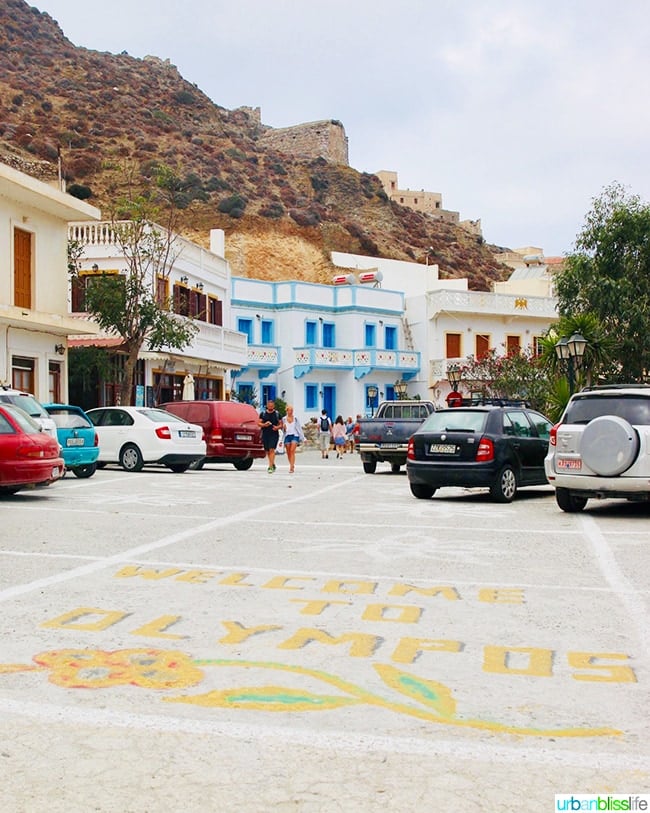 What makes Olympos stand out from other villages on Karpathos island is not just its stunning beauty and its remote location. Olympos is known for the fact that many of the women in the village still wear traditional handmade costumes that women have been wearing here for generations.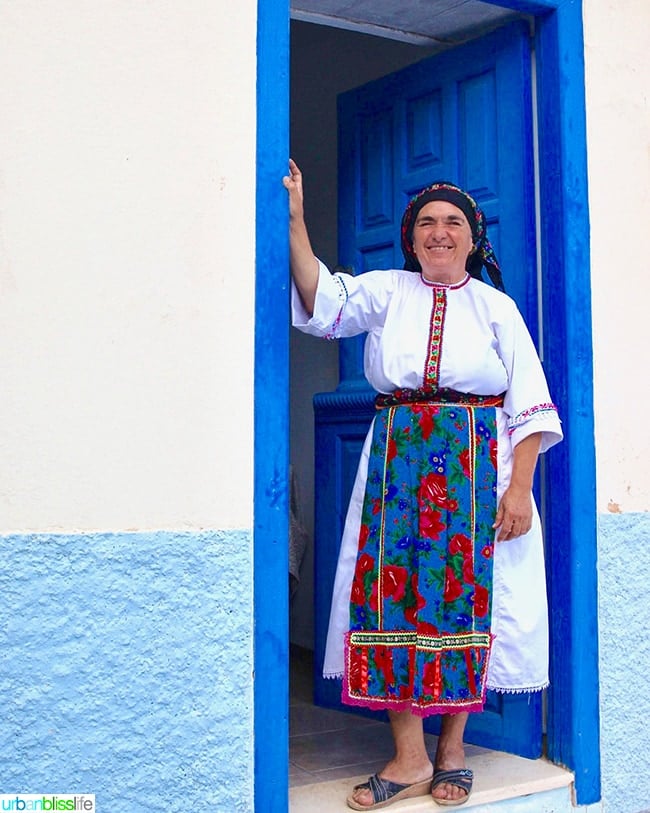 Their colorful, ornate clothing is a beautiful sight to behold. Each item takes time to sew by hand. Pictured above is Evangelia's mother, Sophia, in traditional Olympos women's clothing.
🛍 Shopping & eating in Olympos Village
The main village consists of cobblestone streets connecting a maze of cafes, restaurants, shops, and other small businesses. You'll find both artisan, handmade products made by locals as well as some stores that sell typical tourist souvenirs not made on Karpathos island.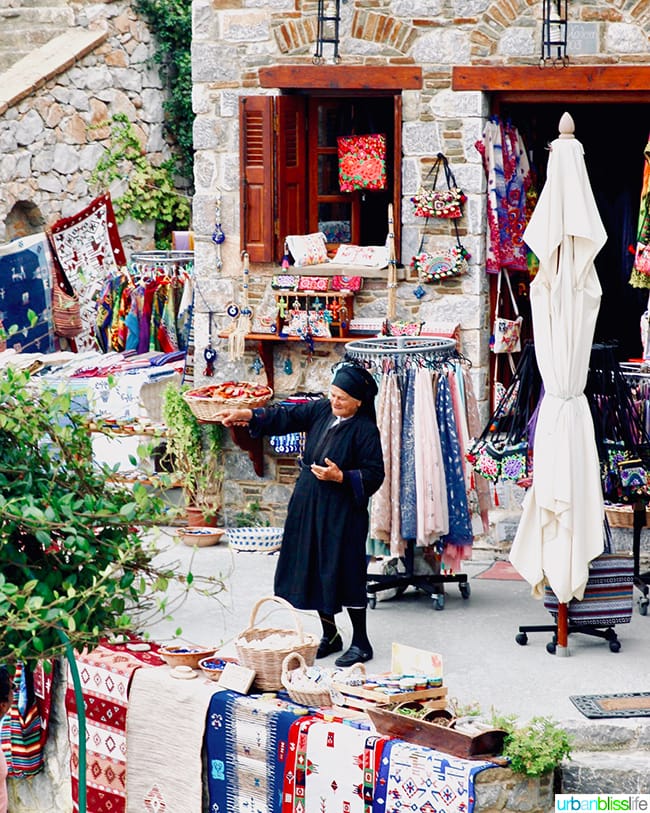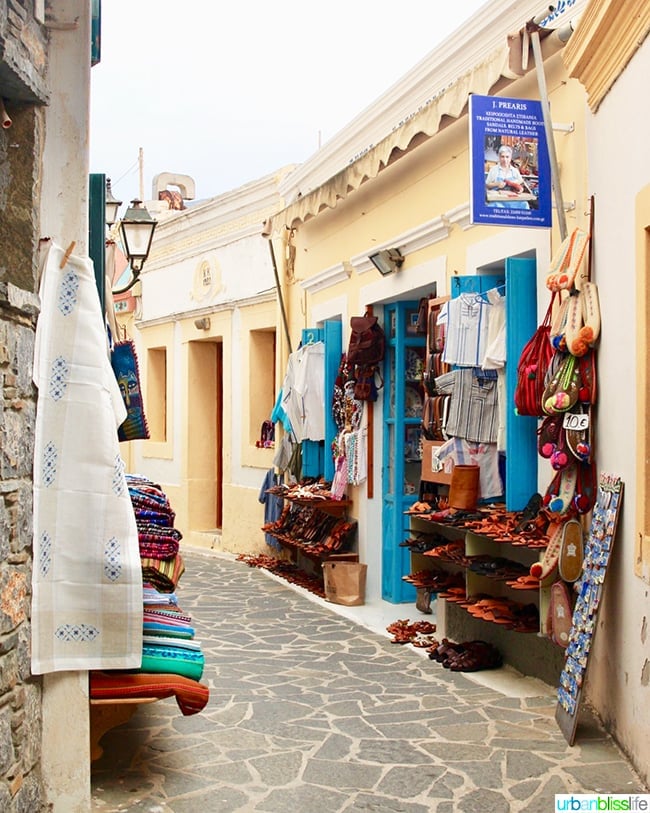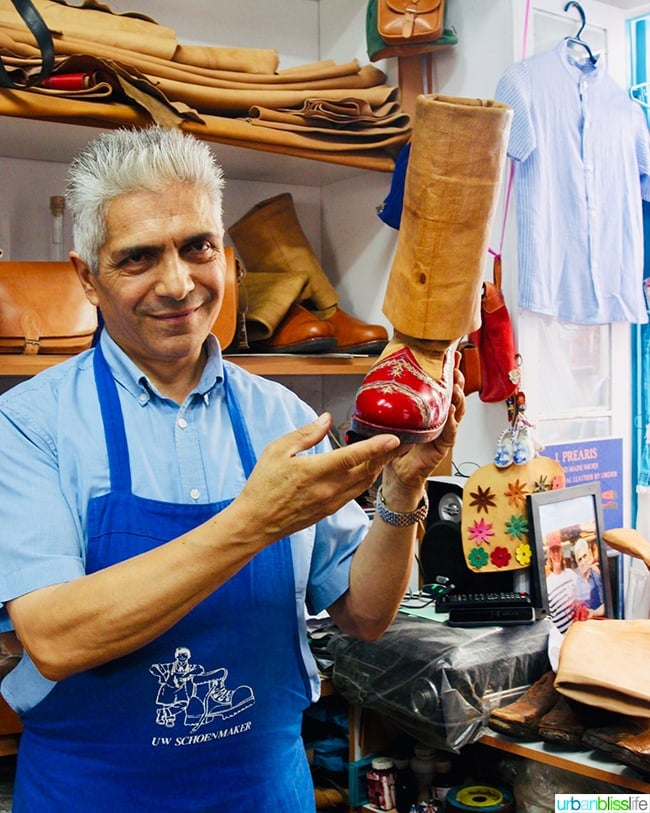 One of my favorite shops is J. Prearis Handmade Shoes. John Prearis is usually there, working away, cobbling leather shoes by hand. The craftsmanship of the sandals, boots, and bags you will find at his shop is high quality. I purchased a pair of gold leather sandals that I know will withstand the test of time (and look cute too!).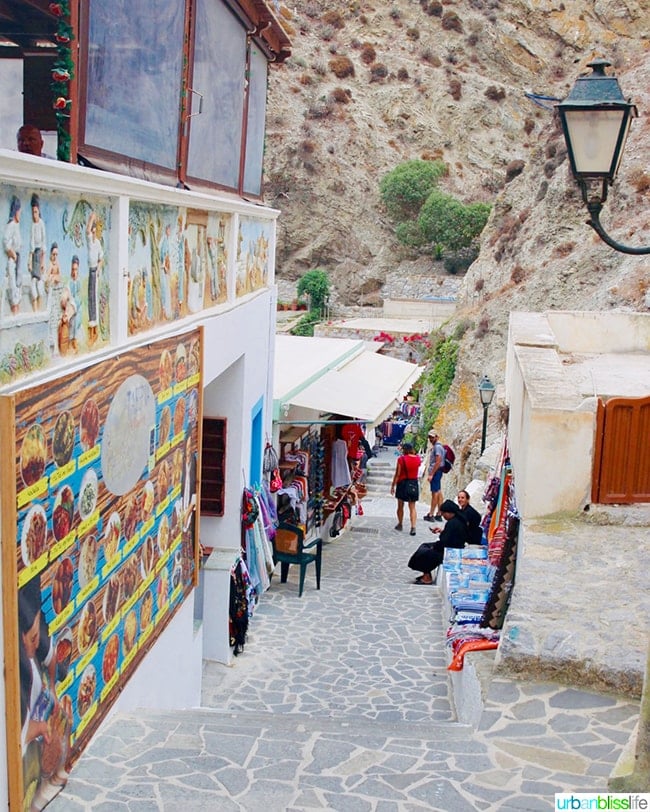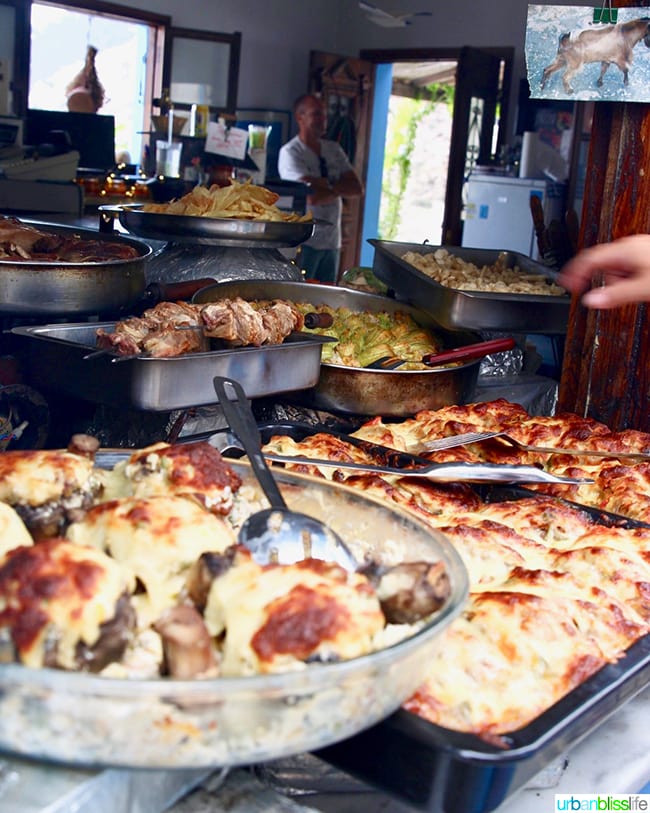 There are plenty of cafes as well as stands along the streets where you can purchase food on-the-go. Classic Greek souvlaki, moussaka, dolmas and more are made fresh here, and the scents waft through the air, enticing you as you wander through the village.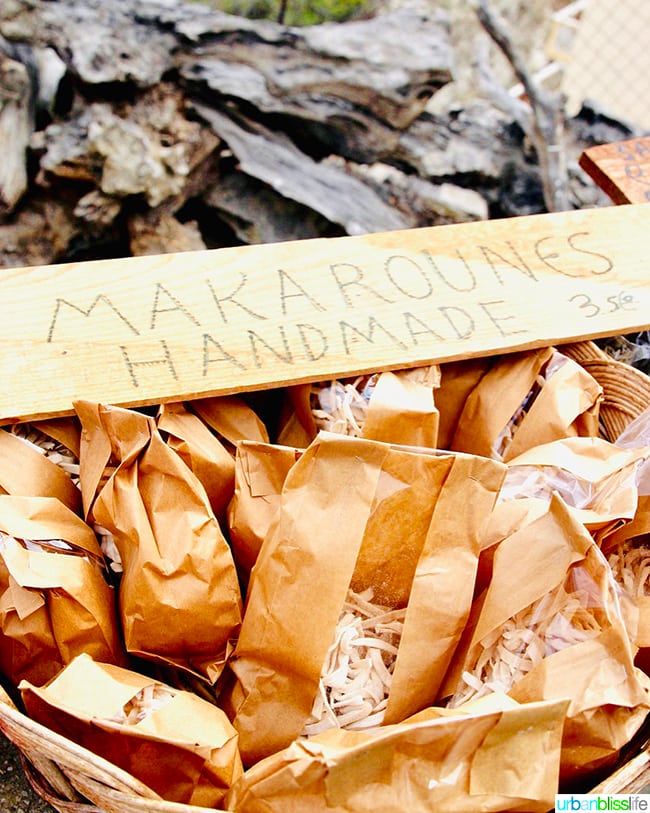 You can also find Greek spices as well as traditional Karpathos Makarounes - a handmade pasta that I'll be sharing more about in my next post - to purchase.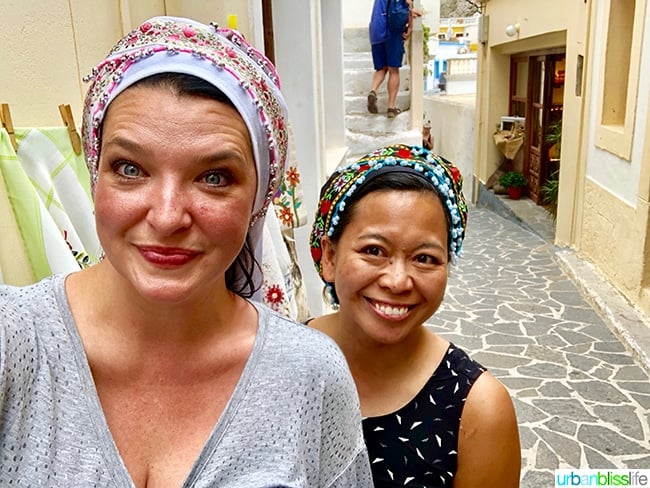 There are also shops that sell the traditional costumes the women wear, including the head scarves, which we were kindly outfitted with and purchased as souvenirs of our sweet time in Olympos.
The soul of Olympos is the heart of its people: the approximately 400 residents whose families have called this beautiful village home for generations. Like many small villages around the world, there is a quiet tug of war between longstanding tradition and modern progress; between the demands of daily life and those of tourism in a remote village.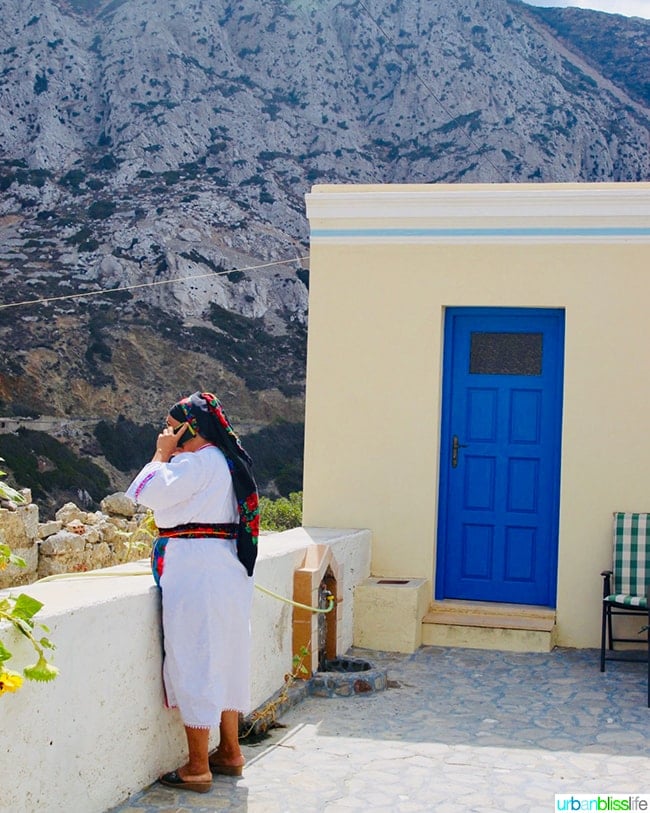 In the midst of it all, food is often the peacemaker between the traditional and the modern world. I found this to be true here on Olympos as well. At her family's home in Olympos, Evangelia and her mother Sophia treated our group to a Makarounes cooking class and subsequent feast of traditional Karpathian foods. It was an incredible experience that you, too, can enjoy if you visit Olympos.
I'll be sharing more about that in my next blog post about Olympos and Karpathos Island!
More Greece articles
I visited Olympos as part of a #VisitKarpathos press trip. Our tour of Olympos was complimentary thanks to Karpathos Travel. Many thanks to Evangelia of Ecotourism Karpathos for the incredible tour! As always, all opinions and photos are my own.