Jump to Recipe
If you're looking for an elegant, delicious dinner that can be made in just 30 minutes, try my Pan Seared Scallops and Pasta with Creamy Lemon Garlic Sauce. It's dairy-free and will impress your family and dinner guests!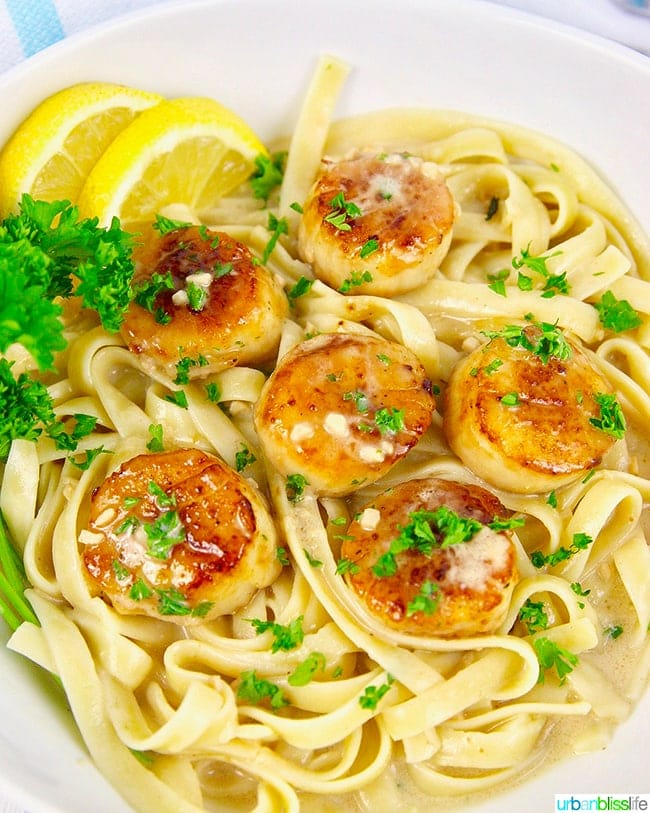 Seared Scallops and Pasta
Seafood and pasta are arguably the two best foods in the whole world. They are definitely two of my favorite foods in the world. Such an incredible pairing of textures and flavor possibilities with seafood and pasta!
Before I had to go mostly dairy-free, I would gorge on creamy seafood pasta almost any time it was offered at a restaurant. I couldn't resist! And when I go out to eat, I love to order food that I wouldn't normally make at home. For a long time, that meant scallops.
Cooking with Scallops
If you're like me, you may shy away from cooking scallops at home because of the price tag. Yes, they do tend to cost more than shrimp and crab, but they're not as expensive as lobster. And for a fancy schmancy meal, you're actually saving a LOT of money compared to if you ordered this at a restaurant!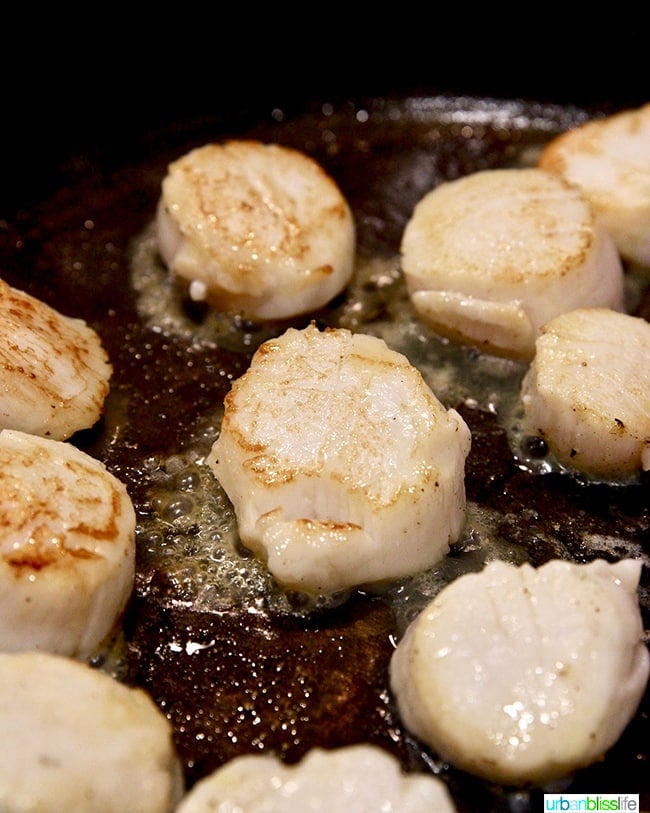 And, when you see how EASY they are to cook up at home, you won't believe you've waited this long to make your own pan seared scallops dinner! This scallops and pasta dish is done in less than 30 minutes. Fancy AND fast!
Seared scallops pasta recipes are awesome not only because they taste AMAZING, but also because they take little time to prep and cook quickly.
Making Pan Seared Scallops and Pasta
I almost always use linguine or fettuccine, but you could almost use any pasta shape you like with this dish. The first thing I do is start the water for the pasta and get that cooking.
To pan sear scallops, the first trick is to make sure you dry them completely on paper towels before searing. This will ensure they cook evenly and it will give you that nice golden crust on the outside.
Then simply heat a pan (I love my Finex cookware cast iron skillets) with olive oil. Add scallops, and sear for 3-5 minutes on each side; set aside on a plate to rest while you make the sauce.
Add your fave vegan butter to the pan and scrape up any brown bits. Cook the garlic for about a minute, then add the coconut milk.
Now, I almost always use Thai Kitchen's Organic full-fat coconut milk in my dairy-free pasta sauces. However, you could substitute with almond milk. If you CAN have dairy, then by all means, please do use heavy cream instead.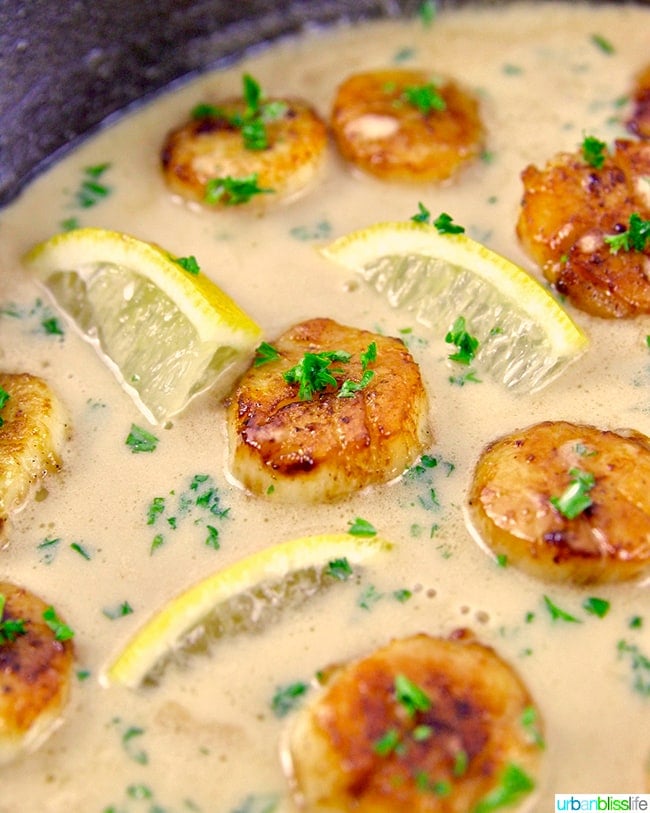 Return the scallops to the pan, add lemon juice, garnish with parsley, stir in the cooked pasta, and voila! You have a gorgeous, elegant, super fancy dinner that took 30 minutes or less and didn't even have to get dressed up to go out.
Wine Pairings for Scallops
As you might expect, a bright, lively white wine pairs beautifully with any seafood pasta dinner. With this pan seared scallops recipe, I'd enjoy it with a light, fruity Riesling, to bring out the briny scallops and creamy sauce. You could even go bold with a Müller-Thurgau, a white wine that will stand up to heartier pasta dishes like this one.
My Picks:
Seared Scallops and Pasta with Creamy Lemon Garlic Sauce Recipe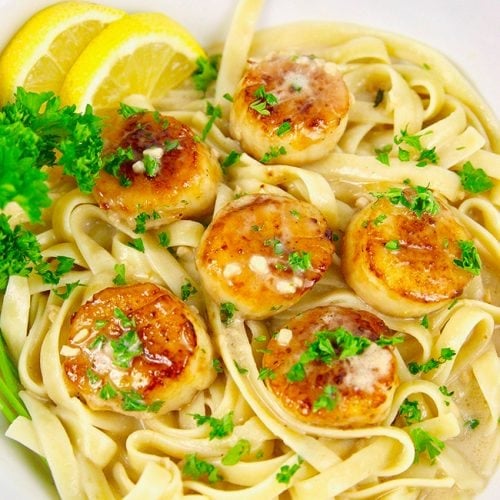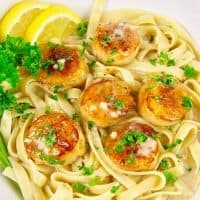 Seared Scallops and Pasta with Creamy Lemon Garlic Sauce
This yummy seared scallops pasta recipe is creamy and elegant, dairy-free, and can be made in just 30 minutes!
PRINT
PIN
RATE
Instructions
Heat olive oil in a large skillet over medium-high heat. Once the oil starts sizzling a little, add the scallops in a single layer.

Season scallops with salt and pepper on each side and sear for 3-5 minutes per side. When scallops have a golden brown crust and are cooked, remove from heat and set aside on a plate.

Bring the heat down to low-medium. Add the vegan butter and scrape brown bits off the bottom of the pan. Add the garlic and, stirring constantly, sauté until softened, just for 1-2 minutes.

Add wine and cook for about 2 minutes. Bring heat up to medium, add the coconut milk, and bring to a low boil and simmer until the sauce has thickened slightly, about 3-5 minutes.

Add lemon juice, and stir. Return scallops to the pan, turn off the heat, and sprinkle with parsley.

Serve with a side of pasta.
PIN IT:
More Delicious Dinner Recipes: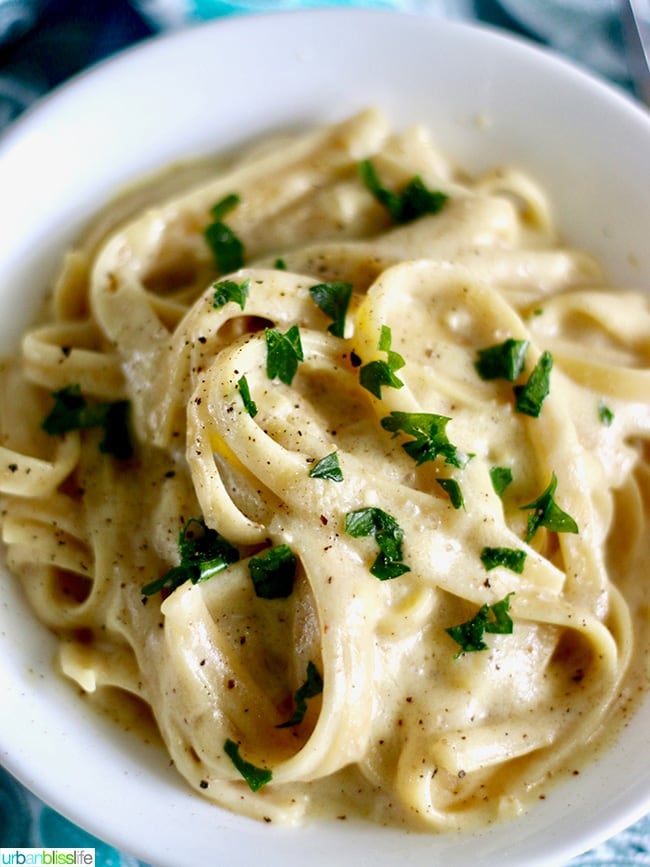 Vegan Creamy Fettuccine Alfredo