Want to learn how to pack for a week in a carry on? It's easy to do with some planning! Here I share my top tips for smart packing, no matter where your destination.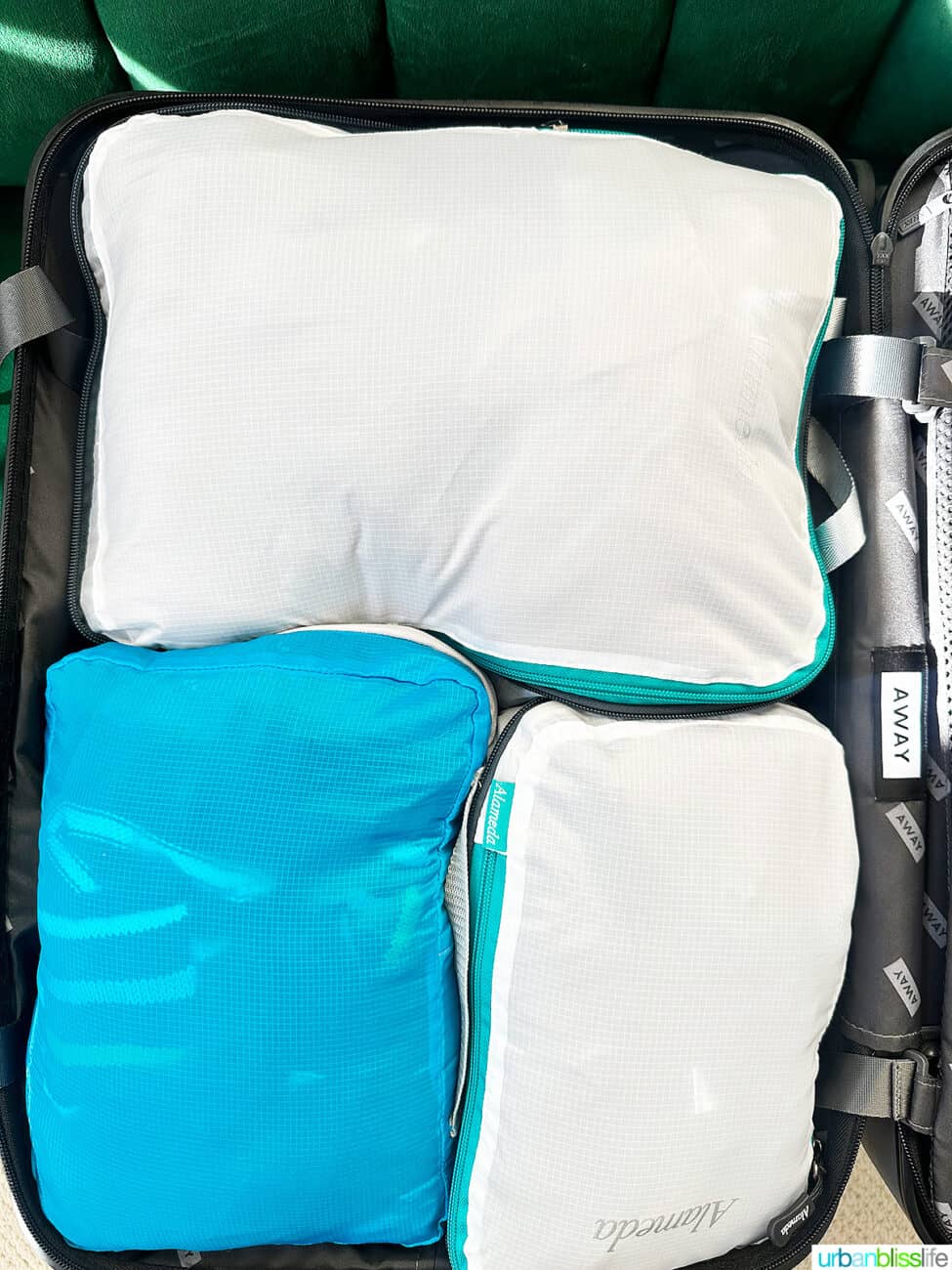 Travel has changed a lot over the past few years. While I've always been a fan of traveling with carry-on only bags, the travel conditions in the past few years have made me even more of a carry-on only traveler.
In fact, I don't even own full-size luggage!
So what's my packing secret? Years of practice, constant editing, and often choosing function over fashion.
If you're looking to travel lighter, ready to learn how to pack for a week in a carry on? Fasten your seatbelts: let's get started!
Jump to:
🌟 Benefits of traveling with carry-on luggage only
There are many reasons why I prefer to travel with carry-on luggage only.
Peace of mind - when you have all of your bags with you at all times, there's less anxiety and you don't have to worry about whether or not your luggage will make it to your destination. We've all heard horror stories about luggage being lost for weeks and even months in some cases, especially over the past year.
Lighter travel - Traveling with carry-on bags only forces you to pare down and only pack the essentials. No dead weight!
Easier to travel - When you pack carry-on bags only, it's easier to travel with them from city to city, up steep steps, and over cobblestone streets.
Travel delay ready - If your flight gets cancelled and you have to spend a night unexpectedly in a layover city, you'll have everything you need with you.
🧳 Choose your luggage wisely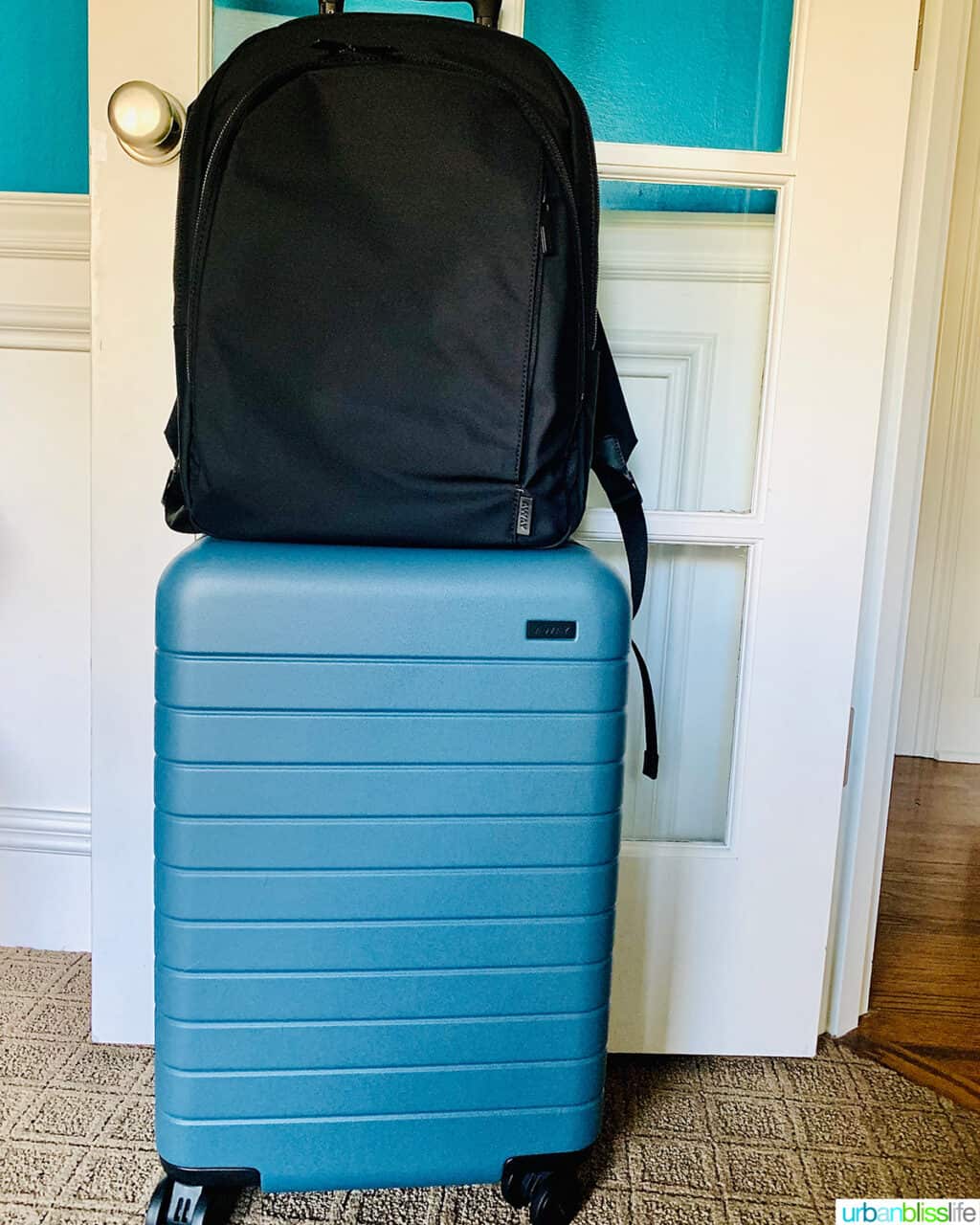 There are so many different luggage options available, and the best tip I have for choosing luggage is to research, and try them out to see what works for your style of travel.
Whether you choose hard-sided luggage or soft-sided luggage, here are some things to keep in mind.
Buy sturdy well-constructed carry-on luggage that you don't have to worry about ripping, breaking, etc.

If you choose to have a travel backpack, make sure the straps are comfortable on you even when loaded up with gear.

Make sure your carry-on bags fit most overhead compartments of the airlines you usually fly.

Some airlines have weight restrictions on carry-on luggage, so be sure to check how much your bag weighs without anything in it before purchasing.
My favorite carry-on luggage: I use the Away Bigger Carry-On or the Away Carry-On, depending on the trip and airlines, for my overhead luggage. Then I always bring a backpack that has tons of pockets for my underseat carry-on.
☀️ Packing for different weather
Obviously, packing for warmer weather is easier than trying to stuff heavy winter clothing into carry-on only luggage. But it IS possible to travel internationally in winter weather with only carry-on luggage!
I've done a 11-day trip through Japan including to the Snow Capital of the World - Aomori - with heavy jackets, sweaters, and boots.
My Ireland travels around Dublin and up and down the Wild Atlantic Way? Did it all with carry-on luggage only. And that included heavy waterproof boots and winter jackets.
I traveled for 11 days and island hopped in Greece with only carry-on luggage.
While your particular packed items will differ from anybody else's, here are some packing tips to help you pack for a week with carry-on only bags.
👚 Clothing tips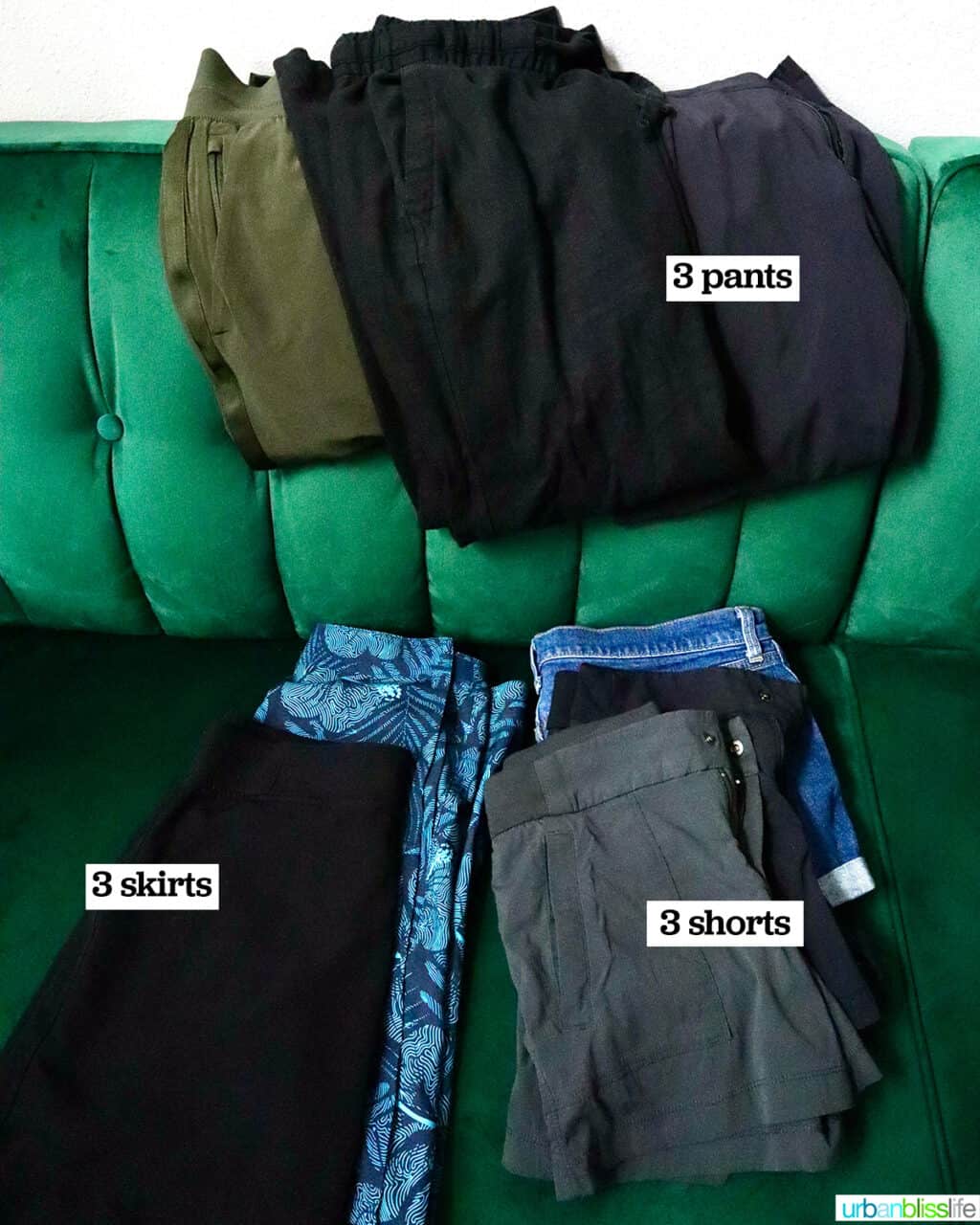 Choose one color scheme for clothes so tops & bottoms can easily mix & match. I usually wear a lot of black since it's just easy to pair with a limited number of shoes.

Bring clothes that are wrinkle-resistant, breathable, and odor-free/wicking material. A lot of my travel clothes are Athleta brand.

Wear heaviest clothes on the flight. I usually wear boots, jeans, and layers (a top and sweater, plus bring my jacket) on the plane.

Invest in a set of packing cubes with compression!!

Roll clothing to fit more in. But that doesn't mean to try to squeeze everything in... make sure you can still lift your luggage overhead without assistance before leaving the house.

Try on all of your outfits in different configurations before packing.

Start packing a few days before your trip. Then edit your wardrobe as you get closer to the trip. I usually find that the more time I have to really think about each item, the clearer I am about whether I will actually use each piece or not. Last minute packing usually results in over-packing!
There's no room for a fussy, high maintenance wardrobe when you're traveling with only one carry-on luggage and one personal item.
✅ Carry On Packing List
Here's a general packing list for a one-week trip. This list is based on what I tend to pack for week-long travel trips abroad for work. If you're traveling for vacation, you can probably get away with packing even less, since you won't need to change outfits for different occasions as much!
Remember: this list does NOT include what I wear on the plane, which is usually the heaviest clothing (jeans, boots, heavy jacket for winter weather).
In my overhead luggage:
2-3 pairs of shoes: running shoes and comfy yet cute wedges (+ thin sandals for warm locations)
Large packing cubes with my main clothes: usually 2-3 dresses, 1 pair of jeans, 2 skirts, 2 sweaters/cardigans, 1 pair of slacks, 3-4 tops
Medium packing cube with 1 pair of pajamas, 1 set of workout clothes, t-shirt, hoodie
Small packing cube with the extras: socks, underwear, bras, swimsuit, etc.
Toiletry bag, including laundry detergent sheets you can use to wash clothes in the sink during your travels (they don't take up much space).
Travel steamer - I don't always travel with this, but it's great for work trips where I'm packing dressier outfits.
In my backpack:
DSLR camera with one lens
Small packing cube with all my chargers & cords
GoPro Hero 10 (waterproof camera for action & underwater), mini tripod
Laptop
Cell phone, USB charger, and power bank.
Small bag with medications & supplements in a mini travel pill organizer, masks, wipes, mini first aid kit, contacts, etc.
Small make-up bag and compact hairbrush
Snacks + empty Hydroflask to fill after security
Quart size bag with travel toiletries, including Downy Wrinkle-Free spray, which helps clothes smell clean the whole trip -- and helps de-wrinkle!
1 book (because I still love physical books vs. audio books)
Travel documents in a waterproof zipper bag in an easy-to-reach secret compartment.
🎒 Packable backpacks
If you're going somewhere you anticipate buying lots of souvenirs or gaining items to bring back home, consider packing a small packable backpack.
When I do this, I check the overhead luggage on the way back and carry the two backpacks on the flights home. I've only had to do this once, but it was really helpful! And I don't mind checking a bag when I'm just flying home.
✈️ Packing FAQs
What should I look for in carry-on luggage?
My top must-have features: made of high quality, durable material, 360° spinner wheels, retractable trolley handle, hand grip on both the top and the side, compression straps for one side of the interior.
Is it better to carry-on only or to check a bag?
There is no one solution that is better than the other. Some people prefer to check bags, and that's okay! Some people prefer to travel with carry-on only, and that's okay too. Whatever you decide to do, planning ahead and investing in good quality luggage and bags is important.
Do you have any carry-on packing tips to share? Please share them in the comments below!
Happy, safe travels!
✈️ Did you use any of the travel tips or travel gear shared here? We'd love to know and share with our Instagram community! 📸 Snap a pic and tag @UrbanBlissLife and use hashtag #UrbanBlissLife. Happy travels!
More travel tips