If you're traveling to Northern California, be sure to make a stop at Fort Bragg, Ca. This is a charming small coastal town along the Mendocino Coast with picturesque bluffs and outdoor adventures.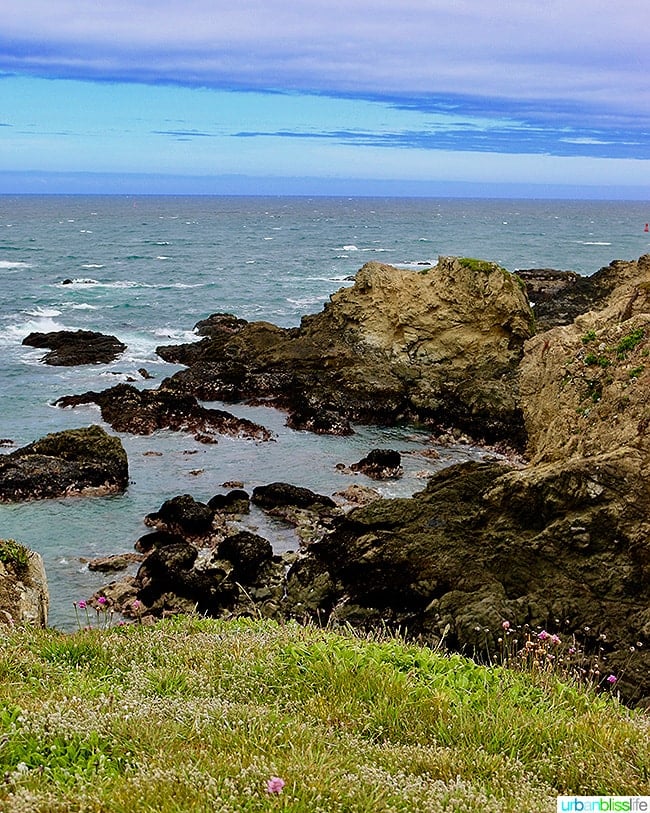 My husband and I had an AMAZING time visiting the Anderson Valley in Mendocino County, California. We had a wonderful time visiting with several Anderson Valley wineries, discovering incredible restaurants, touring a vineyard/creamery/farmstead, and staying at a sweet, romantic hotel in the valley.
Now it was time to leave the dry, hot valley and head to a cooler coastal climate for a day and explore the Mendocino Coast.
Jump to:
Road trip: Anderson Valley to the Mendocino Coast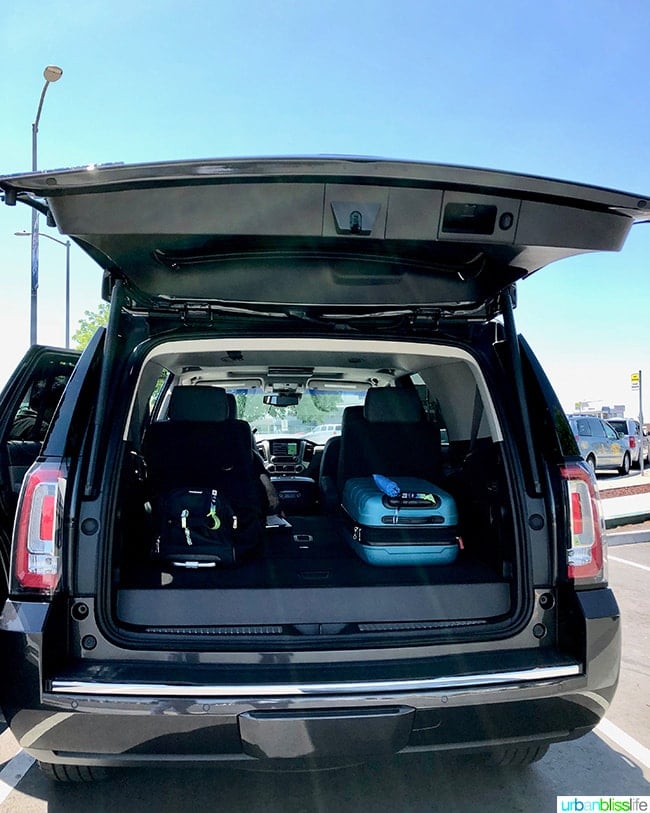 We loaded up our drive for this trip - a GMC Yukon Denali- which had more than enough space for our luggage and then also the case of wine we brought back home. I was a little worried driving such a big beast of a vehicle being a super petite person, but it was actually quite comfortable and drove so smoothly along the windy hills of Mendocino County that it was no problem at all.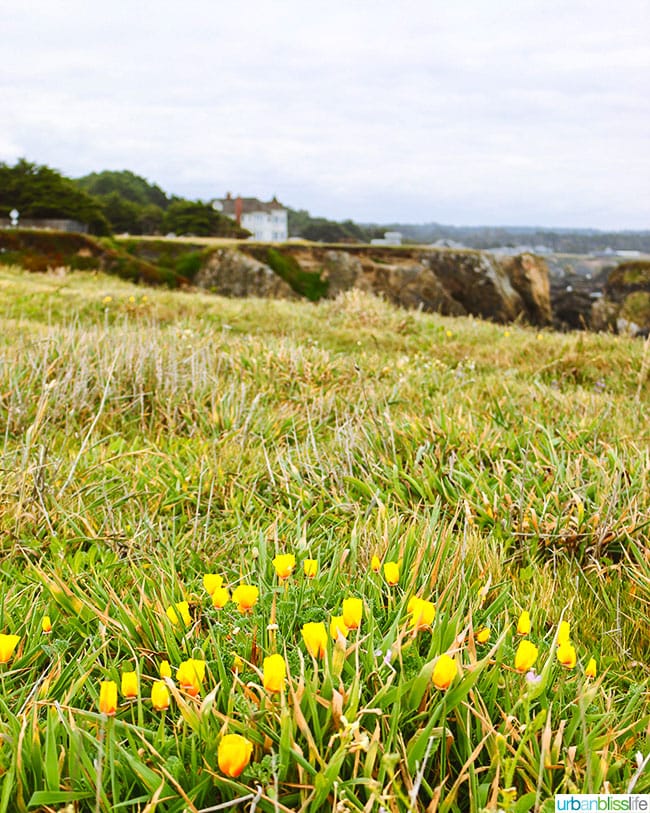 And the drive from Anderson Valley up the coastline to Fort Bragg, California was, indeed, an extra windy one.
I don't get car sick, but it's quite possible I ate something that also made me extra queasy, so by the time we got to the hotel, all I wanted to do was lie down and stop the room from spinning for a bit. The Yukon, meanwhile, handled those curves along the coast beautifully. Many thanks to GMC for helping us ride in style during our California road trip!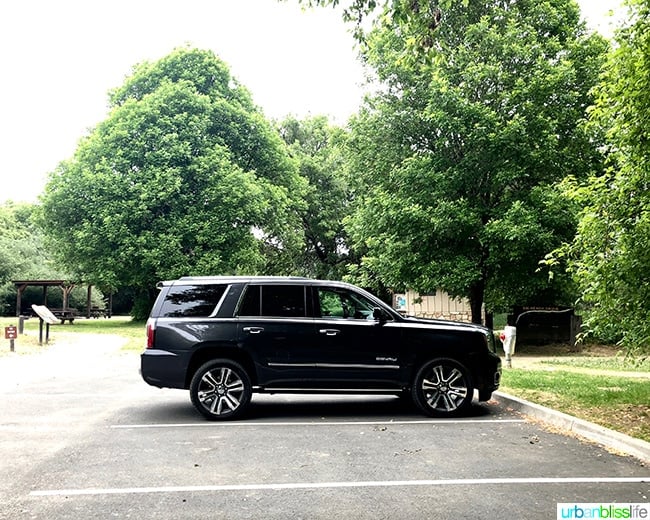 We arrived in Fort Bragg and checked into our hotel, the Noyo Harbor Inn. It's amazing. You should stay here. I'll tell you why in my next post!
Fort Bragg, California
Founded in 1855 by the Mendocino Indian Reservation, it became a military outpost in 1857. The reservation and military garrison were abandoned in the 1860s, after which lumber mills started popping up and commercial fishing soon became a large industry in this area.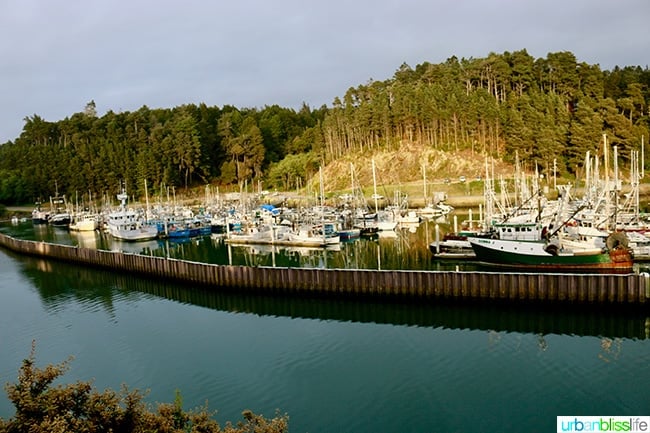 Today, this coastal town is a beautiful, quiet gateway along the Pacific. Noyo Harbor continues to serve as a commercial fishing port, and is a scenic respite from the hustle and bustle of busy San Francisco about 3 and a half hours south.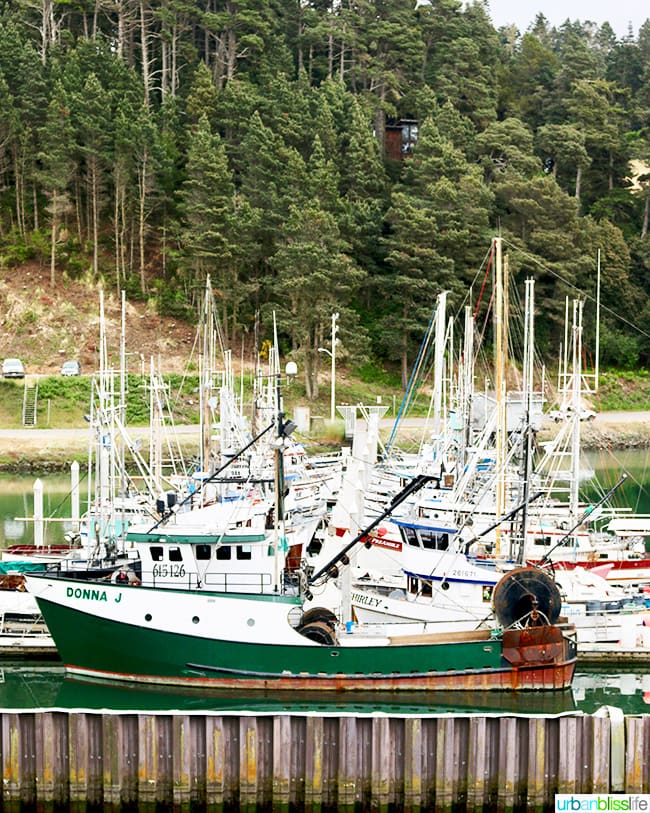 Pomo Bluffs
Another picturesque spot to visit along the Mendocino coastline is Pomo Bluffs Park. This 25-acre park has hiking and biking trails that allow you to take in the gorgeous Pacific Ocean. During gray whale migration time, it's also a great place for whale watching.
It's extremely windy in this part, so be sure to bring a jacket. If you do venture out onto the bluffs, be sure to stay low to the ground, wear sturdy athletic shoes, and don't venture too close to the edge -- the wind is powerful and there aren't guardrails along most of the main viewpoints on the bluffs. For this reason, it's best to keep the kids near the parking area and enjoy the view from there, or leave them at home for this scenic stop.
But out on the bluffs, it's absolutely breathtaking.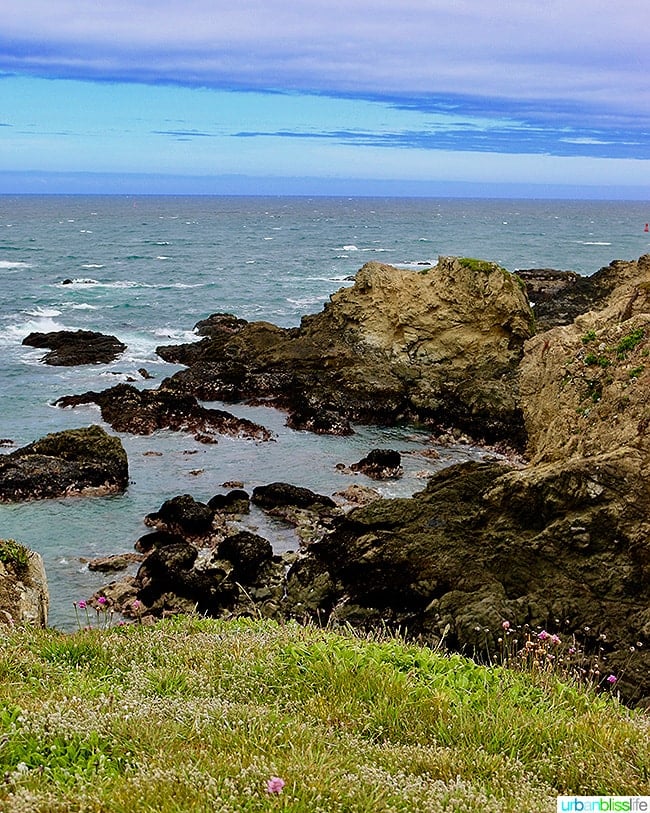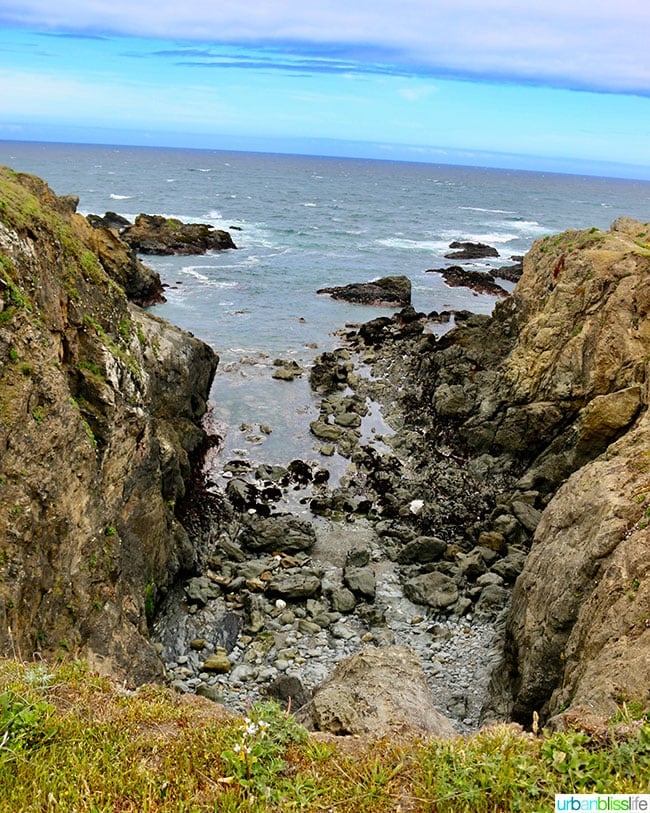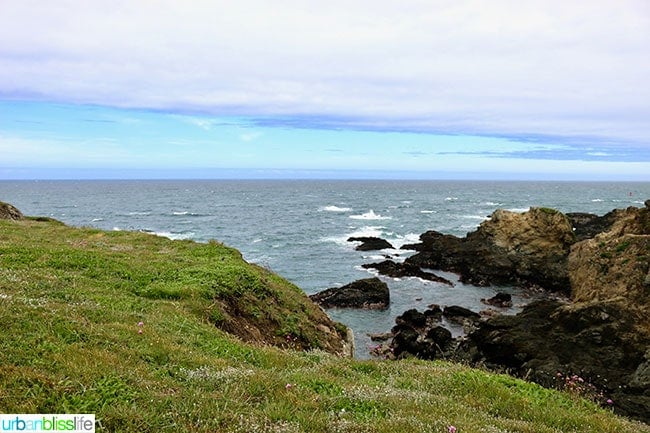 Where to eat
Our time was limited to one dinner and one breakfast in this charming coastal town.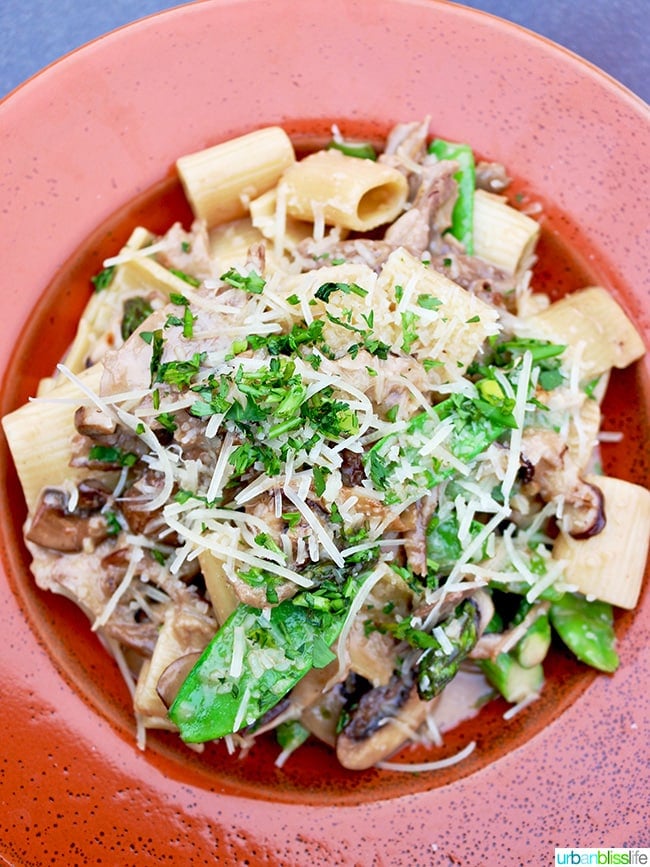 We enjoyed a delicious dinner at Noyo Harbor Inn with a table outside facing the picturesque harbor. I loved everything we ate and drank at this restaurant, and the view was simply stunning. I'll be sharing more about our meal in a future post about Noyo Harbor Inn.
Noyo Harbor Inn & Restaurant
500 Casa Del Noyo
Fort Bragg, CA
Visit the Noyo Harbor Inn & Restaurant website for more details.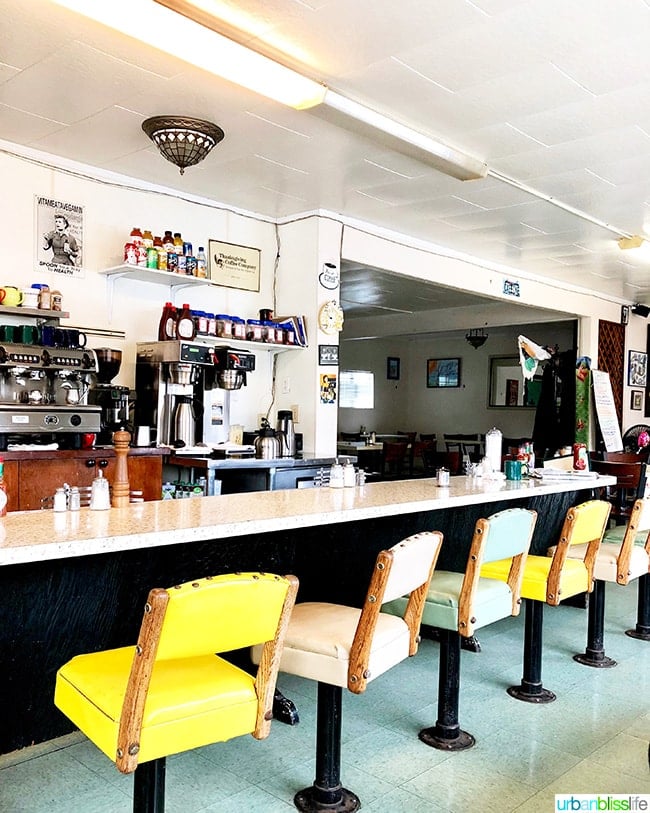 In the morning, we decided to explore the town for breakfast options and settled on Cafe One - and we're so glad we did! This cafe has all the proper markings of a classic dinner - booths on one side with stool-seating at the counter on the other. However, you might not realize until you start eating that the menu has an emphasis on organic, vegan, vegetarian, gluten-free food.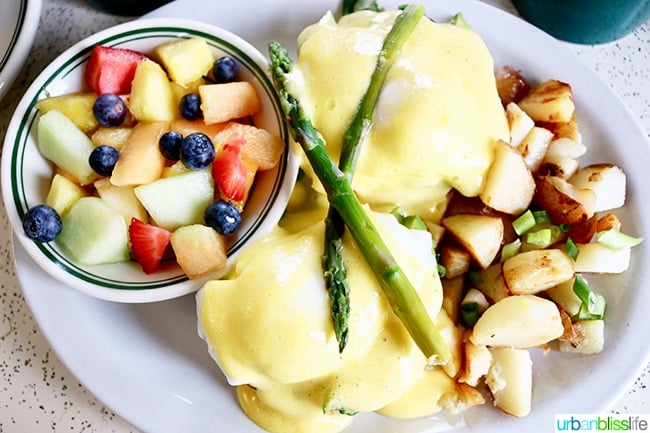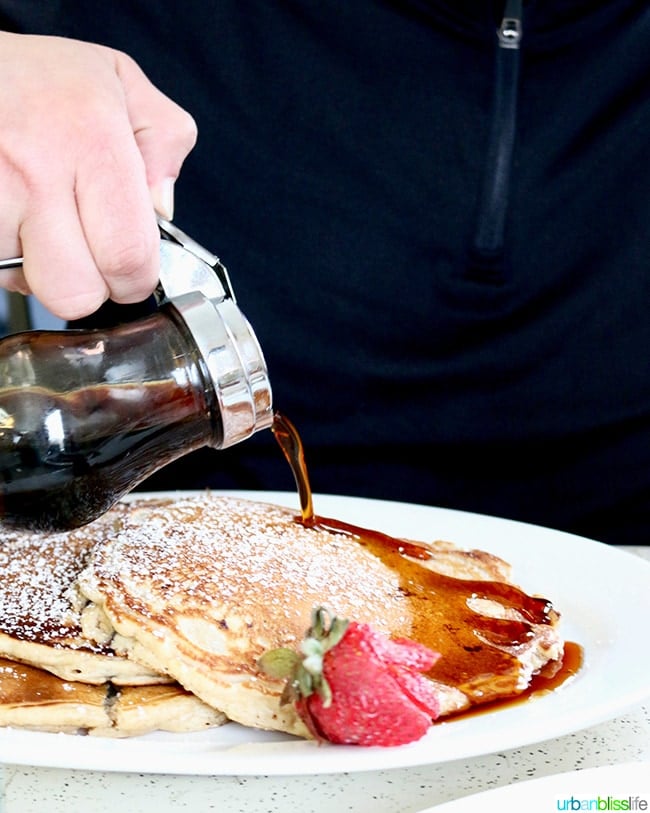 Their motto is "where good food comes naturally," and they mean it! My benedict was so fresh and flavorful, and the pancakes were light, fluffy, and filling. The service is fantastic here, and we would definitely go back in a heartbeat.
Cafe One
753 N Main St, Fort Bragg, CA 95437
(707) 964-3309
Things to do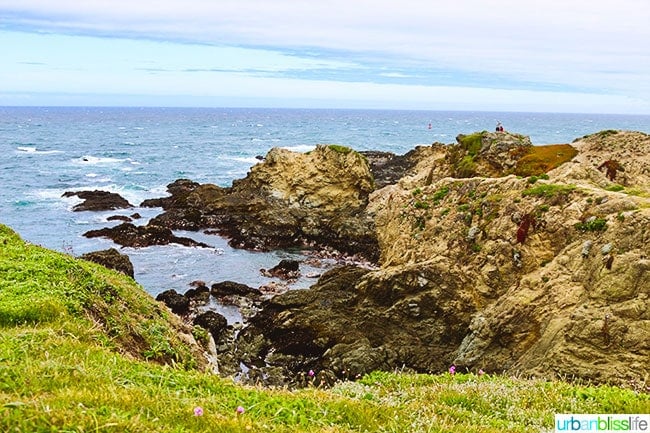 Since our time here was short, we weren't able to do everything on our list. Here's a short list of some sights to see that we drove by and I think you'd enjoy!
Ride aboard the Skunk Train. This is a steam locomotive that weaves through the redwood forests of the Noyo River Canyon.
Visit the Mendocino Coast Botanical Gardens.
Have you ever been to Fort Bragg? If so, what was your favorite part? If not, what do you think you would like to check out in this charming town?
This visit was made possible by Visit Mendocino; transportation provided by General Motors. As always, all opinions and photos are my own.