Looking for the one of the best places to stay in Mendocino? The Madrones is a lovely sanctuary where you can rest peaceful between your California wine tasting and outdoor adventures!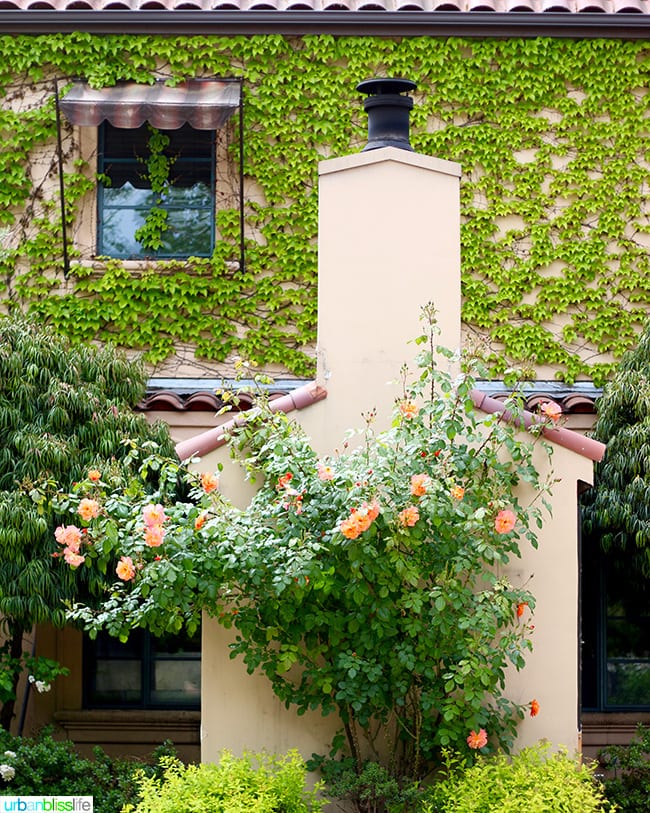 One of the things I love about traveling is the variety of accommodations available these days. Whether you choose to stay at a large, corporate, full service hotel, a private Airbnb room, or anything in-between, there is a place for you to suit your type of travels.
During the first part of our trip to Mendocino County, California, my husband and I had the pleasure of staying at The Madrones. It is one of the most beautiful, serene, places to stay in Mendocino -- and it suited our couples' wine country getaway perfectly.
The Madrones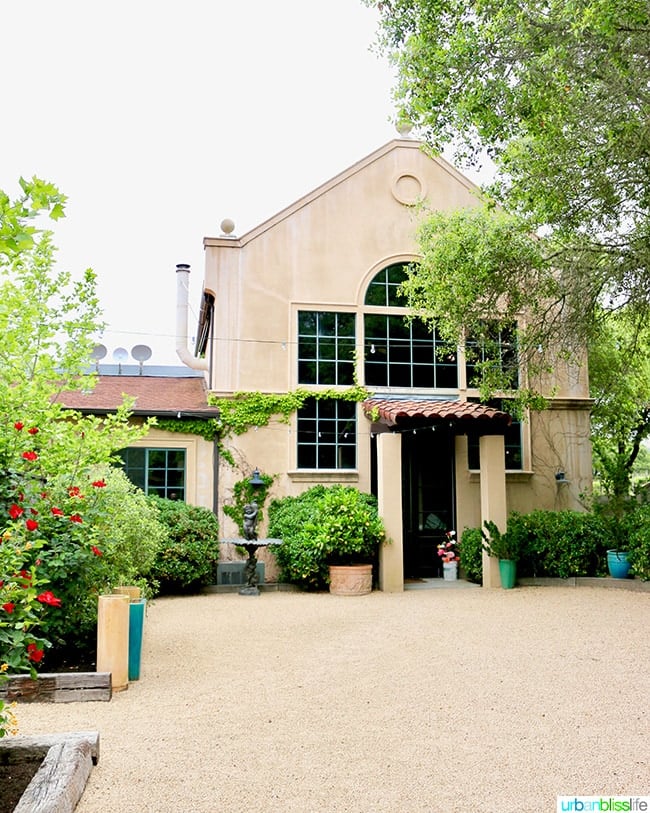 The Madrones consists of a collection of buildings located right off of the main highway that connects most of the towns in Mendocino County, Highway 128, in Philo, California. A gravel drive leads you to an idyllic setting of soft peach-colored buildings cradled lovingly by climbing greenery and pops of colorful flowers. Interesting stone and metal sculptures picked up by owners Jim Roberts and Brian Adkinson from their travels pepper the property.
It's a lovely, quiet, secluded romantic setting that is ideal for couples. They also have space to host small celebrations, weddings, and retreats.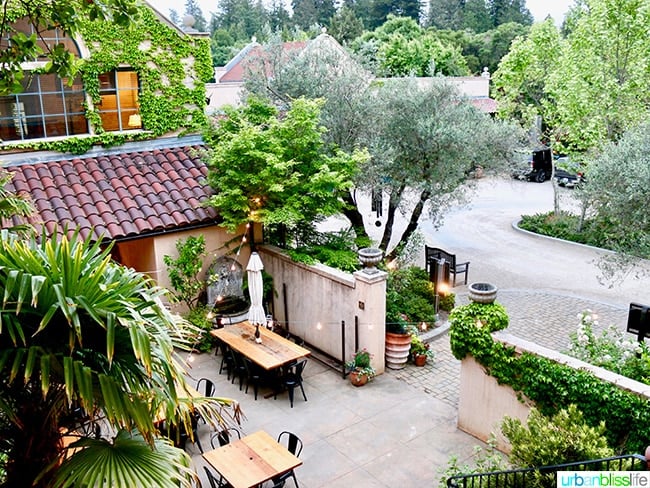 Accommodations
There are four guest quarters in the main estate building across the courtyard from Stone & Embers restaurant and above the Smith Story tasting room. We had the pleasure of staying in Estate Guest Quarter 1, which is located right at the top of the stairs.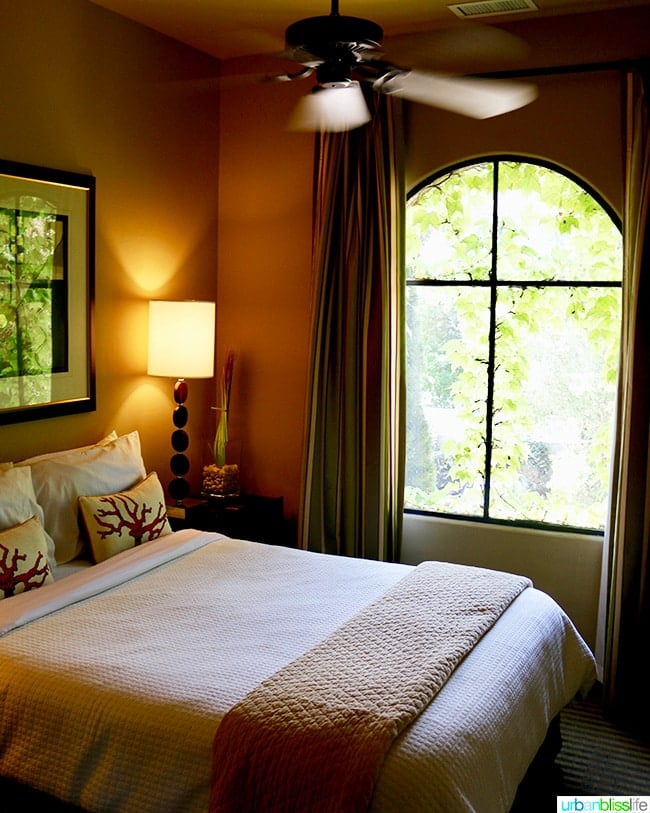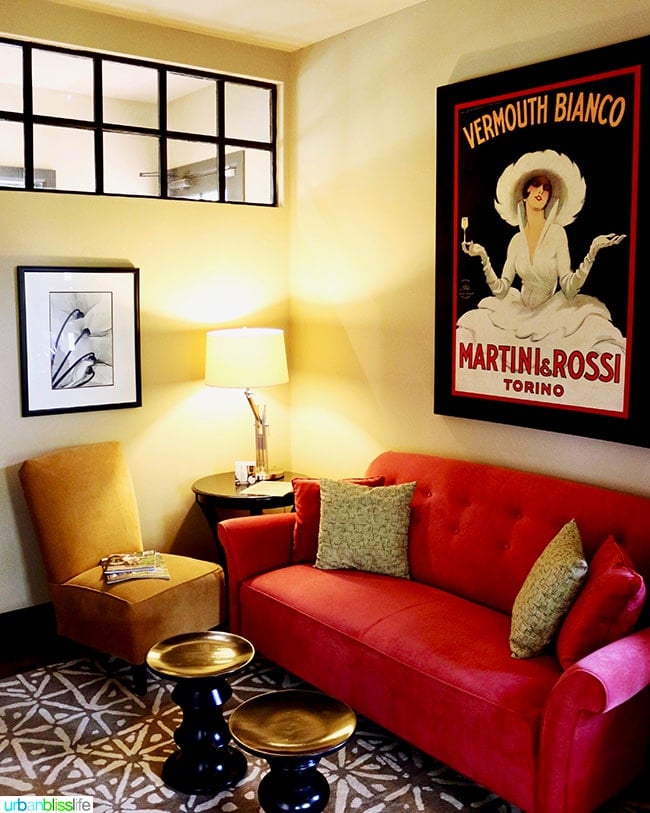 The estate guest quarters are much more like small apartments, with a separate bedroom, living room space, small kitchenette, and full bathroom. The kitchen has a sink, small refrigerator, and microwave, as well as a Nespresso coffee maker. The living room space had a full couch, armchairs, flat screen TV, and was a pleasant place to sit and enjoy our coffee and pastries from the local bakery in the morning.
Our room was tastefully decorated, with a mix of modern and vintage-esque decor. The bedroom was a lovely peaceful oasis.
Gardens & Additional rooms
On the other side of the parking lot are additional guest quarters in the cottage. This part of the property used to be Jim Roberts' original home, which Jim and Brian remodeled and divided up into separate accommodations - all named after the spaces they once were in the original house. For instance, there's the Living Room, the Kitchen, the Master, Spare Rooms, and Garden View. Each quest quarters has a separate entrance, and plenty of privacy.
If you're traveling with children and/or pets, The Kitchen is my pick for you. It's beautifully decorated and spacious, with two large beds, a large master bathroom, and lots of gorgeous sunlight.
One of the things that makes The Madrones one of the best places to stay in Mendocino County is the serene, landscaped gardens. Walking around the property, guests can enjoy hundreds of different roses throughout the gardens. Owner Jim Roberts' mother is reportedly the rose guru responsible for planting/helping plant these beautiful gardens, and you can definitely feel the love for these flowers as you stroll around.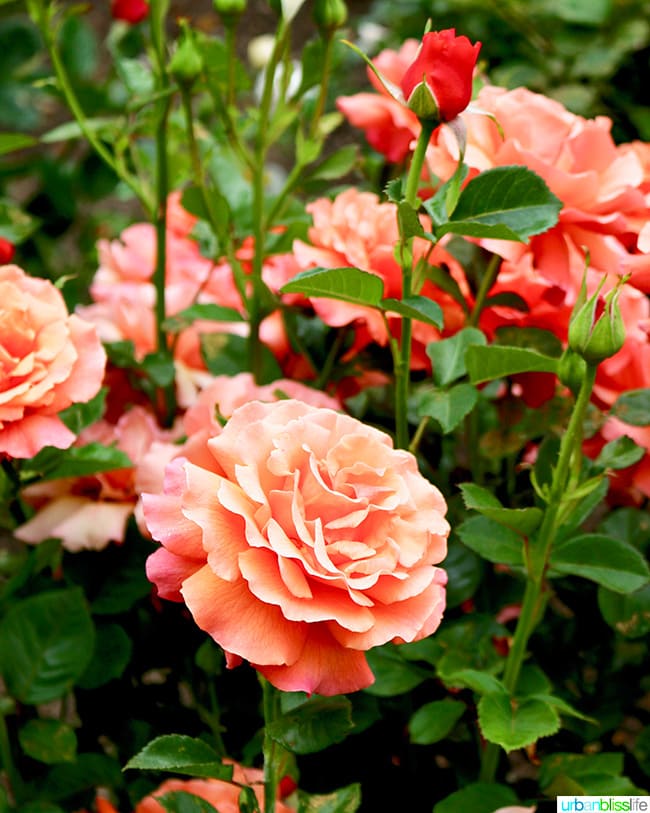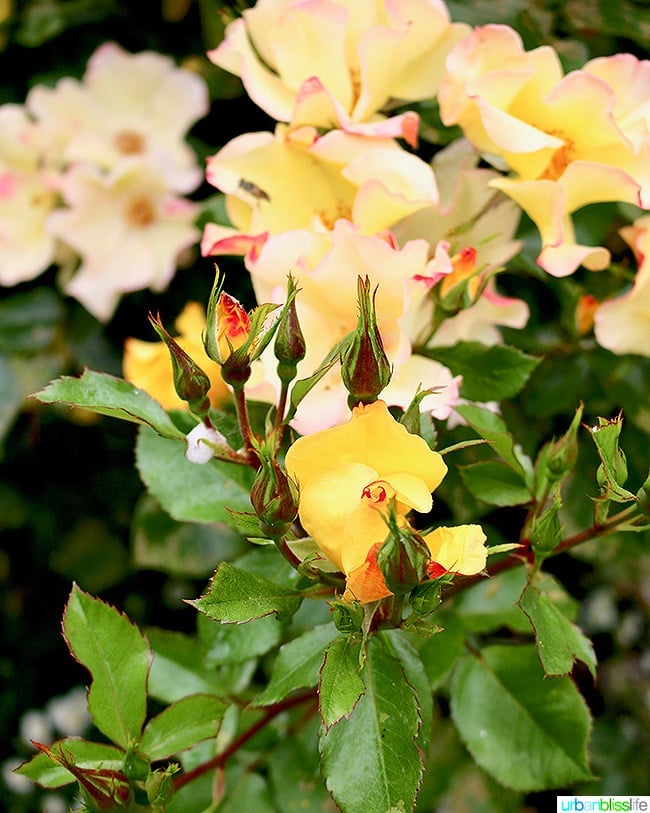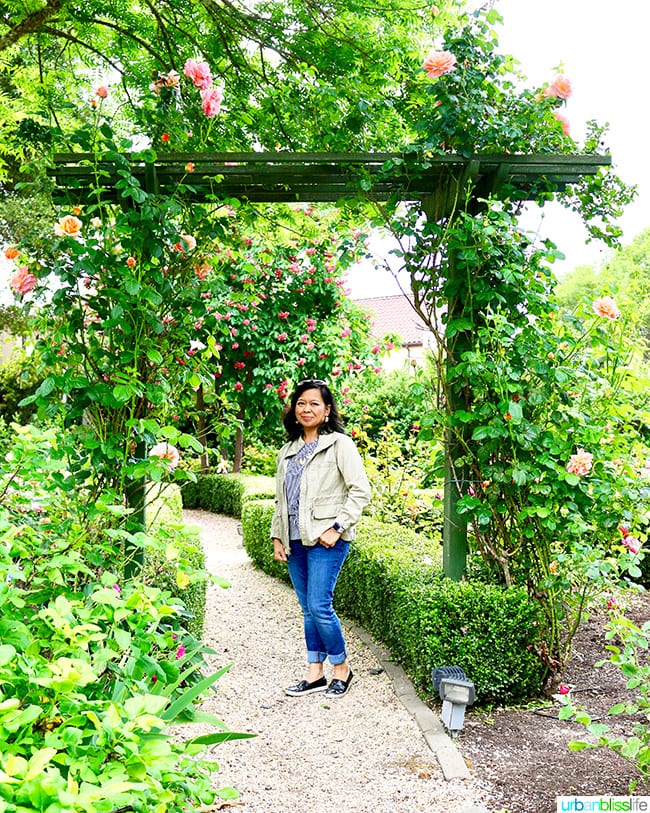 Side note: I don't include many pics of myself because I'm usually the one enthralled in photography bliss on these trips. Thanks to my husband for snapping this pic! Also: I really, really, really don't like pictures of myself, so please pardon the awkward poses as I try to get used to having my picture taken by other people!
Sun & Cricket shop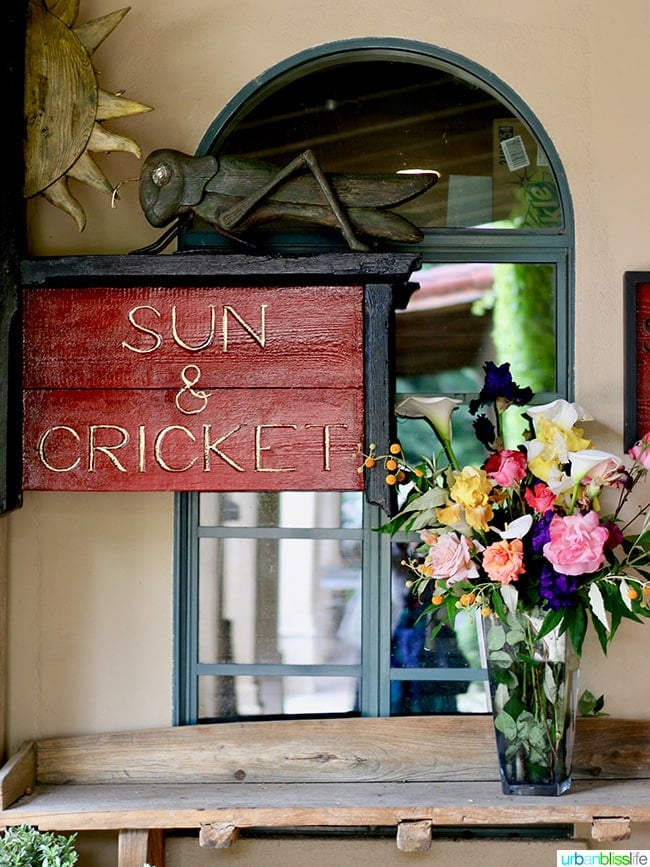 One of my personal favorite parts of The Madrones is the Sun & Cricket, which is the main "lobby" space where you check in and check out, but also a souvenirs and curiosity shop. Here, you'll find all sorts of fun, quirky items. Some of the items are for sale, some are for display. You'll also find nice gift items and souvenirs, but it's the curiosity shop pieces that I think really add to the creative vibe of The Madrones.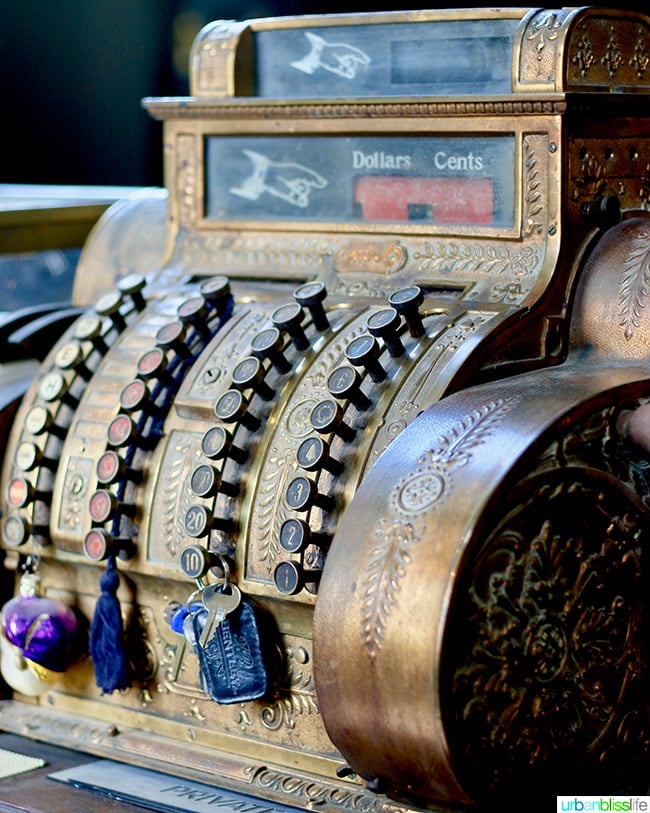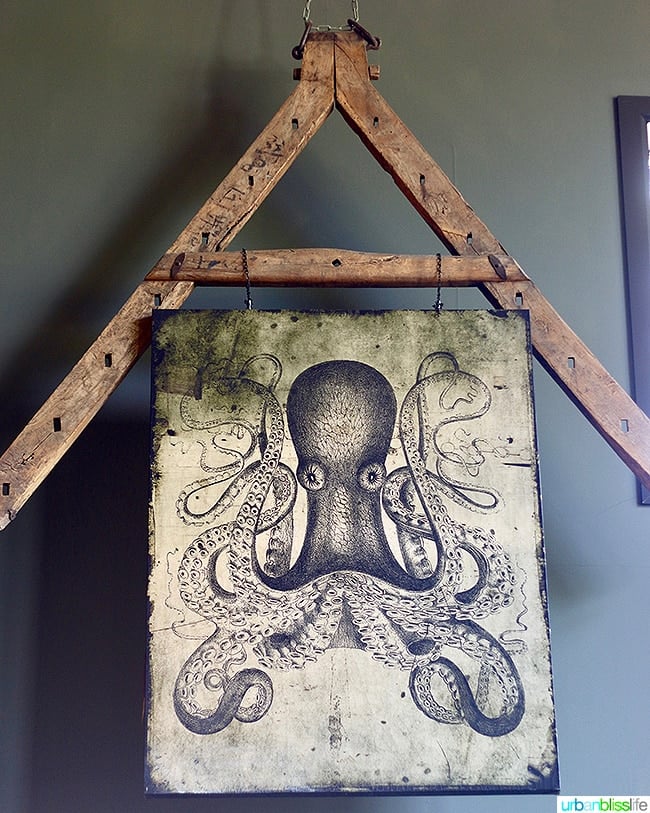 Wine tasting rooms
Not only are you near several wineries and vineyards when you stay at The Madrones; you have the convenience of two wine tasting rooms on property: Smith-Story Wine Cellars and Drew Family Cellars.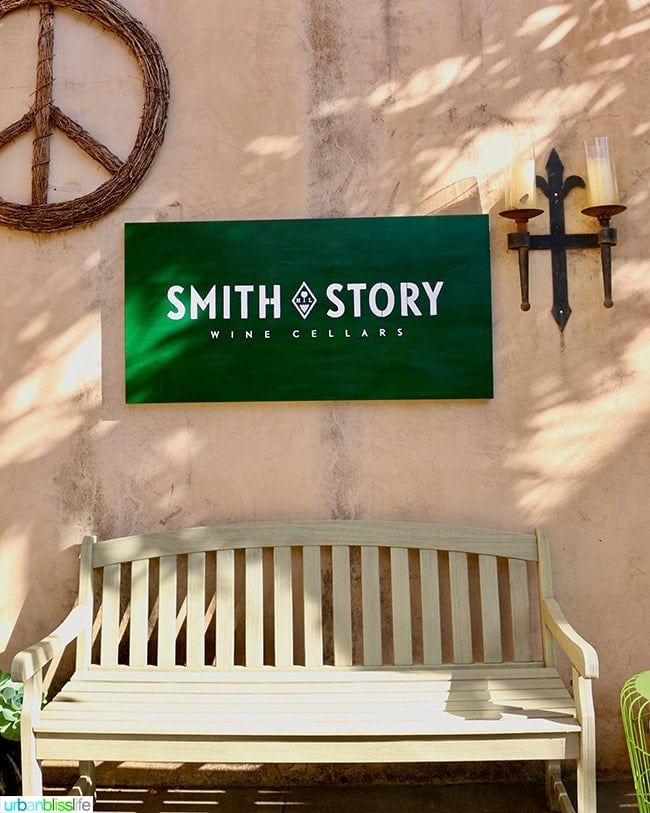 We had the pleasure of meeting Smith-Story Wine Cellars co-owner Eric Story during our visit. We fell in love with their Cabernet Sauvignon and bought a bottle to take home. Their rosé is also a wonderful summer sipper. Their tasting room at The Madrones is open 12pm-5pm on Thursday, Saturday and Sunday, and 12-6pm on Fridays.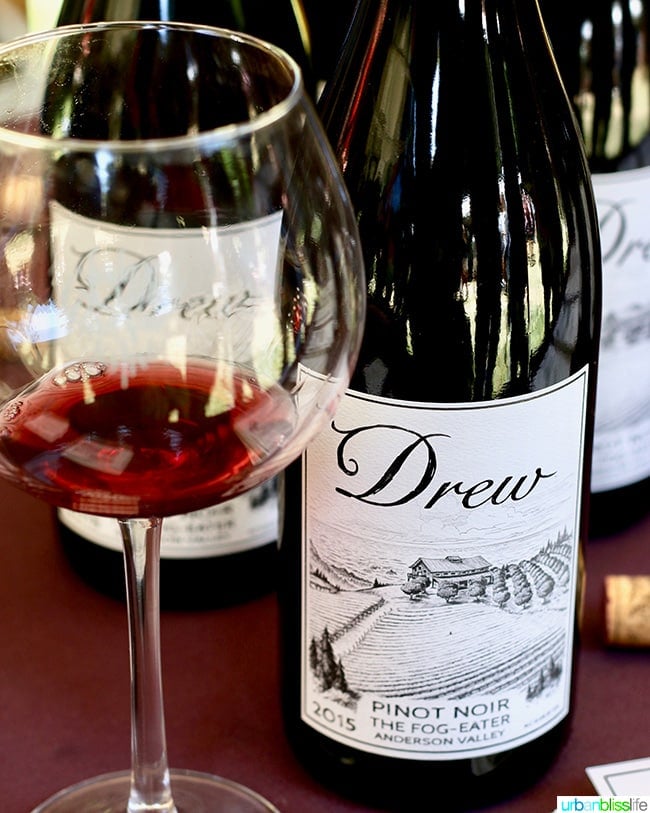 The Drew Family Cellars tasting room was closed during our stay at The Madrones, but we were fortunate to try their wines at the Anderson Valley Pinot Noir Festival. The Pinot Noir "Fog-eater" is a lovely pinot and I'm wishing we had purchased a bottle of that now to bring home! Their tasting room at The Madrones is open Thursday- Monday, 11am – 5pm.
Stone & Embers restaurant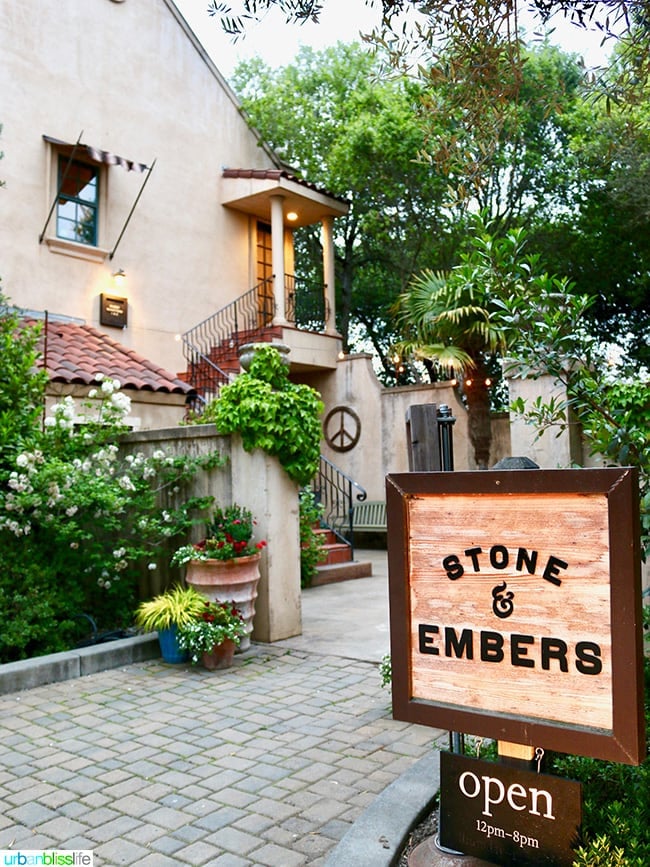 While there is no room service at The Madrones, you can enjoy lunch and dinner at Stone & Embers, the restaurant on property. Currently open 12 - 8pm (closed Tuesday & Wednesday), their kitchen offers mostly wood-fired pizzas, but also small bites, and a nice wine list full of local favorites. We ate dinner there one night, and since I'm dairy-free, pizzas are out so we opted for an assortment of smaller dishes that were lighter on the dairy.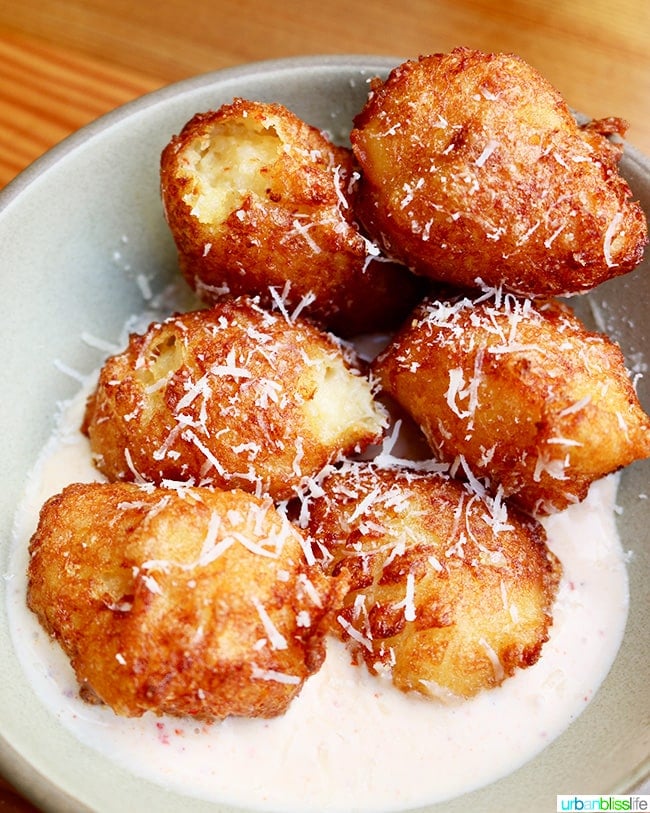 If you have a break in your schedule, I recommend ordering a bottle of wine and their Smoked Potato Beignets (pictured above), and enjoying the peaceful courtyard.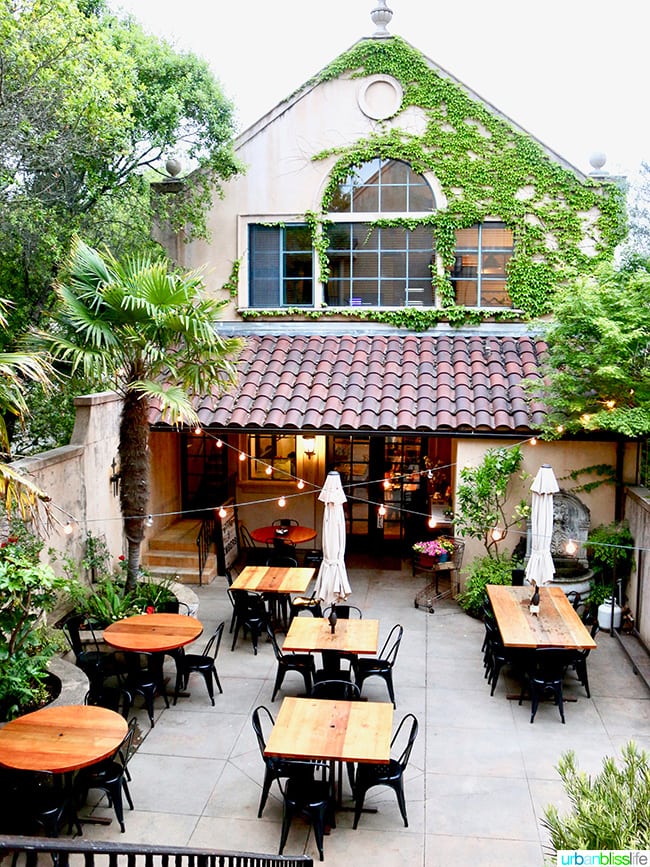 Visit
My husband and I loved our stay at The Madrones. Owners Jim and Brian were so friendly, warm, and inviting. Brian took us on a tour of the new Brambles property as well, which is in an even quieter forest setting just a couple of miles up the road from the main property. Innkeeper Cindy was a ball of energy and made us feel right at home when we arrived, and made us feel like family by the time we left.
We loved that we had our own private space that was like a lovely apartment, and could roam the grounds for romantic walks around the gardens or sit in the courtyard or tasting rooms. I'd recommend this place in a heartbeat to all solo travelers and couples or small groups of friends traveling to Mendocino County. If you're wine tasting in the area, the location can't be beat.
I should note that there is also now a spa and wellness center at The Madrones that was not yet open when we visited.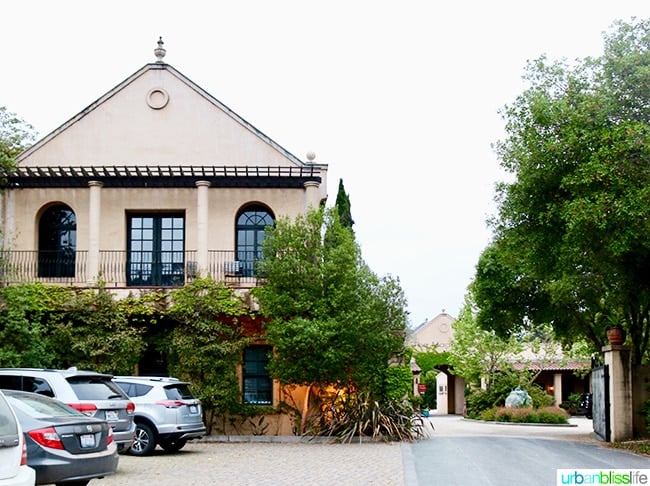 The Madrones
Open Daily 11am–6pm
9000 Highway 128
Philo, CA 95466
707.895.2955
For more information and to make reservations, visit The Madrones website.
More California travel ideas
Our stay at The Madrones was complimentary as part of our #VisitMendocino press trip. As always, all opinions and photos are my own. We have already recommended this place to several friends and I personally hope to stay here again in the future. It's a lovely place and the staff is amazing!