Ireland is a beautiful country rich with history. And if you're planning a visit, there's a lot to see. We've created the ideal 7 day Ireland itinerary to help you take the guesswork out of planning — so you can enjoy the best Ireland experience!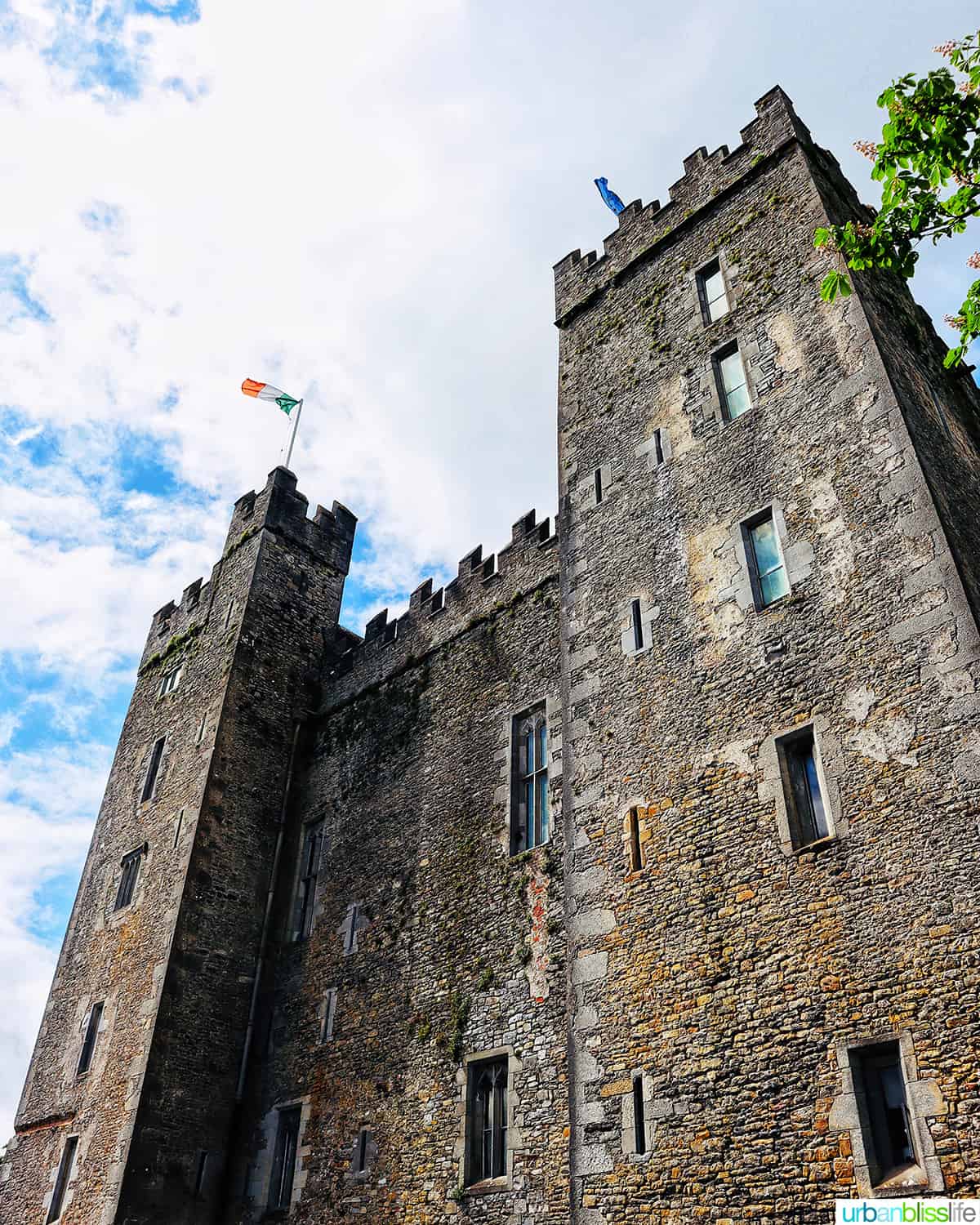 Ireland is magical, with an abundance of culture and breathtaking landscapes. While it's not a large island — you can drive from east coast to west coast in under 4 hours — there's so much to see!
So it helps to plan accordingly to make sure you get the most out of your trip to the Emerald Isle.
We just spent a week there, following the exact itinerary laid out in this post. It includes stops all across the Republic of Ireland, starting in Galway and ending in Dublin.
This guide will focus on:
Tips for helping make sure your trip is relaxing and safe
How to make your way around Ireland by car
Stunning places to visit
Best things to do and see in each location
Jump to:
When is the best time to visit Ireland?
Before we left on our trip, we did a fair amount of research. We researched when tourist season begins in Ireland, when to expect what kind of weather, and when you may be able to find good travel deals.
After sifting through all of that data, we decided to book our trip in May. Marlynn's previous Ireland travels also happened in the spring, so we knew a little bit about what to expect.
The weather during this time of year averages between 60° and 65° Fahrenheit. Plus, it's not as crowded as during the height of summer travel season. And we found an incredible deal flying business class on Icelandair .
When we were there, the temps ranged from the high 50s to near 70° F. And we had a few gorgeously sunny days.
💡Tip: Early spring and early fall are the best times to visit Ireland to avoid the crowds while still enjoying mild weather.
Ireland travel tips
As with most trips, it's common for not everything to go according to plan. So here are a few tips to help make your trip as smooth as possible.
Don't rush it
Sure, you only have a week, and you can't possibly see everything there is to see in Ireland in that time. So plan out what you really want to see and let the rest come to you. Trying to cram in too much will simply stress you out.
Plan well
Often, the key to a successful trip is all in the planning. It can be fun to be spontaneous, but not so fun when you get to a city and realize there are no more hotel rooms available. Or that castle you really wanted to see is closed.
So take some time to plan out where you want to stay, what you want to see, and how to get there. Mapping out your trip early can save you a lot of headaches later on.
Find the best flights to Ireland
Make some unexpected stops
I know. I just told you how important is to plan your trip. But good planning also means building in time to enjoy the unexpected. See an old ruin off the freeway you want to check out? Go ahead. Pass through a charming town that's too good to miss. Stop for a bit and explore. Some of the most memorable moments on our trip weren't planned; they just sort of happened.
Don't be afraid to skip some "must-see" sights
Before we left on our trip, we ran our itinerary by several groups of friends who'd been to Ireland. Almost all of them had the exact same comment when they saw that we were planning on spending one day doing the Ring of Kerry: skip it.
Their reasoning? While it's undoubtedly picturesque, it can take a really long time to complete, especially if you get stuck behind tour buses, which happens often. Plus, they said, you can see similarly beautiful sights in other nearby areas, with fewer crowds. So we took their advice and changed plans, going to the seaside town of Dingle instead.
That turned out to be one of our favorite stops of the trip. And we didn't feel like we missed out on anything by not doing the Ring of Kerry.
You're a tourist, but you don't have to act like one
One of my favorite parts of traveling is learning about the culture of wherever I visit. And trying to be aware of local traditions and customs. In Ireland, there's some specific etiquette around things like how to order a drink at a pub or removing your hat indoors, for example. So it can be a good idea to familiarize yourself with some of these customs.
💡 Tip: In most cases, to order a Guinness at a pub in Ireland, you can just ask for a "pint." It's understood that the kind of beer you want is a Guinness ☘️.
Get some Euros
Ireland is a part of the European Union, and its currency is the Euro. While you don't need to carry a lot of cash on you (in fact, you really shouldn't), it is a good idea to have a few Euros for things like tips or small purchases.
What's the best way to get around Ireland?
Ireland's public transportation system isn't as robust as in some other European countries. There are train and bus systems, but they simply aren't as convenient and don't take you directly to many of the most popular sights.
So the best way to travel is by car. Renting a car in Ireland can be a bit challenging, as there are some unique insurance hurdles to get over. But it's well worth it in order to make the most of your visit.
🚗 Curious about renting a car in Ireland? Be sure to read our full What Your Need to Know About Driving in Ireland travel guide.
7 days in Ireland: The itinerary
This trip stays in the Republic of Ireland and doesn't venture into Northern Ireland. That could be an entirely separate trip on its own!
You start in Dublin and end in Dublin, but the first stops are in the western part of the country. Then you wind your way south, before heading east and north back to the capital. Here are main stops:
Athlone
Galway
Cliffs of Moher
Killarney
Dingle
Cashel
Kilkenny
Dublin
Day 1 - Athlone and Galway
We knew we were going to end our trip in Dublin, so we decided to hit the road instead of first spending a few days in the capital. After picking up our rental car at Dublin airport, we headed west toward our first stop, Galway.
From Dublin, the drive takes 2.5-3 hours if you stick mostly to the freeways and don't make any stops. But where's the fun in that? Instead of going straight in to Galway, we decided to make a visit to Athlone, which is right on the way.
Athlone
This historic area is home to about 20,000 people and includes numerous sights worth seeing, including:
Athlone Castle. This castle originally dates back more than 5,000 years, but its current form was created during the 13th century. Admission to the castle is €10 for adults and €5 for kids under 15, and it also has a public restroom (which you can use without paying the entrance fee) in case you need to make a pitstop during your road trip. Just sayin'.
The Church of Saints Peter & Paul. This large church is only about 100 years old, but it dominates the landscape in Athlone and sits on the west bank of the River Shannon.
Kilbeggan Distillery. Reputed to be the oldest licensed whiskey distillery in Ireland. 90-minute tours are available for €30.
One travel note about charming Athlone. The streets in the town are very narrow. We had a few near misses winding our way out and back to the motorway, so give yourself plenty of time to ensure you make it out unscathed!
Galway
After Athlone, we headed into Galway. Situated in the west of the country, Galway is a lively city that's home to a university, a vibrant dining scene, and numerous pubs.
It's also close to some popular sites like: the Cliffs of Moher, and Connemara National Park. That makes it a great home base for a day or two.
A lot of the activity in the city itself centers around William Street, Shop Street, and High Street. These all feed into each other, beginning with William St. which starts just off of the centrally located Eyre Square.
This area features dozens of bars, restaurants, and shops, eventually leading to the city's Latin Quarter — also known as the cultural heart of Galway.
Apart from more pubs and shops, it's home to the historic Spanish Arch. Built in the 16th century, it formed part of the medieval protective walls of Galway.
Afterwards, keep walking down to the River Corrib and cross O'Brien's Bridge which will take you into other, colorful parts of this vibrant city.
Where to eat in Galway
Galway boasts several fine restaurants with first-class dining experiences. On our first night here, we had dinner at the cozy, lovely Kai Restaurant. It's about a 10-minute walk from the Spanish Arch in a quiet neighborhood.
When we arrived, there was a line waiting outside, which is usually a good sign! It's also a good idea to make reservations.
The fare featured locally sourced seafood, meats, and vegetarian dishes, like the scallops and nettle arancini pictured below. And the service was impeccable.
We also ate at the nearby Cava Bodega, a restaurant specializing in tapas with a lively subterranean dining room and a large wine list. We ordered a few different plates including paella, prawns, and octopus. It was all delicious and reasonably priced.
We'll have more detailed reviews about both Kai restaurant and Cava Bodega restaurant soon in our upcoming Best Places to Eat in Galway post.
🎥 Watch our Instagram reel about our time in Galway, Ireland.
Staying in Galway
We decided to stay at the charming and timeless Hardiman Hotel in Galway.
A key reason was its location, as it's situated right off of Eyre Square, a few minutes walk from the city center.
The hotel itself featured valet parking, beautifully appointed rooms, and a bar and restaurant. Breakfast is also included with your stay. And the hotel's Oyster Bar is a great place to grab a pint of Guinness after a long day sightseeing.
Cost was about $300 a night for our junior suite, which was well worth it.
For a grand experience: Ballynahinch Castle - If your tastes veer toward the more upscale, spend a night or two at the nearby Ballynahinch Castle. It features luxurious rooms and suites and more than 700 acres of Irish countryside to explore. Rooms from $300 to $500+.
More budget-friendly: Hyde Hotel - If you're looking for something that's a bit easier on the wallet, try the Hyde Hotel. It's a little further from the city center, but has stylishly-appointed rooms that are also more affordable than many other similar options. Rooms from about $175/night.
Day 2 - Cliffs of Moher and Dunguaire Castle
After spending a day exploring Galway city, we hit the road and headed for one of Ireland's must-see sites: the Cliffs of Moher.
About 90 minutes from Galway, these majestic cliffs soar over the Atlantic Ocean and provide the perfect backdrop for some quintessential Emerald Isle picture-taking.
If you don't have a rental car, you can choose from several tour companies that organize regular day trips. Here are 3 reasonably priced ones that depart from Galway. Each starts at around €50 per person.
During our trip in early May, the crowds were sparse. So we were easily able to park in the nearby lot and explore the many trails along the cliffs and take a few breathtaking pics.
🚗 But this popular attraction can get packed with tourists in the summer. So if you're going in the high season, try to arrive before 10am or after 4pm to avoid the largest crowds.
☔️ The weather can also be unpredictable, so it's a good idea to pack a rain jacket. And if you need to refuel with a snack, you can stop by one of two cafes located in the visitor center.
🎥 Watch our Instagram Reel about the Cliffs of Moher.
Visiting the Cliffs of Moher
Tickets:
Adults: €7-€12 (depending on visit time and online vs onsite ordering)
Children under 12 are free
Hours:
March, April, September, and October - 8am to 7pm
May-August - 8am to 9pm
Book the best Galway tour
Use the search form below to find the best Galway, Ireland tours. Then book your favorite today!
Dunguaire Castle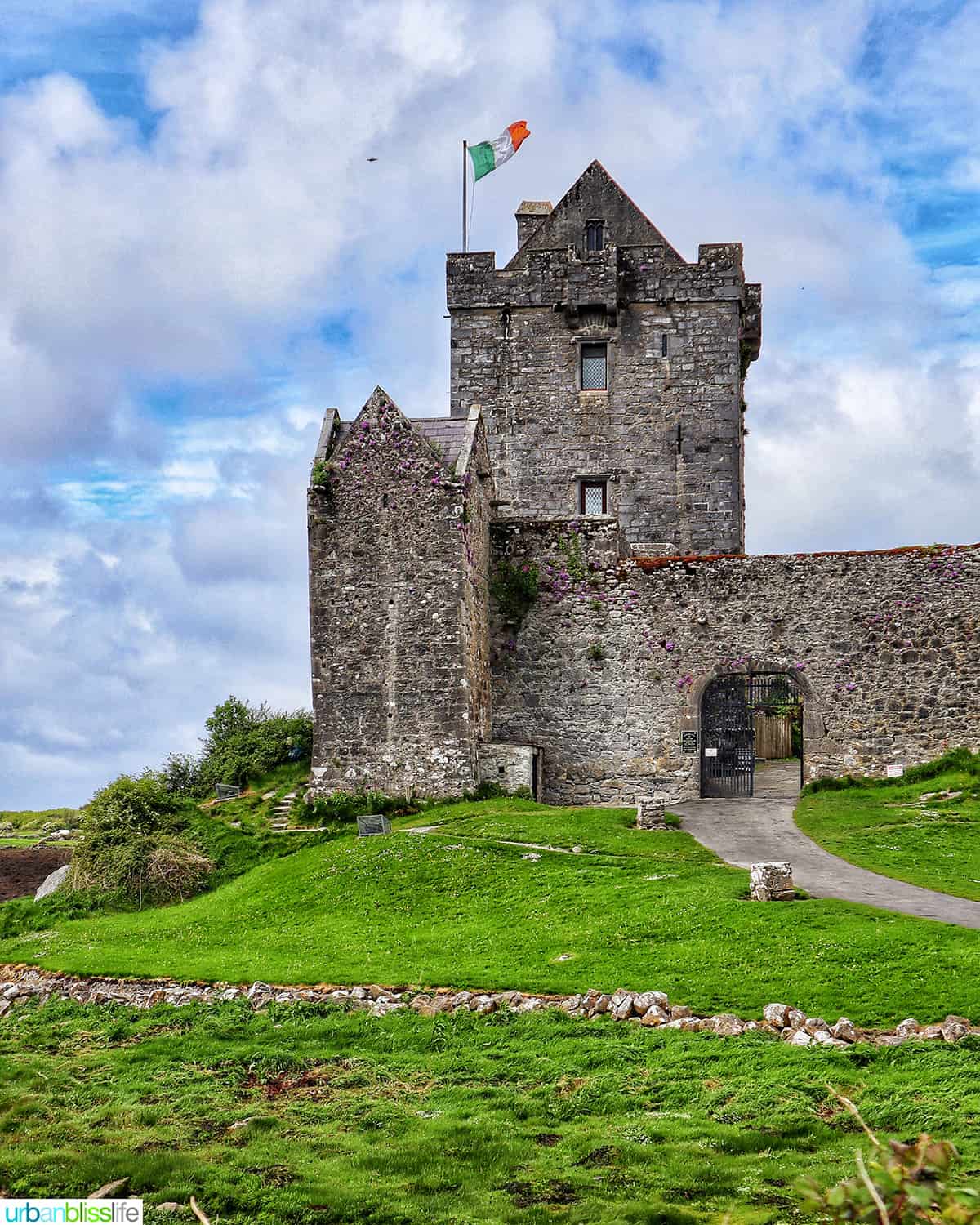 If you're coming from Galway, plan a stop at the 500-year-old Dunguaire Castle. This well-preserved structure is on the way and it offers an expansive view of The Burren and its unique, rocky landscape.
The castle passed through several different owners over the centuries and was used as a private residence up until just 50 years ago. If you go, be sure to go all the way to the top so you can take a walk around the castle's catwalk!
Visiting Dunguaire Castle
Tickets:
Adults: €7.50
Children: €5
Hours:
Day 3 - Bunratty Castle and Killarney
From the Cliffs of Moher, head toward the charming lakeside city of Killarney —about a 2.5 hour drive south from the Cliffs. But that can be long stretch in the car, so do yourself a favor and make a stop at the gorgeous Bunratty Castle.
First built in 13th century, it changed hands numerous times over the years and was extensively refurbished in the mid-20th century, when it was opened to the public.
Tours of the castle are available daily, but you can walk the exterior grounds for free. And if you have some extra time, stop in at the well-appointed gift shop.
We love a good gift shop and this one does not disappoint. Plus, it includes a great cafe and a convenient restroom, in case you need a bio break before you continue your journey.
Visiting Bunratty Castle
Tickets
Adults: €15.25
Children: €11.50
Hours
Killarney
After Bunratty Castle, continue south to lovely Killarney. This beautiful area rests on the banks of Lough Leane and is home to a host of attractions.
One of the most picturesque is Killarney National Park, 10,000 hectares of rugged mountains, forests, and lakes. And one of the park's main attractions is Ross Castle, a 15th-century fortress perched on an inlet of Lough Leane.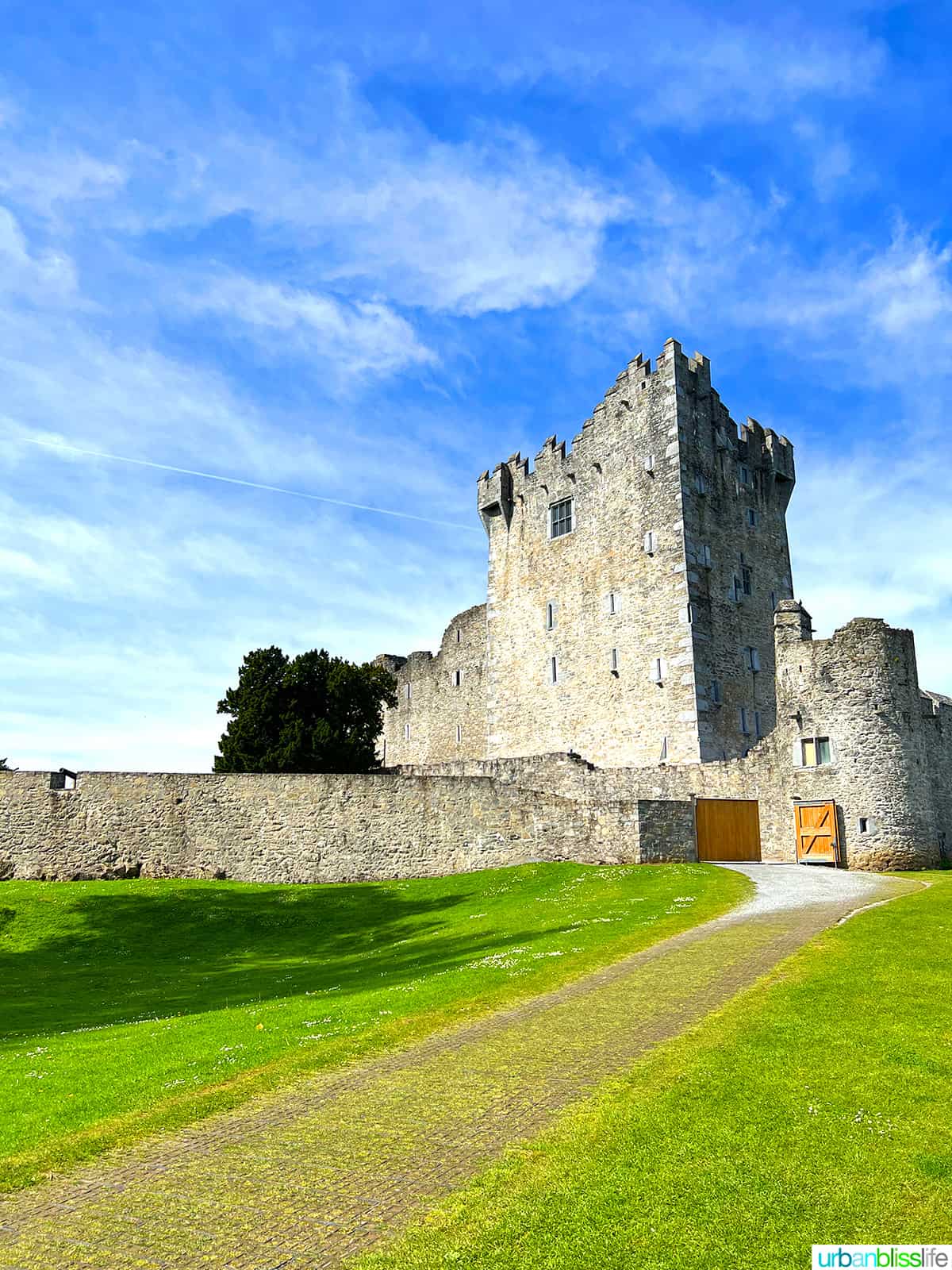 After exploring the park, head in to Killarney itself. It's worth an overnight stay so you can check out the town's lively bar and restaurant scene, most of which is located on the High Street.
Where to eat in Killarney
Speaking of restaurants, we recommend having dinner at Harrow. This refined, but not stuffy place serves local Irish fare in a modern, open setting. We enjoyed shallot butter prawns, along with a tender slow-roasted beef feather blade and delicious lamb Wellington.
Or stop by nearby Murphy Brownes, a cozy restaurant featuring generous portions made with local ingredients. The meat dishes take center stage here. We got the 10oz rib eye, which was perfectly cooked to a medium rare. And we also ordered the roasted half-duck, which came with silky mashed potatoes and a plum sauce.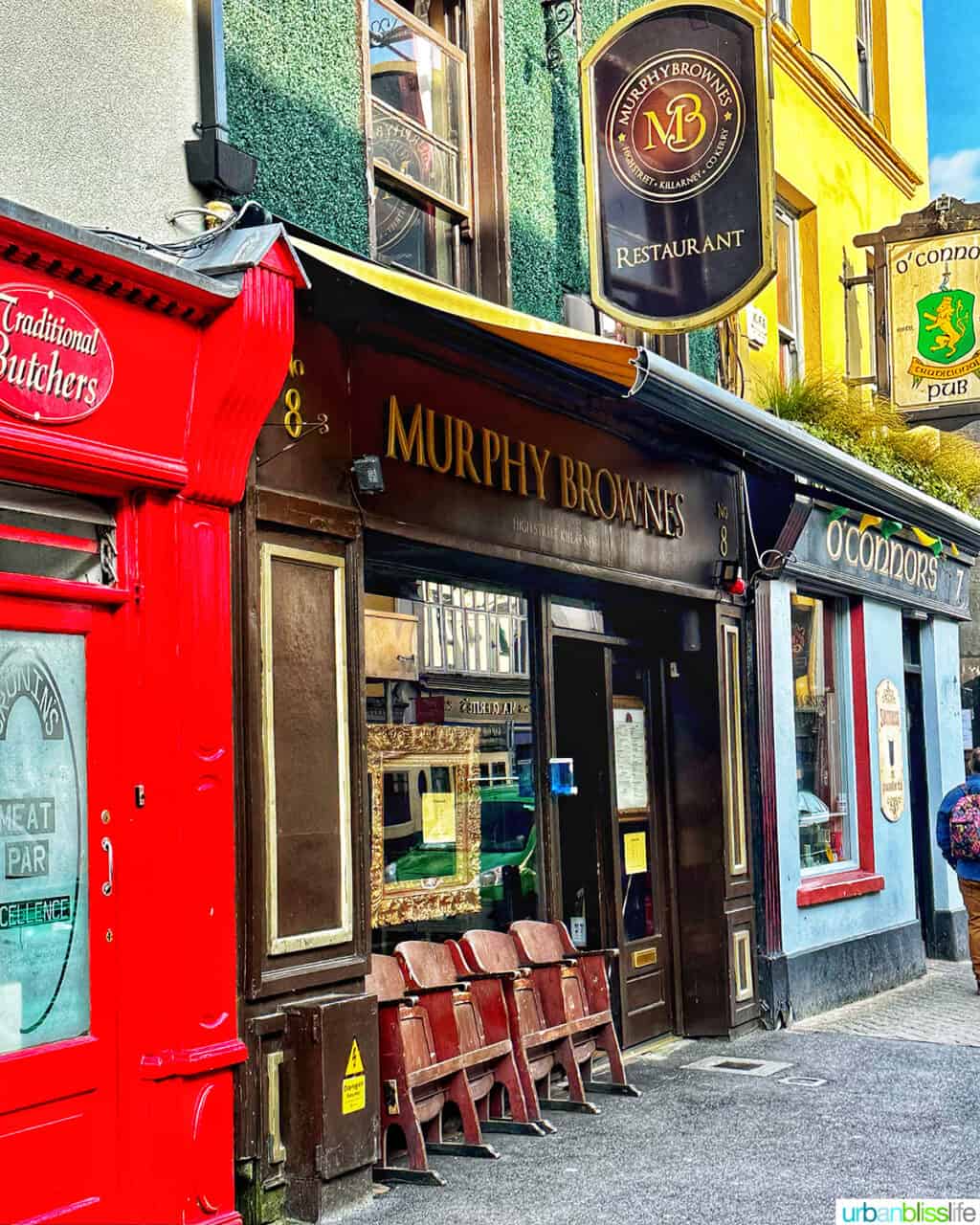 Staying in Killarney
As for places to stay, Killarney is home to a host of large, grand hotels situated around the city center. We chose the International Hotel, a traditional establishment with an Irish pub on the ground floor and cafes and bars with outdoor seating right next door.
The rooms were adequate with a nicely appointed bathroom. But the walls were thin and the bed wasn't the most comfortable that we slept in on this trip. Also, the hotel did not have dedicated parking, so we had to find and pay for parking in a nearby lot.
But the central location made up for a lot of that, as we spent most of our time wandering around the city and taking in the sights. Cost for our executive double room was a little over $300 per night.
City Center stay: Killarney Plaza Hotel and Spa - Another similar hotel nearby is the Killarney Plaza Hotel and Spa. It has rooms starting at around $300 as well, and offers a range of suites.
On a budget: Killarney Court Hotel - For something a bit more budget-friendly, the Killarney Court Hotel has rooms starting at around $100 during the week. While it's not directly in town, it does have dedicated parking as well as a restaurant and bar.
Day 4 - Inch Beach and Dingle
Next up, it's time to head west on the R561 to Dingle. Located on the Dingle Peninsula which juts out into the Atlantic Ocean, this seaside village is about an hour's drive from Killarney.
The route is lushly green, taking you past rising emerald-colored hills before dropping down to the coast.
A little under 15 miles from Dingle, you'll arrive in Inch Beach.
This tiny oceanside town has a few restaurants and hotels, but it's the breathtaking scenery and golden beach that attracts visitors. Spend some time exploring here or simply stop for a few pictures.
Dingle Town
Next, continue on to Dingle. This enchanting town features colorful buildings, a serene harbor, and surrounding clifftops that combine to create an idyllic seaside getaway.
Dingle is easily walkable and it's well worth your time to stroll along the harbor and wander through the village streets. A bit further from the harbor is where you'll see some of the more authentic parts of the town such as the 19th century Saint Mary's Church, as well as locally-owned shops and cafes.
On every corner we turned, a bold, colorful streetscape greeted us — like a cheerful middle finger to the typically gray weather here.
Fungie the dolphin
Perhaps Dingle's most famous resident is a dolphin named Fungie. He was a fixture in the area for roughly four decades, dating back to the early 1980s, when he would greet fishermen as they worked, and delight visiting tourists.
But in 2020 the pandemic hit, forcing the locals into lockdown and the tourists from visiting. And Fungie simply vanished. No one's quite sure what happened to him. Some speculate that he passed away from loneliness. Others hold out hope he simply returned to the sea to be with his dolphin friends.
Whatever the case, he left a big impression on this little town, and you'll see statues, murals, and likenesses of Fungie in gift shops all over town.
💡 Tip: It's best to arrive in Dingle before noon. Why? Because that's when all the tour buses arrive! And this quiet little village soon becomes a bustling mass of directionless humanity, all simultaneously trying to figure out which waterfront restaurant has the best fish and chips.
Where to eat in Dingle
While we were taking everything in, those first tour buses started to arrive. Since it was lunchtime, and sensing our moment to snag a prime eating spot was quickly diminishing, we headed for the main strip fronting the harbor to scope out places to eat. We found the James Long Gastro Pub.
We've both had a lot of fish and chips over the years, but it just seems to taste better when you know the fish comes from waters that are about a 2 minute walk from where you're eating.
And not only was the fish fresh here, the batter was thin and crispy, and the portions were large. So large, that Marlynn and I decided to split one after we'd seen a neighboring table get their order.
And of course, I had the obligatory Guinness.
The service was also great. The wait staff was attentive and kept things moving, conditioned from years of welcoming thrings of tourists through their doors.
We didn't stay overnight here. But even if you have just a few hours, as we did, Dingle deserves a spot on your Ireland itinerary.
Day 5 - Cashel and Kilkenny
The next two stops on your perfect 7-day Ireland itinerary have you heading east. You'll loop your way back toward your final destination of Dublin.
The first of these is the historic Rock of Cashel, located in the town of the same name.
Rock of Cashel
This storied and impressive site dates back to the 4th century. Although, many of the buildings now there are from the 12th and 13th centuries, when the High King of Ireland donated it to the Catholic church.
It's home to a large cathedral, as well as several other religious buildings. These include Cormac's chapel, The Choir, The Nave, and the Hall of the Vicars Choral.
All are in remarkably good condition. And, you'll feel as if you're stepping back in time as you walk your way among these majestic structures.
Admission to the site is €8, which is well worth it, and you can pay a bit extra for an in-depth guided tour.
Apart from the buildings on the site itself, you also are rewarded with expansive views of the beautiful County Tipperary countryside.
While there is a dedicated parking lot at the site, it quickly fills up. We ended up having to find street parking about a 10-minute walk away, but that just let us see a bit more of the town as we made our way up to the Rock.
Tickets
Adults: €8
Children 12-17: €4 / Children under 12: free
Hours
Mid March - Mid October, Daily: 9am to 5:30pm
Mid October - Mid March, Daily: 9am to 4:30pm
Kilkenny
Back on the road, the next stop is the bustling city of Kilkenny.
It's easy to overlook Kilkenny for some of Ireland's larger cities. However, there is plenty to see and experience here. And its relative proximity to Dublin (only about a 2 hour drive away) makes it a convenient stop.
While here, it's hard to miss Kilkenny Castle. Originally built in 1195 by Normans, this castle has been rebuilt and refurbished over the years. Today hosts hundreds of thousands of visitors each year.
Stroll through its magnificent open courtyard. And spend an afternoon relaxing on the expansive lawn that stretches out toward the horizon.
Other popular attractions in Kilkenny include:
The Smithwicks Experience - an interactive tour of this 18th century brewery where you can taste this famous Irish beer.
St Canice's Cathedral & Round Tower – a 6th century church where visitors can climb to the top and see breathtaking views of the surrounding area.
Medieval Mile - a historic walking route through the city that connects St. Canice's and Kilkenny Castle.
Where to eat in Kilkenny
Once you've worked up a thirst, head back to Kilkenny Castle, because right across the street is the large and lively Left Bank bar.
This bright, busy pub opens onto one of Kilkenny's main thoroughfares and features an expansive interior. For a quick drink, head up to one of its bars and order up the local favorite, a pint of Smithwicks!
When you're ready for dinner, step outside and walk a block to the deceptively large Ristorante Rinuccini. This Italian restaurant seems like a tiny eatery when you first walk in, but head to the back stairs, and this place opens up into a multi-leveled dining experience.
Try the tasty Wild Atlantic prawns in garlic, white wine & lemon sauce to start. Or get it as an entree with spaghetti. Looking for something other than pasta? Opt for the risotto featuring crisp guanciale and fresh peas.
Where to stay in Kilkenny
During our visit, we stayed at the Hotel Kilkenny on the outskirts of the city. This was the only hotel we overnighted in that was not right in the city center. But it had all the amenities of a modern hotel, including spacious, modern rooms, a pool and fitness center, and plenty of on-site parking. Rooms start from around $300/night.
And while it wasn't centrally located, we were able to Uber it into Kilkenny itself in about 10 minutes for just a few Euros.
Days 6-7 Dublin
The final stop on the perfect 7-day Ireland itinerary is the nation's capital, Dublin. We slotted 2 days here at the end of our stay, which was enough time to see many of the major sites we wanted to.
This was also the point when we returned our rental car since we knew we wouldn't need it to get around this walkable city. To that point, many of Dublin's top attractions are centrally located. So, it's a good idea to stay somewhere near the city center so you can easily get to them by foot. (More on where we stayed below.)
Temple Bar
Among your first stops should be the Temple Bar district. This busy area is home to an actual pub called the Temple Bar. But, it also covers an entire neighborhood packed with other bars, restaurants, and shops.
And this central Dublin city neighborhood is always buzzing. While this isn't the cheapest place to grab a pint, the atmosphere can make up for the elevated prices.
Trinity College
Just a few minutes' walk from Temple Bar will take you to Trinity College, Ireland's oldest and most revered university. Founded in 1592, it now ranks among the world's leading research universities.
It is also home to the famous Long Room library.
You can take a tour of the library and see the medieval Book of Kells, as well as the many books and statues that line the library itself.
The tours can get crowded, so you'll need to book a reservation.
Tickets
Adults: €18.50
Children 13-17: €14.00 / aged 6-12: €10.00
Hours
Monday – Saturday: 8:30am – 5:00pm
Sunday: 9:30am – 5:00pm
Guinness Storehouse
If you're into beer — and even if you're not! — a visit to the Guiness Storehouse is a sensory delight. You can take a self-guided tour of this famous Irish landmark, which will take you through several levels of beer-making history.
Along the way, you can take part in interactive tastings, learn how to pour a proper pint of Guinness, and even get your face printed on your very own pint. And be sure to check out the Gravity Bar at the top of the facility for another pint and some unforgettable views of Dublin and the surrounding countryside.
You'll need to pay for admission to the storehouse as well as for some of the extras noted above, so be sure to check the Guiness website for all of the details.
Tickets
Prices start at €26 per person
Hours
Monday - Friday: 10am to 5pm
Saturday: 9.30am to 6pm
Sunday: 9.30am to 5pm
📖 Be sure to read all about the full Guinness Storehouse experience here.
Irish Whiskey Museum
If whisky is more your vibe, head on over to the Irish Whiskey Museum, conveniently located across the street from Trinity College.
The museum offers daily tours where you can learn about some of Ireland's storied whiskey past. Or if you prefer to jump right to the tastings, go straight to the bar and order a sampler of 4 different whiskies to try.
Tickets
Prices start at €18.70 for adults. But the good news: children under 4 are free (not kidding!)
Hours
Sunday - Thursday: 10am to 7:30pm
Friday - Saturday: 10am to 10pm
St. Stephens Green
For a break from the city noise and crowds, take a walk through the lovely St. Stephens Green. This 22-acre park features plenty of green grassy areas to relax, as well as a pond, flower beds, and quiet park benches.
Other top Dublin attractions
Ha'Penny Bridge – Named for the amount pedestrians used to be charged to walk across it, this cast-iron pedestrian bridge over the River Liffey was built in 1816 and still is among the most traversed in the city.
Grafton Street - This popular shopping district in the city center features high-end stores and local shops. The perfect place to window shop or to pick up a few souvenirs.
Dublin Castle – This medieval structure was the site of British rule of Ireland for centuries until the mid-1920s. Now it houses galleries and museums.
St. Patrick's Cathedral – Dating to the late 12th century, it's the largest church in Ireland and is the national cathedral of the Church of Ireland. Legend says that it's the site where St. Patrick baptized new converts to Christianity more than 1500 years ago.
Christ Church Cathedral – Founded in the 11th century and later restored, it's home to Dublin's first church.
Where to eat in Dublin
Dublin is chock full of great restaurants, from casual to upscale. Here are a few options for lunch and dinner that are centrally-located.
Boxty House - This restaurant right in the heart of the Temple Bar district is famous for serving up traditional Irish boxty dishes, which are essentially types of potato pancakes. Some of our favorites included the Gaelic Boxty, the Vegan Boxty Dumplings, and the Boxty Fries.
Woolen Mills - You know when you come across an unexpectedly great dish when traveling and you just can't stop thinking about it? That's exactly what we experienced at Woolen Mills, an unassuming restaurant just across the Ha'penny Bridge from Temple Bar.
The dish that wowed us was the Woolley Wings. While you can chicken wings in buffalo sauce in a lot of places, these wings had the perfect amount of spice and the ideal level of crunch on the skin. We couldn't stop eating them. And they also have some tasty fish and chips and pizza!
Wilde Restaurant - If you're looking to splurge a bit, head on over to Wilde. Located off of Grafton Street in the Westbury Hotel, this elegant restaurant features sophisticated dishes, a top-notch wine list, and impeccable service.
Our waiter Alex took great care of us all night, walking us through some of the house specialties and recommending everything from cocktails to desserts. And the in-house sommelier helped us select the perfect bottle of wine.
We ordered the surf and turf with prawns and rib eye, along with the lentil penne pasta. While not exactly a budget meal, it was absolutely fantastic.
🎥 Watch our Where to Eat in Dublin Instagram Reel for more videos and photos to tempt your tastebuds!
Where to stay in Dublin
Just as Dublin is rich in great restaurants, it has an abundance of places to stay. Rather than a traditional hotel, we opted for the Zanzibar Locke. This is a modern apartment-style hotel that offers studio rooms with their own kitchenettes and living areas.
Situated right next to the Ha'penny Bridge, it also features a cafe serving coffee and breakfast, as well as several amenities.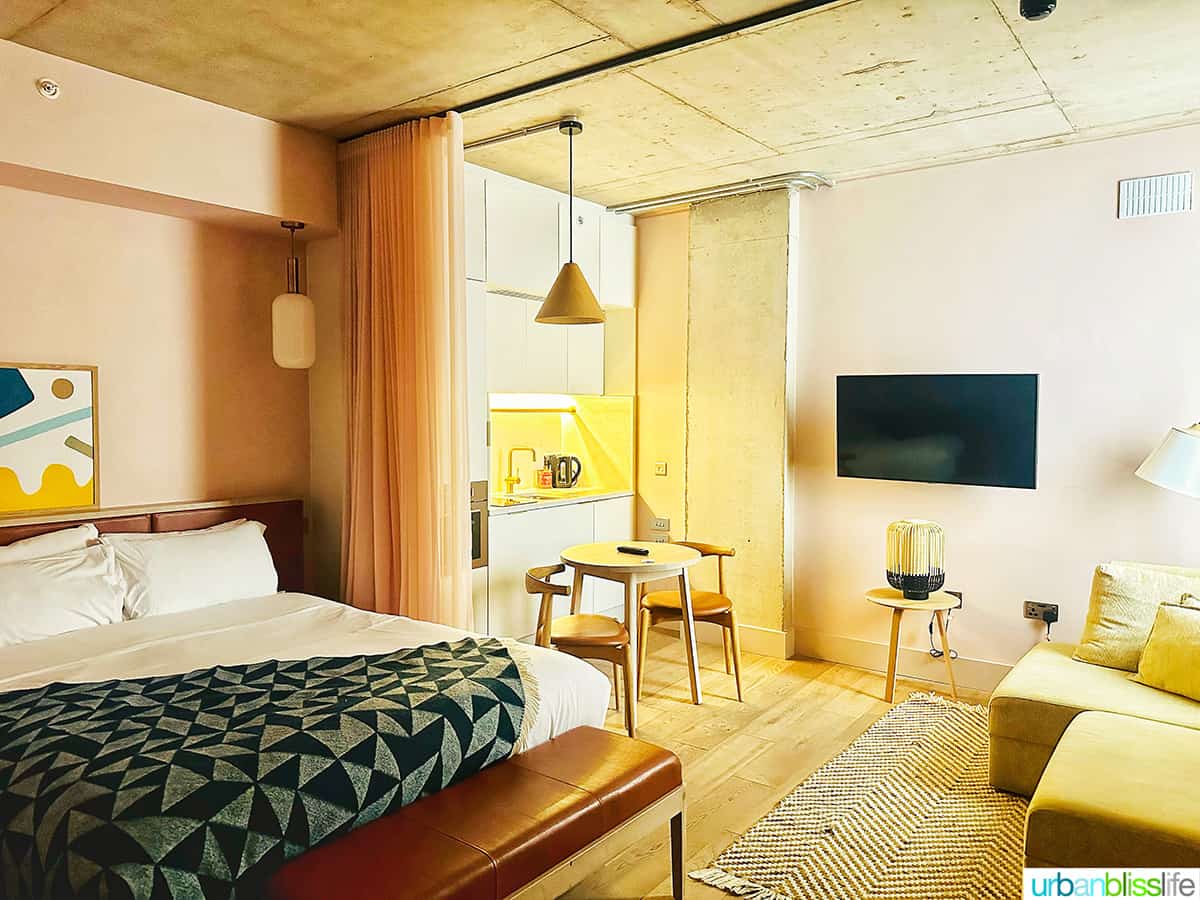 The Locke Hotel was the perfect base for our two days in Dublin: conveniently located and with enough space so we could unwind after a long day of sightseeing! All for around $250/night.
For a more traditional stay: The charming Wilder Townhouse is a cozy, elegant option just a few minutes walk from St. Stephens Green. Named by the New York Times as one of the top 35 Best Luxury Hotels in Ireland, it has more than 40 rooms and suites. Rooms start at around $200/night, depending on what time of the year you visit.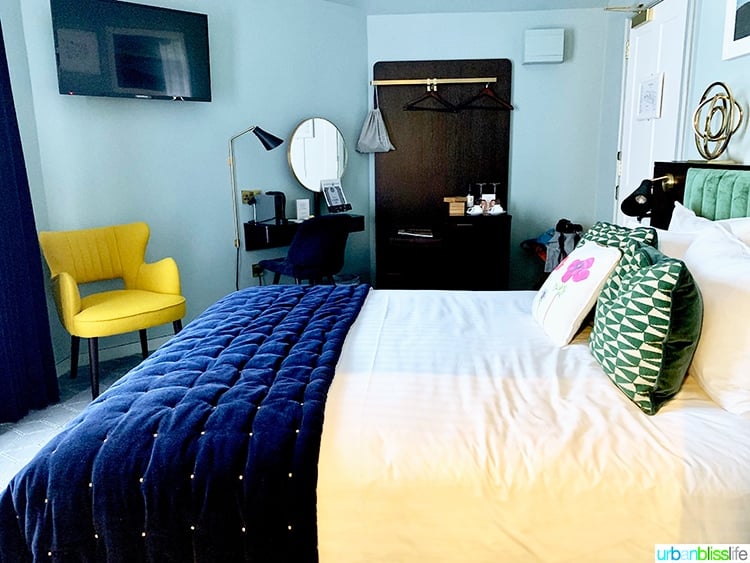 For a luxury experience: The Westbury Hotel - Tucked away off of Grafton Street, this upscale hotel features well-appointed rooms and suites. It also boasts a fitness suite, onsite parking, chauffeur service, 24-hour room service, and several bars and restaurants. Rooms from about $400/night depending on when you visit.
For something on the arty side: The Mont - Modern yet with an art deco style, The Mont is located within walking distance of Trinity College. It also features a stunning bar with a winter garden, a gym, and colorful rooms to offset that sometimes gloomy Dublin weather. Rooms from about $200/night.
Tips for booking hotels in Ireland
Most hotels will offer a discount if you book directly with them. Also, book your stays early, as many hotels fill up rapidly. This is especially true during the high season, as well as in smaller cities with fewer hotel options.
Book your Ireland hotels
Use the search form below to find the best Ireland hotel deals and book your next vacation today!
More Ireland travel guides
If you visit, please be sure to let them know that you read about it on Urban Bliss Life! And if you snap some pics, tag us @UrbanBlissLife and #UrbanBlissLife on Instagram, TikTok, Twitter, and Facebook.