Looking for a hearty, yummy breakfast? This Tomato Basil Skillet Breakfast Scramble will fuel the whole family, and freezes well for leftovers!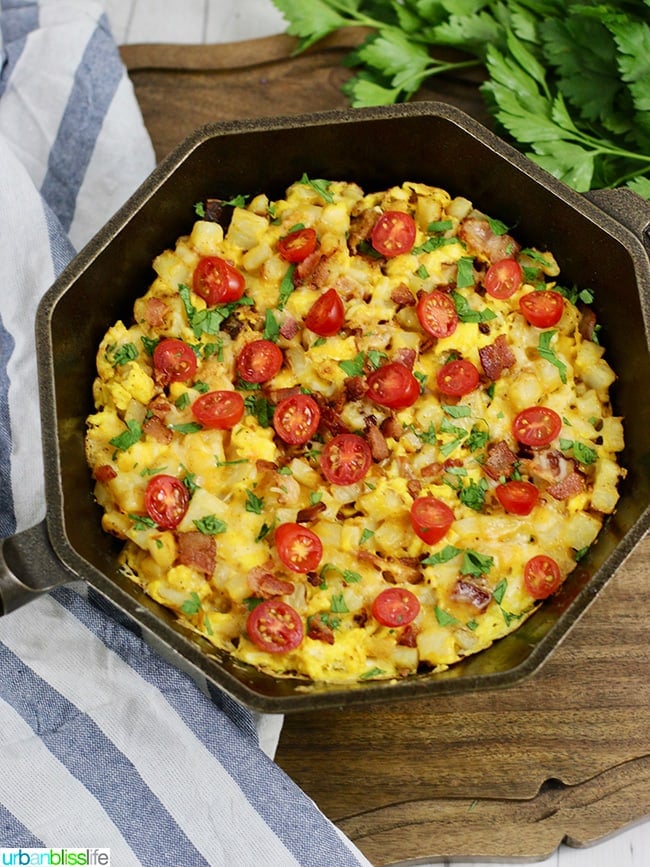 Now that we have a high schooler who starts the day before sunrise, and a middle schooler who has a long day of school and sports, breakfast has become more important than ever in our house.
We've never been big cereal eaters in my family; we prefer to enjoy hearty, hot, protein-packed breakfasts. Throw in some veggies and add a side of fruit, and we're fueled up for the long, busy day and night ahead!
This easy breakfast recipe for Tomato Basil Skillet Breakfast Scramble is one that I like to make when I have just a few more minutes in the morning to make a big meal. It has so much packed into one pan!
Tomato Basil Skillet Breakfast Scramble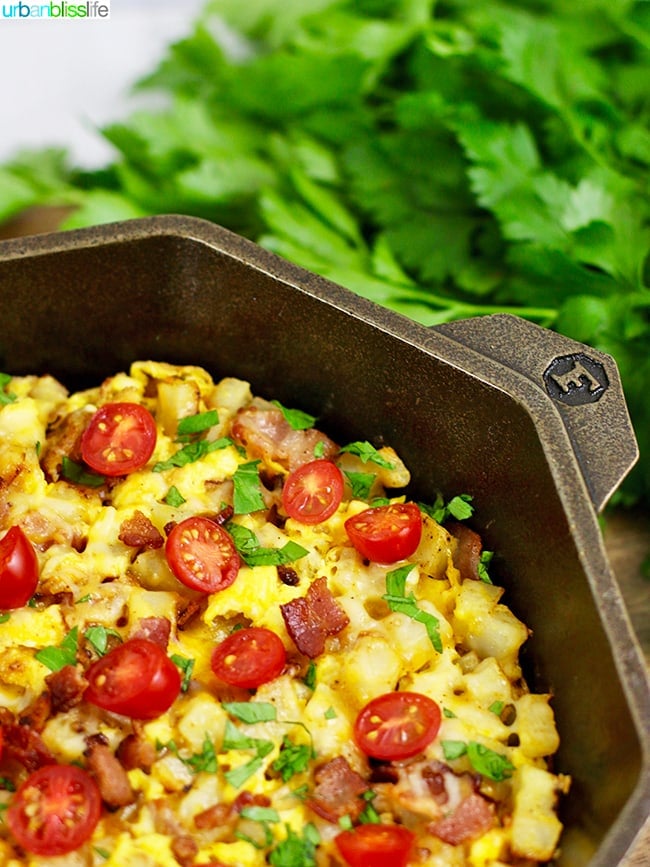 This Tomato Basil Skillet Scramble is super easy, and truly just takes about 20 minutes to make. I love that you can make this all in one-skillet -- less dishes to clean up afterward!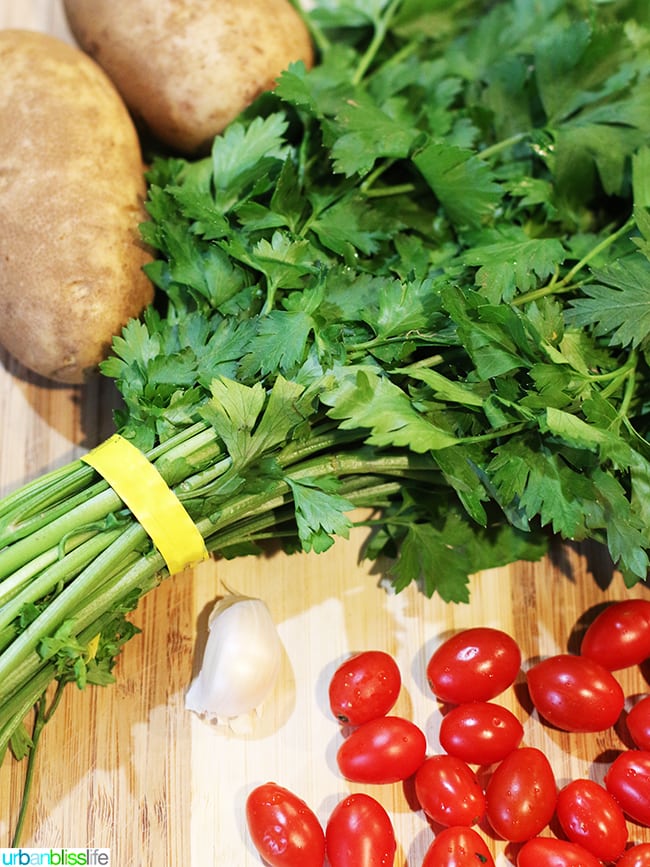 You start by cooking up the bacon in a hot skillet (I use my fave Finex Cookware cast iron skillet). Because all the best breakfast meals start with bacon, yes? Yes! (Clearly, my vegetarian friends can leave out the bacon).
Then you add the garlic, onions, and potatoes, and sauté until the potatoes are slightly cooked with a slightly crispy edge. Slowly pour in the beaten eggs and scramble, then layer in the veggies of your choice.
I love adding cherry tomatoes to this, but I think asparagus, broccoli, red peppers, green peppers are also delicious additions to this dish. You can even add some jalapeños for a little bit of a kick in the morning.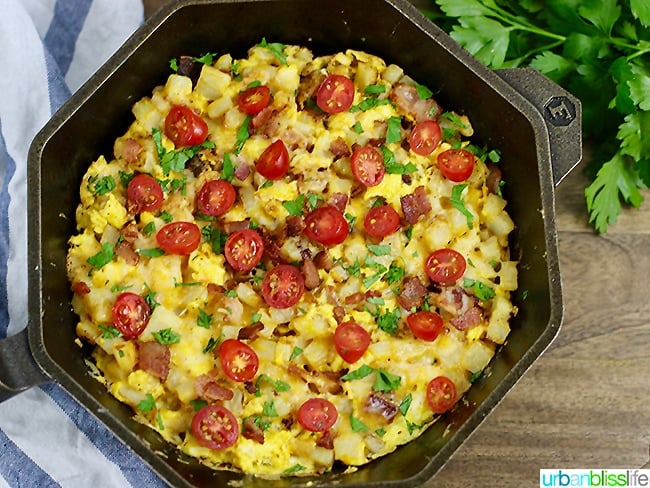 The fresh basil adds a bright, fresh note to the dish, and you can also feel free to add any other herbs that tickle your fancy. Garnish with some chopped parsley, and in less than 20 minutes, you've got this gorgeous meal ready to serve!
This Tomato Basil Skillet Scramble beautiful, satisfying breakfast dish that is packed with protein and vitamins. A great way to start the day!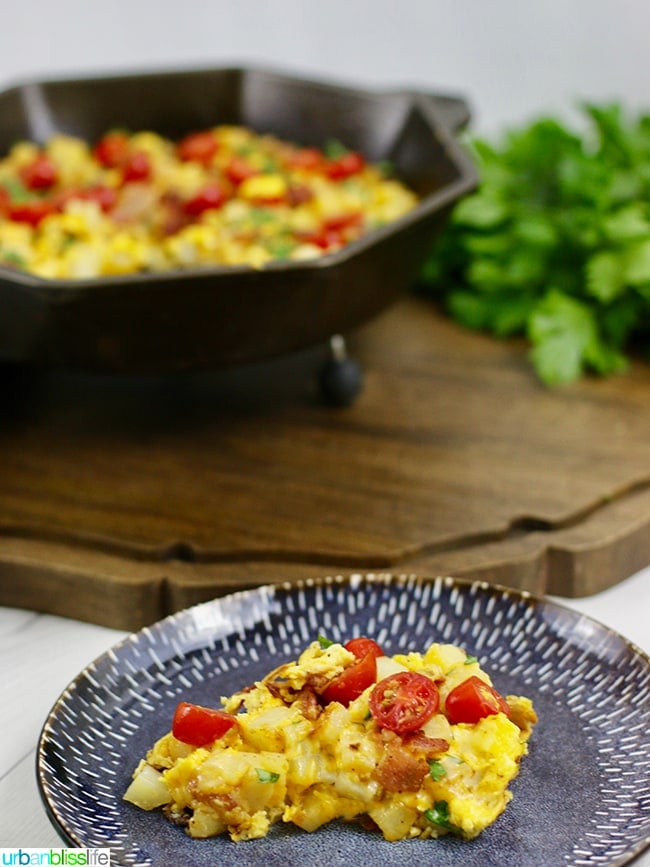 Some of my fave things about this breakfast scramble recipe:
It's a one-skillet dish, so there's less mess and less clean-up. A bonus, especially in the morning!
It's a great way to get some veggies in you first thing in the morning.
It freezes well so you can enjoy any leftovers for another breakfast.
It's easy to customize and is delicious with a variety of veggies and herbs.
It's easy to leave out the bacon to make this a vegetarian breakfast recipe.
You can whip this up in about 20 minutes.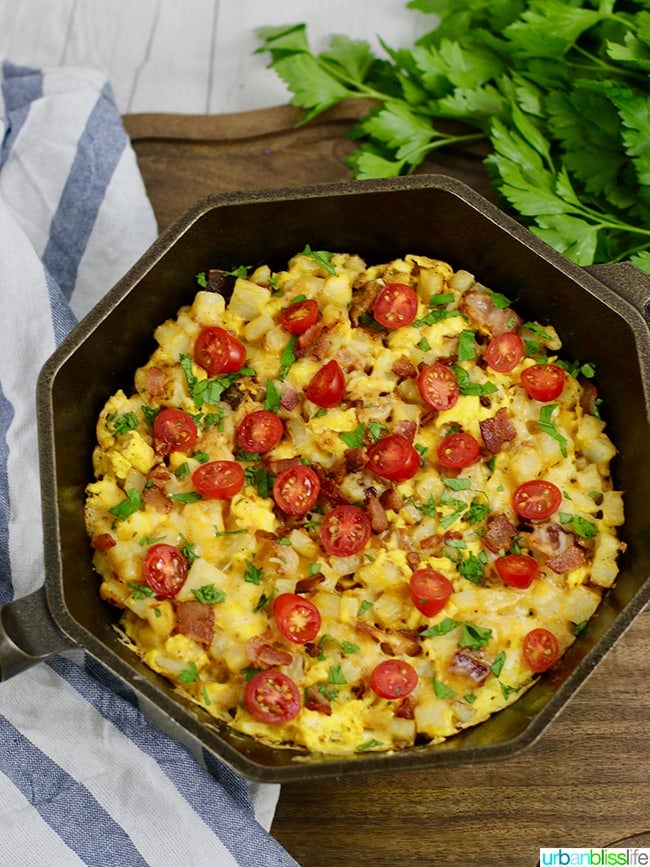 Also, if you are like our family and love having breakfast for dinner (what do we call that: Brinner?), this Tomato Basil Skillet Scramble is an awesome dish to enjoy at night, too!
Tomato Basil Skillet Breakfas Scramble Recipe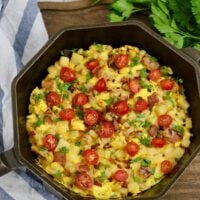 Tomato Basil Skillet Breakfast Scramble
This tomato basil skillet scramble is made in one pan and will fuel the whole family for a busy day ahead!
PRINT
PIN
RATE
🤍 SAVE
Saved!
Ingredients
1

tbsp

almond milk or regular milk (nonfat, 1%, 2% - your choice)

5

slices

bacon, chopped into 1-2 inch pieces

½

cup

onions, finely minced

2

cloves

garlic, minced

1

large russet potato, diced into small cubes

1

cup

cherry tomatoes, halved

2

tbsp

basil leaves, finely chopped

1

tbsp

parsley, finely chopped (for garnish)
Instructions
Lightly beat the eggs with milk in a large bowl. Set aside

In a large skillet over medium-high heat, cook bacon until desired crispness. Once cooked, set aside on a plate covered with paper towels to soak up some of the grease.

Add onions, garlic, and cubed potatoes into the skillet and sauté until the onions and garlic are slightly soft and potatoes start to get a golden brown coating, about 4-6 minutes.

Slowly pour in the egg mixture and scramble with the onions, garlic, and potatoes until eggs are fluffy and just about cooked.

Return the bacon to the pan. Add in the tomatoes and basil leaves, and stir, cooking for 1-2 minutes, just until the tomatoes are warm and softened, and basil is slightly wilted.

Optional step: Using your wooden spoon or spatula, gently spread out ingredients to create an even layer and cook for 1 minute without stirring. This helps the ingredients slightly stick together and form a nice slightly crisp bottom, which makes it easier to cut into almost like a frittata.

Remove from heat and garnish with chopped parsley. Serve immediately.
Tried this recipe?
Please leave a star rating and comment! Then snap a pic of your dish and share it on social media. Tag @UrbanBlissLife and #UrbanBlissLife!
Nutrition information is a general estimate. Actual nutrition details may vary depending on the exact foods & brands you use to make this recipe. It does not take into account any substitutions, toppings, or optional ingredients.
If you make this recipe, don't forget to share it on Instagram with hashtag #UrbanBlissLife and tag me @UrbanBlissLife.
I'd love to see what you make! And, if you like this recipe, please do me a huge favor and leave a star rating. Thank you, sweet friends!
PIN IT: