This Taco Mac and Cheese recipe combines two family favorites - tacos and macaroni & cheese - into one super fast, super easy, crazy delicious ultimate comfort food!
We're big fans of Taco Tuesday in our house. You, too? Then I know you will love this recipe!
Recently, I was invited to participate in the Main St. Bistro Signature Mac & Cheese + 3 recipe contest. I'd be creating and then cooking a recipe in a 30-minute timed competition that would air on our local FOX news affiliate. I was so excited! I've been a judge in past food competitions, but I've never competed like this before!
Main St. Bistro Signature Mac and Cheese + 3 Recipe Contest
I was one of three bloggers tasked with creating a fast, easy, delicious recipe using the Main St. Bistro Signature Mac & Cheese. In the end, the winner would get to award a $1,000 check from Reser's Cares to the Oregon Food Bank. Pretty cool, right?
Our recipe guidelines included:
We could only use three mix-in ingredients and two garnishes.
All ingredients had to be fresh with no artificial colors or additives.
The dish had to serve at least four people.
From start to finish, the recipe had to be done within 30 minutes max.
Recipe Development + Taste Testing
Almost immediately, I knew what I wanted to do: I created a leftover recipe, calling it Take Two! Taco Mac and Cheese recipe.
I had a taste testing session at my house with two friends and their four kids. My taste testers all really enjoyed the recipe! Spoons kept going back in for more. Hooray! After giving me their preferences for the different versions of the recipe, I finalized my recipe and prepped for the competition.
I was nervous - I had never done a 30-minute cooking competition for television before! - but I was still so very excited to share this new recipe.
The Cooking Competition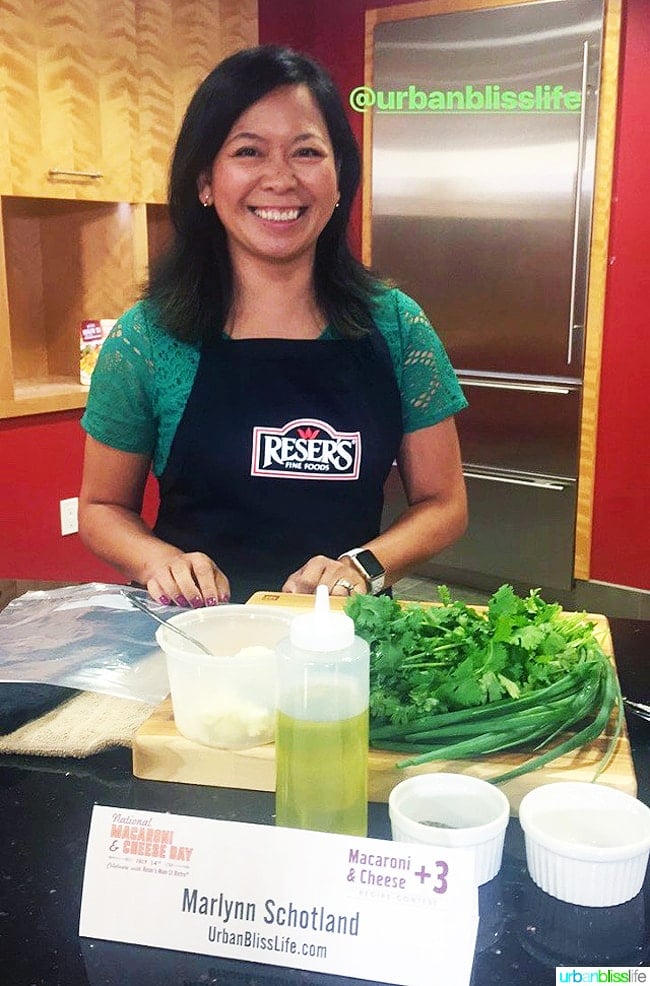 (photo above taken by competition host & judge, KPTV Fox 12's Molly Riehl)
On the day of the competition, I arrived at the Reser's headquarters in Beaverton, Oregon and started setting up my cooking station.
Two of my favorite local food bloggers, Melissa Cook of MelissaKaylene.com and Heather Cheney of HeatherLikesFood.com were my competitors. Knowing both of them from previous blogger events made the competition so much fun!
Molly Riehl of KPTV FOX 12 was the competition host and one of the five judges. While we were preparing our dishes, she would ask us questions here and there, just like you see on cooking competitions on television. It was SO much fun!
The judging part, though, was pretty nerve wracking. In the end, we were told it really was SUPER close, and the winning recipe was... DOH! I can't tell you yet! You have to wait until July 14th, when it's announced on KPTV FOX 12!
Sorry - I know that's such a tease dangling that carrot in front of you. What I CAN give you, is this recipe. It's already winning in my book, because I have several friends who are huge fans of this recipe already.
I've made this Take Two! Taco Mac & Cheese recipe three times in the past week alone! And, people keep asking for more! So regardless of who won the final battle, this is a truly mouthwatering recipe you can be sure you & your family will enjoy.
Take Two! Taco Mac and Cheese Recipe
YOU GUYS.
This dish is one you will want to make again and again.
It rocks because it:
is super fast to make. Less than 30 minutes from start to finish!
uses leftover ground turkey or ground beef taco meat that's pre-seasoned.
is SO creamy thanks to the made-from-scratch taste of the Main St. Bistro Signature Macaroni & Cheese.
has a mouthwatering mix of creaminess from the mac & cheese and crunchiness from the crumbled tortilla chip topping.
Main St. Bistro Signature Mac and Cheese
Here's another reason all of you busy moms, dads, grandparents, and singles out there will LOVE this dish: Main St. Bistro Signature Mac & Cheese can be warmed up in the microwave in just 3 minutes. That's it!
You can find Main St. Bistro Signature Macaroni & Cheese in the refrigerated meat section next to other Main St. Bistro side dishes. It's made with real butter, real yummy cheese, and has no artificial flavors or colors. And, it honestly is so creamy and cheesy.
My kids love it because it's easy for them to heat up on their own, too!
Two Family Favorite Comfort Foods in One Delicious Main Dish
Who doesn't love Taco Tuesdays, right? They're fast and yummy and there are ways to customize tacos to make almost every family member happy.
From Taco Tuesday, we often have leftover turkey taco meat. I thought it would be a great recipe for all of my fellow busy parents, and busy working ladies and gents out there, to combine two family faves into one uber tasty, crazy easy, super comfort food.
This Taco Mac & Cheese, my friends, is THE ULTIMATE COMFORT FOOD!
Simply mix the warmed up Main St. Bistro Macaroni & Cheese with your leftover taco meat and salsa, then top with crumbled tortilla chips. Bake at 400 degrees for about 7 minutes, until the top gets nice and golden, and then garnish with sliced green onions.
That's it! SO easy, right?
Tune in Friday, July 14, 2017

Don't forget, locals: tune in to KPTV FOX 12 on Friday July 14th. Watch the cooking competition sometime in the morning when the winner will be announced!
I will also announce the details on the Urban Bliss Life Facebook page that day.
Taco Mac and Cheese Recipe

Taco Mac & Cheese
This Taco Mac and Cheese combines two family favorites - tacos and mac & cheese - into one ultimate comfort food!
PRINT
PIN
RATE
Ingredients
1

cup

tortilla chips

1

Tablespoon

olive oil

½

pound

leftover taco meat

12

ounces

prepared mac and cheese

homemade or store-bought

1

cup

salsa

kosher salt and pepper to taste

Optional Garnish: top with additional salsa, taco meat crumbles, sliced green onions
Instructions
Pre-heat oven to 400°F degrees.

Place tortilla chips into a large plastic zip bag and crush into crumbles. Set aside.

In a large skillet, heat one tablespoon olive oil over medium heat.

Add leftover taco meat to skillet and stir to warm up until meat is thoroughly heated up, about 3-4 minutes.

Grease a 9" x 13" glass baking dish or casserole dish with butter.

Add the prepared mac & cheese to the baking dish. Mix in the ground turkey and salsa until ingredients are well blended. Smooth over the top so that it is flat and even.

Evenly sprinkle a generous layer of crushed tortilla chips over the mac and cheese mixture.

Bake at 400°F for 5-7 minutes, just until the tortilla chip layer has a slightly darkened golden color.

While mac and cheese is baking, chop up any items you wish to use as garnish, such as green onions or cilantro.

When mac and cheese is done, remove from oven and add salt and pepper to taste. Garnish with green onions, plus additional salsa, and crumbled tortilla chips as desired.

Serve and enjoy immediately.
Notes
Makes approximately 4-6 servings Storage: store in an airtight container in the refrigerator for up to 3 or 4 days.
Tried this recipe?
Please leave a star rating and comment! Then snap a pic of your dish and share it on social media. Tag @UrbanBlissLife and #UrbanBlissLife!
Nutrition
Calories:
447
kcal
|
Carbohydrates:
64
g
|
Protein:
26
g
|
Fat:
21
g
|
Saturated Fat:
3
g
|
Polyunsaturated Fat:
4
g
|
Monounsaturated Fat:
5
g
|
Trans Fat:
0.2
g
|
Cholesterol:
35
mg
|
Sodium:
1210
mg
|
Potassium:
584
mg
|
Fiber:
3
g
|
Sugar:
3
g
|
Vitamin A:
313
IU
|
Vitamin C:
1
mg
|
Calcium:
177
mg
|
Iron:
4
mg
Nutrition information is a general estimate. Actual nutrition details may vary depending on the exact foods & brands you use to make this recipe. It does not take into account any substitutions, toppings, or optional ingredients.
This post is sponsored by Reser's and Main St. Bistro Signature Mac and Cheese, as part of the Mac & Cheese +3 Recipe Contest. As always, all opinions, recipes, and photos are my own.