There's more than meets the eye when it comes to mushroom wine pairing. Read on to learn more about which wines to pair with mushrooms.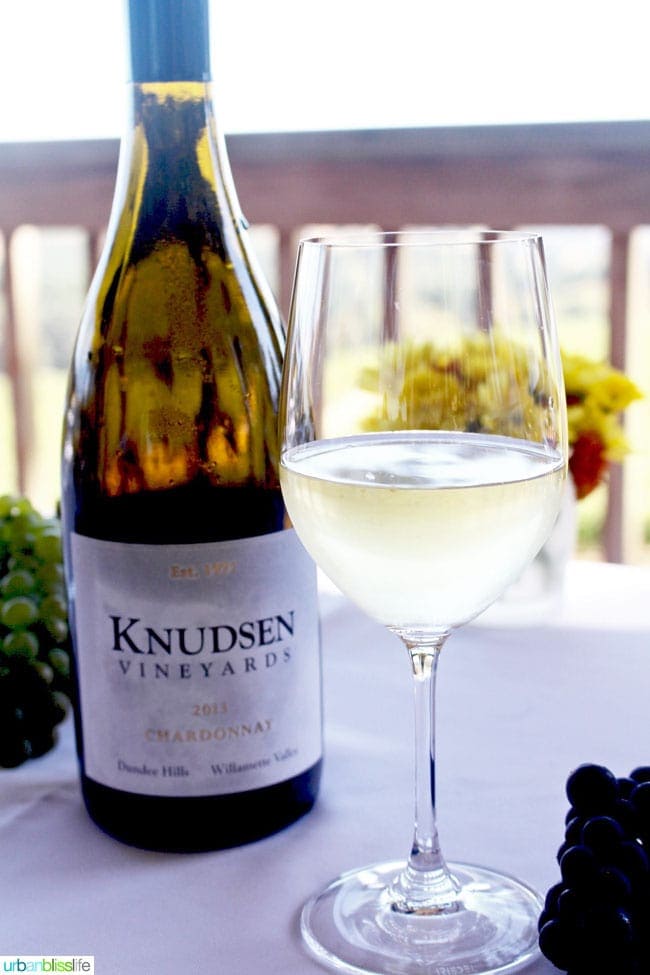 Food and wine pairing is both art and science. I love when wine experts encourage me to try new food and wine combinations. There is definitely something infinitely more delicious about a wine that has been selected to help bring out the particular special qualities of food.
Mushroom Wine Pairing Luncheon in Portland
Recently, I had the pleasure of attending a wine and mushroom pairing luncheon. It was held at Irving Street Kitchen in Portland, Oregon with Knudsen Vineyards and Ostrom's Mushrooms.
I am a BIG fan of mushrooms. At home, I love making (and sharing my recipes for) classic dishes with mushrooms: Herb Stuffed Mushrooms, Pork & Pasta with Mushroom Herb Sauce, Butternut Squash & Mushroom Sage Hand Pies, Chicken Marsala, and Bacon Mushroom Quiche.
But Chef Sarah Schafer and her team at Irving Street Kitchen developed some exquisite, creative dishes for our luncheon. They used mushrooms that paired very well with the wines being served.
Our hosts first welcomed us in with a glass of Argyle Brut, an Oregon sparkling wine. This is one of my favorite bottles of bubbly, made with grapes from Knudsen Vineyard!
Then, we started our meal with a stunning starter dish.
Mushroom Wine Pairing: Pinor Noir and Salmon
We started our mushroom wine pairing luncheon with Gravlax with Pickled Shiitake Tartar Sauce, Cucumber & Frisee, and Rye Crackers.
This was an amazing dish. The cured salmon was nicely seasoned. And, there was a nice mix of textures between the softness of the gravlax, the gentle crispness of the greens, and the crunch of the rye crackers.
What I loved most was the creativity in using shiitake mushrooms to create the "tartar sauce." By dicing the mushrooms and coating them with herbs and oil, it softened the "earthiness" of the mushroom flavor and texture. This creates a beautiful finish to the gravlax. Genius move!
The wine pairing for this salmon dish: Chardonnay. We enjoyed it with the 2014 Knudsen Vineyards Dundee Hills Chardonnay ($45/bottle). This Oregon Chardonnay is an elegant wine with crisp green apple and subtle, smooth vanilla flavor. It pairs beautifully with the complexity of the gravlax dish.
Mushroom Wine Pairing: Steak with Mushroom Sauce
Charred Teres Major with a Portabello & Tomato Salad with Ostrom's Mushrooms Steak Sauce. Now this dish is more of they hearty, meaty type of main courses I associate mushrooms with. However, I am inspired by how the heaviness of the dish is somewhat lightened by the tomato salad and the creamed corn.
This dish was served with a side-by-side tasting of the 2013 Knudsen Vineyards Pinot Noir and the 2014 Knudsen Vineyards Pinot Noir.
Knudsen Vineyards Oregon Wine
The 2013 Knudsen Vineyards (sold out, sorry Charlie!) is richer and has more oomph to it than your typical Oregon Pinot Noir. I love it because of that. It's big enough to stand up to being paired with a hearty meat dish like the one we enjoyed, but not overpowering or too bold. I am so sad that this is already sold out. It would be so lovely with a big Thanksgiving or Christmas meal!
Meanwhile, the 2014 Knudsen Vineyards Pinot Noir ($55/bottle) is lighter and playful. With bright berry notes that make it a good pairing for our second dish, but in a totally different way.
I actually really enjoyed this with my dessert.
Dessert and Wine Pairings
The main dessert was a Ginger Cheesecake with Maryhill Peache Mousse and Enoki Mushroom Crumble. Now THIS is a majorly inspiring dish. Have you ever had mushrooms with dessert? I thought it was so brilliant to turn the mushrooms into a crumble, almost as you would crushed graham crackers, as a loose base to the dish.
Since the main dessert contained cheese and I am dairy-free, they made me this incredibly delicious sorbet with peaches and a flourless dairy-free chocolate torte triangle. Oh my, this was amazing!
Are Mushrooms Good For You?
Did you know that mushrooms are loaded with Vitamin D? They're the only item in the produce aisle that naturally produces Vitamin D! That's something we Pacific Northwest folks can most definitely use more of (and I, personally, have a huge natural Vitamin D deficiency, so pass me the mushrooms, please!).
They are also full of B vitamins which help break down proteins, fats, and carbohydrates to help you feel energized, and they are bursting with selenium and another antioxidant I can't pronounce – ergothioneine – which can help fight off colds and the flu.
So really, mushrooms are super funghi!
How long will mushrooms stay fresh?
Shiitake mushroom fact: shiitake mushrooms will stay fresh for up to 14 days in a paper bag in the refrigerator. They're a great source of niacin and riboflavin!
Portabello mushroom fact: these heftier, meatier mushrooms are basically just larger white crimini mushrooms. They'll stay fresh for 7-10 days in a paper bag in the refrigerator.
Enoki Mushroom Fact: Enoki are cool-looking mushrooms that have long stems clustered together in what I can only describe as Sideshow Bob-esque hair-like formation (see Simpson's Sideshow Bob if you don't get the reference). \
Chef Sarah Schafer
Chef Sarah Schafer came out to our table during the dessert portion to share some insight into the creation of the courses to pair with the wines. I've been to other wine + food pairing events and she always does an excellent job in developing a unique menu to shine alongside the right wines. It's an art and such a gift!
The Knudsen Family: Knudsen Vineyards + Ostrom's Mushrooms
It was a real pleasure learning more about Knudsen Vineyards and Ostrom's Mushrooms, and especially seeing the Knudsen siblings so passionate about their respective family businesses: Page Knudsen Cowles, Colin Knudsen, and David Knudsen are all co-owners and partners of Knudsen Vineyards owners; David Knudsen is also President and CEO of Ostrom's Mushrooms.
To read more about the wonderful world of mushrooms, visit Ostrom's Mushrooms website.
Learn more about Knudsen Vineyards and their exquisite Oregon wines, visit the Knudsen Vineyards website.
Make a reservation for your next lunch or dinner or weekend brunch at Irving Street Kitchen (if you have not yet been here and you are in Portland, you NEED to go! I have been here many times and always enjoy my meal!), visit the ISK website.
I hope this meal inspires you to get creative cooking with mushrooms in your kitchen! Which dish and/or wine sounds most tempting to you?
PIN IT:
Many thanks to Knudsen Vineyards, Ostrom's Mushrooms, and Irving Street Kitchen for this incredibly education and enjoyable tasting experience. As always, all opinions and photos are my own.