Silver Star Cafe offers casual dining with easy access to skiing, hiking, and mountain biking in Park City, Utah.
My son and I truly had a lovely time in Park City, Utah. We spent a day adventuring at Park City Mountain Resort, hiking the Silver Lake Trail, enjoyed a decadent ambitious and beautiful dinner at Tupelo restaurant, and a lovely stay at The Chateaux. Toward the end of my recent Park City, Utah mother-son trip, we visited the Utah Olympic Park (more on that soon!) and then enjoyed a relaxing, casual lunch at the Silver Star Cafe.
Silver Star Cafe
Whether it's a gorgeous summer day like it was when we visited, or it's a snow-filled winter day during Park City's busy ski season, the Silver Star Cafe is a fun place to fuel up or refuel after a busy day of adventure.
Located at the base of the Silver Star ski lift of Park City Mountain Resort, Silver Star Cafe is a ski-in/ski-out restaurant during the winter months that also offers direct access to the Spiro and Armstrong hiking & biking trails during the summer months.
If the weather cooperates, I highly recommend finding a seat outside to enjoy a gorgeous view of Park City.
You can also watch golfers below on the Park City Golf Course.
My son and I had the pleasure of meeting owners Jeff and Lisa Ward during our lunch, and learning more about their vision with the restaurant. Lisa and Jeff are two incredibly hard-working people who put a lot of love and soul into this restaurant, which they purchased in 2010 when it was a small deli. Their vision for creating a community gathering space filled with warmth and hospitality, good food and drink, and live music has come to life. It's a casual, inviting atmosphere where you'll even find their dogs walking around welcoming guests.
Food and drink
No longer just a local hotspot, the Silver Star Cafe was featured in 2014 on the Food Network's Diners, Drive-Ins, and Dives, on the show's "Cross Country Comfort Food" episode. Their menu features classic salads, sandwiches, and a few entrees, plus an admirable beer, wine, and craft cocktail list.
While our Park City guide enjoyed a local beer, I HAD to order the LaBounty Bourbon Ice Bomb ($14).
Cocktails like this have been all the rage in 2015/2016, and I just can't get enough of them. The show is only part of the fun; they are also usually some of the best tasting cocktails around! The Silver Star Cafe's ice bomb is served in a sphere ice ball, and cracked open at table side. The cocktail features local Sugar House Distillery Bourbon, Bianco vermouth, Warr's 10-year port, house-made balsamic syrup, Fee Brothers peach bitters and Fee Brothers black walnut bitters. While this is likely something you will want to enjoy as a dinner cocktail after an active day on the slopes, I also found it refreshing and satisfying on a hot summer day.
Silver Star Cafe is open for lunch and dinner daily, and offers brunch on Saturdays and Sundays. On the brunch menu, you'll find classic hearty dishes like fried chicken and buttermilk biscuits as well as elevated brunch fare such as blackened catfish benedict.
During our lunch visit, I enjoyed the Skirt Steak Tacos ($14). Adobo-marinated skirt steak, black bean puree, salsa verde, crispy onions, shaved radish on white corn tortillas, served with mixed green salad. The steak was flavorful and I loved the added crunch of the crispy onions and shaved radish in the tacos. The salad was a hearty portion and was completely satisfying.
Our Park City guide ordered one of the daily specials: a chicken lettuce wrap, which also came with a large side salad and pickled veggies.
My son continued his quest to try out and compare all the grilled cheeses and french fries in the world, and really enjoyed their fries and the buttery grilled bread that they use on this grilled cheese.
If you go to Silver Star Cafe for dinner, it's highly recommended that you make reservations (they do not take reservations for lunch). I've heard amazing things about their Smoked Mushroom Burger ($19) and the Pork Osso Bucco ($27)!
Live music
The Silver Star Cafe is also known for its acoustic live music shows. On Thursday, Friday, and Saturday nights throughout most of the year, you can enjoy live jazz, bluegrass, blues, and more. Be sure to check out the live music calendar in advance and make your reservations for dinner on these nights ahead of time.
Silver mines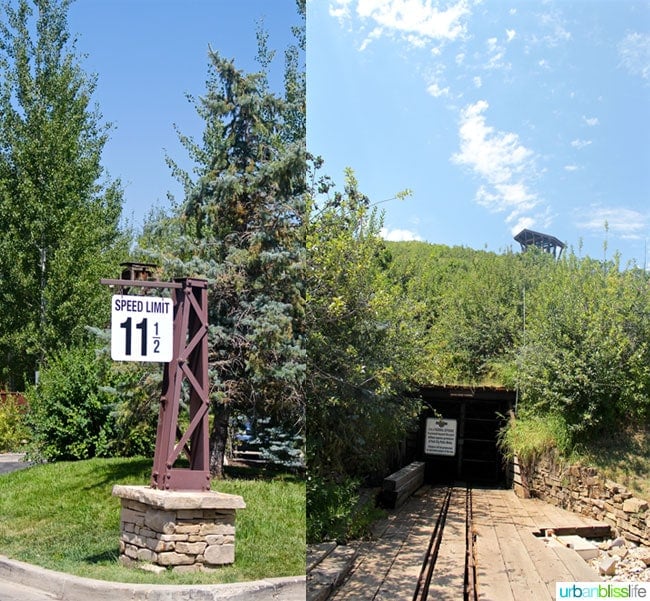 While you're dining at Silver Star Cafe, be sure to walk across the parking lot to check out one of the old decommissioned silver mines. First: there's a crazy odd sign that says "Speed Limit: 11-½." That alone is a fun and curious photo opp. Nobody I've talked to knows the history or origin or reason behind this random sign, so if you know, I would love for you to share in the comments below!
Park City was founded in 1870 as a mining town and actually almost became a ghost town when it was revitalized into one of the country's best ski destinations.
After the Spiro Mine Tunnel closed operations, skiiers actually used to be able to ride a train through the tunnel and then take an elevator up to go skiing. The public used to be able to take tours of the tunnel as well, but in order to preserve the tunnels, they are now closed to the public. It's still a cool spot to check out from the outside, especially if you have curious kids who love history.
Wrap up
My son and I had a lovely lunch at the Silver Star Cafe. If you are looking for a great food and drinks with a menu that has something that is sure to please everyone, in a great location, this is it. I think their location is ideal for families and friends visiting Park City: you can easily enjoy a meal here before and/or after spending a day skiing, hiking, or biking on Park City Mountain. Their hospitality makes you feel right at home, and the atmosphere is casual, friendly, and fun.
Visit
1825 Three Kings Drive, Suite 30
Park City, Utah 84060
http://www.thesilverstarcafe.com/
HOURS
Monday through Wednesday
Lunch 11 a.m. to 3 p.m.; Dinner 5:30 to 9:00 p.m.
Thursday and Friday
Lunch 11 a.m. to 3 p.m.; Dinner 5:30 to 10:00 p.m.
Live acoustic music dinner show from 7:30 to 10:00 p.m.
Saturday
Brunch 9 a.m. to 3 p.m.; Dinner 5:30 to 10:00 p.m.
Live acoustic music dinner show from 7:30 to 10:00 p.m.
Sunday
Brunch 9 a.m. to 3 p.m.; Dinner 5:30 to 9:00 p.m.
Many thanks to Silver Star Cafe and Visit Park City for the complimentary meal. As always, all opinions and photos are my own. For more Park City, Utah Travel Bliss, visit my Travel Bliss: Utah page.