Straddling the border of Switzerland and Italy, the picturesque city of Lugano, Switzerland offers visitors breathtaking scenery, warm climate outdoor adventures, and culinary adventures that marry the two cultures.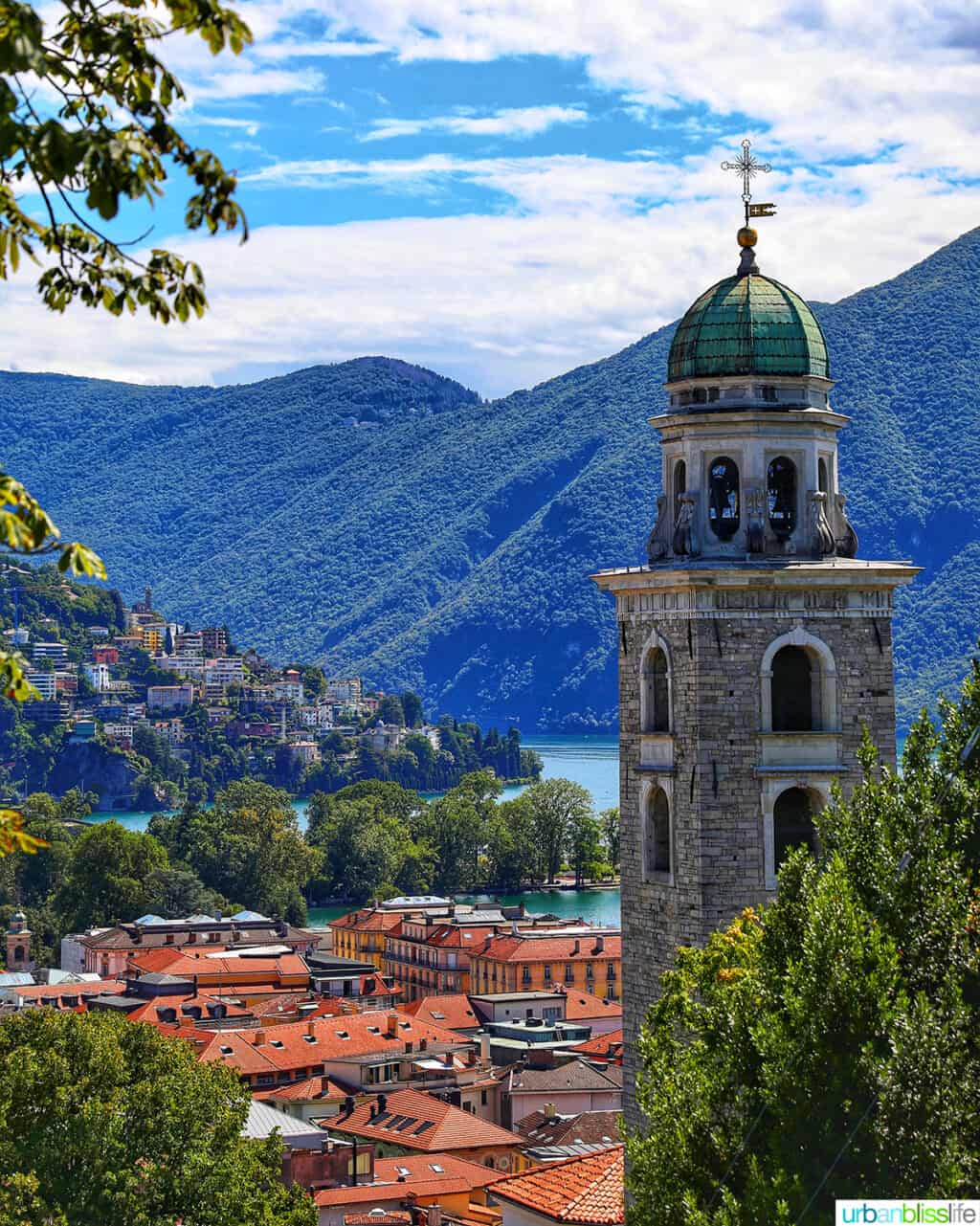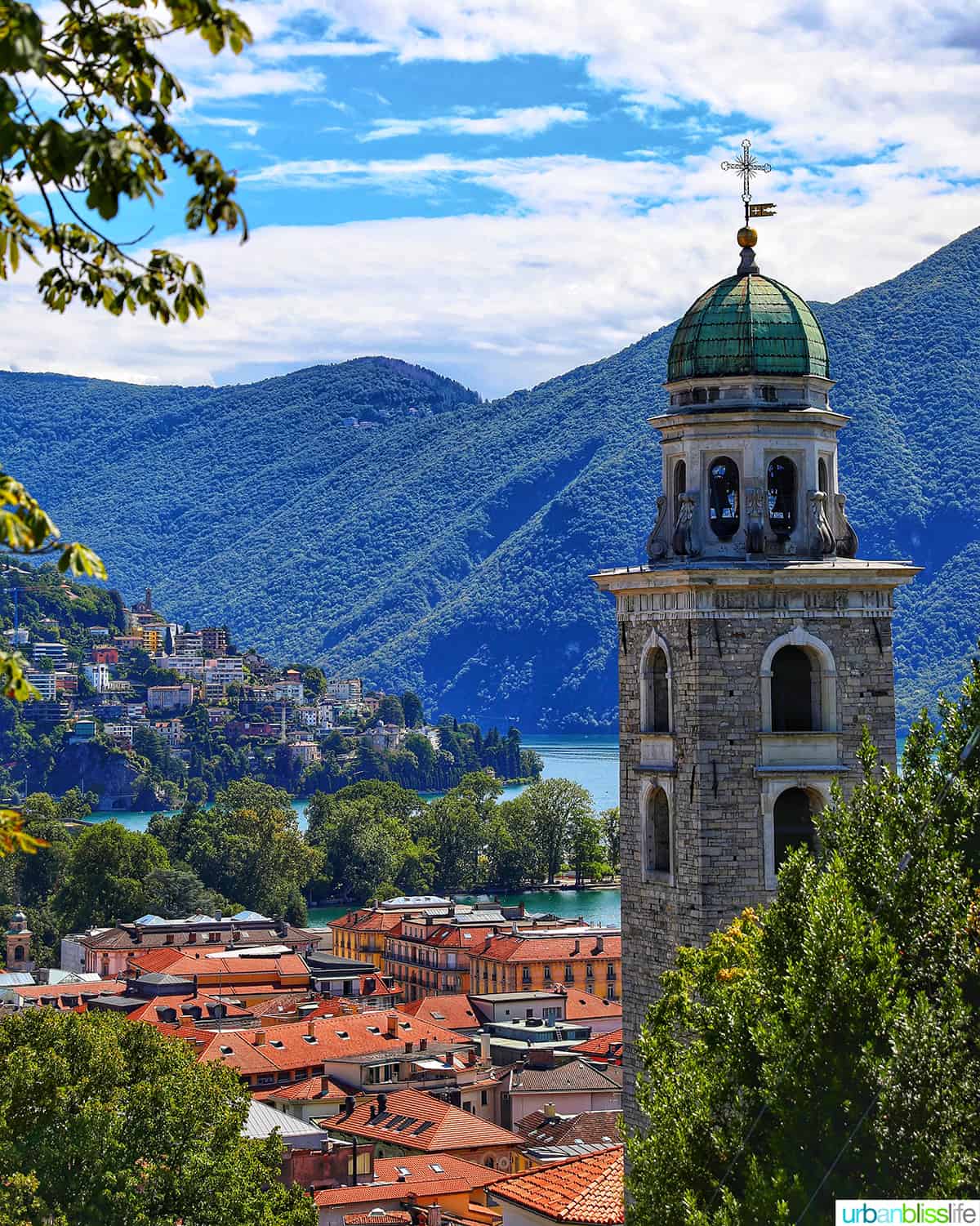 When I mention Switzerland as a travel destination, most people think of the Swiss Alps, skiing, and fondue. The country doesn't always conjure up images of colorful Italian architecture, gelato stands, and sun-drenched lakesides.
Yet that's exactly what one will find if one travels to the Ticino region of Switzerland. This southern part of the country borders Italy, and is known as the Italian-speaking region. The north and northeast parts of Switzerland are known as the German-speaking regions, and the west and southwest regions are known as the French-speaking regions.
We've traveled to Lugano a few times now. First, as a couple, and subsequently as a family of four with two very young children, and finally with extended family. Having experienced this beautiful city at various stages of our lives, with travel companions ranging in age, I can assure you it is a wonderful destination for all sorts of travelers.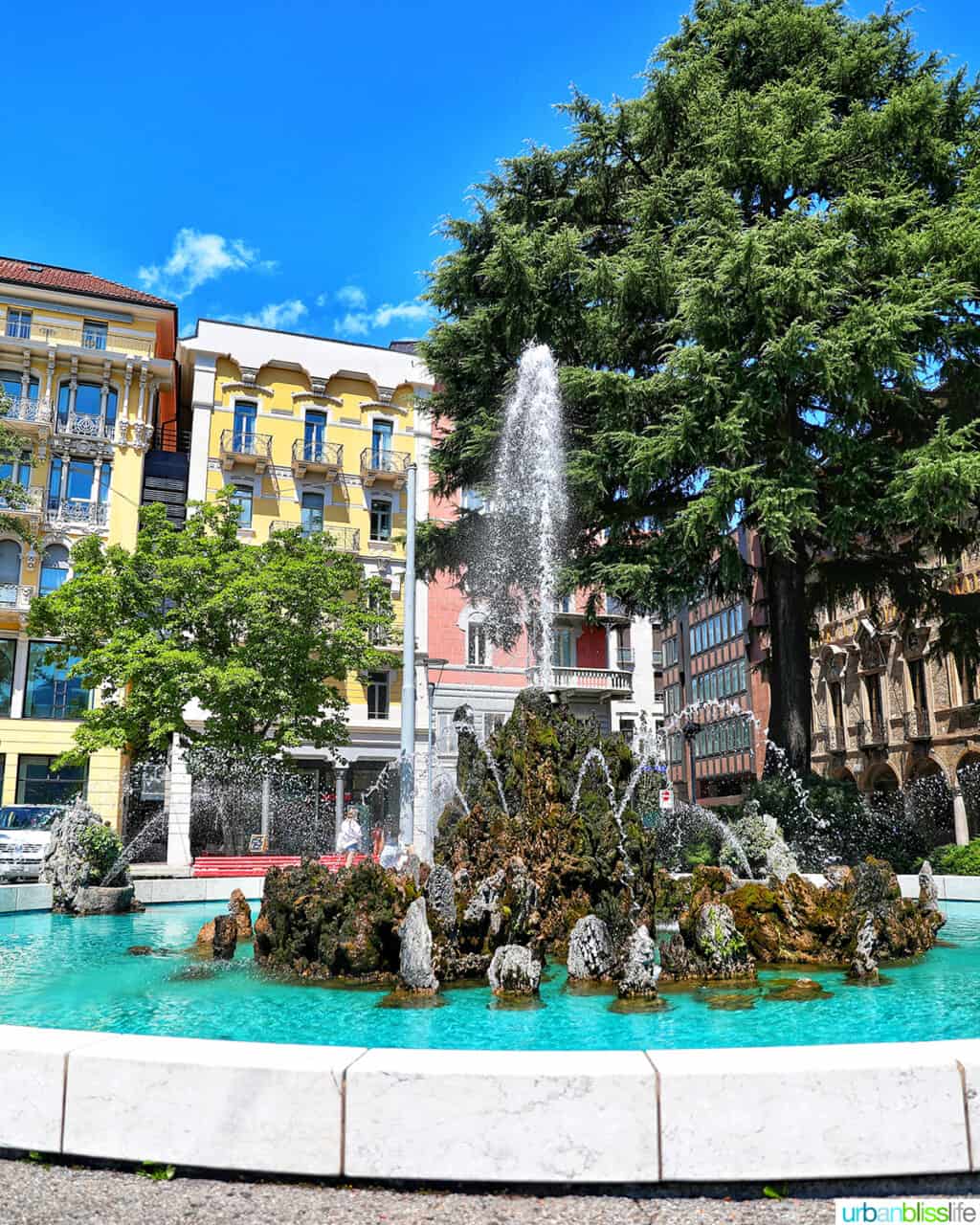 🚄 How to get to Lugano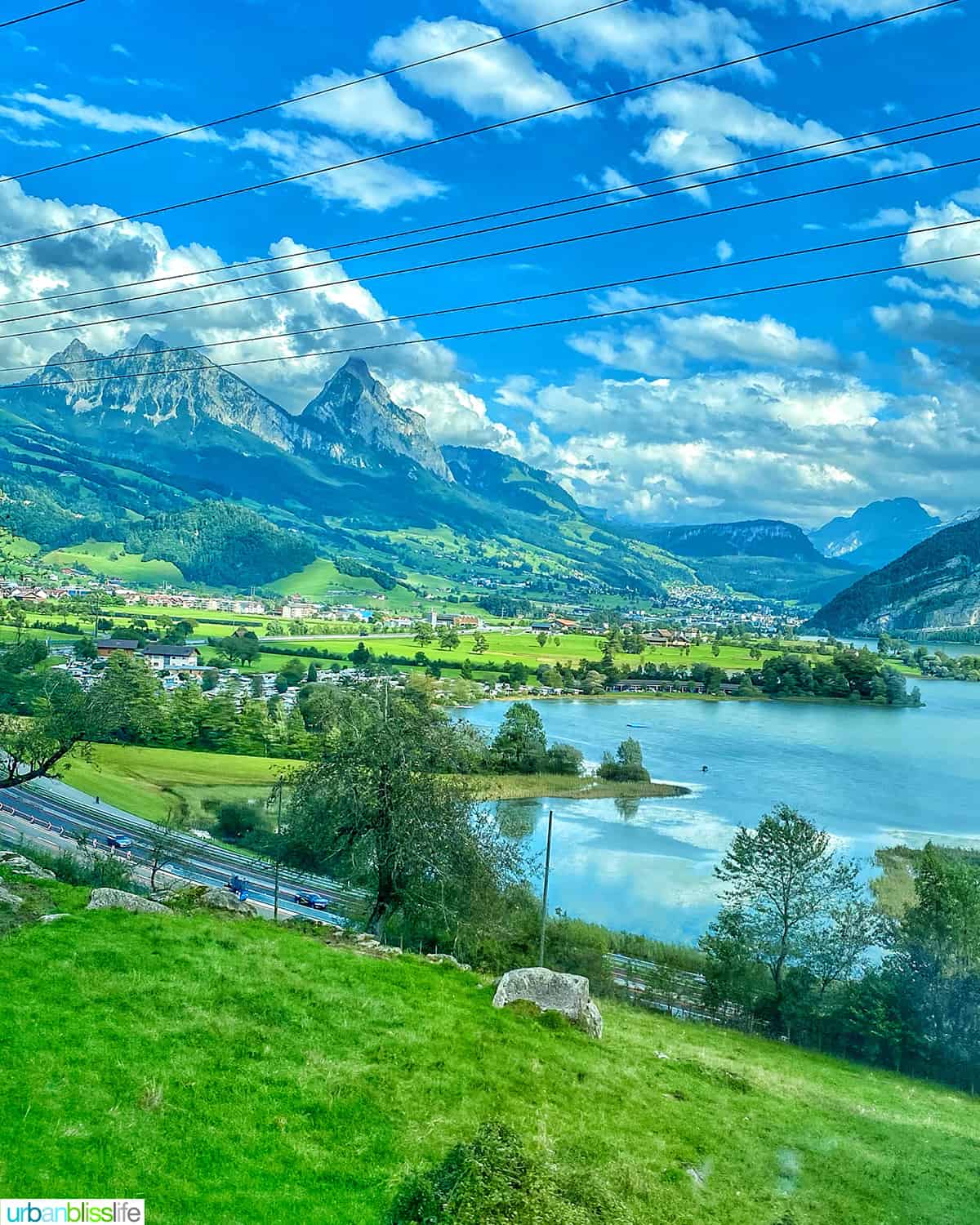 Getting to Lugano is easier and faster than ever. Before, it would take us close to 4 hours by train from Zurich. Now, it takes just a little under two hours.
| Tip
🎫 For cheap train tickets and rail passes check out Rail Europe
That's thanks to the addition of more direct trains through the recently completed Ceneri Base Tunnel and the Gotthard Base Tunnel -- the longest tunnel in the world at over 35 miles.
Either side of the tunnel is an absolutely beautiful train ride which passes through lakeside villages and the historic town of Bellinzona, with its three medieval hillside castles. The trains run at least once per hour on this route.
☀️ Weather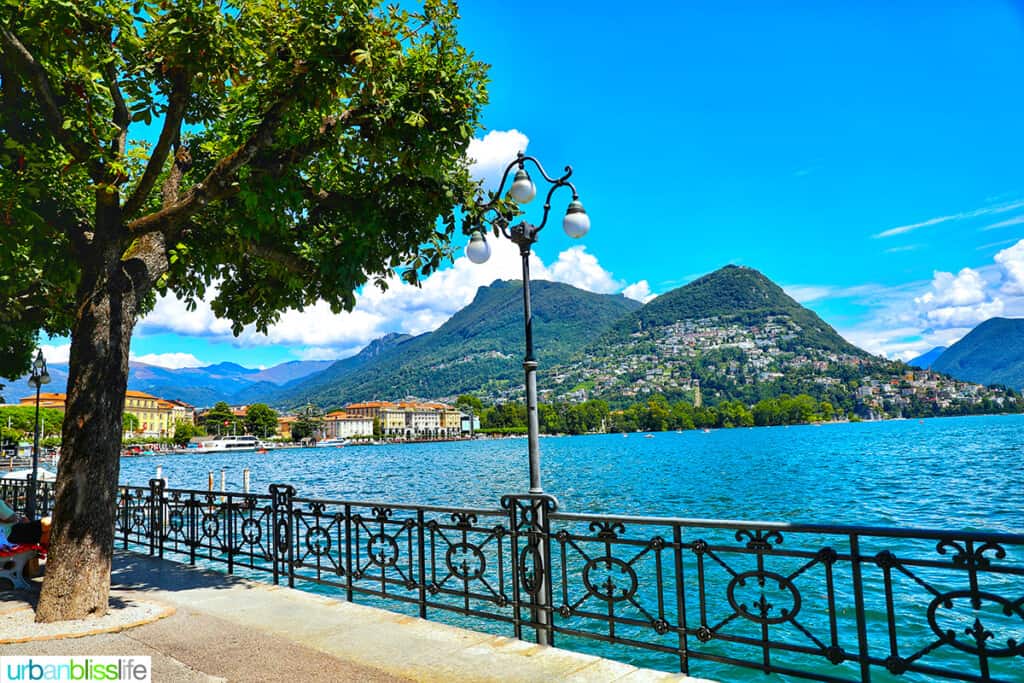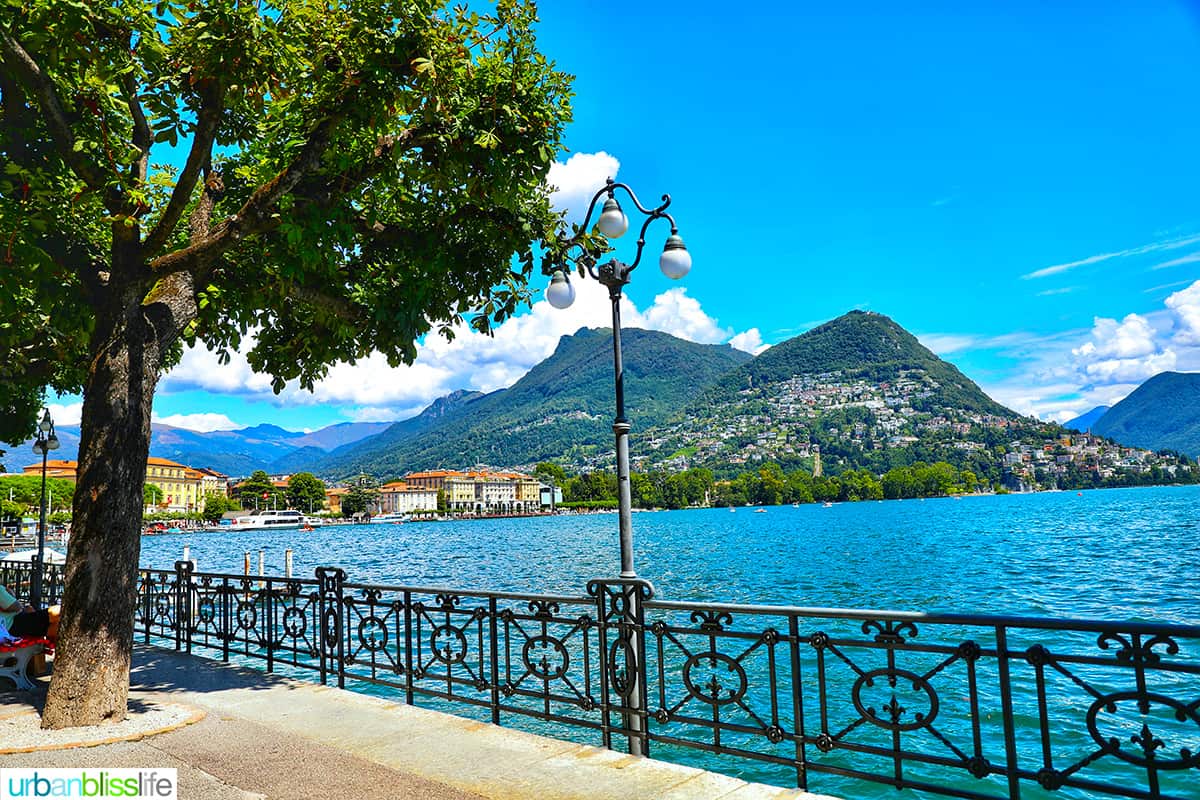 Because of its Southern location, Lugano tends to be warmer than the rest of Switzerland. It has more of a Mediterranean climate, similar to bordering Italy.
The average high temperature from June to August tops out at around to 80°F (about 27°C), but it's not unusual for the weather to reach into the 90s.
In the spring and fall, high temperatures hover around 65°F (about 18°C).
🛄 What to Pack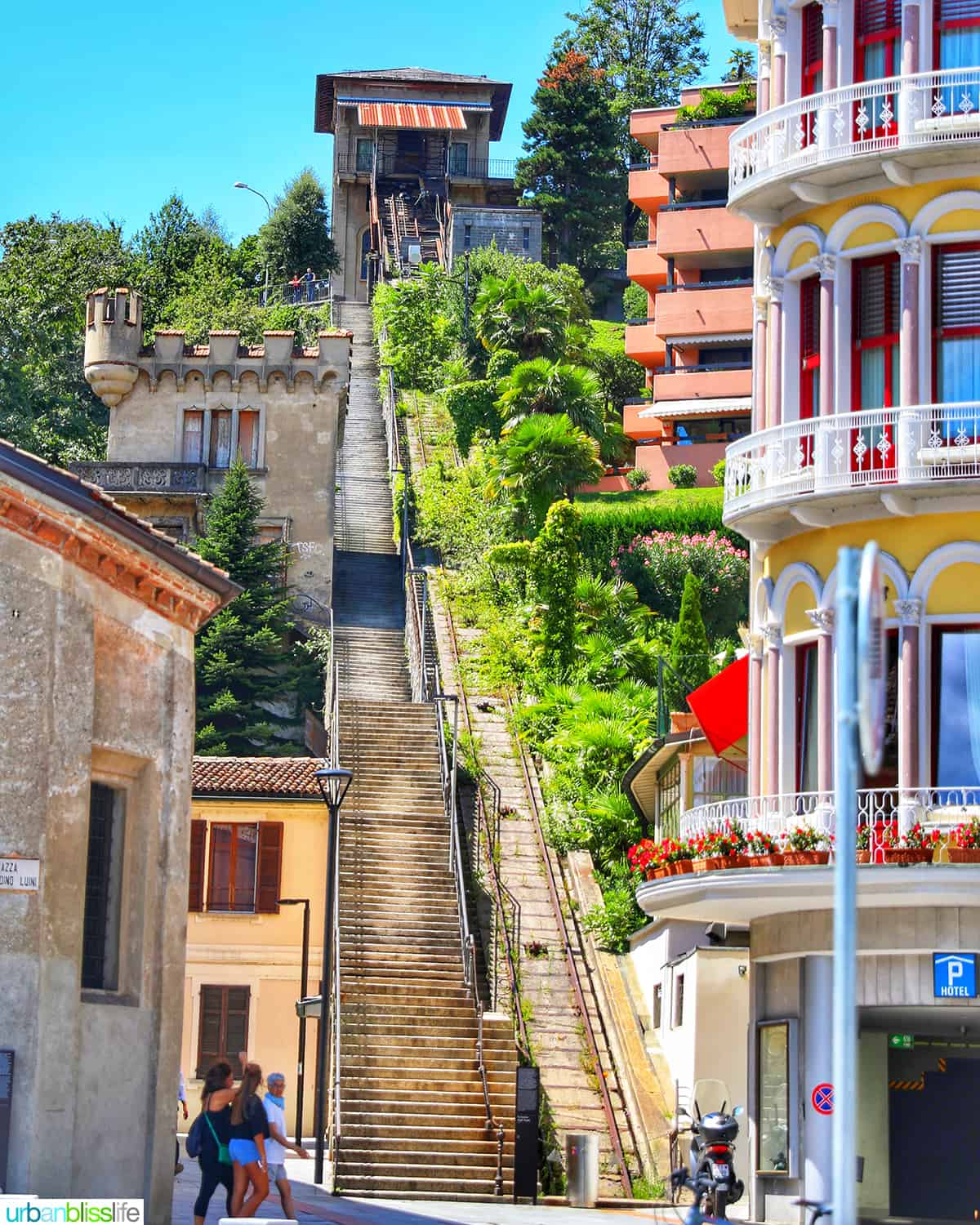 When visiting Lugano, most of the year you'll be safe packing warmer weather clothing. Shorts and t-shirts work fine during the day in most places during the spring through mid-fall. It can be breezy at the lake and colder during late fall and winter months, so pack sweaters and light jackets to layer. And, of course, don't forget your swimsuit if you're going to be spending time on the lake!
In addition to packing a variety of layered clothing, you'll definitely want to pack:
Comfortable shoes - Lugano is full of gorgeous hillsides and steep steps (see the photo above). You'll want to be sure to wear comfortable walking shoes.
I personally have relied on Sorel shoes for over a decade of frequent travel. During the summer, these are my favorite Sorel sandals – I wore them during our recent trip to Lugano and you can even see them peeking out in the photo of paddleboats below. During colder months, I rely on these comfortable waterproof ankle boots. And if it's snowy, these snow boots are comfortable and warm.
Sunscreen - Definitely pack sunscreen if you're headed to the Ticino region! It gets very warm during most months and when we've traveled here, we spent most of our time outdoors. Your adventures in Lugano can include high elevations closer to the sun, so even on overcast days, you'll want to make sure you're wearing sunscreen.
🏨 Where to Stay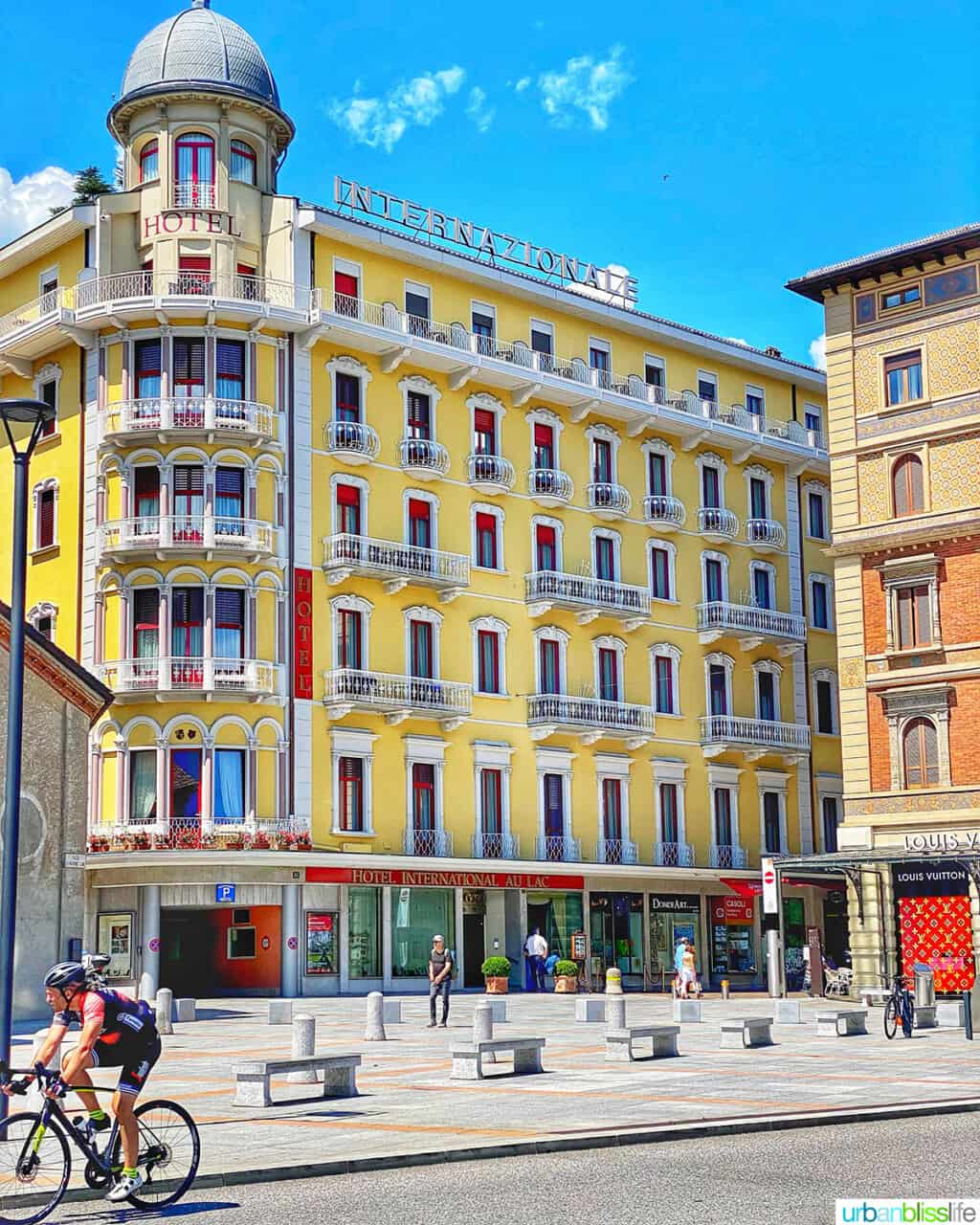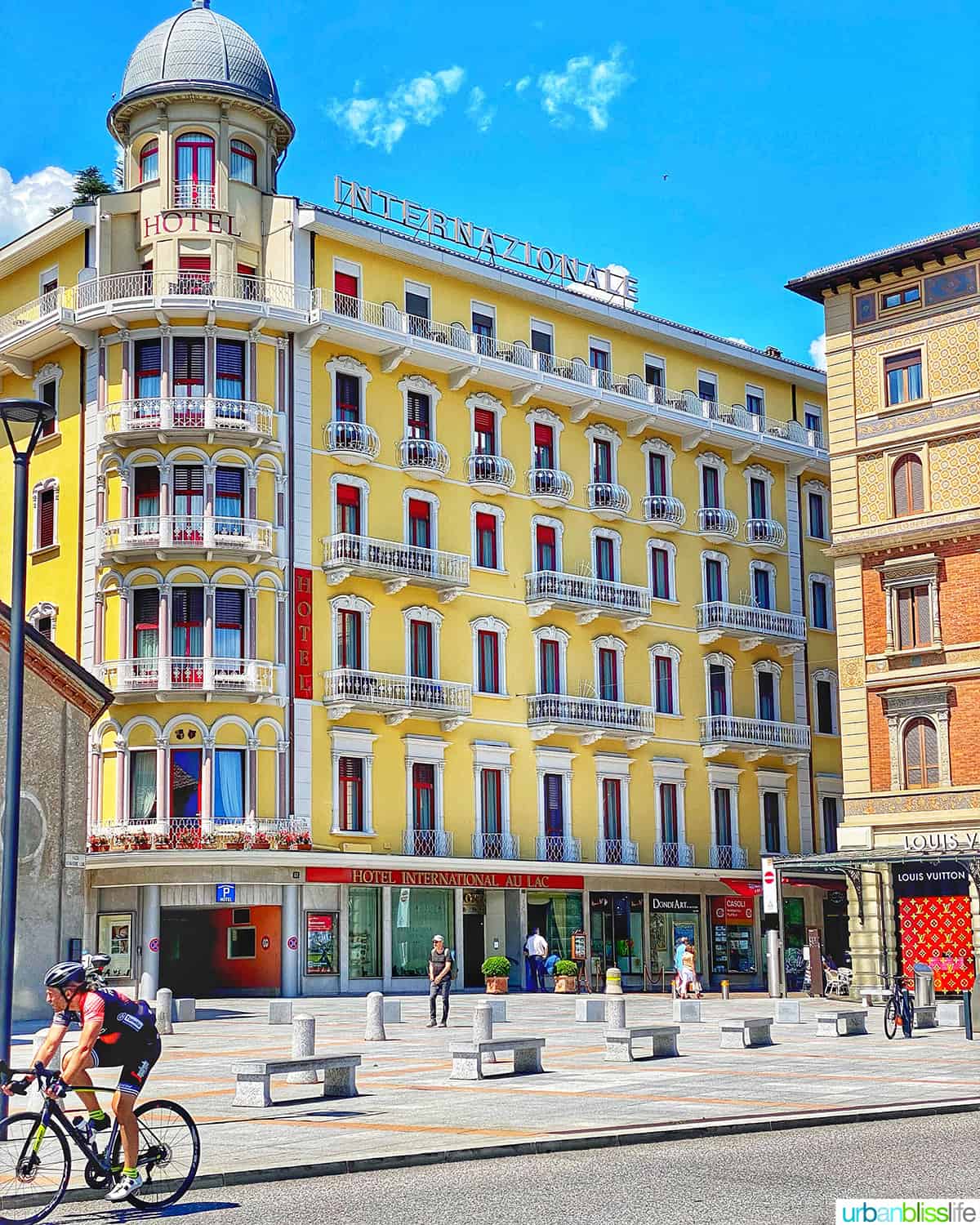 Grand Hotel Villa Castagnola
If 5-star luxury is your style, the Grand Hotel Villa Castagnola will not disappoint. Nestled alongside Lake Lugano, the hotel offers a mix of old-world charm, modern conveniences, and breathtaking views. It also features a Michelin-starred restaurant housed inside an art gallery.
Explore the Grand Hotel Villa Castagnola.
Hotel International Au Lac
Relax on the lakeside promenade while staying at the Hotel International au Lac. This recently renovated hotel sits in the historic town center close to shops and right next to the city arts center and museum. And if you're a late riser, their breakfast buffet serves until 10:45 a.m.
Explore the Hotel International Au Lac.
Hotel Walter Au Lac
Located in the heart of Lugano, the family-owned Hotel Walter au Lac boasts lakeside views and easy access to the main train station, city shops and restaurants. All rooms also feature air conditioning and WiFi.
Explore the Hotel Walter Au Lac.
🍝 Where to Eat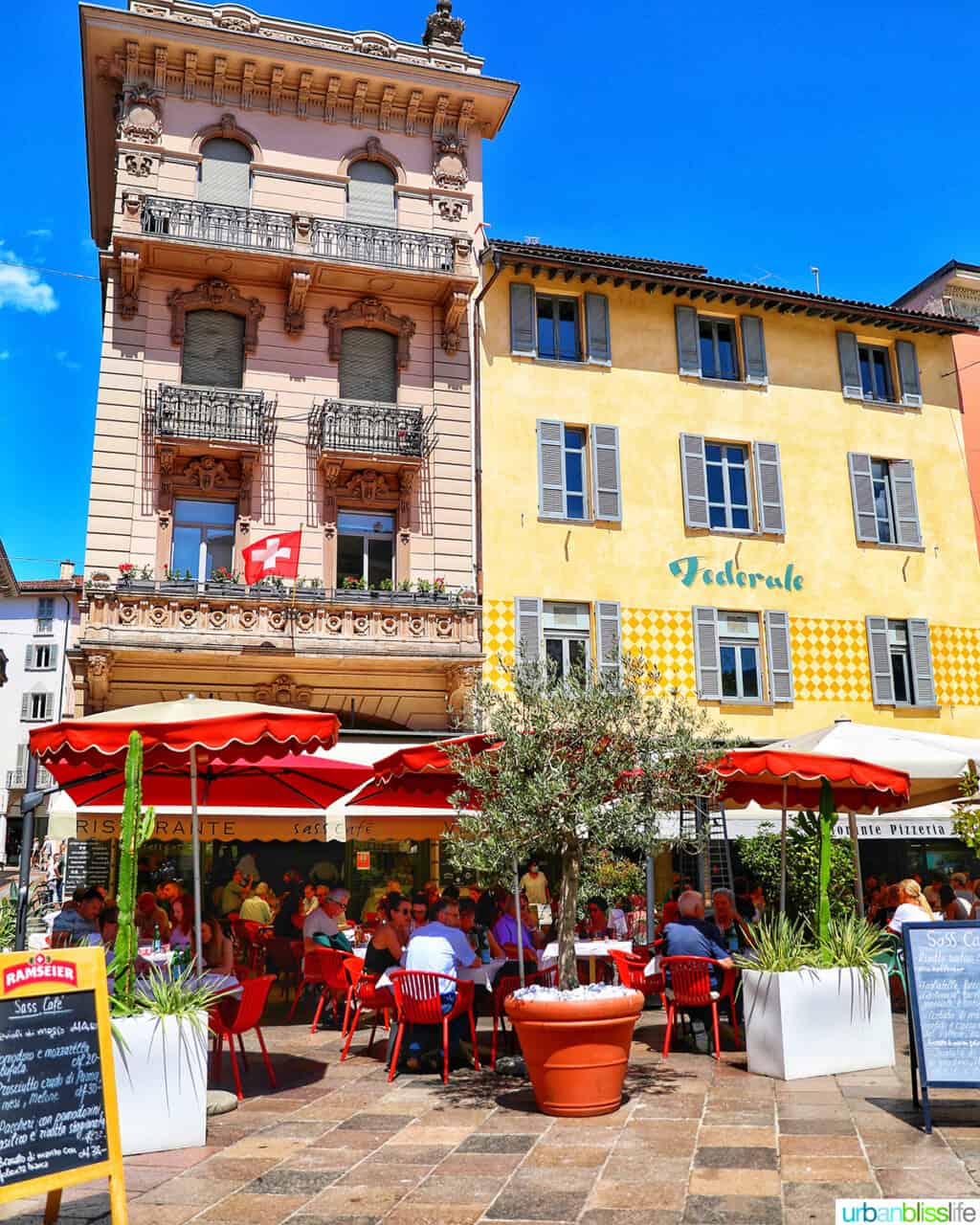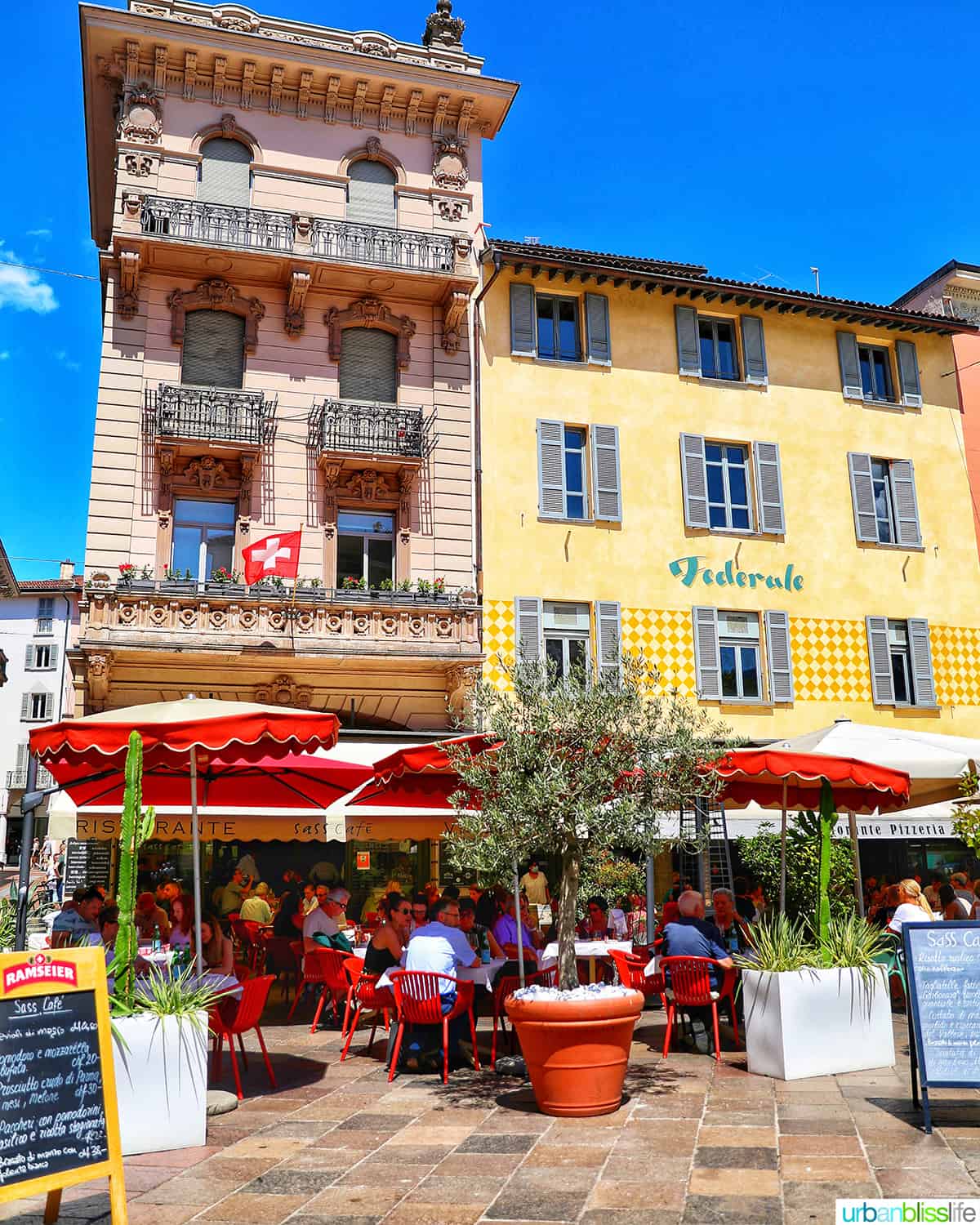 One of my favorite things about Lugano is the wealth of fantastic places to eat.
Lugano is home to hundreds of restaurants and cafes, as well as numerous food carts along the lake. Italian cuisine dominates the restaurant scene here, but you'll also find Swiss, French, and German restaurants.
In the town's main square, the Piazza della Riforma, you'll find several options for breakfast, lunch, and dinner.
Ristorante Federale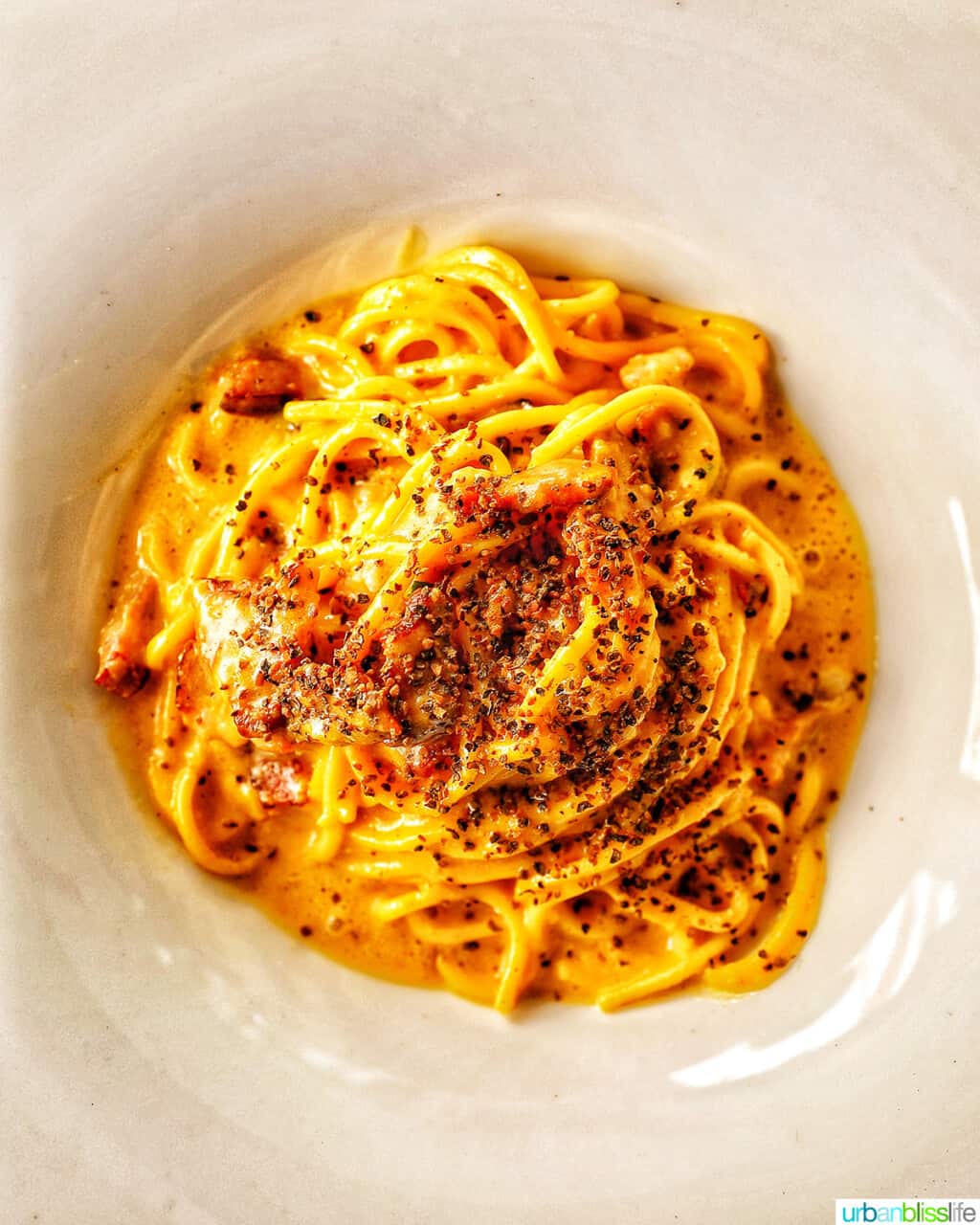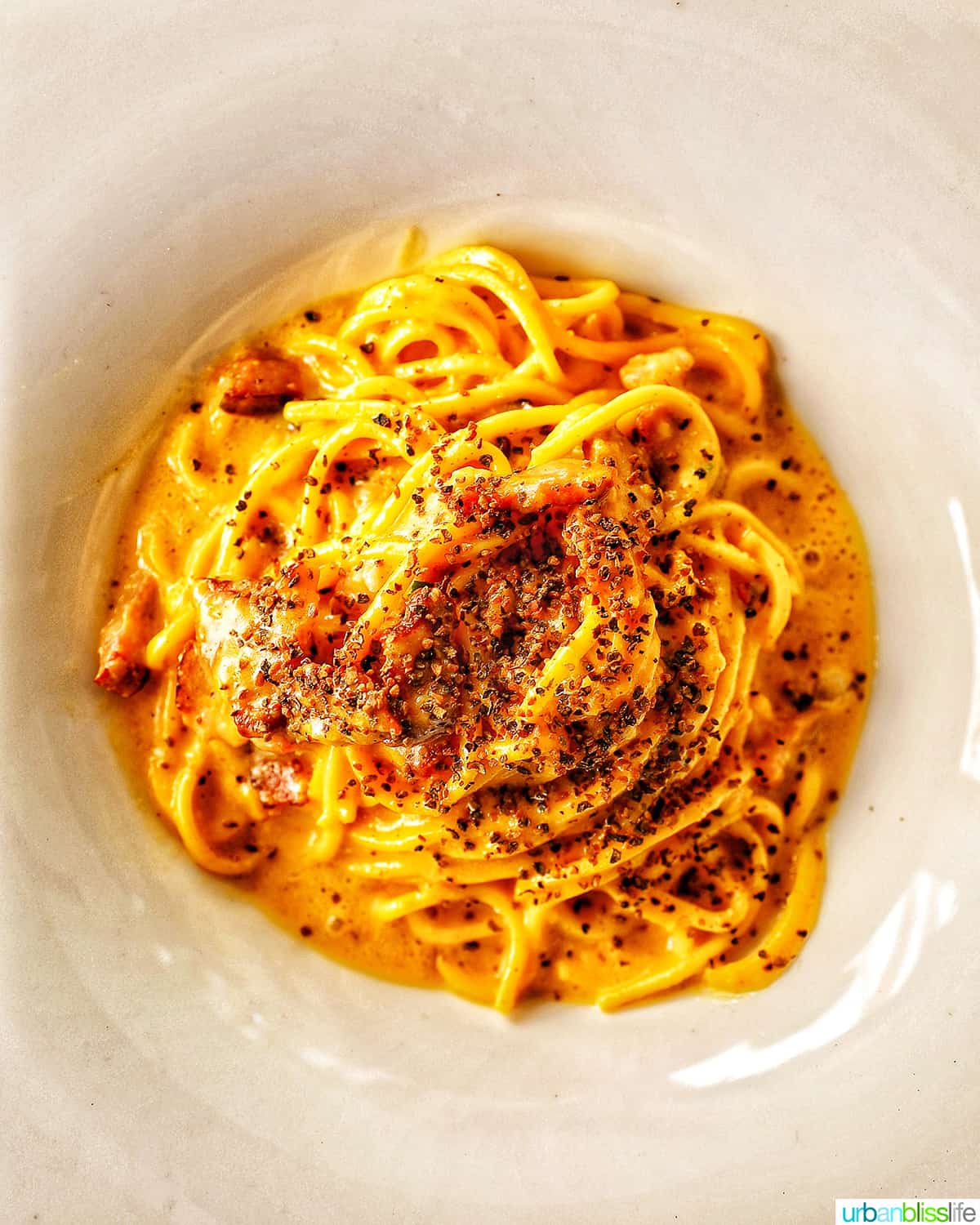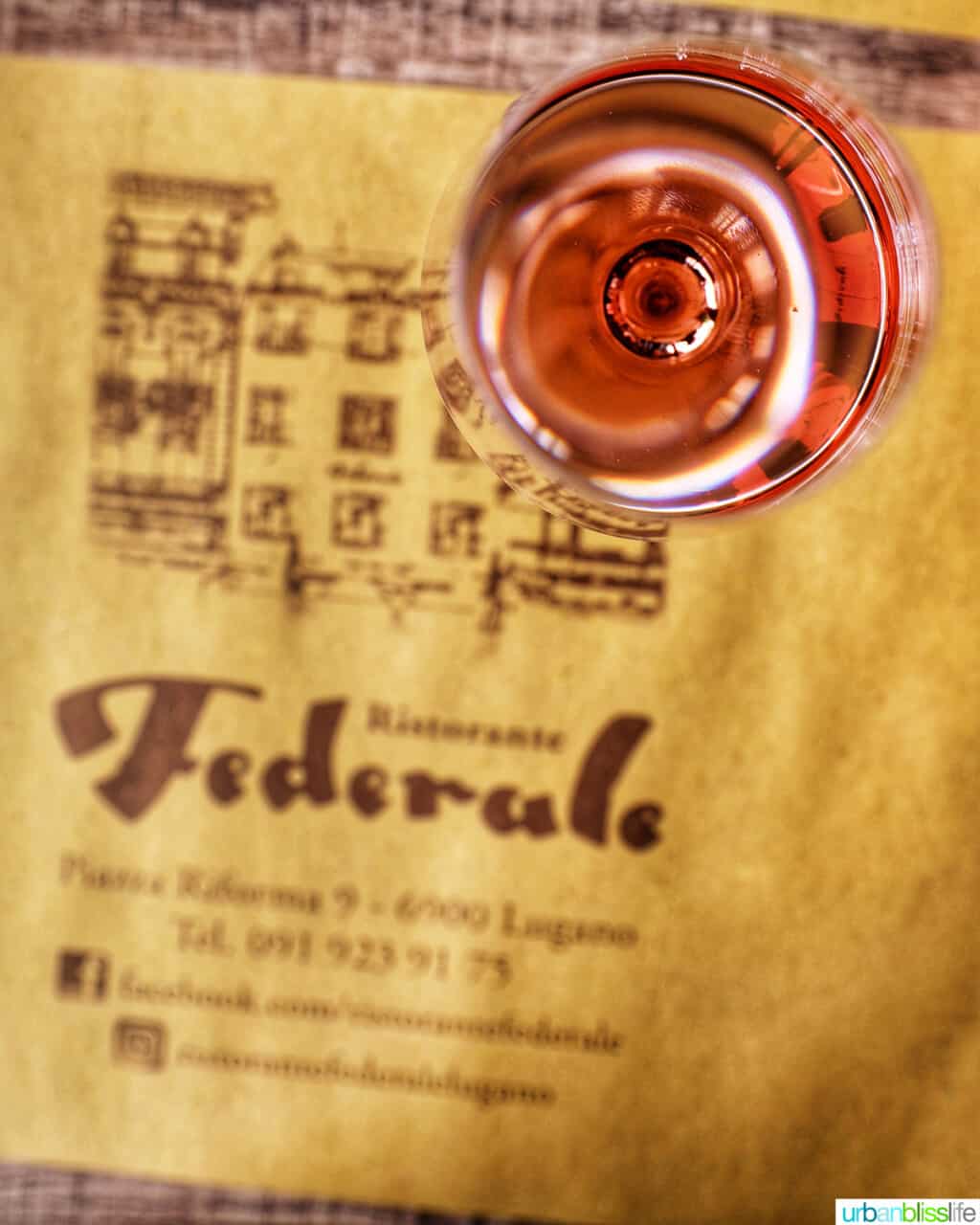 On our trip this year, we enjoyed lunch at Ristorante Federale. The food menu is long and the wine menu is even longer! Love this place. The pastas and pizzas are delicious. My daughter ordered the tuna poke (an unusual choice at an Italian restaurant), which was beautiful and tasty. Prices were reasonable, service was friendly, and it's a great place to enjoy a meal while people watching in the main square.
Gelato stands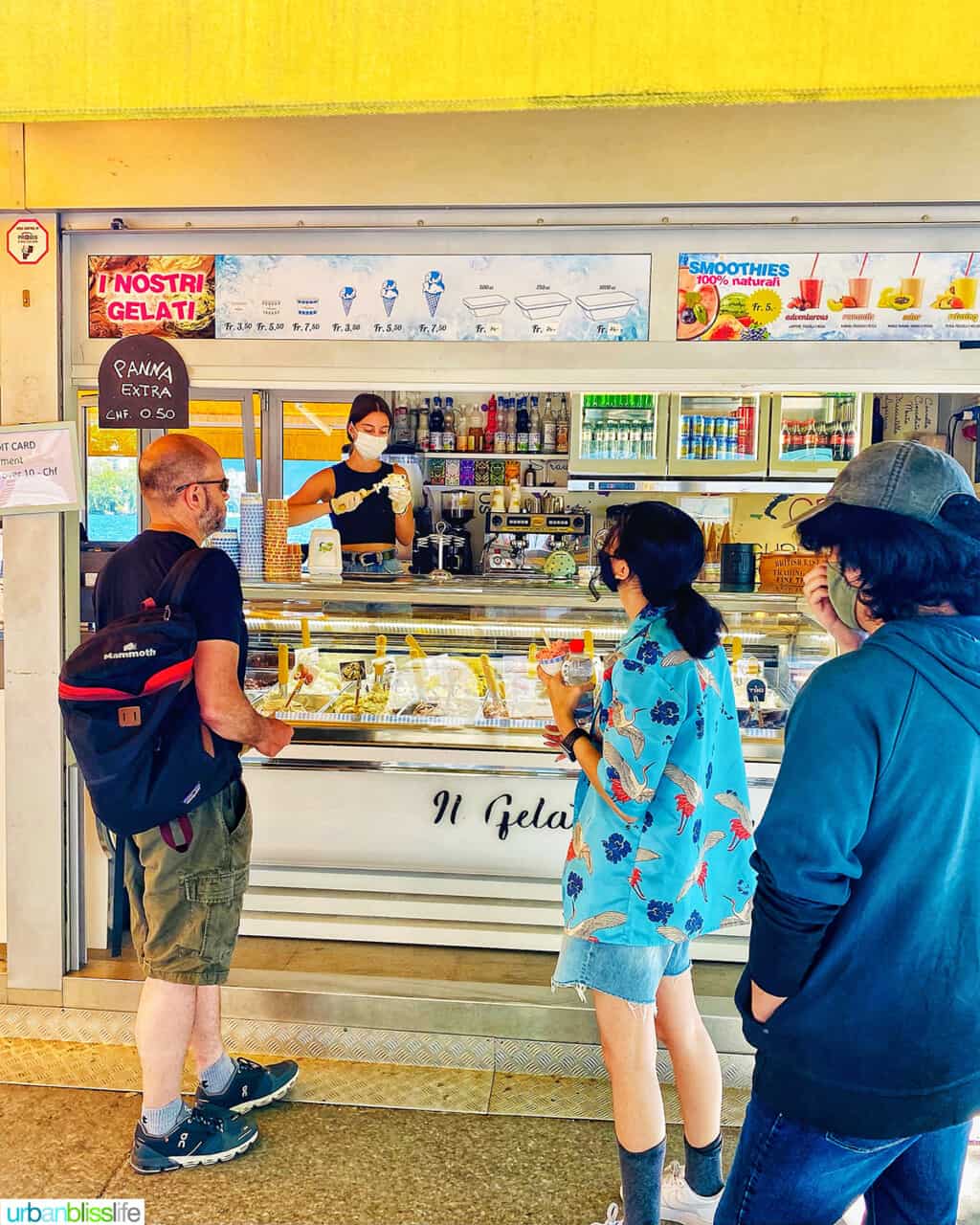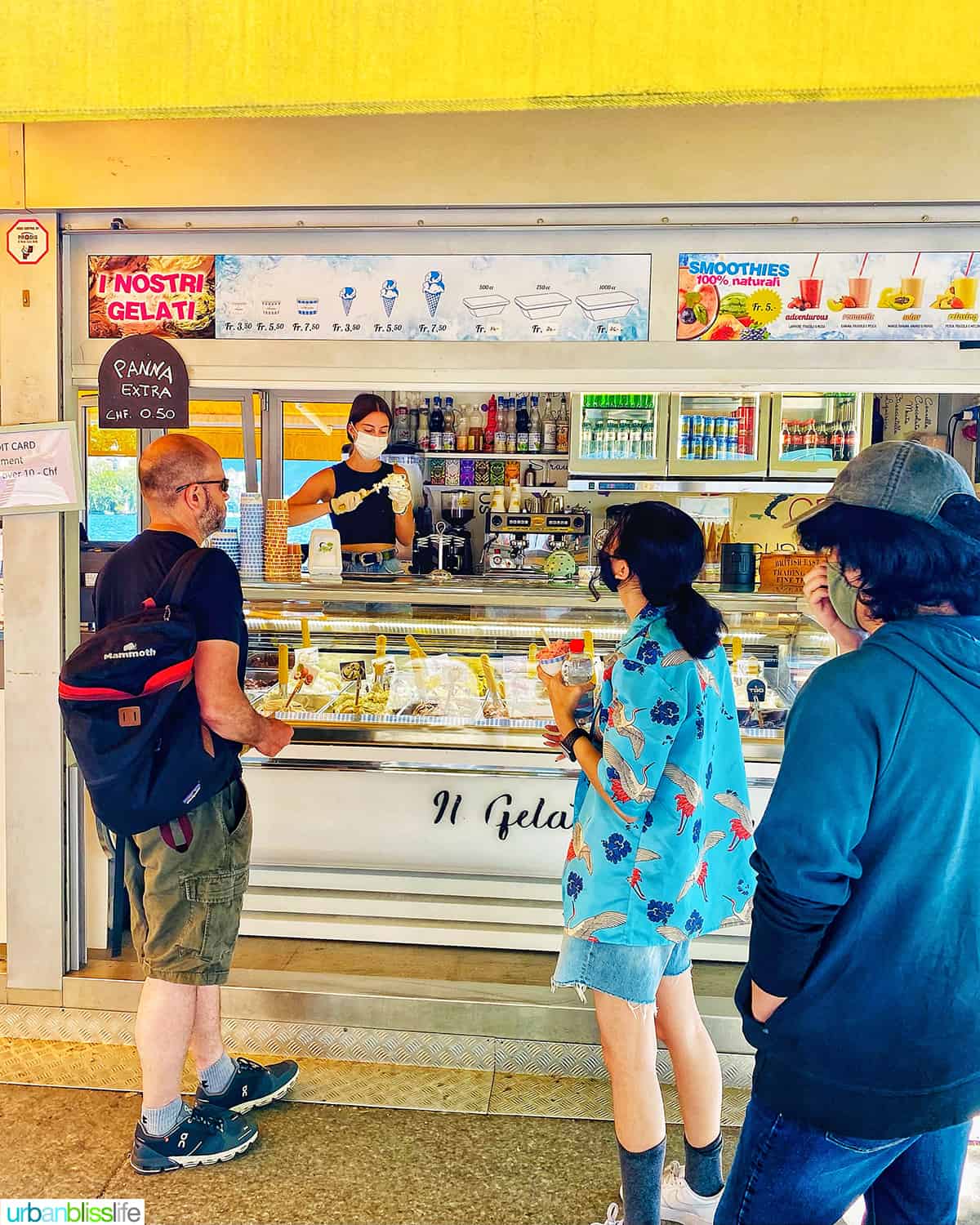 Just like in Italy, you'll find numerous gelato shops throughout the Ticino region of Switzerland. You'll come across a few gelato stands just walking along the waterfront of Lake Lugano.
I highly recommend getting gelato from any of the lakeside stands and then taking a seat on any of the many benches facing the lake. It's a great mid-afternoon treat and will give you a nice little break from walking.
Wine Cellars and Breweries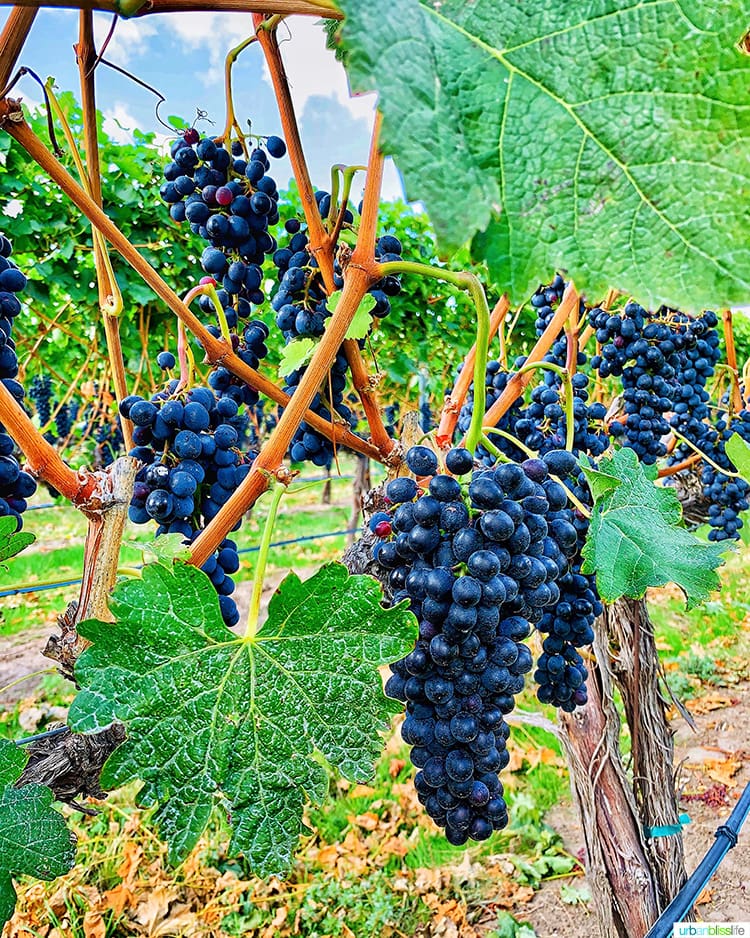 Ticino is one of the six wine regions in Switzerland. It's relatively small compared to other wine regions, but the warm Mediterranean climate and various south-facing slopes allows vintners to grow the big red varietals unable to grow further north. Ticino is home to Merlot - 80 percent of the grapes planted here are Merlot. The rest are mostly other red varietals, such as Bandola and, at higher elevations, Pinot Noir.
There are several wine bars and wine shops around the center of town. One of the largest is Bottega Del Vino Gabbani.
For a true wine tasting experience, venture a bit further out of the city and visit one of the wineries, such as Frattoria Moncuchetto.
Lugano is also home to a few interesting craft breweries, such as Broken City Brewing and Officina Della Birra.
🛍Where to Shop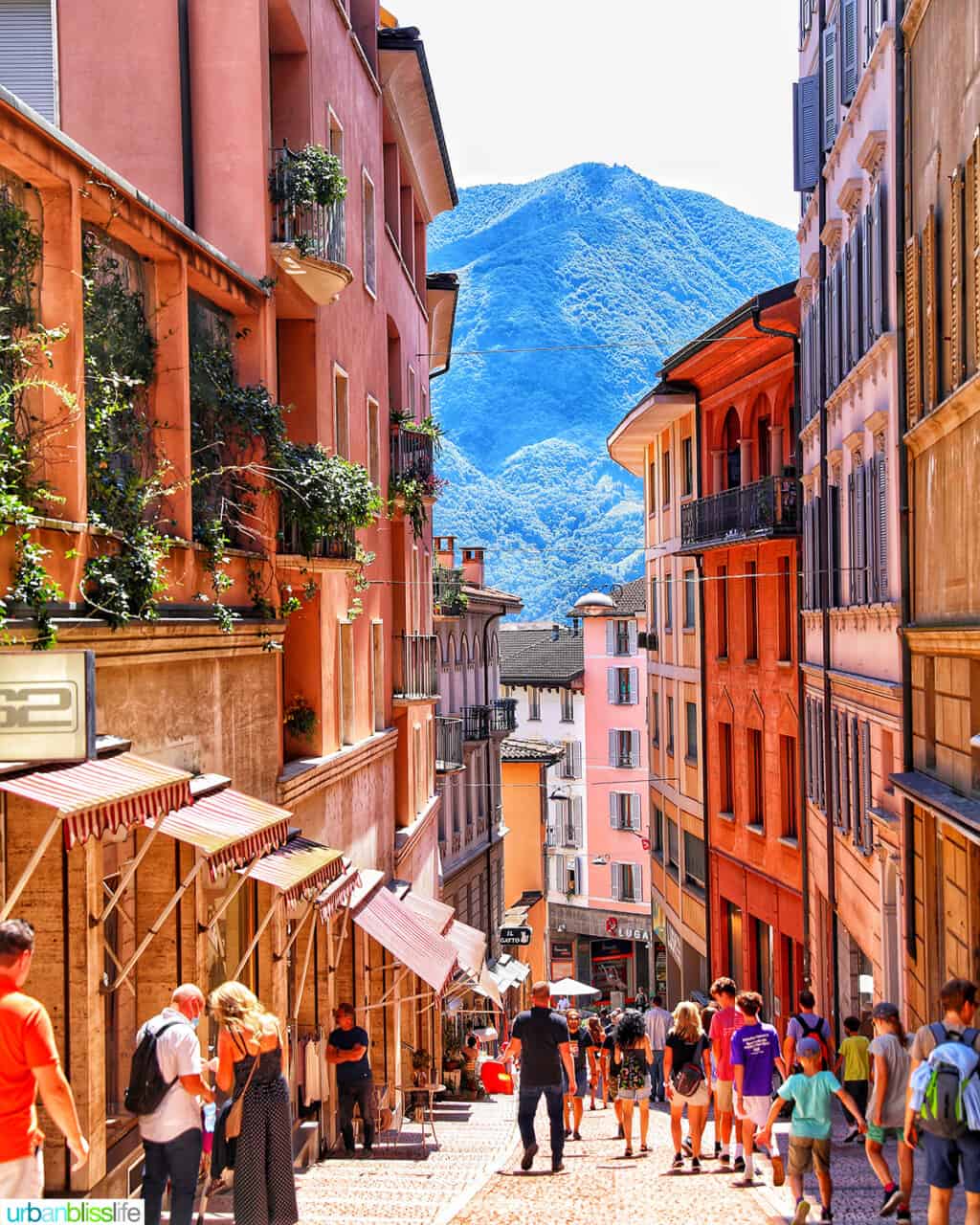 As you can imagine, the streets surrounding the city's main square are filled with high-end, luxury shops and trendy boutiques.
For luxury shopping, visit international clothing names like Hermés and beauty shops for Kiehl's and Lush Cosmetics.
For those with kids or grandchildren, a visit to the local toy shop, Zooeyland, is sure to bring some joy.
My favorite kind of shopping is stopping by the local gourmet shops, like Fattoria del Faggio - a shop featuring fresh products from local farms.
⛵️What to Do
From outdoor adventures to modern art to historic churches, you'll find much to do in Lugano, Switzerland. Here are just a few ideas to add to your travel itinerary.
Outdoor activities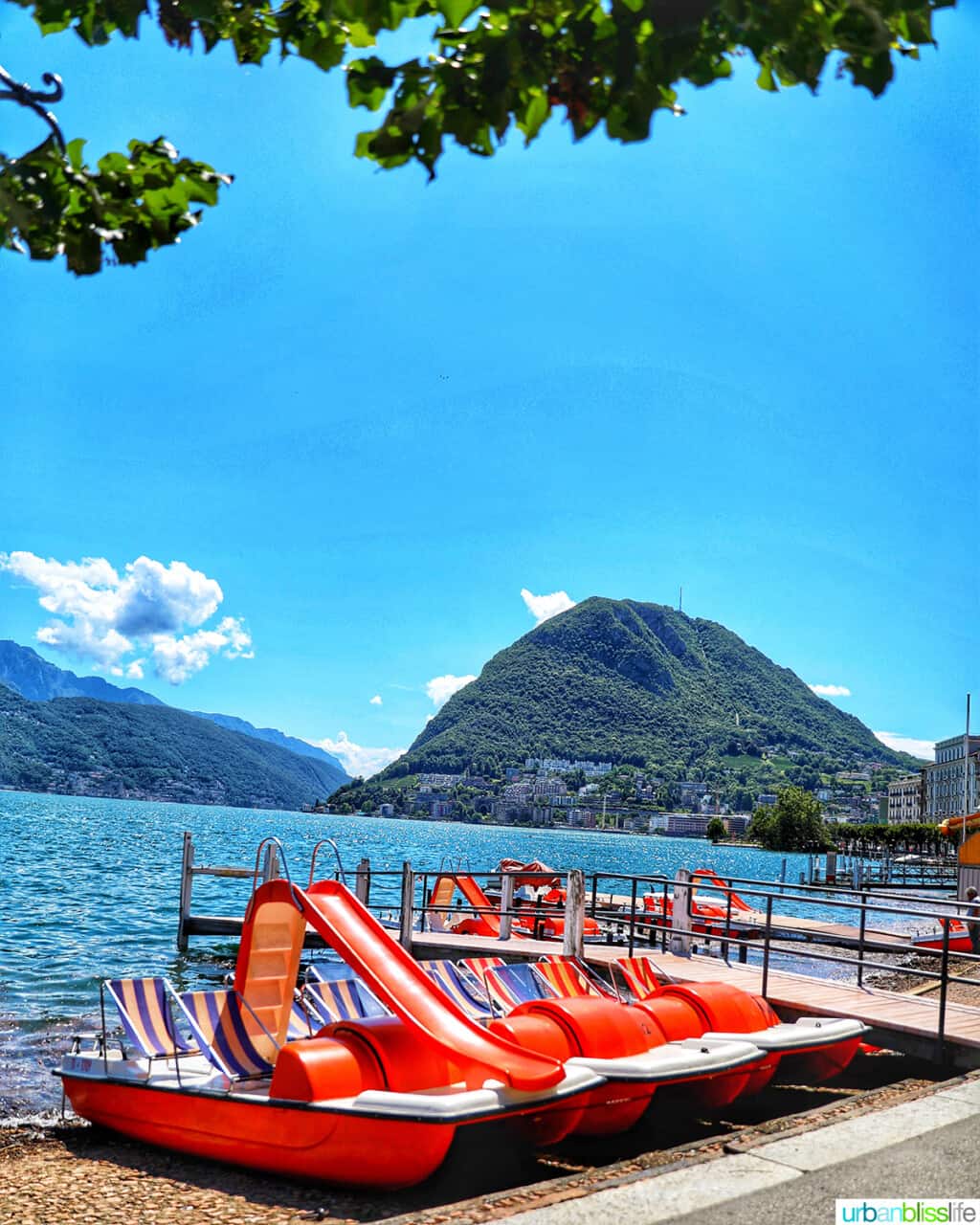 On two different trips, we've taken paddleboats out on Lake Lugano. You can rent them at waterfront stands, and most rent in 30-minute increments. Some paddleboats have slides, so if you want to spend time in the lake, be sure to wear your swimsuits and bring a change of clothing.
You can also take a boat cruise along Lake Lugano.
For the truly water-loving adventurers, Lake Lugano offers numerous water sports. Spend an afternoon or day windsurfing, water skiing, stand up paddleboarding (SUP), or sailing.
☀️ Ways to explore Lugano
Churches and Historic Buildings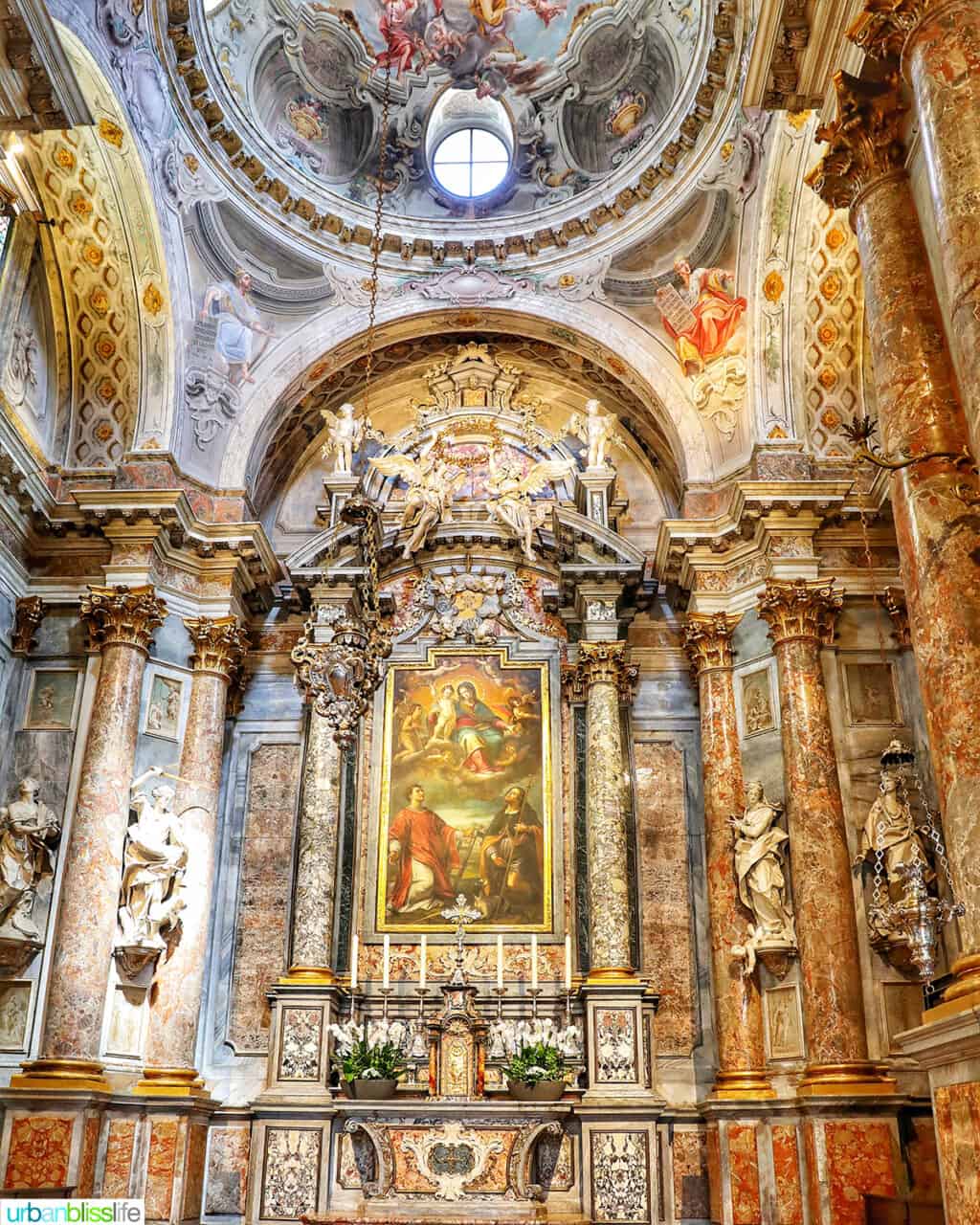 If you walk into the center of town from the train station, you'll likely see the tower of Cattedrale di San Lorenzo. The cathedral marks the entrance to the main steep street that will lead you down into the town square. It is the seat of the Bishop of Lugano, and was built in the high middle ages. It was rebuilt in the late 15th century, and features beautiful ornate frescoes and baroque decorations.
You can also visit the Church of Santa Maria degli Angioli, which houses the most famous Renaissance fresco in Switzerland.
Modern Art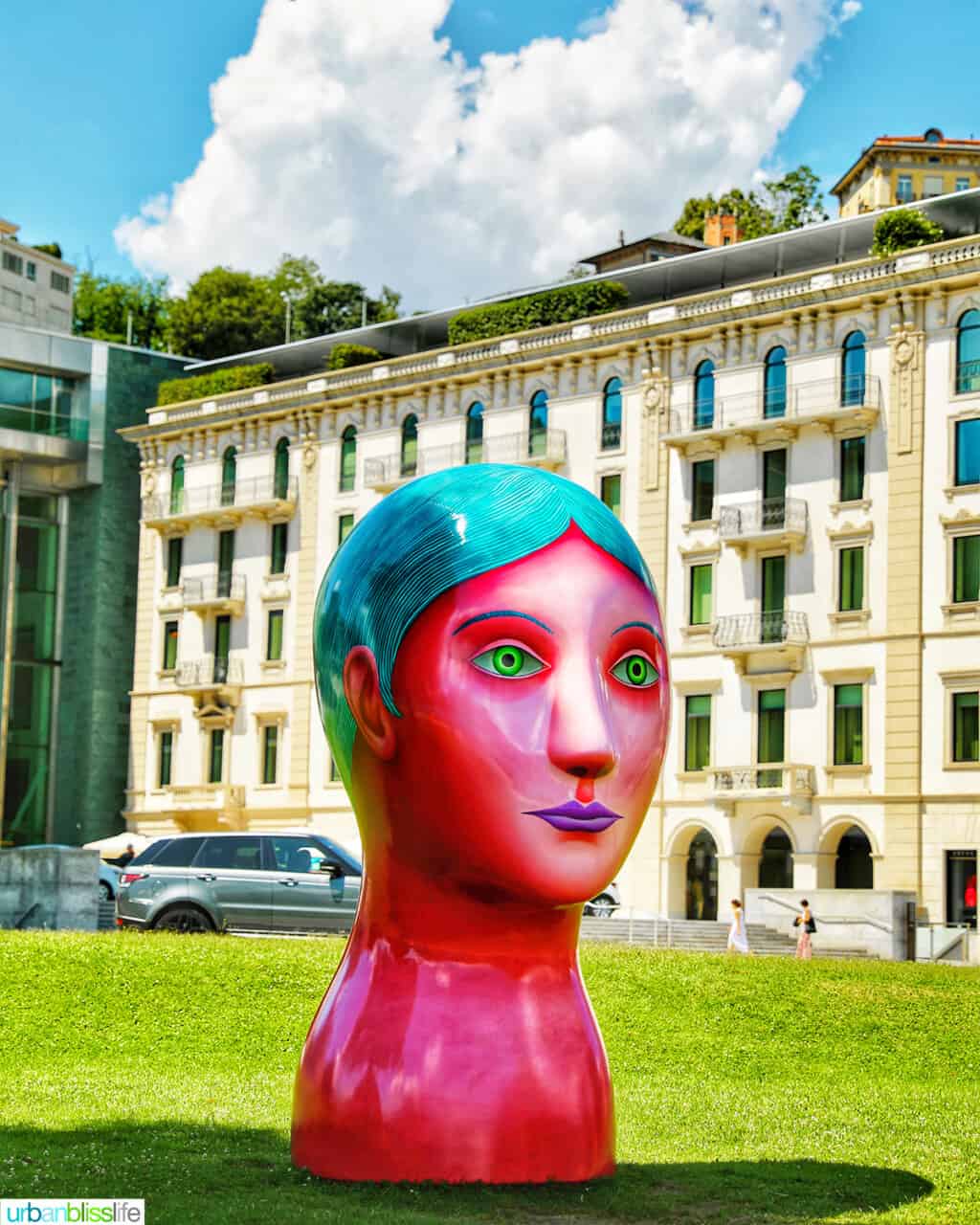 For more contemporary exhibits, visit the MASI (Museo d'Arte della Svizzera Italiana. Situated across from the lakefront promenade, and across from the colorful head sculpture in the photo above, the museum is housed in a modern building that is in stark architectural contrast to neighboring structures. Inside, you'll find some of Switzerland's most fascinating modern art exhibits.
Getting Around Lugano
Walking is the best way to explore the city center and main shopping areas of Lugano. It many squares and side streets make it perfect for leisurely strolls and on-foot sightseeing.
The city center is located down a fairly steep hill from the main train station. You can reach it in two main ways: a roughly 10-minute walk or via funicular, which is located right inside the station itself. The ride takes only a couple of minutes.
The Like all Swiss cities, Lugano also has an efficient public transportation system consisting. Buses which run frequently throughout the day and can take you to most parts of the city.
If you're looking to explore Lake Lugano, consider an afternoon cruise on one of the many tour boats. Several trips are available each day around the lake. You can also take a ferry to the nearby town of Gandria for a few hours to take in the breathtaking sights and enjoy some lunch, before grabbing jumping on another boat to take you back to Lugano. Ferries leave from the Lugano city center about every hour and cost around $20.
Lugano Switzerland FAQs
What language do they speak in Lugano?
Lugano is located in the Italian-speaking part of Switzerland. While you will hear most locals speaking Italian, English is widely spoken.
Is Lugano expensive?
According to Numbeo, Lugano is nearly 22-percent more expensive than living in New York. As far as expense for tourists
Is Lugano Switzerland a safe place to visit?
Lugano is a safe city, but like most tourist destinations, you'll want to be careful as you travel.
What currency is used in Lugano?
As with the rest of Switzerland, you'll want to use Swiss Francs in Lugano. Switzerland is not part of the European Union and therefore does NOT use Euros. Credit cards are accepted at most places.
More Switzerland Travel Guides
Pin it: