With award-winning wines, charming views, and excellent hospitality, Kriselle Cellars is a wonderful place to go wine tasting when in Southern Oregon wine country.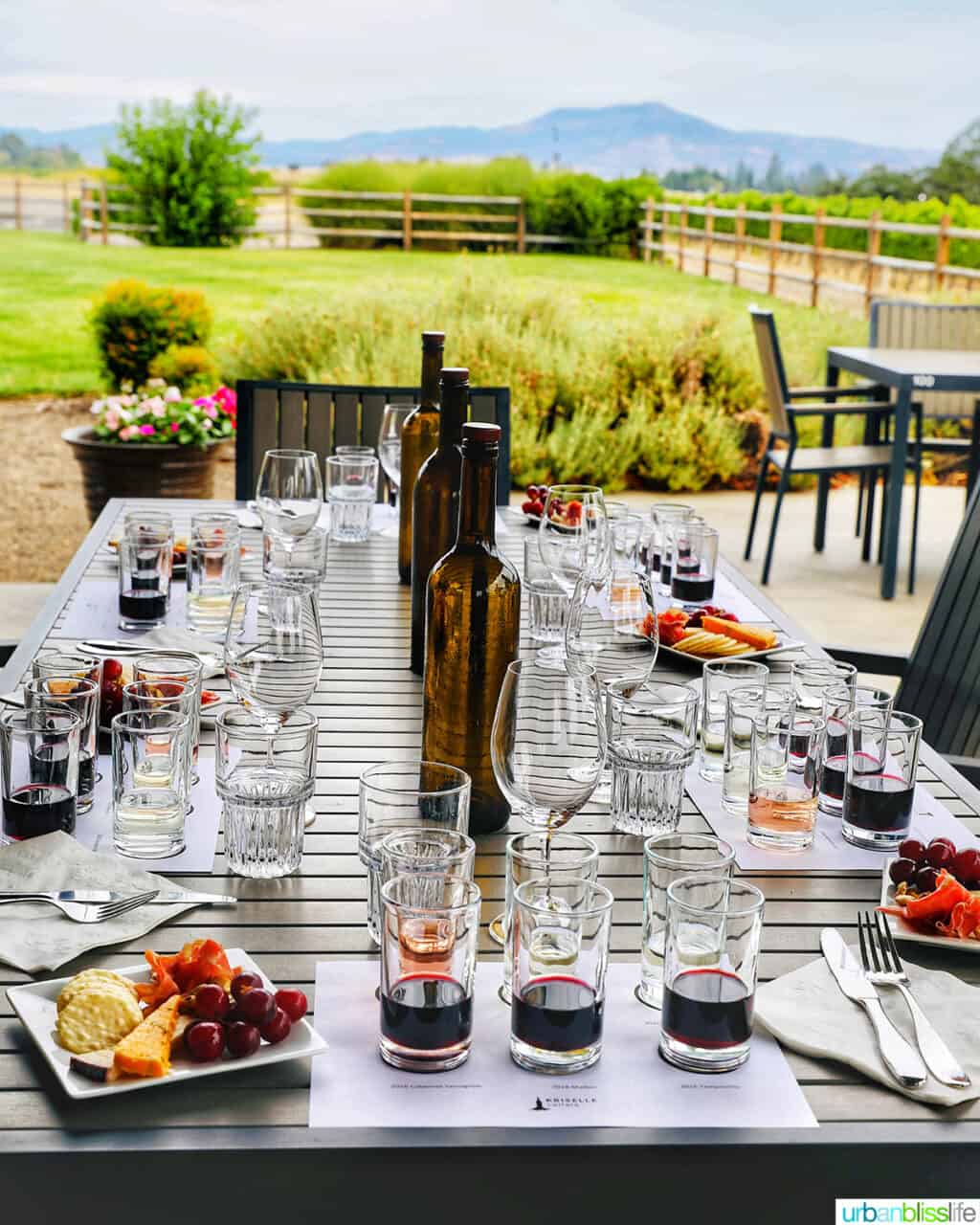 Near the banks of the scenic Rogue River in White City, Oregon is one of my new favorite Southern Oregon wineries: Kriselle Cellars.
I recently had the opportunity to go wine tasting here during a trip with the Oregon Wine Board for the Oregon Wine Experience. It was a warm, welcoming experience from start to finish.
If you're visiting Southern Oregon wine country, I definitely recommend wine tasting at Kriselle Cellars!
Jump to:
🍇 Kriselle Cellars Estate Vineyard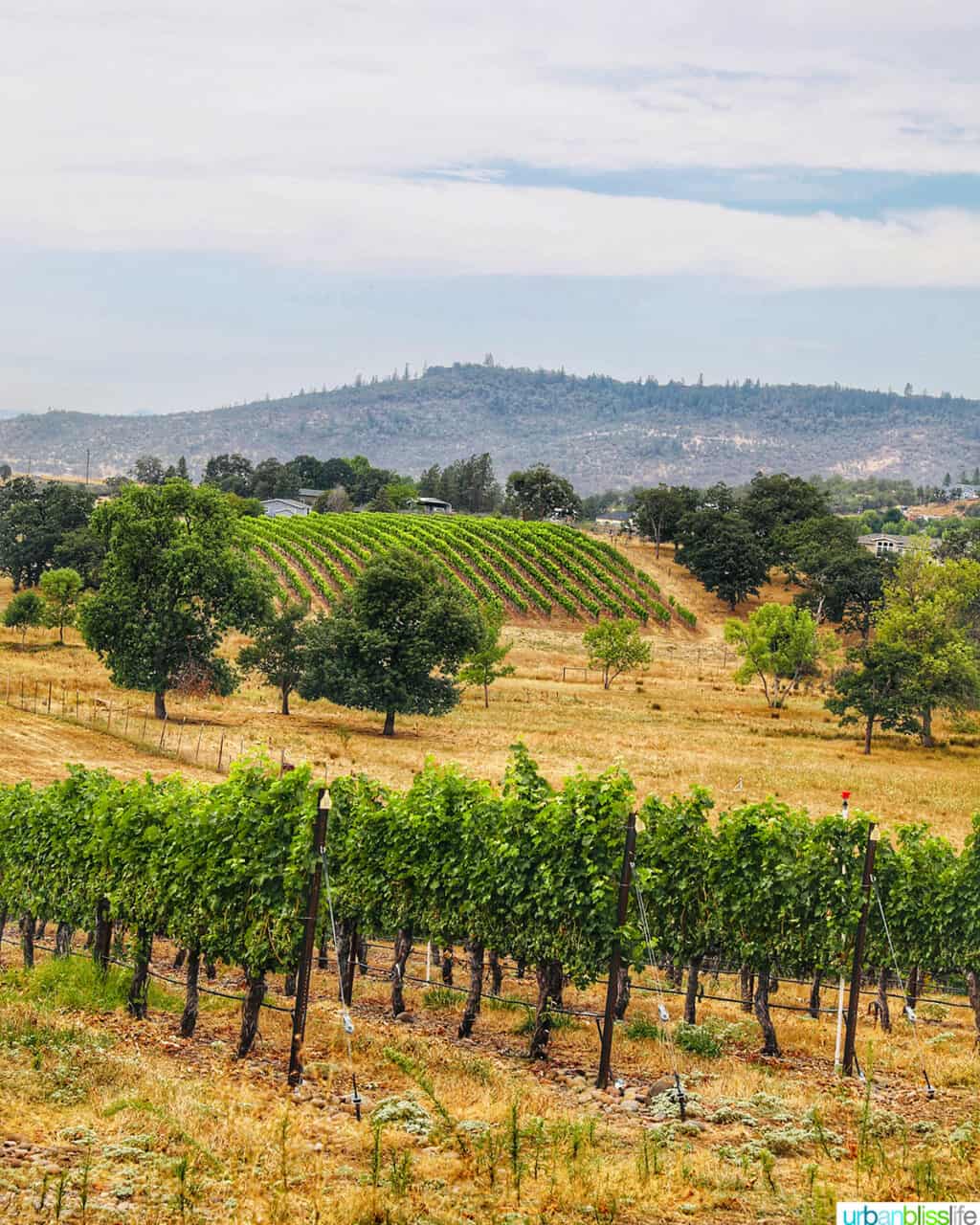 Kriselle Cellars sits on more than 200 acres of land in White City, Oregon in the Rogue Valley. There are approximately 30 acres planted - mostly Cabernet Sauvignon, Cabernet Franc, and Tempranillo.
The soil at this vineyard site is fantastic for winemaking. It's comprised of river rock and alluvial silt, which results in grapes that have complexity, depth of flavor, and beautiful varietal character.
Owner and winemaker Scott Steingraber (pictured above) was a civil engineer before he started making wine about 15 years ago. He and his wife Krisell - yes, the winery is named after her, but spelled with an "e" at the end - planted the first grapes in 2006. They established Kriselle Cellars and launched their first vintage in 2009. Then, they opened their gorgeous tasting room in 2012.
🍇 Wine Tasting Experience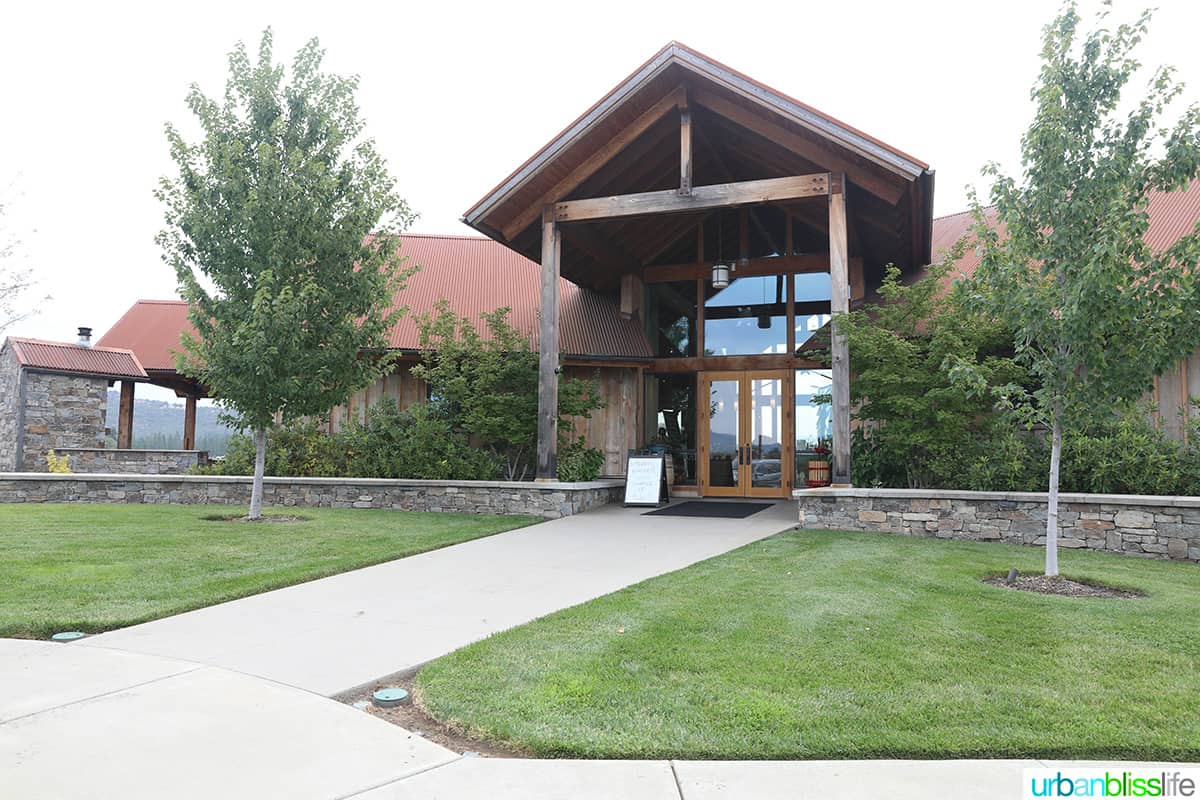 Wine tasting at Kriselle Cellars is such a lovely experience.
The large, beautifully designed tasting room has ample seating inside and out, with a stunning view of the estate vineyards. If the weather is nice and you have the chance to sit outside for your wine tasting, I highly recommend it.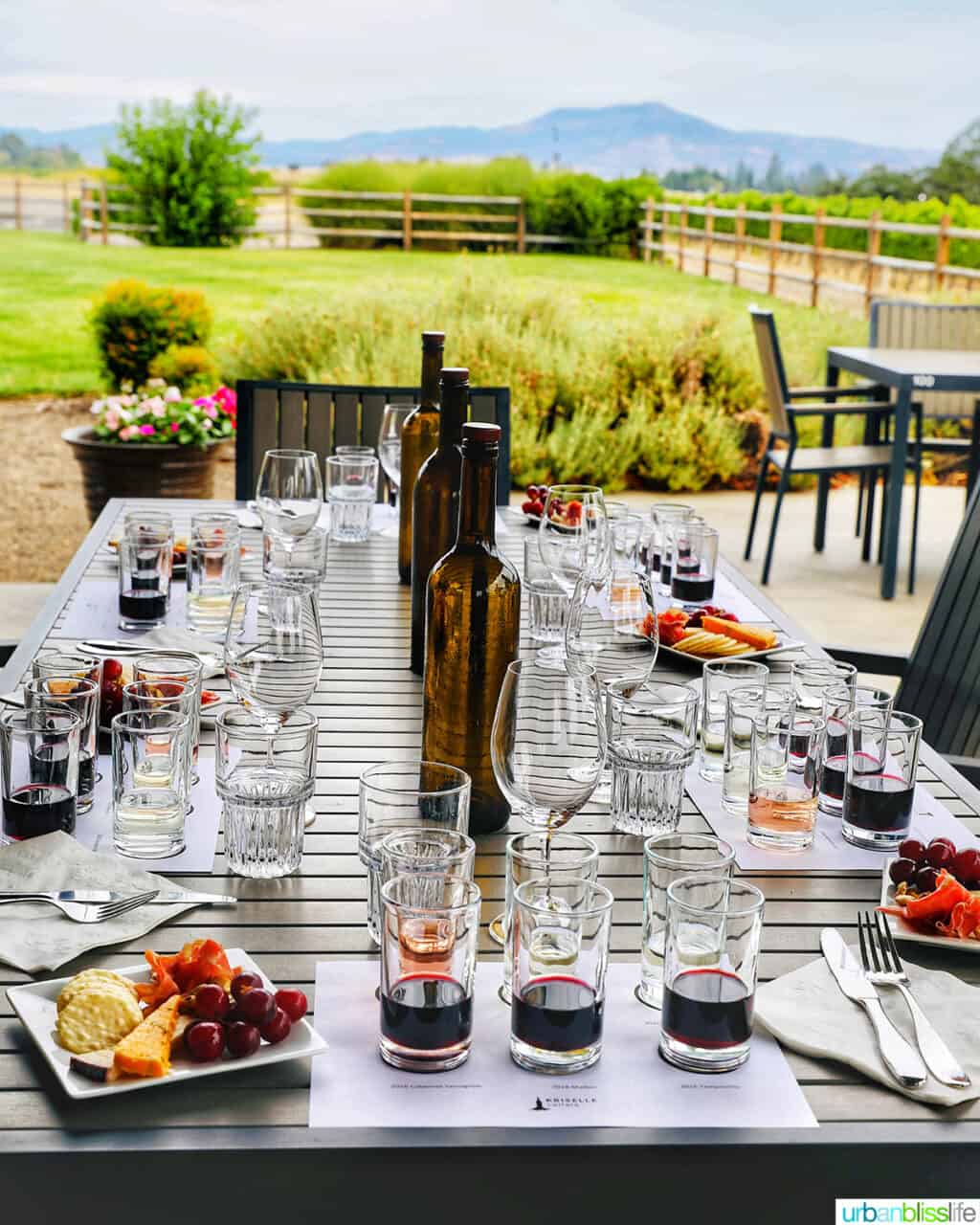 The large wrap-around terrace gives guests perfect vineyard views to enjoy while sipping on delicious wines. And, I appreciate that tables aren't too close together, so you and your group can enjoy some privacy during your tasting.
🧀 Food Options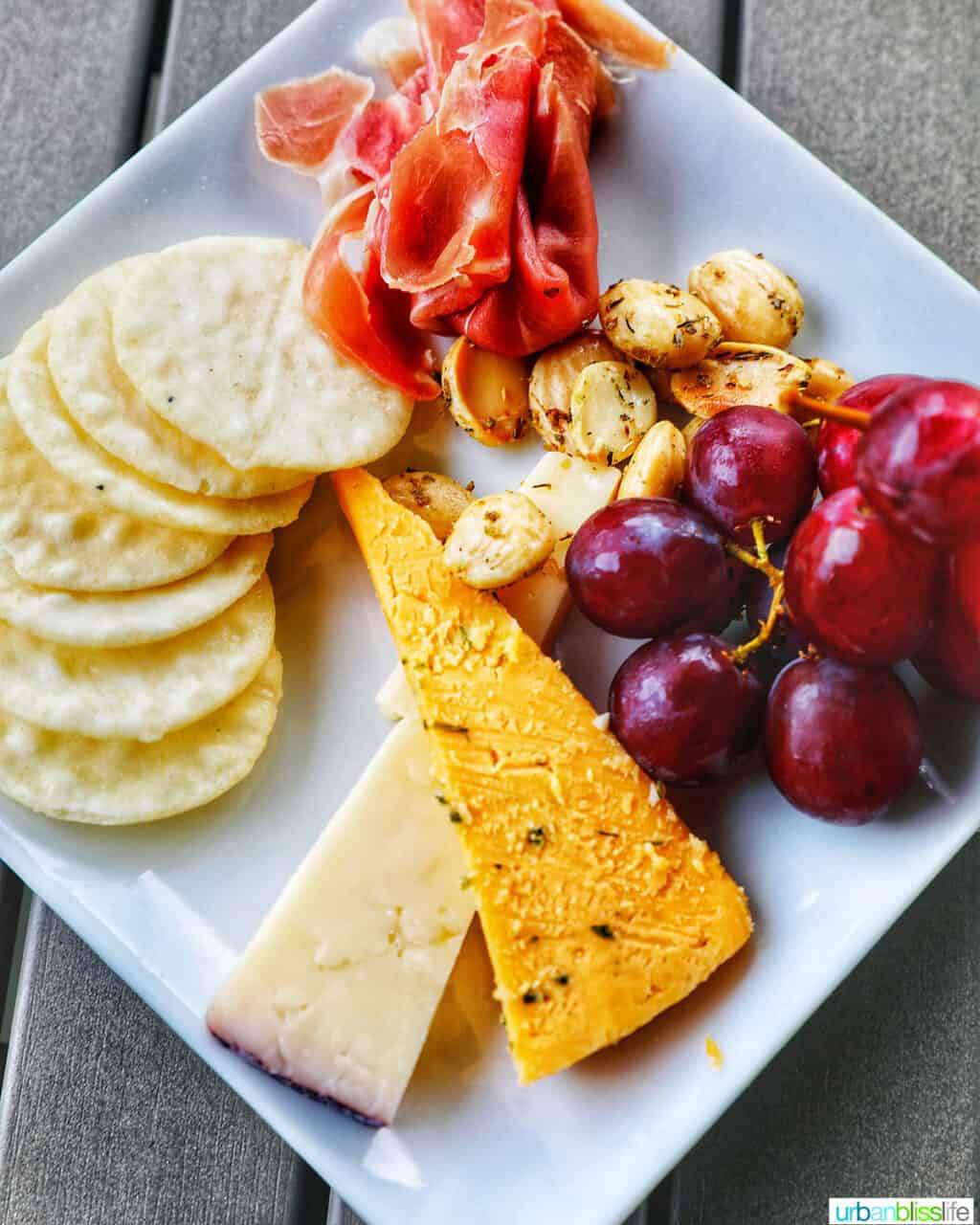 You can order from a small selection of delicious small plates to compliment your tasting. The menu options do change from time to time, but here's a look at the type of plates that might be offered when you visit:
Prosciutto-wrapped stuffed dates
Rogue River Plate: French Brie and Cotswold (English Cheddar with Herbs) served with Grapes, Apple and Warmed Baguette.
Kriselle Platter: Capicola Slices, Savory Herbed Cream Cheese Spread, Sliced Tomatoes, Italian Olive, Olive Oil and Balsamic Vinegar and Warmed Baguette.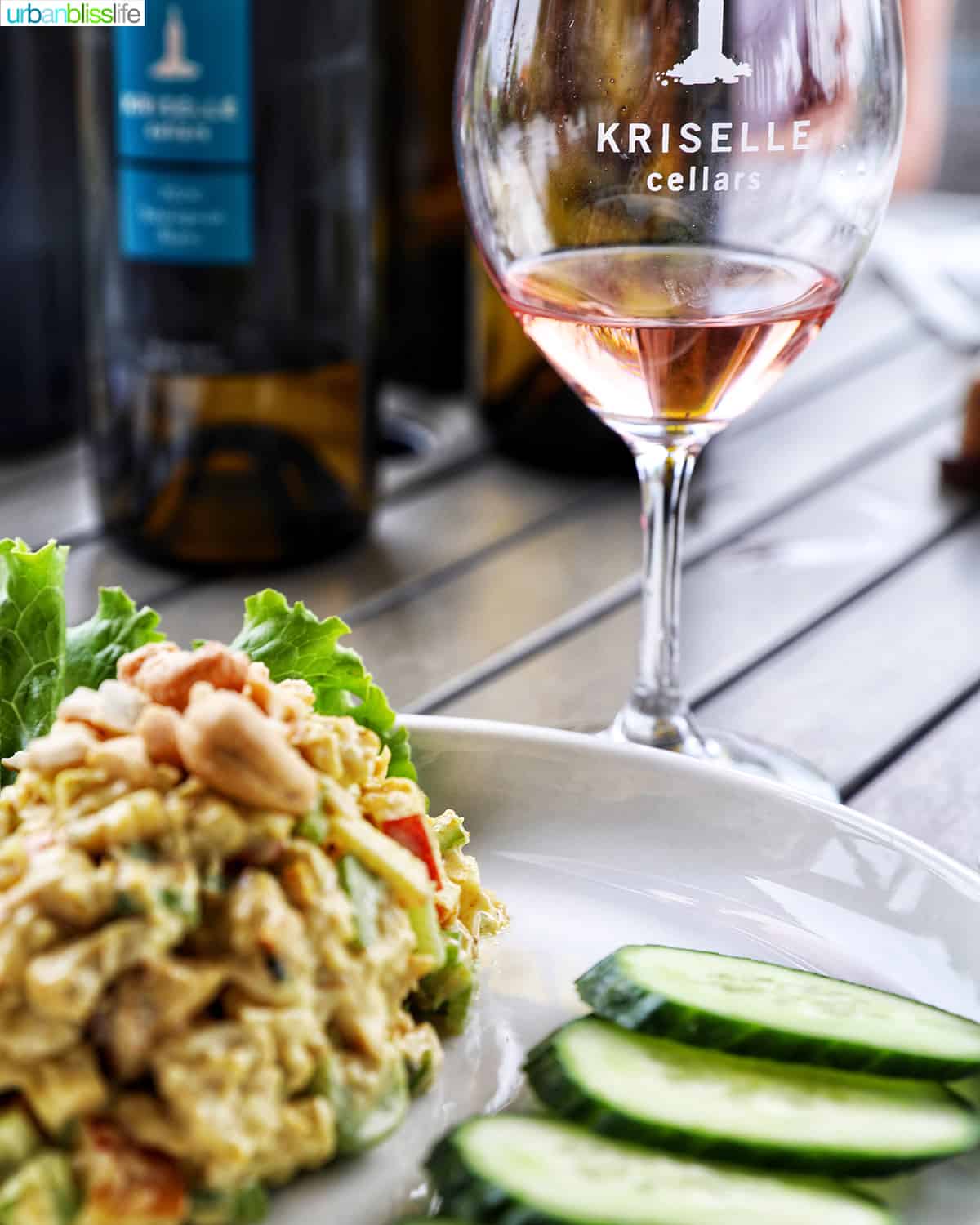 And if the chicken curry salad is in season when you visit, I highly recommend this dish! It pairs beautifully with their Sauvignon Blanc and Grenache Rosé. It's also delicious with their Albarino, which is an award-winning wine that you'll find only at their tasting room in White City, Oregon.
🍷 Featured wines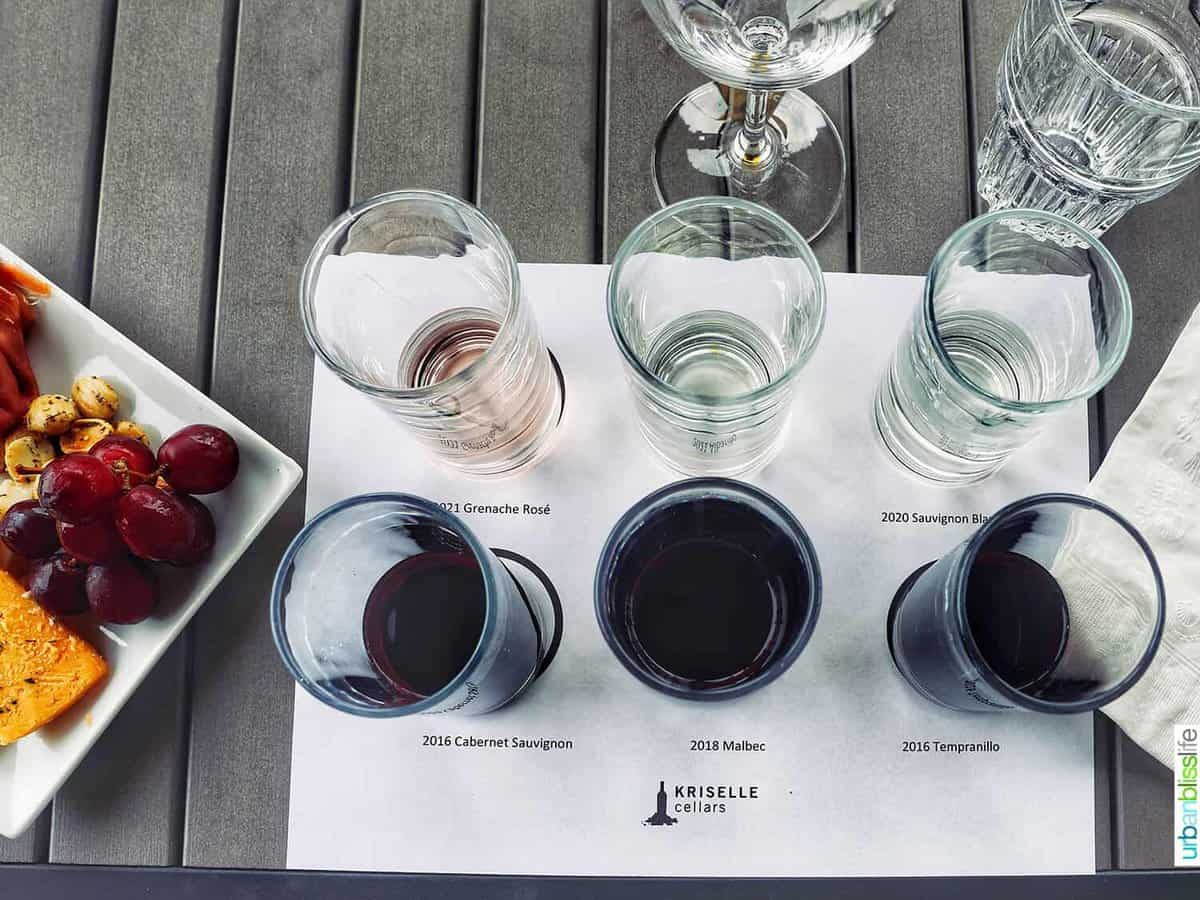 We tasted through much of the Kriselle Cellars line-up, and I have to admit: there wasn't a single wine we tasted that I didn't truly enjoy. Their wines are reasonably priced - around $30 to $40 for their red wines and $20 to $30 for their white wines.
Their white wines are elegant, refined, and refreshing. I loved their Sauvignon Blanc ($26) and Albariño (only available in their tasting room). Their Grenache Rosé ($30) is also quite refreshing, with light raspberry and watermelon flavors.
Kriselle makes big bold Bordeaux-style red wines that are equally delicious. Their Malbec ($36), Cabernet Sauvignon ($36), and Tempranillo ($37) are beautiful expressions of the terroir in Southern Oregon. I bought a bottle of each to take home because I just couldn't resist.
🥂 Winery FAQs
Are reservations required?
Reservations are not required but they are strongly recommended.
Is there a tasting fee?
There is a tasting fee of $14.00 per person, which is waived with a purchase of four bottles. Tastings are complementary to Cellar Society members, even on the day you join!
What is the dress code for this winery?
As with most Oregon wineries, the dress for wine tasting appointments is fairly casual to business casual.
Is there outdoor seating?
Absolutely! There is plenty of seating on their outdoor terrace with gorgeous vineyard views.
Is this winery dog-friendly?
Yes! Well-behaved dogs are allowed on the terrace as long as they remain on leash.
Is this winery kid-friendly?
All ages are welcome in the Tasting Room and on the patio.
🍷 Visit Kriselle Cellars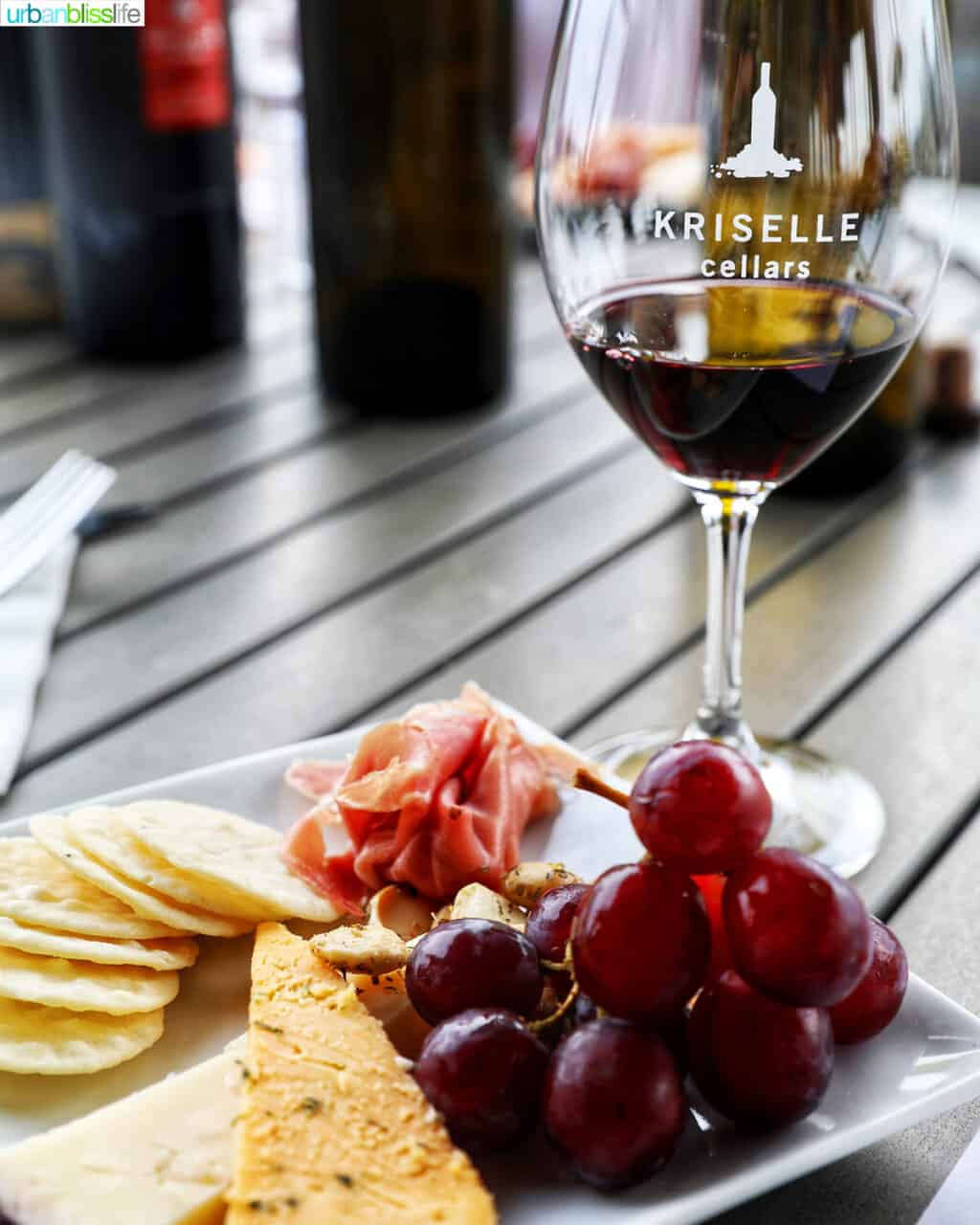 If you're visiting the Rogue Valley in Southern Oregon, I highly recommend making a reservation for wine tasting at Kriselle Cellars. You'll be greeted with a warm welcome and hospitality that continues throughout your visit. I really think that you will fall in love as I did.
Kriselle Cellars Tasting Room
12956 Modoc Road
White City, OR 97503
Open daily from 11:00 am - 5:30 pm
For more information or to make a wine tasting reservation, visit. https://krisellecellars.com.
🏨 Where to stay nearby
Consider a stay at the Kubli Haus in Jacksonville, Oregon. Or the Ashland Hills Hotel and Suites.
🍽 What to do nearby
More Oregon wine articles