Among the options for Jacksonville, Oregon lodging is the charming Kubli Haus. It's a centuries old farmhouse that has been restored and is now open for visitors traveling to Southern Oregon.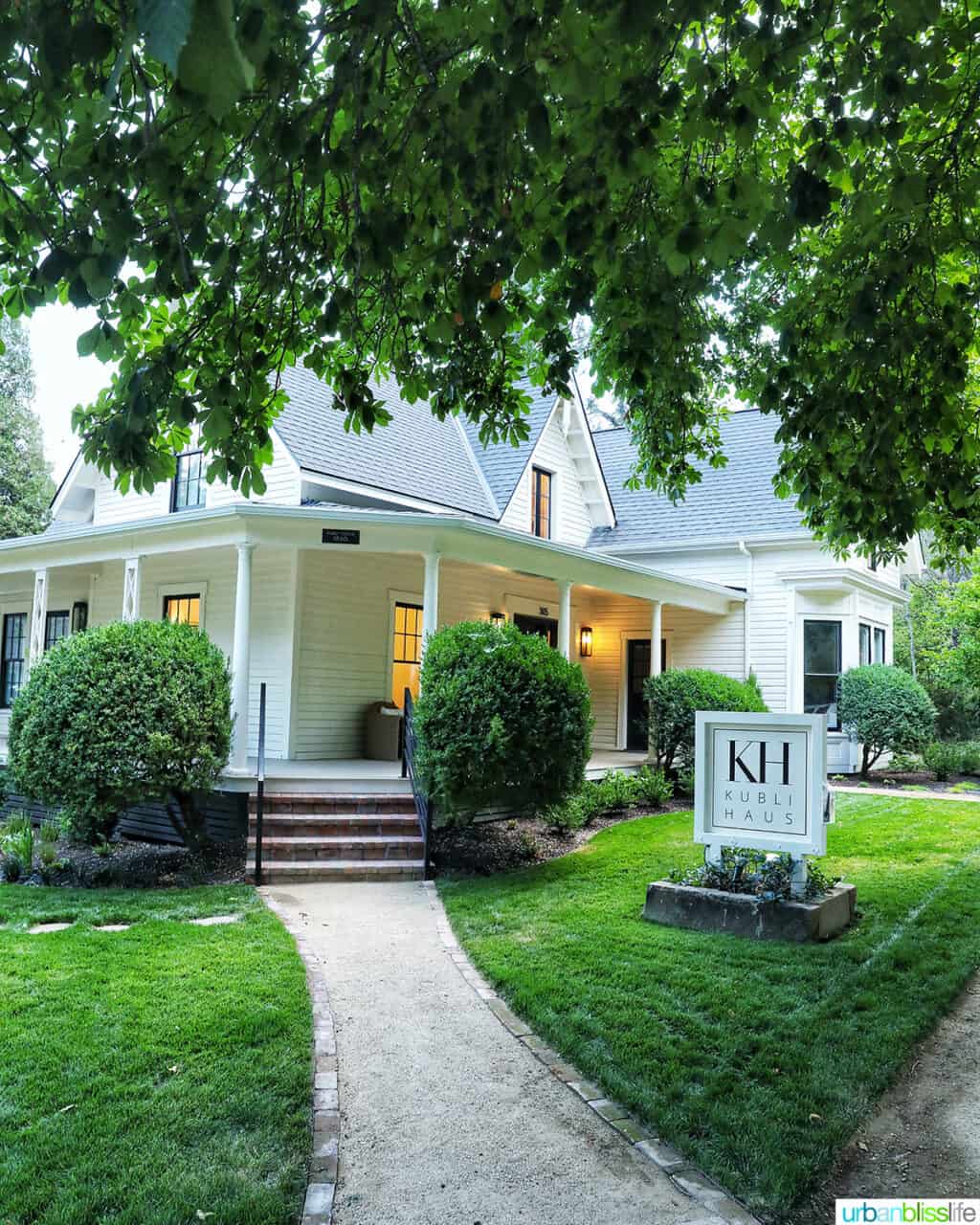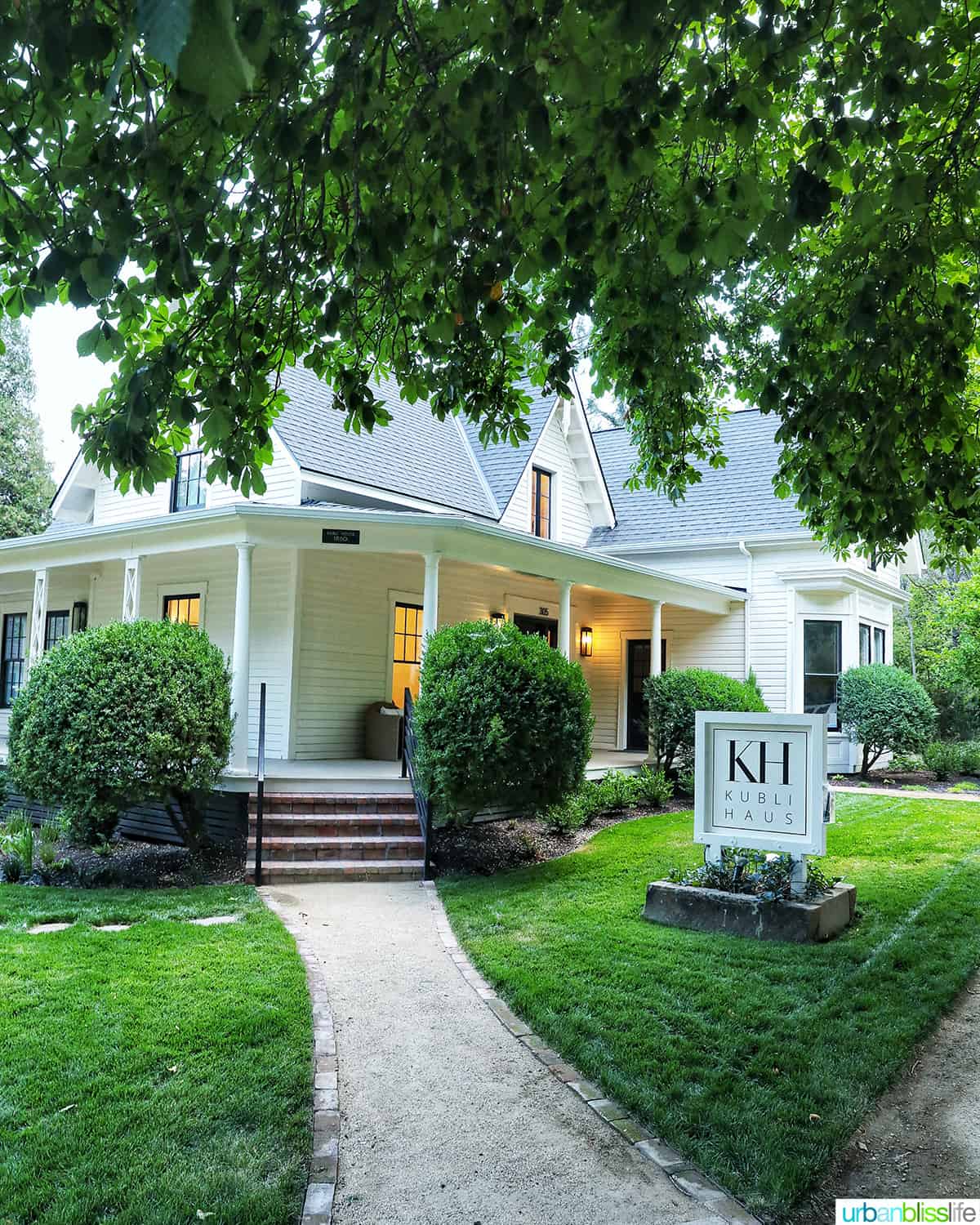 If you're traveling to Southern Oregon, consider a stay in the historic town of Jacksonville. It's a charming historic town that's home to the Britt Festival, in Southern Oregon wine country, and full of wonderful restaurants and shops.
Consider a stay at the Kubli Haus if you're headed to this area. I had the pleasure of staying here during the Oregon Wine Experience and absolutely fell in love with the Kubli Haus – I think you will, too!
Be sure to read more about What to Do in Jacksonville, Oregon.
Jump to:
✨ A stunning restoration
Built in 1860, the Kubli Haus was restored and remodeled by husband and wife team Brian and and Kathleen Dunn in 2021. The home is on the National Register of Historic Homes, and the Dunns have done an amazing job lovingly restoring the roots of this 160+ year old home and bringing it into the 21st century.
📍 Location
The Kubli Haus is centrally located in downtown Jacksonville. It's just one block away from the Britt Festival. That means even if you didn't get tickets, you can enjoy the music from the front porch! And, it's a short two block walk to coffee shops, restaurants, and boutiques on Jacksonville's main street, California Street.
If you're wine tasting in the Rogue Valley, Kubli Haus is a short walk from Awen Winecraft, South Stage Cellars, and Anchor Valley Wine Bar and Tasting Room.
🛏 Rooms and suites
There are four suites in the Kubli Haus, plus Studio #5 which is a larger one-bedroom studio in the back of the building with its own private entrance.
Suites 1 through 4 are in the main house, each with their own private access and key-code doors. The beds are luxurious and possibly one of the top 10 most comfortable beds I have ever slept in while traveling -- and that's saying a lot! The sheets were so comfy cozy, it was a true treat to snuggle in after a day working out and about.
The bathrooms are located down a hallway and my bathroom in Suite 3 included a large farmhouse sink, free-standing tub, and massive separate walk-in shower. It feels like a spa!
In the hallway are two separate doors: one opens to a spacious closet and the other is the private toilet.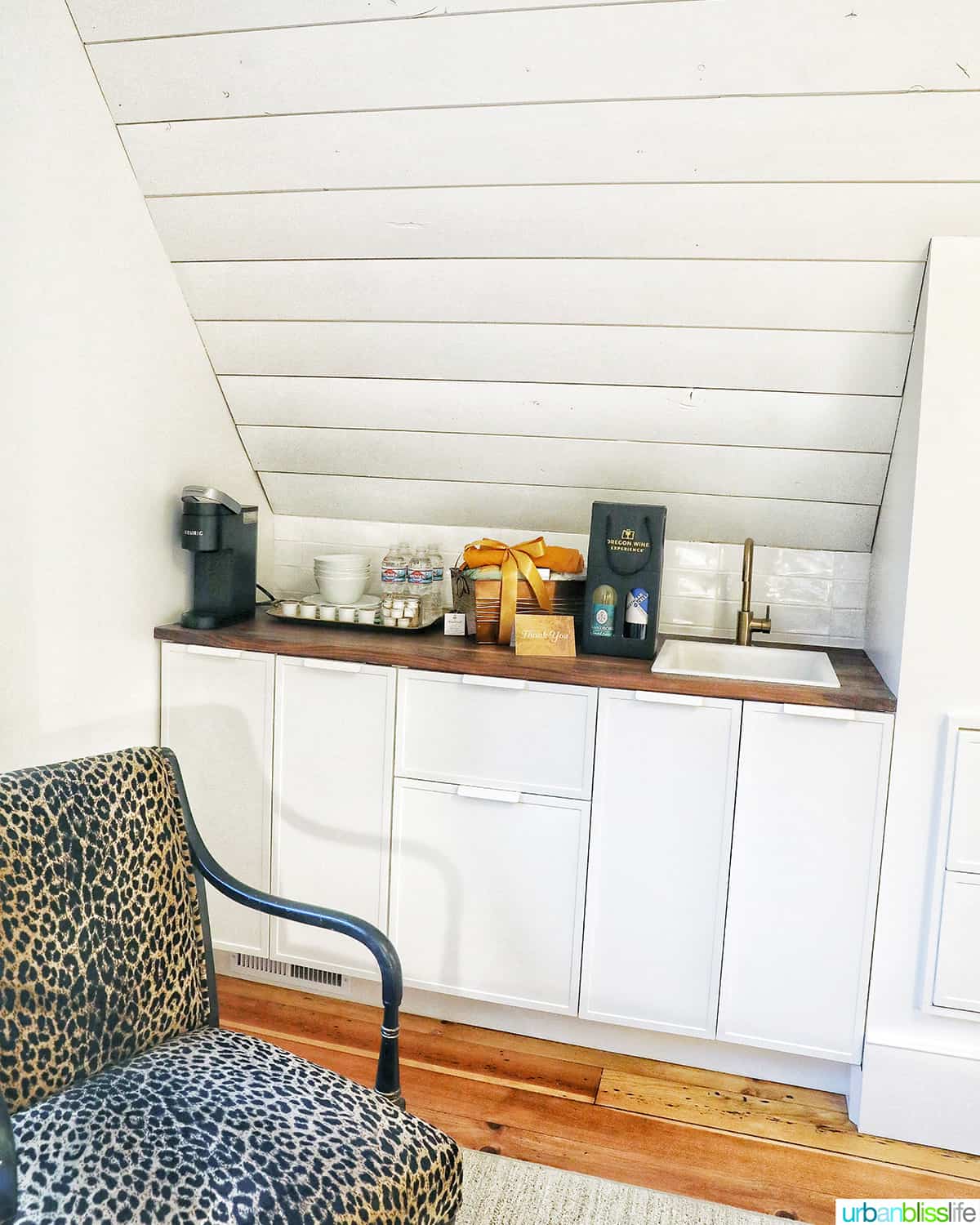 Each suite also includes a fireplace, flatscreen TV, and kitchenette. The kitchenette includes a sink, coffee maker, microwave, and mini refrigerator.
🌟 Other amenities
One of the sweetest parts of staying at the Kubli Haus is how you can enjoy absolute privacy, but you can also socialize with other guests, and with Kathleen and Brian. The wrap-around porch with comfortable seats and tables is an excellent spot to enjoy a cup of coffee in the morning or glass of wine at night, chat with anyone else staying there who feels social, and watch the sweet comings and goings of this sweet residential neighborhood.
🏩 Hotel FAQs
Is this hotel pet-friendly?
Pets are not allowed at the Kubli Haus in Suites 1-4, but they are welcome in Studio 5.
What time is check in? What time is check out?
Check-in is at 4:00 pm
Check-out is at 11:00 am
Is there parking available?
Street parking is available around the Kubli Haus, but be sure you get a parking permit from the owners.
🍽 Restaurants and coffee shops nearby
There are many restaurants and coffee shops within walking distance from the Kubli Haus. Here are a few of my favorites.
🛍 What to do nearby
Feel like exploring Jacksonville? Here are some ideas to inspire your Southern Oregon adventures!
Take a Historic Trolley Tour. I did this and will share more on YouTube soon. It was very informative and interesting!
Go wine tasting. As I mentioned earlier, there are several wineries within walking distance, and several more a short drive away.
Listen to live music. The Britt Festival is an outdoor concert venue that features live music of all genres June through September of each year.
🏨 Stay at the Kubli Haus
I highly recommend staying at the Kubli Haus if you are looking for Jacksonville Oregon lodging, or traveling to anywhere nearby in Southern Oregon. It's a stunning property that truly feels like a home away from home, in a central location that's still a quiet oasis. The studios are beautifully restored, and the owners are friendly and happy to help make your stay as comfortable and enjoyable as possible.
305 S. Oregon Street
Jacksonville, Oregon 97530
541-702-2363
https://kublihaus.com/
More travel tips
Traveling to Southern Oregon? Be sure to read my Jacksonville, Oregon Travel Guide, Ashland Oregon Travel Guide, and wine tasting tips in my Roseburg Oregon Wineries Guide.
Here are the latest travel guides on UBL:
Pin it: