Up on the Hakkoda Mountain of Japan lies Hotel Jogakura, a snowy oasis of serenity amidst an adventure lover's wonderland.
The snowfall was unrelenting.
A silent army of fluffy soft soldiers descending upon the beech forest on Hakkoda Mountain.
I woke up to this serene scene in the morning from my hotel room:
Welcome to Aomori, known as the Snowiest City in the World.
It's a place I highly recommend visiting if you're planning a trip to Japan.
Jump to:
🇯🇵 Aomori Prefecture
In the Tohoku region of northern Japan lies the Aomori prefecture. A beautiful region with a rich, diverse landscape that produces some of the best apples in all of Japan.
It's also home to Hakkoda Mountain, famed for world-class skiing, and the picturesque Oirase Gorge (pictured above).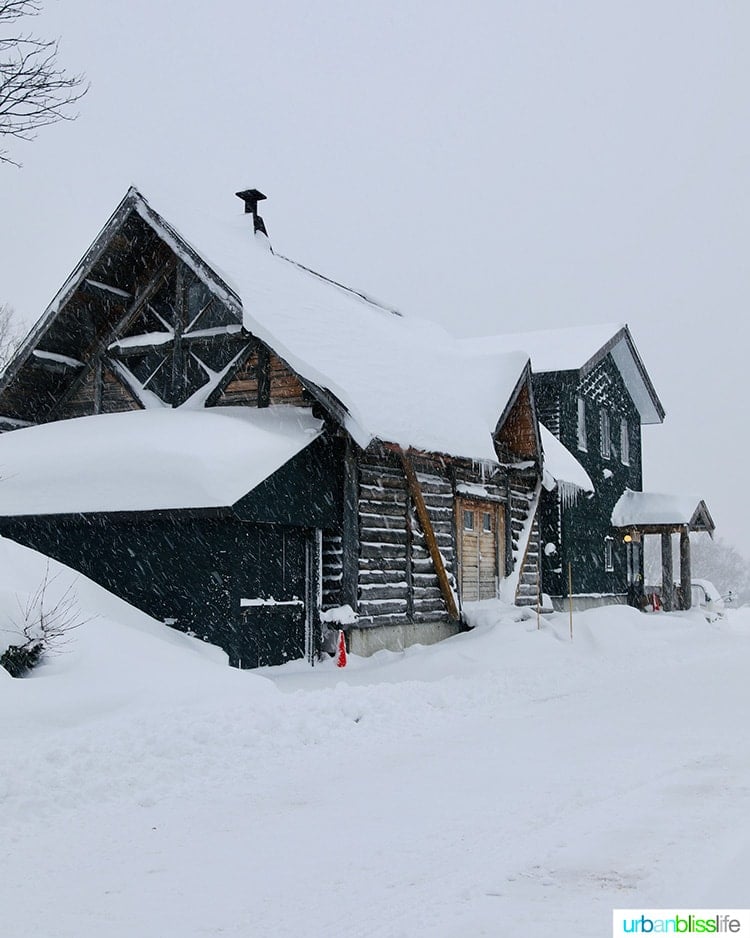 If you want to stay closer to the adventure, consider the Hotel Jogakura. Located just 9 miles from the Aomori airport and 15.5 miles from the Aomori train station, it's easy to access from other parts of Japan.
It's a stone's throw away from some of the best skiing in the country, and a bit of luxury on the mountain.
🏨 Hotel Jogakura
The drive up the mountain is a windy one. But then you reach the red torri gates at the entrance to Hotel Jogakura and the ground is level again.
You are greeted at the entrance by the kindest staff, who work hard to ensure you have everything you need to rest and relax during your stay.
🛏 Guestrooms
Hotel Jogakura has 30 guestrooms, which are designed in a thoughtful mix of Japanese and Western design.
There are several styles from which to choose. The largest rooms are known as the Royal Suites, Grand Comfort Suites and Grand Comfort Rooms. These are Japanese-style rooms that have in-room Aomori Hiba View Onsen baths. Depending on the season, these rooms run approximately $345 - $415 USD per night.
There are also 2-level Maisonette rooms. These can accommodate 2-4 people and are approximately $375 USD per night.
I stayed in a Moderate Twin guestroom (pictured above). This is a Western-style room with, as you would guess, two twin beds. These rooms are approximately $345 per night.
🍽 Dining
After a busy day adventuring in the great outdoors, relax in the hotel dining room with traditional Japanese kaiseki, a multi-course meal that is a feast for all five senses.
Our meal included meshi (steamed rice), shiru (soup), sashimi featuring fresh-caught fish from the morning market, and a host of fresh and pickled vegetables.
We were also given konro - individual table grills for cooking Aomori beef and vegetables. This interactive table experience is one that I always find encourages camaraderie and community around the table.
It was an absolutely perfect way to relax with my fellow travelers after a long day of adventuring throughout the Aomori prefecture.
Breakfast is served buffet-style in the first floor banquet room from 7 am to 10am each morning. You'll find a wide range of seasonal ingredients such as local vegetables, eggs, and of course, fresh seafood from the Aomori market.
🧖🏻‍♀️ Onsen - hot spring baths
After dinner, I met up with my fellow female travel writers in the hotel's onsen (hot springs bath). At Hotel Jogakura, there are separate women's and men's onsens. Part of each onsen is indoors, and part is outdoors. This is the only open-air bath in the Hakkoda area where you can bathe all season.
The natural hot springs of Hakkoda are said to help heal fatigue, and at the end of a very long day, that it did. I sat in both the indoor and the outdoor onsen, even though it was December and very cold; the outdoor onsen was quite warm and the mountain breeze actually felt nice. You can hear the mountain stream of Toritakizawa nearby.
The large onsen also has a mist sauna, rain shower, jacuzzi, and is equipped with shampoo, conditioner, and body shampoo. A hairdryer, baby cot, and cribs are available at the women's dressing room. In your own room, you will find a robe and
Please note that I took all of the photos above very early the following morning, when not a single person was in the onsen or in the dressing area.
Tattoos are prohibited in most public baths in Japan, so be sure to cover up with tattoo tape before going to a bath. I purchased this tattoo tape from Amazon.com before traveling to Japan.
Book your stay at Hotel Jogakura
I highly recommend staying here if you are traveling to Aomori Prefecture! You can use the search bar below to find hotel rooms for your travel dates.
Popular attractions close to Hotel Jogakura
Hotel Jogakura is approximately 31 miles (51 kilometers) away from Lake Towada. And it is just 15.5 miles (25 kilometers) away from the beautiful Oirase Gorge, pictured above.
Lake Towada
Lake Towada is a caldera lake formed by volcanic activity that started about 200,000 years ago. I'm told that on a clear day, it is absolutely stunning. The skies were overcast and a fog lay over the lake as we approached. It was still a scene of beauty, nonetheless.
Star Gazing
At an altitude of 880m, Hotel Jogakura is an amazing place for star gazing. The air here is so clean and the sky so clear. You can rent a telescope, binoculars, and even winter clothes and sandals for going out, from the hotel.
Skiing
Guests can sign up for a day on Mt. Hakkoda with a veteran ski guide. You meet the shuttle bus at 9:00 am, which takes you to the ski rental and ropeway station. Your guide will take you through a safe course, watching the weather conditions to ensure your safety.
Hiking Hakkoda Mountain
Hakkoda Mountain is an amazing place to go hiking. It's a high mountain and a marshland, making it a treasure trove of rare plants. Depending on the season, various bog, alpine plants, and flowers are in full bloom.
Chasing waterfalls in Oirase Gorge
The Oirase Gorge is a nature lover's paradise. The Oirase River flows out from Lake Towada, and then the Oirase mountain stream flows out into several waterfalls throughout this nationally protected area.
Aomori City
And of course, the city of Aomori is a short drive away. The city's markets, museums, and shops are worthy of their own post, so I will be writing about Aomori City in the near future.
More tours and activities
There are some great tours offered to give you a taste of Aomori. Check out some of the most popular tours and activities around Aomori prefecture below:
Stay at Hotel Jogakura
Due to world events that have kept most of us grounded in 2020, please be sure to read the hotel's safety guidelines before booking your reservation. After being closed for a few months like most hotels around the world have been, Hotel Jogakura plans to reopen on July 1st, 2020.
HOTEL Jogakura
Arakawa Hakkoda Yamanaka
Aomori City, Aomori Prefecture
Japan
TEL: 0120-38-0658
For more information, visit the Hotel Jogakura website
✈️ Book your flight to Japan
Ready to travel to Japan? Search for your next flight here:
🏩 Compare other hotels in Aomori
Hotels in Aomori: Popularity (15 February 2023 - 5 February 2024)
| Hotel | Stars | Rating | Price per night | Select dates |
| --- | --- | --- | --- | --- |
| Hotel JAL City Aomori | ★★★★ | 8.4 | 114 | View hotel |
| Daiwa Roynet Hotel Aomori | ★★★★ | 9.1 | 113 | View hotel |
| Richmond Hotel Aomori | | 8.4 | 100 | View hotel |
| HOTEL MYSTAYS Aomori Station | | 8.1 | 90 | View hotel |
| Hotel Sunroute Aomori | ★★★ | 8 | 91 | View hotel |
More travel guides
If you visit, please be sure to let them know that you read about it on Urban Bliss Life! And if you snap some pics, tag us @UrbanBlissLife and #UrbanBlissLife on Instagram, TikTok, Twitter, and Facebook.
PIN IT:
This hotel stay was complimentary as part of a press trip with Visit Japan and the Society of American Travel Writers. As always, all opinions and photos are 100% my own.