Looking for fast, easy, delicious meals at the end of a long day? Check out these 45 Best Family-Friendly 30-Minute Meals for Busy Weeknights!
We all have those crazy busy nights. Maybe there are dueling kids' sports practices or games. Work is running late and you're up against a tight deadline. When you have just 30 to 45 minutes MAX to pull together dinner for the whole family, what do you do?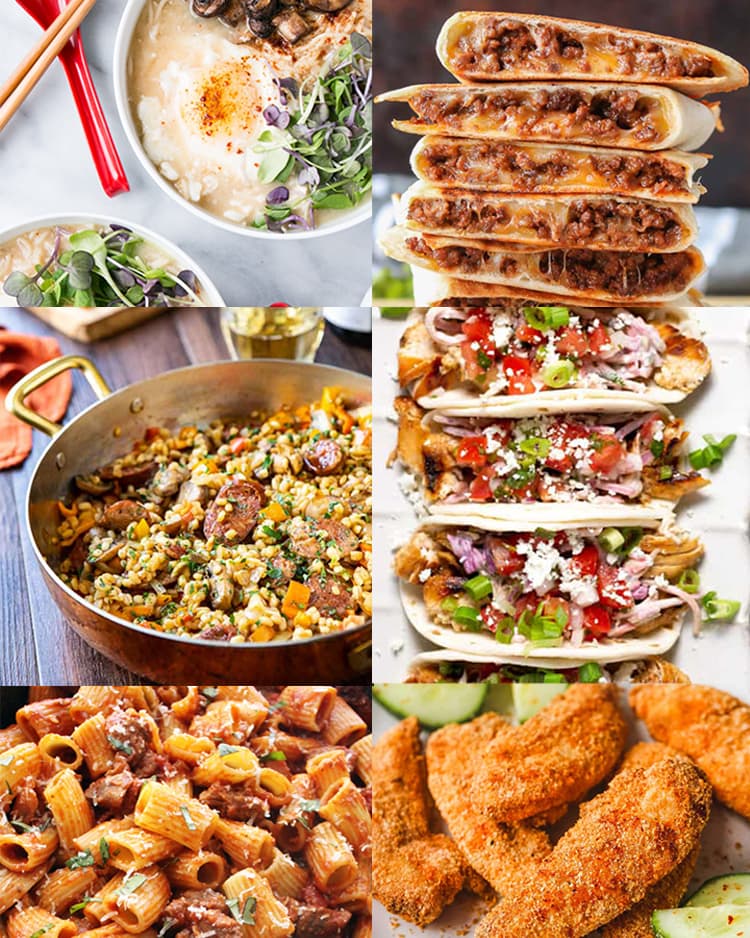 Getting a full, home-cooked dinner on the table at the end of a long work day can be quite the challenge. Even working from home, I often find myself scrambling at dinner time. The dreaded "what should we have for dinner?" question is asked and answered with a head scratch and a sigh all too often.
Fast Family-Friendly 30-Minute Meals to the rescue
Thanks to some of my fellow food blogger friends, I've compiled a list of recipes to help us all answer the dreaded "what's for dinner?" dilemma.
And for those of us with kids, that dilemma can be extra challenging. There are additional individual tastes, whims, intolerances, and allergies to consider.
To me, family-friendly recipes are recipes that can be done in less than an hour (these are all 30 minutes or less!). They are recipes that include common ingredients that you might already have in your fridge, freezer, or pantry. And, they are recipes that don't cost an arm and a leg.
I broke these fast, family-friendly recipes up into categories to make it easier to find what you're looking for on any particular night. Feel free to click on the link below to jump ahead to a specific recipe category.
Search recipes by category
Beef is a hearty and delicious meat protein source. It's also an awesome source of Vitamin B, iron, zinc, selenium, and niacin.
My favorite cut is rib-eye, and I usually buy the Whole Foods Market rib-eye steak. But as you can see from these recipes, there are so many delicious ways to enjoy beef!
Other cuts of beef you might enjoy: brisket,
Chicken is one of the most popular sources of meat protein around the world. These fast and easy chicken recipes show you just how versatile and tasty chicken dinners can be!
One of my favorite cuts of meat is boneless, skinless chicken thighs. Wallet-friendly and oh so versatile. The recipes use a variety of cuts of chicken, from chicken thighs to drumsticks to chicken breasts.
Seafood is the home cook's secret weapon when it comes to fast and easy dinner recipes! Shrimp, scallops, and fish all cook up faster than chicken or beef.
When I'm in a pinch, I can always count on a pasta recipe for a fast, easy, delicious family-friendly 30-minute meal.
Need more pasta? Order from Amazon Fresh or Whole Foods Market for delivery. We usually get ours within 2 hours of placing our order!
I use my Ninja Foodi or Instant Pot nearly every single day. They both help make fast, flavorful dinners in a flash!
Find my latest Ninja Foodi recipes and Instant Pot recipes here.
Noodles are always reliable for quick and yummy meals. Here are some better-than-takeout recipes!
Which if these are your favorite family-friendly 30-minute meals?
PIN IT: Family-Friendly 30-Minute Meals