This Pork and Peanut Dragon Noodles recipe is fast, inexpensive, and is a spicy flavor explosion! You can make this recipe in 20 minutes, and it only costs around $5 for four servings.
This post contains affiliate links. Please read my policy page for details.
Ramen noodles are one of my favorite inexpensive ingredients to have on hand. ALWAYS.
They can easily be transformed and elevated into so many different types of dishes. From easy homemade ramen noodles to Shrimp Lo Mein.
Better-Than-Take-Out Pork and Peanut Dragon Noodles
I love Chinese food take-out as much as the next person, but it can get so expensive!
This better-than-takeout Chinese food recipe will only cost you about $5 total. And, it will feed about four people.
What is in pork and peanut dragon noodles?
To make these yummy spicy Asian noodles, you only need a few ingredients. If you make Asian food even sometimes, you likely have these ingredients on hand:
You can also use green onions as an optional garnish.
How to make pork and peanut dragon noodles
One of my favorite parts about making this delicious spicy Asian dish is that it takes so little time to make!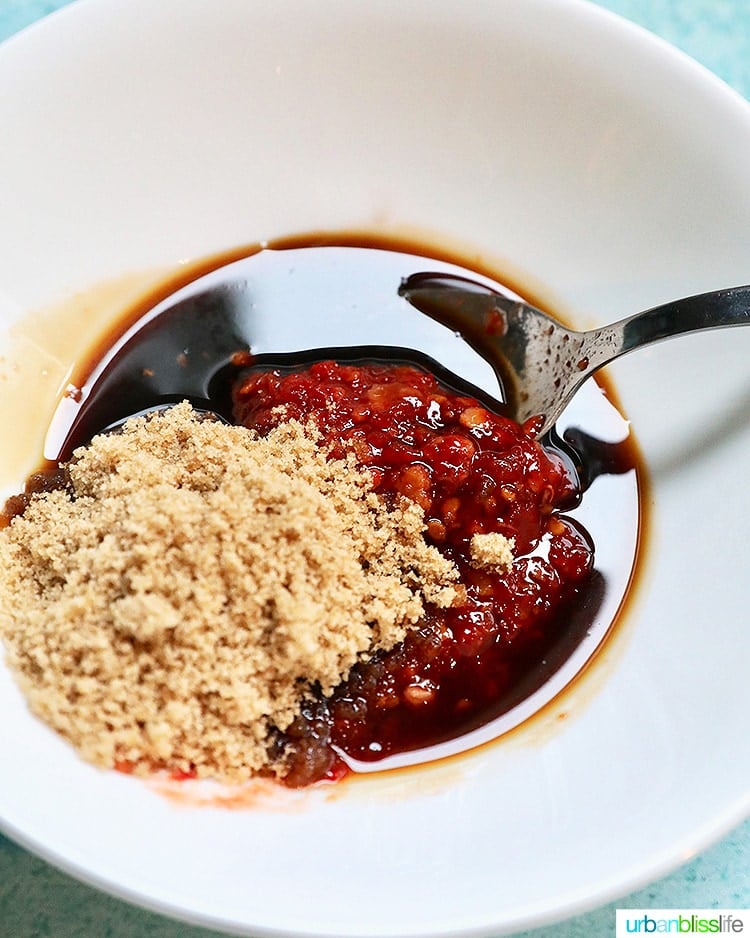 Step 1 - Start by mixing the sauce ingredients together to make the sauce. Set it aside.
Step 2 - Cook two packages of ramen noodles according to package instructions. Just be sure to discard the flavor packets! You don't need those sodium bomb powders.
Step 3 - In a skillet, sauté the pork along with the ginger, just until the pork has browned. Pour the sauce over the cooked pork and stir all of that yummy goodness together.
That's it! This whole meal can feed a family of four. You can make it from start to finish in 15-20 minutes! And, it's an AWESOME recipe if you're on a budget. The whole recipe costs less than $5 total.
Even if you're not on a budget, this is one spicy Asian noodle dish that packs a powerful flavor punch you will LOVE!
How to adjust the spice level
My family doesn't like things super spicy. This recipe makes the dish what I would consider MEDIUM SPICY. It has heat, but doesn't burn your tongue.
If you are someone who LOVES wicked hot, super spicy Asian food, then go ahead and add more of the chili garlic sauce.
How to make this dish MILD: reduce the chili garlic sauce further. Start with maybe one teaspoon of the chili garlic sauce. That's enough to still add flavor, without the heat. Then add a teaspoon of the soy sauce or coconut aminos to balance the flavor. Season and adjust to taste, as needed.
Which wine pairs with peanut noodles?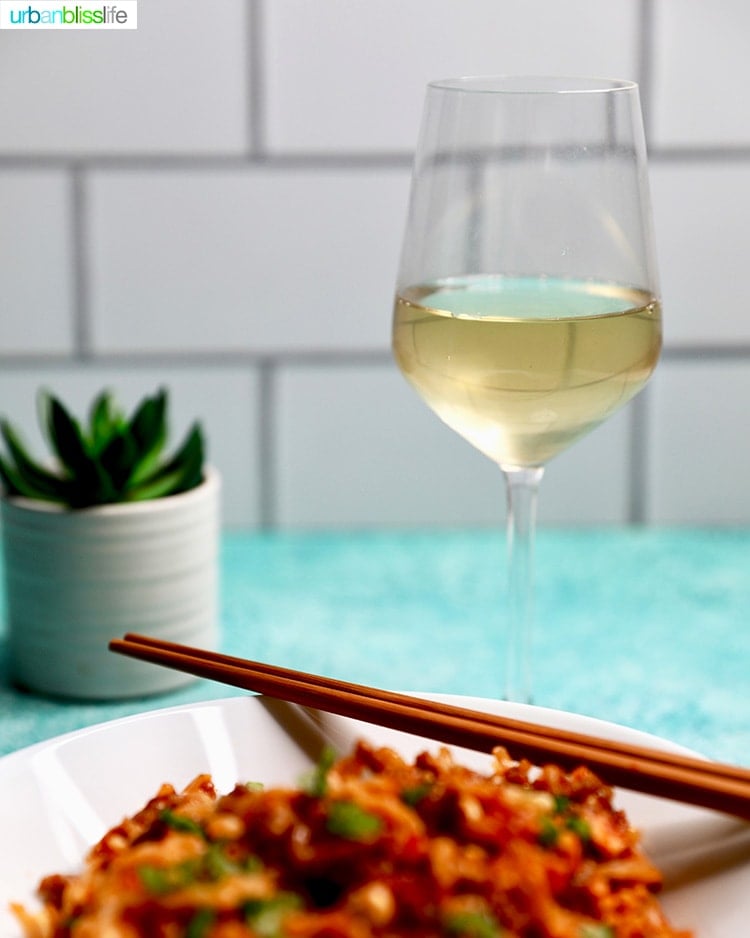 When enjoying spicy Asian food, look for sweet, aromatic white wines with high acidity and low alcohol.
Classic wine pairings here would be a German Riesling, a sparkling Moscato d'Asti, or a Spanish Albariño. If you like Sauvignon Blanc. most also pair well with spicy Asian food. I also enjoy certain Rosé wines with spicy food.
Wines to try:
Recipe FAQs
How can I make this vegetarian?
I've heard from readers and Instagram followers that plant-based meat crumbles are a good substitute for pork in this recipe. You could also try cooking extra firm tofu, then crumbling it into the dish.
What vegetables can I add?
You can bump up the volume and nutrition content of this recipe by adding some veggies. I've personally enjoyed adding steamed broccoli. You could also add snow peas, diced red or green peppers, and sliced onions if you would like.
Pork and Peanut Dragon Noodles
This is a 30-minute meal that's full of flavor and spice. So fast, easy, satisfying!
PRINT
PIN
RATE
Ingredients
Noodles
1

tablespoon

sesame oil

½

pound

ground pork

1

teaspoon

ginger, peeled and minced

2

packages

ramen noodles (discard the flavor packet)

2

tablespoons

green onions, sliced thinly

¼

cup + 1 tablespoon

chopped peanuts
Instructions
In a medium bowl, mix together the chili garlic sauce, coconut aminos or soy sauce, and light brown sugar until well combined. Set aside.

Heat sesame oil In a large skillet over medium-high heat. Add pork and ginger, cook until the pork is browned, about 4 minutes.

While pork is cooking, cook ramen noodles in a large pot according to the package instructions.

Once the pork is cooked, add the sauce and ¼ cup peanuts. Stir well and cook for another 3-4 minutes.

Drain noodles and add to the skillet with pork and peanuts. Gently toss all together to coat the noodles.

Serve immediately, and garnish with green onions and remaining tablespoon of chopped peanuts.
Notes
This recipe makes a sauce that is MEDIUM SPICY.
To ADD HEAT: increase the chili garlic sauce, one teaspoon at a time (or one tablespoon at a time if you LOVE your Asian food super spicy!).
To MAKE IT MILD: start with just one teaspoon of the chili garlic sauce, mix the sauce, taste. Add chili garlic sauce by the teasponful until you achieve your desired level of spice.
This noodle dish will keep in an airtight container in the refrigerator for 2-3 days.
PIN IT: