Looking for a classic, no-fail recipe? Easy lemon herb roasted chicken with roasted vegetables is always a winner - and so much easier than people realize!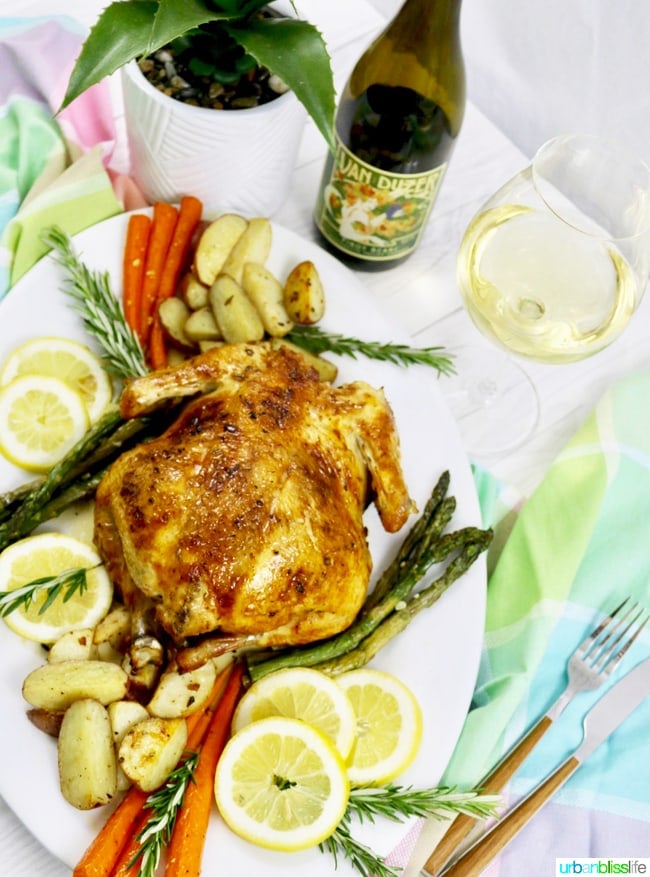 In every home cook's arsenal, there must be a few classic no-fail recipes. Those recipes that you fall back on time and time again because you know they won't disappoint.
Recipes like a fail-safe Sausage and Egg Breakfast Sandwich or my favorite Bacon Corn Chowder recipe. For a quick, yummy dessert when we're all craving sweets, I go back to my Classic Peanut Butter Blossom Cookies recipe.
And when company is coming, you can't go wrong with a classic roast chicken recipe.
Easy Lemon Herb Roasted Chicken
Now, there are MANY variations of "classic" roast chicken out there. This is my favorite version, which I've made throughout the years, with slight modifications.
This Easy Lemon Herb Roasted Chicken is packed with flavor because it's rubbed with a garlic herb butter mixture inside and out.
Then, I stuff some onions, garlic, lemon, and rosemary inside the bird's cavity so that the amazing aromas and flavors permeate throughout the roasting process.
It's so good. I love, love, LOVE this chicken recipe. And, I hope you will, too!
How to make garlic herb butter
I use this garlic herb butter for a lot of things: corn on the cob, roast veggies, on buttermilk biscuits.
The blend of unsalted butter, fresh rosemary, garlic, salt and pepper with a squeeze of fresh lemon juice just can't be beat!
Make the lemon herb roasted chicken
Rub the butter inside the chicken skin and outside. Be sure to get the insides of the wings and legs, too.
Warning: this can be a messy process. While you could use a brush, you're not going to get the same amount of yummy buttery goodness on your chicken as you would using your hands. Hands are your best kitchen tool!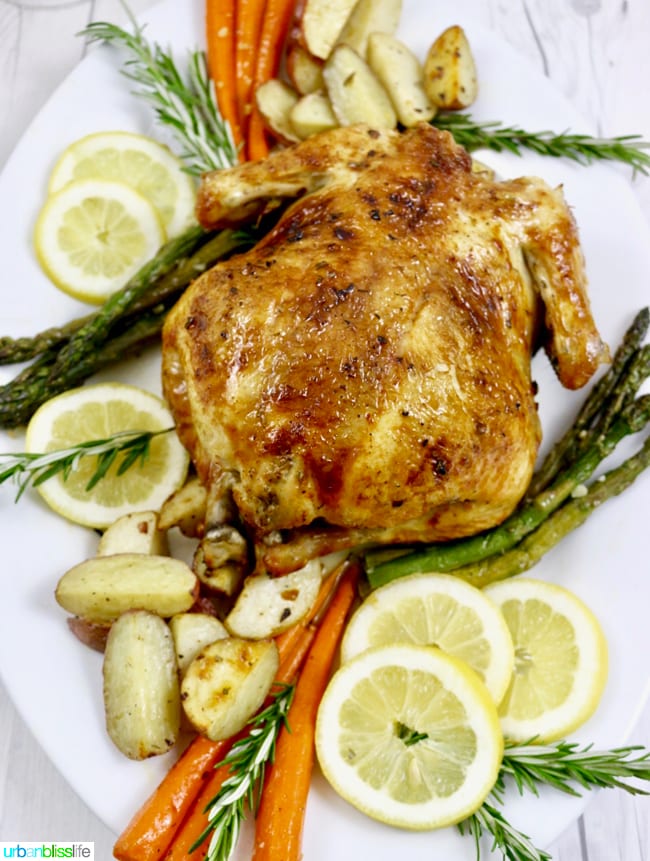 This chicken smells AMAZING roasting in your oven at 425 degrees.
After 30 minutes, use a double set of tongs - one in each hand - to turn over the bird. If you have an extra pair of hands in the kitchen to help, that person can hold the roasting pan steady while you flip the bird.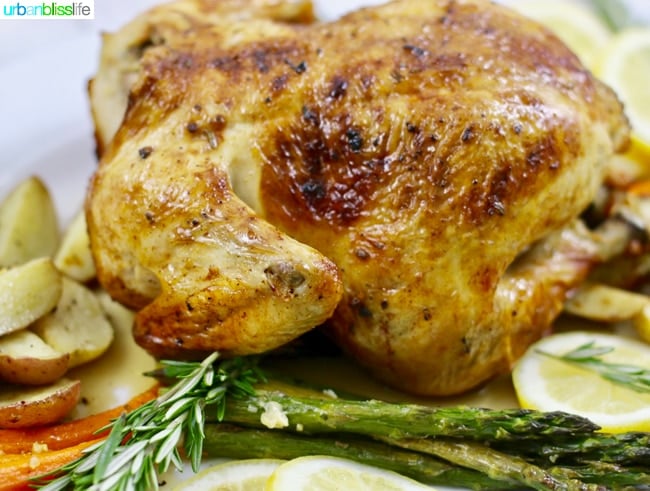 Baste the chicken (or brush the chicken) with the sauce from the roasting pan.
Return the chicken back into the oven for 30-40 more minutes, this time adding the baking sheet of veggies to the rack underneath the chicken (see below for roasted vegetable instructions).
Use an instant read meat thermometer to check the doneness of the chicken. Once the chicken reaches 165 degrees, it's done!
Let it rest on your kitchen counter for about 10-15 minutes before carving and serving.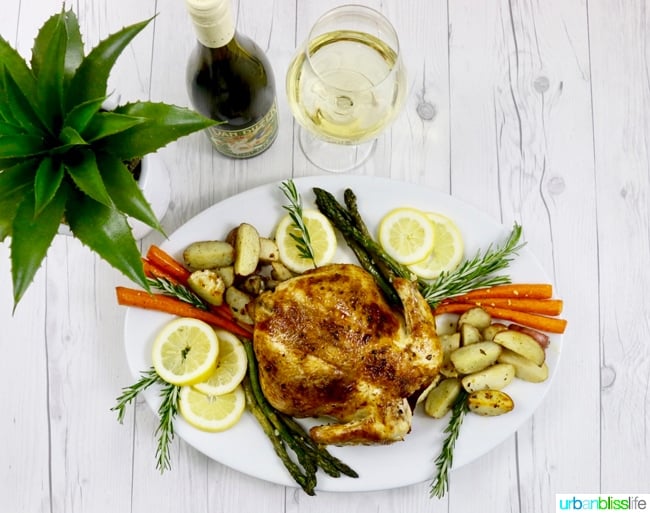 Making the roasted vegetables with lemon herb roast chicken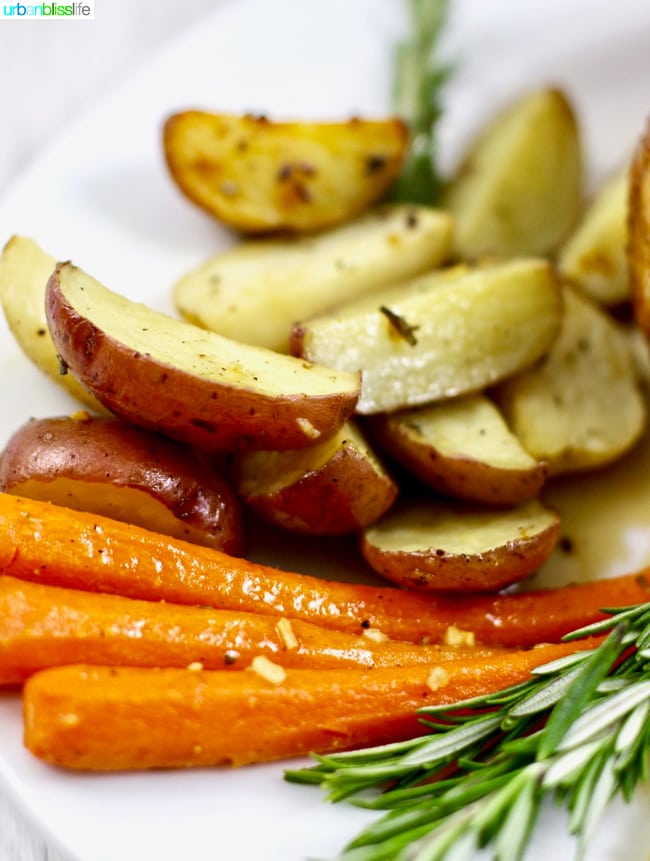 Okay, let's talk about the veggies.
I love roasted vegetables. They're SO easy to make and absolutely delicious - as a side dish, or I sometimes enjoy roasted veggies as my lunch!
Simply take about a tablespoon of the same herb butter that you set aside, and rub the butter over your veggies.
Sprinkle salt and pepper over the vegetables.
Bake in a rack underneath the chicken for the last 40 minutes.
Remove asparagus and carrots after 20 minutes. Return the potatoes to the oven and they should be done about the same time as the chicken.
Boom. Done. SO EASY and TASTY!
You can use other veggies, but just know that you will need to adjust roasting time based on the veggies you choose.
For example, larger baking potatoes will take longer than small red potatoes, and much longer than small carrots. Just watch the veggies carefully and remove from the oven when they are just tender.
Wines to serve with roast chicken
Roast chicken pairs well with a dry, medium-bodied white wine.
This Easy Lemon Herb Roast Chicken goes amazingly well with the Van Duzer Pinot Blanc ($25). The playful hints of lemon and pineapple, which helps bring out the herbs and lemon in this roast chicken.
It also pairs well as the Stoller Dundee Hills Chardonnay ($25). This beautiful dry white wine.
Leftover Chicken Recipe Ideas
Inevitably, if you roast two chickens at a time, you're likely to have some leftovers. Even if you cook one roast chicken, you might have leftovers, depending on how hearty your family's appetite is.
Here are some of my favorite ways to use leftover roast chicken:
Do you like to make a whole roasted chicken? What's your favorite way to use chicken leftovers?
Easy Lemon & Herb Roasted Chicken with Roasted Vegetables
This classic roast chicken recipe is easy and packed with garlic, lemon, and herb flavors!
PRINT
PIN
RATE
🤍 SAVE
Saved!
Ingredients
1

Draper Valley Farms Ranger® chicken

½

cup

apple juice

¼

cup

white wine
Herb Butter
5

Tablespoons

unsalted butter

softened to room temperature

1

medium yellow onion

peeled and chopped into small quarters

2

large garlic cloves

minced

2

large rosemary sprigs

finely chopped (be sure to remove the wooden stem before chopping the leaves!)

½

teaspoon

fresh lemon juice

¼

teaspoon

salt

⅛

teaspoon

pepper
To stuff into the chicken cavity
1

small onion

cut into quarters or halved (depending on the size of your chicken cavity)

2

whole garlic cloves

peeled

2

rosemary sprigs

½

lemon

cut into slices
Roasted Vegetables
6

baby carrots

peeled and rinsed.

8

asparagus spears

2-3

cups

mixed baby potatoes

I used a mix of yellow & red baby potatoes, cut into halves or quarters, depending on the size
Instructions
Preheat oven to 425 degrees Farenheit

Remove whole chicken from packaging, remove giblets (if included), rinse under cold water, pat dry with paper towels. Set aside.

In a medium bowl, combine softened butter, onion, garlic, rosemary, lemon juice, salt and pepper. Mix together until well blended. Set aside 1 Tablespoon to use for the roasted vegetables.

With the remaining herb butter mixture, gently rub it inside the skin of the chicken breast, taking care not to tear the skin if possible. Then rub the outside of the entire chicken with the herb butter.

Stuff the chicken cavity with the onion, garlic, rosemary and lemon.

Tie the legs together with kitchen twine.

Place the chicken onto the rack of your roasting pan and place in the oven.

Roast chicken for 30 minutes at 425 degrees.

Meanwhile, prepare a baking sheet with parchment paper. Place the vegetables on top of the parchment paper. I keep each vegetable together, which makes it easy to remove the asparagus and carrots from the potatoes later.

Melt the tablespoon of herb butter that you have set aside for about 10-15 seconds in the microwave (or until melted), then pour evenly over the veggies.

Sprinkle salt and pepper over all of the vegetables.

After the chicken has been roasting for 30 minutes, add the sheet of veggies to the rack below the chicken. Roast for 20 minutes.

After 20 minutes, remove the asparagus and carrots, then return the potatoes to the oven. Roast the chicken and the potatoes for another 15-20 minutes, just until a thermometer shows the chicken is done at 155 degrees and the potatoes are softened and fully cooked.

Remove both from the oven, and allow the chicken to rest at room temperature for 10-15 minutes before carving and serving.

Enjoy!
Notes
For best results, make sure your chicken is fully thawed (if frozen) and rests at room temperature for a few minutes before adding the herb butter and roasting.
You can easily double this recipe for a dinner party. It makes a delicious and impressive dinner party dish!
Tried this recipe?
Please leave a star rating and comment! Then snap a pic of your dish and share it on social media. Tag @UrbanBlissLife and #UrbanBlissLife!
Nutrition information is a general estimate. Actual nutrition details may vary depending on the exact foods & brands you use to make this recipe. It does not take into account any substitutions, toppings, or optional ingredients.
PIN IT: