So buttery and flaky, these are the best buttermilk biscuits you'll make! Especially with these great biscuit baking tips shared with me by Hutchinson's Finest Biscuits at The Learning Kitchen in Atlanta, Georgia.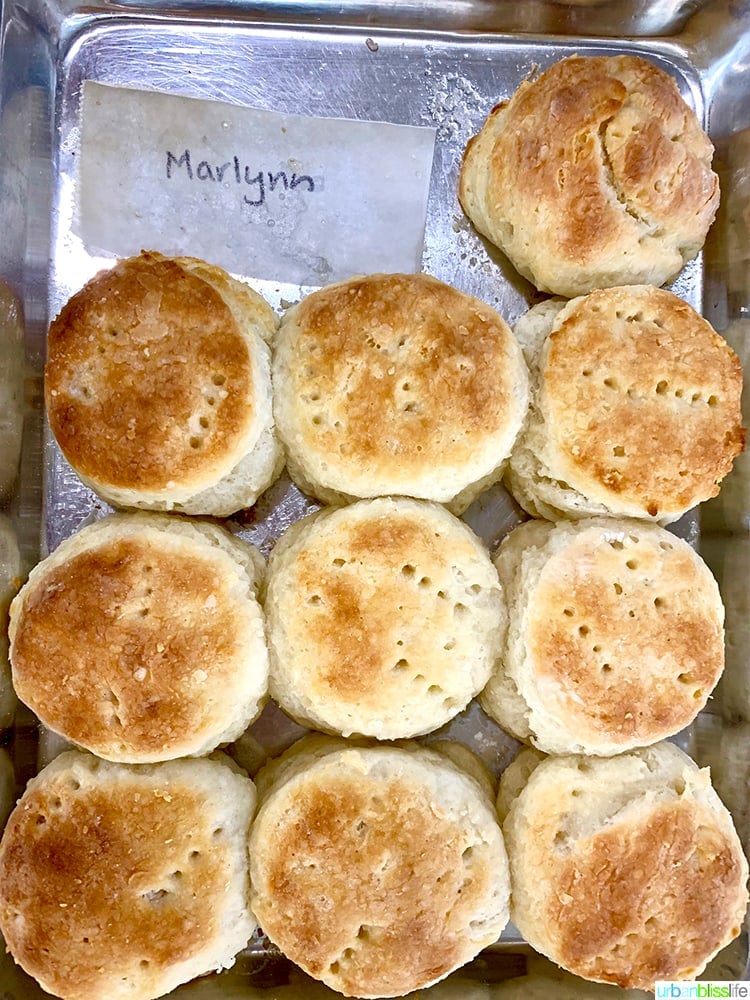 Taking a cooking class while traveling is an amazing way to get to know a new destination through its food. Cooking classes often feature local chefs, local cuisine, and the instructions are often infused with a healthy history lesson and fun facts.
During my recent trip to Atlanta, Georgia, I had the pleasure of taking a biscuit making workshop at The Learning Kitchen. Todd Tharp, owner of Hutchinson's Finest Biscuits, a weekend biscuits delivery service in Atlanta, lead the cooking class.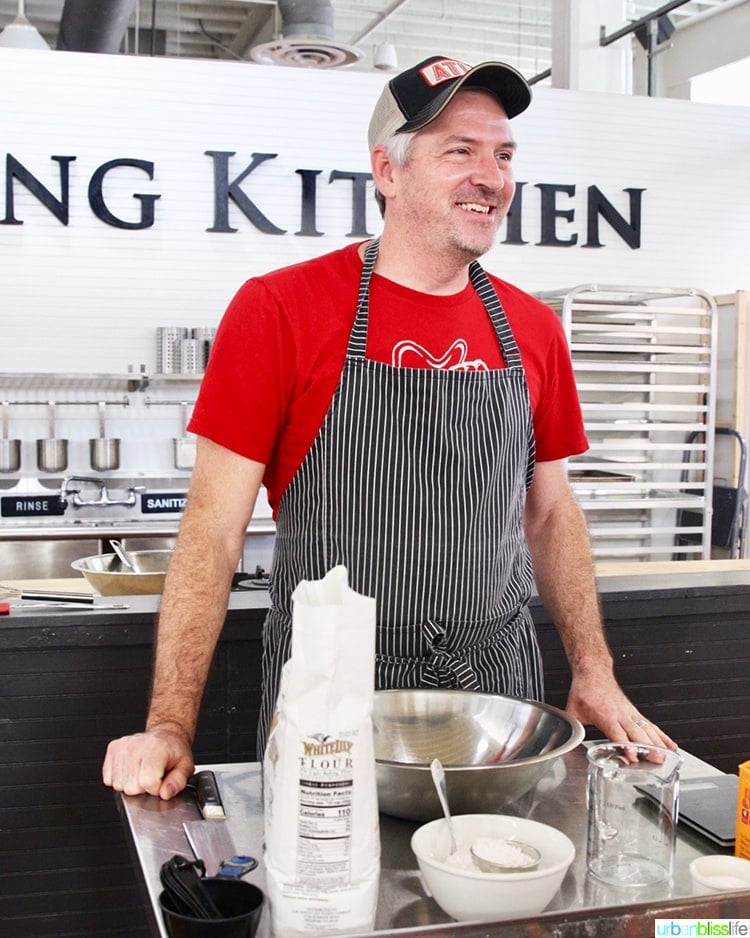 I learned so much about how to make the best buttermilk biscuits in this class! And, Todd is so generous that he granted our permission to share his famous recipe.
Cooking Classes at The Learning Kitchen
The Learning Kitchen Atlanta is located inside Municipal Market. I love the open concept kitchen classroom, which is surrounded by farmer stalls, food artisan stands, and other shops, bakeries, and cafes.
In addition to cooking and baking classes, The Learning Kitchen hosts pop-up dinners, kitchen how-to classes (like canning!), and private events.
Making the Best Buttermilk Biscuits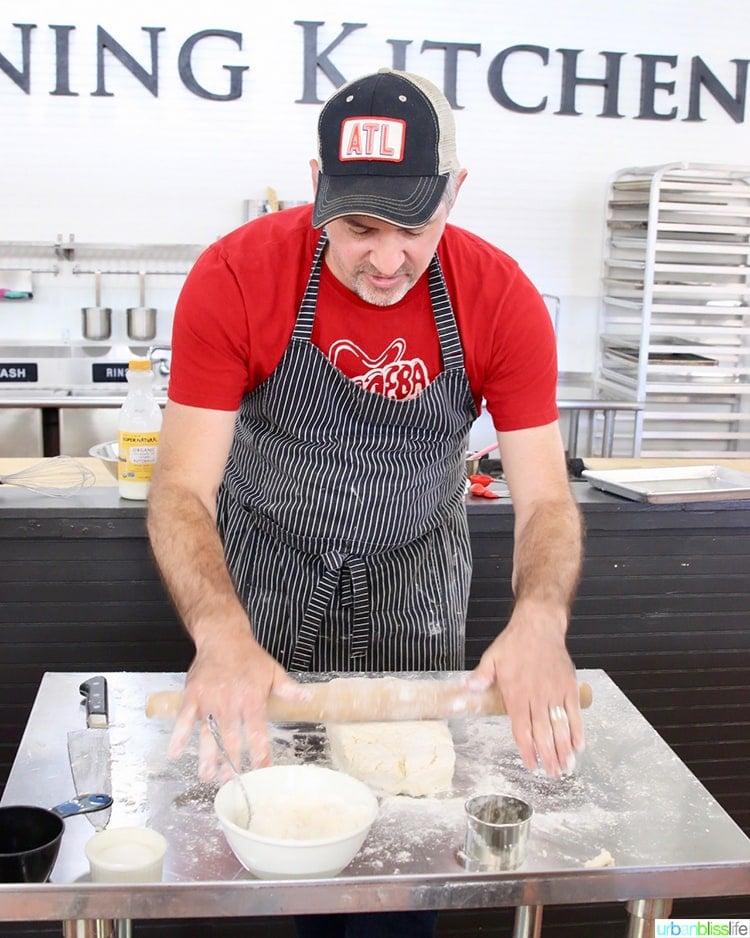 Our group had SO much fun making Hutchinson's buttermilk biscuits recipe. Todd is a friendly, encouraging teacher, and really sets everyone up to succeed.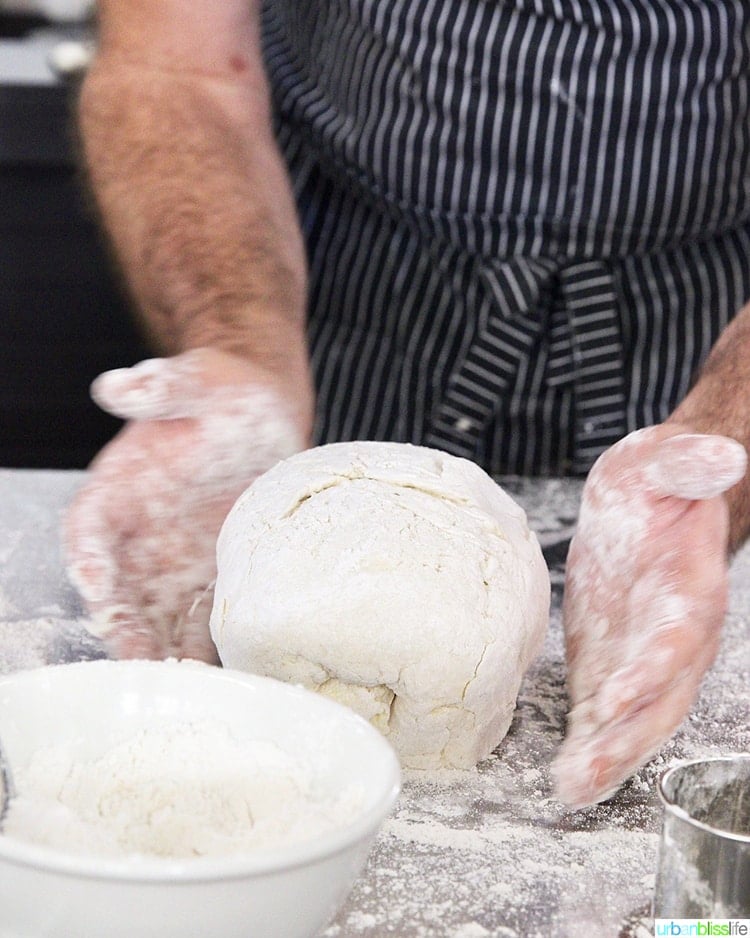 Tips for Making the Best Buttermilk Biscuits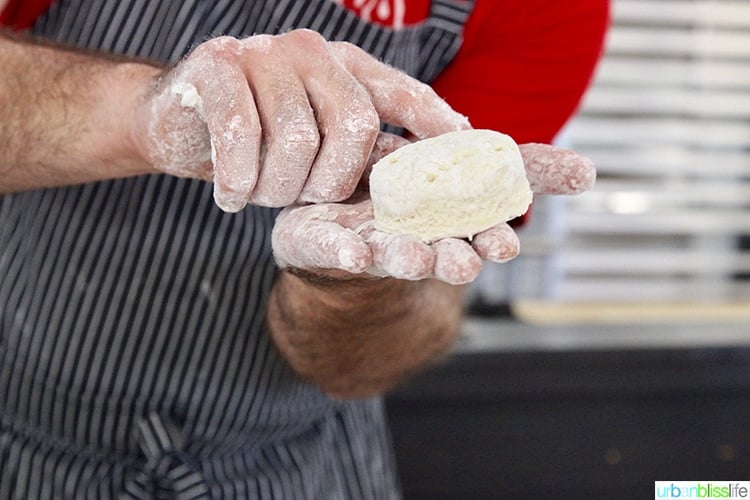 This class completely changed the way I bake biscuits.
For starters, I used to always cut my butter into cubes, and then cut it into the dough. Todd taught us to slice the butter, and work it into the dough that way. The result is lovely little layers of buttery goodness in each biscuit.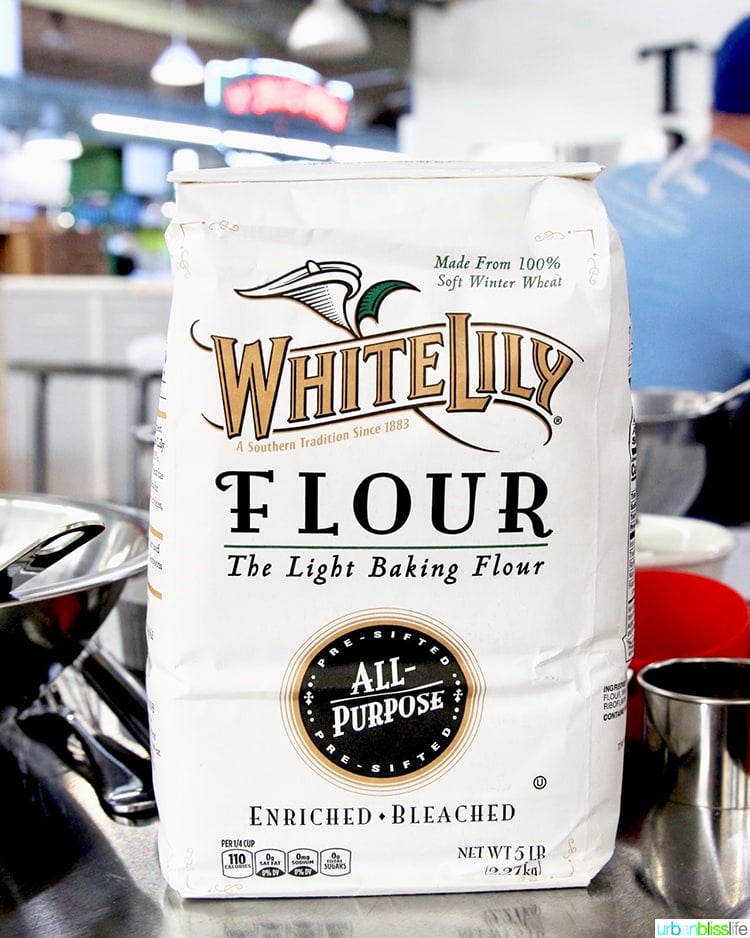 I also learned the flour you use makes a BIG difference.
For biscuits, use a soft winter wheat flour, such as White Lily All-Purpose Flour. Common in the Southeastern US, I had never seen this brand of flour in the Pacific Northwest. Thankfully, we live in an age where you can get almost anything online - including specialty baking products!
This particular flour is MAGIC when it comes to baking. It bakes up the fluffiest, flakiest biscuits. I've also heard it makes similarly beautiful pie crusts and pastry crusts.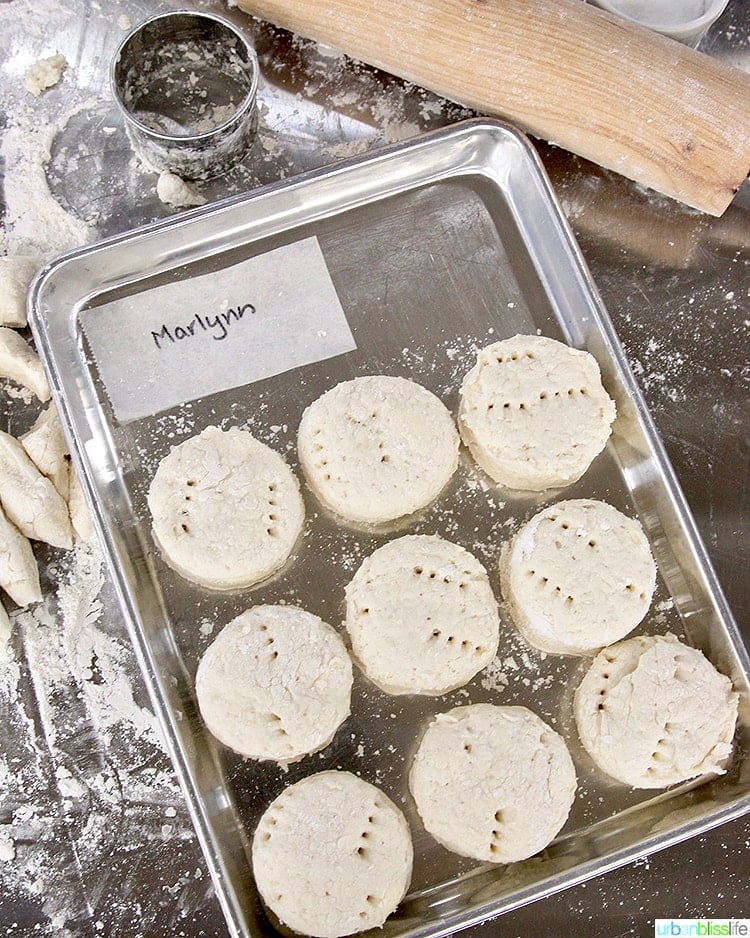 Another one of Todd's baking tricks is to make sure you do NOT twist the pastry cutter when cutting out the dough. Doing so apparently works the dough more, whereas simply slicing straight down, and then lifting up helps maintain the integrity of the dough. This gives you beautiful, even layers of biscuits.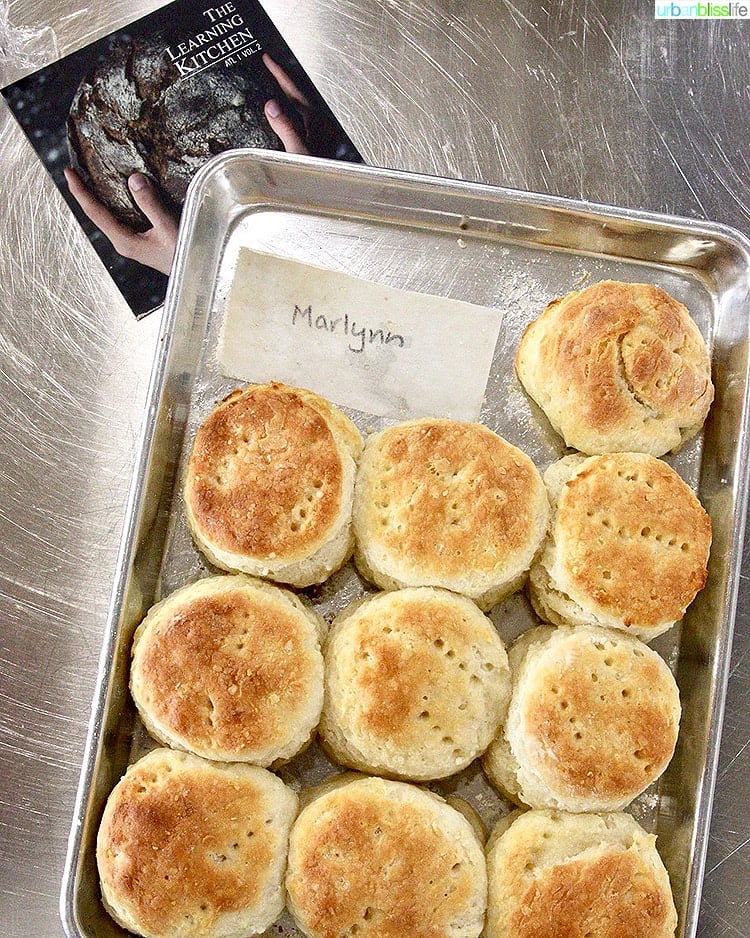 What to serve with buttermilk biscuits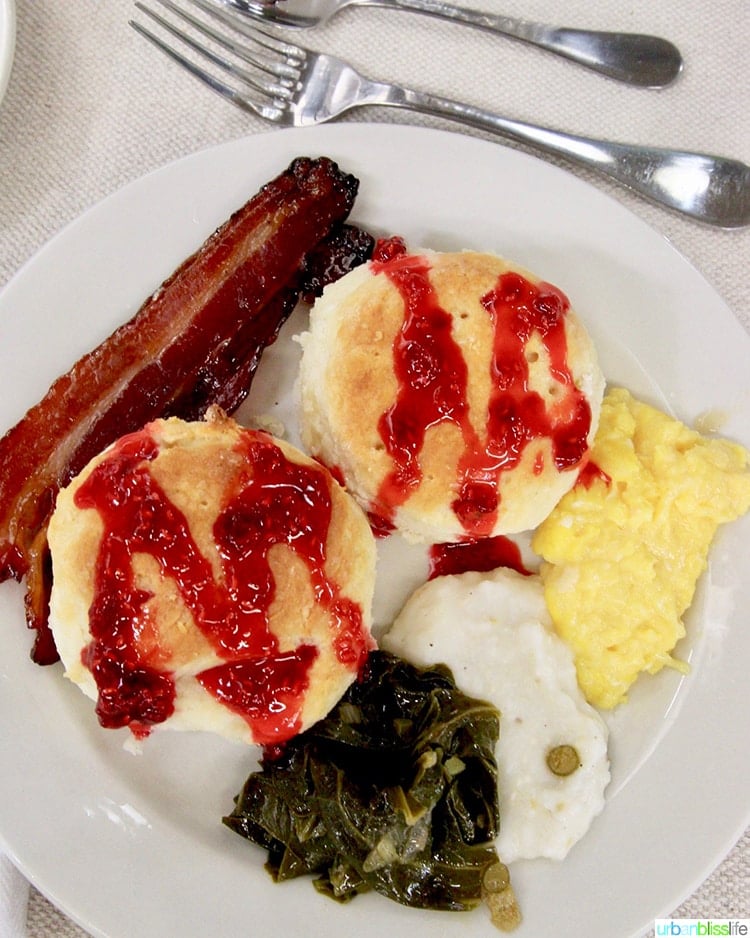 Buttermilk biscuits are amazing on their own. But while in Atlanta, we of course had to enjoy them with some collared greens, cheesy grits, soft scrambled eggs, fresh strawberry jam, and candied bacon. YUM!
At home, I like to enjoy biscuits with a simple dairy-free gravy and sausage. They're also great to make breakfast sandwiches.
Best Buttermilk Biscuits Recipe
Best Buttermilk Biscuits
This secret best buttermilk biscuits recipe from Hutchinson's Finest Biscuits is secret no more!
PRINT
PIN
RATE
Ingredients
4 ½

cups

all-purpose baking flour

(a soft winter wheat flour like White Lily is the best for biscuits!)

1

tbsp

kosher salt

1

tbsp

baking powder

12

tbsp

butter

1 ¾

cups

buttermilk

1

tsp

kosher salt

2

tbsp

butter, melted

1

cup

flour to dip fork and cutter into
Instructions
Preheat oven to 500° F. Line a baking sheet with parchment paper and set aside.

In a large bowl, whisk together 4-½ cups flour, tbsp salt, and baking powder.

Slice butter into thin pieces. Take half of the sliced butter and work into the flour mixture by pressing together your fingertips. Then add the rest of the butter to the flour mixture and use your hands to mix all of the butter pieces into the flour. Mixture will resemble course crumbles; be sure not to overmix because some of the nice flat pieces of butter are what make these biscuits so buttery and flaky!

Pour buttermilk over the flour mixture. Using a spatula, gently fold flour and buttermilk together until combined.

Liberally dust the 1 cup of flour onto a work surface and gently turn the dough onto it, shaping the dough into a ball. Using a rolling pin, roll the dough into a rectangle about an inch thick. Fold the top third of the dough onto the middle third, and then fold the bottom third up over the middle and top third (like a letter!). Turn the dough 90 degrees and roll out again into a rectangle shape about an inch thick. Repeat the folding steps. Turn the dough 90 degrees again and repeat the rolling out and folding steps one more time.

Roll the dough out onto the floured surface (add more flour to the surface if needed), to about an inch thick. Dip your biscuit cutter in flour, then press straight down through the dough. Do NOT twist the cutter. Move the biscuit onto the prepared baking sheet. Using the tines of a fork dipped in flour, pierce holes into each biscuit.

Place baking sheet onto the middle rack and bake for 14 minutes, turning the baking sheet around halfway through for even baking.

Melt the 2 tbsp butter. Once biscuits are done, remove from the oven and use a pastry brush to brush the top & sides of each biscuit with melted butter.
Tried this recipe?
Please leave a star rating and comment! Then snap a pic of your dish and share it on social media. Tag @UrbanBlissLife and #UrbanBlissLife!
Nutrition information is a general estimate. Actual nutrition details may vary depending on the exact foods & brands you use to make this recipe. It does not take into account any substitutions, toppings, or optional ingredients.
Recipe from Hutchinson's Finest Biscuits, shared with permission, and re-written/formatted to fit the UrbanBlissLife.com recipe format.
PIN IT: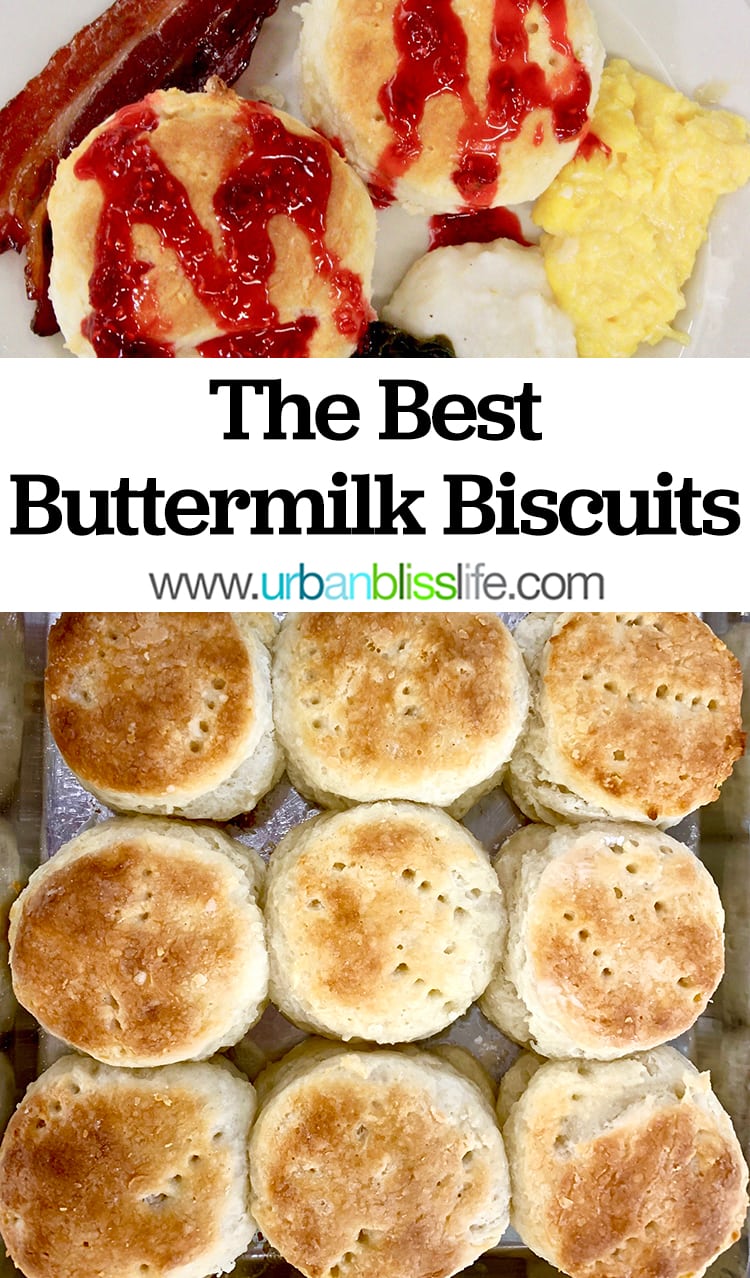 More Foodie Travels