Looking for easy, delicious recipes you can make while camping? These Easy Camping Dinner ideas will inspire you! From dutch oven dinners to foil packet meals, and more, we've got a tantalizing collection of the best campfire recipes for your next camping trip to the great outdoors.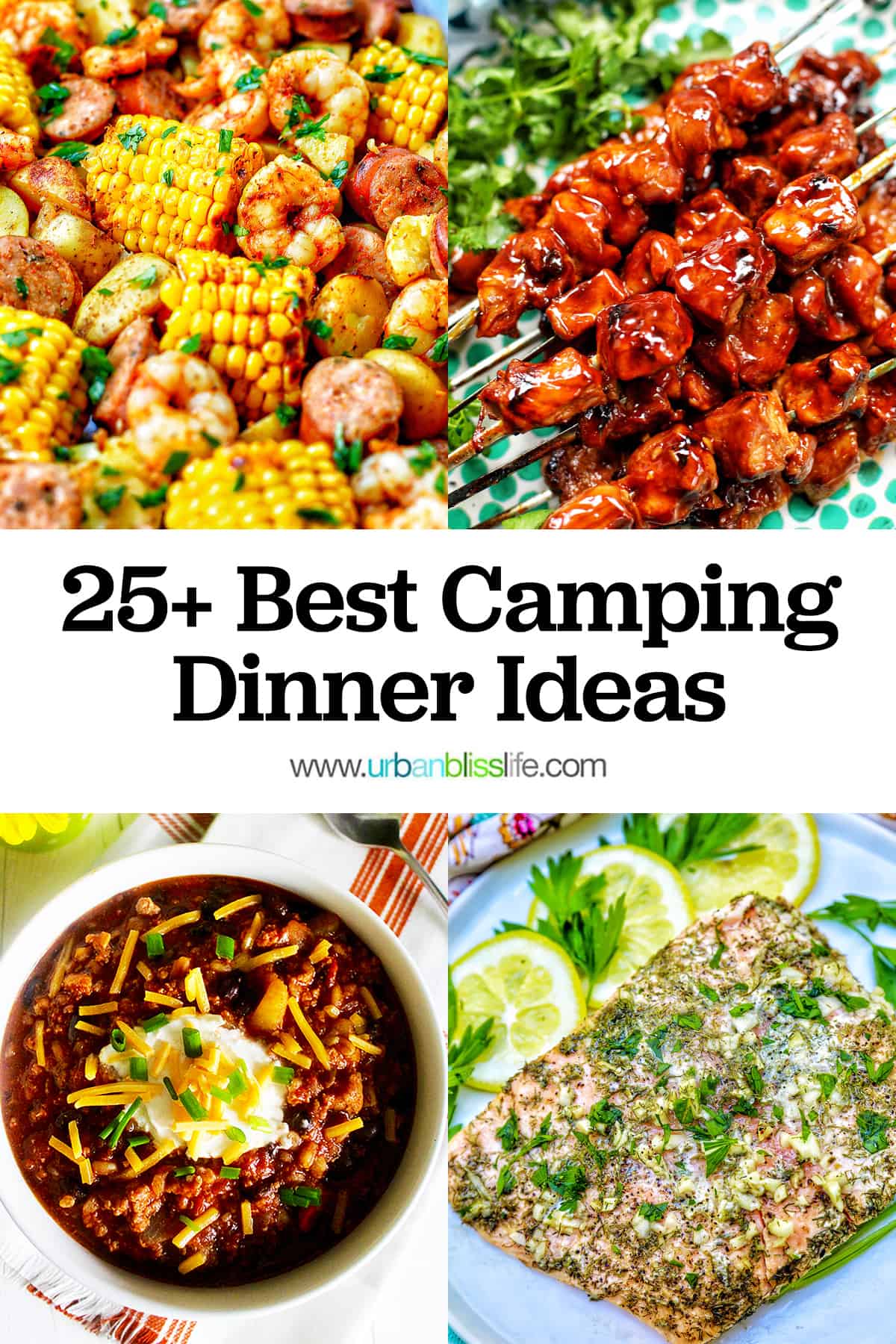 Just because you're camping doesn't mean you can't enjoyed a delicious meal and a memorable camping experience! You can make flavorful, satisfying, easy camping meals for large groups with these recipes.
When getting ready to spend some time in the great outdoors and the fresh air, a little bit of meal planning helps. Create a camping meal plan with these tips and recipes, ensuring you have all the ingredients and tools you need the next time you go camping.
Beyond the classic cereal, granola bars, trail mix, and fresh fruit, we've got a lot of easy camping food ideas to tempt your taste buds. These are some of the best camping dinner ideas that will take your family camping trips to the next level!
Jump to:
🌟 About these recipes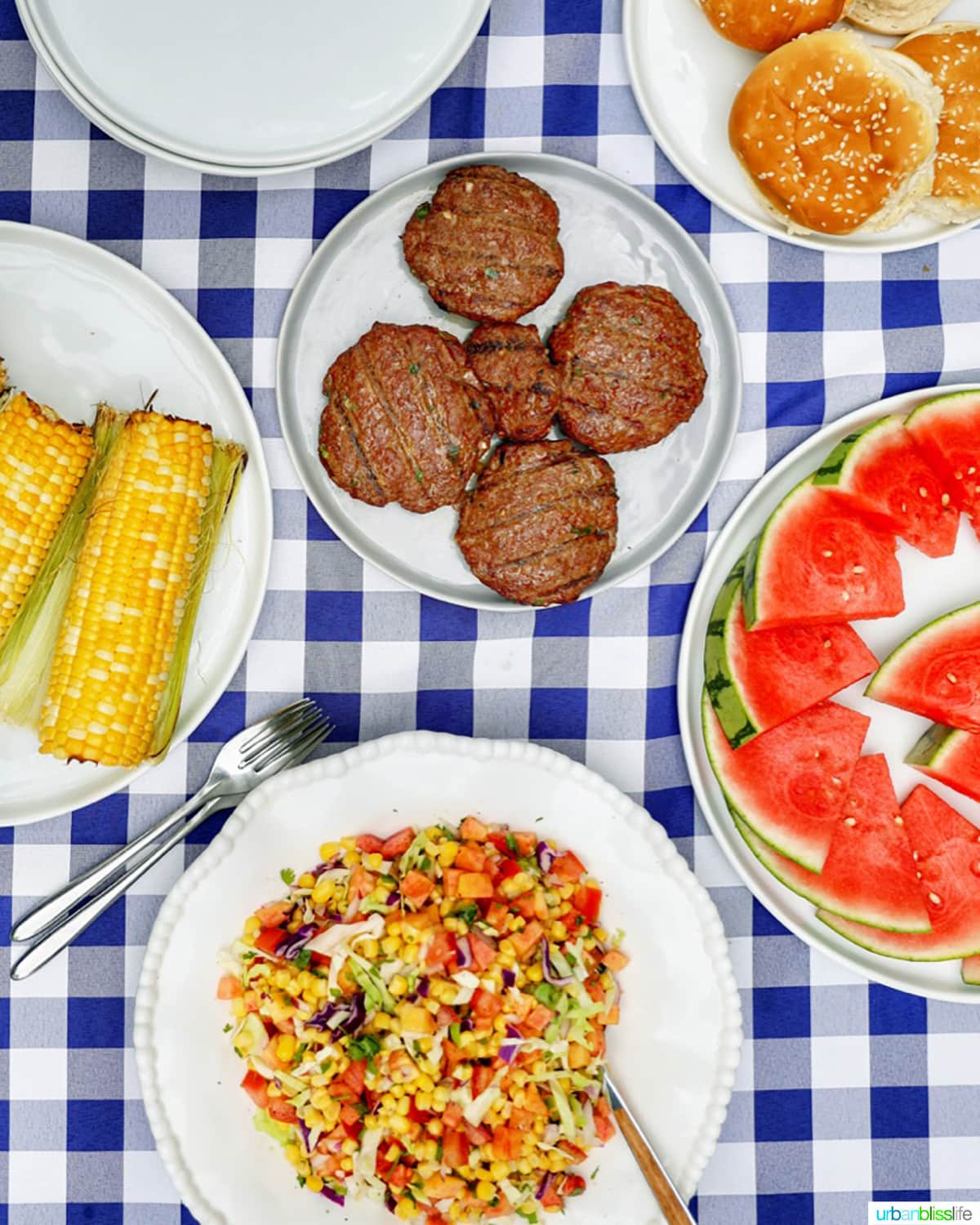 Some recipes are better than others when camping. To make it to our list, the best camping meals must follow a few criteria.
Easy to prepare - An easy recipe with simple ingredients you can find at your local grocery store is key to camp cooking. Choose easy camping recipes that require minimal effort, and can be cooked over a campfire or on a portable stove. Look for one-pot meals or foil packet recipes that simplify the cooking process and minimize cleanup.
Shelf Stable - Since camping often involves limited refrigeration options, it's crucial to select recipes with ingredients that have good shelf stability. Opt for canned or dried goods, such as beans, lentils, or dehydrated vegetables, which can withstand the outdoor environment without spoiling. Consider recipes that use long-lasting condiments or spices to add flavor without the need for refrigeration.
Balanced nutritional value - After a long day of hiking, horseback riding, mountain biking, skiing, kayaking, or doing any other outdoor sports while camping, consider the nutritional value of each meal. Opt for recipes that provide a balanced mix of carbohydrates, proteins, and healthy fats to fuel your outdoor activities. Include ingredients rich in vitamins and minerals to support your overall well-being during the camping trip.
Enjoyable and interesting - Camping isn't just about sustenance; it's also an opportunity to indulge in delicious meals and enjoy the experience. Consider recipes that offer a variety of flavors and textures to keep meals exciting. Incorporate diverse ingredients and experiment with different cuisines to enhance the camping culinary adventure for everyone.
🧂Essential camping condiments and seasonings
There are a few shelf-stable ingredients that are easy to pack and will add a lot of flavor to your campfire meals.
Peanut butter
Jellies/jams
Ketchup
Mustard
Sweet chili sauce
Soy sauce
Sriracha
Gochujang
Campfire sauce
Olive oil
Garlic powder
Onion powder
Paprika
Dried oregano
Kosher salt
Ground black pepper
Dried parsley flakes
Old Bay Seasoning
Red pepper flakes
🍳 Kitchen tools and equipment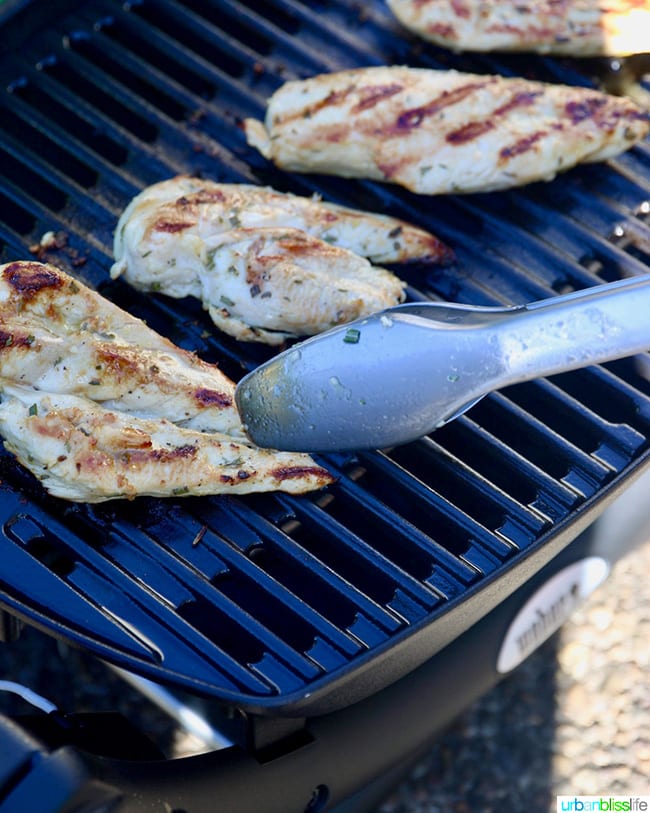 When heading out on a camping trip, having the right cooking tools can make a significant difference in your meal preparation. Before we start selecting which easy camping dinner recipes you want to make, make sure you have the equipment you need.
Camp Stove - A portable camp stove is a versatile and convenient tool for outdoor cooking. Look for a light, compact stove that is easy to transport and set up.
Pots and pans - Invest in a durable cookware set specifically designed for camping. Look for a set that includes a pot, skillet, and a kettle. Opt for non-stick pans for easy cooking and cleaning. Ensure your pots and pans will work on various heat sources, including campfires and stoves.
Utensils - Pack a set of camping utensils, including a spatula, tongs, a cooking spoon, and a sharp knife. Choose utensils made of stainless steel or heat-resistant materials that can work well in outdoor conditions. Don't forget to include a can opener and a bottle opener.
Cutting Board - A compact, sturdy, and lightweight cutting board is essential for prepping ingredients while camping. Look for a foldable or flexible cutting board that won't take up much space, is food-safe, and easy to clean.
Portable Grill - If you enjoy grilling during your camping adventures, consider a portable outdoor grill or grate. Look for a grill that is lightweight, easy to assemble, and has adjustable height settings.
Heat-resistant Gloves - Heat-resistant gloves provide protection when handling hot pans or when dealing with an open fire. Opt for gloves made from flame-resistant materials that provide a good grip.
Collapsible Water Container - Having a collapsible water container is essential for storing and transporting water to your campsite. Look for a BPA-free container that is easy to fill, carry, and clean. It will come in handy for cooking, cleaning, and drinking water needs.
Firestarter - Waterproof matches or a lighter are vital for starting campfires or igniting your camp stove. Keep it in a waterproof container or bag to make sure it stays dry.
Aluminum Foil - Aluminum foil is one of the best tools for campfire cooking. It can be used to wrap food, create makeshift cooking vessels, or protect food from direct heat. Pack a roll of heavy-duty aluminum foil to make some of the delicious foil packet recipes below!
Cleaning Supplies - Don't forget to bring cleaning supplies such as biodegradable soap, a sponge or scrub brush, and a small towel or paper towels for washing and drying your cookware.
Remember, the specific cooking tools you'll need may vary depending on your camping style and the meals you plan to prepare.
👩🏻‍🍳 Camping dinner FAQs
What are some of the easiest camping dinners to make?
Some common easy camping dinners include hot dogs, hamburgers, peanut butter and jelly sandwiches, aluminum foil packet meals, Dutch Oven soups and stews, and cast iron skillet recipes. Find 25+ of these delicious recipes in the post below!
What's the best way to store food while camping?
If you have food that requires refrigeration, you have a few options. Portable coolers with ice are a popular option. If you have access to electricity, you can use portable electric coolers. For those camping for extended periods of time, consider a small portable fridge/freezer.
🍽️ Easy Camping Dinner Ideas
Easy Camping Dinner Ideas
Going camping? These 25+ camping dinner ideas will inspire you to whip up delicious meals out in the great outdoors.
More camping recipes
Did you make any of these recipes? Don't forget to leave a 5-Star 🌟🌟🌟🌟🌟 rating and comment below letting us know which one you made and how it turned out. Thank you!