Recently, we traveled to southeastern Washington state to celebrate my husband's 40th birthday and partake in a fun wine weekend with friends. "Oh you're going to Walla Walla?" people would ask when I told them of our trip. When I would reply "No," they would respond, "Oh, then you're going to Yakima!" Wrong again, Einsteins. To their now puzzled silence, I would say, "We're headed to the Tri-Cities. You know: 'The Heart of Washington Wine Country'. Oh, you didn't know?"
Truth is, neither did I, but located right in the middle of Walla Walla and Yakima, the Tri-Cities is, indeed, in the heart of Washington Wine Country.
In this post, I'll share some travel tips if you are planning to visit the Tri-Cities, as well as some quick notes about our experiences visiting the following wineries & vineyards: Col Solare, Kiona, Hightower, J. Bookwalter, and Badger Mountain Vineyard.
Tri-Cities, Washington: Getting There, and Once You Get There...What's There?
Tri-cities, Washington is located in southeastern Washington, just north of the Oregon/Washington border. To get to there from Portland, Oregon, the best (and most beautiful) route is to take I-84 East. You drive through the scenic Columbia River Gorge, about 180 miles east until Exit 179 I-82 West to Hermiston/Umatilla. This takes you over into Washington, where you will merge onto I-82 East into the Richland/Kennewick/Pasco area.
Once you get there, you'll learn quickly that agriculture is very much the dominant industry. There's not much else. Oh, sure, there was the Hanford Nuclear Reactor, but that's been disabled since 1987. So... agriculture. (Read: LOTS OF WINE.)
More than 160 wineries are located within a 50-mile radius of the Tri-cities region. Thanks to 300 days of sunshine and rich soil, the region grows some pretty impressive grapes.
J. Bookwalter Winery
894 Tulip Lane
Richland, WA 99352
www.bookwalterwines.com
On our first night, we dined at J. Bookwalter Winery's bistro. It's a lovely establishment that features farm-to-table eats and J. Bookwalter wines. We enjoyed a bottle (or two or four) of Subplot No. 27 and the 2011 Double Plot Chardonnay.
The wait was long, even with a reservation, because the venue had two large events that evening, so a few bottles were in order to make it through the night. Once we finally did eat, our meals were enjoyable. The seafood risotto special paired well with the Double Plot red, and my husband's pork loin dinner went well with the Subplot Chardonnay.
The space was beautiful and the staff there was very kind, so we enjoyed a nice first evening visiting Tri-Cities.
Aren't we cute? I like how the wine is trying to upstage us in this photo. Silly wine.

Badger Mountain Vineyard
1106 North Jurupa Street
Kennewick, WA 99338
www.badgermtnvineyard.com
Saturday morning we had some time to kill before our limo for our wine tour arrived, so we took a drive in our loaner Mazda CX-9 around town and lo and behold, the car was drawn to blue winery signs. We followed the signs to Badger Mountain Vineyard/Powers Vineyard, a smaller, lovely vineyard located in the middle of suburban subdivisions.
Since I was driving, I let these three experts do the majority of the wine tasting while I perused the tasting room. I love it when tasting rooms offer a taste of local art and handmade goodies, and I almost went home with one of the local paintings and a few fun wine-related goodies from the Badger Mountain tasting room... alas, my senses came to and reminded me: You're here for the wine, mamacita! Focus! But if you do head to the Tri-Cities, I definitely recommend stopping by the Badger Mountain/Powers Vineyards tasting room if you want to pick up some great wine country souvenirs made by locals.
Badger Mountain Vineyards is the first certified organic winegrape vineyard in Washington State. As far as organic wines go, these were quite tasty. We enjoyed the 2010 Spectrum, which was a blend of Merlot, Syrah, Malbec, and Cabernet Sauvignon. At just $13.00 per bottle, this is an excellent everyday find. We also enjoyed the 2009 Champoux Vineyard Cabernet Sauvignon Reserve (retail $35), a super rich red with deep cherry and cassis flavors.
At Badger Mountain Vineyards.
We headed back to meet up with the rest of our group and begin our limo wine tour. Limo is the way to go for an all-day wine excursion. Safety first, friends!
Col Solare
50207 Antinori Road
Benton City, WA, USA 99320
Col Solare is a partnership between Tuscany's wine leader Marchesi Antinori and Washington State's heavy hitters, Chateau Ste. Michelle. Located on Red Mountain, the vineyard and winery have stunning views of the majestic Horse Heaven Hills.
Col Solare offers a beautiful, posh tasting room and open terrace overlooking the gorgeous vineyards. The vineyard is highly focused on small production and makes about 5,000 to 10,000 cases per year.
We did a side-by-side tasting of the 2008 and 2009 Col Solare. The 2008 Col Solare (retail $75) is a blend of Cabernet Sauvignon, Merlot, Cabernet Franc, and Syrah, and the 2009 is the same blend with the addition of Malbec. These wines are the perfect example of how astonishing the difference can be from one year to the next. Both were full of flavor, but I enjoyed the slightly richer, deeper, bolder flavor of the 2009.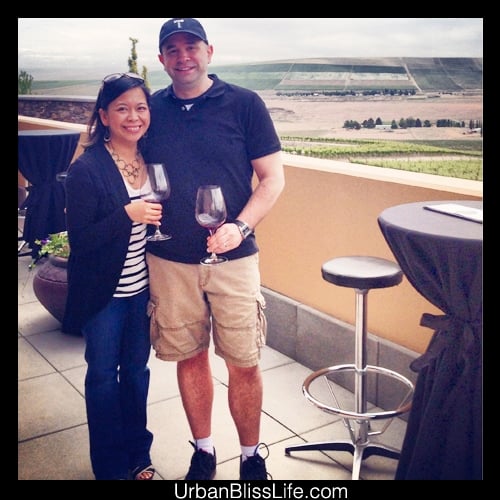 Me and Mr. Bliss wine tasting on the Col Solare terrace.
Hightower Cellars
19418 E. 583 PR NE
Red Mountain, WA 99320
509-588-2867
An impromptu stop that came at the recommendation of someone at Col Solare, Hightower Cellars proved to be a wonderful addition to our wine tour. The staff were so friendly and helpful -- I loved them!
We tasted about 5 different wines at Hightower Cellars, and I personally enjoyed the Out of Line Red and Murray Syrah (named after the owner's former dog) the most.
Not a bad way to spend a Saturday afternoon, eh?
Kiona Vineyards
44612 N Sunset Rd, Benton City, WA 99320
509. 588.6716
Kiona winery offers sweeping panoramic views of the vineyard and the Yakima Valley. The grand tasting room includes a large terrace, which is wonderful for large groups and events. As you can see, their wines have earned a few medals...
Kiona Vineyards produces about 30,000 cases per year, and offers a wide range of wines: from light rose´s to ´rich reds to sweet dessert wines. With the average price point around $10-25, Kiona wines make wonderful dinner party wines or hostess gifts.
We ended our wine tour with the fabulous Terra Blanca Vineyard and Winery, which I wrote about last week on the blog.
Final Notes
Overall, I was highly impressed with the Tri-Cities wine region and the Red Mountain AVA. The people there love their craft and it shows in the diversity and richness of the grapes grown there, the care they give to production, and the authentic sweetness relayed in their welcoming tasting rooms. I definitely recommend paying this part of the country a visit if you're looking for a fun, relaxing, delicious wine country experience. You can also find many of the wines mentioned in this post and last week's post in restaurants throughout the country, particularly in the Pacific Northwest.
Have you been to the Tri-Cities, WA wine region? Which wineries and vineyards did you enjoy the most?
Tri-Cities Wine Country Resources:
Tri-Cities Visitors & Convention Bureau
J. Bookwalter Winery & Bistro
Badger Mountain/Powers Vineyards