Considering whale watching in Victoria BC? The waters surrounding Victoria have the world's highest concentration of killer, humpback and gray whales. Here are some tips on finding the right whale or wildlife watching tour for you!
When we did our spring break road trip from Portland, Oregon to Victoria BC Canada, we wanted to be sure our itinerary included something outdoors that gave us a unique view of the area. The waters surrounding Victoria BC have the world's highest concentration of killer whales and other whale species, including humpback whales and gray whales, so we were excited to go on a whale watching tour with Eagle Wing Tours.
Wildlife and whale watching in Victoria, BC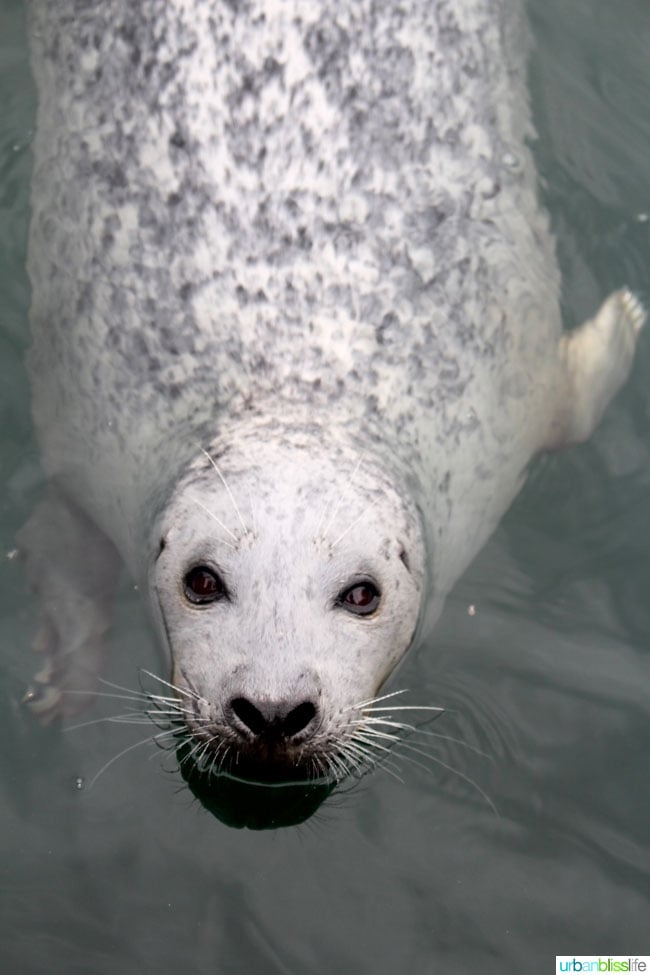 Eagle Wing Tours is located right on the Fisherman's Wharf, where friendly harbor seals like the cute guy pictured above like to hang out and amuse the tourists.
Fisherman's Wharf is a super colorful, lively spot with lots of great fresh seafood stands. It's also a great place to admire old ships.
We had hoped to do a whale watching tour but our timing wasn't quite right to see whales - we went at the end of March. Whale sightings with Eagle Wing Tours are guaranteed May 16 through October 31st. If you don't happen to see any whales at all during these months while on a tour with them, you're invited to come back again on another tour for free until you DO see a whale. How cool is that?
So we opted instead for a 3-hour Wildlife Tour. And yes, I couldn't stop singing the Gilligan's Island theme song in my head (a 3-hour tour...a 3-hour tour...).
The first thing I was happy to see was that we would be on a covered 50-person capacity catamaran. A lot of whale watching tours have zodiac boats, which are fine and dandy but you're not going to see me on one for three hours with strangers who suddenly realized they get sea sick.
The 4 Ever Wild catamaran is a super smooth, comfortable ride. There are observation areas around the entire boat, giving you a 360-degree view of wildlife when you're out on the water. There are also two restrooms and they stock the boat with extra jackets, gloves, and hats.
Depending on which tour you sign up for, you may get the 4 Ever Wild catamaran, or the company's smaller Goldwing or Serengeti boats.
Much of our ride was smooth sailing while we searched for wildlife and our knowledgeable tour guides pointed out different points of interest and shared history about the area.
When we were heading out and heading back in, however, the boat picked up speed and my daughter and I had a great time enjoying the waves, wind, and adventure out on deck during those bursts of speed.
I actually preferred to be outside for most of the tour, but there is a large cabin inside with comfortable chairs and benches where you can sit back and relax.
Race Rocks Light
One of the main sights you will see on this tour is Race Rocks Light, one of the first two lighthouses built on the west coast of Canada. It's an impressive and beautiful sight: the absolute quintessential lighthouse image.
Race Rocks is an ecological reserve and educational research facility. It is the southernmost point of Canada on the Pacific side, and it is home to throngs of marine wildlife.
The Wildlife
There are certain areas the guides know to be full of beautiful marine wildlife, and they did a wonderful job in pointing out the different animals so we could see them and take our photos. They knew so much about each animal we saw and their enthusiasm for these animals and their habitats helped make the trip really enjoyable.
Here's a quick look at some of the wildlife we saw during our tour.
Around Race Rocks, we saw dozens of California Seals and Stellar Sea Lions. The big guy in the middle of the photo above, who sort of looks like a Grizzly because of his fur, was definitely the King of the World... or, at least, of that rock.
This was one of about four eagles we saw while on our tour.
We also saw so many harbor seals and more sea lions around Race Rock. Just lounging. Living the life of leisure.
We also saw a ton of different types of birds. I regret that I cannot for the life of me remember what kind of birds these are in the photo above. Does anyone know?
Wildlife and whale watching tips
My family had an incredible time and the three hours was just the right amount of time to be out on the water.
If you are thinking of taking a whale watching tour or wildlife watching tour, here are some quick tips:
Dress appropriately. Wear a weatherproof jacket, hat, and bring gloves. No matter how warm it is on the mainland, it can get chilly on the water, especially with the wind when the boat is going fast.
Bring an extra change of clothing. You never know how much you can get splashed when you're out there, so it's a good idea to bring an extra set of clothes - if not for yourself, at least for the kids.
Take or bring motion sickness meds. I've never been ill out at sea, but a few people on our boat did not feel well. Fresh air is better for you when you are feeling sea sick than indoor cabin air. Just let the guides know if you feel ill and they will take care of you.
Talk to your kids about expectations beforehand. I talked with my kids about expected behavior on the boat (no running, always hold onto a railing or some sort of support, etc.). The guides go over some of this at the beginning but you know your kids best, so think about specific instructions and rules your kid will need to know before they get on that boat.
Bring water and snacks. This particular boat had some for purchase, but I always like to pack my own for my family.
Bring a camera with a strap. Cell photos are great, but remember to hold on tight: you're on a boat that will rock and sway, and with people who might accidentally jostle your elbow when you are trying to take a photo... you don't want to lose your phone to the sea!
Ask questions. The guides have been doing this for a long time. They know so much about the animals, the geology, the history of the area... take advantage of it and ask away! They usually love to share what they know, which is why they do what they do.
About Eagle Wing Tours
Eagle Wing Whale Watching Tours is not only committed to showing guests whales and other marine wildlife - they are Canada's first 100% carbon neutral whale watching company, and they contribute regularly to the orca adoption program and other educational and research programs in the area. You can find their full list of rates and their schedule on their website or you can call them toll-free at 1-800-708-9488.
More British Columbia travel ideas
Many thanks to Tourism Victoria for sponsoring this family travel series, and to Eagle Wing Tours for the complimentary wildlife watching tour covered in this post. As always, all opinions and photos are my own. My family and I truly enjoyed every experience shared that is/will be featured in myTravel Bliss: Victoria BC series, and I think you will too!