Summer is road trip season, and I'm so excited to share the first in a series of Travel Bliss posts outlining our recent family road trip through Idaho, Washington, and Montana. Because I know so many of you travel with children and also with pets (who are important family members!), we decided to make this a true, FULL family vacation: we packed up our two Bliss Kids AND Bliss Dog, and hit the open road. Our mission: to discover and test out child-friendly and dog-friendly hotels, restaurants, and attractions.
I'm happy to say: mission accomplished. Thanks to the incredible aid of Idaho Tourism and the Glacier County Regional Tourism Commission, who sponsored the majority of this trip along with local visitor bureaus, we were able to find some awesome family-friendly spots that I am thrilled to be sharing with you over the next few months!
---
---
The Itinerary: Portland, Oregon to Boise, Idaho
Our itinerary was to drive from Portland, Oregon to:
Boise, Idaho
Idaho Falls, Idaho
Missoula, Montana
Kalispell, Montana
Moscow, Idaho
Then finally, back to Portland, Oregon.
The drive from Portland, Oregon to Boise, Idaho is a nice, mostly straight shot across highway 84, which makes it an excellent option if you're looking for a summer road trip. It takes approximately 6 hours, depending on how fast you're driving and how many stops you take. With two kids and a dog, we stopped about three times during the drive to Boise, Oregon.
You follow the Columbia River, which divides Oregon and Washington, until you pass Boardman, Oregon, at which point you will follow I-84 south through the Eastern, Oregon towns of Pendleton, LaGrande, Baker City, and Ontario as you enter Idaho. Boise is just about 60 miles from the Oregon-Idaho border.
✈️ Visiting Portland, Oregon? Be sure to check out our 35+ Day Trips from Portland.
Road trip photo tour: Portland to Boise
It's pretty amazing to watch the landscape go from city to suburbs to river towns to desert towns to city again.
I-84 is flanked by impressive high ridges that go from forest to dry desert to rock throughout the drive.
The barren landscape of Eastern Oregon is a stark canvas on which rows and rows of towering power lines rise from the earth.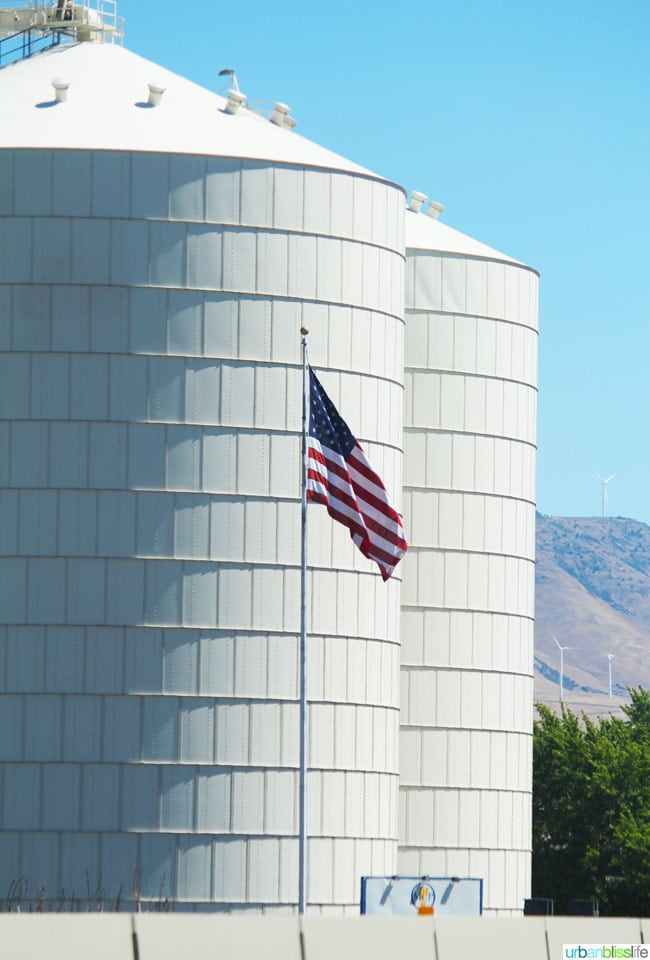 I love the iconic symbols of Americana peppered along I-84 in Eastern Oregon. American flags waving proudly. Huge silos. Weathered barns and large farms. Massive production plants in the middle of nowhere.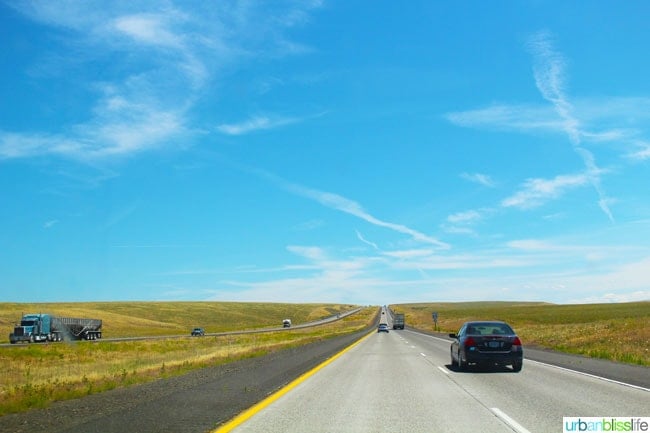 The max speed limit on I-84 is 65 MPH in Oregon, but once you hit the Idaho border, the speed limit increases to 80 MPH in rural stretches of I-84 (raised in 2014 from 75 MPH). Definitely helps put a little extra pep in your step as you're driving into the home stretch of this leg of the road trip!
Boise is just about 60 miles from the border, and I'll share Where to Eat & Drink in Boise, Idaho and Family-Friendly Activities in Boise, Idaho in future posts. But before you figure out where to go and what to do, you need to first find a place to temporarily call home during this first stop of the road trip. For us, that place was The Riverside Hotel.
Where to Stay in Boise: Riverside Hotel
The Riverside Hotel is an expansive 12-acre property, with 300 guest rooms and more than 20,000 feet of meeting space. It's a popular conference hotel, but its amenities and location on the Greenbelt make it an excellent choice for families.
If you're traveling with kids and pets through Boise, Idaho, the Riverside Hotel is a great option for you.

Located along the Boise River, you have immediate access to the Boise Greenbelt, 25 miles of mostly paved trails that follow the river and connects 15 of the city's parks.
You can walk, jog, skateboard, or bike the Greenbelt. Boise is a growing bike town, and you can rent bikes at the Riverside Hotel.


The hospitality at The Riverside Hotel in Boise, Idaho is warm and welcoming from the moment you step inside. You're welcomed with chocolate chip cookies for the kids and special homemade treats for your dog, too!

The rooms are clean, comfortable, and come with all of the modern amenities you and your family need. Pets are welcome at Riverside with a $25 non-refundable pet fee. There is plenty of outdoor space on the grounds to give your pup space to stretch his or her legs, including through the beautiful flower garden or by the large chess set on the grounds.
The #1 important hotel amenity in my kids' eyes: the hotel swimming pool. The Riverside Hotel pool was one of the best we've experienced not only on this trip, but our travels in general. It's a large outdoor pool with a fun splashpad and plenty of surrounding seating. You can keep an eye on the kids while enjoying food & beverages poolside from The Sandbar Grill right next to the pool.
The Sandbar Grill serves up classic pub favorites, plus some kid-friendly nibbles, like the delicious hummus plate and summer shrimp rolls pictured above. You can also order local microbrews and cocktails. While the Moscow Mule I ordered fell flat, I highly recommend trying the McCall Brewing Lemon Ginger Hefeweizen (also pictured above), brewed in McCall, Idaho, a couple of hours north of Boise. It's a refreshing wheat beer with lemon zest and ginger root.

The breakfast buffet at The Riverside Hotel is popular with hotel guests and locals alike. It's recommended that you make reservations, but you will still wait in line even with a reservation, so I say just try to show up early and prepare to wait.

You can customize an omelet at the made-to-order omelet station, enjoy a variety of fruits, pastries, and classic hot breakfast items, as well as delicious desserts.
Rooms at the Riverside range in price, currently going for anywhere from $110 to around $145, depending on the dates you are looking to book and the specific guest room or suite you are looking to book. Considering the pool, the location, the family friendly and pet friendly atmosphere, I think the prices are quite reasonable.
The Riverside Hotel
2900 W. Chinden Blvd.
Boise, ID 83714
www.riversideboise.com
Visiting Portland, Oregon? Be sure to check out our 35+ Day Trips from Portland!
If you visit, please be sure to let them know that you read about it on Urban Bliss Life! And if you snap some pics, tag us @UrbanBlissLife and #UrbanBlissLife on Instagram, TikTok, Twitter, and Facebook.
More Idaho travel articles
Traveling to Montana? Read these articles.
Where to Eat & Drink in Boise, Idaho
Waterpark Adventures in Lava Hot Springs, Idaho
Best Places to Eat & Drink in Missoula, Montana
Kid Friendly Fun in Missoula, Montana
Visit the National Bison Range
Road Trip: Idaho to Montana
Visit Glacier National Park
Where to Stay in Moscow, Idaho
Things to Do and Places to Eat & Drink in Kalispell/Whitefish, Montana

Many thanks to Idaho Tourism for their coordination of our hotel stays in Idaho. All opinions and photos are, as always, my own.