Update (Jan. 16, 2020): We've recently reviewed Jackrabbit newer menu items. Check out this post for out latest review of Jackrabbit.
Located on the first floor of the sophisticated Duniway Hotel (which celebrates its first anniversary in May), Jackrabbit restaurant is part romantic, sexy intimate dinner spot, part business power meal hub, and part hip, independent traveler hangout.
Dine at Jackrabbit with an adventurous appetite, because this is a restaurant where even seemingly ordinary American fare gets flipped upside down, turned inside out, and reimagined in ways that surprise and delight. Group dining favorites such as the Pig's Head ($65) and the 28 Day Aged Four Pound Pin Bone Steak ($120) are large portions meant to be shared. Even American fare classic Grilled Cheese ($14) gets gussied up in a ridiculously mouthwatering, flavorful version with taleggio, duck egg and honey.
Celebrity Chef Chris Cosentino (owner, Cockscomb in San Francisco and Acacia House in Napa Valley; winner, Top Chef Masters) has added a few fun new spring menu items that complement the current offerings. I was invited to a special sneak peek media dinner of the new dishes, which you can now enjoy at Jackrabbit!
Starters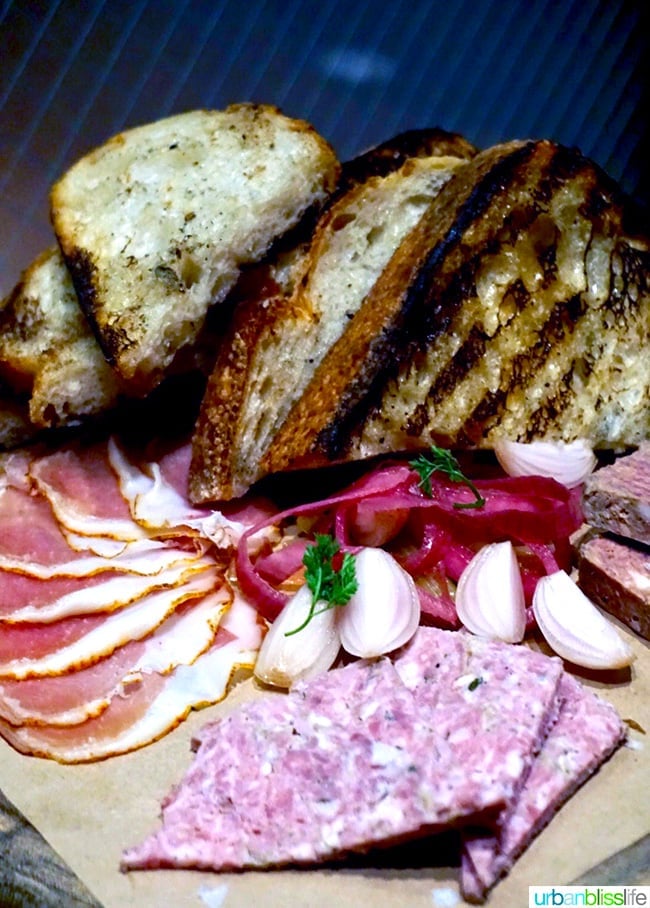 Kick off your meal with the best of both worlds: seafood and meat! The S & M (Shells & Meat) Tower is offered in two portions: Bateau ($48): 12 oysters, 6 clams, 2 house charcuterie & untraditional garnishes, or the Grande Bateau ($120): 36 oysters, 12 clams, house charcuterie & untraditional garnishes.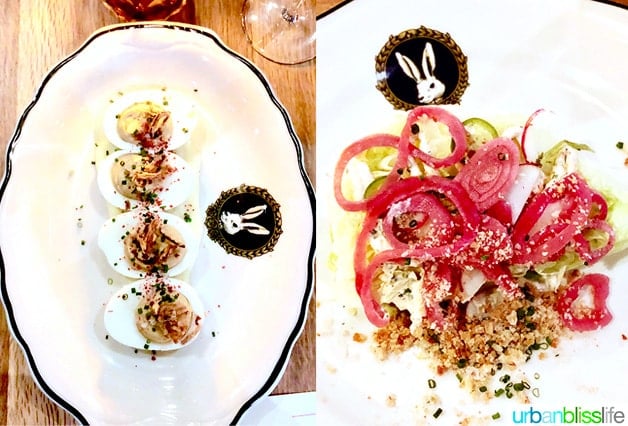 Other light bites I recommend: the French Onion Deviled Eggs ($12) - caramelized onions, schmaltz & fried onions - and any salad on the menu. I personally really love the Tombo Crudo ($14; not pictured here) which is tuna with crunchy rice crackers.
Pastas & Grains
I adore the pastas at Jackrabbit. Luscious sauces that don't skimp, with thoughtful and measured accent ingredients.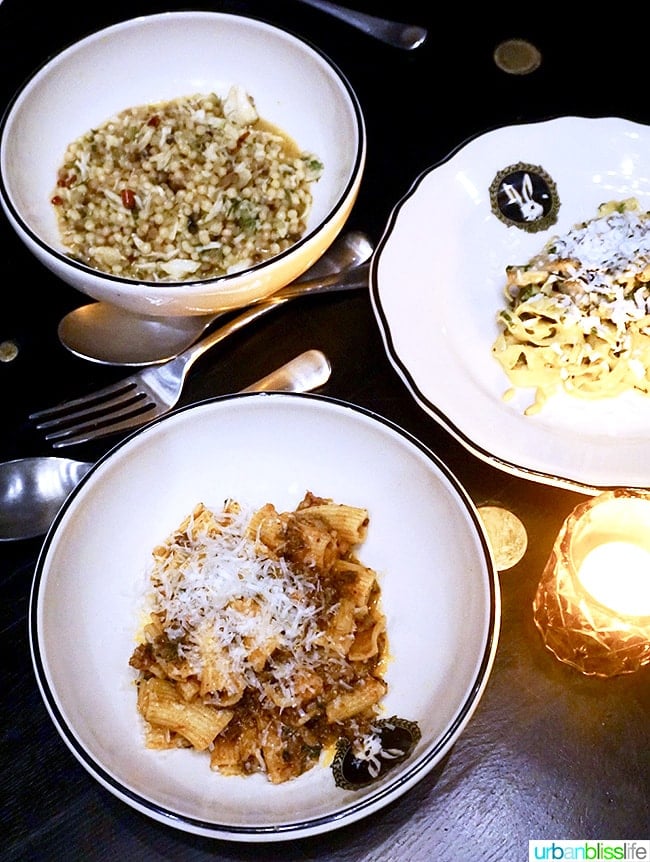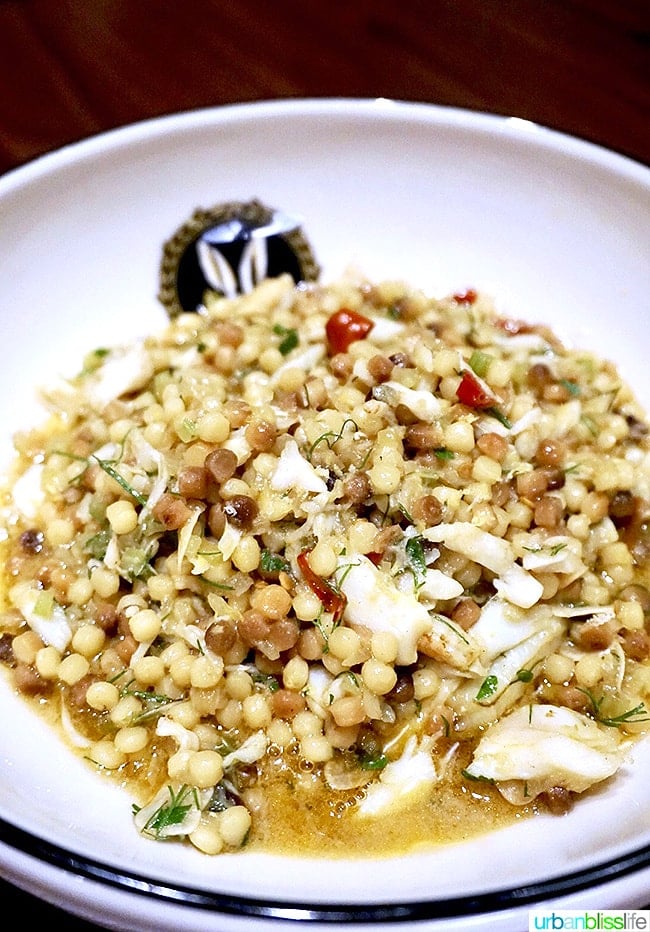 Fregola ($23), which is similar in size and texture to large pearl couscous. Jackrabbit serves this with crab, calabrian chiles, lemon & parsley.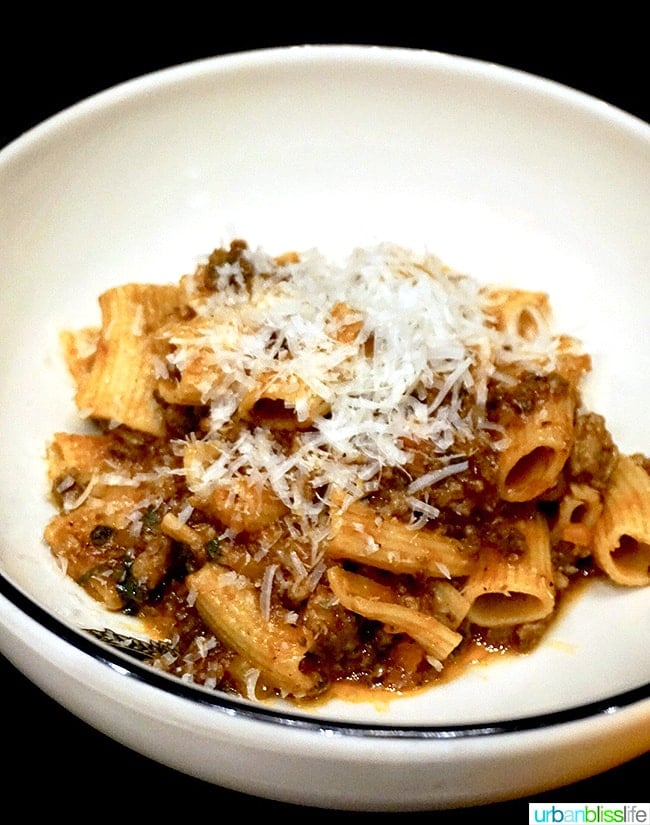 The Rigatoni ($24) is always a reliable dish, made with a beautiful rich pork ragu, oregano & parmigiano-reggiano.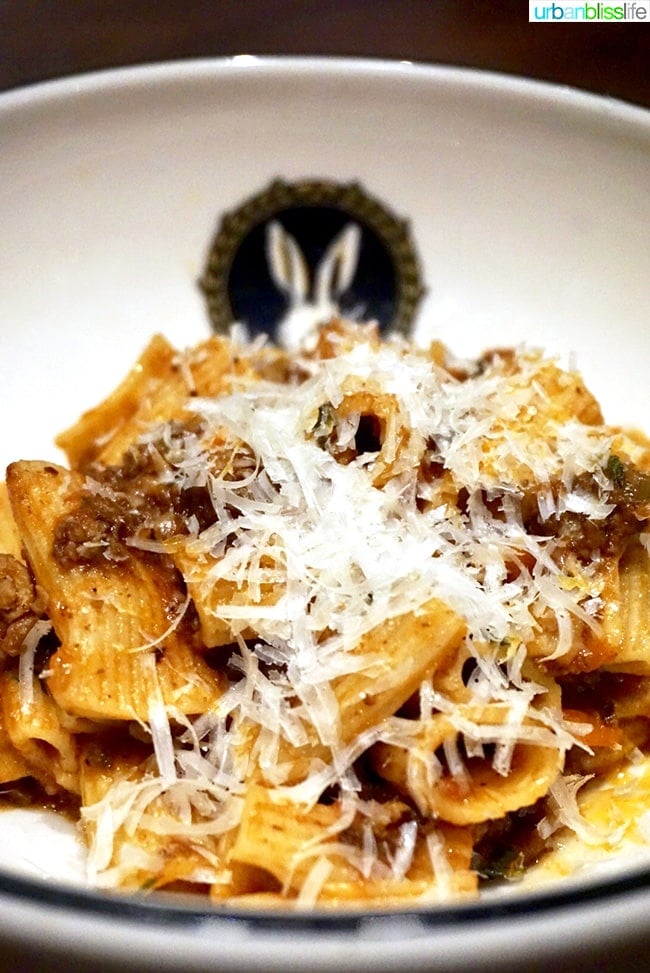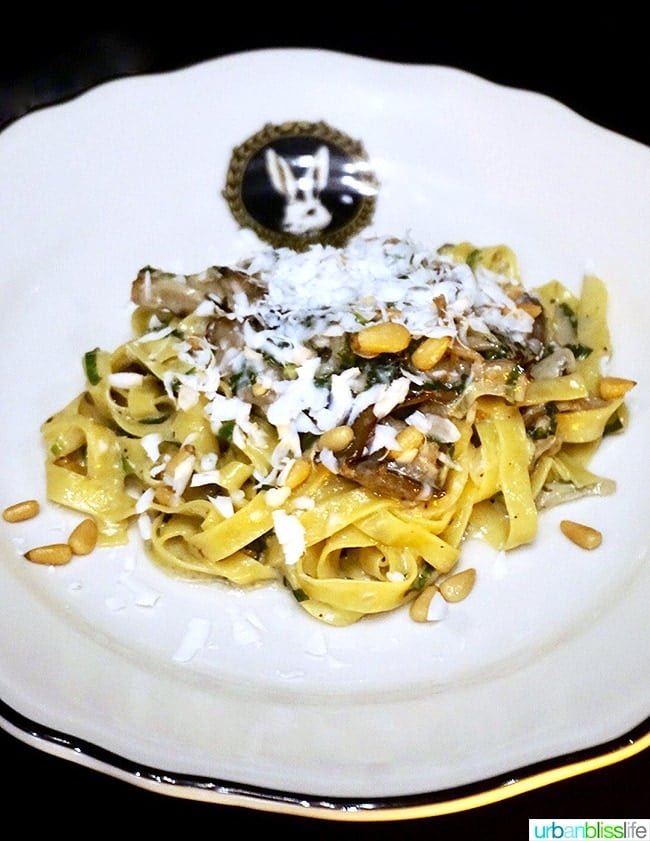 The Fettuccine ($22) with wild mushrooms, ramps, and ricotta salata is absolutely delicious.
Big dishes
Spicing up the already-intriguing Shared Plates portion of the Jackrabbit menu is a fun spring rabbit dish.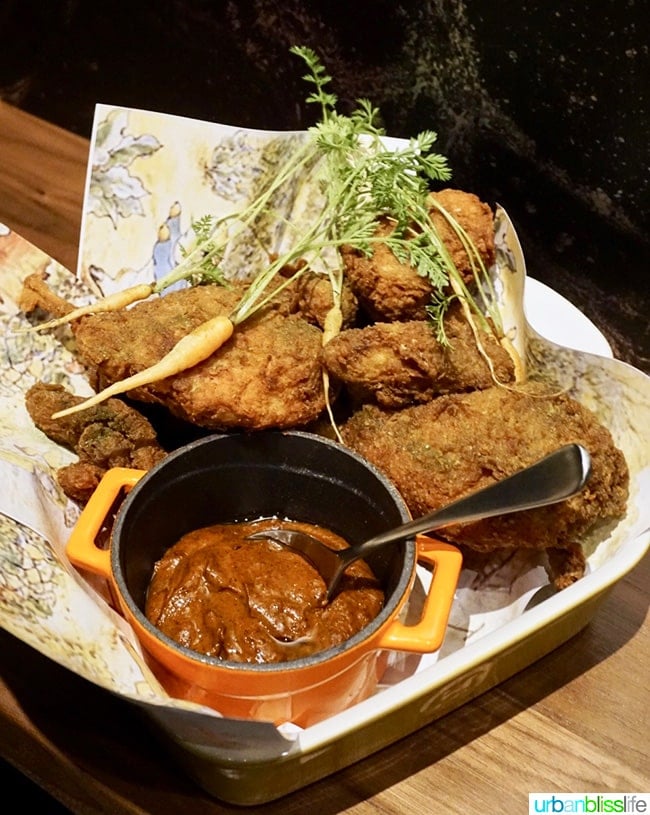 McGregor's Buttermilk Fried Rabbit is a splurge, sure, at $75. Is it worth it? YES. Served with baby carrots, lettuce, and a flavorful carrot harrissa, this is a shared entree that tickled this fried chicken lover's heart.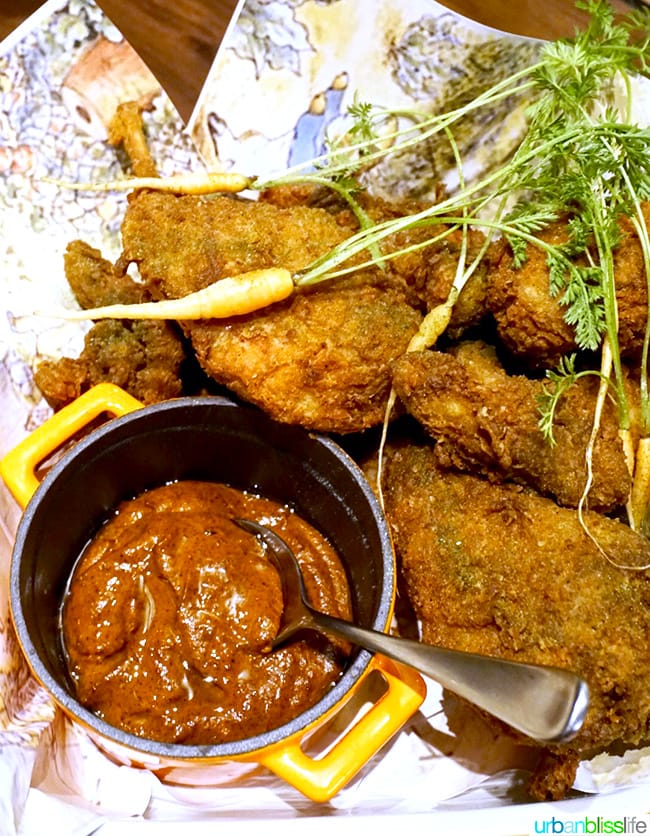 I took some leftovers home and can vouch that this fried rabbit is just as incredible the following day, cold or warmed up!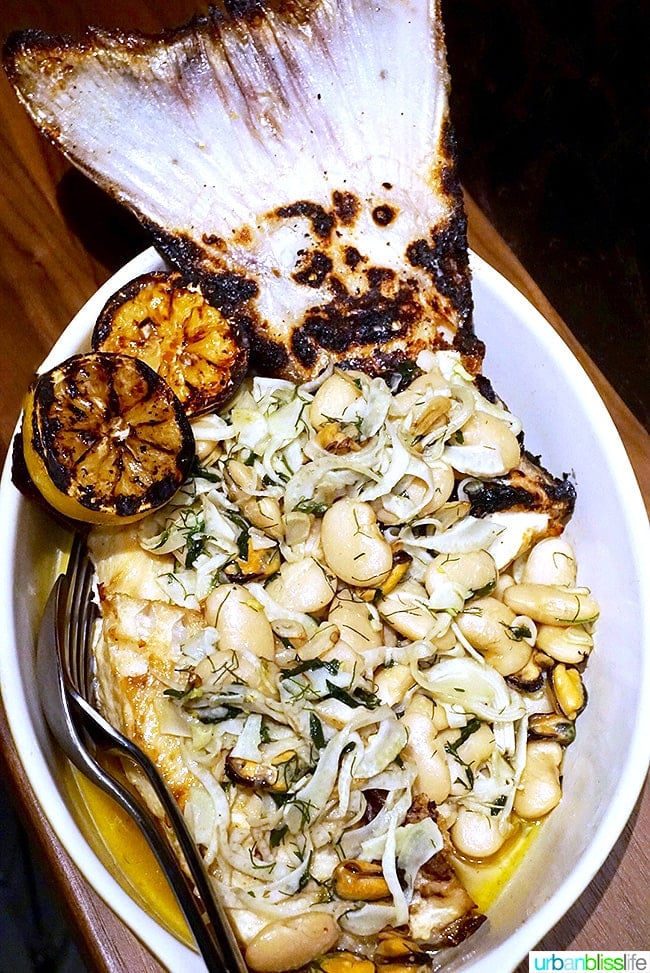 A stunner of a main course, the Local Halibut ($32) is made from halibut collar, and marinated mussels, beans & local olive oil. The fish is incredibly tender and the mussels add a beautiful saltiness to the dish.
Dessert
After enjoying the hearty, satisfying entrees at Jackrabbit, you may be tempted to skip dessert. Do not make this mistake. Plan ahead and pack up some of your entrees for midnight meal if you must, because you will definitely want to order at least one dessert.
The pastry perfectionists at Jackrabbit create some of the prettiest presentations and most interesting ingredients and flavor combinations you'll find in Portland.
The Lemon Chamomile Creme Brulee ($9) sits on a pond of whipped lemon curd, and is topped with a delicate honey lace cookie, with a scoop of black sesame ice cream.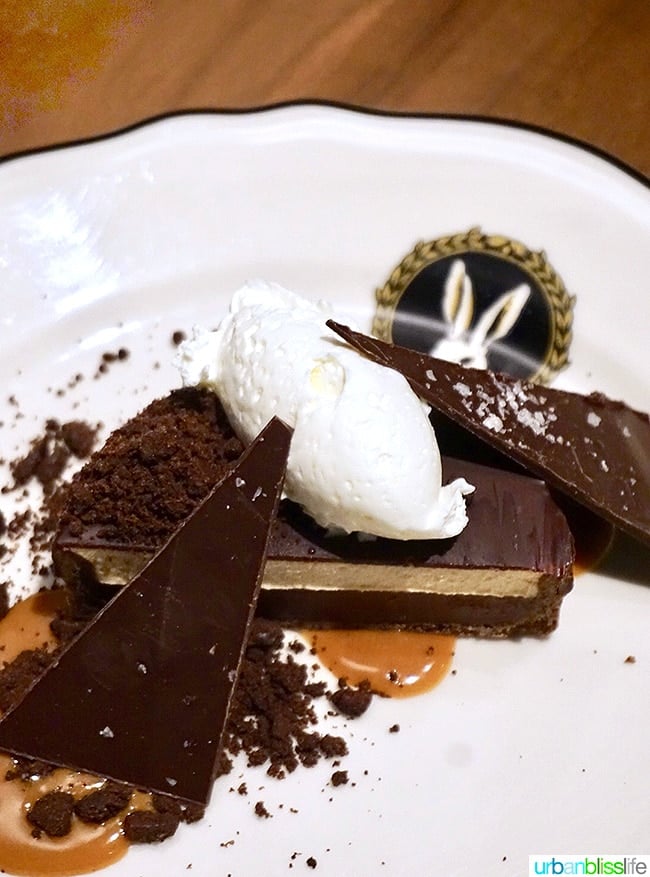 For the dessert traditionalists, the Salted Caramel and Dark Chocolate Tort ($9) is sure to delight. Jackrabbit, of course, takes this chocolate concoction from classic to elegant with cocoa nib soil, foie gras caramel (foie gras caramel, folks!), and topped with a dollop of unsweetened whipped cream.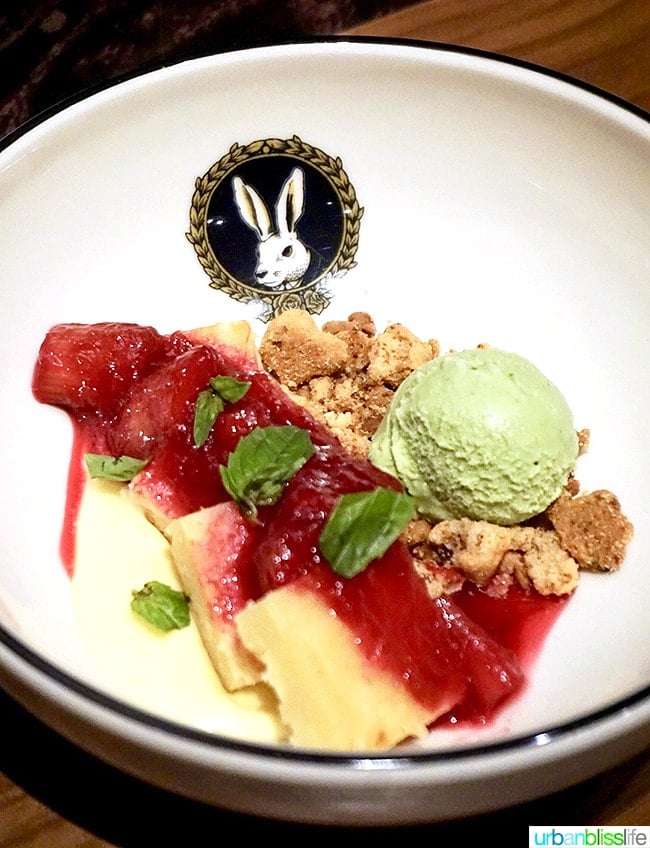 With vibrant colors of spring, the Almond Rhubarb 'Right-Side Up' Cake ($9) has buttermilk pudding, rhubarb compote, almond cake, and a smooth basil ice cream.
The cheese dessert is also very much worthy of a try, as it contains my favorite cheese in the whole world: Beemsters Aged Gouda ($9). Among my fellow diners, this was the surprise winner: the cheese was served with warm sticky fig cake, topped with toffee crunchies, gouda cream, and savory herbs. It was an interesting combination of sweet and savory, creamy and crunchy, and though I wasn't sure about it at first, it won me - and my fellow diners - over in the end.
Visit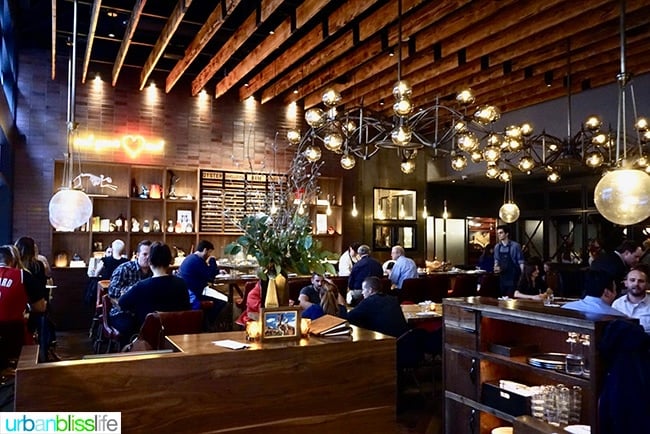 Jackrabbit is definitely worth a visit, for breakfast, lunch, or dinner. All of the items described in this post are from the dinner menu; I have not personally yet enjoyed the restaurant's breakfast or lunch menu. Dishes are more expensive compared to other Portland restaurants, however, the quality of each dish in terms of the ingredients, the preparation, the execution, and the presentation makes these dishes worth the price. Go here for date night, girls' night out, lunch meeting, or special family dinner. There is also private event space.
Jackrabbit
830 SW 6th Avenue
Portland, Oregon 97204
503-412-1800
HOURS:
Breakfast: Mon - Fri: 7am - 10am
Lunch: Mon - Fri: 11:30am - 2pm
Happy Hour: 7 Days a Week: 2pm - 5pm
Dinner: Sun - Thurs: 5pm - 10pm, Fri & Sat: 5pm - 1030pm
Late Night: Sun - Thurs: 10pm - 11pm
Fri & Sat: 1030pm - 1130pm
Brunch Sat & Sun: 8am-2pm
For reservations or more info, visit the Jackrabbit website
Have you been to Jackrabbit and if so, what did you think? If you live outside of the Portland area, what do you think of Chef Cosentino's adventurous menu? What would you like to try first?