Want a fun and scenic road trip? Check out my recent girls getaway: a Colorado road trip from Denver to Glenwood Springs, Colorado.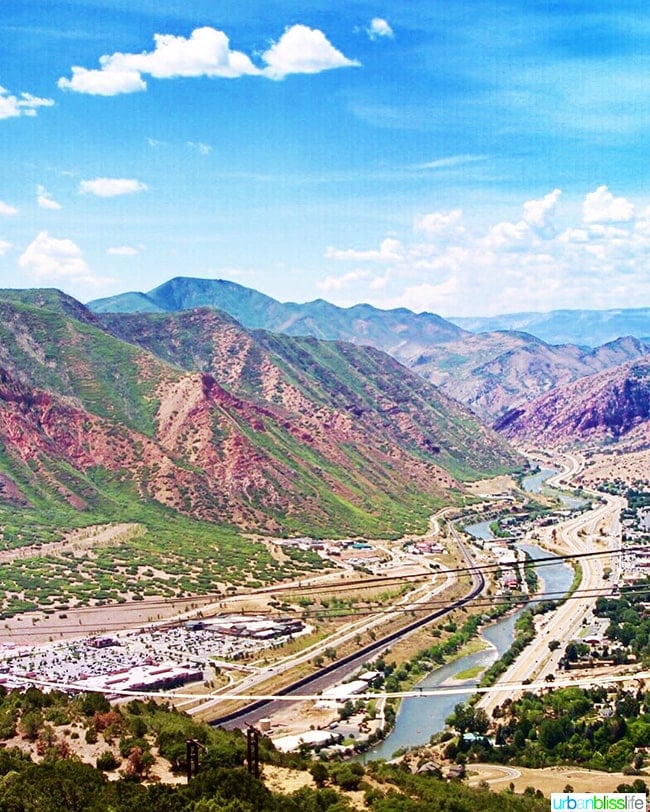 Girls' getaways are, in my experience, vital to good health and wellness.
If you follow this blog, you know I am a fierce advocate for spending time with good friends. Whether it's a girls' weekend in Las Vegas with dear mom friends, or a girls' wine tasting weekend in Walla Walla with some besties from college, the health benefits of getting away from work, family, and daily life responsibilities and reconnecting with your tribe cannot be understated.
When is the last time YOU stole away for a week, weekend, or even a night away with good friends?
Girls' Getaway Weekend: Colorado Road Trip
This summer, my friend Barbara and I flew to Colorado for a 3-day weekend. Have you ever spent time in Colorado? Until this trip, the most time I spent was in the Denver airport.
The Colorado mountains are stunning. Everywhere you look, the skyline is quick to change but it's always a beautiful view. The outdoor recreation available during the summer is perfect for family travel and trips with good friends, and the food and beer scene is hopping.
I did not expect to fall in love with this state, but I did. I can't wait to go back!
Our plan was to fly from Portland, Oregon into Denver, Colorado, and then drive to Glenwood Springs. This is an easy, scenic 3-hour drive that is almost a straight shot down highway 70.
Stanley Marketplace
After flying into Denver, we stopped by the Stanley Marketplace in Aurora, Colorado. Stanley Marketplace is a super hip, modern community of stores, coffee shops, breweries and restaurants.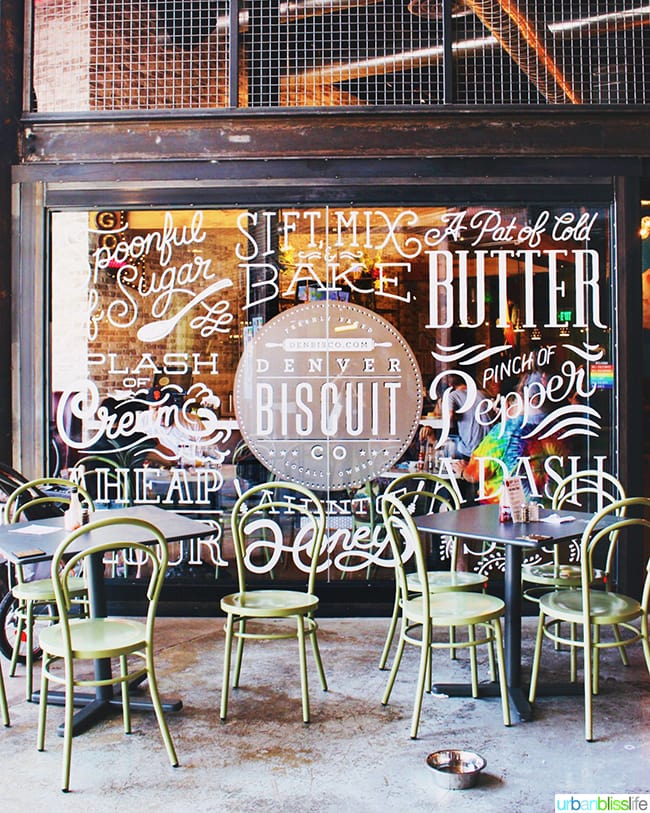 After perusing our many options, we decided to stop for lunch at Denver Biscuit Co.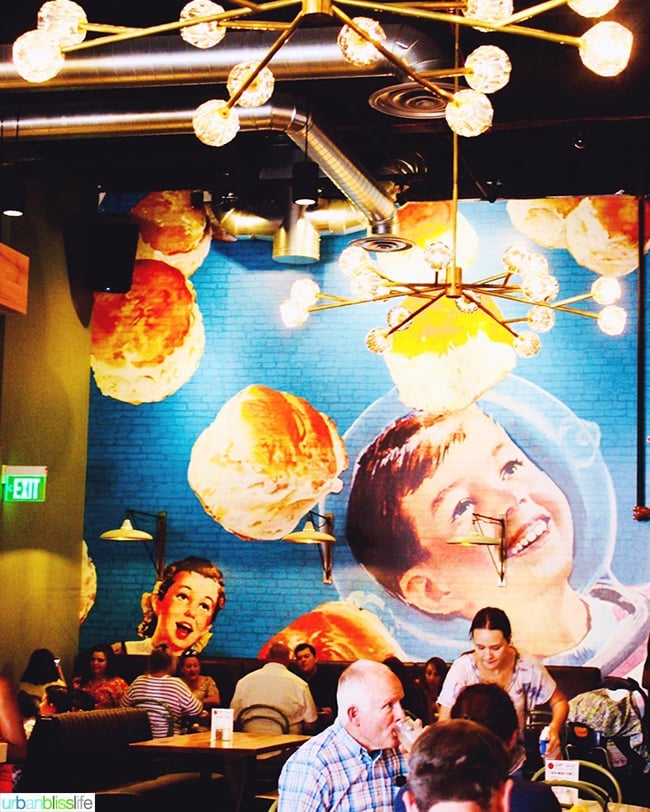 The Stanley Marketplace location is one of five Denver Biscuit Company restaurants in Colorado.
The space is large and quirky, and the service is attentive without being in your face.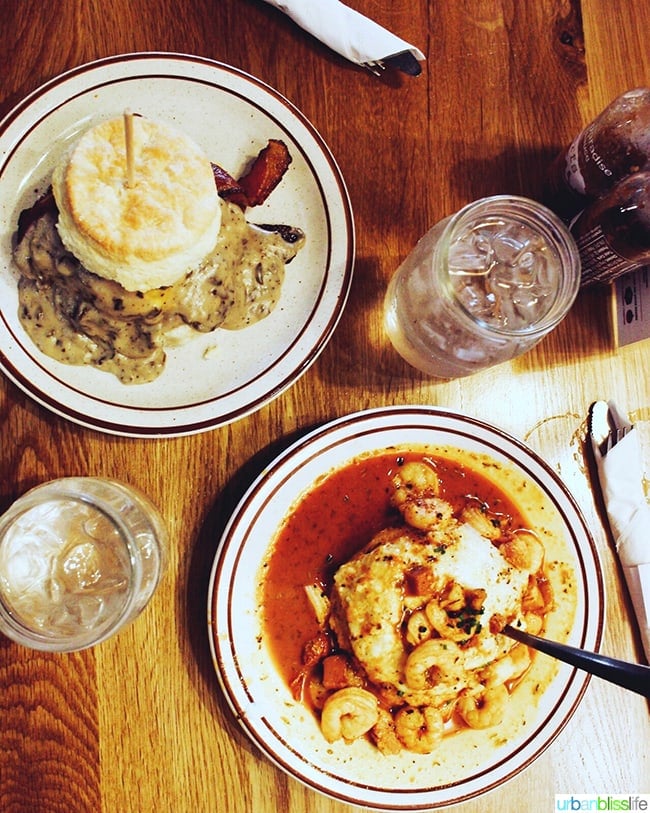 Biscuits, of course, are the focus of the menu, with dozens of options for Biscuit Sandwiches and Biscuit Plates. Barbara tried the Franklin biscuit sandwich. Meanwhile, I devoured the slightly spicy, delicious Shrimp & Grits plate.
With good food in our bellies, we were ready to rock and roll and hit the road.
Driving through Colorado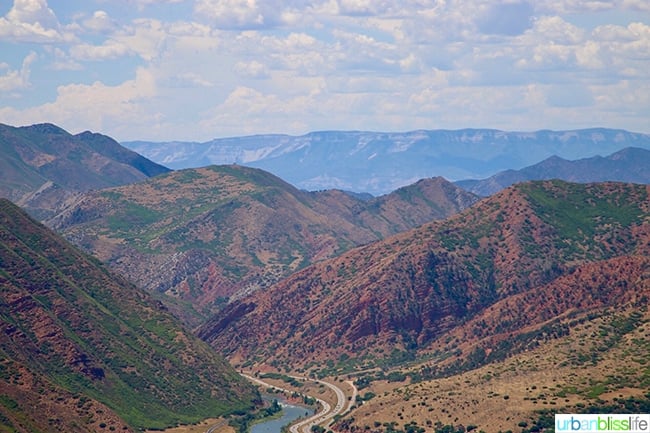 Living in Oregon, I'm surrounded by stunning nature - lush green forests, towering mountain peaks, beautiful ocean beaches.
And while I fully appreciate the beauty of new places, it is honestly rare that I am surprised by it.
Colorado took my breath away.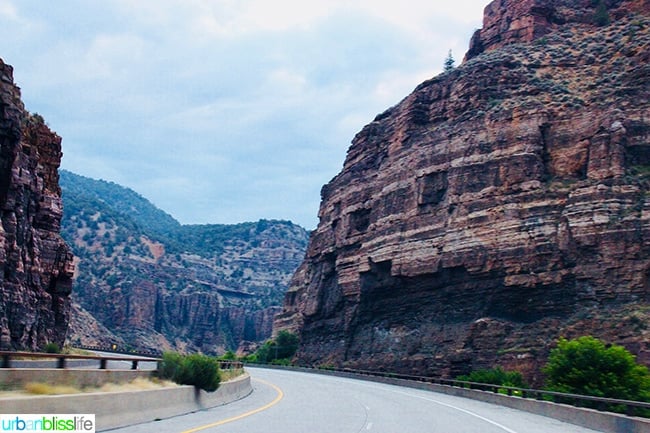 Driving along Highway 70, I was lulled into a zen nature trance.
One mountain peak gave way to another, and the hillsides morphed from bright green forests to monstrous rock formations to vibrant red soil. The drive itself was an adventure.
We made it to Glenwood Springs and checked into our home for the weekend, the Residence Inn by Marriott.
Glenwood Springs, Colorado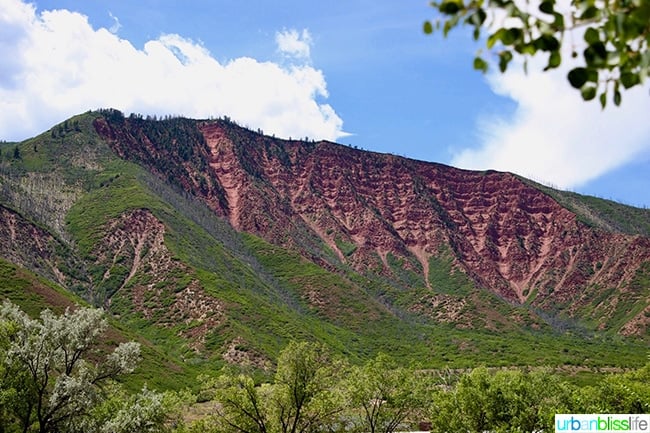 Glenwood Springs, Colorado is a resort city nestled in the Rocky Mountains. Known for its hot springs, the area also offers a multitude of outdoor recreation.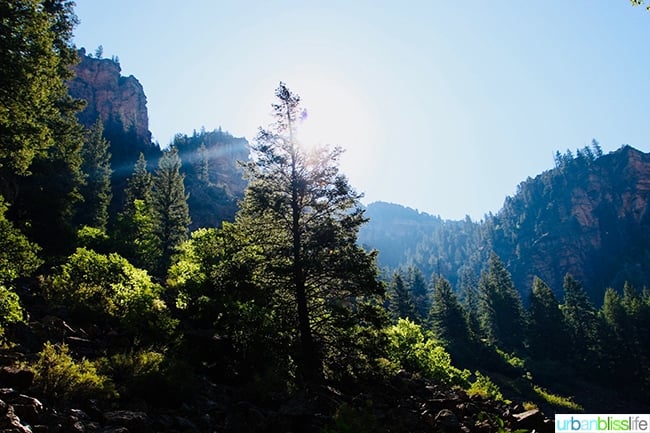 My friend Barbara and I decided to go on a hike on our first full day in Glenwood Springs.
We attempted to go to Hanging Lake, leaving early in the morning to try to beat the traffic, yet we were still too late. By 8:20am, the parking area for Hanging Lake was already full.
Hiking the Grizzly Creek Trail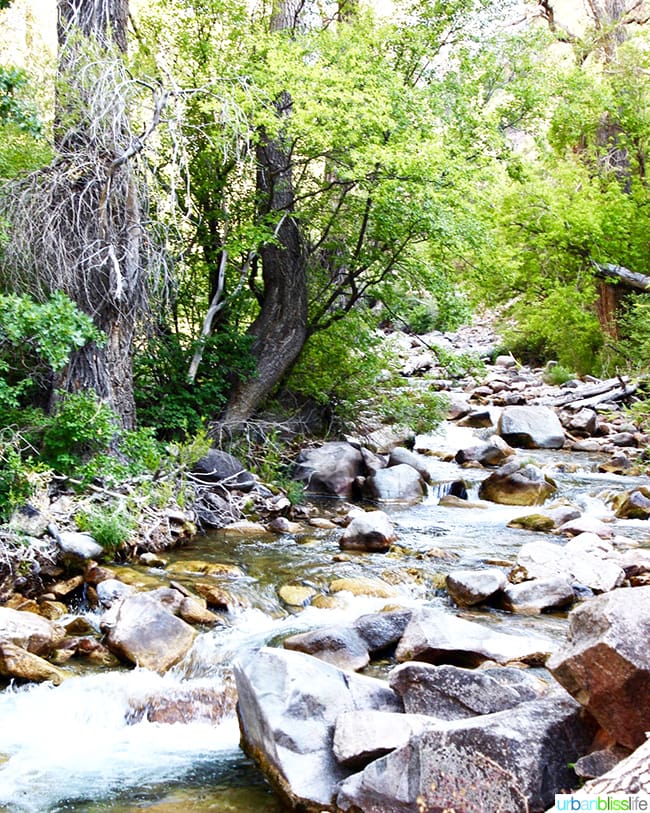 We drove back toward town and found the Grizzly Creek Trail. It turned out to be a nice quiet 3-mile hike along the creek.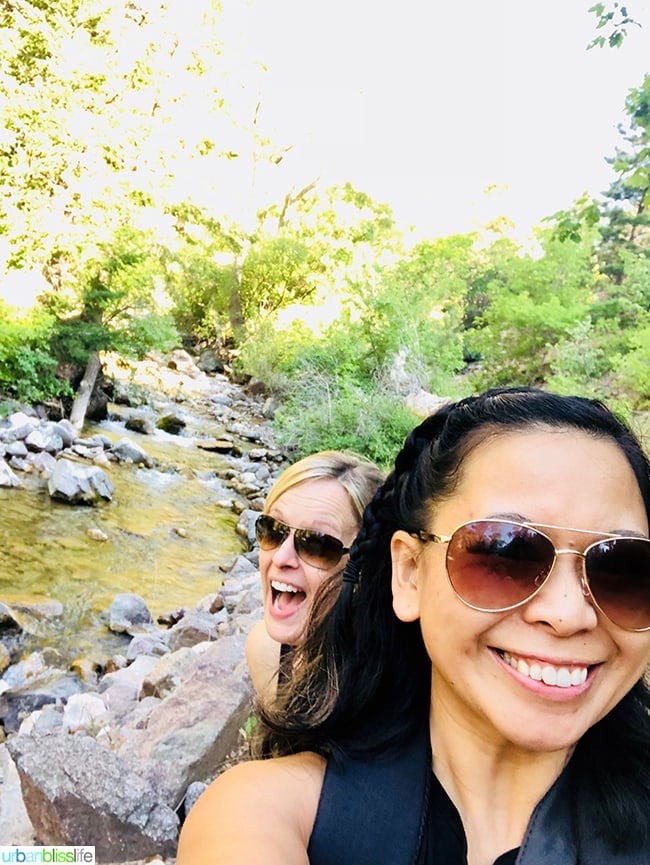 Clearly, it wasn't an advanced hike, as we found lots of stops for fun photos.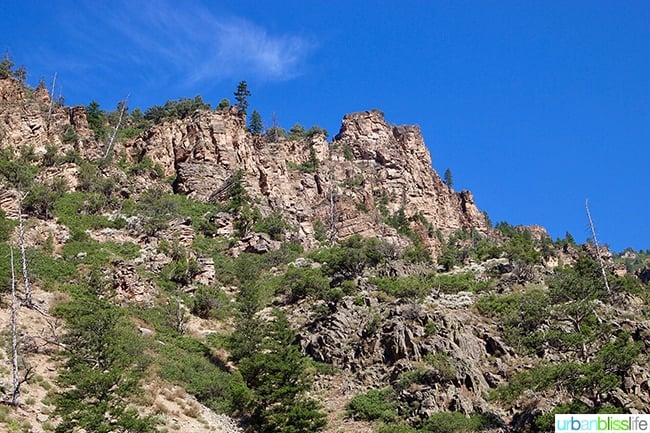 Yet the trail does get narrow and rocky in some points, so I would suggest this hike for adults and older children. If you have younger children, you may consider doing the first mile or two of the hike, and then hiking back, before the trail begins to get rockier and narrower.
Sweet Coloradough
After our hike, we decided we needed a little sweet treat. I had heard great things about Sweet Coloradough, a local donut shop in Glenwood Springs. So we stopped there for a mid-morning, post-hike sugar fix.
The donuts are made in-house, and you'll find all of the classics plus some fun flavor combos.
Unexpected bonus: Sweet Coloradough also offered a free beer or free tequila shot on the day we were there. We declined the offer, but if you're out and about looking for a cool pint after a hot day of hiking, check this place out!
Glenwood Caverns Adventure Park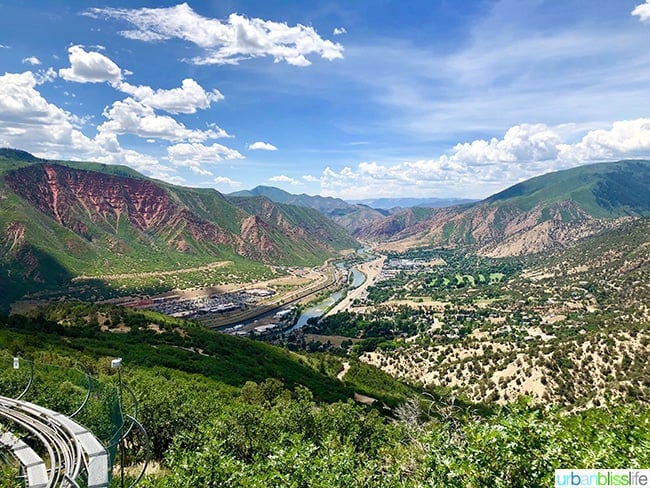 After a brief break, we were ready to head back out and explore Glenwood Springs.
Next stop: Glenwood Caverns Adventure Park.
Glenwood Caverns can be an all-day adventure, or an all-morning or all-afternoon stop on your trip to Glenwood Springs.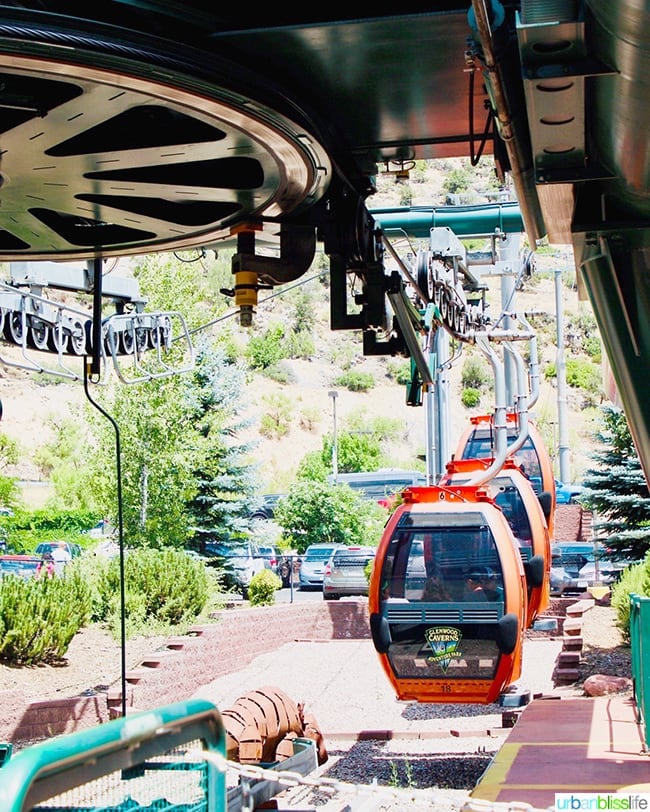 After riding the tram up the mountain, you can choose from a variety of rides, play laser tag, take a cave tour, enjoy lunch with a view, and more.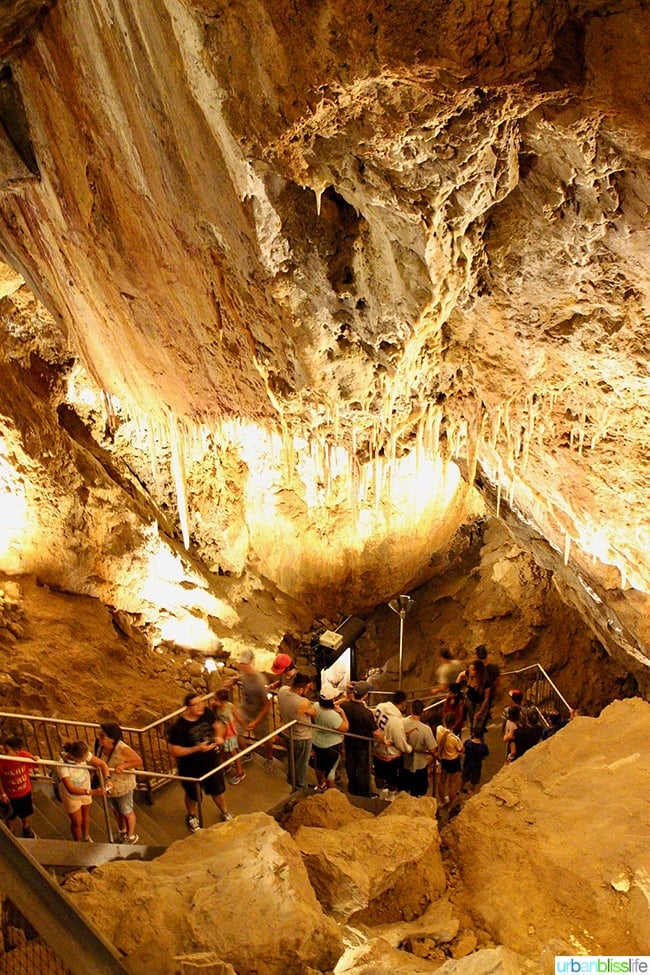 Barbara and I opted for the Kings Row Cave Tour, which lasts approximately 40 minutes and is appropriate for most ages and fitness levels.
There are guardrails for safety and to help you make your way through the cave, as well as plenty of spaces to stop and enjoy the cave wonders - or to simply stop and catch your breath. The descent in this cave tour is about 150 feet down.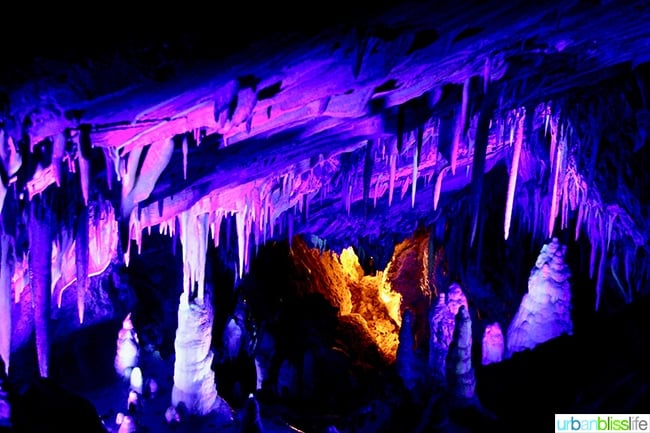 During this tour, you get a close-up look at the cave bacon (it's a thing!), stalactites, stalagmites, soda straws, and a really cool light show at the bottom.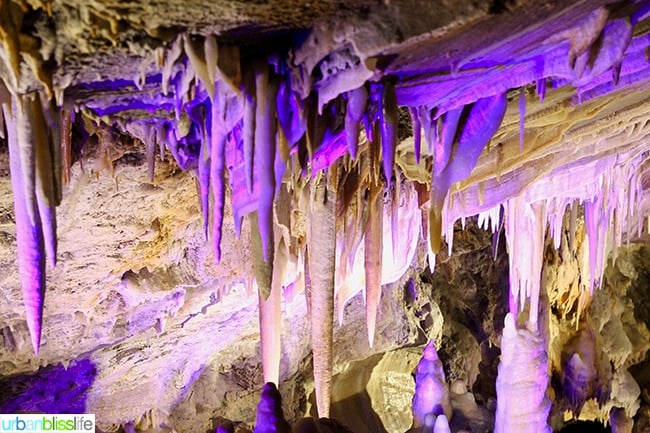 After emerging from the depths of the caves, a ride through the air is a refreshing adventure!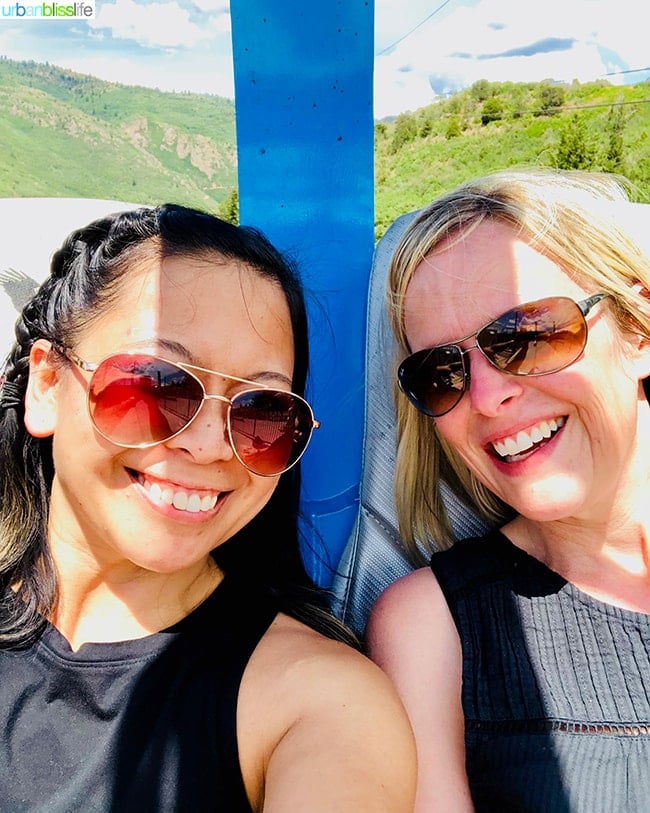 The photo above is of Barbara and I getting ready to ride the Soaring Eagle Zip Ride. This ride can be a one- or two-person ride, which zips you backwards and up on a zip line, giving you gorgeous sweeping views of the valley and surrounding mountains, and then quickly zips you back down.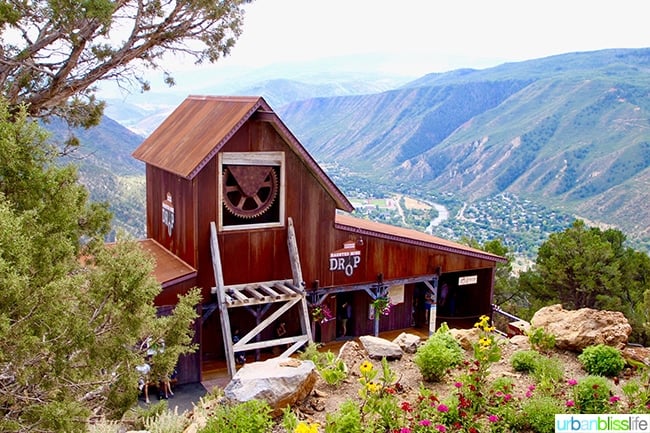 There are also several rides and attractions for families with kids of all ages, such as a giant canyon swing, alpine coaster, a climbing wall, mine wheel (like a small ferris wheel), and more.
Park prices vary, depending on the rides and attractions you want to check out. We opted for the Summer Day Pass, which was $54 per adult and included tram rides, cave tours, and attractions. You can find the latest ticket price info here. Be sure to plan for some time to wait in line for tickets, or you can purchase them online and go directly to the online ticket line.
Iron Mountain Hot Springs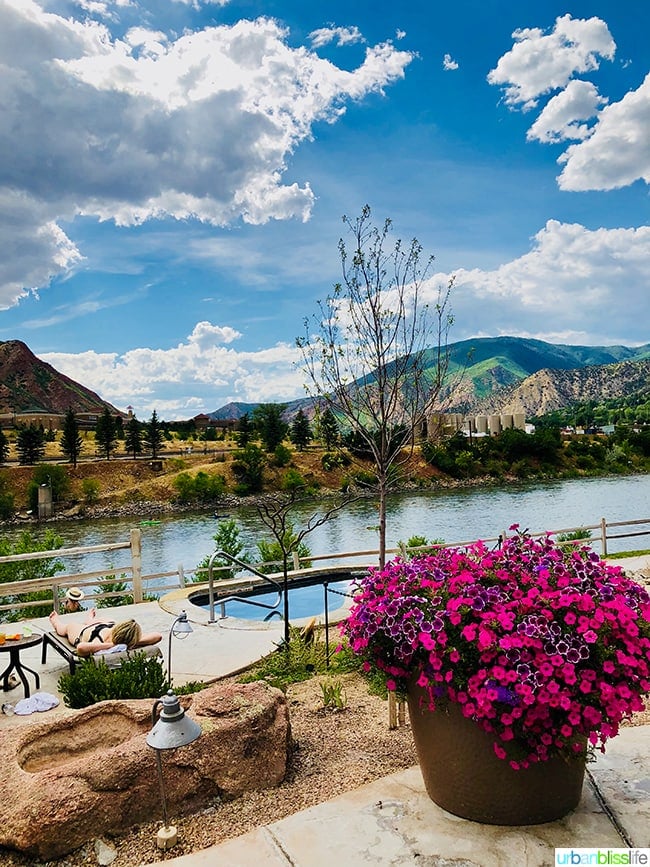 After a few hours of exciting fun at the Glenwood Caverns Adventure Park, it was time to soak in some of Glenwood Springs' famous hot springs and relax into the evening.
There are a few options for hot springs in Glenwood Springs, including Glenwood Hot Springs Resort. We opted for the Iron Mountain Hot Springs.
We liked the variety of pools available here, versus one large pool. It seemed more peaceful and private to us. Each of the hot springs pools had different minerals, and a different vibe, which was nice.
There were two options for food and beverage stations, and ample locker room space with showers and changing areas.
We had day passes, which were $25 per day. You can find all pass options and pricing on the Iron Mountain Hot Springs website.
Brava Modern Trattoria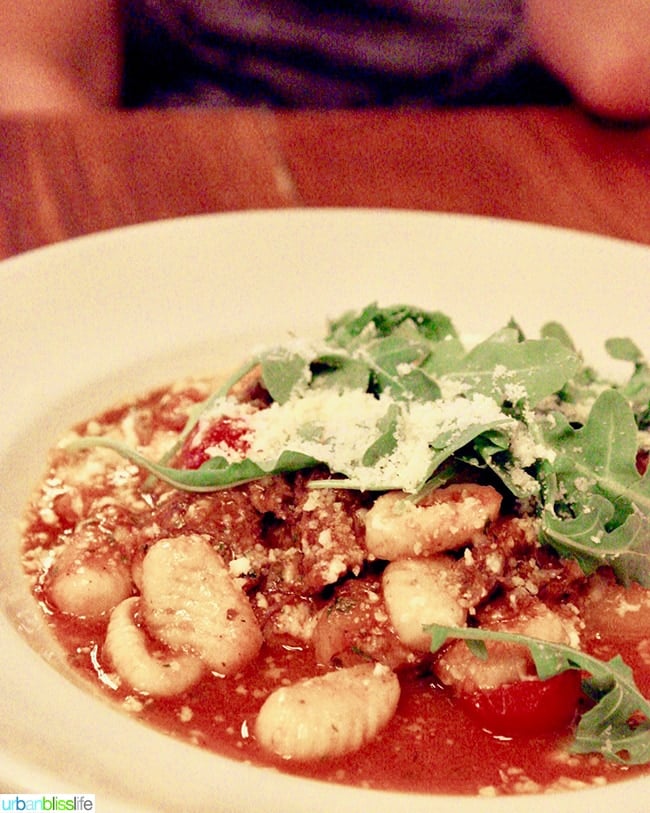 At the end of our long day of adventure and exploring Glenwood Springs, Colorado, we wanted to enjoy a nice, relaxing dinner. We found Brava Modern Trattoria online, and were pleased with wonderful service and a delicious Italian meal. Barbara's Brasato ($18)- Ricotta Gnocchi, Braised Lamb Leg, Arugula, Natural Jus - was out of this world. My Gamberetti ($16) with Penne, Shrimp, Plum Tomatoes, Kalamata, Arrabiata Sauce, was also quite wonderful.
We enjoyed our meal with a bottle of Z. Alexander Brown's UNCAGED Cabernet Sauvignon, and toasted to a fabulous day in Colorado.
Colorado Before Dawn
After a good night's sleep, we woke up at 5am in order to beat the traffic back to Denver. We had heard from a few different locals that Sunday traffic starts early as the tourists make their way back from their respective resorts to the Denver airport.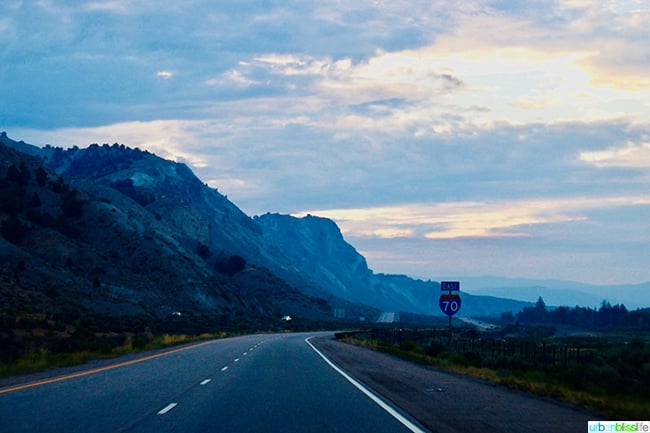 We actually didn't mind getting up that early. It was a beautiful time to enjoy the beauty of Colorado, with the sun slowly rising beyond the mountains. And, there were hardly any other cars on the road when we left.
It was a wonderful, peaceful drive back.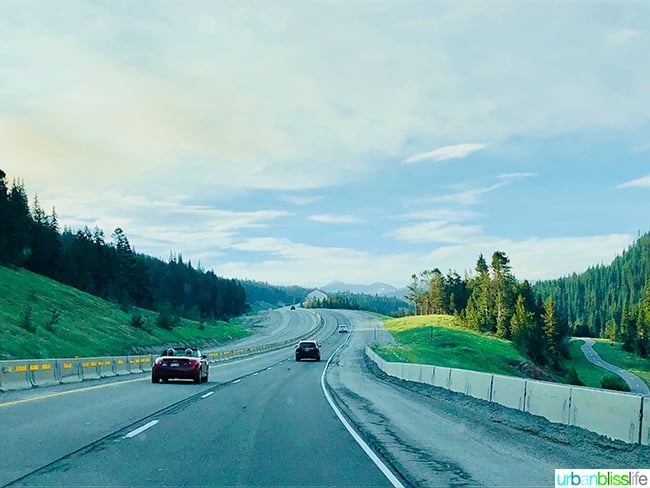 Vail, Colorado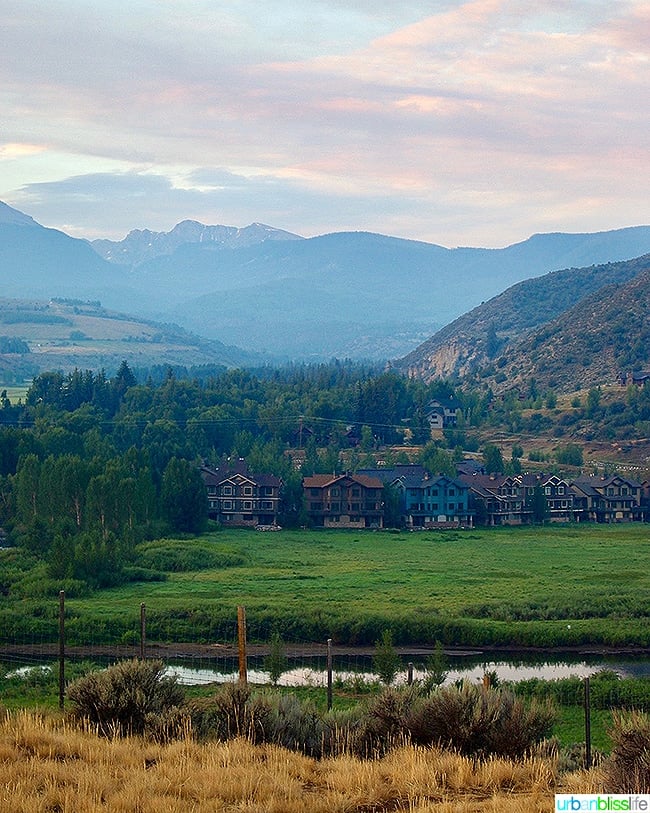 The drive from Denver to Glenwood Springs and back makes an excellent road trip because there are a lot of potential stops along the way to check out.
You pass several popular recreation destinations, such as Keystone, Vail, Breckenridge, and Frisco.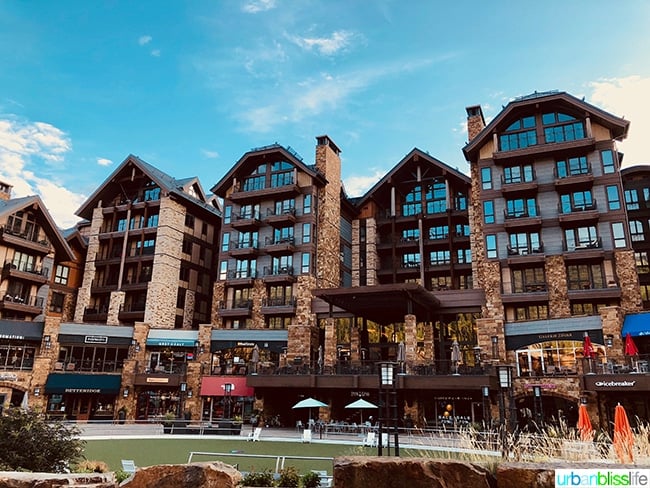 Since we left so early and had some time to spare, we stopped briefly in Vail, Colorado in search of a caffeine fix.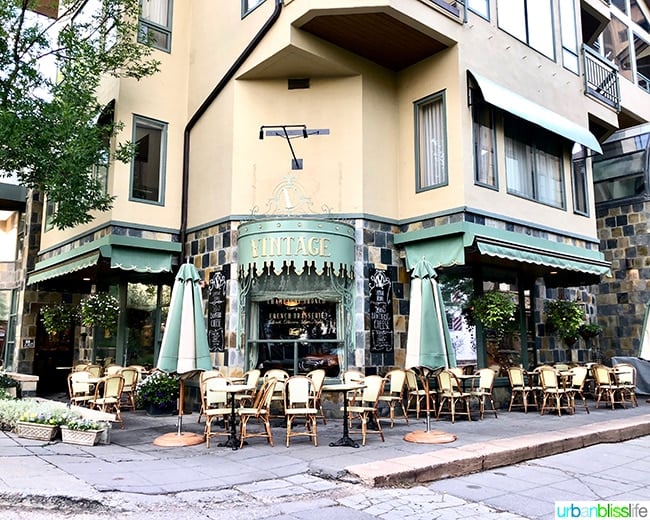 Vail is a delightful resort town designed to resemble a European ski village. European-style cafes and architecture truly make you feel like you've escaped the US for a bit and are transported to Switzerland.
2 Hours in Denver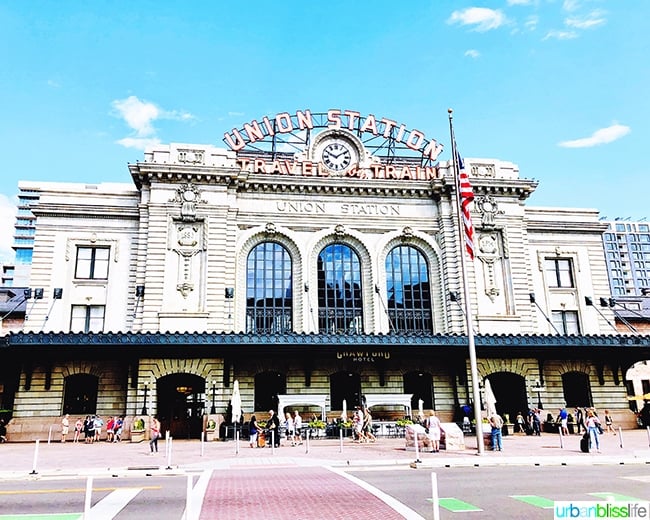 When we arrived back in Denver, we had a few hours before we needed to head to the airport. A few locals we met in Glenwood Springs recommended we check out Union Station, so we parked right next to the train station and walked around.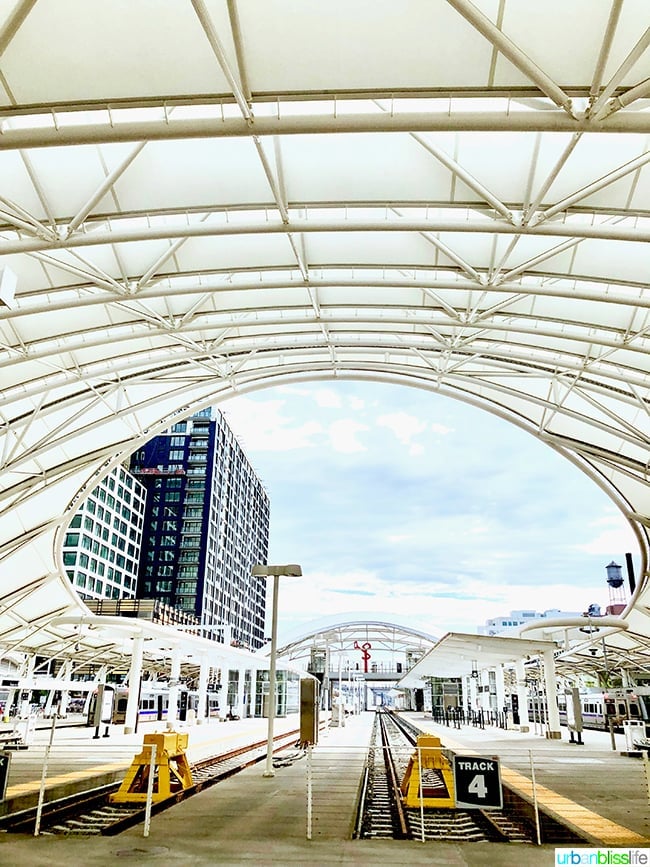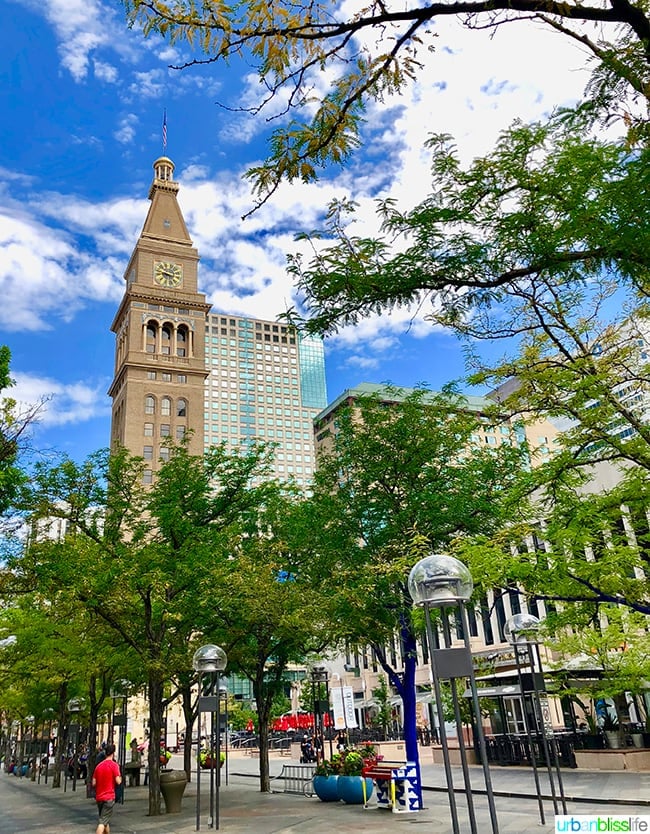 After walking the Millennium Bridge, we walked down to and through Denver's 16th Street Mall (pictured above), which is a street lined with shops and restaurants, with public transportation running through the street for easy hop-on-hop-off access.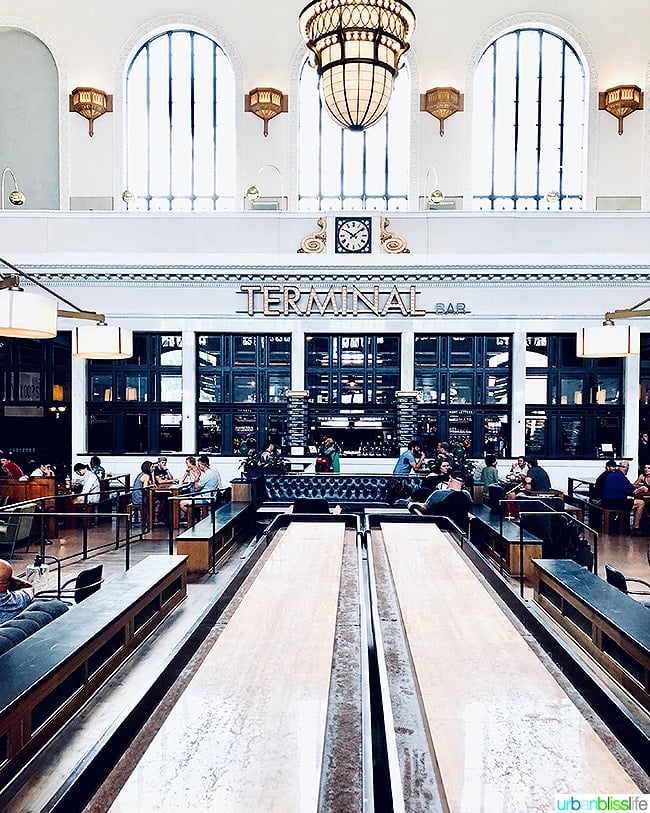 Denver's Union Station is not just a functional train station - it's a destination filled with hip coffee shops, bookstores, restaurants, and a beautifully designed waiting area in the center of it all. I enjoyed one of the best empanadas I've ever eaten here!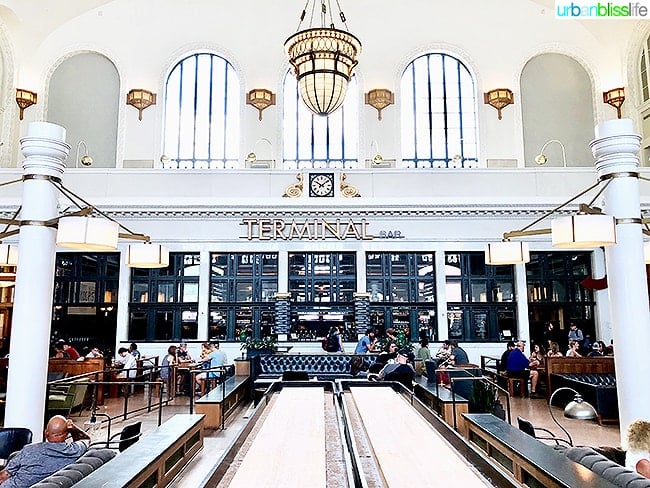 After exploring a bit, it was finally time to drive back to the airport and head home.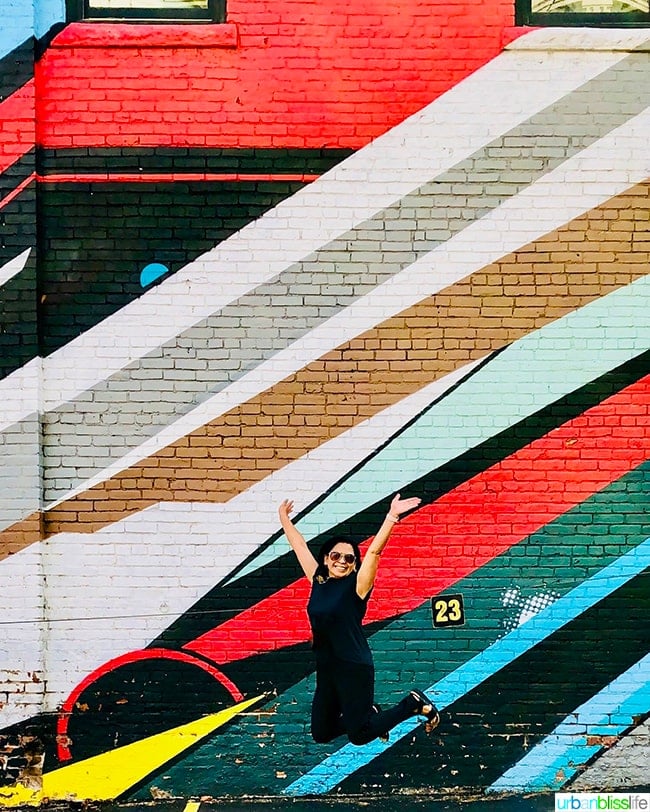 Of course, I couldn't leave Denver without at least one jump shot in front of a mural. Thanks to Barbara for taking this shot by the 16th Street Mall!
Tips for a Girls' Getaway in Colorado
Barbara and I really enjoyed the journey from Denver to Glenwood Springs and back. We loved learning about all that Glenwood Springs has to offer - and it's so much more than we could cover in one weekend. We decided that Denver would actually be an amazing girls' getaway destination on its own.
More than all of that, it was a wonderful weekend to relax, get away from daily life stress, and soak in the beautiful scenery around us. Girls' getaways are vital, folks, and this one was a fun one for the books!
Some quick tips to make the most of your girls' getaway Colorado road trip:
Be sure to research restaurants and attractions a few weeks in advance as well as just before you leave. With the state of the world, businesses are opening, closing, and changing hours of operation regularly.
When it comes to packing clothing, pack lots of layers. With all of the elevation changes in Colorado, temperatures rise and drop dramatically. It can get very cold in the early morning and night hours, and blistering hot during the day. Pack some light sweaters or sweatshirts to take with you in a small day pack.
Pack lots of snacks and water. Depending on your exact route, there may be long stretches of road where there aren't many options for food and water.
Colorado Road Trip Map
If you're interested in following our journey, I've created a map below that helps pinpoint all of the places Barbara and I went on this trip.
As you can see from the map, there are a lot of additional stops you can add if you are going to be staying in this area for longer than 3 days. I personally would add Breckenridge, Keystone, or Frisco to your itinerary, as those are places many of the locals we spoke to recommended.
To see all of the places mentioned in this article on the map, click on the top left swipe box icon.
More Road Trip Articles and Guides
Pin it:

Thanks to General Motors for the flights, lodging, and ability to test drive the 2018 Chevy Equinox for this trip. I paid for many of the activities and meals out of pocket. As always, all opinions and photos are my own.