Ahh September. I just love this time of year, don't you?
The kids are back in school, and sports and band activities begin again.
Fourth quarter madness is underway at work, which I love, love, love.
And, of course, there's the pinnacle of all end-of-summer/pre-fall events: the always amazing, four-day Feast Portland!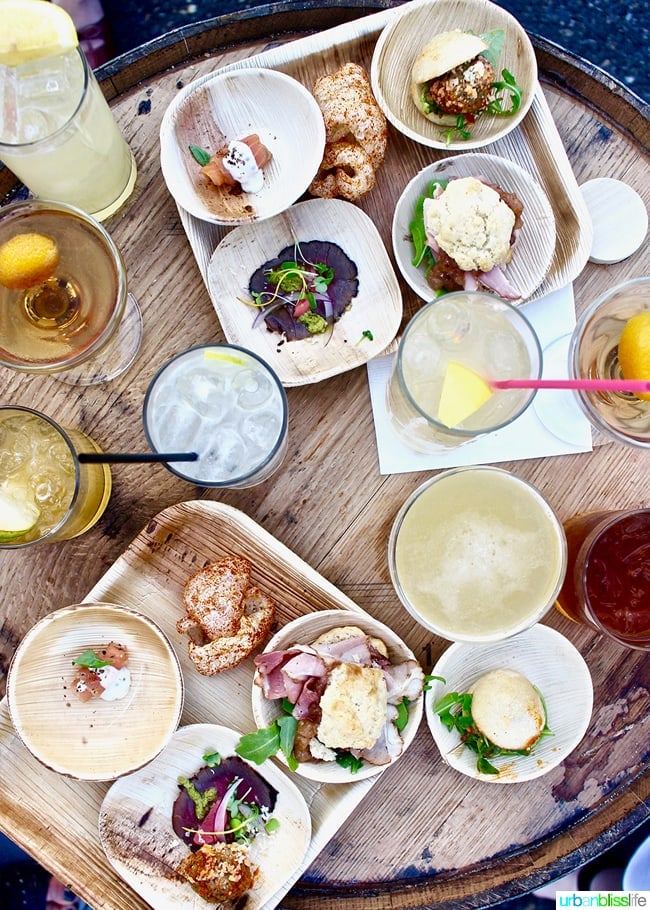 Feast Portland 2017
Feast Portland is a mega-watt, powerhouse, A-list chef/brewer/winemaker/distiller/food artisan-packed, food and drink extravaganza. This will be my fifth year attending with a Feast Portland blogger pass, and I CANNOT WAIT!!
There are several events that take place in various locations throughout Portland, Oregon from September 14 through September 17, 2017. From Main Events to Drink Tank events, from Hands-On Classes to Dinner Series events, to the after parties and -yes- the after-after parties – the schedule is full of amazingness.
It's like Christmas in September for me and thousands of other food and wine (and beer/cocktail) lovers!
Urban Bliss Life Feast Portland Guide
If you have never been to Feast Portland, I've created the The Urban Bliss Life Guide to Feast Portland page devoted to this premiere event. There you can learn Tips for Feast Newbies and more about Main Events such as Brunch Village and the Grand Tasting.
While most of the events sell out as soon as tickets are made available in the Spring, there are still a few options open. And while the Main Events and Dinner Series events are AMAZING, I suggest you consider checking out one of the many Fun Size Events
Fun size events
The Fun Size Events are more intimate, more focused, smaller events compared to the large main events.
Though the focus of each of these events and the vendors change each year, you can generally expect lots of amazing food, drinks, music or other entertainment, and, of course, so much FUN (it's in the name, after all!).
I attended the Peace, Love, and Cocktails Fun Size Event last year. It was a blast!
All of the photos in this post are from the Feast Portland 2016 Peace, Love, and Cocktails Fun Size Event.
The Feast Portland 2017: Fun Size Events that are sold out include Vegetables: A Love Story, the Late Late Show: Adventures in Takeout, and Franklin Barbecue & Family.
As of Thursday Sept 7th at 10am, tickets are still available for the following Fun Size Events:
Because Breakfast
Sunday, Sept 17
$75 per ticket
From the Feast Portland website: "Because Breakfast boasts the most Instagram-ready collection of small pastries, crêpes, breakfast goodies, delicious donuts, morning cocktails and inspired riffs on coffee drinks that you're likely to find outside of Paris. Drop in for handcrafted creations from Clare Gordon (General Porpoise Donuts, Seattle), Kim Boyce (Bakeshop, PDX), Jehnee Rains (Suzette, PDX) and Michael Scelfo (Waypoint, Boston). Libations from: Tea Bar, Stumptown Coffee Roasters, Gruet and more!"
Pizzas & Burgers
Sunday, Sept 17
4:30 - 7:30pm
Pizza Jerk
From the Feast Portland website: "Hosted at Pizza Jerk, the event will feature a live DJ, delicious pizzas from via a mobile pizza oven, burgers and pepperoni-friendly beverages. Stroll among the raised garden beds, and cap off a weekend of cuisine with two very American dishes. Culinary mind-blowing provided by Tommy Habetz (Pizza Jerk, PDX), Sarah Minnick (Lovely's Fifty Fifty, PDX), John Gorham (Bless Your Heart Burgers, PDX) and Luke Zembo (Slow Bar, PDX). Libations from: Portland Sangria and Running Man Distributing"
Why We Feast
Feast Portland isn't just all about incredible food and drink - it's also about giving back. Since 2012, Feast has raised over $300,000 to help end childhood hunger in Oregon and across the country. This year, Feast Portland is proud to support Partners for a Hunger-Free Oregon (PHFO) as its charitable partner.
Ready to Feast?
Are you ready to Feast? Be sure to get tickets to the remaining available Feast Portland events ASAP as they most certainly will sell out. Visit www.FeastPortland.com for the full schedule of events, vendors, and to buy your tickets! See you there!
Will you be at Feast Portland 2017? Which events look most appetizing to you?
I was granted a Feast Portland bloggers pass, but bought tickets to the Peace, Love, and Cocktails Fun Size Event photographed in this post. As always, all opinions and photos are my own. See you at Feast, my fellow food & drink loving friends!