September is one of my favorite months of the year, dear friends. September means back to school, back to (more) work, and back to wearing boots and sweaters and cooking rich soups and roasts!
September is also the month of FEAST -- Feast Portland, that is. I am beyond excited for this year's impressive line-up of events, and I hope that if you are in town, you will join at least one but hopefully many of the fun Feast festivities!
What is Feast Portland?
Feast Portland is a 4-day food festival that happens each September. During these four days, at various locations throughout downtown, NW, and SW Portland, Oregon, you have the chance to attend main marquee events, hands-on classes, tasting panels, and dinner series events. If you love to eat, to drink, to socialize, to learn, to watch some of the best chefs and food and beverage artisans in the world converge in one hot spot at once -- Feast Portland is for you.
Proceeds from Feast Portland benefit Share Our Strength's No Kid Hungry campaign and Partners for a Hunger-Free Oregon. Two great causes!
Top Tips for Food Festival Newbies
You just purchased your tickets to Feast Portland events, or maybe you're on the fence, still thinking about it. You're so excited. Maybe a little nervous. And, very hungry and thirsty all of a sudden.
Maybe you think you should work out ahead of the event -- you know, a pre-emptive strike against the gastronomical attack into which you have willingly bought.
You've never been, so you're not sure what to expect. What if you don't know anyone else there? What do you wear? How many pounds will you gain? How many oyster shooters are you allowed to eat before they tack your photo up to the "do not serve" board?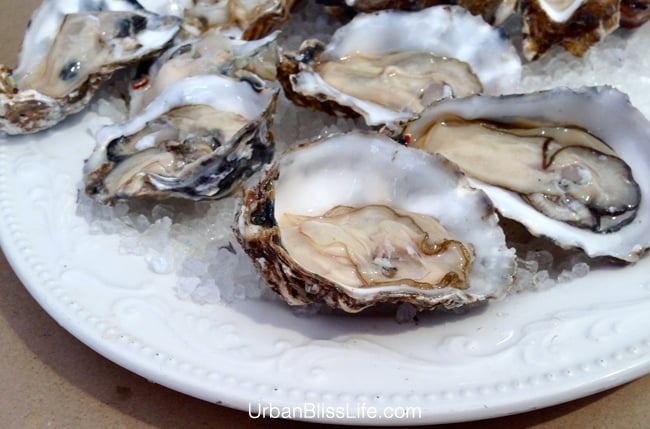 Panic not, fine Feast Portland newbie friends. There is nothing to fear about Feast Portland, except maybe for tiny little Filipino fingers silently stealing your last ahi tuna taco while you're busy trying to impress your chef crush. Oh, I'm just kidding (or am I? You go ahead and try to leave that last nibble on your plate around me. Go ahead. I DARE YOU).
While I am still working to attain Feast Portland Expert status (is there a FourSquare badge for that?), I was super lucky to attend last year's Feast Portland festivities and will be attending again this year, thanks to being bestowed the honor of a Feast Portland Blogger Pass. I'm happy to share some Feast Portland tips that helped me make the most of the three-day food and beverage festival, so that you, too, can have the time of your life at Feast Portland 2014!
1. Buy Tickets Early
Many of the most sought-after events of Feast Portland, such as the all-new Tillamook Brunch Village, have already sold out, but you can still get tickets to some of my personal favorite events.
2. Do Your Homework
There's a lot to see and do at Feast Portland. If you're attending a Tasting Panel, read up on the winery or brewery and the chef beforehand. If you are going to the Oregon Bounty Grand Tasting, look over the vendor list ahead of time and prepare a list of Must Visit vendors. It gets crowded and can be overwhelming at the Grand Tasting, as well as at night events such as the Sandwich Invitational and Night Market, so having a prepared list of restaurants, chefs, wineries, food artisans that you want to be sure to check out at each event ensures you will leave happy.
3. Hydrate
Okay, fine, I really mean make sure you drink a lot of water throughout the day and don't **just** drink beer and wine all day and night. But, also be sure not to miss tasting the massive variety of expertly crafted beer and wine, either.
On a related note, there are usually a decent amount of restrooms available at all events. So, drink up!
4. Dress in Layers and Pack Light.
September is still a relatively warm month in Portland, but nights can get cold fast. Most Feast Portland events are casual, but you might want to dress up for events like High Comfort. My personal Feast Portland outfits last year consisted of a light t-shirt with capri pants and a cardigan, and a summer dress with cardigan and wedges.
Based on the event you are attending, you may be sitting down most of the time (Tasting Panels) or you'll be standing and walking most of the time (Oregon Grand Bounty Tasting, Sandwich Invitational), so plan your footwear accordingly.
And, lest you forget that you will be gorging on food and drink in marathon fashion, I urge you to dress in clothes with a little stretch. I have a collection of what I call my Food Blogger Dresses, which essentially are cute dresses that have a lot of room for all of those adorable desserts that I swear I am too full to eat but somehow find myself eating anyway (because look at that macarons: what person with a pulse and tastebuds says no to these sweets??).
If you're going to be attending an event where you'll be on your feet for hours at a time, pack light. Leave the huge bag stuffed with random "necessities" at home. You'll not only be glad you don't have to carry all of the weight around, but you'll also be glad to have the extra "personal bubble" space during events like the Oregon Bounty Grand Tasting and Night Market, where you might find yourself in elbow-to-elbow situations at some vendor booths.
5. Talk to Strangers
First of all, if you're coming in from out of town, know that when in Portland, to truly do as Portlanders do, that means you talk to strangers. We chat it up at the grocery store, in line at the DMV, we even dare to talk to each other BC (Before Coffee) while waiting in line at our neighborhood coffee shop. At Feast Portland, everyone is family.
You may not know a soul going in, but you'll leave with an Evernote notebook full of contacts if you can take a deep breath, exhale, and just start chatting with your neighbors in line or seated next to you.
I met some of the most interesting people at Feast Portland last year, and I bet you will too! People come from all over the world for this incredible festival. The best people in the world are, after all, people who love to eat! ;)
6. Chat with the Chefs
And don't just talk to your fellow attendees; be sure to talk to the chefs, the winemakers, the food artisans. They're there to talk to YOU! I don't get intimidated by many people, but around certain chefs I get all mushy, incoherent, and school-girl ridiculous and quiet.
Here, it's totally okay to let your freak chef-crush-flag fly. They're all walking around getting in the Salt & Straw line for the third time, just like little ol' you and me. Feast Portland is your chance to get up close and chat it up with some of the most talented chefs in the world. It's a pretty awesome benefit that should be listed
7. Ask Questions
For me, the non-expert who is obsessed with all things food & drink, Feast Portland is all about satiating my thirst for expert food & beverage knowledge. Especially if you are attending one of the Hands-On Classes, like the Who Spiked The Punch? Large Format Cocktails with Jeffrey Morgenthaler class or the Juicy Juice with Portland Juice Company class, don't be afraid to ask any question you have.
Last year, I was absolutely thrilled to attend Camas Davis's butchery class -- a topic I had NO knowledge of whatsoever, and while I was both terrified and way-too-excited at the idea of butchering a whole pig, I learned so much and am grateful that my classmates were there to ask really good questions that I hadn't even thought to ask.
8. Take Notes.
Don't be afraid to bring a little notebook with you to events. You're going to be meeting so many people and learning so many fascinating tidbits, that you will kick yourself later if you caved in to trying to look cool versus just owning it and writing down notes.
In addition to good old fashioned pen & paper, I also use Evernote to keep track of information at events. Evernote is an app that I admittedly disliked for a long time because it was so clunky to use, but now they have streamlined many features, and have added a business card scanning feature that helps save me SO much time after events. Collect cards from the businesses you loved, and jot down notes on the cards to help you remember their significance later (i.e. "best housemade sausage" "buy this beer
9. Pace Yourself.
No matter which event or events you will be attending at Feast Portland, I almost guarantee that if you leave hungry, you did something wrong. You will encounter a true FEAST like none you have ever imagined before at every single event, and subduing your inner caveman/cavewoman instincts to hungrily demolish every dish placed in front of you is tough -- but you must do it. Pace yourself, Feast newbie. As soon as you put one plate down, there will be another. Don't you worry about that.
10. Have fun!
Feast Portland is a true celebration of this city's great food and beverage offerings. Yes, you will be surrounded by some of the most talented food & beverage experts, and you'll be surrounded by foodies who out-foodie the foodiest foodie you know, BUT -- remember we are all there to experience and enjoy Oregon's bounty together. You don't have to pretend to know everything. You will find yourself eating with your fingers and the most intensely rich barbecue sauce will start oozing out of the side of your mouth, in a way that is not at all graceful or Instagram-worthy -- but it's all good at Feast Portland, because so will everyone else around you. Leave your insecurities at the door and just go, eat, mingle, ENJOY!