Feast Portland is coming and I am ready to get BLISSed out on the amazing food and beverage event of the season! Are you going? Join me!
From Thursday September 19 - Sunday September 22, Feast Portland features an amazing list of mostly local chefs, wineries, breweries, artisans, and other food and beverage experts in a mind-blowing events collective. From interesting tasting panels to mouthwatering dinner series and brunch series events, you have the opportunity to, literally, feast on creations from some of the area's most renowned chefs and artisans while also filling your mind with thought-provoking food knowledge from leading experts in the awe-inspiring speaker series. You can get your tickets online at FeastPortland.com.
Feast Portland steals my heart not only because of its awesome events, but because its net proceeds benefit some excellent charities that help fight hunger: Share Our Strength's No Kid Hungry Campaign and Partners for a Hunger-Free Oregon. So please GO, eat, enjoy...and know that in doing so, you are also helping those who do not have the same access to healthy food as we do.
Feast Portland Oregon Bounty Grand Tasting
If you've never been to Feast Portland before and you're looking for one event to attend that will give you a nice overview of the spirit of the event, a large sampling of beer and wine as well as some tasty nibbles, and a big, open, fun party atmosphere, I'd suggest snagging tickets to either the Friday or Saturday night Oregon Bounty Grand Tasting Event presented by Alaska Airlines. An impressive list of local wineries, breweries, food vendors, and chef demonstrations take over Portland's Pioneer Square. You can buy your tickets at FeastPortland.com.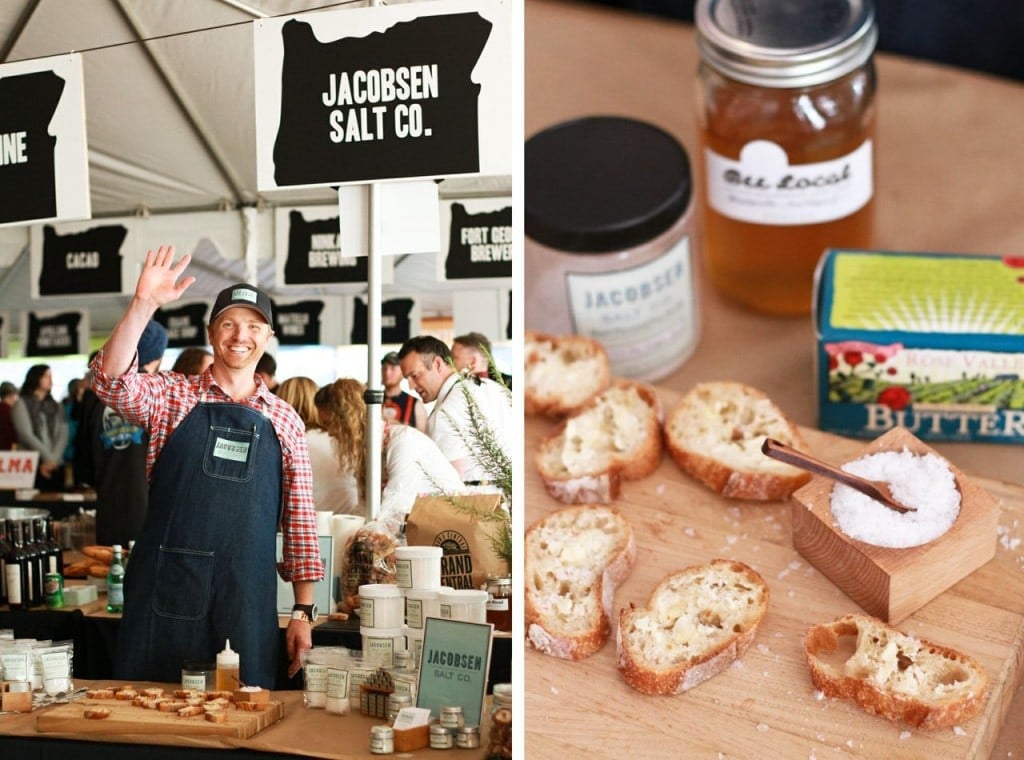 [photos from Feast Portland]
Food & Beverage Vendors
Here's just a *small* sampling of some of my faves that will represent at the Oregon Bounty Grand Tasting Event:
Dustin Clark, Wildwood (Portland, OR)
Mark Hosack, Gracie's (Portland, OR)
Jenn Louis, Lincoln Restaurant (Portland, OR)
Double Mountain Brewery, (Hood River, OR)
Full Sail Brewing Company, (Hood River, OR)
Hopworks Urban Brewery, (Portland, OR)
Ninkasi Brewing, (Eugene, OR)
Sasquatch Brewery, (Portland, OR)
Hawks View Cellars, Hawks View Cellars (Sherwood, OR)
King Estate, King Estate (Eugene, OR)
Montinore Estates, Montinore Estates (Forest Grove, OR)
Penner-Ash Wine Cellars, Penner-Ash Wine Cellars (Newberg, OR)
Ponzi Vineyards, Ponzi Vineyards (Beaverton, OR)
Sokol Blosser, Sokol Blosser (Dayton, OR)
Soter Vineyards, Soter Vineyards (Carlton, OR)
Willamette Valley Vineyards, Willamette Valley Vineyards (Turner, OR)
Bee Local, (Portland, OR)
Hot Lips Soda, (Portland, OR)
Jacobsen Salt Co., (Tillamook, OR)
Crave Bake Shop, (Lake Oswego, OR)
Pacific Pie Company, (Portland, OR)
Random Order, (Portland, OR)
Salt & Straw, (Portland, OR)
Stumptown Coffee Roasters, (Portland, OR)
and so many more!!
My fellow Feast Portland blogger pals have done an outstanding job giving overviews of some of the speaker series' events, and I encourage you to check out their posts:
Pechluck's Food Adventures - Counting Down to Feast Portland: Feast Speaker Series
The Spicy Bee - Feast: Speaker Series
Be sure to check out the entire line up of incredible events at FeastPortland.com and get your tickets FAST because many events are already sold out, and I am guessing the others will sell out soon!
See you at FEAST!
More Feast Portland articles
Feast Portland Honey Board
VIP Grilled Cheese Delivery at Feast Portland
Thanks to Feast Portland for sponsoring my blogger media pass to some events. I was in no way required to write any posts, and as always, all opinions are blissfully my own.