Traveling to Phuket, Thailand? Be sure to add a visit to Wat Chalong temple to your itinerary! This beautiful collection of religious buildings on temple grounds is one of the most popular tourist spots for good reason.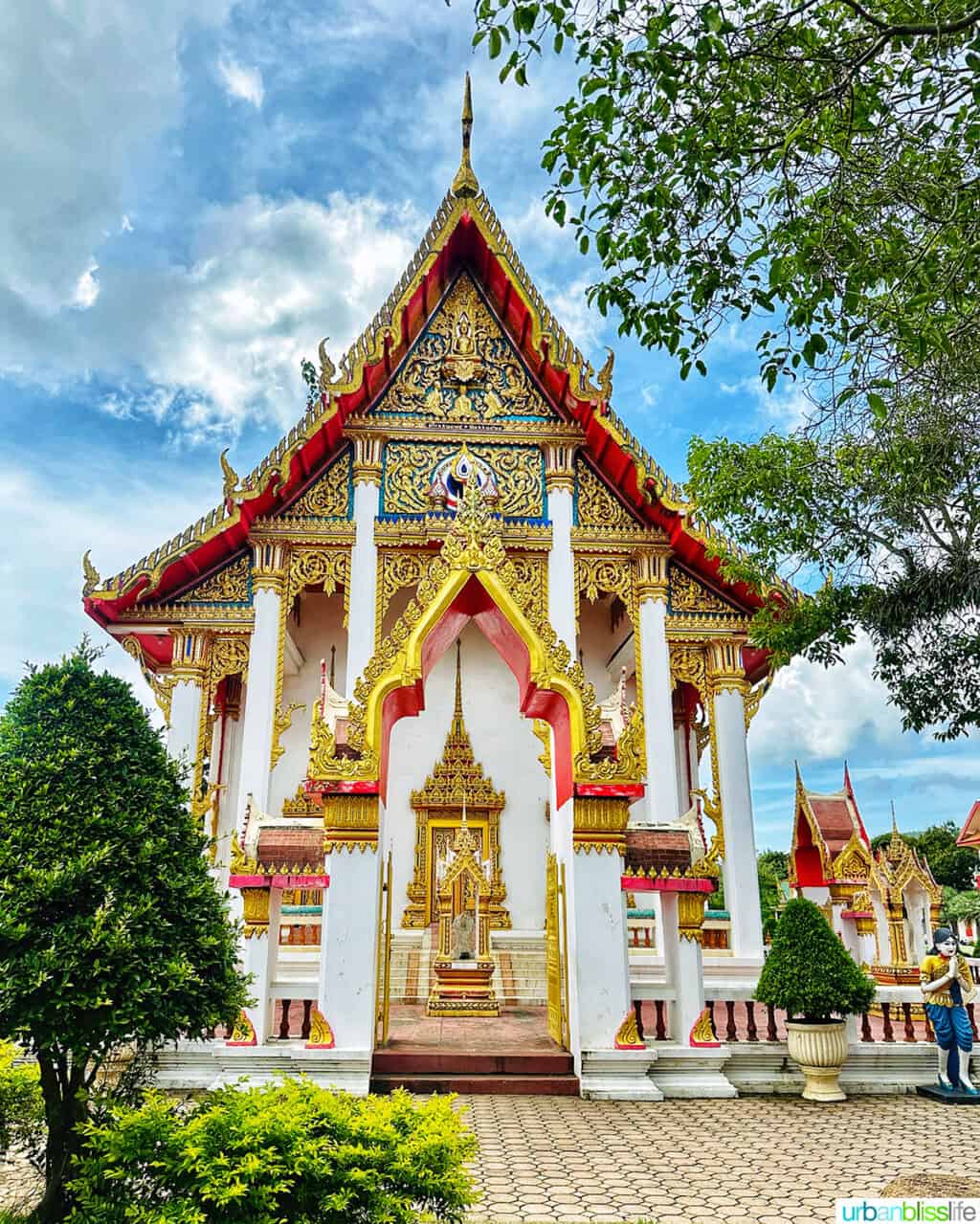 The island of Phuket, Thailand is home to about 25 Buddhist temples. Of these, the Wat Chalong Temple, also known as Chalong Temple, is one of the most important and revered Buddhist temples on the island.
Although I didn't have much time to explore Phuket, Wat Chalong was at the top of my list of places to visit. And I'm so glad I did!
Situated in the southern part of Phuket island, Wat Chalong is a stunning example of traditional Thai Buddhist architecture. Its' intricate carvings, colorful mosaics, and towering pagodas will surely to take your breath away.
Jump to:
About Wat Chalong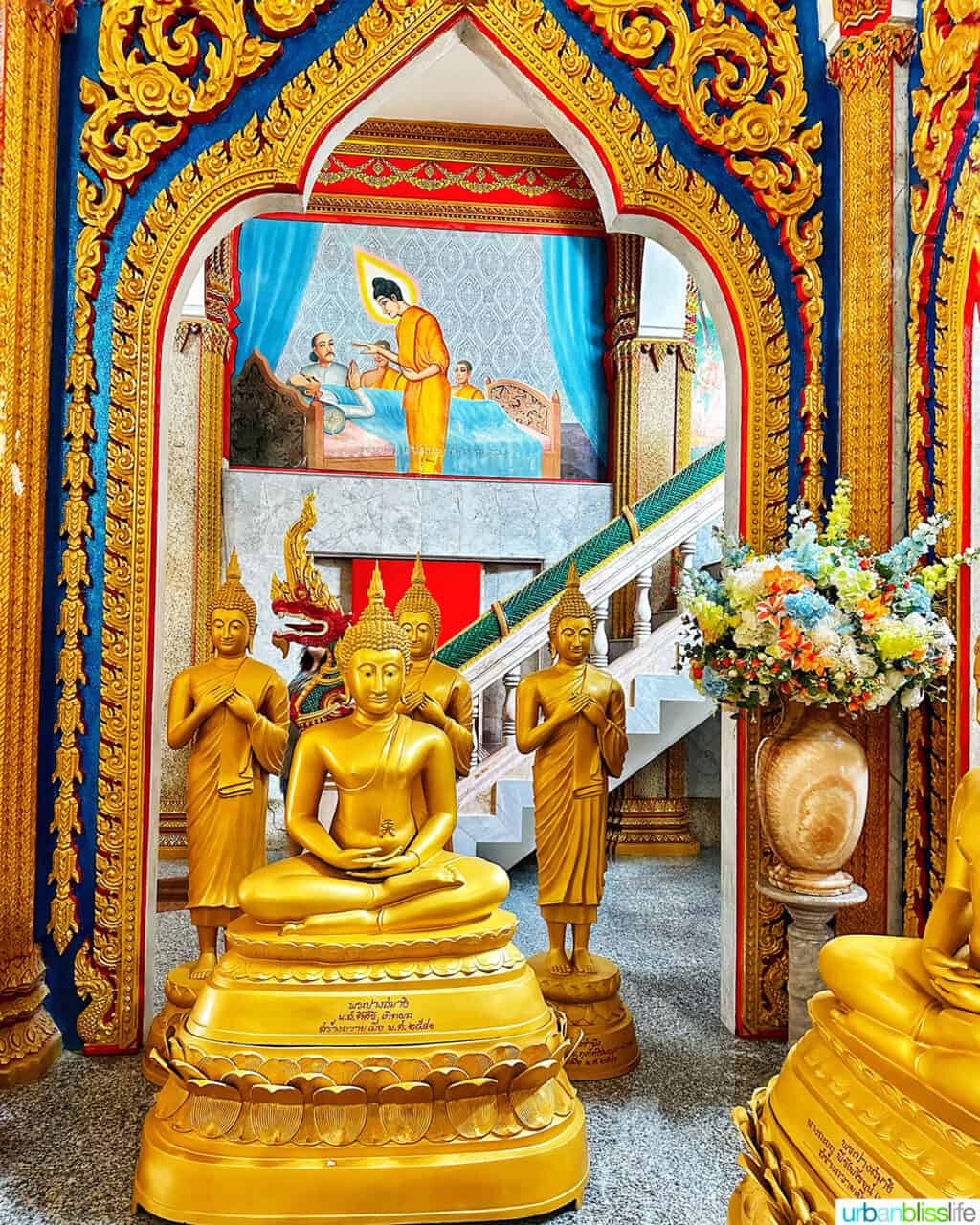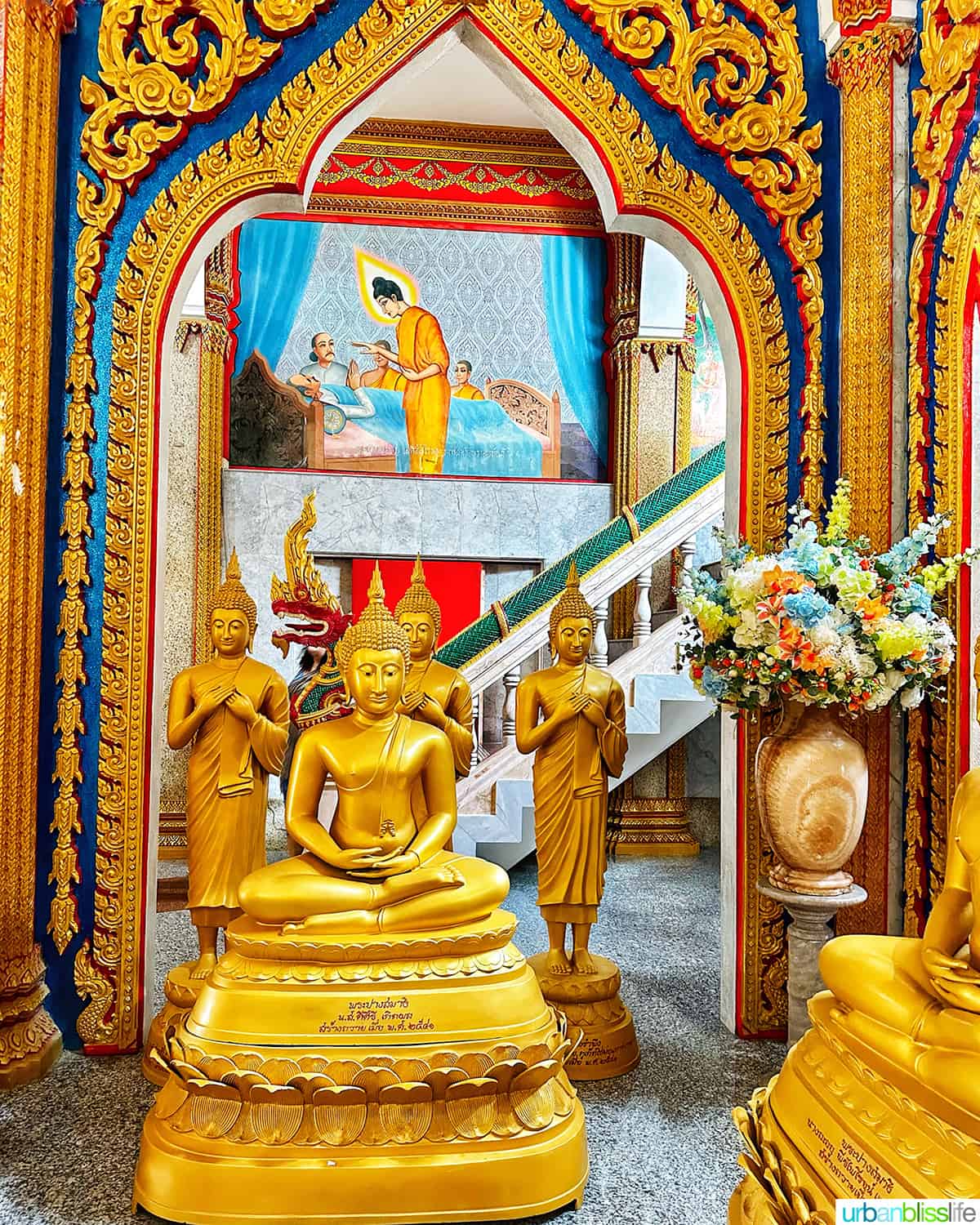 The history of this Phuket temple dates back to the late 19th century. It was first built to serve the spiritual needs of the local community.
Over the years, it has become a major center of Buddhism in Phuket. It attracts thousands of visitors each year, including Thai tourists and local Thai people. They all come to see its beautiful buildings and pay their respects to the revered Buddhist abbots who once lived here.
Wat Chalong Temple comprises several buildings, each with its own unique features and religious significance. These different buildings offer visitors a glimpse into the rich religious and cultural heritage of Thailand.
Interested in visiting Wat Chalong? Check out these options for a private tour or group tour. This is also a popular stop that tour guides love to include in a general Phuket tour.
Main chedi (pagoda)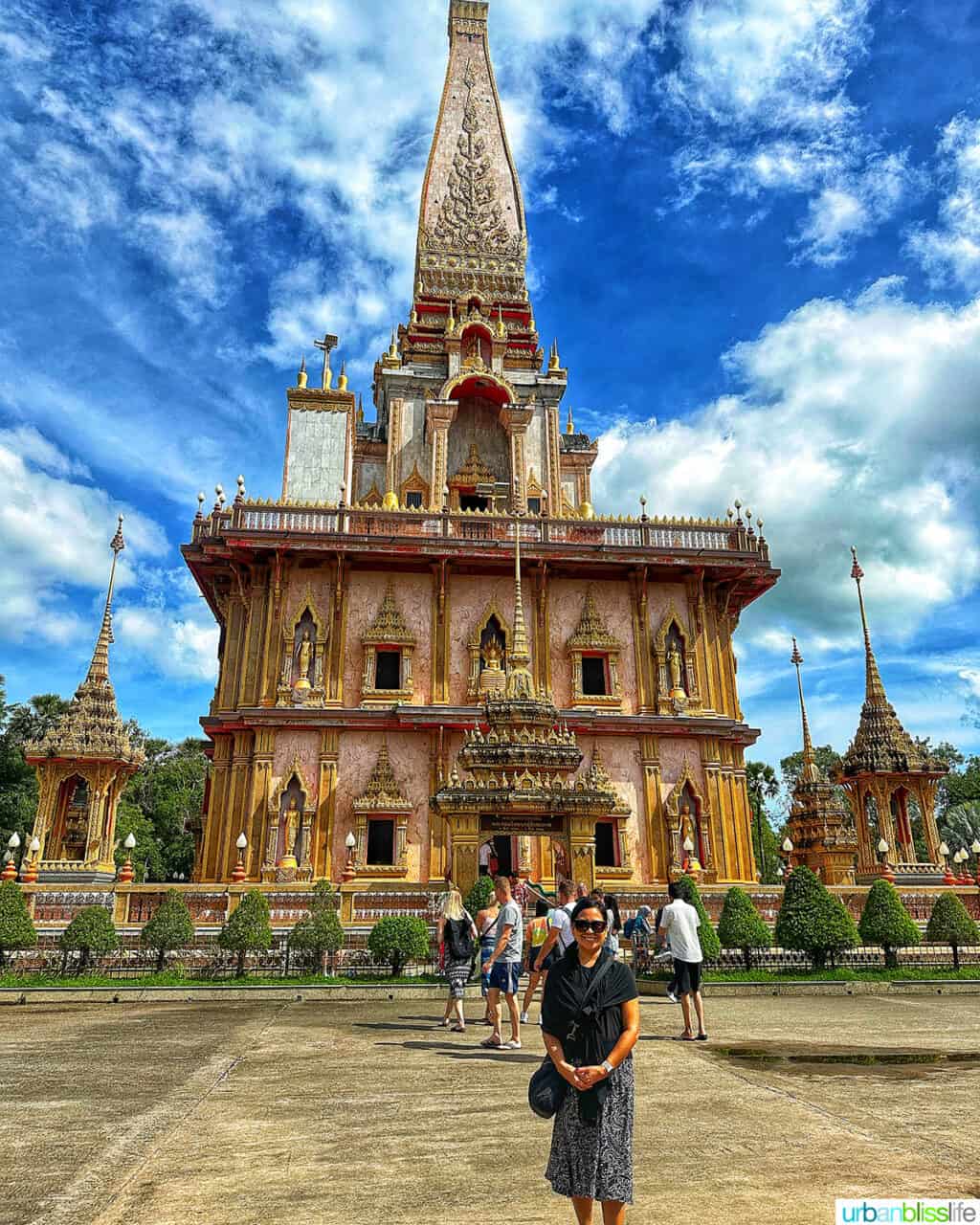 One of the most striking features of Wat Chalong is its main grand pagoda. With three floors, this central temple towers over the temple grounds and can be seen from a distance.
This main temple houses the revered Buddha images of Luang Pho Cham and Luang Pho Chuang. These are two of the most highly respected Buddhist abbots in Phuket's history. At the very top of the tall tower, there is what is reported to be a fragment of bone (Buddha's bone!) behind a glass case.
Visitors are encouraged to make offerings and pay their respects in this sacred place. Outside of some of the buildings, you'll find offerings of lotus flowers and marigolds.
Inside the Wat Chalong main pagoda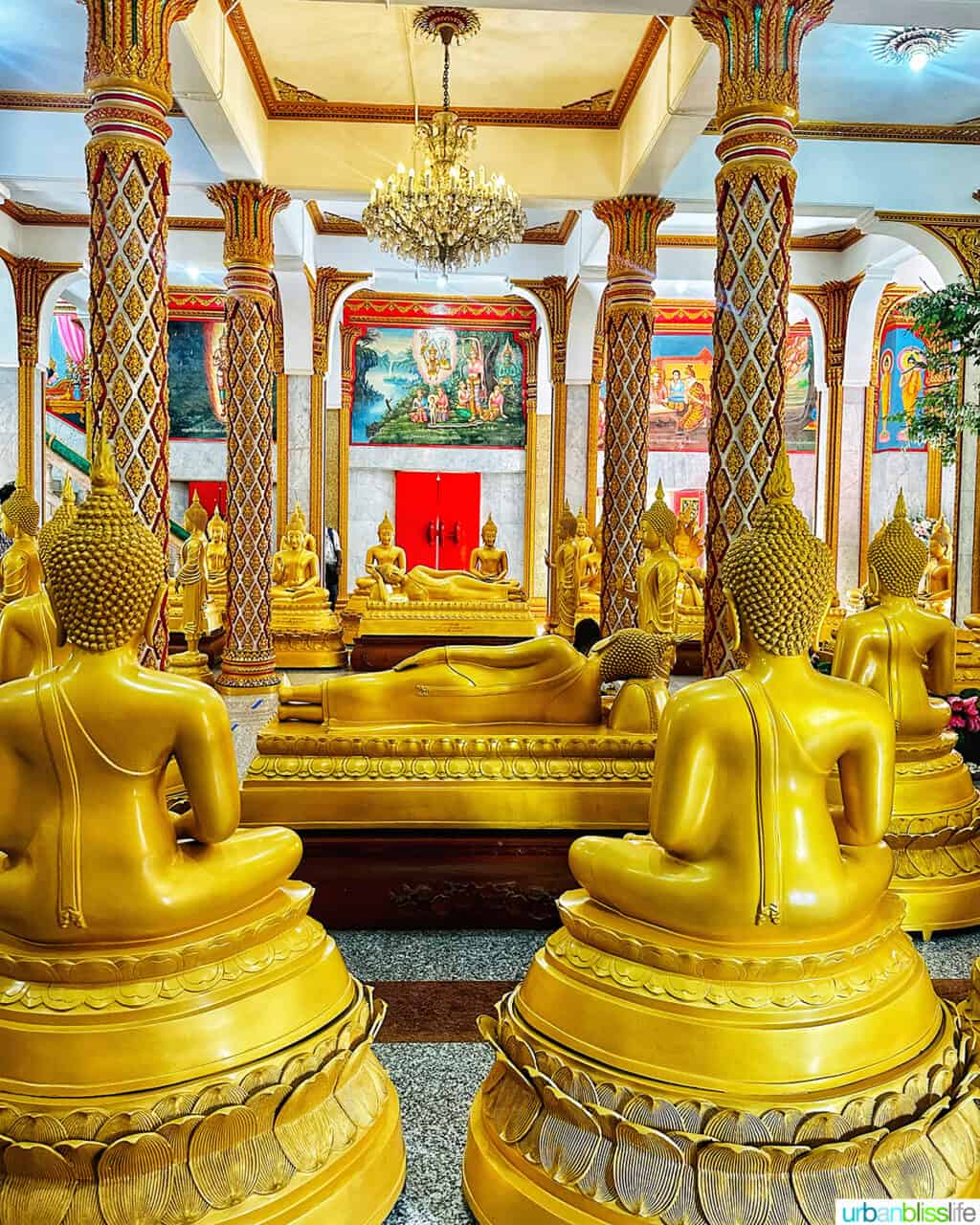 Inside the main pagoda you'll find three floors of beautiful, ornate places of prayer and history. The two main floors house several buddha statues, some adorned in gold leaf.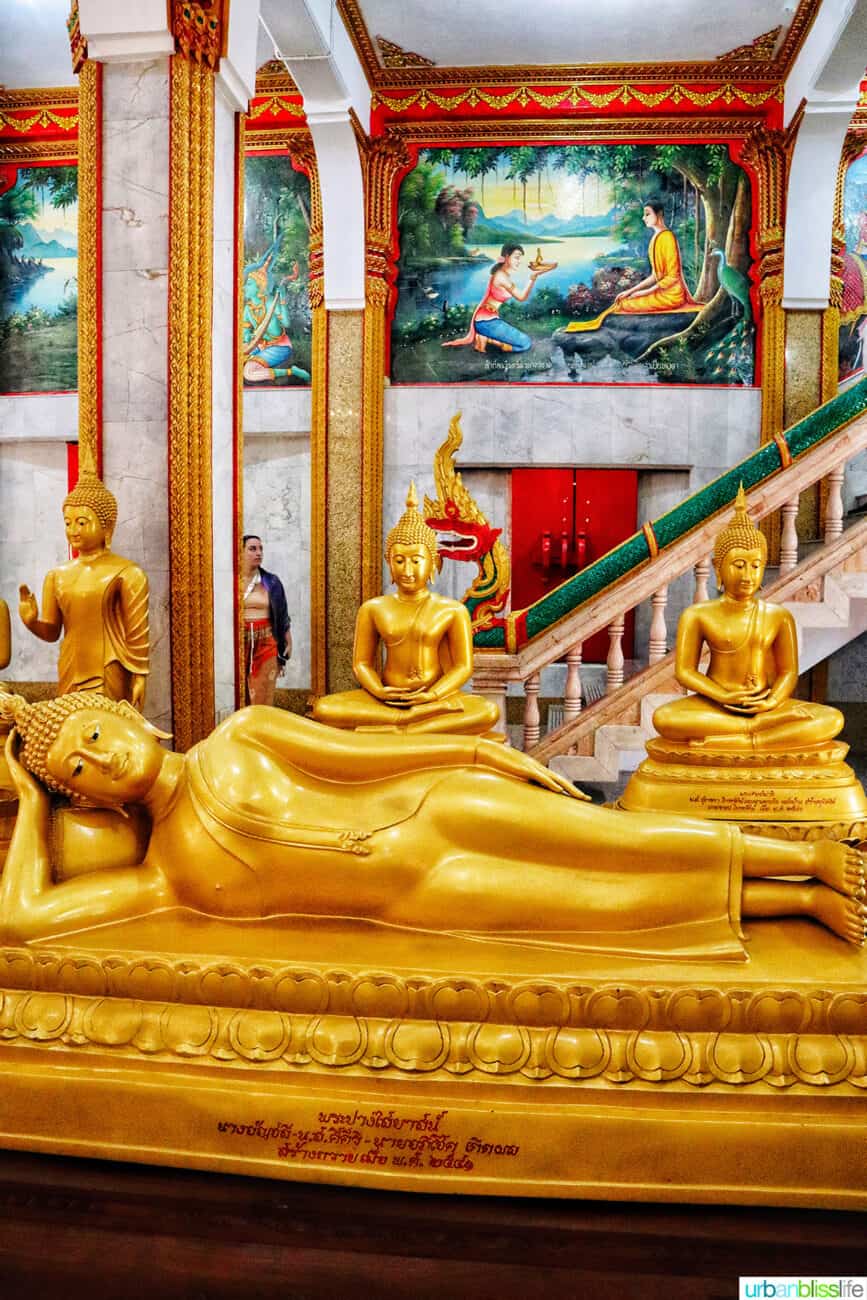 The main hall serves as a gathering place for worshipers. It's a beautiful area is surrounded by smaller shrines and statues.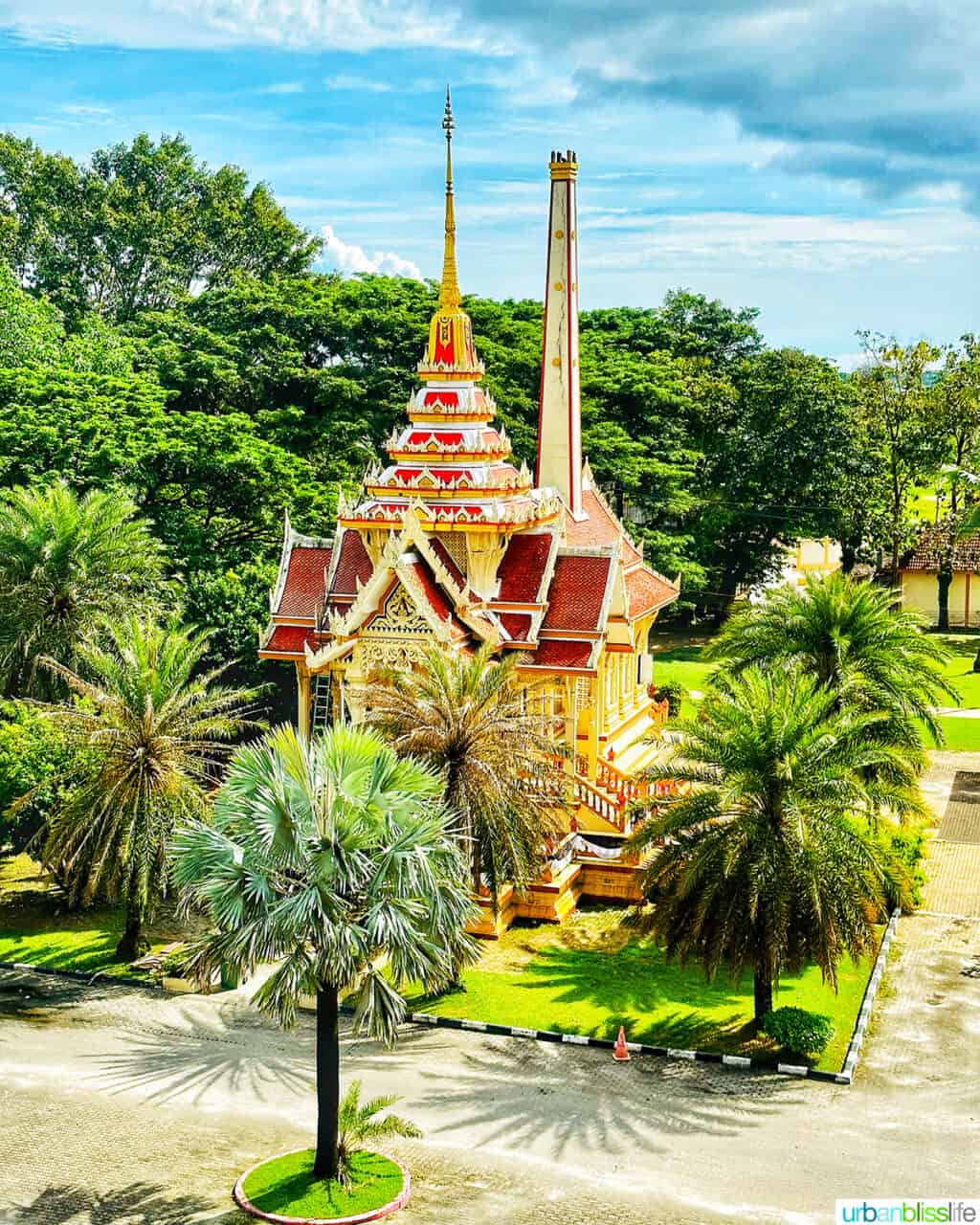 There are several other buildings on temple grounds. Each houses different religious artifacts and items of historical significance related to the temple and its history.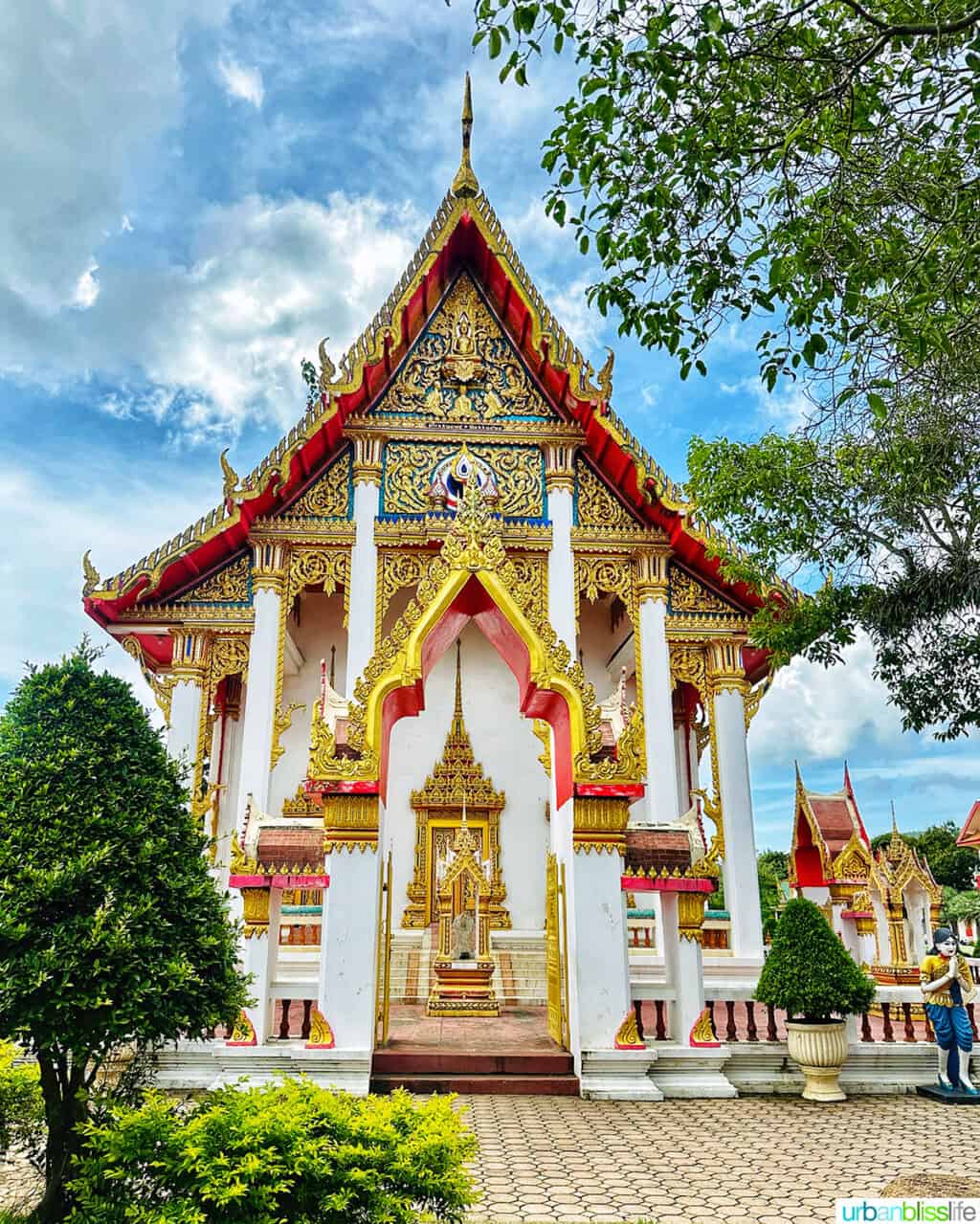 Architectural detail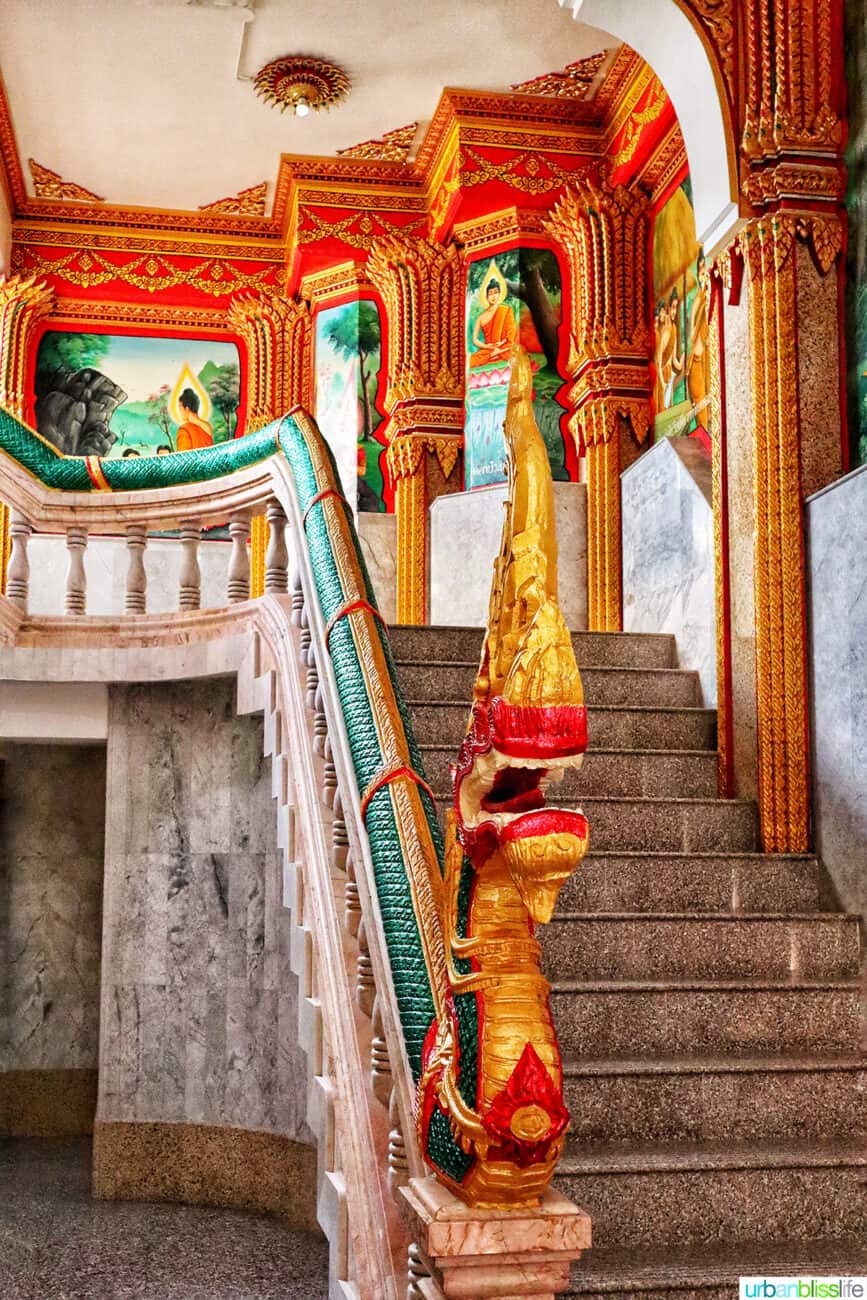 In addition to its stunning pagodas, Wat Chalong is also known for its intricate carvings and mural paintings. These adorn the walls and ceilings of the temple buildings.
The murals along the walls depict the life of Buddha, the Buddhist way of life, and Buddhist teachings. These works of art are a testament to the skill and creativity of Thai artists. And, they add to the overall beauty and ambiance of the temple.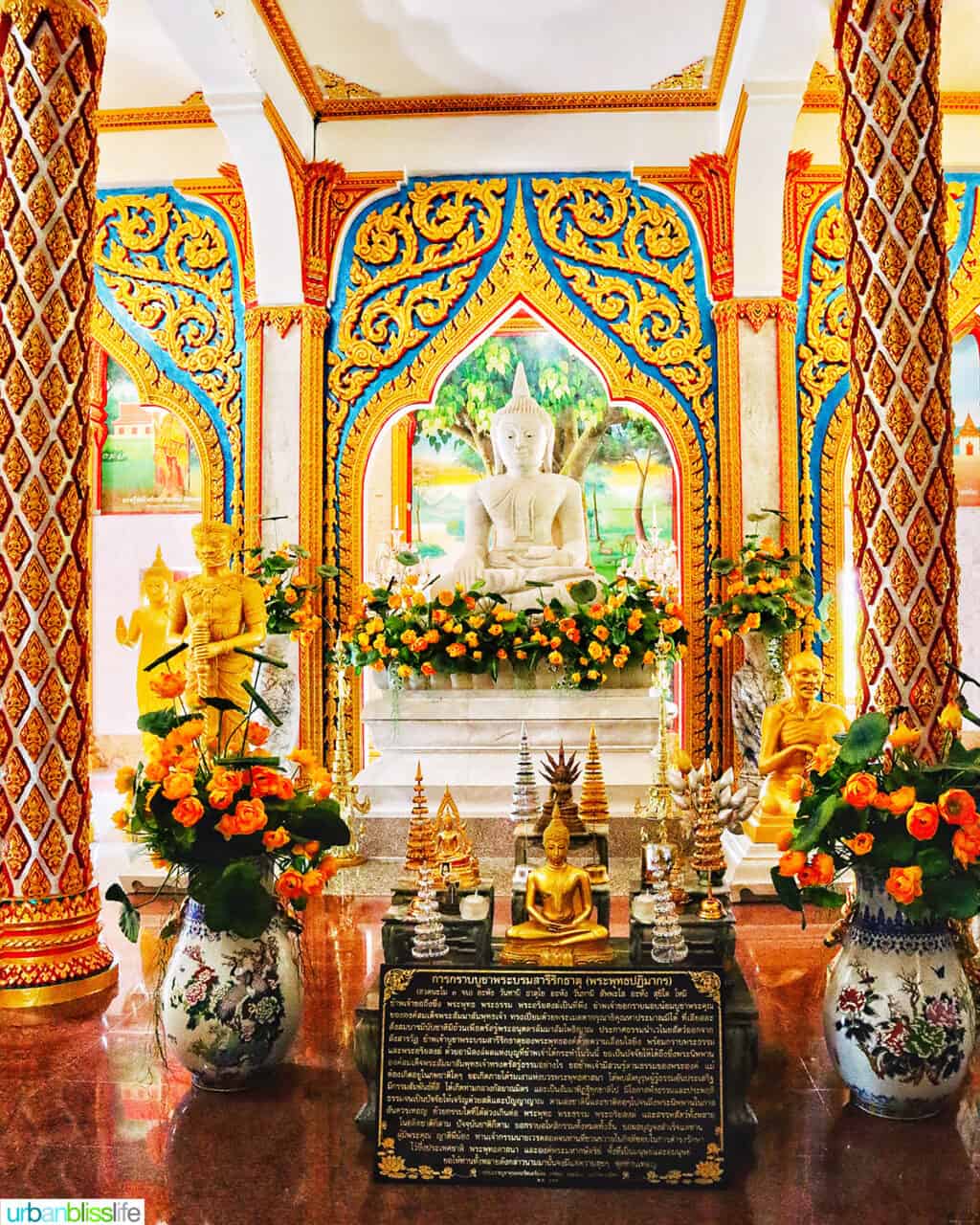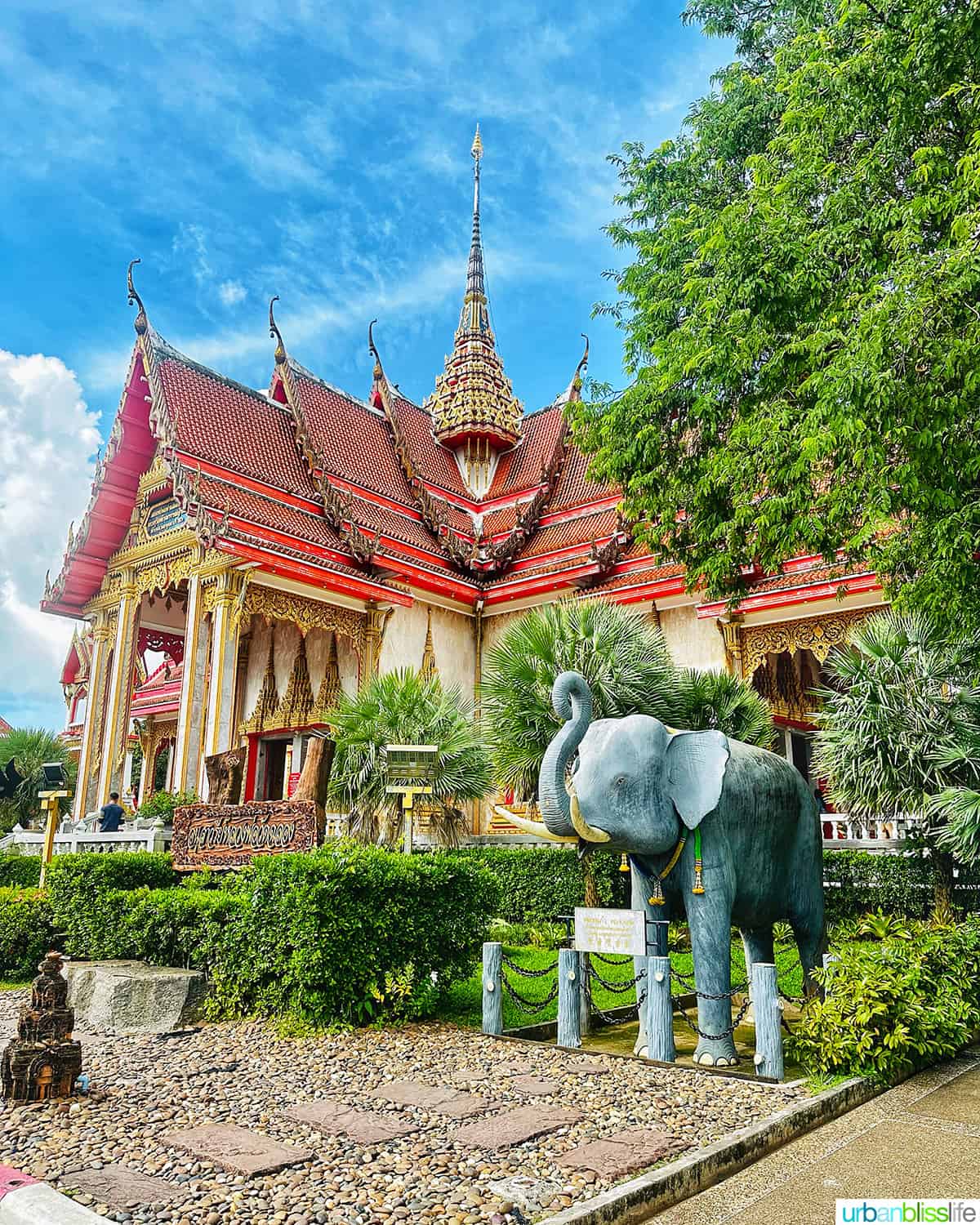 Wat Chalong Temple is a magnificent example of Thai Buddhist architecture, rich in history and cultural significance.
With its towering pagodas, golden statues of Buddha, beautiful paintings, and peaceful atmosphere, this temple is a must-visit for anyone looking to experience the true essence of Thai Buddhism.
Temple travel tips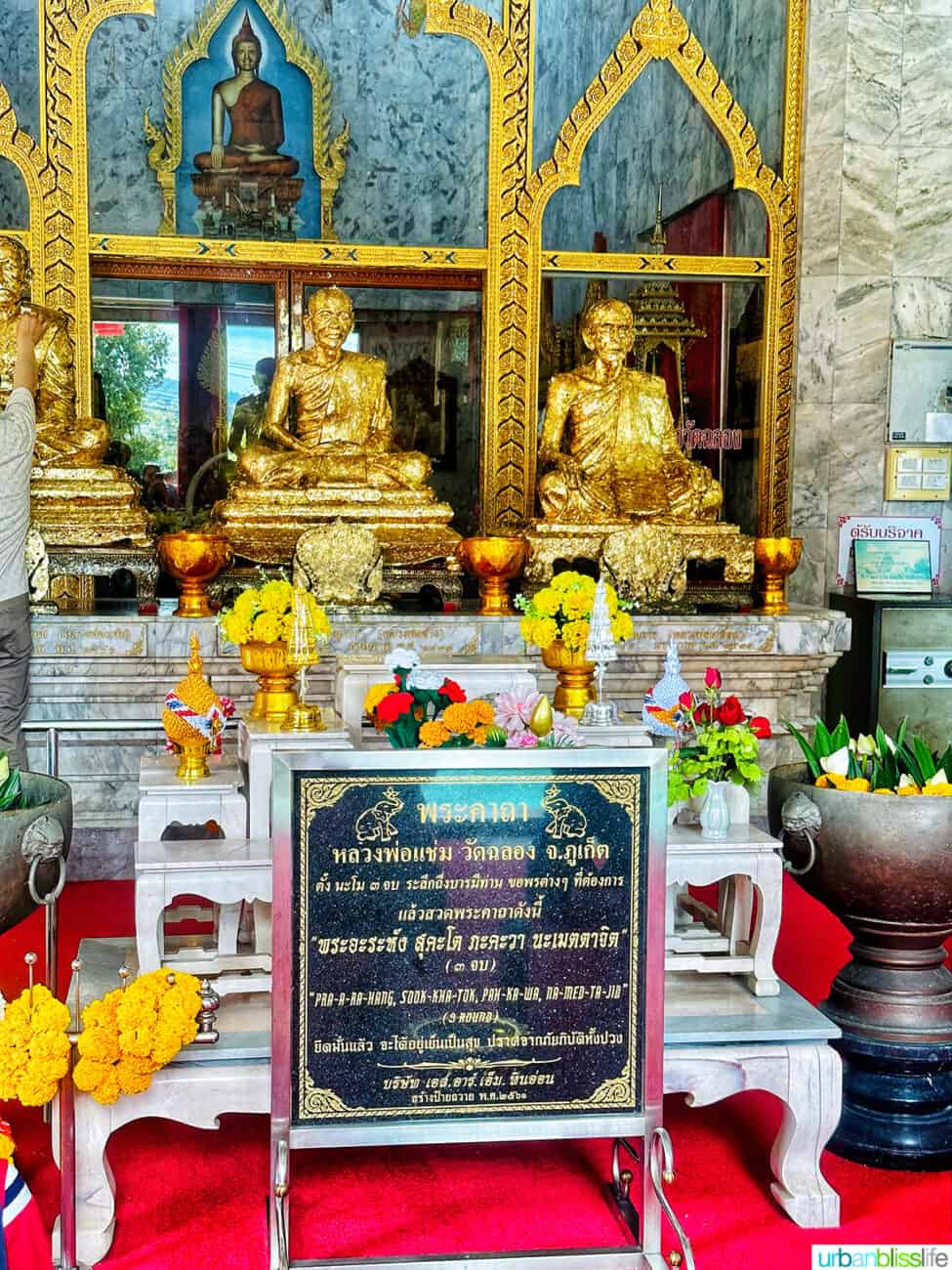 Wat Chalong FAQs
Visitors should be aware of the following information before visiting Wat Chalong Temple in Phuket.
What are the hours of operation?
Wat Chalong is open to visitors every day from 8:00 am to 5:00 pm.
Is there an admission fee?
There is free entry to visit the entire temple grounds.
When is the best time to visit?
The early morning, right after it opens. Mid-day tends to be the busiest time to visit.
Is photography allowed?
Photography is allowed within the temple grounds. However, visitors should be respectful and avoid taking photos during ceremonies and prayer times.
What should I wear when visiting a Thai Buddhist temple?
Visitors are expected to dress modestly as a sign of respect when visiting the temple. This means wearing short sleeve shirts and long sleeve shirts that cover your shoulders. Wear pants or long skirts that cover your legs. Avoid wearing sleeveless shirts such as tank tops, see-through clothes, shorts, and short skirts.

TIP: always carry a lightweight large scarf with you when traveling in Buddhist countries. You can wear it to cover your shoulders. It also doubles as a long skirt when needed.
Other important information when visiting:
Shoes: Like all Buddhist temples, be prepared to remove your shoes before entering the pagoda. Also be mindful of the signs and rules posted around the temple.

Fireworks: You may hear fireworks while you are here. They happen at random and startle many tourists, including me! Outside within the grounds of the temple complex, local people sell firecrackers and set them off near the temples. They are supposed to bring good luck or good fortune, please Buddha, and ward off evil spirits.
With these guidelines in mind, you're sure to have a wonderful and meaningful experience. Enjoy visiting this beautiful Buddhist temple in Phuket!
More Thailand travel
If you visit, please be sure to let them know that you read about it on Urban Bliss Life! And if you snap some pics, tag us @UrbanBlissLife and #UrbanBlissLife on Instagram, TikTok, Twitter, and Facebook.