When in Bangkok, Thailand, you must try the delicious pad thai at Pad Thai Fai Ta Lu. Also known as Eat Pad Thai, this restaurant has what is, to me, one of if not the Best Pad Thai in Bangkok!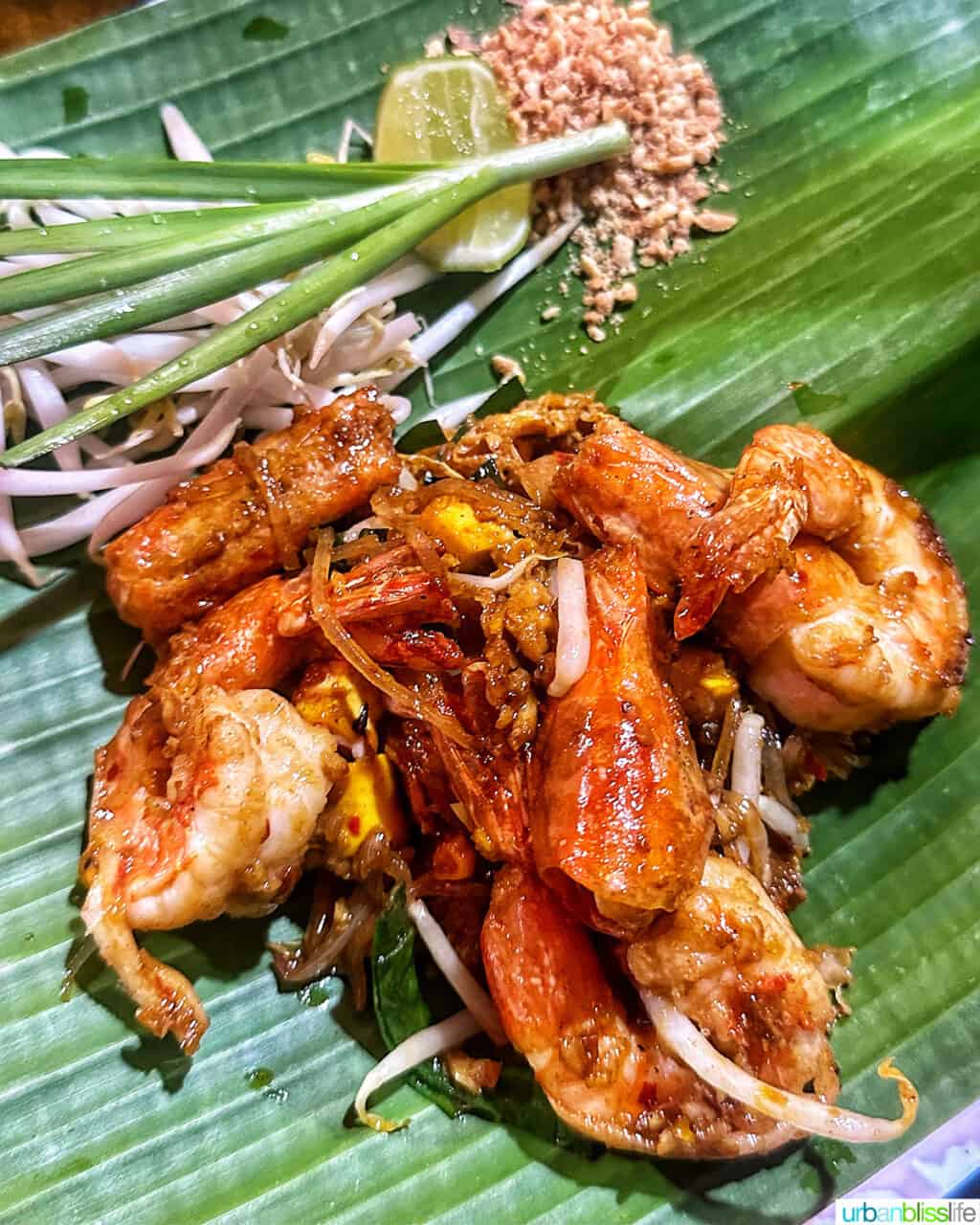 My recent trip to Thailand was an absolutely delicious one full of the best food!
It's so easy to find high quality, fresh Thai food everywhere you go, especially in Bangkok. The capitol city's food scene is like no other city I have ever traveled to. The energy, smells, sounds, flavors are all intoxicating. I already can't wait to return!
While in Bangkok, I went on a tuk tuk food tour. And one of the most delicious bites that I enjoyed was at a Thai restaurant called Pad Thai Fai Ta Lu, also known as Eat Pad Thai.
It's no wonder this is one of the best places to find good pad thai -- the clue's in the name!
Jump to:
🍤 What is pad thai?
If you're not familiar with Pad Thai, it is the national dish of Thailand. And it's become of the most popular Thai dishes in the United States.
The basic original recipe consists of rice noodles, bean sprouts, peanuts, limes, scrambled eggs, and vegetables. It can be made with any protein, such as shrimp, chicken, beef, pork, crab, or tofu.
Pad Thai sauce the perfect balance of sweet, sour, and salty. Typically it's made with tamarind paste, fish sauce, brown sugar, and lime juice. But as you'll find, there are many different versions out there.
You'll find different versions of Pad Thai everywhere in Bangkok. It's sold in restaurants, street vendors, and markets throughout Thailand. At street food stalls, you might have to wait in long lines, especially in tourist hot spots like Khaosan Road.
I had the opportunity to try a lot of pad thai during my time in Thailand. Now I am excited to share with you one of my favorite places to enjoy this popular dish!
🌟 About Pad Thai Fai Ta Lu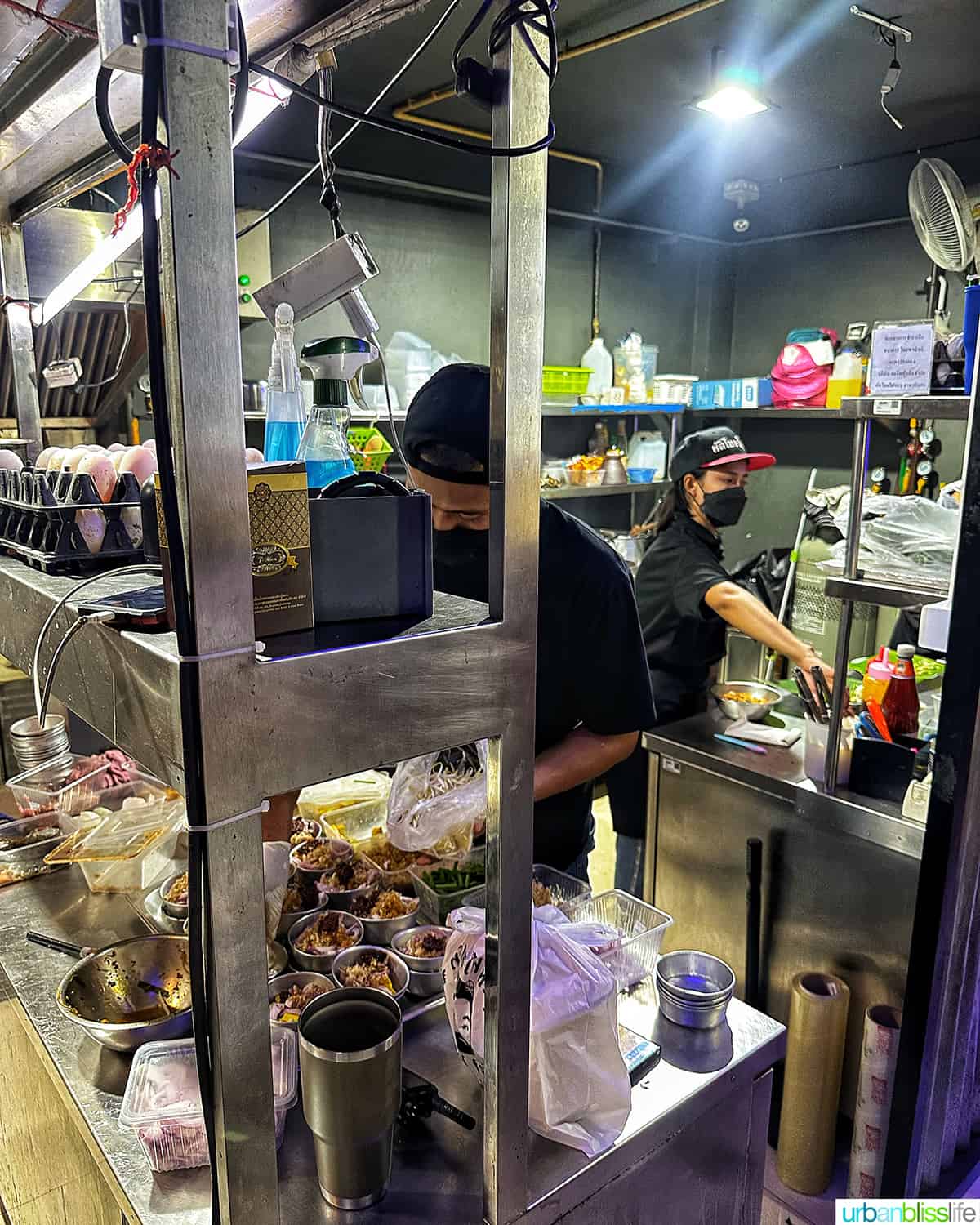 This Thai restaurant was started by Chef Andy Yang and has garnered a coveted Michelin Guide Bib Gourmand nod several years in a row. Chef Yang has been awarded Michelin stars for his New York top restaurants, Rhong-Tiam, and Table 38.
Here, the Michelin star chef serves his take on authentic Thai food.
Fai Ta Lu translates loosely to "piercing flame." The storefront resembles that of street cart or street food vendors, where you get to watch the chefs prepare variations of pad thai over flaming woks.
Then you walk upstairs to a casual space filled with tables and await your magical plate of pad thai.
Don't let the unassuming restaurant atmosphere or small menu fool you: this restaurant serves some of the best Thai food in Bangkok.
🍽 What to eat at Pad Thai Fai Ta Lu
Diners are greeted with plates with bags of pork rinds. While you're waiting for your pad thai order, order a beer for 25 baht (.74 cents USD), which pairs deliciously with the crunchy, salty pork rinds.
Pad Thai Fai Ta Lu serves several different variations of this traditional Thai dish.
You could start by trying their signature basic Pad Thai Fai Ta Lu. It's made with grilled Berkshire pork collar and is just 100 baht ($2.94 USD).
Or go for the Pad Thai Fai Ta Lu Moo Kob (220 baht; $6.49 USD) topped with crispy pork belly, served with sauces including mustard, dark soy, and chilli.
But the best on this Thai menu, in my opinion, is the one that I ordered: the popular Pad Thai Fai Ta Lu Shrimp (220 baht; $6.49 USD). It's made with large, succulent, fresh prawns that have been marinated in plum sauce. The shrimp is served over a light helping of rice noodles, alongside bean sprouts, lime wedges, and a side of spicy sauce.
Is it the perfect pad thai? It's darn close. It's absolutely delicious. And all of the pad thai are served on banana leaves.
✨ Know before you go
Two things to note about dining at Pad Thai Fai Ta Lu:
If you're coming here from the US, be aware that servings are on the small side compared to what you might be used to getting in the US. That said, I found each serving to be just the right amount.
Another difference in the pad thai served here: the emphasis is on the protein, versus a huge mound of stir-fried rice noodles. I actually loved this. The shrimp flavor really shined in this dish and we weren't weighed down by too many noodles. That meant more room for the rest of our food tour!
👩🏻‍🍳 Pad Thai FAQs
Who invented Pad Thai?
Thailand's national dish was created in the 1930s as part of a nation-building campaign. While noodles were introduced from China centuries prior, the government wanted a dish featuring common ingredients in Thai cuisine. So Pad Thai was developed, using affordable and easily accessible ingredients such as dried shrimp, limes, bean sprouts, and peanuts.

Then during World War II, another resurgence of this Pad Thai popularity came about to help protect the rice resources of the country. As Thailand started to face economic hardships, Prime Minister Field Marshal P. Phibunsongkhram started a campaign encourage Thai people to eat more noodles, thus saving the country's rice reserves.
How much is pad thai in Bangkok?
As with most Thai cuisine, you can find pad thai for a reasonable price. At Pad Thai Fai Ta Lu, the current menu prices range from 100 to 220 baht.
🍽 Eat at Pad Thai Fai Ta Lu
I really loved the delicious foods we tried at Pad Thai Fai Ta Lu. It's a great place to dine on your own or with a small group of friends. The attire is casual, with friendly staff, and the vibe is fun and lowkey.
There are a few different locations, but the main restaurant is located at 115/5 Dinso Road, Bowon Niwet, Bangkok. This is the restaurant we dined at, and the one that you see in my photos in this article. It's down the street from the Democracy Monument traffic circle, and a short drive from Phra Nakhon and the Grand Palace.
Hours: Open daily, from 10:00 a.m. to 8:00 p.m.
If you visit, please be sure to let them know that you read about it on Urban Bliss Life! And if you snap some pics, tag us @UrbanBlissLife and #UrbanBlissLife on Instagram, TikTok, Twitter, and Facebook.
More travel articles
We'll have more Thailand travel articles coming soon! In the meantime, if you're interested in more Asia travel, check out our Japan travel articles.
Or visit our full index of Travel articles.