If you're traveling to Bangkok, Thailand, you'll definitely want to add some temples to your itinerary. Here are some of the best Bangkok temples to visit.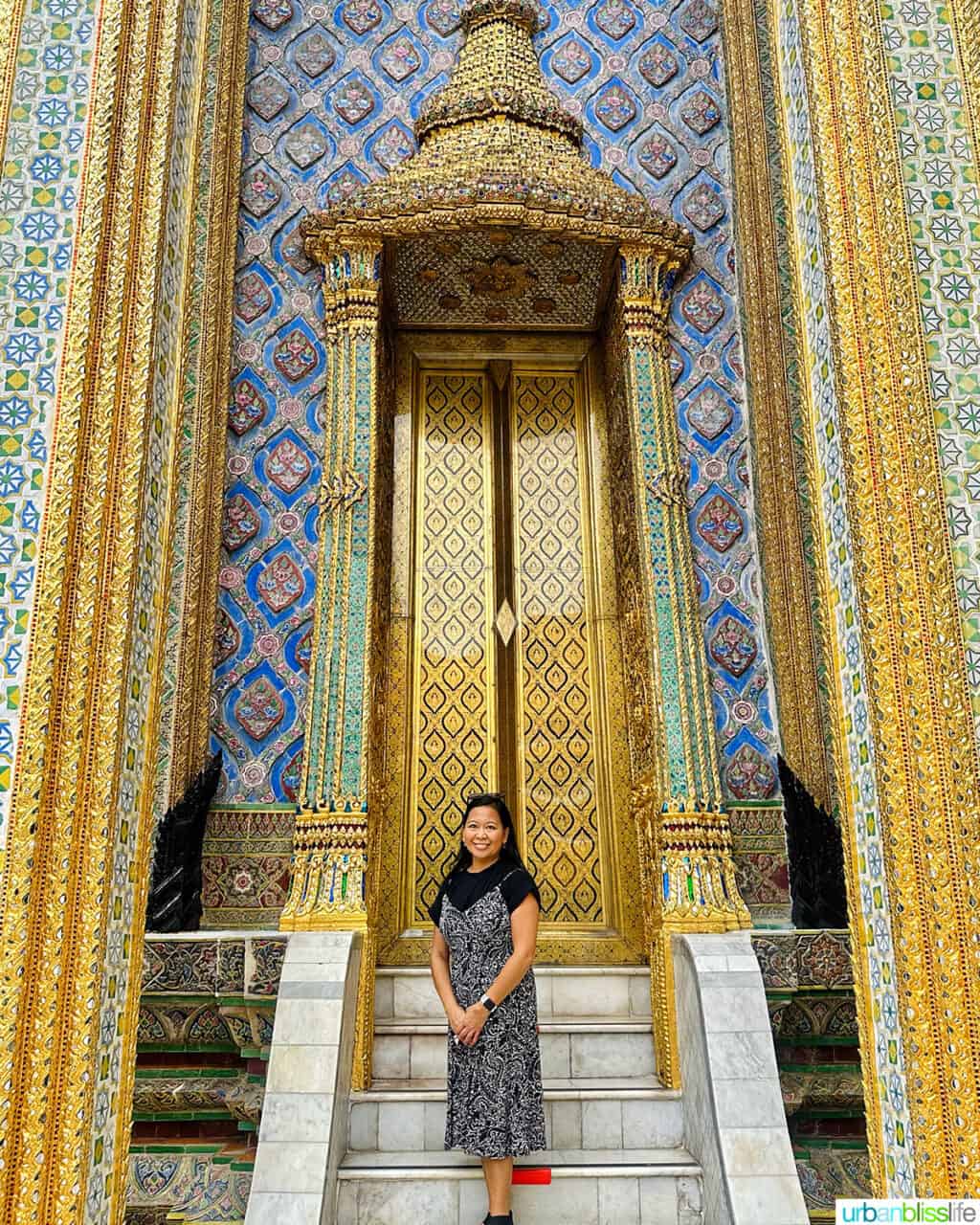 Bangkok, Thailand is one of the most exhilarating cities in the world. In fact, it has more visitors than any other city in the world each year!
With a vibrant street food scene (read about the Best Pad Thai in Bangkok), rich Thai culture, and bustling international business scene, it's a great city to add to your travel bucket list.
One of the best things about my recent trip to Thailand was visiting all of the amazing, stunning Bangkok temples. With such rich history in Thai culture and religious significance, you could spend an entire week visiting all of Bangkok's temples.
I've chosen a few of the best temples of Bangkok from my visit to share with you.
Jump to:
✨ About temples in Bangkok, Thailand
Thailand is home to more than 40,000 Buddhist temples. And the capitol city of Bangkok has some of the most beautiful temples in the world.
In Thailand, temples are known as wats. So anytime you see a building with the term "wat" at the beginning, that is a temple.
These temples play an important part in Thai culture. Locals come here to pray, to see advice from monks, and often to ask for things like good health and prosperity.
As a visitor, you will find each temple different from the next. While every Bangkok temple is unique, most have a pagoda, known as a chedi. Most Thai temples also have a Khmer-style tower, known as a prang.
Some temples have admission fees while others are free to enter.
All have clothing requirements, although some have a strict dress code compared to others. Especially in terms of how much of your arms and legs can show. Be sure to read the full Bangkok Temple FAQ section below before you visit any of these famous temples in Bangkok.
🏩 Bangkok temple FAQs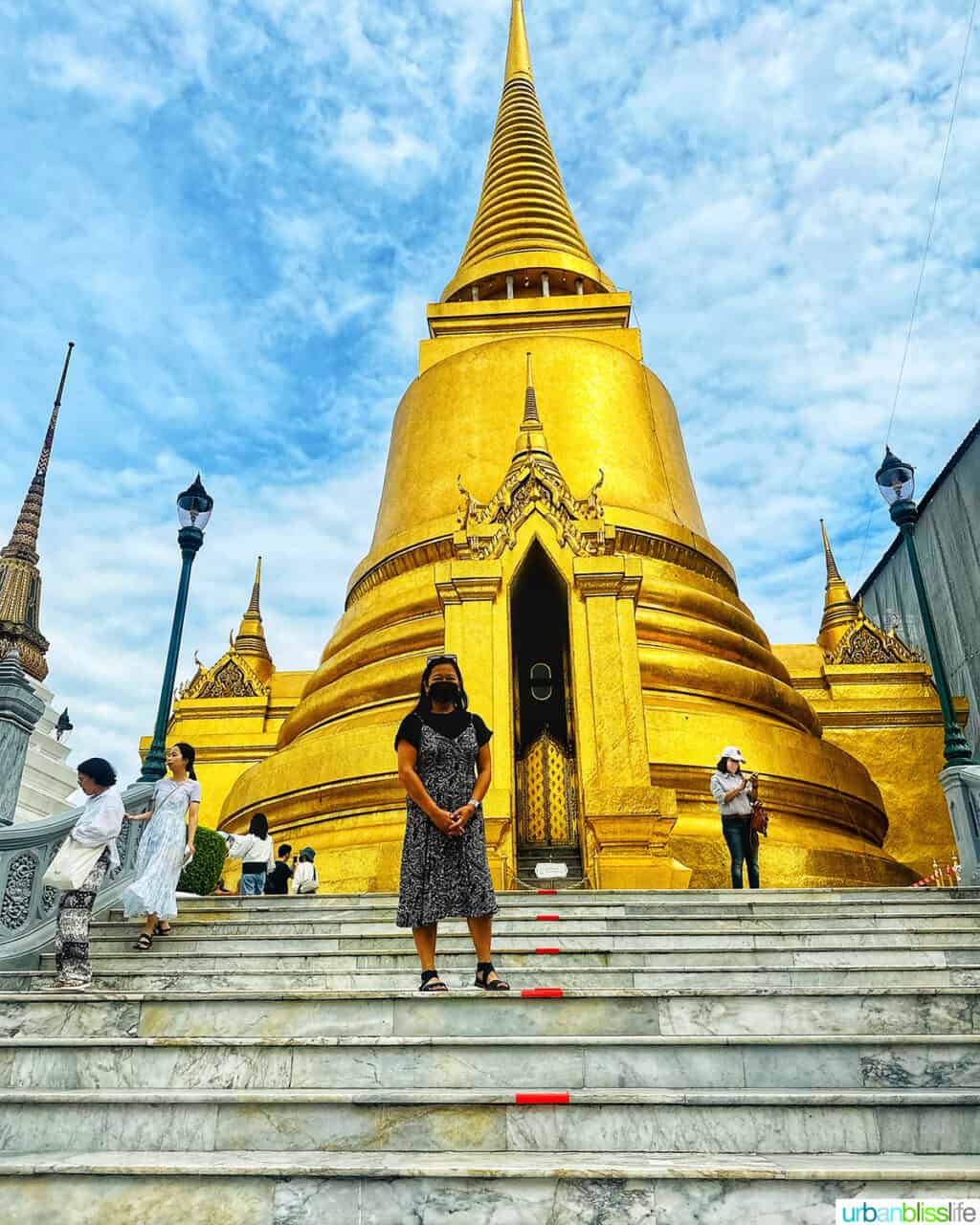 What shouldn't you wear to visit temples in Thailand?
You should not wear shorts, tank tops, mini skirts or skirts above the knees, torn or ripped jeans, see-through clothing, or revealing clothing.
What should you wear to temples in Bangkok?
Visitors should wear modest clothing that covers up most of the body. Some temples are stricter than others, but it's safe to wear long pants or dresses that cover the knees, and shirts that cover the shoulders. Be sure to wear shirts, skirts, and dresses that are not too revealing, and not see-through.
What is proper temple etiquette?
When visiting Thai temples, you will take off your shoes. Some people bring socks with them to wear inside temples, but many go barefoot. Keep your head lower than the Buddha and sit with your feet facing away from the Buddha, as a sign of respect. Talk quietly. Abide by each temple's specific photography rules; some allow photos within the temple while others do not.
What is the tallest Buddha in Thailand?
The tallest Buddha statue in Thailand is the Phra Buddha Maha Nawamin statue in Ang Thong province that is 92 metres high.
What's the best way to see temples in Bangkok?
I loved taking a scooter tour which took us to a few temples. We also took a canal tour on a longtail boat; some of the canal tours can take you to temples that are a little farther out from the city center. You can also sign up for a designated temple tour, which can be a walking tour or a van group tour.
Here is a quick guide with five amazing, must-see temples that are absolutely worth visiting. These temples were some of the best things I loved about my recent trip to Thailand.
Have you visited these before? Let me know in the comments!
1. Wat Phra Kaew: Temple of the Emerald Buddha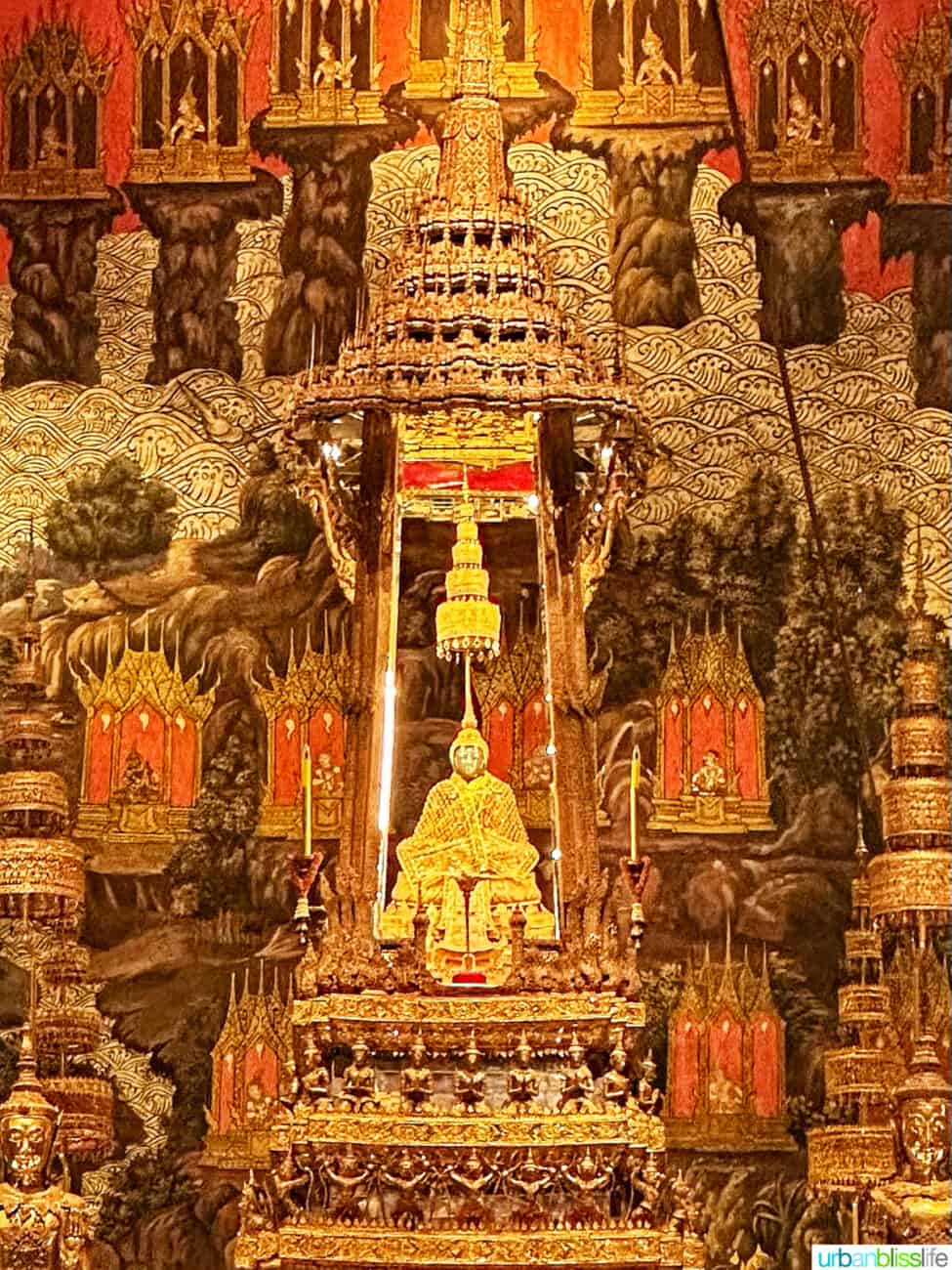 One of the most famous temples in Bangkok is Wat Phra Kaew (also known as the Temple of the Emerald Buddha). This ancient temple is often regarded as the most sacred Buddhist temple in Thailand.
Located within a sprawling temple complex on the grounds of the Grand Palace, many important state and royal ceremonies are held within the Wat Phra Kaew main temple each year. The first king of the Chakri dynasty, Rama 1, ordered construction of the temple in 1783.
The Emerald Buddha statue inside is fairly small: it's just 26 inches high and 19 inches wide. This buddha is carved from a single piece of grey-green jasper found in Africa and India (so it's not actually made from Emerald, as the name might lead you to believe). This buddha is shown meditating while seated in the virasana yoga position, wearing fine gold cloth and diamonds. Three times a year, the Thai king changes the Buddha's costume according to the new season.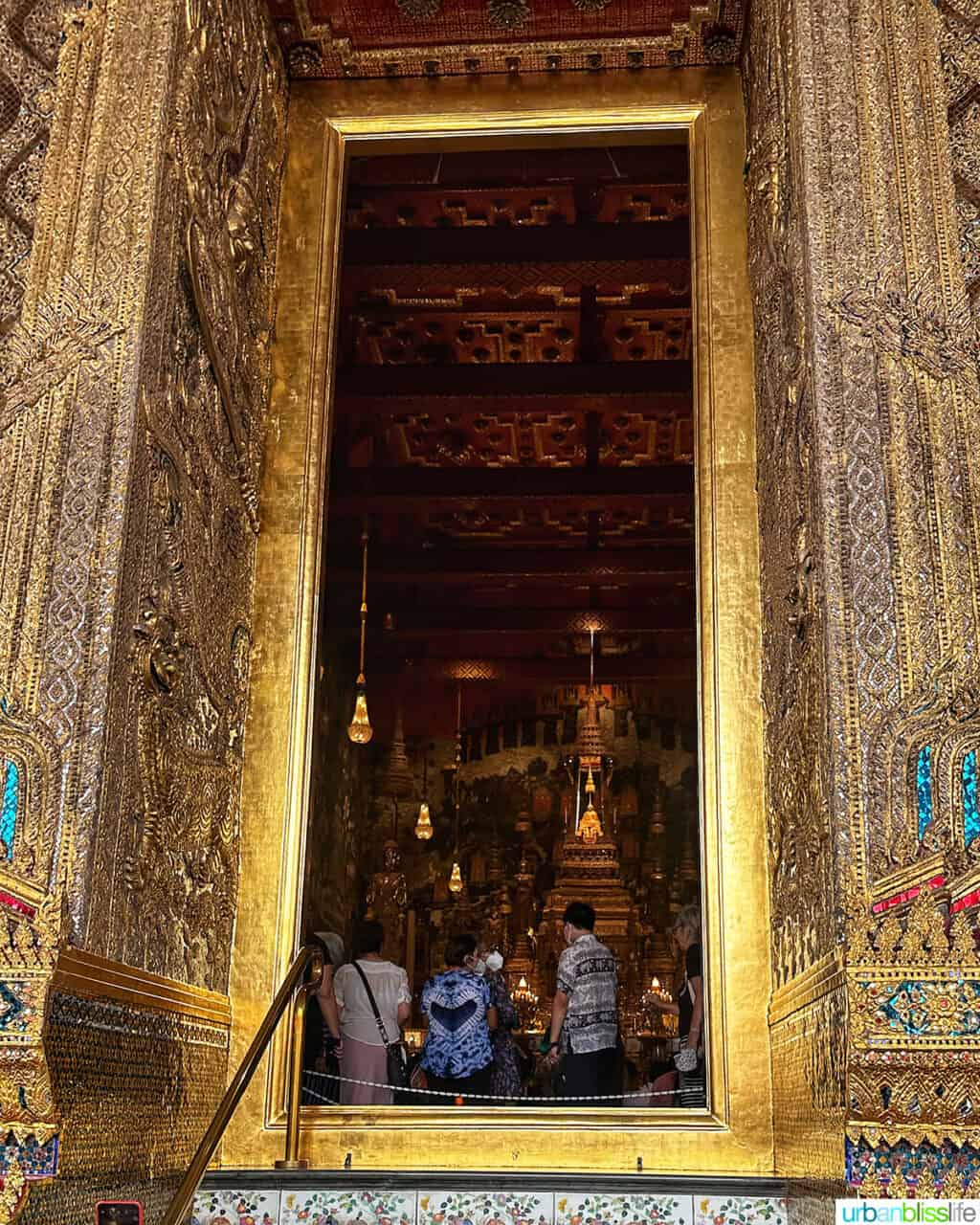 Photography tip: You are not allowed to take any photos of the Emerald Buddha or any other photos inside the temple. However, there is a tall window where you can see the Emerald Buddha from outside of the temple and you are allowed to take photos from here.
Since this is located within the Grand Palace, the entrance fee is likely the most expensive you will find compared to other temples.
Wat Phra Kaew
Na Phra Lan Rd, Phra Borom Maha Ratchawang
Phra Nakhon, Bangkok 10200, Thailand
Entrance fee: 500 baht per person ($15-$16 USD)
Open daily from 8.30 am to 3.30 pm
2. Wat Pho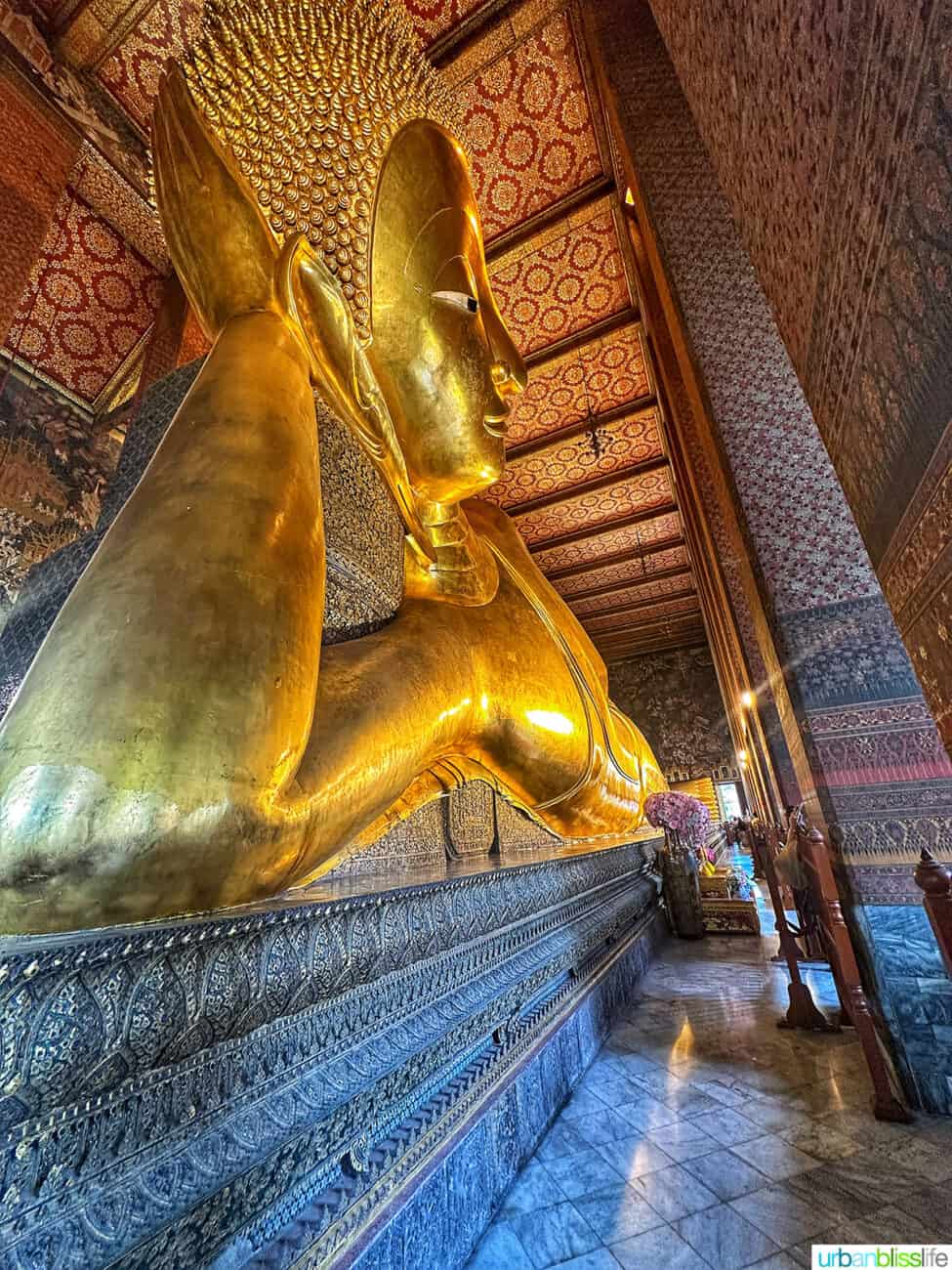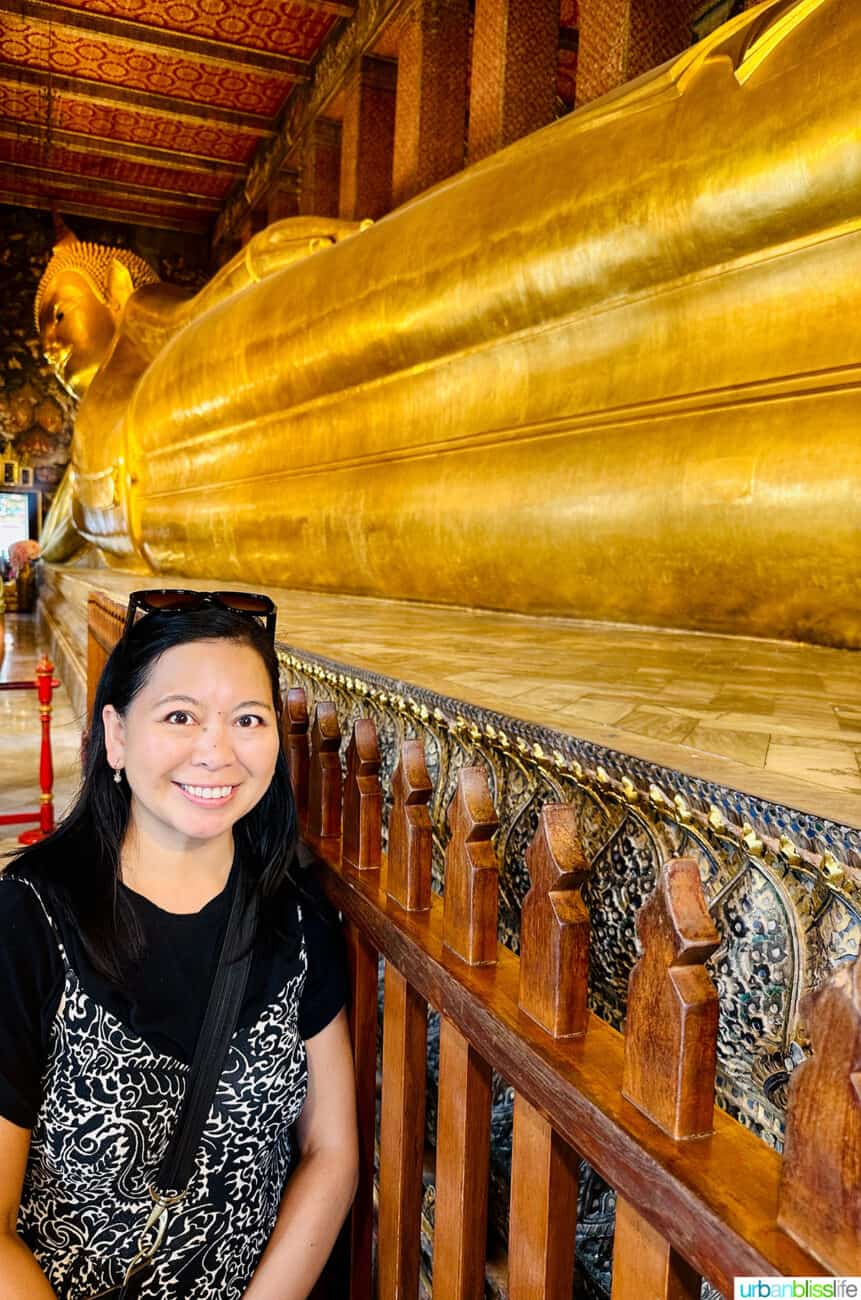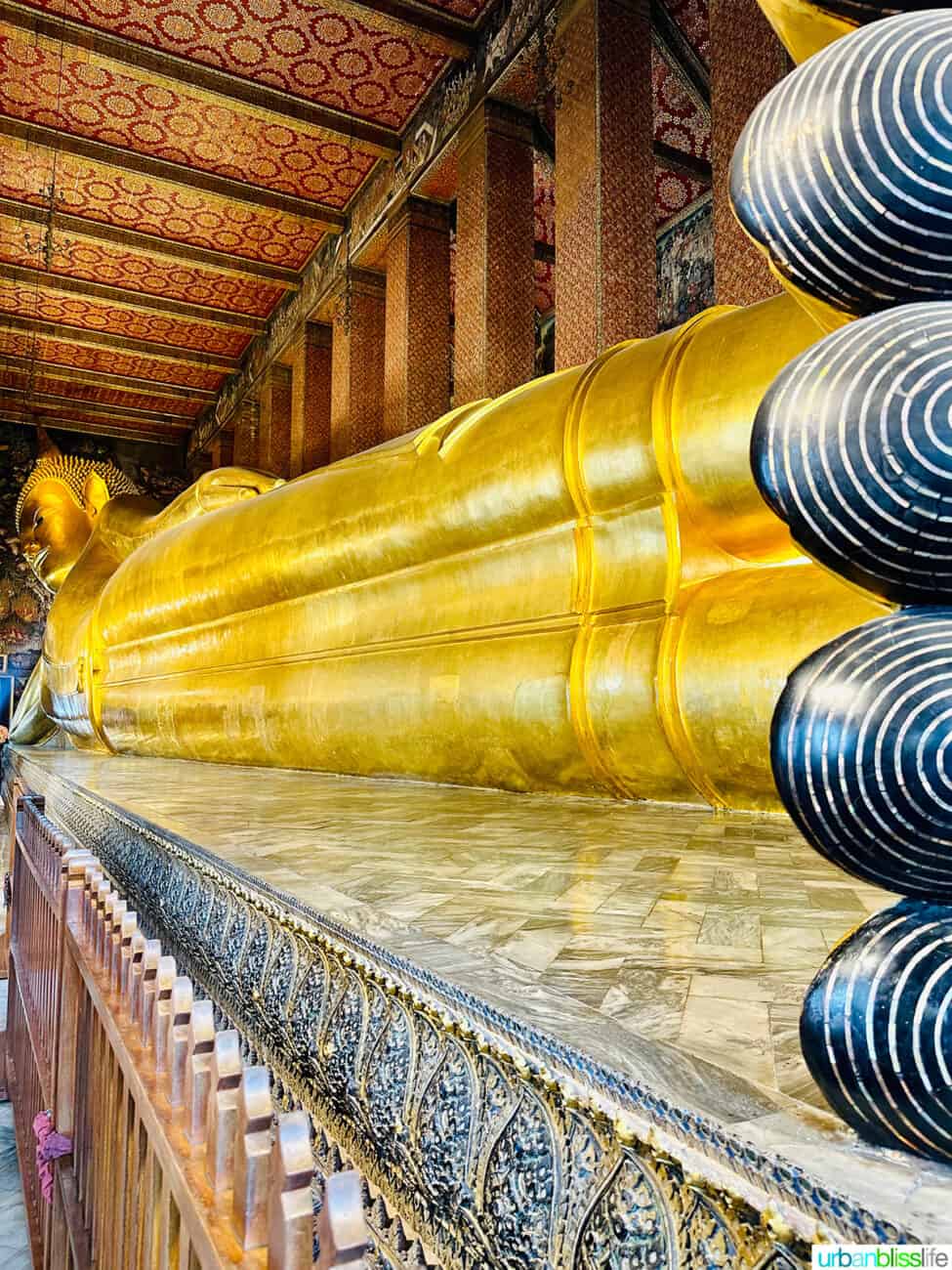 Wat Pho (official name: Wat Phra Chetuphon Wimon Mangkhalaram Ratchaworamahawihan) is known for being the Temple of the Reclining Buddha. It is located just south of the Royal Grand Palace. The name comes from a monastery in India where Buddha is believed to have lived.
One of the oldest temples in Bangkok, Wat Pho is surrounded by four impressive chedis (pagodas) that were designed in dedication to the four Chakri kings.
Built in 1832, the Reclining Buddha – known as Phra Buddhasaiyas – is made from brick and plaster covered in gold leaf. Its eyes and feet are engraved with mother-of-pearl, and the feet are covered in auspicious symbols. Thai etiquette states that one should never point the soles of your feet at other people, and this statue is one of a very few exceptions to that rule.
Fun fact: Wat Pho is also home to the very first official Thai massage school.
Wat Pho
2 Sanam Chai Rd, Phra Borom Maha Ratchawang
Phra Nakhon, Bangkok 10200, Thailand
Entrance fee: 200 baht (just over $2 USD)
Open daily from 8 am to 6.30 pm
3. Royal Wat Paknam Phasi Charoen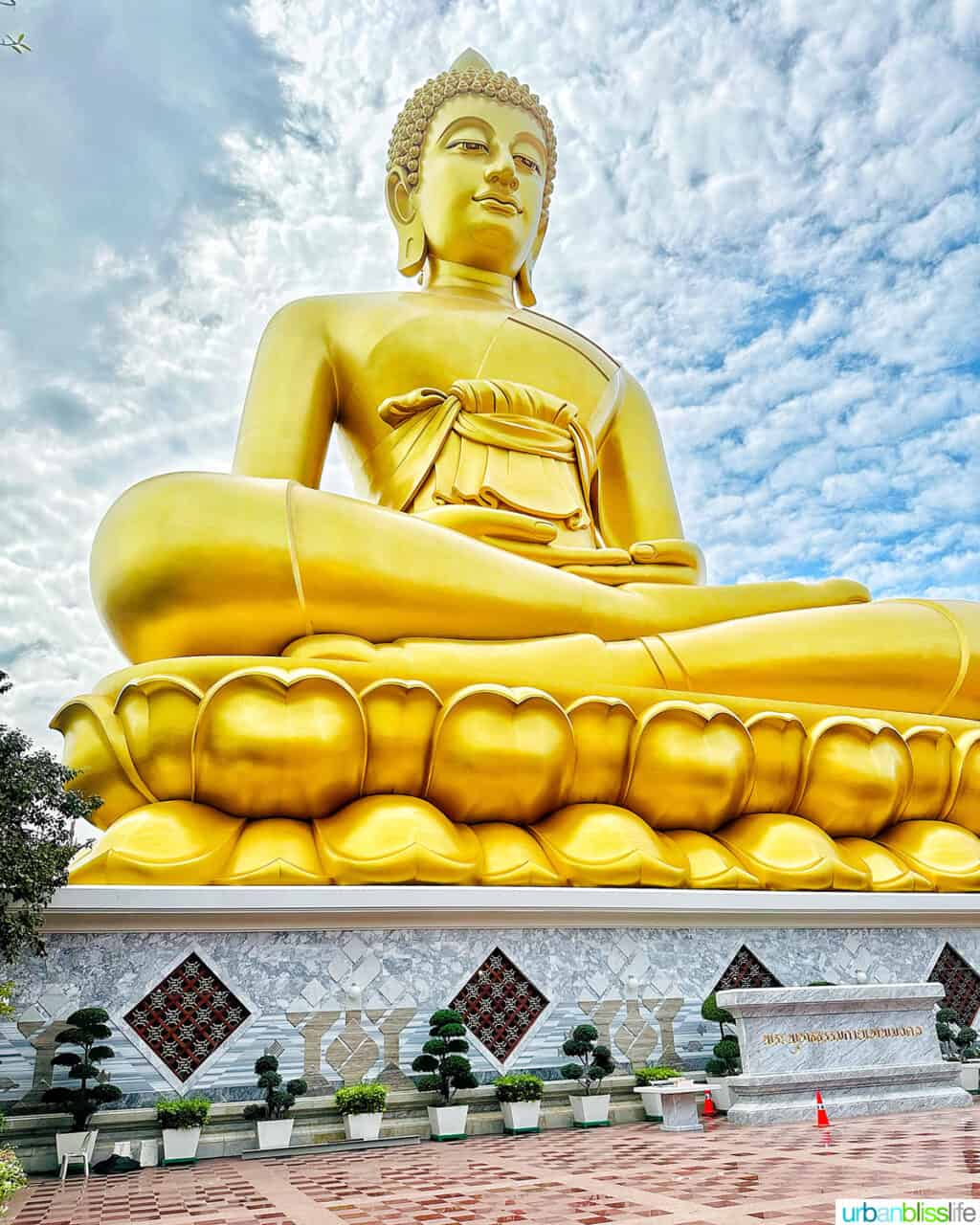 This royal temple dates back to 1610, and is home to one of the newest and largest Buddha statues in Bangkok. Located on the outskirts of Bangkok, it's about a 15 to 20 minute drive from the city center, but the massive gold Buddha statue makes it absolutely worth the trip!
Or, do what I did: take one of the canal tours by longtail boat. These take you along the canals that flow from the banks of the Chao Phraya river. Depending on which tour you take, Wat Paknam is usually one of the stops along the tour.
Construction of this imposing Buddha statue began in 2017 and was delayed due to the pandemic. But now that it is completed, this magnificent Buddha statue stands at over 226 feet tall -- as tall as a 20-story building. It truly is a sight to see as the boat winds around the canal.
The Buddha statue at Wat Paknam is made of copper and painted gold, and sits in a seated lotus posture. Parts were produced in China before being shipped to Thailand to be assembled.
By the way, you'll notice I am wearing shorts and a capsleeve top in the photo above. This is because I did NOT plan to go inside any temples on this day. I did a longtail boat tour just a few hours before I was scheduled to fly out of Bangkok and back to Portland, Oregon, so I was dressed for moving quickly around the city and throughout numerous airports :) .

Royal Wat Paknam Phasi Charoen
300 Ratchamongkhon Prasat Alley
Pak Khlong Phasi Charoen, Phasi Charoen
Bangkok 10160, Thailand
No entrance fee
Open daily 8:00 am to 6:00 pm
4. Wat Arun Ratchawararam (Temple of Dawn)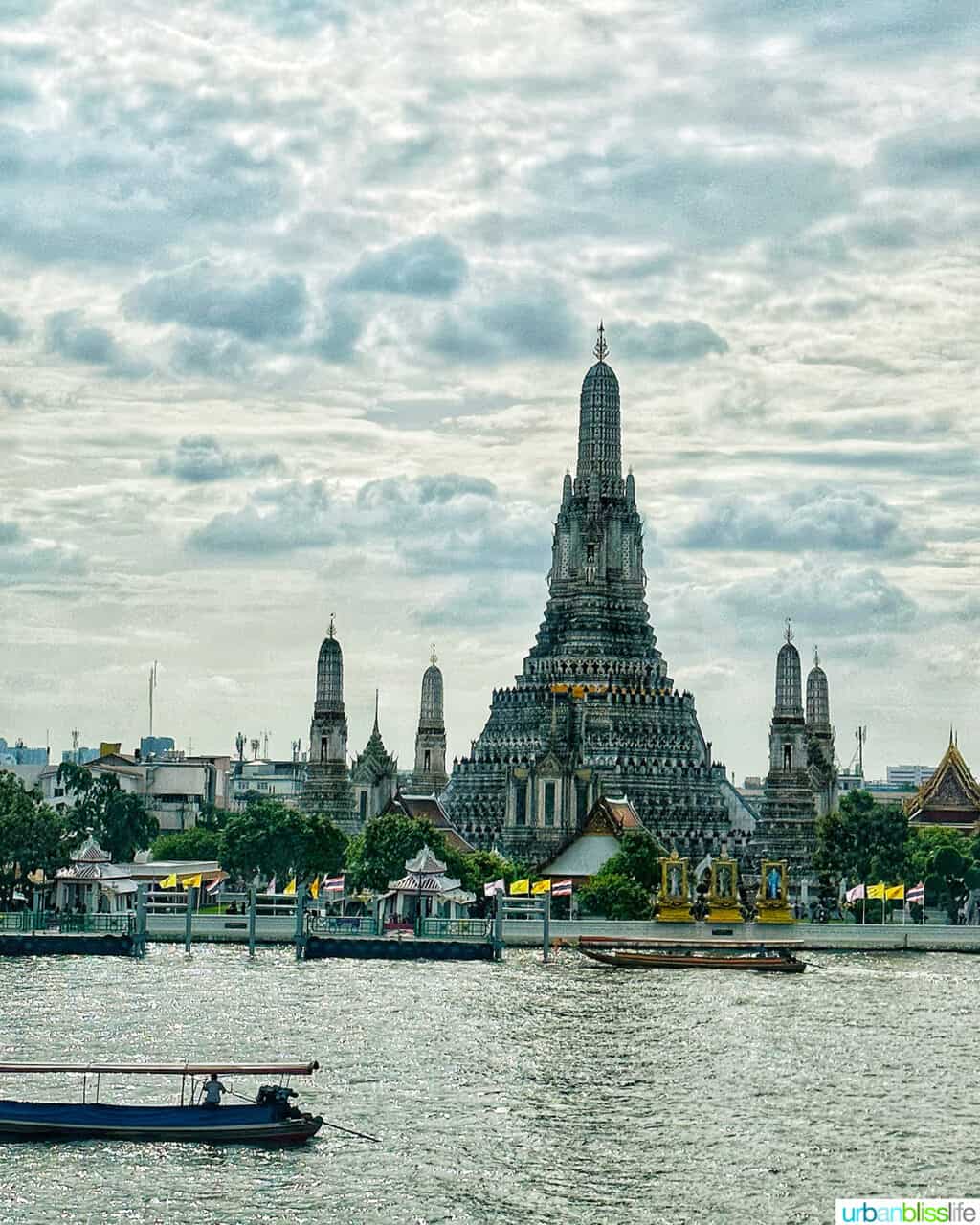 Wat Arun is one of the most iconic Bangkok temples. Located on the west bank of the Chao Phraya River, on the Thonburi side, you can see its impressive tower from across the river at the Grand Palace and Wat Pho.
This ancient temple dates back to the Ayutthaya period. It's considered to be a Royal Temple of King Rama II, of the Chakri Dynasty.
Built with white bricks and decorated ornately with porcelain, seashells, and Benjarong dishes from China, Wat Arun's tower was considered as one of the most beautiful and the largest of that era.
If you're in decent shape, climb the steep stairs up to the balcony on the main tower. The views of the city from there are worth it!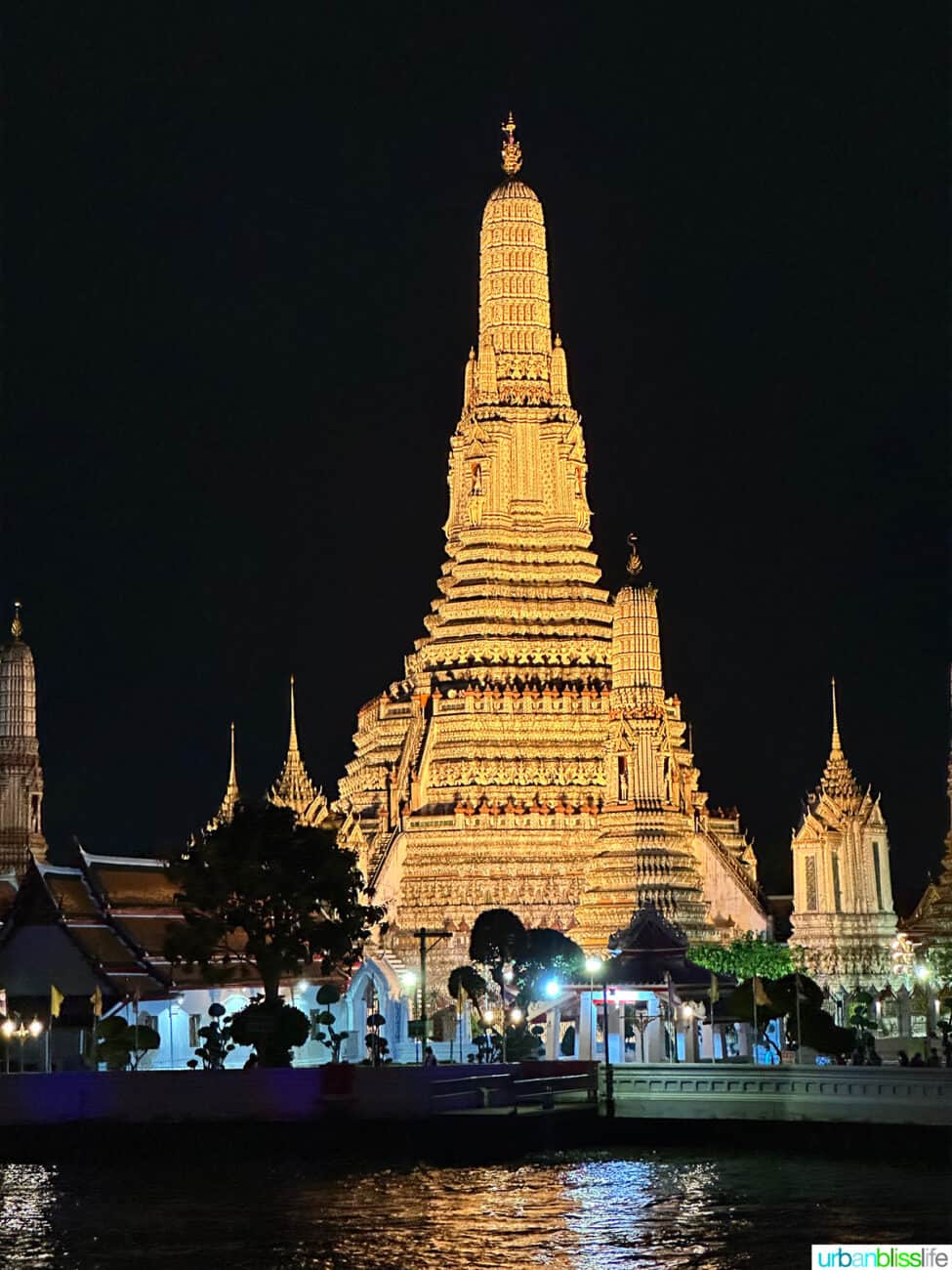 Wat Arun
34 Arun Amarin Road, Wat Arun
Bangkok Yai, Bangkok, Thailand
Entrance fee: 100 THB (2.90 USD)
Open daily from 9:00 AM until 6:00 PM
5. Wat Prayurawongsawat
If you are looking to escape the crowds, I highly recommend a visit to Wat Prayun, also known as Wat Prayoon (official name: Wat Prayurawongsawat Worawihan).
This 19th century Buddhist temple complex is located on the quieter Thonburi side near the Memorial Bridge in Bangkok. So it's not as inundated with tourists as the other temples in Bangkok, but it's definitely worth a stop.
There are narrow staircases leading up to the top where you can explore the inside of the towering white chedi. A fun activity for visitors with children: you can feed the turtles in the Khao Mo Garden on temple grounds.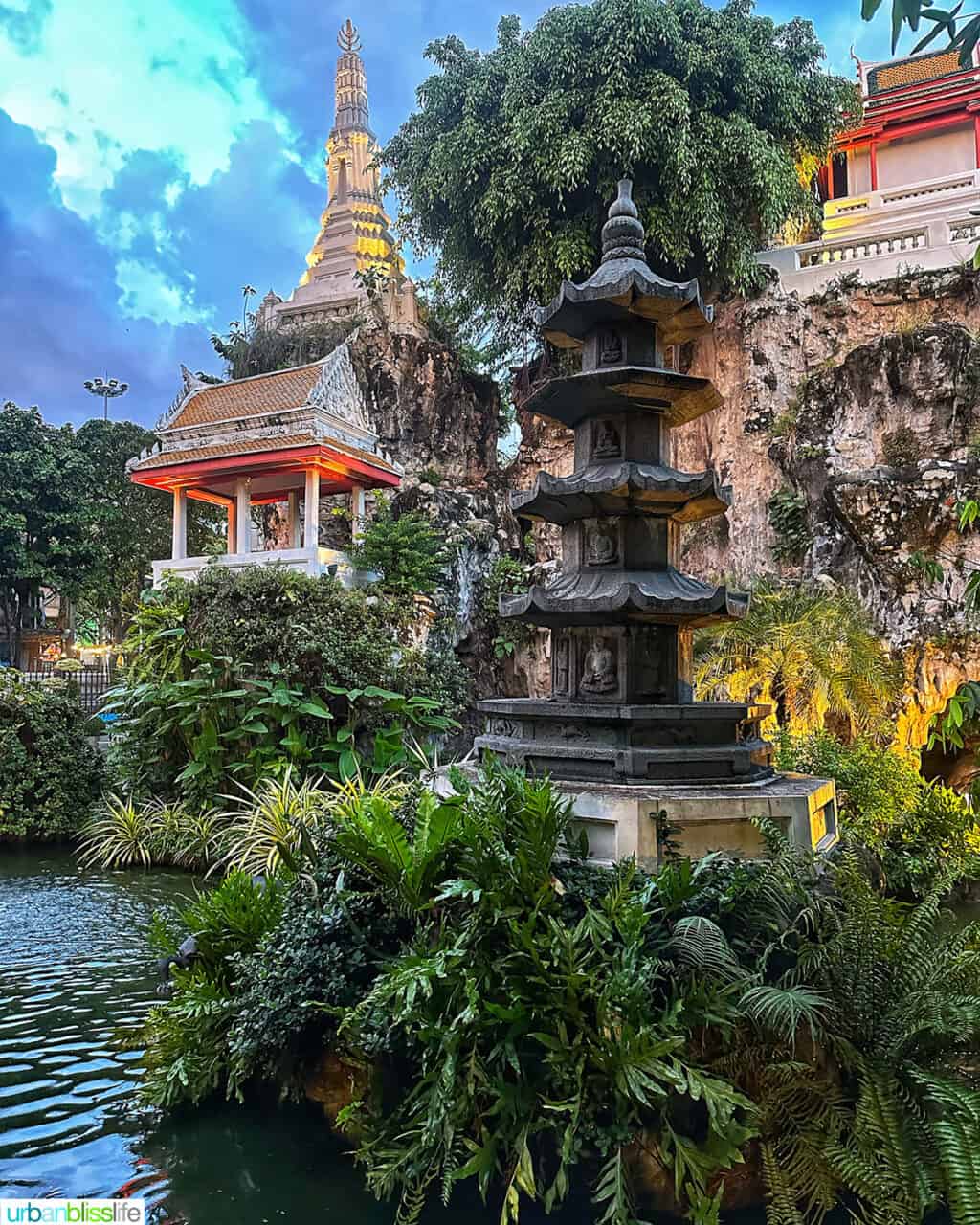 Wat Prayun
24 Prajadhipok Rd
Bangkok, Thailand
No entrance fee
Open daily from 7:00 am to 6:00 pm
Other temples worth seeing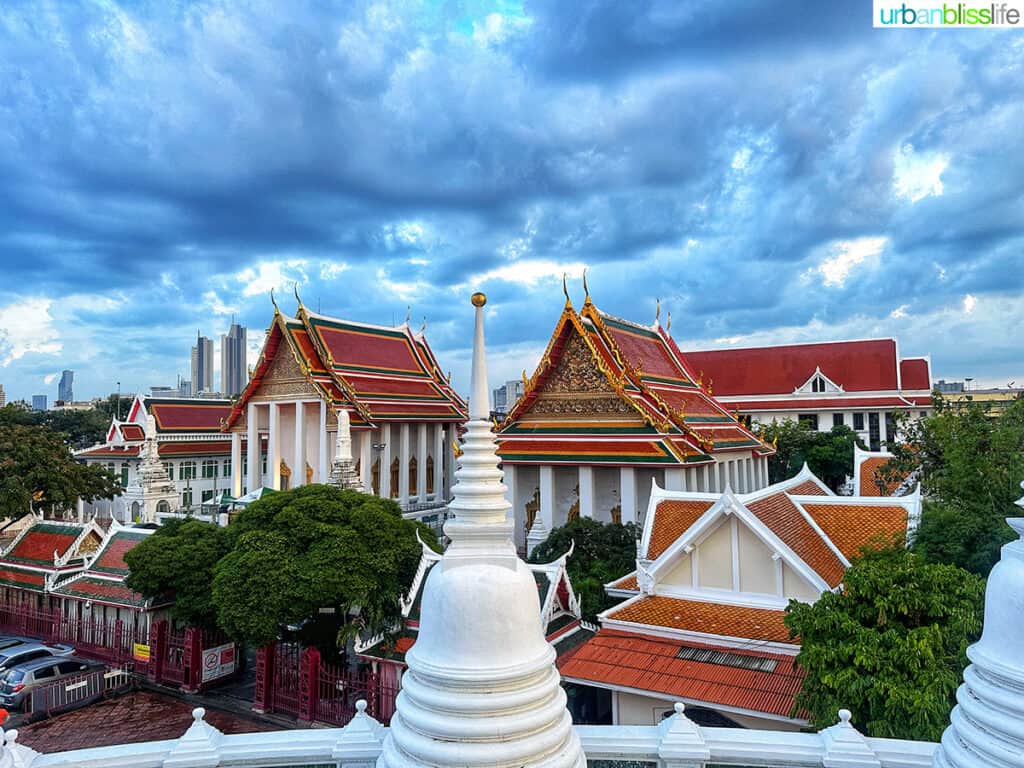 So many Bangkok temples, so little time! If you have time to fit more temples into your travel itinerary, here are a few more temples worth visiting.
Wat Saket - Temple of the Golden Mount
Located in the Old City area
344 Thanon Chakkraphatdi Phong
Ban Bat, Pom Prap Sattru Phai
Bangkok 10100, Thailand
Open daily from 8 am to 5 pm

Wat Suthat - Temple of the Giant Swing
Located in the Old City area
146 Bamrung Mueang Rd, Wat Ratchabophit
Phra Nakhon, Bangkok 10200
Thailand
Open daily from 8.30 am to 9 pm

Wat Traimit - Temple of the Golden Buddha
661 Charoen Krung Rd, Talat Noi
Samphanthawong, Bangkok 10100
Open daily from 8am to 5pm

Wat Ratchanatdaram Worawihan (Loha Prasat) - The Metal Castle
Located near Khao San Road, Wat Saket, and Democracy Monument
2 Maha Chai Rd, Wat Bowon Niwet
Phra Nakhon, Bangkok 10200
Thailand
Open daily from 9 am to 5 pm
🥘 Where to eat in Bangkok
Of course, you can't miss the amazing food in Thailand. Read all about the Best Pad Thai in Bangkok that I had!
🛍 What to do nearby
Visit the Jim Thompson house and museum. Eat at the Jim Thompson restaurant.
Take a Tuk Tuk food tour!
🏨 Bangkok hotels
I stayed at the Holiday Inn Express Bangkok. The location is great - close to the metro and easy to get to the main streets with main attractions.
More Thailand travel tips
If you visit, please be sure to let them know that you read about it on Urban Bliss Life! And if you snap some pics, tag us @UrbanBlissLife and #UrbanBlissLife on Instagram, TikTok, Twitter, and Facebook.