This holiday season, be fully prepared to host the best Thanksgiving feast yet! With our Ultimate Thanksgiving Meal Planner, we'll show you how to host a stress-free Thanksgiving with a delicious holiday meal your guests will love.
Tis the season for gathering friends and extended family. Time for pumpkin pie, roasted turkey, green bean casserole, and all the other yummy side dishes! Thanksgiving (AKA Turkey Day) is often the biggest meal of the year in the United States. A time of warmth, joy, love -- and good food and good wine!
While everyone's Thanksgiving plans will vary from house to house, there are some general guidelines that can help any party planner prep for the big day. In this Ultimate Thanksgiving Meal Planner, I've got tips to help you have a stress-free Thanksgiving. Whether you have large, elaborate Thanksgiving dinner plans or a small Thanksgiving dinner.
We'll start with the Thanksgiving prep timeline. Then below that you'll find our top Thanksgiving recipes, along with wine pairings. Finally, we wrap up with some great Thanksgiving leftover ideas.
Ready to plan a stress-free, happy Thanksgiving? Let's get started!
Jump to:
How to thaw a turkey
3️⃣ 3 weeks before Thanksgiving
Determine the timing of your Thanksgiving feast. Some people like to host a late lunch instead of a traditional dinner.
Plan your guest list. How many can you seat at the dinner table? Where will extra seating be located? Contact guests to invite them to dinner.
Finalize your Thanksgiving menu planning. Find out if any of your guests have special dietary needs. Also determine what your guests will bring to ensure there won't be competing dishes, or gaps in the meal. Although, I'm sure some people (the kids!) won't complain if you end up with 5 Thanksgiving pies and 1 vegetable dish.
2️⃣ 2 weeks before Thanksgiving
Clean out your freezer and fridge. Time to make way for the food you will prep ahead.
Take inventory. Make sure you have the right pots and pans, enough plates and silverware, glasses, and servingware. Write out a shopping list and shop for any items you need to fill in the gaps.
Order your turkey so that you can pick it up one week before the big meal.
Buy non-perishable food items, like canned goods and grains.
Stock up on food storage items: aluminum foil, parchment paper, plastic wrap, and leftover containers.
1️⃣ 1 week before Thanksgiving
Clean up and prep the guest room and guest bathroom.
Write out the full Thanksgiving shopping list.
Make ahead dishes like pies, casseroles, and gravy that can be frozen.
Pick up your turkey.
If you have a 20+ pound turkey in your freezer, move it to the refrigerator the Friday before Thanksgiving.
The weekend before Thanksgiving
If you have a 16 - 20 pound turkey, move it to the refrigerator to thaw.
Shop for beverages - wine, beer, cocktail ingredients, and non-alcoholic beverages.
🍂 Monday
Shop for produce and the remaining perishable items on your list.
Prep veggies like carrots, celery, onions, garlic, and store in airtight containers in the refrigerator.
If you have a 12 - 16 pound turkey, move it to the fridge.
🍁 Tuesday
Final grocery shopping day: buy the remaining fresh fruits and vegetables on your grocery list, fresh flowers, and any last minute items that you need for the table.
If you have a small turkey (4 - 12 pounds), move it to the refrigerator.
💛 Wednesday
Transfer any frozen items (casseroles, gravy, pie crust, etc) to the refrigerator.
Arrange the table(s) and chairs.
Set out all dishes, serving platters, serving utensils, and cooking tools that are needed for the dinner.
Prep the turkey if you intend to brine the turkey.
Make the desserts and refrigerate as needed.
Prep the fruit and remaining vegetables.
Prep the bar. Chill any beer and wine and make any punch drinks.
Clean the house.
Set the Thanksgiving table. Set out all of your serving platters as well as the glasses, place settings, and utensils.
🧡 Thanksgiving Day
Make the turkey.
Make any remaining sides.
Just before guests arrive, add any remaining garnishes to the turkey and side dishes.
30 minutes before guests arrive, allow yourself time to relax. Put on some music, light some candles, and open a bottle of Pinot Noir. Pour yourself a glass, and prepare to enjoy the ultimate Thanksgiving feast with friends and family!
🤎 Friday
Use the bones from your Thanksgiving turkey to make homemade stock. Click here for our homemade turkey stock recipe.
Enjoy turkey leftovers!
Free Thanksgiving Planner Printable
Want a printable version of this timeline, as well as the turkey thawing chart and Thanksgiving recipes? Click on the image below to download the free Thanksgiving Planner printable.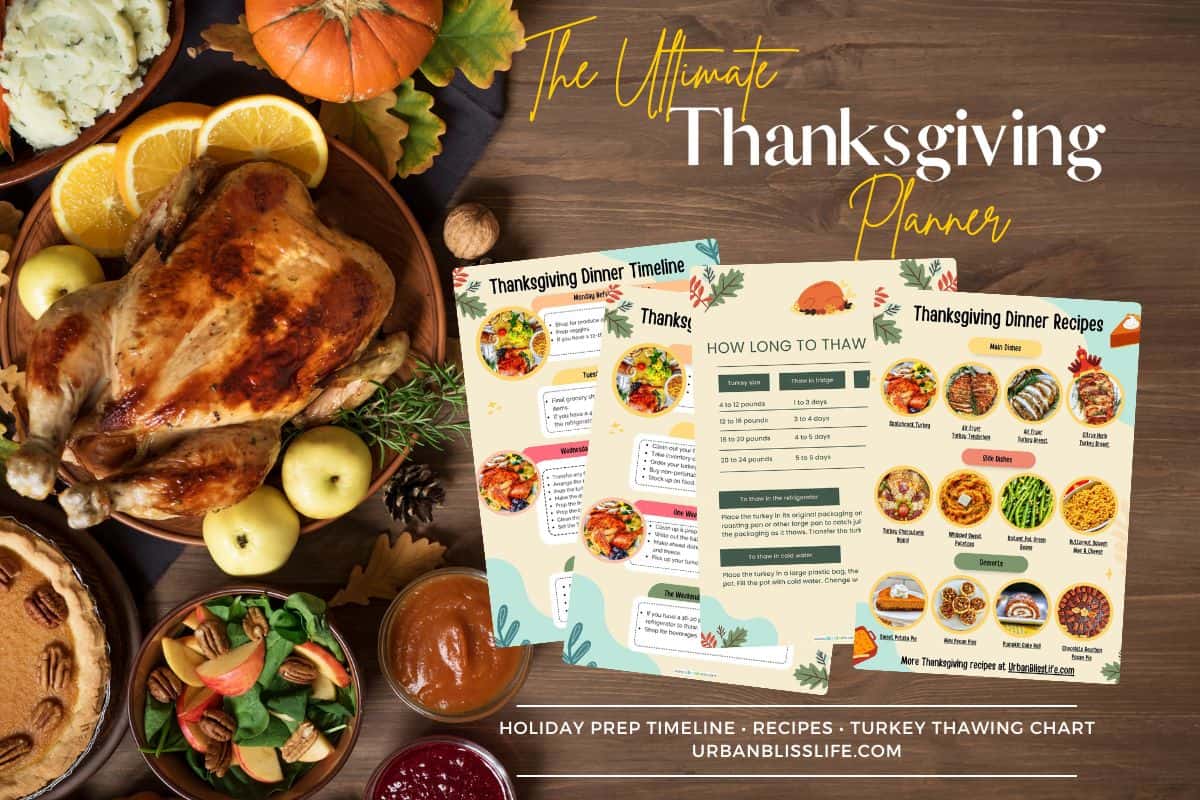 To help with your Thanksgiving menu planning, here are some traditional Thanksgiving recipes and some new recipes to add to your menu.
🦃 Thanksgiving turkey recipes
First, the best Thanksgiving appetizer is this Turkey Charcuterie Board. So easy to make, super adorable, and a delicious way to kick off the Thanksgiving feast!
🥧 Dessert recipes for Thanksgiving
Cinnamon Pie
🥪 Thanksgiving leftover recipes
Enjoy those leftovers!
Did you make any of these recipes? Don't forget to leave a 5-Star 🌟🌟🌟🌟🌟 rating and comment below letting us know which one you made and how it turned out. Thank you!
🍷 Best Thanksgiving wine pairings
There are two wines that pair exceptionally well with Thanksgiving turkey and sides: Chardonnay and Pinot Noir.
Learn more about why these wines are the best wines to pair with Thanksgiving dinner in our Best Wine Pairings for Turkey post.
Thanksgiving kitchen essentials
Here are the top kitchen tools and equipment you need to host the best holiday, whether it's your first Thanksgiving or your 20th!
I hope you enjoyed this Thanksgiving Meal Planner and found it helpful! If you did, I'd love to hear what helped the most in the comments below!