Looking for the right wine to pair with your Thanksgiving turkey or other special occasion turkey? We've got several options to help you find the best wine with turkey.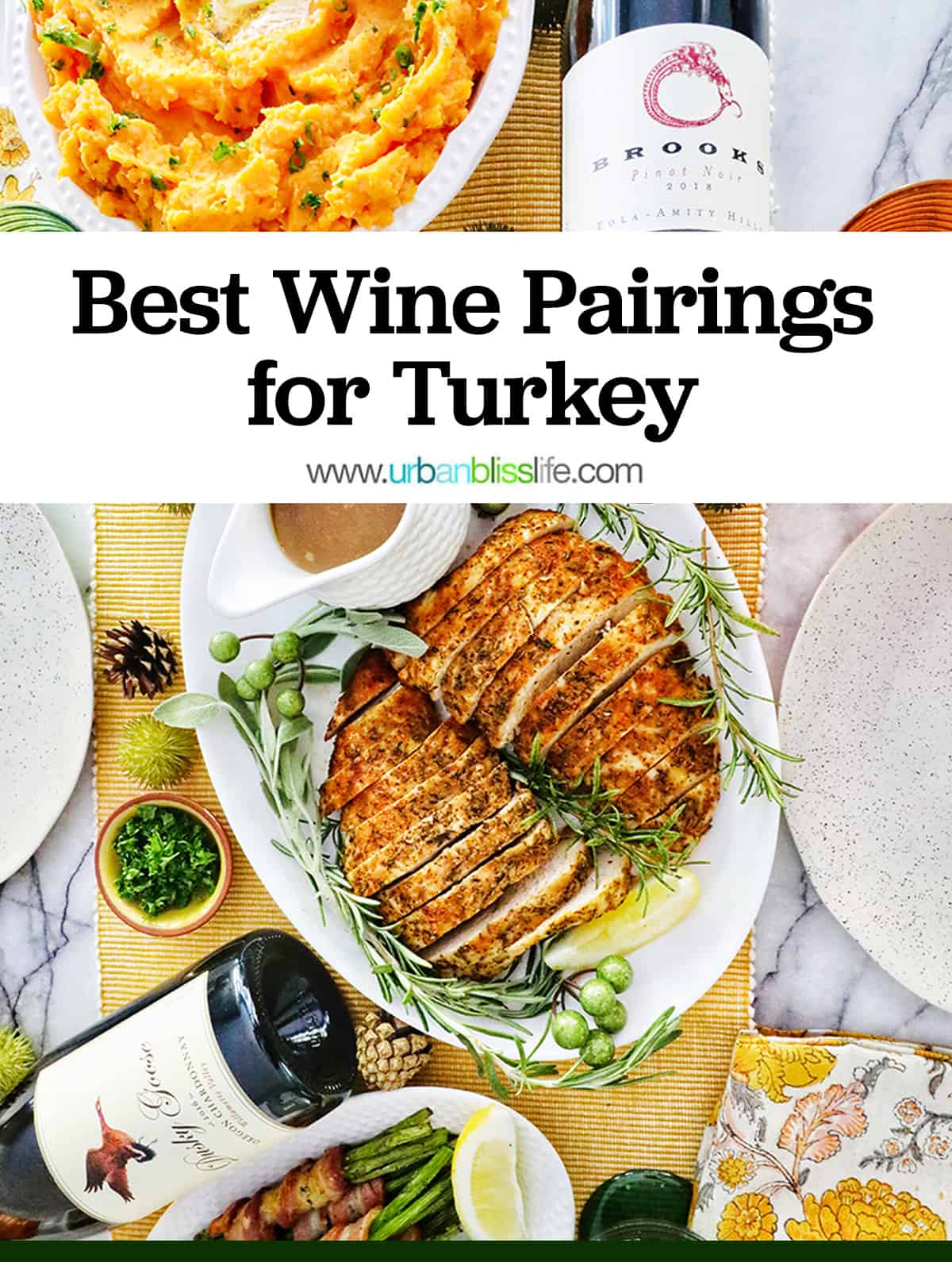 As Thanksgiving Day approaches, the spotlight often shines on the star of the show: the turkey. We've got a great turkey recipe and tutorial on How to Spatchcock a Turkey for the best Thanksgiving dinner!
But what about the wines that accompany this delicious bird?
Selecting the right wines to complement your Thanksgiving feast is crucial for an unforgettable dining experience. In this blog post, we'll explore the best Thanksgiving wine pairings for your turkey dinner, including four red wines, three white wines, sparkling wine, and rosé.
Jump to:
Wine pairing tips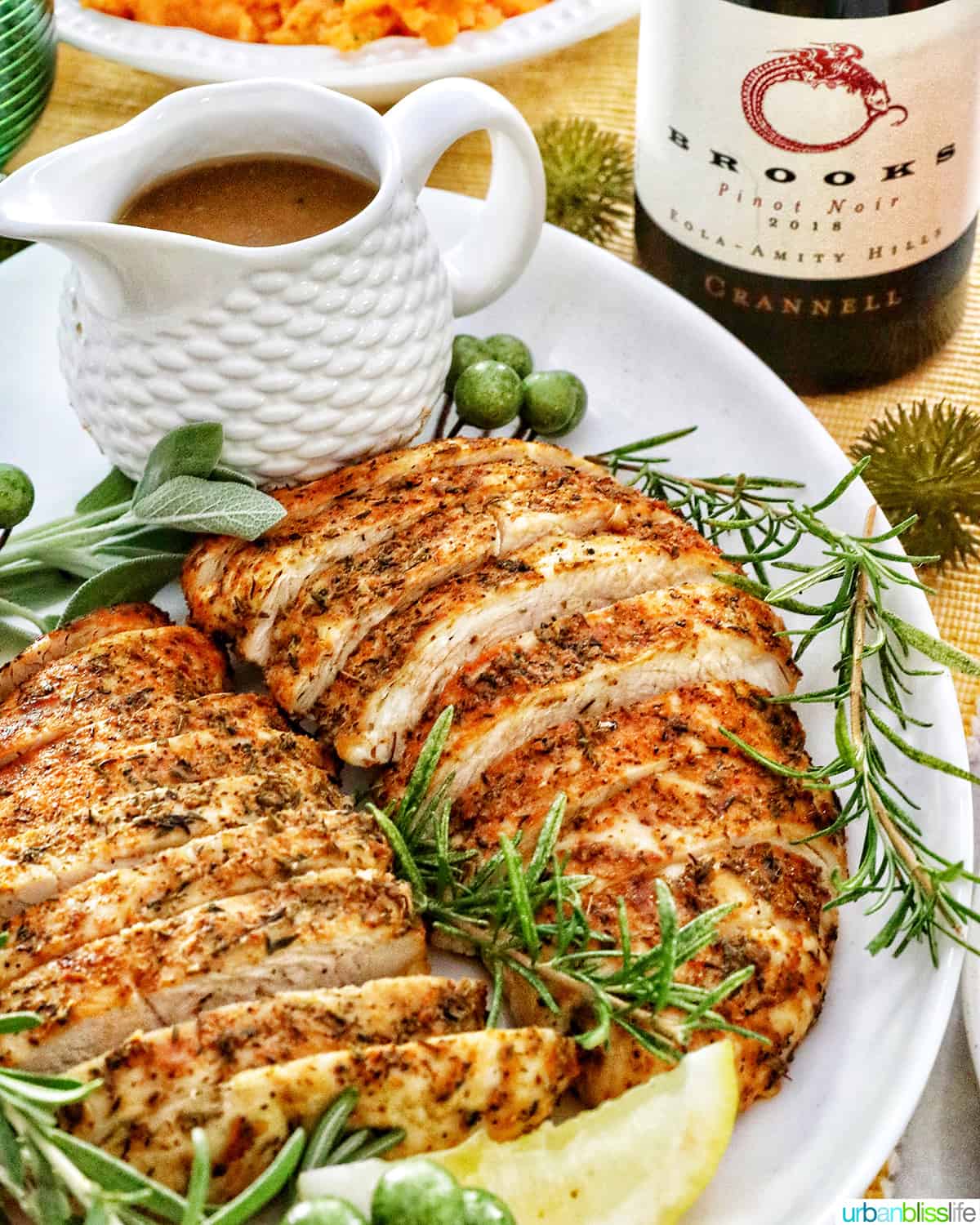 When considering different types of wine to pair with your Thanksgiving menu, the three top characteristics to keep in mind are:
Acidity - Look for wines with good acidity as it helps cut through the richness of the turkey, providing a refreshing contrast and balance.
Fruitiness - Wines with fruit-forward flavors, such as red berries or stone fruits, can complement the mild and juicy flavors of turkey without overwhelming them.
Tannin Level: Opt for wines with low to moderate tannin levels. Low tannins prevent the wine from drying out your palate and clashing with the turkey's delicate taste.
White wine pairings with turkey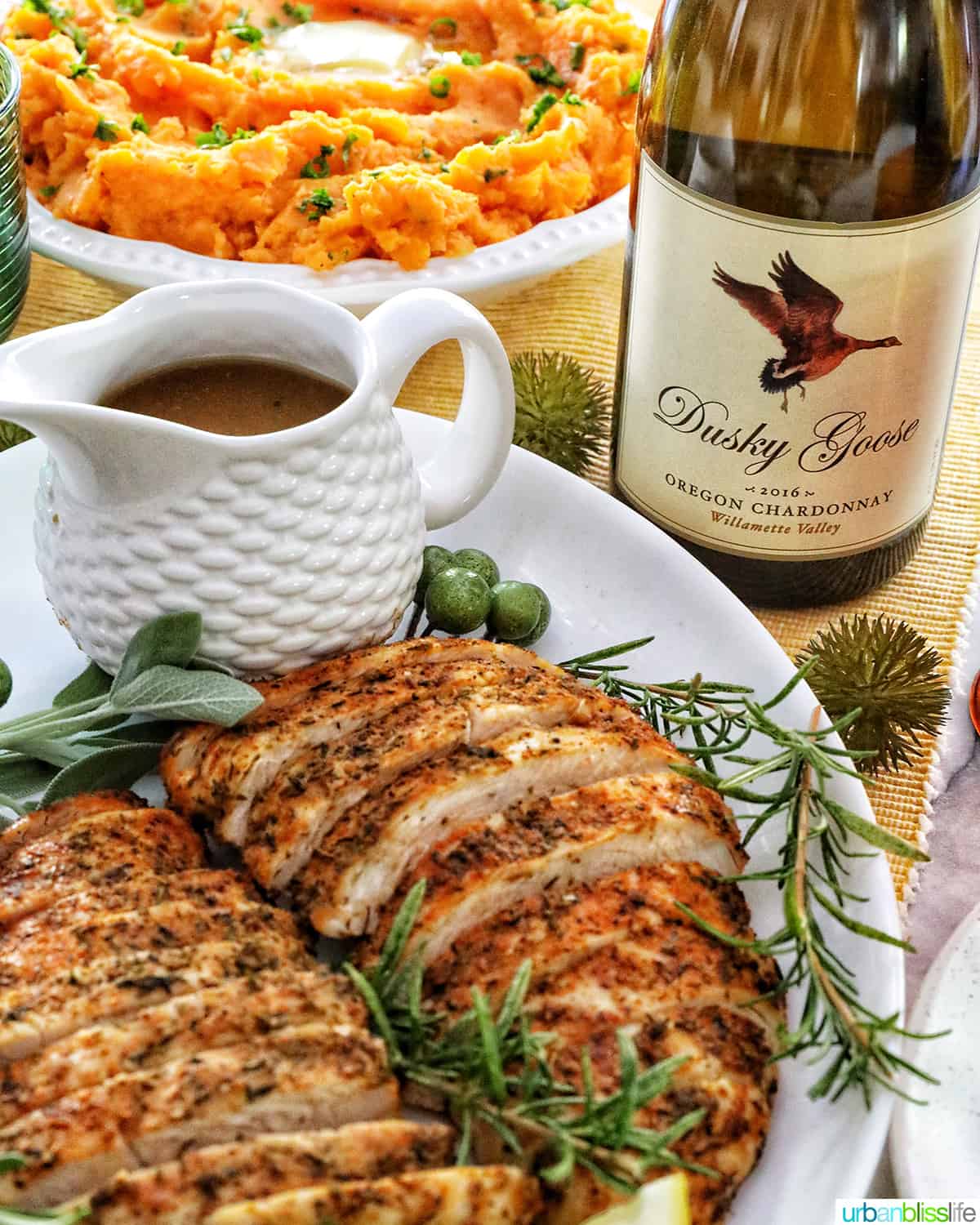 Chardonnay - Many believe that Chardonnay wine is the perfect wine and turkey pairing. A well-oaked California Chardonnay brings buttery, creamy notes that complement the turkey's texture and flavor. The wine's balanced acidity and hints of vanilla and citrus make it an ideal pairing. This is especially true with dishes like roasted turkey with gravy.
Sauvignon Blanc - If you prefer white wine with a brighter, zesty character, Sauvignon Blanc is a good choice. Its crisp acidity, green apple, and herbal notes provide a refreshing contrast to the turkey's richness. This makes it an excellent wine pairing for herb-roasted turkey or citrus-infused recipes.
Viognier: This aromatic delicious wine boasts floral and stone fruit notes, such as peach and apricot. Viognier's full-bodied white wine nature and well-balanced acidity pair exceptionally well with turkey.
Red wine pairings with turkey
Pinot Noir - Red wine lovers often choose a Willamette Valley Pinot Noir to pair with roast turkey. This classic red wine has bright acidity, red berry notes, and subtle earthy undertones. These characteristics harmonize deliciously with the bird's succulent white meat and herb-infused stuffing.
Beaujolais - Beaujolais Nouveau and other reds from the region are a great pairing with turkey. Mostly this is due to Beaujolais' light, fruity profile featuring red berry and cherry notes. Its low tannins and high acidity complement the bird's delicate flavors and help cut through richness. This makes it a versatile choice for various turkey preparations and Thanksgiving traditions. Remember to serve it slightly chilled for a refreshing contrast to your holiday meal.
Grenache - A medium-bodied fruity wine, Grenache offers luscious rich flavors of cherry, raspberry, and spice. Its soft tannins won't overpower the turkey. This makes it a great option for those who prefer red wine but want something more delicate.
Zinfandel - Zinfandel has bold flavors of blackberry, black cherry, and peppery spices. This makes it a robust partner for turkey, especially when it's been roasted to perfection. Its slightly higher alcohol content can handle the richness of the meat and savory side dishes.
Rosé wine with turkey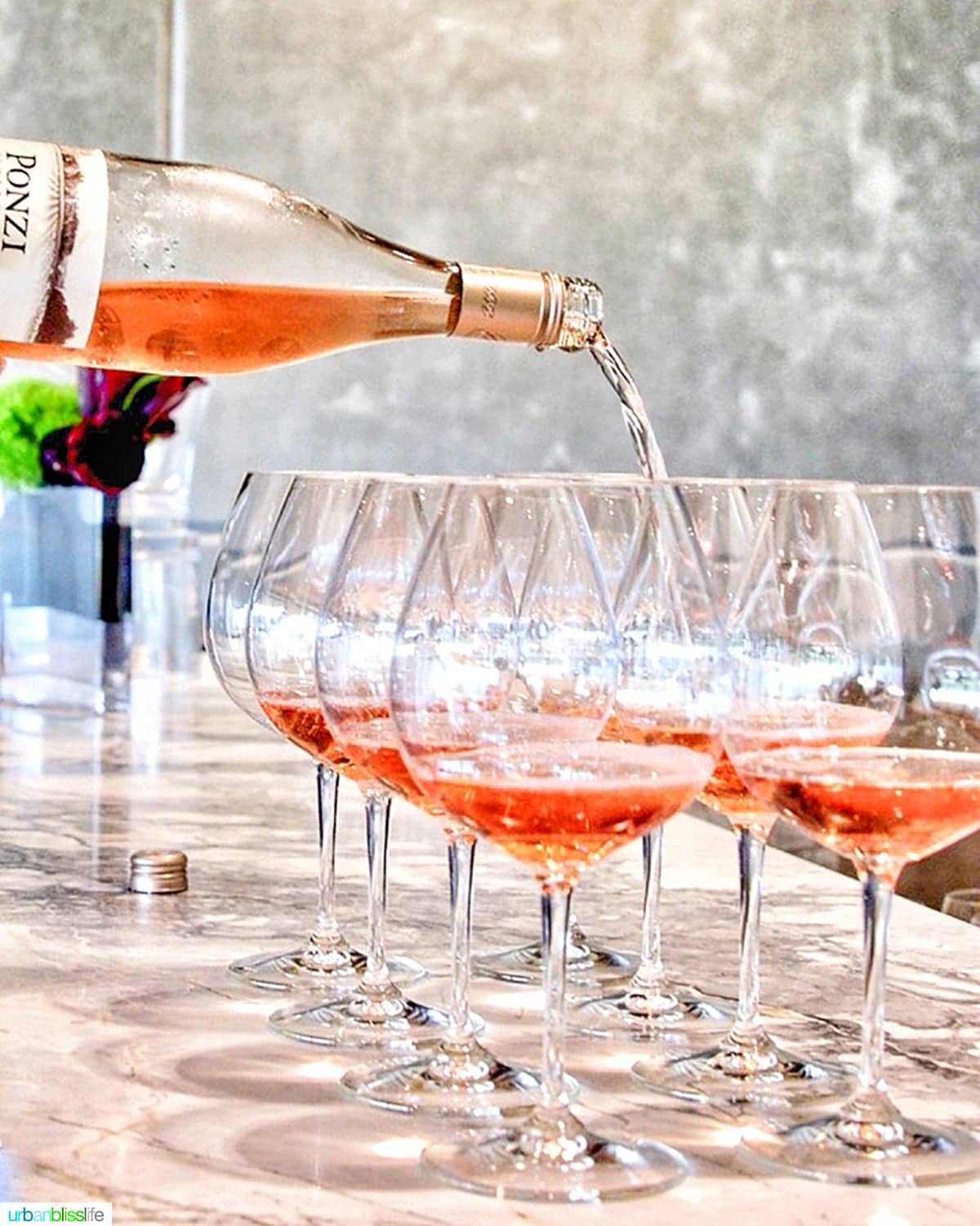 Provence Rosé - The pale pink hue and refreshing, dry character of Provence rosé make it a great wine for Thanksgiving. Its subtle fruitiness, floral notes, fresh acidity, and mineral undertones harmonize with the turkey's light and delicate flavors. This is especially true if you're serving a herb-roasted or citrus-infused bird.
🦃 For a delicious turkey pairing with rosé wine, try our recipe for Citrus Herb Turkey Breast.
Sparkling wine with turkey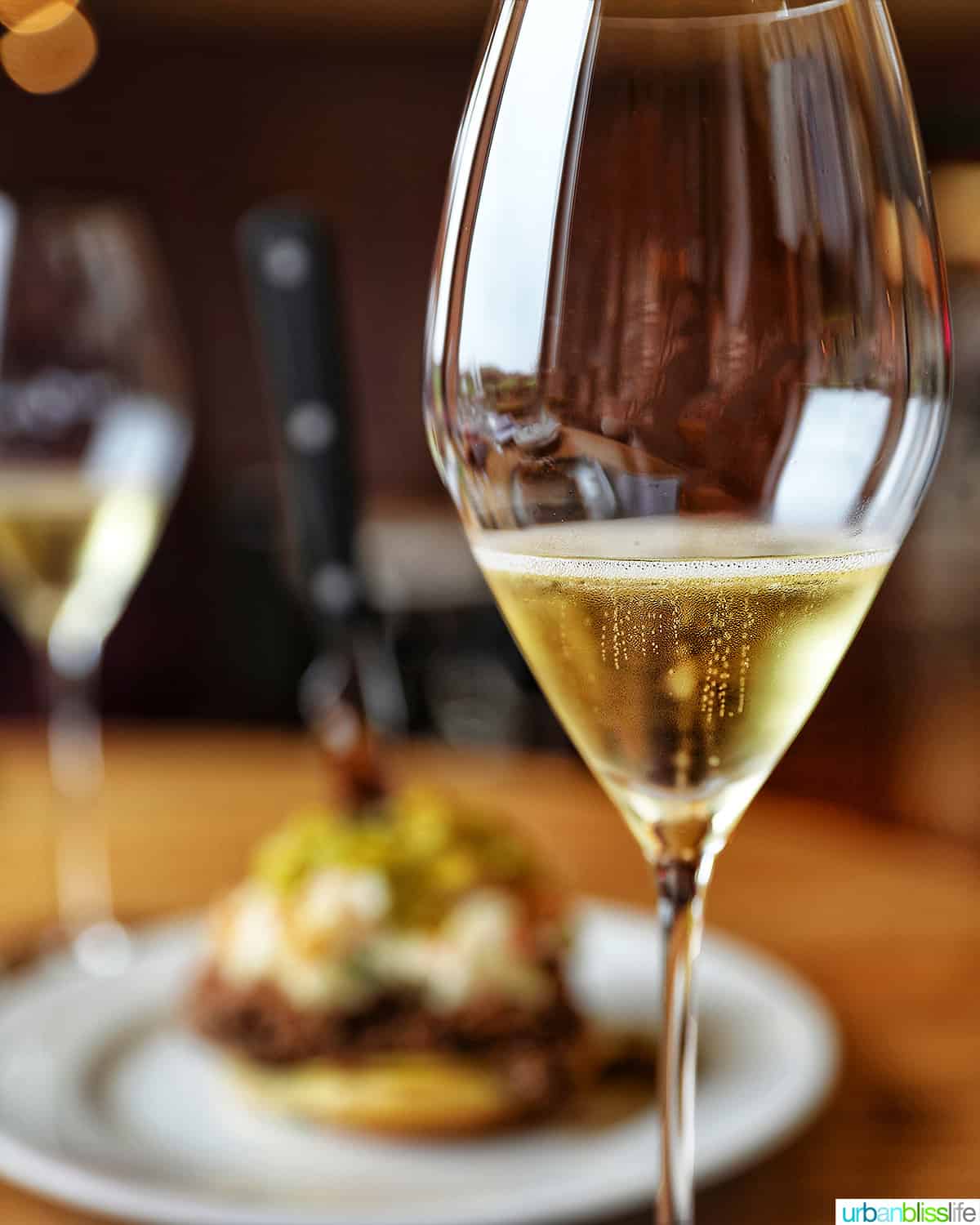 Champagne - A celebratory meal like Thanksgiving deserves a sparkling wine like Champagne. Its effervescence, crisp acidity, and flavors of apple, pear, and toast make it an exquisite companion to turkey. Serve sparkling wine as an aperitif or alongside the main course.
Turkey wine pairing frequently asked questions
What's the best wine pairing for Thanksgiving turkey with all the traditional fixings?
For a traditional Thanksgiving meal with turkey, stuffing, cranberry sauce, and gravy, consider a versatile wine like Pinot Noir or Chardonnay. These wines have the acidity and flavor profiles to complement the diverse range of flavors on your plate.
What makes turkey a good dish to pair with wine?
Turkey is a versatile poultry that has a mild, neutral flavor profile. It pairs well with both white and red wines, making it an excellent canvas for various wine choices. Additionally, the variety of seasonings and side dishes often served with turkey provides ample opportunities for creative wine pairings.
What wine pairs best with smoked turkey?
Smoked turkey offers a unique flavor profile due to the smoky notes and the turkey's inherent richness. To complement these flavors, consider a lightly oaked Chardonnay. With notes of vanilla and toast, Chardonnay can be an excellent choice for smoked turkey. The wine's roundness and balanced acidity complement the smokiness of the turkey, creating a harmonious pairing.
If you prefer a bolder red wine pairing with smoked turkey, consider a Zinfandel. Its ripe berry flavors and hint of spice can stand up to the robust smoky flavors, especially if the turkey has been generously smoked.
Pairing the right wine with turkey can elevate your Thanksgiving table to new heights.
Whether you prefer red, white, sparkling, or rosé wine, there are many options for the perfect turkey wine pairings waiting to complement your turkey meal.
As you prepare to gather around the table with loved ones this holiday season, remember that a well-chosen wine can be the finishing touch to a memorable and delicious holiday celebration.
So let's raise a glass of wine and cheers to good food, good company, and good wine!
🍂 Free Thanksgiving Planner Printable
Want a printable Thanksgiving timeline, turkey thawing chart, and more Thanksgiving recipes? Click on the image below to download the free Thanksgiving Planner printable.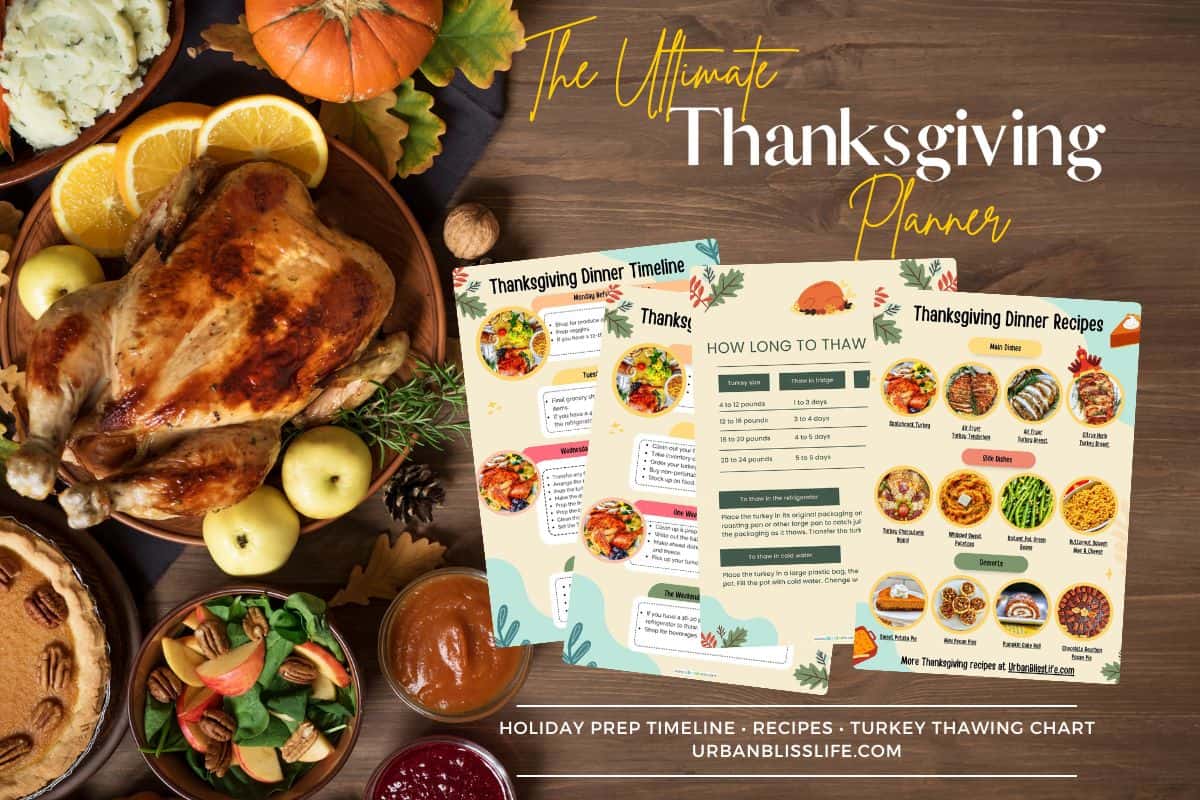 Thanksgiving recipes
More wine pairing tips
🍷 Have you tried one or more of the wine & food pairings listed here? If so, leave a comment below and let us know how they paired together!