North Light restaurant is now closed.
Brunch in Portland, Oregon is more than just a thing. Portlanders don't just love brunch, we live for brunch. We rearrange our lives and plot and plan and scheme in order to make sure we've got good line coverage at the brunch spot du jour.
We wait in line a long, long, crazy long time for brunch.
And most of the time, it's well worth the madness. We do brunch well here in the Rose City.
So it is with some hesitation that I share one of my new favorite brunch spots with you, because as much as I love sharing new finds with all of you, I like that the lines, so far, have not been insanely long here. But this place is so delightful and the food is so wonderfully done, that I suppose I wouldn't be doing my job if I kept it all to myself.
Sigh. I love you all THAT much. And because I am sharing this brunch spot with you, I expect you to go there and love on it as much as I do, deal?
Jump to:
North Light Restaurant
In the heart of Portland's quirky, fun, sweet Mississippi shopping district is North Light. A small but bright space with a full bar and nice outdoor space for the warmer days ahead.
North Light offers up dinner Tuesday through Saturday, happy hour on Wednesday through Saturday, as well as brunch on Saturdays and Sundays.
Go for brunch. Trust me. You can start with some pastries, such as a hazelnut croissant, apple cranberry scone, or chocolate cinnamon babka, pictured below with housemade apple butter.
Starters
One of my favorite items on their menu are the housemade crumpets. These are DIVINE. They are buttery with just the right amount of sweetness.
You can also order up one of North Light's tasty cocktails, such as this Bee's Secret, which has vodka, honey syrup, yellow chartreuse, and bubbles. A great way to make any brunch a celebration!
Cocktails
My husband and kids tend to be pancake and waffle brunch folk, and the gingerbread pancake at North Light is delicious. Served with maple syrup and apple compote, you get just enough hint of gingerbread in these fluffy, filling pancakes.
Main Brunch Dishes
If eggs are your brunch thang, then you have a great selection of specialty dishes from which to choose.
There is a Frittata of the Day. One this particular day, I enjoyed the housemade lamb sausage, arugula frittata with lamb curry. I'm one of those weirdos who likes ketchup with my eggs, and I am just in love with the idea of offering up a curry sauce as a more elegant condiment!
An inventive dish that I really enjoyed was the black bean fry bread taco. This beautiful dish was served with salsa fresca, cojita cheese, lettuce, and sour cream. I just loved how all of the layers of flavors danced nicely together with each bite.
And for those of you who enjoy the traditional brunch star -- eggs benedict -- North Light offers a Benedict of the Day. On this day, it was a poached egg with shaved steak, tomato, and a well-executed, traditional hollandaise sauce.
For heartier fare, North Light has you covered as well.
This chicken fried buffalo strip steak was juicy on the inside, crispy and buttery on the outside, with a sausage gravy that is perfect for soaking up with the chicken fried buffalo strip steak.
I could eat this everyday. But then, I wouldn't be able to fit in my car. So maybe I'd just eat this once a week, to be safe. Moderation, folks.
Or maybe you want a filling starch brunch AND meat? Check out the stuffed house made pullman bread french toast with farmers cheese, shaved ham, pear compote, and cumin maple syrup. I'm still debating how I feel about this dish. It's an absolutely gorgeous presentation, and the french toast is absolute sin on its own (in a very good way), but I think this would be delicious with or without the shaved ham. Don't miss a bite of the pear compote though. Mmm-mmm, North Light knows how to do fruit compotes well (note the apple compote on the gingerbread pancake above).
Bacon-wrapped meatloaf
Finally, for those of you with ginormous brunch appetites, you must try the bacon wrapped meatloaf.
Yes: bacon wrapped meatloaf. And it doesn't come to greet you on its own, it brings a bevy of food friends along with it.
It's almost like an elegant Scotch egg, but much more complex and delicious. It has a hard boiled egg center and is served with demi-glace gravy, green beans, seasoned potatoes, and bacon jam.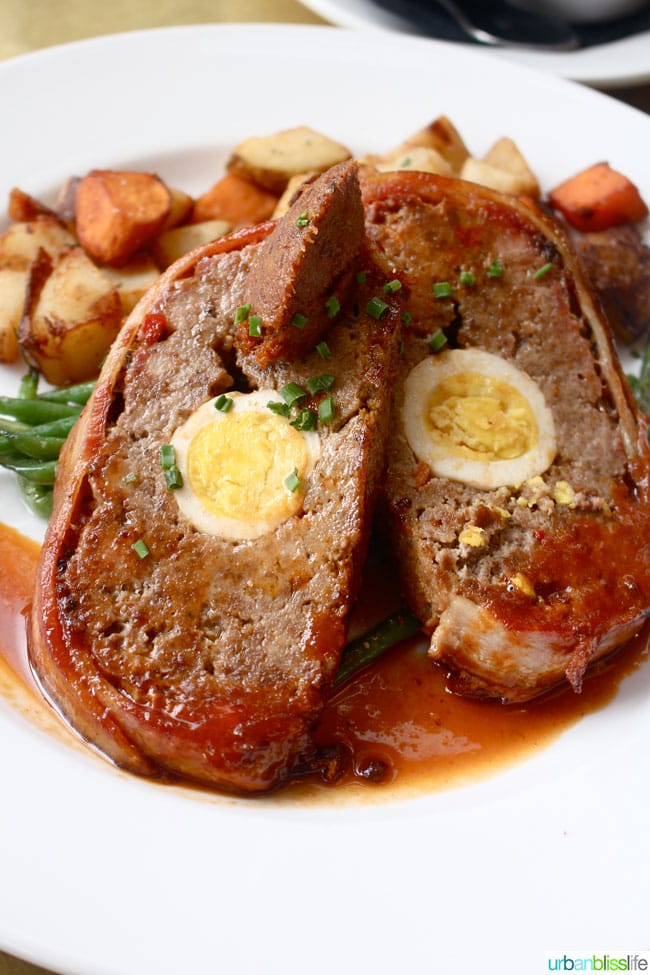 You'll definitely want to wear comfy, stretch pants for that last one. But like all of the food at North Light: it's well worth it!
So go forth and add this lovely restaurant to your Portland brunch list! I love it, and hope you will too.