Olympia Provisions Landrauchschinken, AKA Swiss Country Ham, is a sweet and savory addition to the charcuterie company's incredible line-up of handcrafted meats.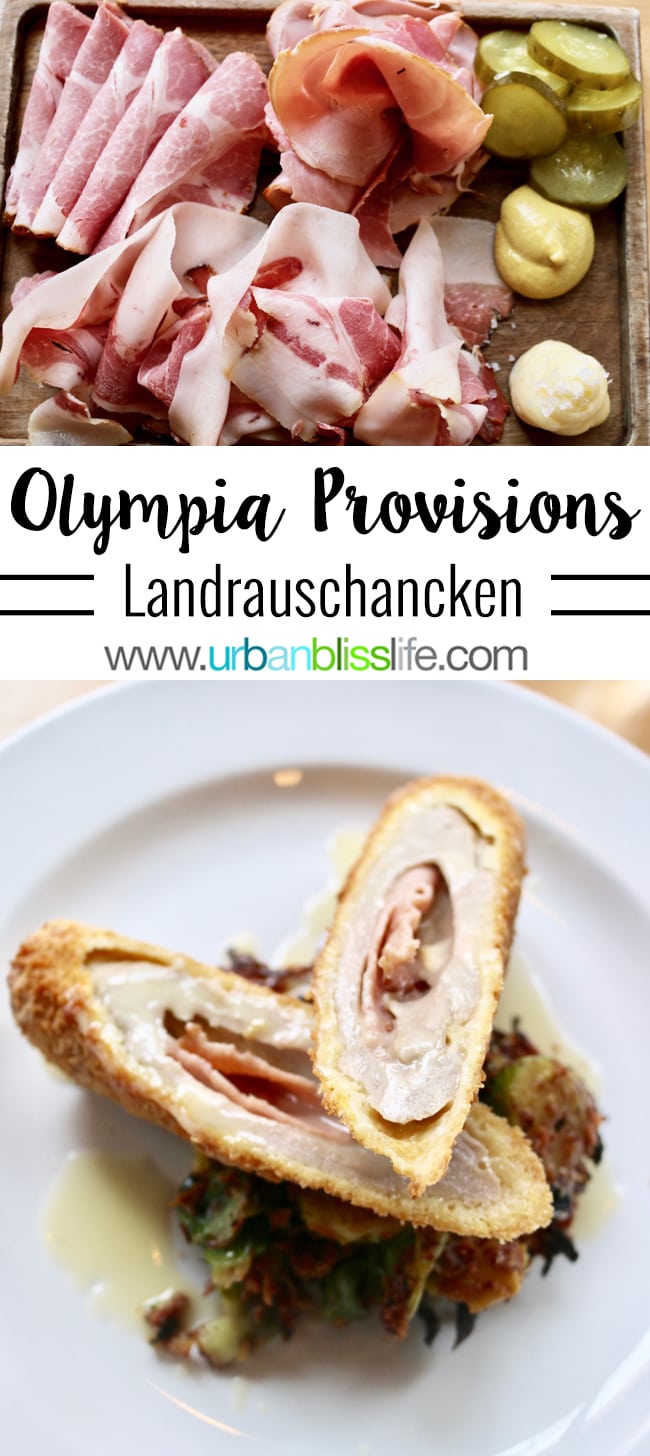 We're talking meat today. Lots of it.
So for all of my vegan and vegetarian friends out there (and I know there are a lot of you!), may I gently guide you over to this Vegan Frozen Cheesecake recipe, this Silky Avocado Vegan Chocolate Mousse recipe, learn about vegan food & wine pairings in Portland, or check out my favorite vegan restaurant and bookmark it for your next trip out here.
Now: let's talk meat.
Olympia Provisions
Portland is known for handcrafted everything: beer, wine, furniture, bikes, food. Charcuterie has become a word you see on menus across America, yet it is a craft steeped in tradition that you won't see handled with quite the care and precision in all places as you will at Portland-based Olympia Provisions.
In 2009, Olympia Provisions (OP) opened up as the only USDA-approved salumeria in the United States.
Here, you'll find 100% antibiotic-free Pacific Northwest pork. All of their cured meats are aged slowly, naturally, without being irradiated, cooked, or hot-incubated. Careful, thoughtful attention to detail is everything at Olympia Provisions – and it shows in their products.
Head Salumist and Co-Owner Elias Cairo (pictured above) grew up with an appreciation for charcuterie: his father made it at home. When he was older, he spent a few years doing an apprenticeship in Switzerland. There, he gained further appreciation for the time and patience it takes to craft quality, delicious charcuterie.
Olympia Provisions currently has five restaurant locations, including two main OP restaurants and three OP Wurst locations.
They also sell a large and growing selection of salami, deli meats, pâté, and more. You'll find their products in their restaurants, as well as in grocery stores, markets, and specialty shops throughout the country.
Passionate about his craft, Cairo continues to introduce more products to the Olympia Provisions line. Harkening back to his days in Switzerland, Cairo recently added a Swiss Country Smoked Ham - Landrauchschinken - to the Olympia Provisions line-up.
Olympia Privisions Landrauchschinken
Landrauchschinken is way above and beyond your everyday ham. The loins are cured for 18 days, then soaked in a lovely bath of burnt sugar. They are flavored with some juniper and rosemary, then smoked over apple and hickory wood. The result is a tender, flavorful ham that has a lovely mix of sweet and savory in every bite.
Ways to enjoy Landrauchschinken
Here's a look at some of the many ways you can enjoy Olympia Provisions Landrauchshinken, as served to us during a recent media lunch launching this tasty new ham.
Ham board with Landrauchschinken, Capicola, and Sweetheart ham
Landrauchschinken dumplings - seared pear, kale sprouts, with orange butter
Crispy Pork Roulade with Landrauchschinken, raclette, root vegetable rosti, and brussel sprouts. This is a dish I am dying to recreate at home. The crispy crunchy shell with cheesy ham center is out of this world!
Finally, we enjoyed an amazing dessert with Landrauchschinken in it.
Apple tart with Landrauchschinken, juniper and rosemary caramel ribbon ice cream. Holy moly, friends. This was amazing!! And y'all know that this was my dairy splurge for that week.
Mad love to Executive Chef Eric Joppie and Pastry Chef Mandy Groom for their inventive, delicious creations. Each dish highlighted the sweetness and the spices of Landrauchschinken in clever ways.
Lest you feel intimidated by these gourmet applications, note that it is perfectly acceptable to enjoy this Swiss Country Smoked Ham on its own with some cheese, crackers, and wine. In fact, I highly recommend it, as that is how I've enjoyed it! It's also amazing in a good ol' everyday sandwich.
You can purchase Olympia Provisions Landrauchschinken at any of the restaurant locations, in select stores nationwide, and online.
Visit
Olympia Provisions locations:
Northwest - 1632 NW Thurman, Portland, OR 97209
Southeast - 107 SE Washington, Portland, OR 97214
OP Wurst locations:
Pine Street Market - 126 SE 2nd, Portland, OR 97204
OP Wurst Sausage Bar - 3384 SE Division Street, Portland, OR 97202
OP Wurst at Oregon City Brewing - 1401 Washington Street, Oregon City, OR 97045
Visit the Olympia Provisions website for full contact info, menus, and hours per location.
Which dish using Olympia Provisions Landrauchschinken looks most appetizing to you?
Bonus pick
I can't write about Olympia Provisions without mentioning their Pepperettes, pictured above. These adorable mini snack sticks are one of my wine tasting staples! They are $5 per pack, are compact, and don't require refrigeration. That makes them perfect for everything from camping to long lazy days of wine tasting in Oregon Wine Country.
Many thanks to Olympia Provisions for the invitation to the media lunch launching their new product. As always, all opinions and photos are my own. I am totally in love with Landrauchschinken - and ALL of the OP products I have tried thus far - and think you will be, too!