These 20 Must Make Fruity Cocktail recipes are fresh, colorful, and delicious! Perfect for serving at your next party or for any sunny spring day.
Spring is here! At long last!
I don't know about you, but where I live in the Pacific Northwest, we have had a LONG, wet, cold winter. Unseasonably so. Almost unbearably so.
Yesterday, the sun came out to play, and you could feel the collective weight of the winter slowly being lifted off everyone's shoulders. Neighbors were planting flowers. Families were out and about on outdoor adventures. I went out to a classic Portland brunch with some girlfriends and people were sitting outside!
It was glorious.
To celebrate the spring season, I've got 20 Must Make Fruity Cocktail Recipes. These are some of my favorites from fellow food blogging friends, and a couple of mine thrown in as well.
Cheers to spring!
20 Must Make Fruity Cocktail Recipes for Spring
We'll start with a couple of twists on spring classics: the mojito and a raspberry lemonade.
DIY Candy - Blueberry Cake Mojito
Style on Main - Sparkling Raspberry Lemonade Cocktail
Urban Bliss Life - Hibiscus Cooler Cocktail
Unskinny Boppy - Raspberry Limemade
Lip Gloss and Crayons - Pineapple Saketini
If you are making the Pineapple Saketini, try my Grilled Pineapple Chicken or Grilled Teriyaki Turkey Burgers to pair with it!
A Night Owl Blog - Blueberry Coupe Cocktail
Tattooed Martha - Spring Blossom Granita Cocktail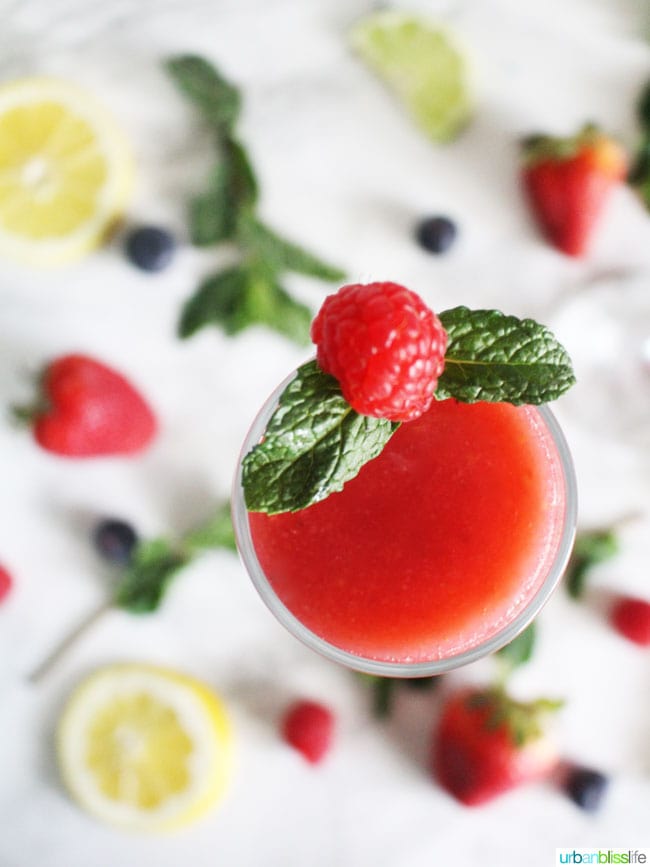 Urban Bliss Life - Raspberry Lime Bellini Cocktail
Looking for a delicious spring recipe to serve at your next party with this cocktail? Try my easy Spring Fruit Tartlets! They pair perfectly with the Raspberry Lime Bellini cocktail pictured above!
A Worthy Read - Lemon Cucumber Lemonade
Flour on My Face - Coconut Rum Cobbler Cocktail
A Mom's Impression - Strawberry and Lime Frozen Cocktail
Lydia Out Loud - Grapefruit Basil Refresher Cocktail
Urban Bliss Life - Cantaloupe Margaritas
Tonya Staab - Green Tea Honey Ginseng Cocktail
Elephantastic Vegan - Pineapple Coconut Cocktail
B Britnell - Cucumber Lime Tequila Cocktail
Which cocktails will you be making this spring?