Whether you're looking for a great wine gift or you're finally ready to invest in a corkscrew that will last, here's my Ultimate Guide to the Best Corkscrews.
If you're like me, your corkscrew drawer looks something like this. A mish mash of wine openers collected over the years that, like rabbits in springtime, seemingly multiplies at will.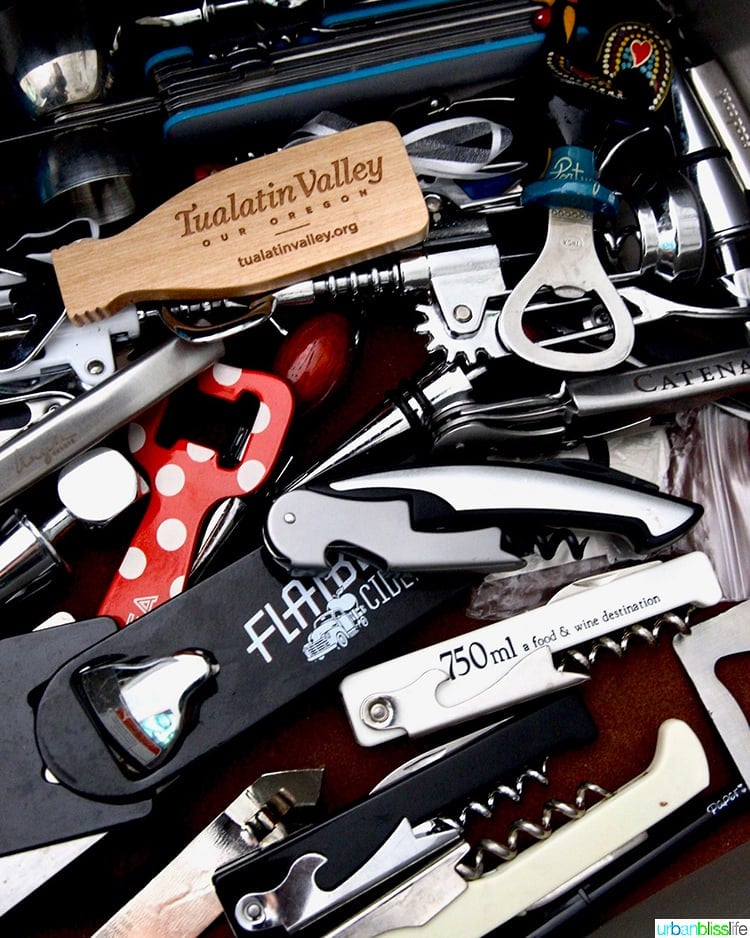 The end of the day arrives, you reach for a bottle of wine, then dig around the drawer for an opener, any opener to get the job done. Except, the one you choose isn't quite up to the task. Because that free opener you got as swag on a trip a few years ago was free for a reason.
Well, enough is enough. It's time to adult-up and get yourself a corkscrew that will stand the test of time.
Introducing my Ultimate Guide to the Best Corkscrews. Whether you're a novice, an expert, or somewhere in between, one of these openers is for you. Plus, they also make great gifts, for when you want to drink someone else's wine :)
Jump to:
Basic twist corkscrew
The design for the Basic Twist Corkscrew dates back more than 200 years, to the late 18th century. It is widely attributed to an English clergyman named Samuel Henshall. At least, he filed for the first patent, though other similar designs were in use at the time.
The premise was straightforward: insert the screw into the cork, then pull with all your might to get it out.
Simple and effective, but not exactly easy.
Winged corkscrew
Good thing wine lovers only had to wait another 85 years for the next best corkscrew to come along! In 1880, another Brit was granted a patent for the first Winged Corkscrew.
To work this tool, you simply insert the screw into the cork, then turn the handle at the top to push it down. As the screw sinks lower into the cork, the two arms or "wings" rise. Once the screw is sufficiently embedded, you simply press down on the arms and pull the cork out.
While fairly simple, this design does have its drawbacks. Most notably, ones with a broader screw can damage the corks. They either shred them or just make a mess. This can result in some of that cork ending up in your wine bottle. Plus, cheap versions of the winged corkscrew can easily break, so look for a solid one.
If you go for the winged option, be sure to get one with a bottle opener in the handle top like the model shown here. Bonus!
Waiter's corkscrew
Following just a couple of years after the winged corkscrew, the Waiter's Corkscrew (aka Wine Key or Sommelier Knife) is credited to a German by the name of Karl Wienke. It's said that it got one of its nicknames after gaining popularity in English speaking countries. Finding "Wienke" difficult to pronounce, users simply began referring to it as the "wine key."
This version of the corkscrew really took off in the restaurant industry however, soon becoming a favorite with waiters. It's light weight, portability, ease of use, and frequently built-in foil cutter made it the perfect tool for quickly opening bottles table side.
The Waiter's Corkscrew is my personal favorite. But a word of caution: invest in a high quality one.
I've been using the same one for over 10 years. It's solid and reliable. Cheaper ones can break easily, and leave you wondering just how you're going to get that broken cork out of your wine bottle.
Lever corkscrew
Did someone say they wanted simple? Well, the Lever Corkscrew is for you. Often nicknamed the "bunny ears," this corkscrew is recommended for beginners due to its ease of use. You just grip the side of the bottle with the two handles, push the lever to insert the screw into the cork, then lift it back up to pop it out.
While it's bulkier and usually spendier than other options, if you're looking for minimal effort and speed, consider a lever.
Electric wine opener
Wouldn't it be great to be able to uncork a wine bottle with just the push of a button? You can! Electric wine openers are for those who crave the need for speed (some claim to open a bottle in under 6 seconds) and like a bit of technology with their Tempranillo.
How does it work? You simply remove the foil, place the device over the cork, push a button to insert the screw, and push another to extract it. Ok, its two pushes of a button, but still...
Air pressure wine opener
Sometimes, opening a bottle of wine requires more than simply finesse. It calls for flair! Sure, you could use an average old corkscrew to get that cork out, but that's not you. You're anything but average. And so is your air pressure wine opener.
The main benefit of this type of opener is the minimal effort required. You simply insert the needle into the cork, push a button which releases a small amount of CO2, then the cork pops right out.
While it's faster and easier than most of the other openers, each CO2 cartridge covers only about 60-80 bottles, so this can be an expensive option if you're a true oenophile.
Air pump wine opener
Similar to the air pressure opener, the air pump wine opener also uses a needle to help extract the cork, but it requires a bit more elbow grease.
If you've ever pumped up a bike tire or kickball, this method will be familiar to you. It works by inserting the needle into the cork, gripping a handle at the top of the pump, then moving it up and down. This forces air into the bottle and the cork pops out.
This method also has a bit of the flair attached, and many wine oficianados swear by it. But be prepared for a bit of a workout.
Ah So wine opener
Near the top of my list of favorites (due mostly to its nickname "the Butler's Friend"), the Ah So wine opener has a colorful past.
It got its nickname as unsavory butlers could use this type of opener to discreetly open bottles of wine without damaging the cork, take a swig or two, and replace the cork with no one being the wiser. I mean, who can't relate to that story? Speaking of, where did our butler go? But I digress...
As you may have guessed, this opener is unique in that it doesn't puncture the cork in any way to remove it. Rather, it grips it from both sides with its slender arms, then the user twists it to remove the cork.
This is the best option to use with vintage bottles that may have older, more brittle corks, as it's designed to limit any damage. It can also be very effective in extracting a half broken cork that's still stuck in the bottle. Not that that's ever happened to you...
Mounted corkscrews
Mounted corkscrews come in many shapes and sizes. Some come with a stand, others can be attached to a bar or counter top. And some can be affixed to a wall, like the one shown here.
They're similar to the lever opener in that they use an arm to insert the screw into the cork and then remove it from the bottle. But they're a bit more decorative. And permanent. A major benefit of the mounted wine opener is that you're likely to always know where to find it (no rooting around in drawers).
Due to its size, they're often bulkier and costlier than other options. But if you have a home bar and enjoy the ease of having a wine opener at the ready, then this might be for you.
Coravin
Ok, strictly speaking, the Coravin Wine Preservation System is not a corkscrew. But it is a wine opener, of sorts. It's main selling point is that it claims to be able to keep your wine fresh for months, even years after you first "open" it.
Here's how it works: Like the air pump models, it uses a needle to insert into the cork, but the cork isn't removed. Rather, the wine flows through the needle and out through an opening near the top of the device. The tool acts a seal between your wine and the air outside of it, so the wine itself stays fresh. When you're done pouring, simply remove the device and the cork naturally reseals itself and your wine stays preserved.
Now, we can't independently verify Coravin's claims that it can keep wine fresh for years, because, well our wine seems to have a way of vanishing much sooner after it's opened. But this could be a good option if you're looking for a unique opener and enjoy being able to have multiple bottles "open" at once.
---
Buyer's Guide
Wine recommendations
Looking for inspiration on what wines to try with your new wine opener? Head on over to my Wine page!
PIN IT: