If you have young children, try these simple yet thoughtful Martin Luther King Jr Day activities.
While I was volunteering in my daughter's first grade class last week, they were discussing Martin Luther King Jr.
It warmed my heart to see my daughter raise her hand and answer when asked why there was no school on Monday (today). And then to hear other first graders talk about who they thought Martin Luther King Jr. was and why he was important.
Segregation is a difficult concept to grasp for first graders. Especially, I think, for my kids who are half Filipino-American, half Swiss-American, and who go to such a culturally and racially diverse school.
It's hard for them to imagine living in a world where people judge you by the color of your skin. And yet. Here we are, in many ways, still.
The class then watched a video explaining who Martin Luther King Jr. was. It covered the history behind his strong beliefs, his fight for equality, and how Martin Luther King Jr. Day came to exist.
In that video was a very simple activity that was meant to help kids understand the importance of Martin Luther King Jr. and his teachings on a very basic level. I loved it, and knew I wanted to do similar Martin Luther King Jr activities with my own kids at home.
Today's DIY Make It Monday is a great activity that you can do with younger children in honor of Martin Luther King Jr. Day.
Each year, my kids and I sit and watch his "I Have a Dream" speech on YouTube. This is a simple activity that you can do afterward with your kids to help them think about their own dreams: what's important to them, and how they, too, can make a difference.
Martin Luther King Jr. "I have a dream" Activity
You most likely already have all of the supplies you need in your home for this Martin Luther King Jr. Day activity.
Supplies you need for this MLK Jr. Day activity
To do this Martin Luther King Jr. Day activity with your kids, you'll need a few basic materials. You probably already have most of these, if not all, in your home.
Martin Luther King Jr. Day Activity Instructions
1. Print out my FREE Printable PDF file with the "I have a dream" starter cloud and seven additional blank clouds for your kids to write their own dreams.
2. Have your child cut out the clouds around the outlines. Depending on your child's age, you can help them with this part.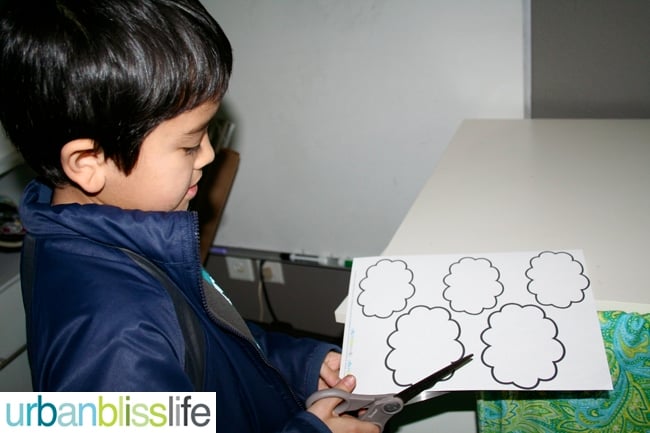 3. Talk with your child about their own dreams. Then have them write a few out on the blank clouds. There are no right or wrong answers here. Your child can write out their career dreams, what they hope to accomplish that day, what they wish for the world... Any wishes, goals, or dreams are okay here.
If you have older children: Feel free to steer the conversation toward the bigger picture. Suggest they think more about how they can help the community and the world around them.
You can discuss race and equality and see if your children are inspired to write something about racial equality on one of their clouds.
There are no limits to where you can take the conversation and to what your kids can write on these clouds.
You can print several sheets and cut out more clouds if your kids have a lot to write.
For my younger kids, they focused on their dreams and ambitions. Those centered on the teaching that no person is too small or too young to dream.
4. Lay out the clouds as you would like them to be hung on the hanger. Hole punch the clouds at the top and the bottom, except for the clouds you want to hang on the bottom, which you will only hole punch at the top.
5. Use string to thread through the hole punches and tie the "I have a dream" main cloud to the top, then string all of the clouds your children filled out from that main cloud.
Voila! That's it! Such a simple, but meaningful way to commemorate Martin Luther King Jr. Day with younger kids at home.
PRINTABLE HINTS & USAGE:
You will need Adobe Reader to download and print this file.
This file is for personal use only. Commercial use of this any portion of this file is strictly prohibited.
If you are a fellow blogger and would like to include this activity on your own blog/site, please do feel free to include ONE photo with the watermark included, and one direct link to this post.
More Martin Luther King Jr. Day Resources
Here are a few books and activities that you might be interested in.
Are you doing any Martin Luther King Jr. Day activities? Are you doing any community service projects or other activities?