If you're interested in wines of the world, Kazakh wines have a rich history and are worth discovering. Learn more about Kazakhstan wine, from the ancient vineyards to modern winemaking, and a look at wine tasting in Kazakhstan.
Kazakhstan may not be the first place that comes to mind when you think of wine. Even in my WSET studies, Kazakhstan wine was never mentioned.
I didn't know much about Kazakh wine at all until my recent visit to Kazakhstan. It's a growing wine production region I think wine lovers will enjoy. I'm so excited to share more about this beautiful country's lovely wines with you.
This vast and diverse country in Central Asia has a wine history that dates back thousands of years. And now there's a burgeoning modern wine industry that is starting to make waves on the global stage.
Kazakhstan's wine industry is gradually gaining recognition for its unique offerings, benefiting from the country's diverse climate and soils. Based on my recent visit, I think it's an emerging region to watch for wine enthusiasts.
In this blog post, we'll take you on a journey through the history of vineyards in Kazakhstan. We'll explore the traditional Kazakh winemaking methods. And, we'll introduce you to some of the top wineries in the country today.
Jump to:
💡 Kazakhstan facts
Before we dive into the wines of Kazakhstan, here are some interesting Kazakhstan facts you should know about the 9th largest country in the world.
Vast Landmass: Kazakhstan is the world's largest landlocked country, covering over 2.7 million square kilometers.
Diverse Landscape: Kazakhstan boasts a diverse landscape. From the soaring peaks of the Tian Shan Mountains to the flat steppes and the Caspian Sea coastline.
Nomadic Heritage: Kazakhstan has a rich nomadic heritage. There's a long history of nomadic tribes like the Kazakhs and the Golden Horde.
Silk Road Connection: Kazakhstan was a vital part of the historic Silk Road. It was vital in facilitating trade and cultural exchange between Europe and Asia.
Almaty & Astana (now Nur-Sultan): Almaty served as the capital of Kazakhstan from the country's independence in 1991 until 1997. In 1997, the capital was moved to Astana (now known as Nur-Sultan). It was renamed Nur-Sultan in honor of Nursultan Nazarbayev, the country's first president.
World's Largest Uranium Producer: It's a significant player in the global uranium market. According to the World Nuclear Association, in 2022, Kazakhstan produced 43% of the world's supply of uranium.
Diverse Ethnicities: Kazakhstan is home to a diverse population of approximately 130 ethnic groups, including Kazakhs, Russians, Uzbeks, Ukrainians.
Epic Horse Culture: Horses have a special place in Kazakh culture. With traditional equestrian sports like kokpar (goat dragging) and kyz kuu (chasing girls on horseback).
Rich Cuisine: Traditional Kazakh cuisine features hearty dishes like beshbarmak (a meat and pasta dish) and kumis (fermented mare's milk). Learn more about Kazakhstan food in my article. I share the top traditional foods of Kazakhstan that I had the pleasure of trying during my recent trip.
Multi-Lingual Nation: The official languages are Kazakh and Russian. The younger generations are also now being taught English in school.
🗺️ If you're interested in traveling to Kazakhstan, check out the 30+ Things to Do in Almaty, Kazakhstan.
Kazakhstan's ideal grape growing conditions
Most of the old vineyards and winemaking over the centuries has been centered around the Almaty region.
The continental climate and soil conditions in the Almaty region are ideal for grape growing. With a general elevation of about 1,000 meters above sea level, vineyards flourish in the protection of snow capped mountains. The valley offers an ideal diurnal range -a stark difference between the warm daytime temperature and cool nights. This allows grapes to have the proper sugar and acid levels for high quality wine.
The rise and fall and rise again of Kazakhstan winemaking
Kazakhstan's history with winemaking can be traced back to 7th century AD.
The country's unique geographical location at the crossroads of the Silk Road made it a melting pot of cultures and traditions. The Kazakh people have long been known for their nomadic way of life. They discovered the art of winemaking and brought back grapevines from neighboring countries Uzbekistan and China.
Because of their nomadic lifestyle, winemaking didn't really take hold until much later, under Soviet rule. In the 1940's, the Soviet Union sowed over 60,000 hectares with more than 500 grape varieties.
But then, Gorbechev came into power, and installed strict alcohol production policies with his anti-alcohol campaign. Many of Kazakhstan's old Soviet vineyards were destroyed. The land was redistributed among farmers. The winemaking industry basically died during Gorbechev rule.
Yet some of those Soviet-era vines remained. Years later, visionaries like Zeinulla Kakimzhanov saw the potential of those old vines and the excellent conditions for grape growing. Bringing grape seeds from France, he turned an abandoned Soviet vineyard into Arba Wine, located in the village of Karakemer. This is in the Assa Valley just outside of the populous city of Almaty.
And another era of Kazakhstan winemaking was born.
Wine tasting in Kazakhstan: Arba Wine
I had the pleasure of experiencing a wine tasting tour and vineyard dinner at gold medal winning Arba Winery during my travels to Kazakhstan.
Arba Winery captures the essence of the country's growing modern wine scene. The name Arba is an homage to the Kazakhstan nomadic life, as it refers to the animal-driven horse transport they used dating back to ancient times. This is also portrayed in the winery's logo.
The winery hand harvests 100% of its grapes, and is known for its commitment to sustainable viticulture.
They produce a number of good wines. The different wines they make include international varieties such as Riesling, Pinot Noir, Merlot, Cabernet Franc, and Malbec.
Arba also makes wine using Georgian grape varieties such as Rkatsiteli (a white wine) and Saperavi (a red wine). An interesting blend is their Pino Sape -- a blend of Pinot Noir and Saperavi.
Since it's difficult to find Kazakhstan wines outside of the region, I bought two wines to take home.
One was a bottle of their Roza Assa Valley 2014. This is a sparkling wine made from Pinot Noir grapes. It has juicy strawberry aromas and flavors, with light grapefruit notes and refreshing acidity.
The second was Arba's Lagyl Arba Saperavi Reserve 2013. This was an interesting full-bodied red wine with rich tannins. It has luscious cherry and violet aromas and flavors, and was the standout red wine of the tasting for me.
Wines of Kazakhstan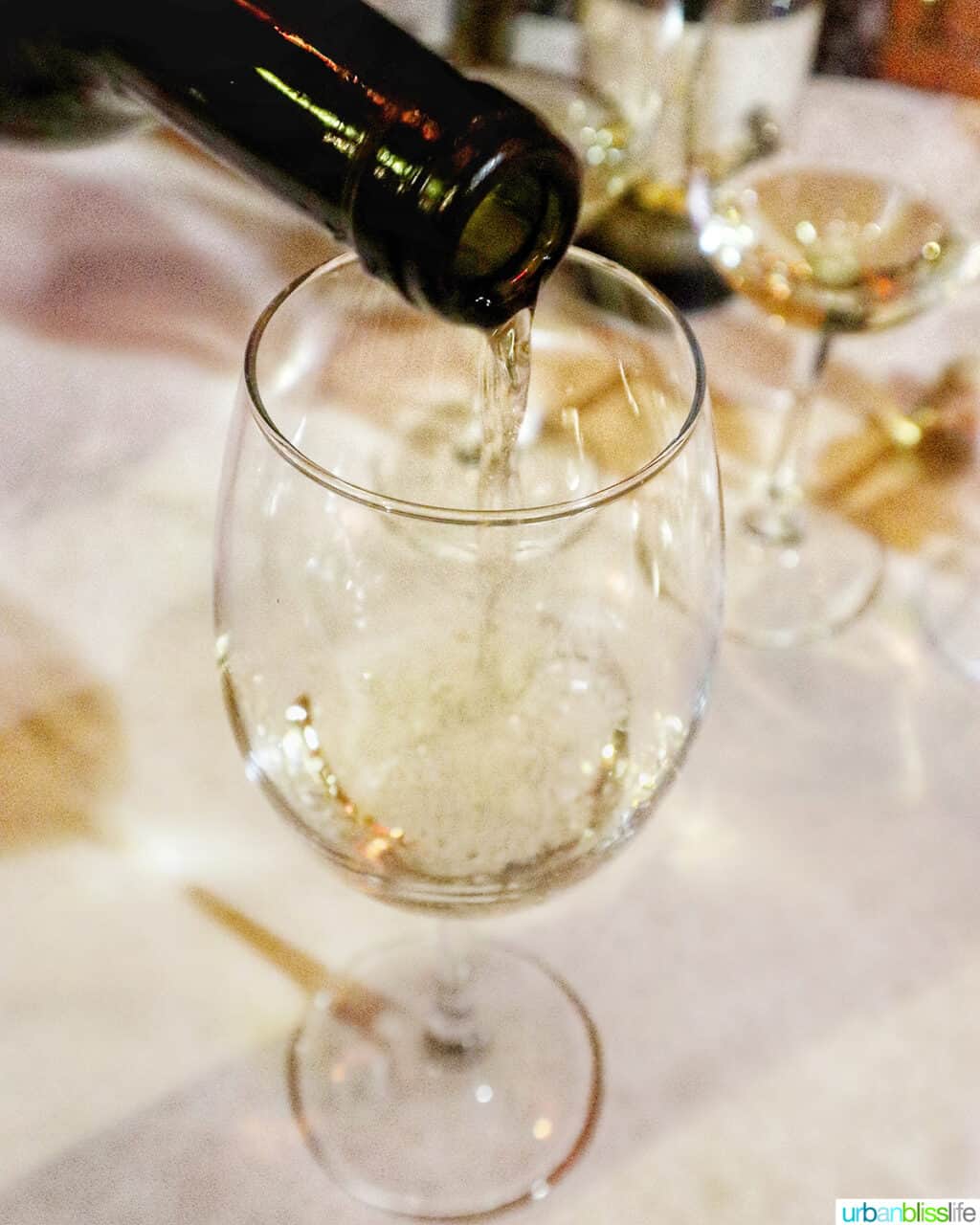 As the Kazakhstan wine industry continues to blossom, there are five main grape varieties in this region:
Rkatsiteli: This white grape variety is originally from Georgia. The grape produces wines with good acidity and citrusy flavors. It is well-suited to Kazakhstan's climate.
Aligoté: Another white grape variety is Aligoté. This grape makes crisp and fresh single varietal wines. It's also often used to make sparkling wines and blends.
Cabernet Sauvignon: Cabernet Sauvignon is one of the most widely red grown grapes here. Its deep color, rich flavors, and aging potential make it a popular red wine.
Merlot: Merlot is another popular red grape variety, appreciated for its smooth and approachable character. It's often blended or used as a varietal wine.
Saperavi: Saperavi is a red grape variety with Georgian origins. It produces deeply colored, full-bodied wines with rich fruit flavors. I enjoyed a few Saperavi wines at Kazakhstan restaurants during my recent visit.
With new vineyards being planted more and more, Kazakhstan's wine industry is a hidden gem waiting to be discovered.
With a rich history, unique winemaking traditions, and a growing number of top-notch wineries, it's a destination that deserves a spot on any wine enthusiast's bucket list.
Cheers!
More Kazakhstan travel articles
If you visit, please be sure to let them know that you read about it on Urban Bliss Life! And if you snap some pics, tag us @UrbanBlissLife and #UrbanBlissLife on Instagram, TikTok, Twitter, and Facebook.
More wine articles
This post is written from a media trip with SATW (Society of American Travel Writers) Digital Publishers Council and made possible by Travel Kazakhstan and USAID