Want to learn more about traditional Kazakhstan food? During a recent trip, I had the pleasure of trying some of the most popular dishes in Kazakhstan. Here are the Best Traditional Kazakhstan Foods to try.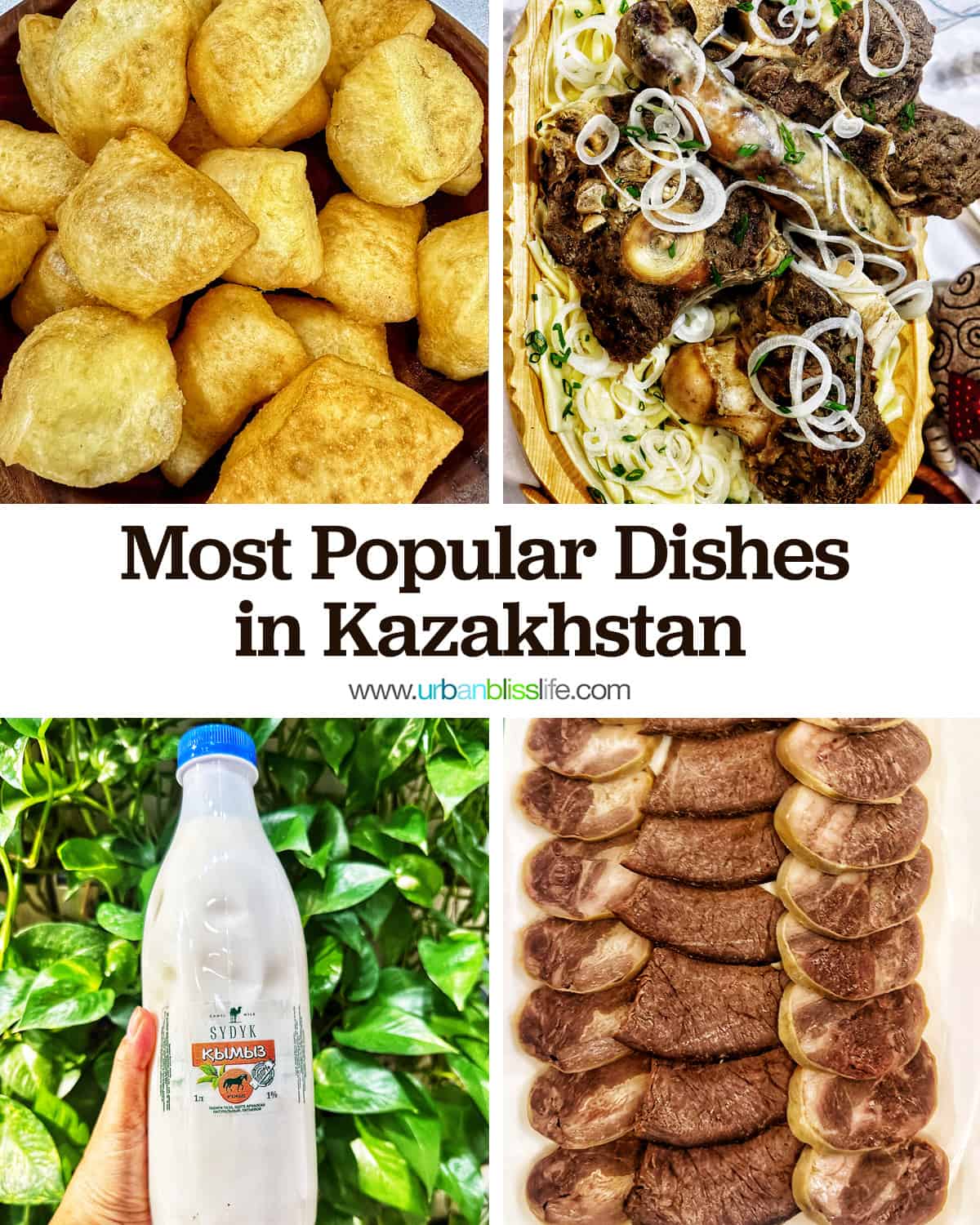 Traditional Kazakh cuisine is a delightful tapestry of flavors, textures, and cultural influences. The food and drink of this 9th largest country in the world reflect the country's rich, complicated history and diverse geography.
Recently, I had the honor of exploring Kazakhstan during a 10-day trip with SATW and Travel Kazakhstan. I had few expectations as I knew very little about the country, much less the cuisine. And I was pleasantly surprised and delighted with every meal I enjoyed in this beautiful country.
If you are also not as familiar with Kazakh cuisine, here's an overview of some of the most popular dishes you'll find in Kazakhstan. I had the pleasure of trying every dish and drink on this list, and I hope that someday you, too, will have the opportunity to enjoy the rich culture and cuisine of Kazakhstan.
Jump to:
Kazakhstan food
Kazakhstan cuisine draws inspiration from the past traditions of it nomadic people and the culinary heritage of Central Asian countries. Here, you'll find a harmonious blend of hearty meats, aromatic spices, and nourishing grains on the table.
From traditional horse meat and camel meat to tender cuts of lamb and beef, you'll find meat dishes, like beshbarmak and shashlik, at most meals. Grains play a central role in dishes like plov and lagman. Traditional breads like baursak and samsa delight with their flaky textures and tempting aromas.
Fragrant herbs and spices like cumin, coriander, and dill add depth and complexity to the dishes. Meanwhile, ingredients like camel's milk and mare's milk provide a unique twist that reflects the Kazakh nomadic history.
Whether savoring the rustic flavors of the countryside or indulging in the vibrant street food scene in cities like Almaty, my own culinary journey in Kazakhstan left a lasting impression. The Kazakh people are so warm and welcoming. I won't soon forget the country's cultural heritage and its warm hospitality as showcased in traditional Kazakh food.
1. Beshbarmak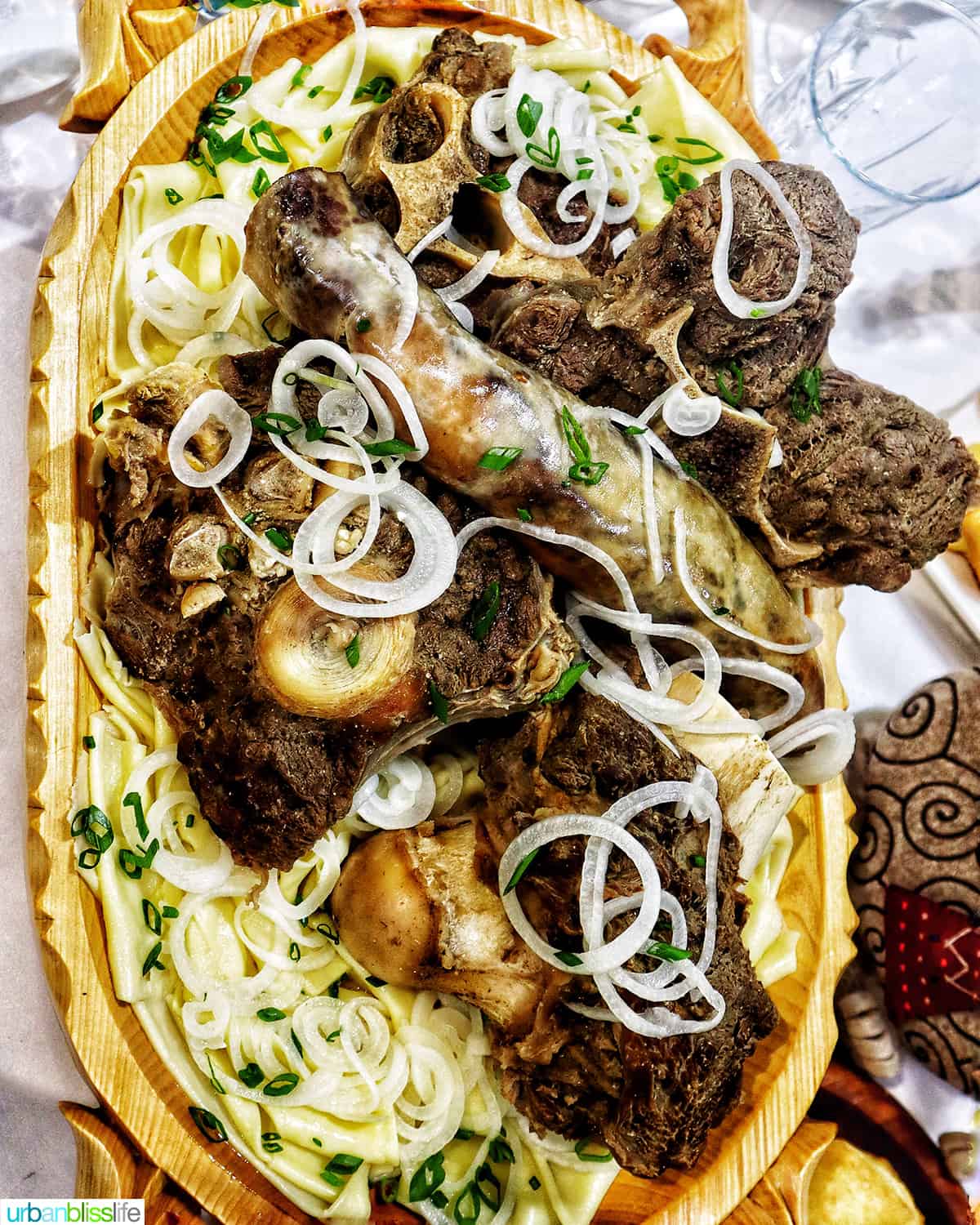 Beshbarmak is a traditional Kazakh dish that boasts a delightful combination of flavors and aromas. This hearty dish is often referred to as the national dish of Kazakhstan. The main ingredients in the modern version of this national food are a combination of tender boiled horse meat and beef. The meat is served on a bed of freshly made flat noodles.
The rich meaty flavors help create a broth with depth of flavor that the noodles soak up. Truth be told, the noodles are probably my favorite part of this dish! They're so tasty and satisfying.
Beshbarmak is typically garnished with caramelized onions, enhancing the dish with a sweet and fragrant element.
2. Baursak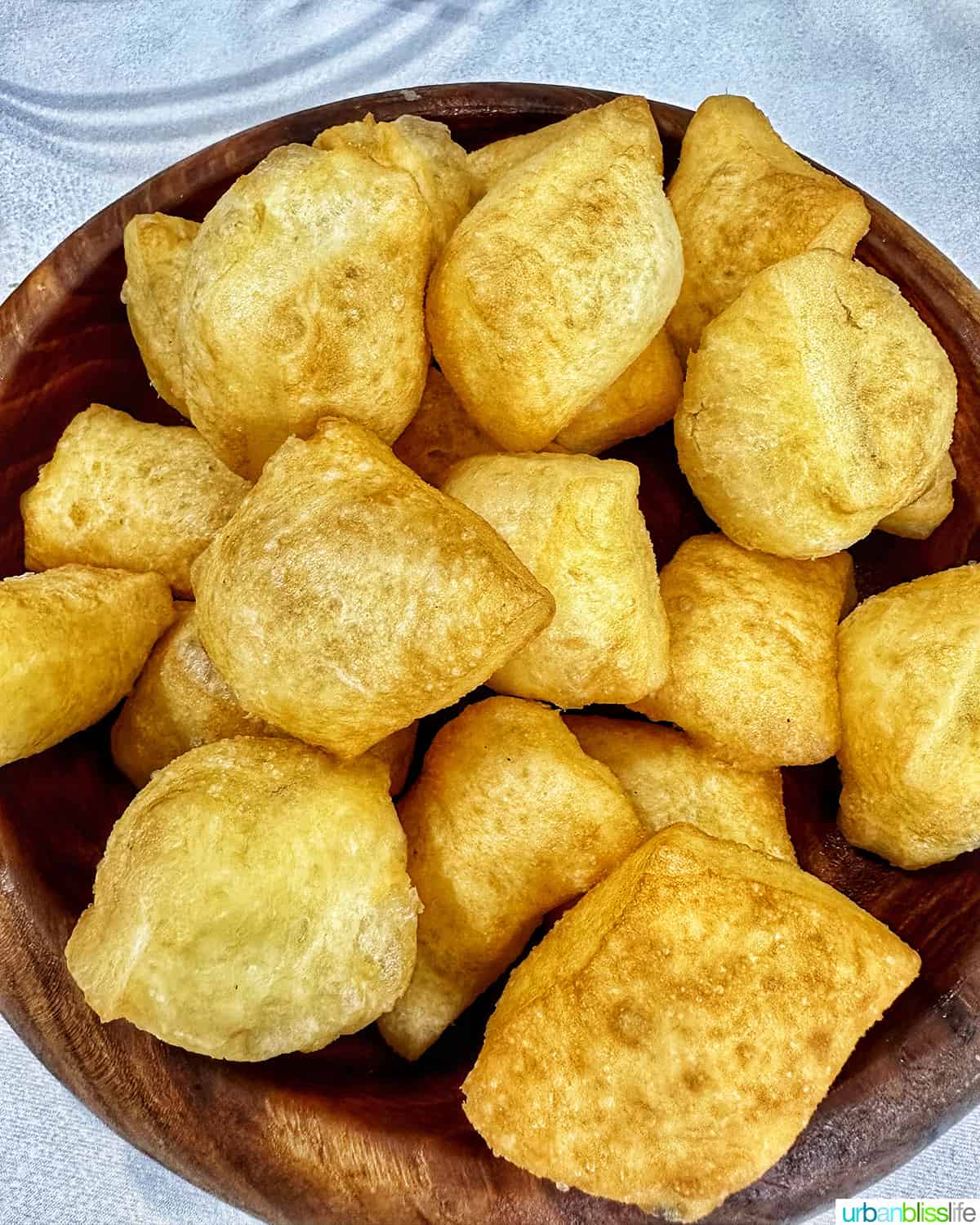 The most popular food among our travel group was Baursak. We ate this delightful deep-fried bread at almost every single meal while traveling in and around the city of Almaty, Kazakhstan.
Made from a simple dough of flour, yeast, salt, and sugar, these golden nuggets are deep-fried until they turn crisp on the outside while remaining soft and fluffy on the inside. The aroma of freshly fried baursak is irresistible, with a hint of yeast and a touch of sweetness. These delectable bread bites are perfect for dipping into soups or enjoying on their own.
Fun fact: you'll find different versions of baursak, depending on where you visit in Kazakhstan. Different regions make circular bread, while others make rectangles, squares, or triangles. Most of the baursak we enjoyed in the Almaty area were square shaped.
3. Kazy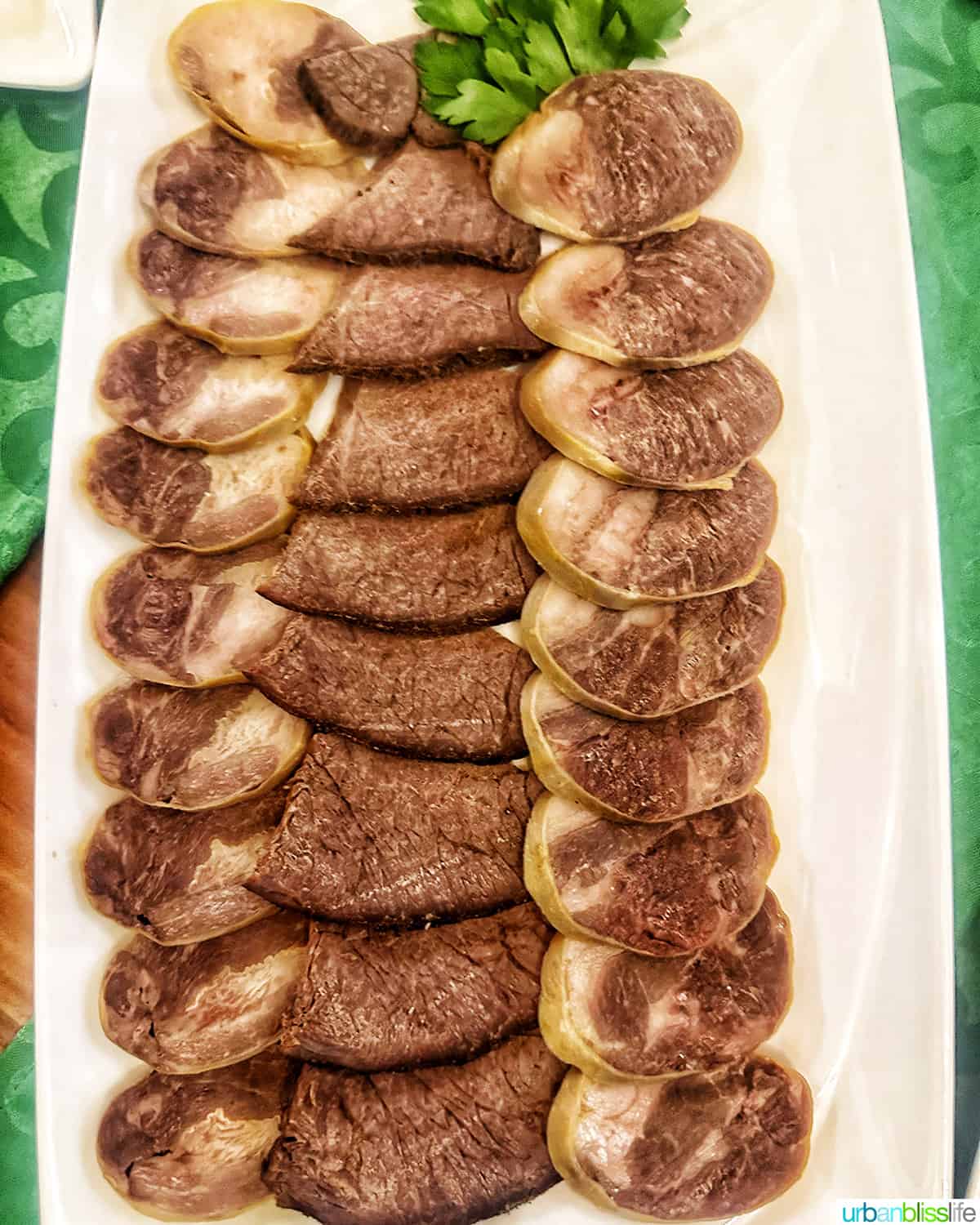 Kazy is a traditional Kazakh horsemeat sausage that is highly aromatic and bursting with flavor. I'm told this type of horse meat sausage is often served only at special occasions and to honored guests.
This delicacy is made by stuffing seasoned ground horse meat into a casing and then air-drying and fermenting it. The result is a sausage with a strong, tangy aroma and a distinct taste. The seasoning is typically a blend of garlic, black pepper, and other spices.
Kazy is usually sliced thin and enjoyed with bread or on its own.
4. Kumis - mare's milk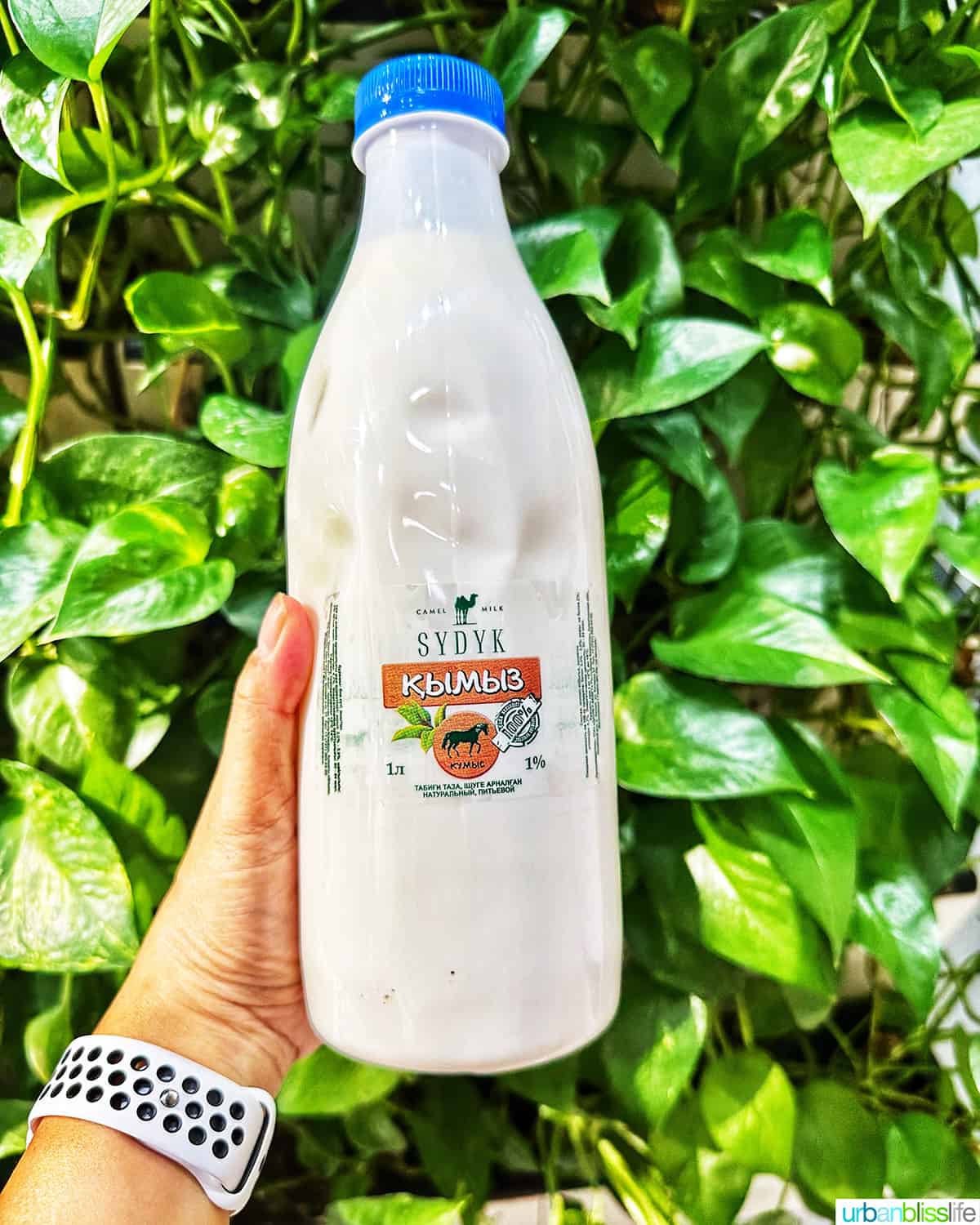 Mare's milk (horse milk) holds a significant historical significance in Kazakhstan's food history and is a reflection of their nomadic way of life.
Known as "kumis," mare's milk was (and still is) highly valued for its medicinal properties. It is considered a symbol of vitality and strength.
The nomads believed that consuming mare's milk helped boost the immune system and provided energy during long journeys. Mare's milk was not only consumed as a standalone beverage but was also used to create various dairy products like curdled cheese and yogurt.
I tried mare's milk and found it to be somewhat sour, but not as sour as camel's milk.
5. Shubat - camel's milk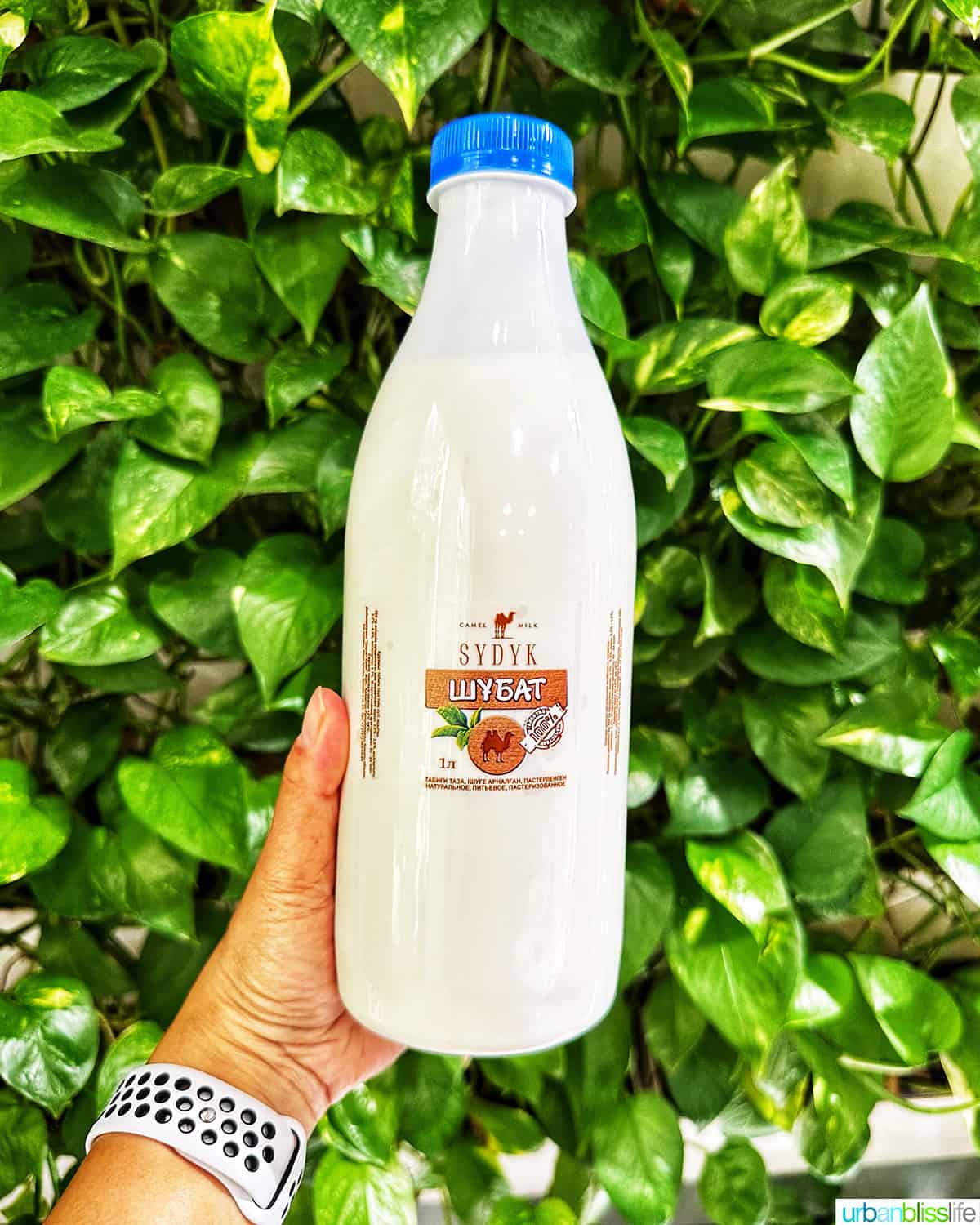 Camel's milk also holds a significant place in Kazakhstan's food history due to its historical and cultural importance among the nomadic tribes of Central Asia.
For centuries, the camel has been a vital companion for the traditional nomadic lifestyle, providing transportation, milk, and meat. Camel's milk, known for its high nutritional value, was a crucial source of sustenance in the harsh and arid landscapes of Kazakhstan. It served as a valuable and versatile ingredient, used in various traditional dishes and as a refreshing beverage.
Camel milk's rich flavor and creamy texture adds depth to soups, desserts, and dairy products. And today, you can even find it in powdered form; many use powdered camel's milk similar to how Westerners use protein powder.
I find camel's milk to be a very sour milk. It's not my favorite, but if you're given the opportunity to try it, you should. You just might like it!
6. Tea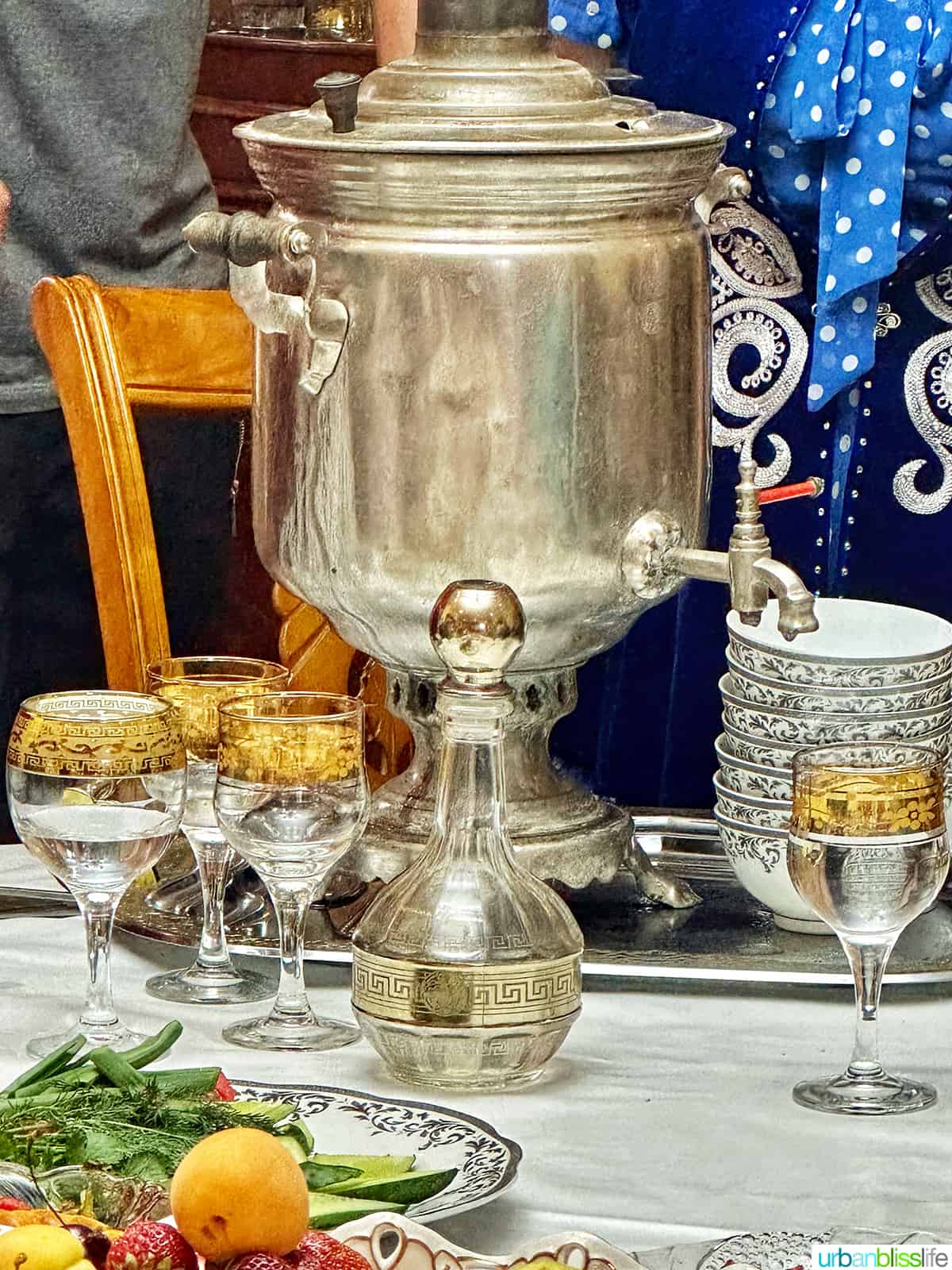 Traditional Kazakh tea is a cherished aspect of Kazakh culture and hospitality. It is more than just a beverage; it is a ritual that brings people together, fosters connections, and symbolizes warmth and friendship.
Prepared in a traditional samovar (see photo above), a large metal urn with a central chamber for brewing tea and a surrounding chamber for keeping it hot, Kazakh tea is an art form in itself. The tea leaves, are typically black tea. They are steeped in boiling water within the samovar, allowing the flavors to slowly infuse and develop. The tea is often brewed strong, resulting in a robust and invigorating brew. Kazakh tea is served in small cups, with guests encouraged to engage in meaningful conversation and enjoy the moment.
An assortment of traditional snacks like baursak and kurt usually accompany Kazakh tea. The experience of traditional Kazakh tea is an opportunity to connect with others, share stories, and experience the warm hospitality of Kazakh culture.
7. Plov - rice pilaf
Plov is a beloved Kazakh pilaf rice dish. Fragrant basmati rice is cooked with succulent chunks of meat (such as horse, lamb, or chicken), onions, carrots, and a medley of aromatic spices like cumin, coriander, and paprika.
The aroma of saffron infuses the rice with a golden hue and a delicate floral scent. Each bite reveals a harmonious blend of flavors, with the tender meat and aromatic spices creating a truly satisfying dish.
During my trip to Kazakhstan, we were served Plov at most dinners. It's a delicious side dish to enjoy with an array of fresh salads and hearty main dishes like beshbarmak.
8. Kuyrdak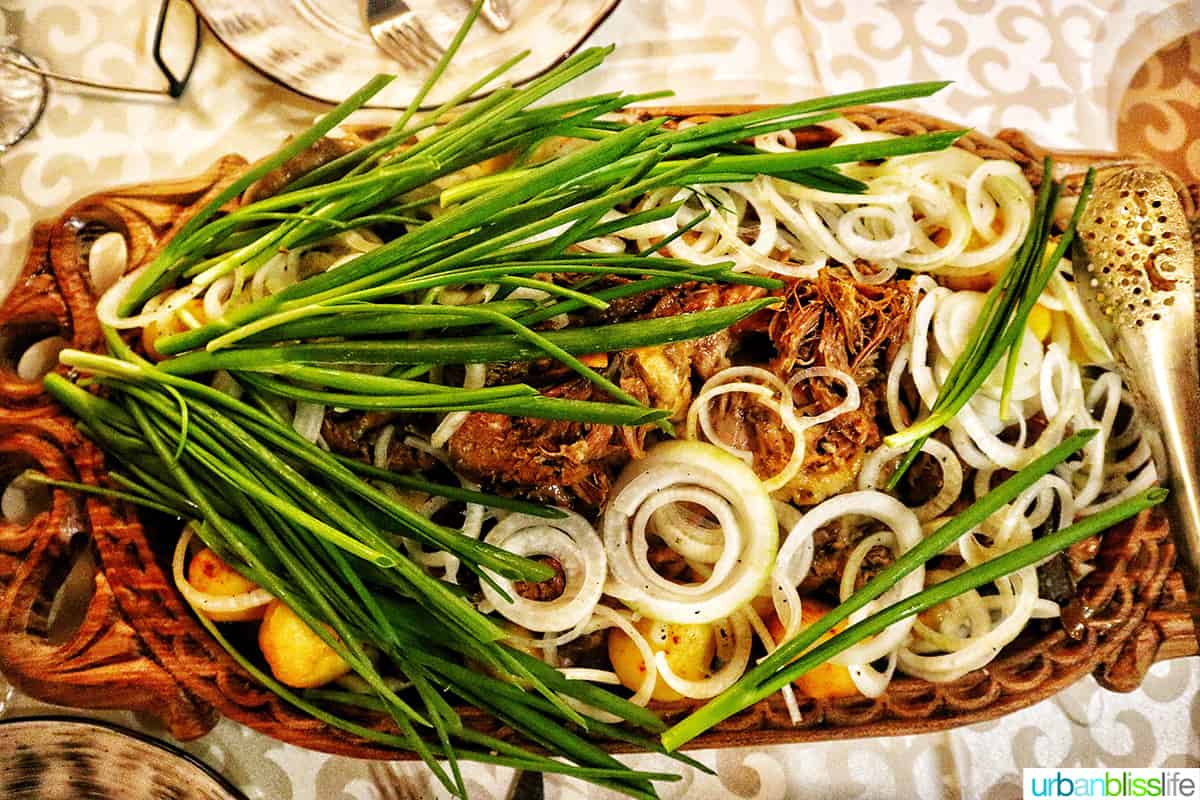 Kuyrdak is a hearty meat dish that is sometimes referred to as Sirne (Syrne). This traditional Kazakh dish combines tender chunks of lamb or beef with onions, potatoes, and aromatic spices such as cumin and paprika.
As the meat and vegetables cook together, a savory aroma fills the air, mingling with the earthy fragrance of the spices. The result is a dish that is both comforting and satisfying, with each bite offering a delightful blend of textures and flavors.
I found this popular Kazakh dish to be similar to the taste and texture of the national dish of beshbarmak.
9. Tandyr Nan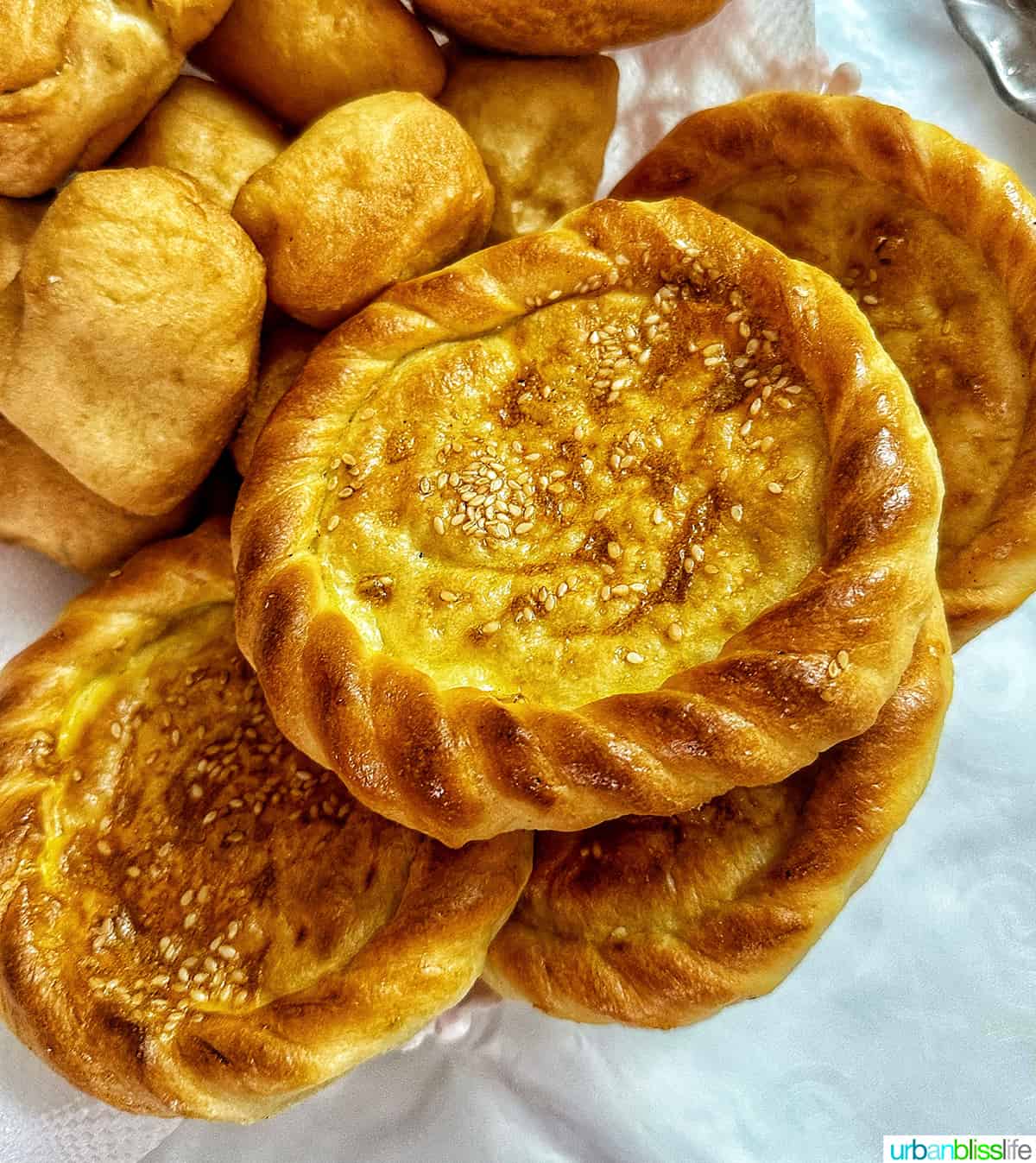 Tandyr nan is another staple in Kazakh cuisine. This is a mouthwatering bread that embodies the warmth and aroma of traditional baking.
Baked in a special clay oven called a tandyr, this bread boasts a distinct circular shape with a golden brown exterior. The dough is made from simple ingredients like flour, water, yeast, and salt, yet the process of baking it in the tandyr imparts a unique flavor and texture.
As the bread cooks, the intense heat creates a crisp outer crust while maintaining a soft and fluffy interior. Tandyr nan bread is perfect for tearing into pieces and savoring with various dishes or simply enjoying on its own. Tandyr nan represents the age-old baking traditions that have been passed down through generations in Kazakhstan.
10. Shelpek - Central Asian flatbread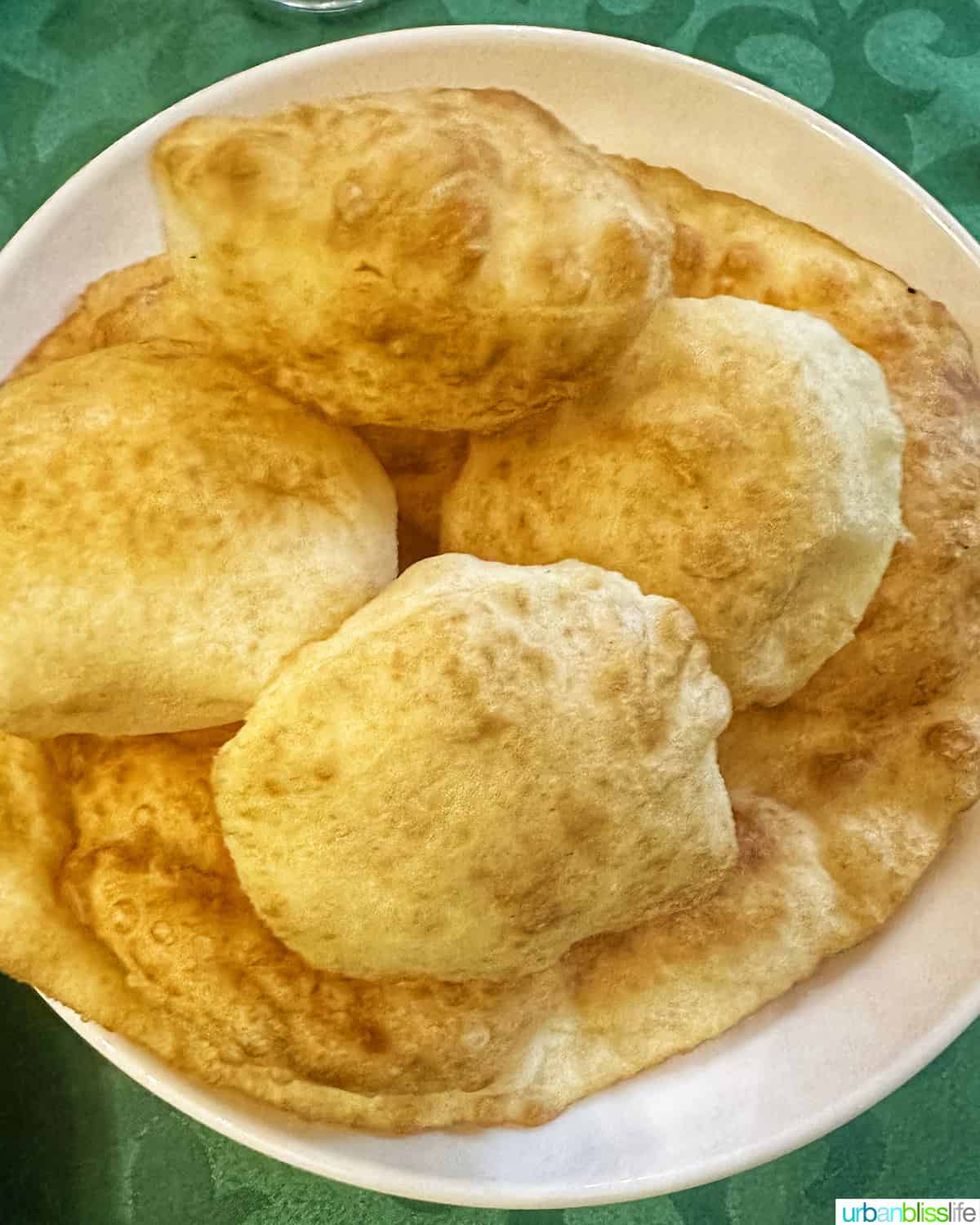 Shelpek is another beloved traditional snack in Kazakhstan. This is a delectable deep-fried flatbread that is made from a basic dough consisting of flour, water, salt, and sometimes yeast or baking powder.
The dough is rolled out into thin, circular shapes and then deep-fried until golden and crispy. The result is a delicate, flaky pastry with a satisfying crunch.
Shelpek can be enjoyed in various forms, such as plain or sprinkled with sugar or spices like cumin or paprika for added flavor.
11. Manti - dumpling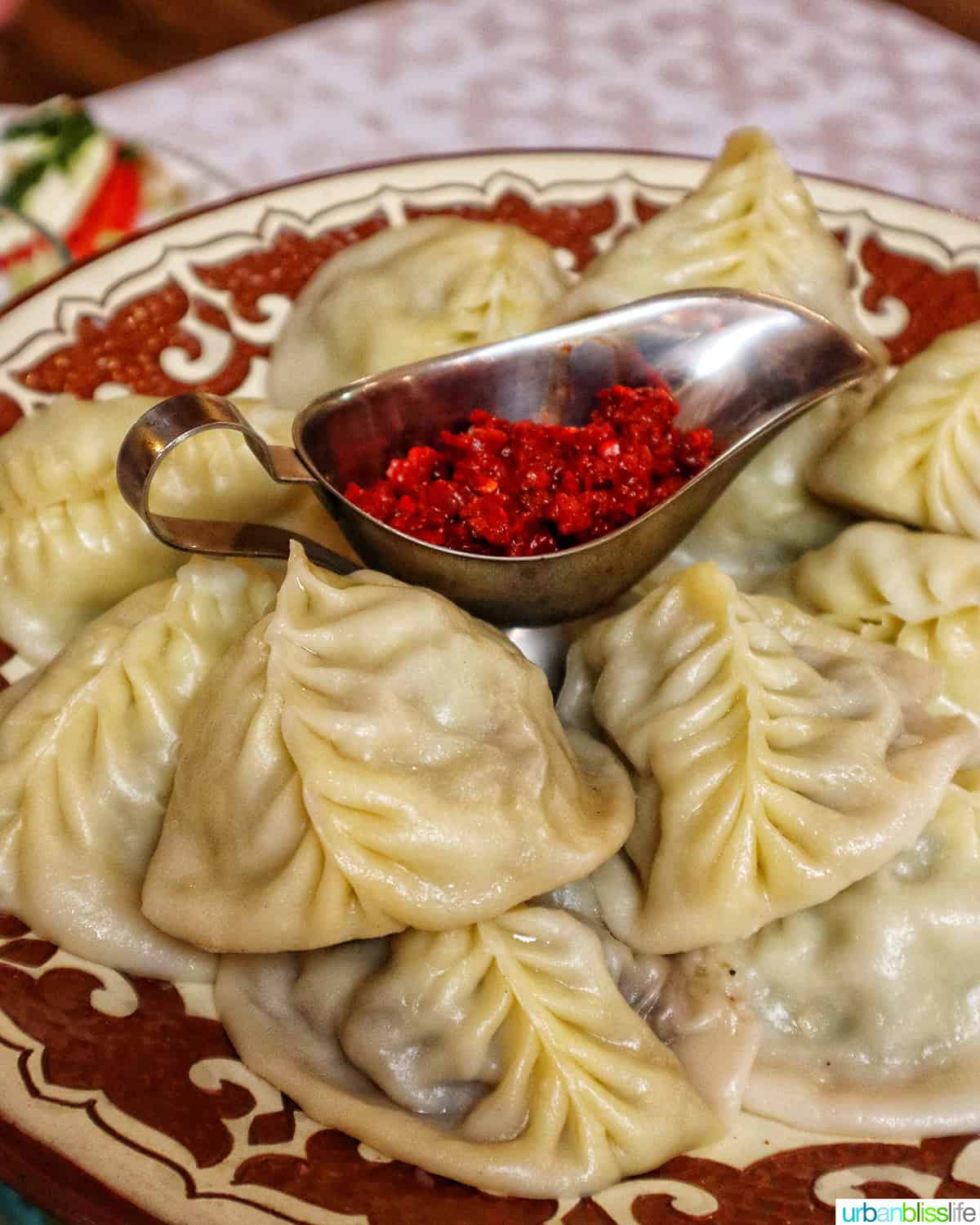 Steaming hot and bursting with flavors, manty are Kazakhstan's answer to dumplings.
These oversized dumplings are stuffed with a savory mixture of ground meat (often lamb or beef), onions, and fragrant spices. The dough is soft and fluffy, providing a delightful contrast to the rich, well-seasoned filling. Manty is often served with a dollop of tangy yogurt or chili oil.
12. Lagman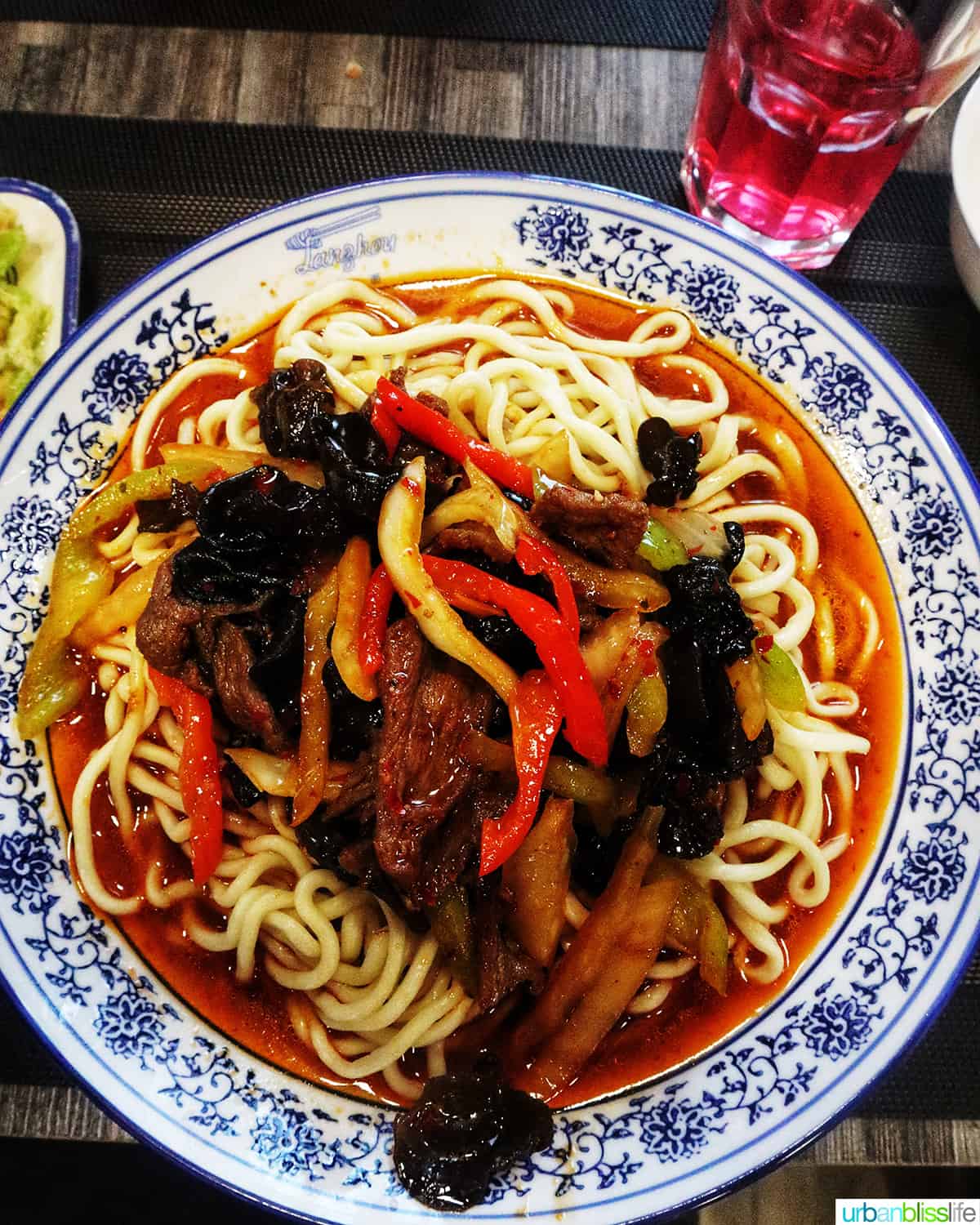 One of my favorite Kazakh dishes from this trip was Lagman. We enjoyed this noodle dish at a popular restaurant on the way back to Almaty after a long day exploring Altyn-Emel National Park.
Lagman is a hearty noodle soup that is full of vibrant flavors and aromatic spices. Thick hand-pulled noodles are stir-fried with an assortment of vegetables. It's often made with bell peppers, carrots, and cabbage, along with chunks of tender meat (beef or lamb) or tofu for a vegetarian version.
Fragrant spices like cumin, coriander, and chili flakes add a depth of flavor. Lagman is a comforting and satisfying dish that is perfect for chilly evenings or for refueling after a long day exploring the natural wonders of Kazakhstan.
13. Kurt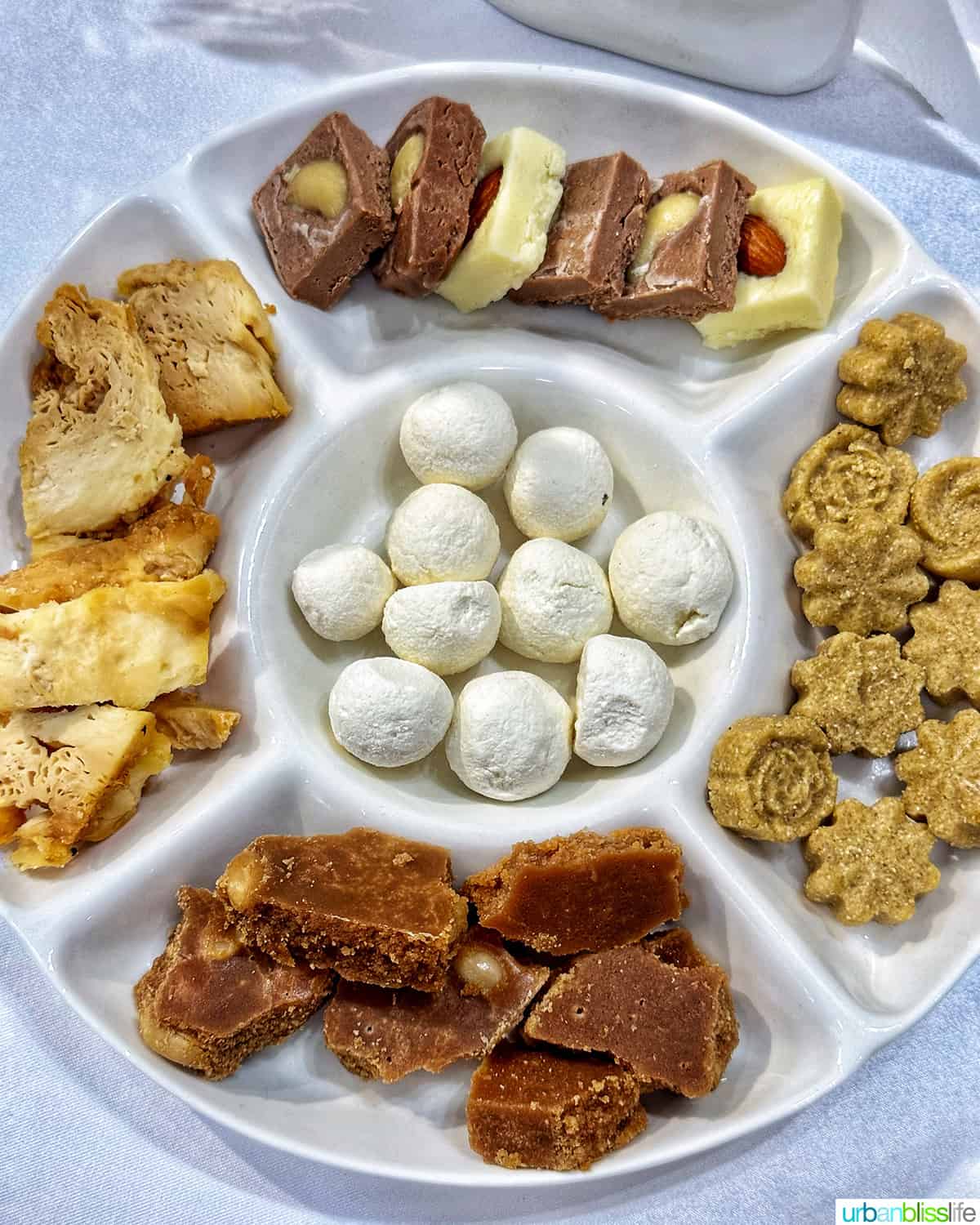 Kurt is a unique and aromatic dried cheese that is a popular snack in Kazakhstan. Made from fermented mare's milk or sheep's milk, this dried cheese has a distinctive flavor and texture.
The cheese is cut and shaped, usually into small balls, and air-dried until it becomes hard and crumbly. The aroma of the cheese is tangy and slightly pungent, while the flavor is intense and salty.
Kurt is often enjoyed on its own as a snack or served with other small snacks toward the end of a meal.
14. Samsa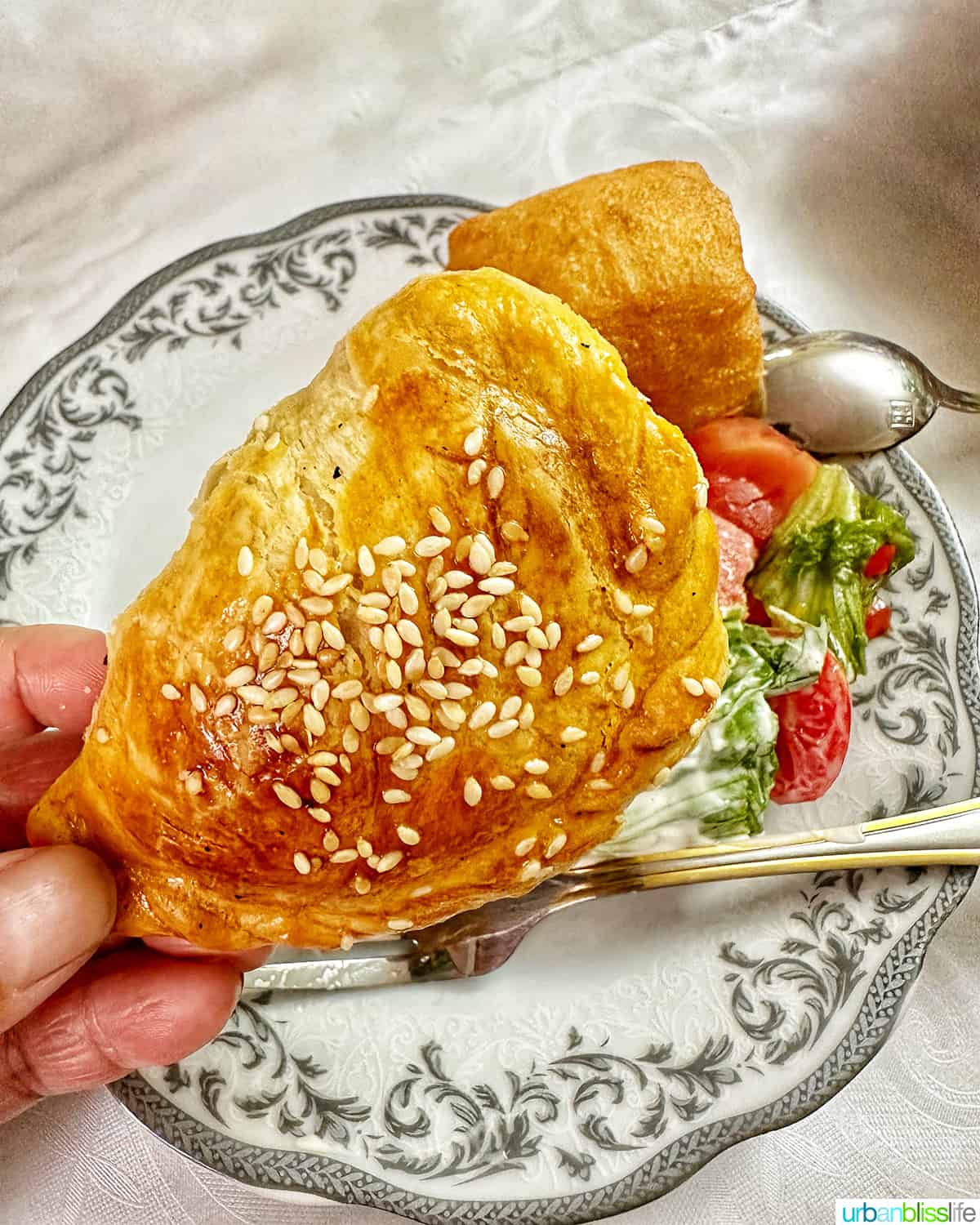 Samsa is a delectable, flaky triangular filled pastry similar to samosas or empanadas. They are filled with a savory mixture of ground meat (usually lamb or beef), onions, and fragrant spices. Sometimes, the pastry is topped with sesame seeds, as pictured above.
As they bake, the pastry turns golden brown, releasing a tantalizing aroma of butter and spices. The first bite reveals a crisp outer layer, giving way to a moist, flavorful filling.
Samsa is a popular snack in Kazakhstan, perfect for enjoying on the go. We enjoyed it as an appetizer at several meals in Almaty, Kazakhstan.
Common FAQs about Kazakhstan food
Why is horse meat popular in Kazakhstan?
Kazakhs have historically been nomadic people, and relied on horses for both transportation and food. Horses play an important role in Kazakhstan's national identity. In addition to being a lean source or protein, According to National Geographic, Kazakhs have long believed horse meat to making people faster, stronger, more agile, and wiser.
Can you eat pork in Kazakhstan?
Kazakhstan is a Muslim-majority country, and you won't find pork on the menu as often as you will find beef, lamb, horse meat, or chicken.
Is alcohol allowed in Kazakhstan?
Yes, you will find Kazakhstan wine, beer, and spirits. The legal drinking age is 21 in Kazakhstan. However, the country prohibits selling alcohol from 11 pm until 8am on weekdays and 12 am until 8am on weekends.
Is it safe to drink the water in Kazakhstan?
In large cities like Almaty, the water is generally known to be relatively safe to drink. However, in the smaller villages, they don't have the same water filtration capabilities or the same water standards, so it is advisable to stick to bottled water outside of the major cities. Even while in Almaty, you'll find most people drinking bottled water.
Kazakhstan is such a special place rich with history, culture, and cuisine like no other country I have ever visited so far. I hope you get the chance to try a few of these popular Kazakh foods at least once in your life!
More travel articles
If you visit, please be sure to let them know that you read about it on Urban Bliss Life! And if you snap some pics, tag us @UrbanBlissLife and #UrbanBlissLife on Instagram, TikTok, Twitter, and Facebook.
Thanks to Kazakhstan Tourism, USAid, and SATW Digital Publisher's Council for sponsoring this press trip. All photos and opinions are my own.