Is Kazakhstan on your travel bucket list? It should be! With scenic marvels of nature to rich culture and history to tantalizing local cuisine, Kazakhstan is one of the most interesting places to visit. And the city of Almaty is an amazing place to start. Check out these 30+ Best Things to Do in Almaty, Kazakhstan.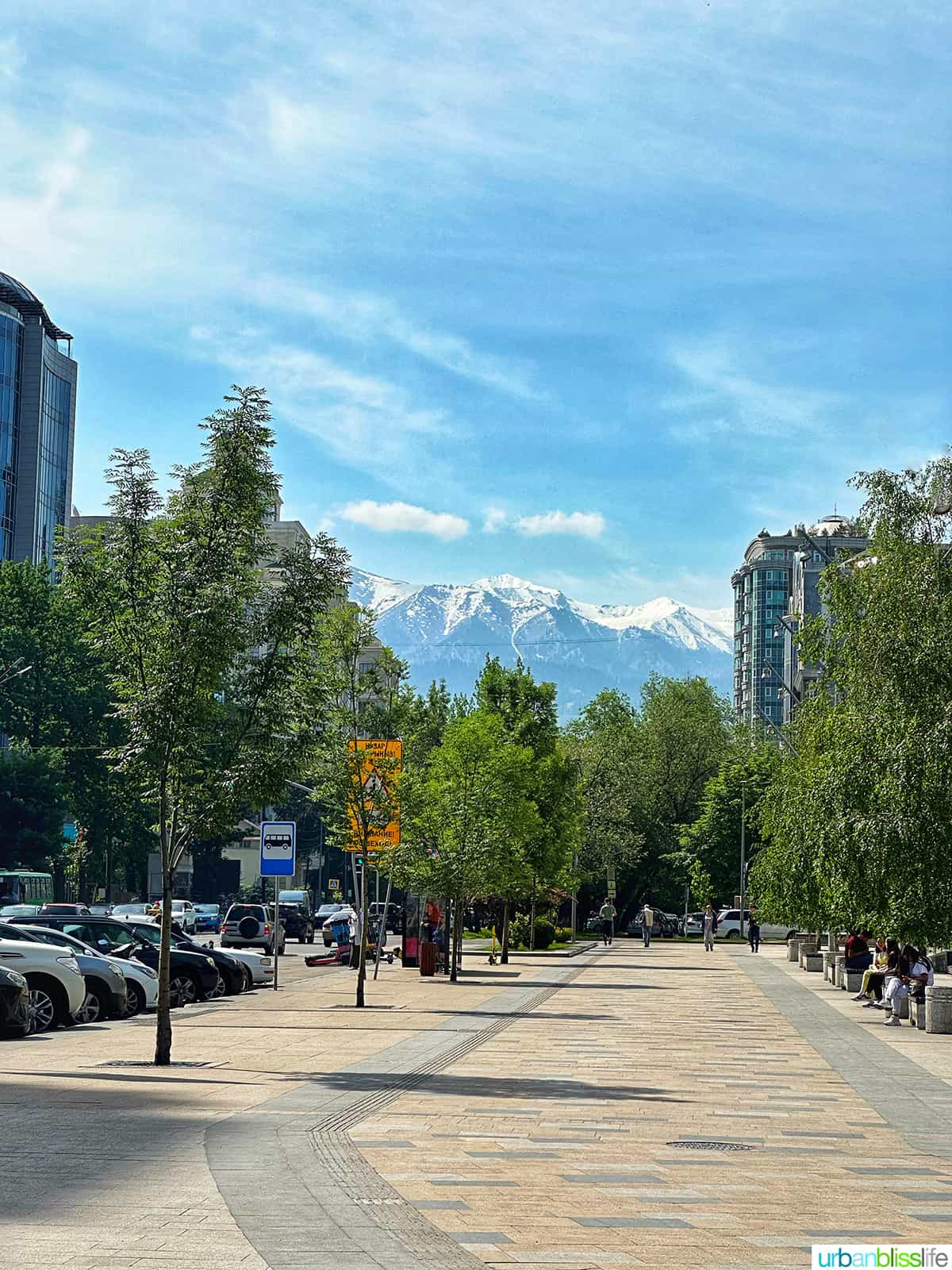 When I first found out I was headed to Kazakhstan, I was so excited -- but also a little nervous. I didn't know much about the country, Kazakh people, their traditions - or anything, really! And my online research left me with many more questions. In fact, I was disappointed to see that many of the Kazakhstan travel guides were written by people who had never even been to the country!
So I wanted to create a helpful travel guide for others interested in navigating this still often overlooked country. I truly fell in love with Kazakhstan, and I'm so honored to have had these experiences in my lifetime. And, I am so excited to share them here with you. I hope they inspire you to add Kazakhstan to your travel bucket list!
And if you're traveling to Almaty, I hope you find this travel article helpful in navigating this amazing city.
About Almaty
Almaty is the former capital of Kazakhstan. With nearly 2 million people living in Almaty, it is the most populated city in the country (Astana, the new capital, is the second largest).
Almaty is a bustling, vibrant, modern city. It serves as the administrative, cultural, and economic center of the Almaty Region.
Kazakhstan gained independence from the Soviet Union in 1991 - not too long ago. So intermingled with modern architecture, you'll find some buildings that clearly date back to the Soviet times.
The city serves as a vibrant cultural and economic center in the heart of Central Asia. With its rich history, natural beauty, and warm hospitality, Almaty offers a memorable experience for travelers. It's a city I won't soon forget.
Where is Almaty?
Almaty is located in the southeastern part of Kazakhstan. Situated in the Almaty Region, it borders Kyrgyzstan to the south and shares boundaries with several other regions of Kazakhstan.
The populous city lies in a mountainous area at the northern foothills of the Tian Shan Mountains, offering stunning natural scenery. The city is positioned on a plain, surrounded by mountain ranges to the southeast, east, and northeast.
This strategic location not only offers breathtaking natural beauty but also influences the city's climate, culture, and historical connections to the Silk Road trade route.
How to get to Almaty
Flying to Almaty from the west coast of the United States took me approximately 21 hours of flight time. Including layovers, my total travel time was approximately 29 hours.
Several major airlines offer international flights from U.S. cities to Almaty International Airport (ALA), with connecting flights usually available in cities such as Frankfurt, Istanbul, or Dubai.
✈️ Use the search form below to find and book your best flights to Almaty, Kazakhstan:
Where to stay in Almaty
We stayed at the Grand Mildom Hotel, located in a vibrant and upscale neighborhood located in the heart of the city centre. The hotel is right on the prestigious Dostyk Avenue, it is known for its modern architecture, luxurious residential buildings, stylish boutiques, cafes, high-end shopping, and a variety of dining options.
The area is characterized by sleek and contemporary buildings, reflecting the city's progressive vibe. The streets are clean and pedestrian-friendly, making it pleasant to explore on foot.
Not too far from the hotel are plenty of green spaces and parks, providing a refreshing escape from the urban bustle. I list some of the ones we visited in the post below.
🏨 Use the search form below to find and book your Almaty hotel:
Common FAQs about visiting Kazakhstan
What is the currency in Kazakhstan?
The currency in Kazakhstan is the Tenge. At present moment, the exchange rate is approximately 450 Tenge (KZT) to 1 US Dollar (USD). It's advisable to have some cash on hand as not all establishments accept credit cards, especially in the smaller towns and villages outside of Almaty.
What language do they speak in Kazakhstan?
Kazakh is the official language, although many Kazakhs also speak Russian. So it's helpful to know a few key phrases in either or both languages. English is now also taught in most schools. I found that most Kazakh children I met could speak excellent English. In Almaty, you'll find that some Kazakh adults also speak English -- but it's still best to try to learn a little Kazakh and/or Russian before you visit.
When is the best time to visit Kazakhstan?
I visited Kazakhstan at the end of May to early June, and the weather was near perfect for traveling. Winter months can be cold and harsh, and summers can be sweltering hot and humid. In early June, Almaty wasn't too hot or too cold, however the weather changes drastically depending on what part of the country you are in. Kazakhstan is a diverse landscape of cities, mountains, and valleys. Wearing layers is always recommended.
Is Almaty safe for women travelers?
I personally felt safe traveling around Almaty, Kazakhstan. I had no problems traveling throughout Almaty as a woman. Like most cities, you will want to exercise normal safety precautions when you travel to Kazakhstan. Be mindful of your belongings, particularly in crowded areas. Don't go out alone after dark; I only walked around the city on my own during the day and was always with other people at night. Use the Yandex Go app to arrange for official transportation around the city instead of trying to hail a car. Keep your valuables in your hotel safe and keep money/cards in zippered pockets on your body.
30+ things to do in Almaty, Kazakhstan
---
1. Explore the Green Bazaar
As a lover of visiting local markets wherever I travel, a trip to the Green Bazaar (also known as the Green Market) is one of the top things I suggest you do on your visit to Almaty.
Experience the vibrant atmosphere of this bustling market, known for its fresh produce, spices, and meats. It's one of the best places to go shopping for souvenirs, too. I went to the Green Bazaar twice during my visit to Almaty, and I kept finding new things to explore here.
2. Visit Zenkov cathedral
Also known as ascension cathedral, Zenkov Cathedral is a Russian Orthodox Church that was built in 1907. It's a stunning piece of colorful architecture that is made entirely out of wood. Not one single nail was used to build the cathedral!
As one of the city's main landmarks, you can visit Zenkov Cathedral and catch one of two daily church services. These are open to the public, but women must wear head coverings like scarves, inside the cathedral. If you forget yours, there are several on a coat rack by the front door that you can borrow during your visit.
3. Panfilov Park
Panfilov Park is a picturesque and historically significant green space in the heart of Almaty.
The park is named after the Panfilov Heroes, a group of 28 soldiers from Almaty who fought bravely against Nazi forces during World War II. It is home to the striking Zenkov Cathedral (mentioned above). Within the park, you can stroll along tree-lined paths, relax on benches, and enjoy the peaceful ambiance. Beautiful flowerbeds, statues, and memorials can be found throughout the park.
Additionally, Panfilov Park serves as a popular gathering place for locals, offering a tranquil retreat in the heart of the bustling city.
4. Go to the top of Kok Tobe hill
Take a cable car ride to the top of Kok Tobe hill for spectacular views of the city. This is known as the highest point of Almaty, at 1130 meters above sea level.
At the top, you can enjoy a day participating in the many activities. There's a family-friendly amusement park, with a large ferris wheel, small roller coaster, rope course, rock climbing wall, and more.
5. Enjoy winter sports at Shymbulak ski resort
Shymbulak Ski Resort is the largest ski resort in Central Asia. Located a short drive from Almaty's city center in the upper part of the Medeu Valley, these snow-capped mountains are the perfect place to go skiing, snowboarding, or tubing during the winter season.
6. Relax in First President's Park
First President's Park is a beautiful space that mixes green space with an impressive arched structure and several interesting sculptures. It's a great place to enjoy a peaceful walk or have a picnic in this park. The park is located in the south part of Almaty, at the intersection of Navoi Street and Al-Farabi Avenue in the Bostandyq District.
As the name suggests, the park was named after the first President of Kazakhstan Nursultan Nazarbayev. Families will love the large public fountains which provide a refreshing spot to dip your toes on a hot day. And if you're here when during city festivals – such as "Almaty – a city of flowers", "Puppet Carnival" and "Apple Festival" - they all take place at First President's Park.
7. Walk around Republic Square
Also known as Independence Square, Republic Square opened in 1980. It's the largest square within the city of Almaty, and is home to large festivals, celebrations, and parades. The Monument of Independence (pictured above) is located here as are the Central State Museum of the Republic of Kazakhstan and the former Presidential Palace, which now serve as municipal offices.
8. Try traditional Kazakh food - horse meat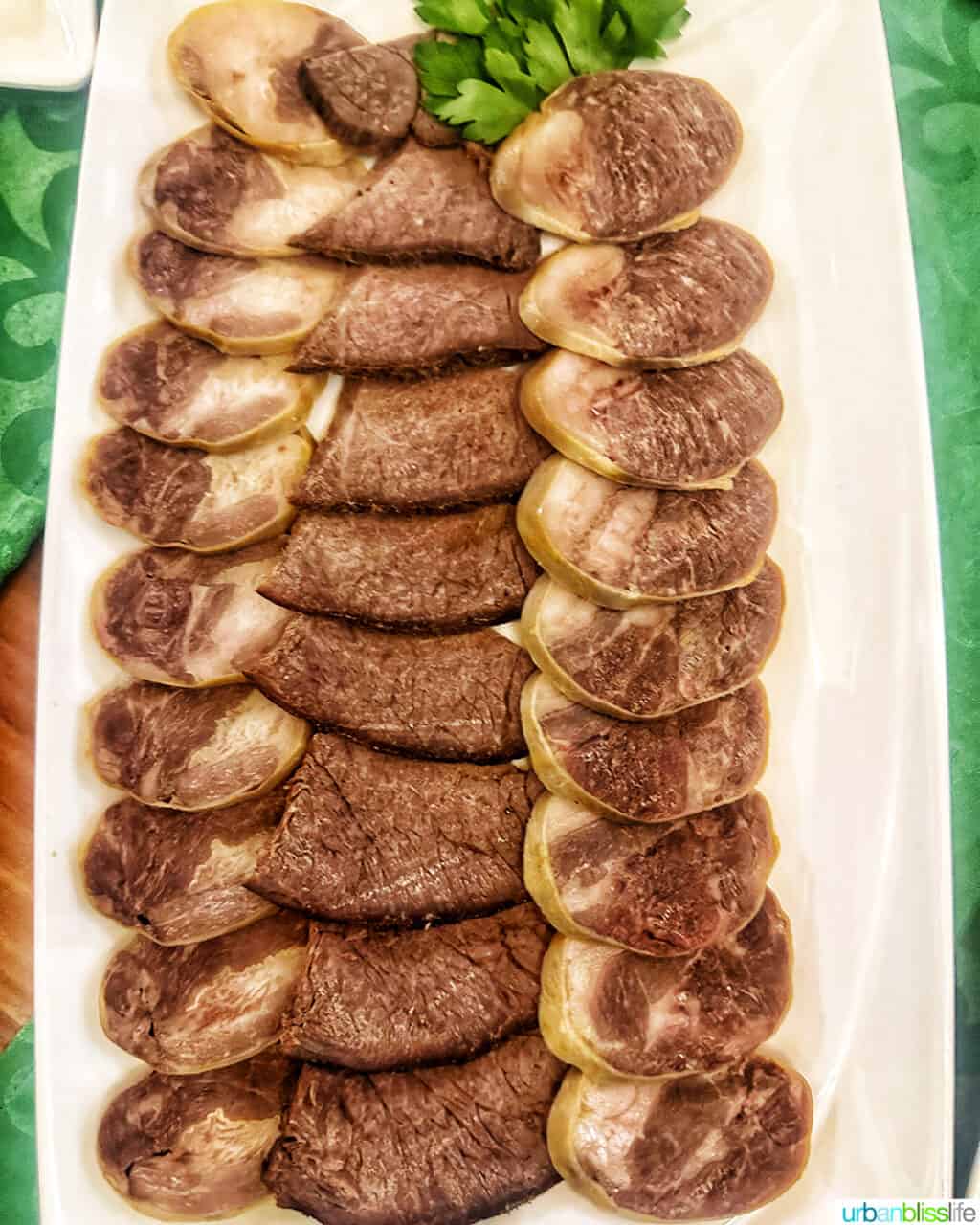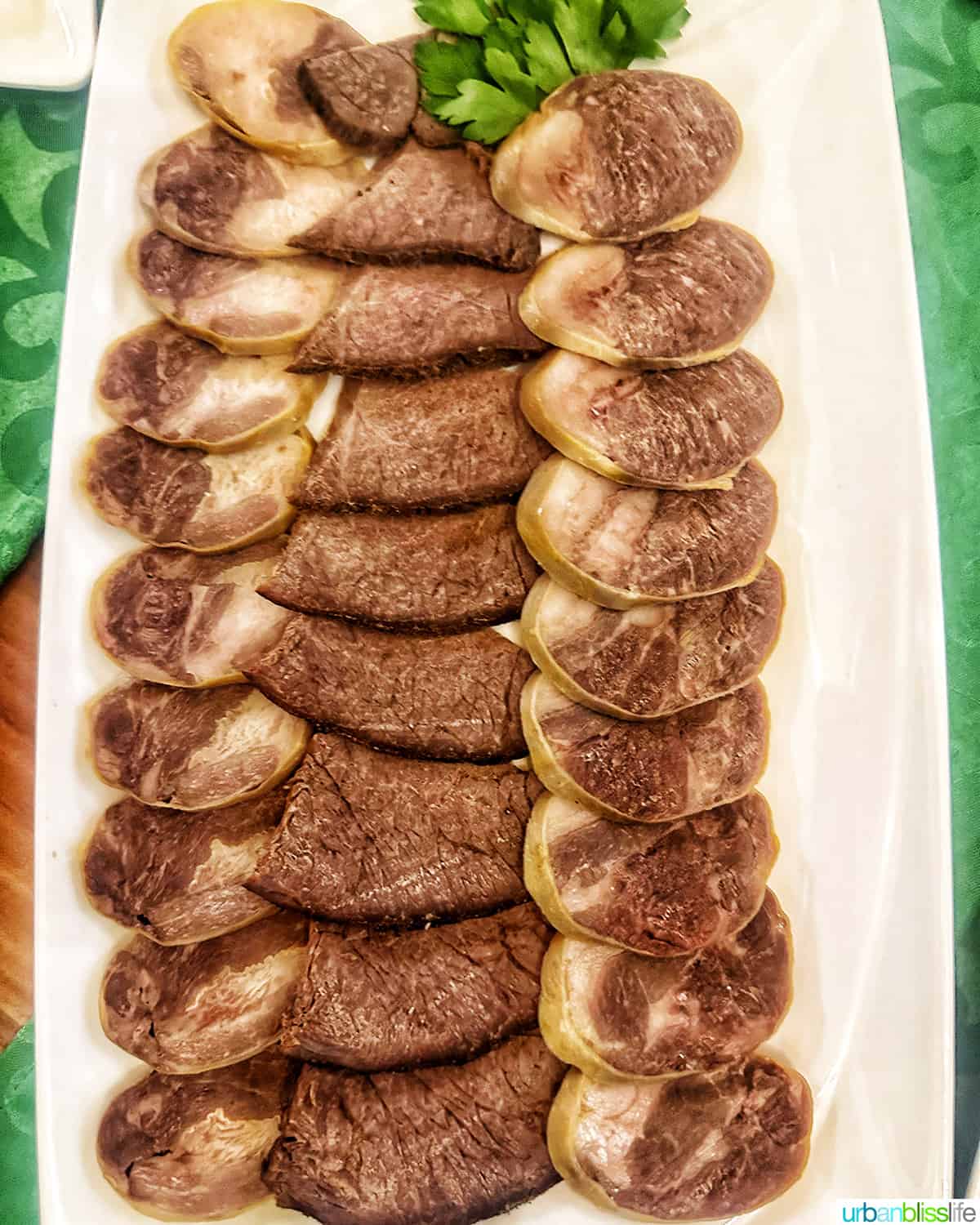 When in Kazakhstan, I highly encourage you to try the local cuisine. Horse meat, while not as popular in the western world, has and continues to be a popular traditional food in Kazakhstan.
You can try horse meat in various forms at the Green Bazaar, and in restaurants throughout the city. Most commonly, it's sold as Kazy (a horse meat sausage), as jerky, or as meat cooked in the national dish, Beshbarmak.
💡 Learn more about Traditional Kazakhstan Food in my article about Kazakh cuisine.
9. Camel's milk and mare's milk
Common and popular traditional Kazakh beverages include camel's milk and mare's milk. At an Almaty restaurant called Sydyk, I got to try both. Both milks are very sour compared to cow's milk, goat's milk, or sheep's milk.
The milk is also used to make a protein powder that's popular among locals, which you can buy at Sydyk by the large container full.
10. Drink the local wine
Because Kazakhstan is a Muslim majority country, many people are surprised to learn about its wine industry. In fact, while traditional Kazakh nomadic culture wasn't conducive to viticulture, Kazakhs have been making wine for centuries. In the mid-20th century, an antique amphora containing wine sediment was discovered near old Arba Vineyards. It is here in the Karakemer village, located in the southeastern part of Kazakhstan in Assa Valley, that you'll find Arba Winery.
If you enjoy learning about wines of the world, I highly suggest a winery tour at Alba Winery. Located just outside the city of Almaty, Alba is one of the most popular producers of wine in Kazakhstan. Take a winery tour and vineyard dinner, and enjoy their large portfolio of sparkling, white, rosé and red wines.
My personal favorite Alba wine is the Reserve Red.
11. Watch a hunting birds show
Just beyond the entrance of the Ile-Alatau National Park and a short drive from Big Almaty Lake is Falcon Farm Sunkar. Here you can watch an impressive and very entertaining birds of prey show. Be prepared to be part of the show!
The reserve was started in the 1980s originally to help save the Sakar Falcon. Now, it is home to more than 400 birds of prey, including owls, eagles, hawks, and falcons.
12. Learn about Kazakhstan's nomadic people at the Ethno village of the Huns
The Ethno Village of the Huns, located near Almaty, Kazakhstan, offers a fascinating glimpse into the rich cultural heritage of the ancient Hun people. Upon entering the village, you'll be transported back to the lifestyle and traditions of the Huns, a nomadic Central Asian civilization that thrived during the first millennium AD.
Here you can explore traditional yurts and learn about the Hun nomadic way of life. The village showcases their cuisine, crafts, music, and traditional games. You can try your hand at archery, horse riding, or crafting traditional Hun artifacts. And, you can book a stay in one of the yurts for the full experience.
13. Explore Altyn-Emel national park

Altyn-Emel National Park, located in the Almaty Region of Kazakhstan, is a vast and diverse protected area that showcases the country's natural beauty.
Spanning over 4,600 square kilometers, the park offers a unique combination of desert landscapes, lush river valleys, and dramatic mountain ranges. The park is home to various rare and endangered species, including the critically endangered Przewalski's horse (pictured above), as well as Siberian ibex, argali sheep, and goitered gazelles.
The Aktau and Katutau colorful clay formations here boast unique geological formations and vibrant hues. This is a popular spot for hiking, wildlife spotting, and experiencing the stunning natural scenery that defines the region.
14. Climb the Singing Dunes
One of the Altyn-Emel national park's highlights are the Singing Dunes.
These massive sand dunes that seem to appear out of nowhere in the landscape are known for producing a melodic hum or "singing" sound when the sand is disturbed by wind or movement. The sound is created by the sliding and rubbing of sand grains against each other.
The Singing Dunes reach heights of up to 500 feet (150 meters), and offer panoramic views of the surrounding desert and mountains. You can hike to the top of the dunes (that's me hiking up in the first photo above!).
Protip: wear sunglasses to help protect your eyes from the constantly blowing sand.
15. Indulge in Kazakhstan chocolate

The Rakhat Chocolate Factory is one of the largest chocolate factories in Kazakhstan. Located on Kenkov Street, a block away from the Green Bazaar and across the street from Panfilov Park, it's a delightful destination for chocolate lovers.
You can indulge in a wide range of delectable chocolate treats at their store, including pralines, truffles, and chocolate bars, all made with premium ingredients. My shopping basket was overflowing with different chocolates (perfect souvenir gifts to bring back home!), and it all cost less than $10 USD.
16. Ride the Metro
The Almaty Metro is the city's fairly new, efficient, and convenient underground public transport system. It offers a reliable way to navigate the city's bustling streets and reach their destinations quickly.
The metro consists of two comfortable, clean, air conditioned lines: the Almaty District line (Line 1) and the Kalkaman District line (Line 2). Each metro station is designed with unique architectural elements and beautiful murals, showcasing a blend of modern and traditional Kazakh motifs.
These are truly some of the most beautiful subway stops I've ever seen, and the cleanest subway I have ever been on. As of publication date, there are only 11 stops total, with plans for more stops in the future.
17. Catch a performance at the opera
The Almaty Opera House is a prestigious performing arts venue in Central Asia. Known formally as the Abay State Academic Opera and Ballet Theater, it showcases world-class opera and ballet performances. It hosts a repertoire of both classical and contemporary performances, featuring talented local and international artists.
And the building itself is an architectural marvel with so many beautiful details. I thought I took a photo of the Opera House, but alas, I didn't see one in my camera downloads.
18. Visit a mosque
Kazakhstan is a Muslim majority country, and there are many beautiful mosques to be found in the city of Almaty. Baiken mosque (pictured above) was opened by President Nazarbayev of Kazakhstan in 2014. The mosque is located on the eastside of Almaty city center, at the intersection of Rozybakiev Street and Zhandosov Street.
Baiken Mosque is a beautiful and historically significant place of worship for Muslims. It is named after Khan Baiken, a Kazakh leader known for his contributions to the spread of Islam in the region. The mosque showcases traditional Islamic architecture with its elegant domes, intricate geometric patterns, and delicate minarets.
19. Visit the Glory Memorial & Eternal Flame
Pay homage to Kazakhstan's fallen soldiers from World War II at the Glory Memorial and Eternal Flame, located in Panfilov Park. It stands as a reminder of the tremendous courage, resilience, and patriotism exhibited by the Kazakh people during that challenging period in history.
At the heart of the Glory Memorial is the Eternal Flame, representing the enduring spirit and sacrifice of those who fought for freedom and peace. It burns continuously, serving as a solemn reminder of the lives lost and a source of inspiration for future generations.
20. Explore traditional Kazakh instruments
The Kazakh Museum of Folk Musical Instruments is a museum that houses an extensive collection of traditional Kazakh musical instruments, showcasing their diverse shapes, materials, and unique craftsmanship. Here, you can explore the museum's exhibits to learn about the history, significance, and cultural context of these instruments.
Additionally, the museum often hosts live performances, so you can experience the enchanting sounds and melodies of Kazakh traditional music.
21. Go horseback riding
Kazakh people have a long rich relationship with horses, dating all the way back to the early days when they had a primarly nomadic lifestyle. There are many places in and around Almaty where you can go horseback riding.
I did a guided horseback tour at Oi Qaragai Resort, which offers options to riders of all levels, from beginners to experienced equestrians. We went through scenic mountain trails overlooking picturesque valleys.
22. Stay in a tree house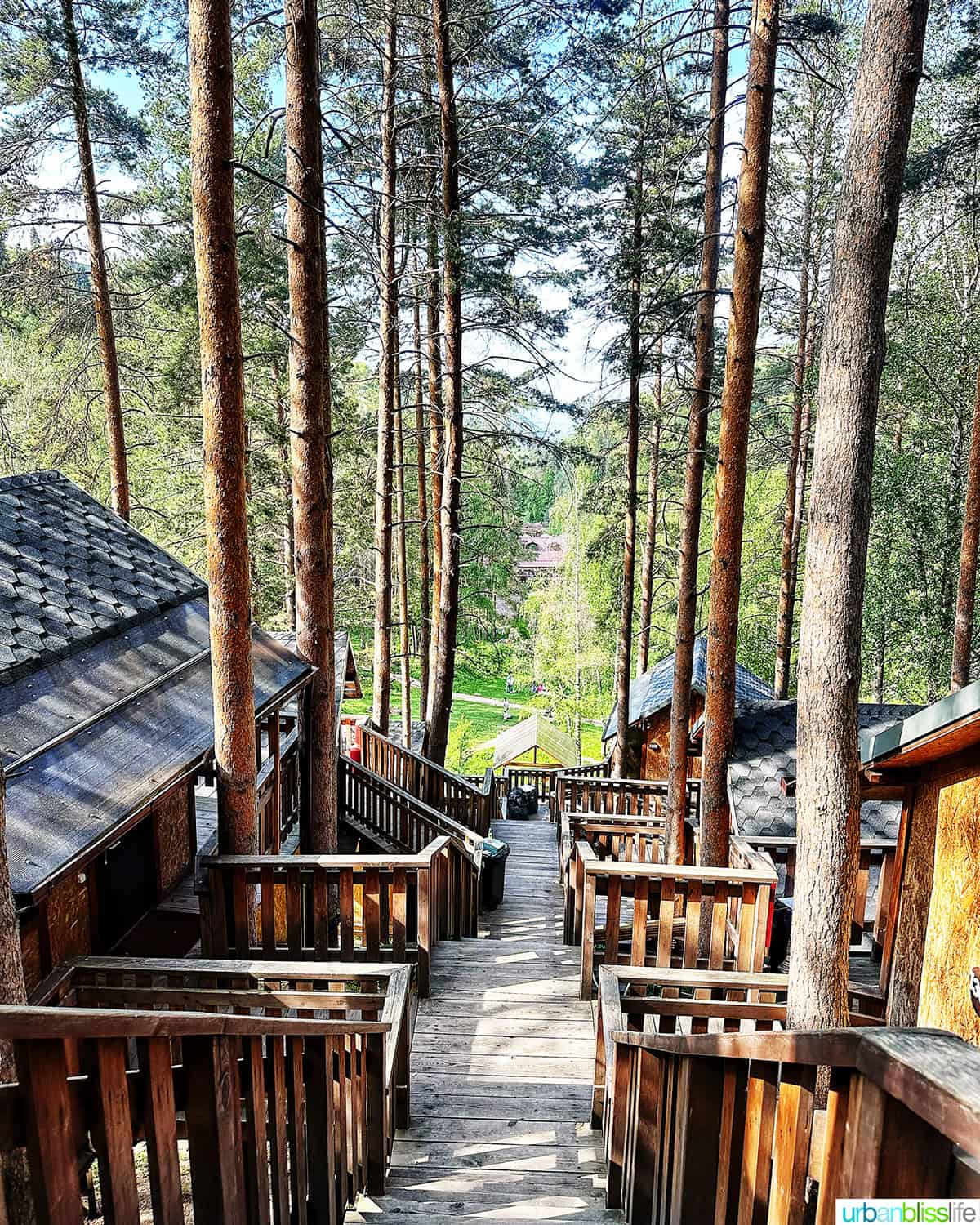 Oi Qaragai resort is the perfect place to get away from it all with friends and family. And a stay in their Tree Village is a great adventure!
Tree Village is a collection of charming and eco-friendly treehouses nestled among the trees within this popular mountain resort just outside of Almaty, Kazakhstan. These elevated accommodations provide a unique lodging experience, allowing guests to stay in cozy and beautifully crafted cabins with panoramic views of the surrounding nature.
I stayed one night at the Tree Village and found it to be a tranquil and immersive escape. It's a great place to relax, rejuvenate, and connect with the peacefulness of the forest.
23. Go shopping
Shopping malls are big business in Almaty. One of the best is Dostyk Plaza, which happened to be located right across the street from our hotel in central Almaty.
This is a modern and upscale retail destination that offers a premier shopping experience. The mall boasts a wide selection of luxury boutiques, fashion stores, and designer outlets, making it a haven for fashion enthusiasts and trend-conscious shoppers. Apart from fashion, the mall also features an array of specialty stores offering cosmetics, electronics, home goods, and more.
Not just a shopping destination, Dostyk Plaza also has a great selection of gourmet restaurants, cafes, and food courts, serving a variety of international cuisines and local delicacies. This is where I went to get coffee and pastries every morning!
24. Celebrate the Beatles
The Beatles monument located in Kok Tobe Hill holds a special place in the city's heart and pays homage to the iconic English rock band. The monument features life-size bronze statues of all four members of The Beatles: John Lennon, Paul McCartney, George Harrison, and Ringo Starr.
It was installed back to 2007, when Almaty celebrated the 45th anniversary of The Beatles' visit to the city during their tour of the Soviet Union. The band's visit left a lasting impact on the people of Almaty, as they were one of the first Western rock bands to perform in the region.
The Beatles monument has become a popular tourist attraction and a gathering spot for fans and music enthusiasts. It's a fun and sweet surprise at the top of Kok Tobe hill.
25. Explore the Medeu Ice Skating Rink
Riding down the gondola from Shymbulak ski resort, we spotted an interesting site: the Medeu Ice Skating Rink. This is one of the world's highest outdoor ice skating rinks and is a world-renowned sporting and recreational facility.
At an altitude of over 5,250 feet (about 1,600 meters) in the picturesque Medeu Valley, the rink is a popular destination for ice skating enthusiasts and tourists alike. With its Olympic-sized ice surface, Medeu is recognized as one of the highest and largest outdoor ice skating rinks in the world. It has hosted numerous international competitions and has witnessed the breaking of multiple world records.
26. Hike in the surrounding mountains
Almaty and the surrounding areas are a hiker's paradise. From the Tian-Shan Mountains to the Assy Plateau, you'll find numerous breathtaking hiking destinations. You can hike through through picturesque forests, mountain meadows, alongside aquamarine rivers and lakes, and between towering canyons.
Be sure to dress and pack accordingly, and bring bug spray.
27. Explore Almaty Circus
The Almaty Circus is a beloved entertainment venue that offers a variety of captivating performances to delight audiences of all ages. The circus building itself is a distinctive architectural landmark, drawing attention with its unique circus tent-line design.
Inside, you can witness thrilling acrobatics, mesmerizing animal performances, and captivating acts by talented clowns and jugglers. This is an especially fun activity to add to your Almaty itinerary if you are traveling with family.
28. Check out Soviet architecture
The Kazakhstan Hotel is one of the most remarkable examples of Soviet architecture in Kazakhstan. Its grand and imposing structure reflects the architectural style prevalent during the Soviet era, characterized by its monumental and symmetrical design.
The building features a sturdy concrete facade adorned with intricate geometric patterns and decorative elements, showcasing the Soviet Union's emphasis on grandeur and unity. The Kazakhstan Hotel stands as an iconic landmark in the city, and is located near Republic Square.
29. Picnic under a 700-year-old willow tree
The 700-year-old willow tree in the Altyn-Emel National Park near Almaty stands as a living testament to the city's rich history and natural beauty. This ancient tree, with its massive trunk and sprawling branches, is a sight to behold,. It serves as a symbol of resilience and endurance, having witnessed centuries of change and growth in the region.
This is a good place to stop for a bite to eat while visiting the national park, as there are a few picnic tables and benches here.
30. Check out the Oshaktas stone Steles
Also within the Altyn-Emel National Park you'll find the Oshaktas stone steles. Oshak means "fireplace" and tas means "stone" in Kazakh. This is a cultural and historical monument belonging, according to the official version, to the historical period of Genghis Khan (13th century). Although, there are several other theories about what the stones' original purpose was.
31. Stroll down Zhibek Zholy street
Zhibek Zholy, also known as Arbat Street, is a vibrant and bustling pedestrian street located in the heart of Almaty. Lined with an array of shops, cafes, restaurants, and entertainment venues, it is a hub of activity and a popular gathering place for locals and tourists. The street's lively atmosphere is enhanced by its vibrant decorations, street performers, and occasional cultural events, making it an inviting destination for leisurely walks, shopping, and experiencing the city's vibrant energy.
More things to do around Almaty
We didn't get to visit everything I would have liked to visit during my trip to Kazakhstan. Here are a few more places that look and sound amazing that you should add to your travel list!
32. Take a day trip to Big Almaty Lake
Escape the city and visit this picturesque mountain lake, famous for its turquoise waters. Big Almaty Lake is a breathtaking natural gem located in the Tian Shan Mountains just outside of Almaty, Kazakhstan.
The lake's turquoise waters are fed by glacial meltwater, creating a stunning visual spectacle. Surrounded by rugged mountain peaks, it offers a serene and picturesque setting with hiking trails so you can explore the surrounding alpine landscapes and soak in the pristine natural environment.
33. Kolsai Lake
The next two spots my travel companions were able to visit, and I'm a little jealous! But their photos confirm that Kolsai Lake and Charyn Canyon are must-visit spots.
A bit further from Almaty, but definitely worth the journey, the Kolsai Lakes region offers breathtaking hiking trails. The area is known for its three picturesque alpine lakes, each more stunning than the last. Hiking in the Kolsai Lakes area allows you to traverse diverse terrains, encounter diverse flora and fauna, and experience the pristine beauty of the mountains.
34. Marvel at Charyn Canyon
Charyn Canyon, often referred to as the "Grand Canyon of Central Asia," is a geological wonder. Carved by the Charyn River, the canyon features dramatic rock formations, steep cliffs, and vibrant colors that create a surreal and captivating landscape. You can hike along the canyon trails and there are also horse trails.
35. Immerse yourself in local art
Art lovers should add the Kazakhstan Museum of Arts to their list. The museum houses an impressive collection of Kazakhstani and international art, including paintings, sculptures, and other visual arts.
36. Visit the Almaty Zoo
The Almaty Zoo is a popular attraction that's great for families. Here you'll find both indigenous animals and exotic creatures from around the world. The well-maintained facilities provide a safe and educational environment, where you can learn about and appreciate the wonders of wildlife conservation.
Did you make it through the entire Almaty travel guide? Congratulations! It's a long post, I know, but there are truly so many wonders in this amazing city and country that I don't want you to miss any of it!
Have any questions about Kazakhstan travel? Drop them in the comments below!
If you visit, please be sure to let them know that you read about it on Urban Bliss Life! And if you snap some pics, tag us @UrbanBlissLife and #UrbanBlissLife on Instagram, TikTok, Twitter, and Facebook.
Thanks to Kazakhstan Tourism, USAid, and SATW Digital Publisher's Council for sponsoring this press trip. All photos and opinions are my own.