Oh, sweet friends. Dear, sweet, like-minded food-loving, wine-loving, beer-loving, cocktail-loving blog friends. The calendar is just a few days from turning over into another month, and do you know what that means?
That means it's almost FEAST PORTLAND month!
Jump to:
Feast Portland is the premier food & drink event celebrating Oregon's bounty. Founded in 2012 by Mike Thelin and Carrie Welch, this year's 4th annual event will continue its tradition of showcasing Oregon's top restaurants, chefs, wineries, breweries, cideries, distilleries, and artisan food products, through a stellar 3-day event extravaganza, complete with creative main events, food tours, classes, and more.
Net proceeds from Feast Portland go toward ending childhood hunger in Oregon and around the country through Partners for a Hunger-Free Oregon and Share Our Strength's No Kid Hungry campaign. Since its inception, Feast has donated more than $162,000 to these deserving organizations dedicated to making childhood hunger history.
Hands-on classes
While many folks attend the main events and the Oregon Bounty Grand Tasting, Feast is also the opportunity to beef up your culinary expertise by taking one of the many hands-on classes held throughout the weekend. I've compiled a list of a few of them here that I think you might be interested in, including one that I took a couple of years ago that was AMAZING. [UPDATE: the butchery class with Camas Davis is now officially sold out, but I still want to share some images and the experience of that class -- so you can be sure to sign up for it early if they offer it again next year!]
Farm to cocktail shaker
Saturday September 19th
1:00 - 2:30pm
$75 per ticket
Buy tickets
If you really want to impress guests, take this hands-on class with Join Daniel Shoemaker and Sean Hoard, the duo behind The Commissary, as they teach you how to transform your farmers market haul into syrups, shrubs and juices that will take your cocktail game to a whole new (farm fresh) level.
Oysters
Saturday September 19th
3:00 - 4:30 pm
$75 per ticket
Buy tickets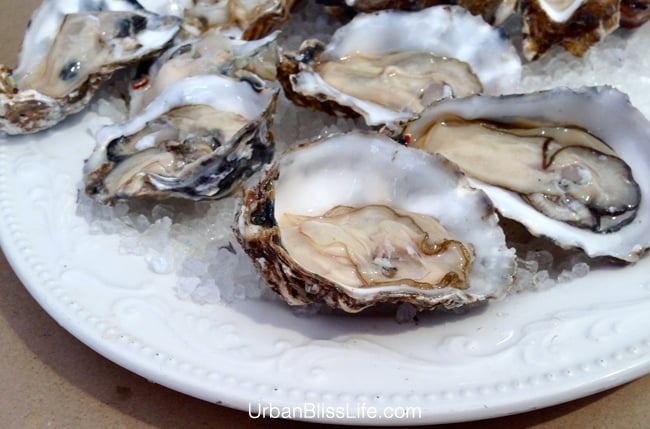 Do you know how to properly shuck oysters? I have to admit: it's not my strong suit. I've done it, but I'm pretty sure I have no idea what I am doing. But, living in the Northwest, I should, right? It's a life-skill essential to Northwest food culture. During this class, Lissa James Monberg, of Hama Hama Seafood Company, will teach you how to shuck oysters like a pro and lead an oyster tasting, contrasting and comparing different oysters. Then you'll learn how to pan-fry oysters and navigate the oyster offerings at your favorite restaurant.
Basic Pig butcher
Sunday Sept 20th
12:00 - 4:00 pm
Oregon Culinary Institute
$150
Buy tickets [UPDATE: This event is now SOLD OUT!]
Basic Pig Butchery with Camas Davis is worth every single penny, folks. I know, because I took this class two years ago and it was AMAZING! Portland Meat Collective owner Camas goes over the appropriate butchery tools and what to use for different parts of the pig. She takes you through step-by-step instruction, and shows how to split sides of pork into primals using French, Italian, and American styles of butchery.
At the end of the class, everyone goes home with a hefty share of meat (about 25-30 lbs!). Sign up for this class before it is sold out, folks. It's one of the best cooking classes you'll ever spend money on! Seriously: sign up NOW if you are interested because it will sell out! UPDATE: This event is now SOLD OUT!
Beer bites
Sunday Sept 20th
1:00 - 2:30pm
Oregon Culinary Institute
$75 per ticket
Buy tickets
You are invited to attend this tasty beer brunch to find out just how delicious pairing beer and bites can be. I first interviewed Andrea Slonecker back in 2013, when her book Pretzel Making at Home was first released. Now, she's pairing up with beer guru Christian DeBenedetti of Wolves & People Farmhouse Brewery (and author of The Great American Ale Trail) to crack the beer pairing code. Enjoy a world-class selection of beers to pair with three inventive recipes from their collective forthcoming cookbook, Beer Bites: Tasty Recipes and Perfect Pairings for Brew Lovers.
Feast Portland
Visit FeastPortland.com for the full schedule and more information. See you at FEAST!