Earth and Sea is an upscale restaurant in the heart of Oregon's Willamette Valley wine country. One of our favorite Carlton, Oregon restaurants, here you'll find Pacific Northwest dishes made with high quality ingredients, paired beautifully with small production local wines.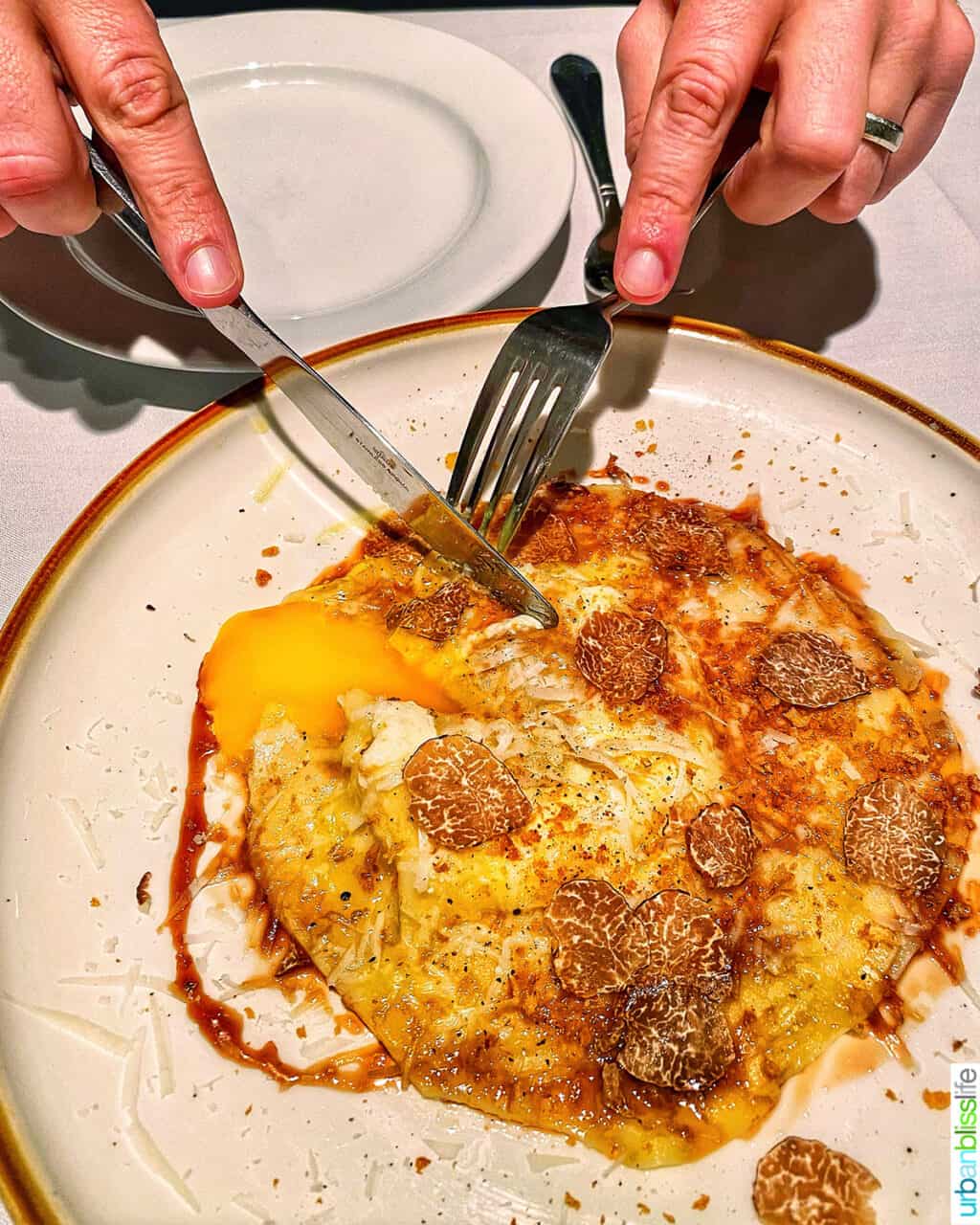 If you are visiting Oregon's Willamette Valley wine country, you must dine at Earth and Sea restaurant. This upscale Pacific Northwest dining spot is one of our favorite Carlton, Oregon restaurants.
The food is incredible, and the service is warm, friendly, and helpful. As you can imagine, the wine list is thoughtful and well-curated. We can't wait to go back, and think you will enjoy dining here, too!
Restaurant Vibe
Located just off the town's Main Street, Earth and Sea is more formal than the average Carlton, Oregon restaurant.
That said, it is still located in Oregon wine country, so it's a very comfortable, laidback atmosphere.
Wine List
One of the things I love about Earth and Sea is its commitment to showcasing smaller producers in the local Oregon wine industry. The wine list is fantastic, and during our recent dinner here, we selected a Chenin Blanc from Evening Land Vineyards. It paired beautifully with our seafood!
The waitstaff is also highly knowledgeable about the wine list, and local wines.
Surf and Turf
The menu consists of classic surf and turf dishes, with a Pacific Northwest focus.
There's a list of chilled seafood of the day, including tuna poke and a seafood tower.
You can choose from a variety of steaks, and then add-on options as simple as bleu cheese or bernaise sauce, to as decadent as Maine lobster tail, seared foie gras, or shaved truffles.
During our last dinner at Earth and Sea restaurant in Carlton, we opted for some dishes off the main general menu.
Raviolo ($16)
It is a rule that if a restaurant is serving egg yolk raviolo, you MUST order it. You simply must.
And you will be so glad you did at Earth and Sea. A large raviolo is stuffed with house made ricotta, bread crumbs, perfectly cooked egg yolk, and topped with shaved truffles, grated parmesan, and saba vinegar.
This dish is truly mouthwatering. It's the kind that I still think about months later and crave it. So good!
Seared Scallops with Pork Belly ($38)
For my main course, I ordered the seared scallops. They were served with pork belly, confit potatoes, green beans, truffle & potato veloute. Veloute is a savory, rich white sauce.
The scallops were cooked beautifully, and I loved all the textures of this dish.
Pan-Seared Sturgeon ($33)
Alain ordered the pan-seared sturgeon. It was a rather large fillet, well-seasoned, served on a bed of beluga lentils, roasted asparagus and broccoli, and a rich lobster cream sauce.
Restaurant FAQs
What is the dress code for this restaurant?
While this is a more upscale restaurant, it is still in Oregon wine country, so you'll see fellow diners wearing everything from jeans and sweatshirts to high heels and dresses. I dressed up for our last dinner here and felt totally comfortable doing so in this environment. It's nice to dress up in Oregon every once in a while, and this is a great restaurant to do so!
Is Earth and Sea restaurant kid-friendly?
While children are welcome here, I would consider this restaurant more of a date night, girls' wine weekend, or double date night kind of restaurant. The menu is more adult-oriented, and I don't think most kids would enjoy the menu or more formal environment. That said, older high school and college age children might enjoy dining here with their families.
Are reservations required?
While reservations are not required, due to the limited opening hours, we highly recommend making reservations in advance.
Earth and Sea restaurant
Alain and I had such a lovely dinner at Earth and Sea in Carlton. It was a great location - just down the road from where we were staying at The Setting Inn Willamette Valley. Our waiter was super friendly and fun, and helped make the dining experience truly enjoyable and memorable. And the food and wine were absolutely incredible.
If you are looking for a nice dinner out while visiting Oregon's Willamette Valley wine country, consider making reservations at Earth and Sea! It's definitely one of Carlton, Oregon's best restaurants!
Earth and Sea restaurant
209 N KUTCH ST
CARLTON, OREGON 97111
Phone: (503) 852-3014
HOURS: Thursday - Monday, 5:00 pm to close
Website: https://www.earthandseacarlton.com/
Where to go wine tasting nearby
Where to stay nearby
More Oregon wine country restaurants
Pin it for later