Fun yet sweet, romantic yet playful, these Strawberry Jello Shots are just the thing you need on this week's Mixology Monday to sweeten up your Valentine's Day meal!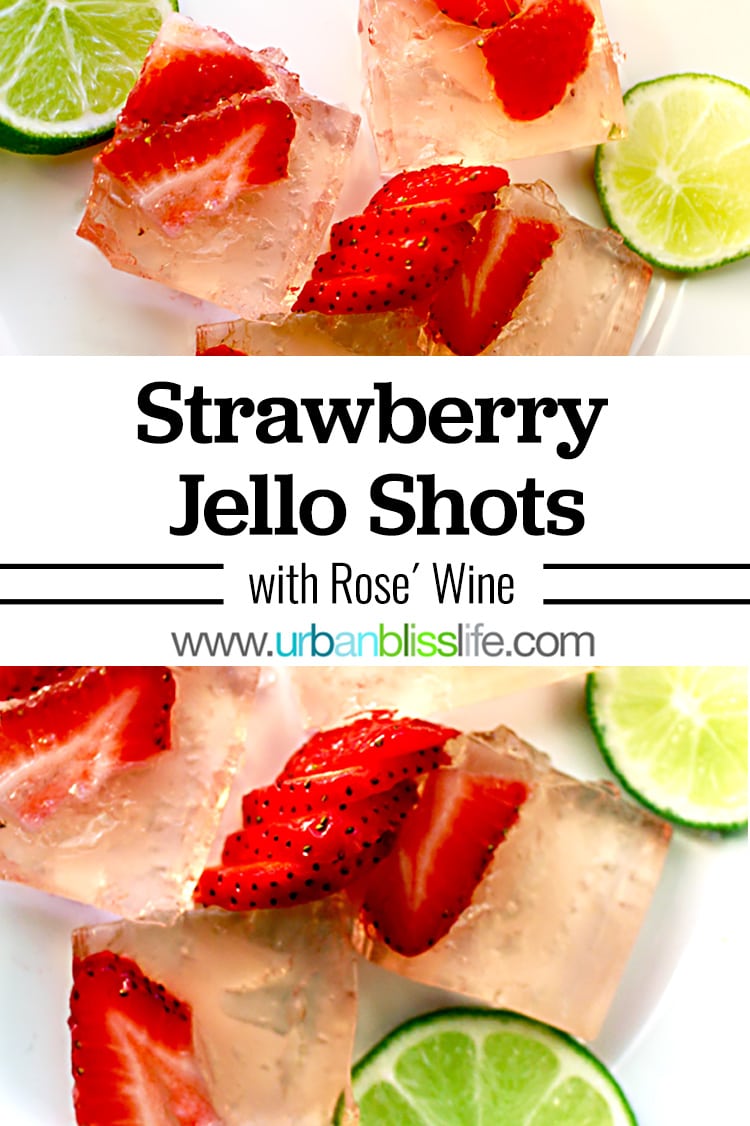 It's Valentine's Week and while I will admit to not being totally sucked in by this Hallmark holiday (because Valentine's Day should be every day, am I right??), I got into the spirit this year and have a few tasty, fun, romantic recipes for you and your sweetie.
When you think romance, you undoubtedly think jello shots, right? No? Just me?
Okay, I'll admit: I don't immediately think jello shots when I think of romance. When I hear the term jello shots, fuzzy images from college days long gone and parties with beer pong and liquor luge come to mind... not exactly the epitome of romantic situations. But these strawberry jello shots are different.
They're fun, cute little shots of sweet bliss that have so much potential and offer tons of versatility in terms of flavors, shapes, and colors.
If you haven't noticed, I like to do things a little differently here at Urban Bliss Life, and I love the idea of elevating this college classic and turning it into a new Valentine's Day treat.
Recently, I went down to Sonoma County, California for a wine country press trip and enjoyed the 2014 Rodney Strong Rosé of Malbec so much that I brought a few home. One of those bottles was magically transformed from a sweet spring and summer sipper into these Strawberry Jello Shots with Rosé and Lime - just in time for Valentine's Day!
If you haven't tried a rosé recently, it's high time you try the latest crop of pretty pink wines. These are not the sickeningly sweet wine cooler-esque rosés from your college days. Heck no! Today's rosé is elegant and bright, made in the same quality level as your other favorite wines.
Rosé is definitely having its time in the sun here on the west coast, with so many amazing producers creating absolutely impressive rosé wines.
Strawberry Jello Shots with
Rosé and Lime
To bring out the sweetness of the rosé wine, I combined fresh strawberries, sugar, a little seltzer water to add some bubbly (without actually adding bubbly), and a bit of fresh lime juice to brighten up the finish.
The result? Grown-up jello shots that are pretty and elegant enough to serve at your fanciest dinner parties but still fun and spirited enough to make people smile and not take themselves (or Valentine's Day) too seriously. :)
Strawberry Jello Shots with Rosé and Lime
Fun yet sweet, romantic yet playful, these Rosé Strawberry Lime Jello Shots are just the thing you need to sweeten up any party!
PRINT
PIN
RATE
Ingredients
2

cups

water

4

packets unflavored gelatin

1 - ¾

cups

Rosé

I like Rosé of Malbec or Brut Rosé

1

cup

sugar

½

cup

seltzer water

1 - ½

tablespoons

freshly squeezed lime juice

1

cup

sliced fresh strawberries
Instructions
In a saucepan over medium high heat, bring 2 cups water plus the contents of four packs of unflavored gelatin (most boxes include 4 packs per box) to a boil, stirring constantly.

Once the mixture has dissolved and is boiling, remove from heat and pour into a heatproof bowl.

Add rosé, sugar, and seltzer water to the bowl and stir to mix.

Gently pour mixture into a pan or molds.

Refrigerate for a few minutes until the mixture starts to set, about 5-10 minutes.

Sprinkle in the strawberries, then return to the refrigerator to chill until firm and ready to slice. This can take about 4-5 hours.
When was the last time you had jello shots? Have you ever made grown-up fancified jello shots and if so, what flavors did you use?