Spam Fried Rice is a beloved traditional fried rice recipe that's the ultimate comfort food. You can make this in 30 minutes or less, and serve it as a main dish or as a side dish.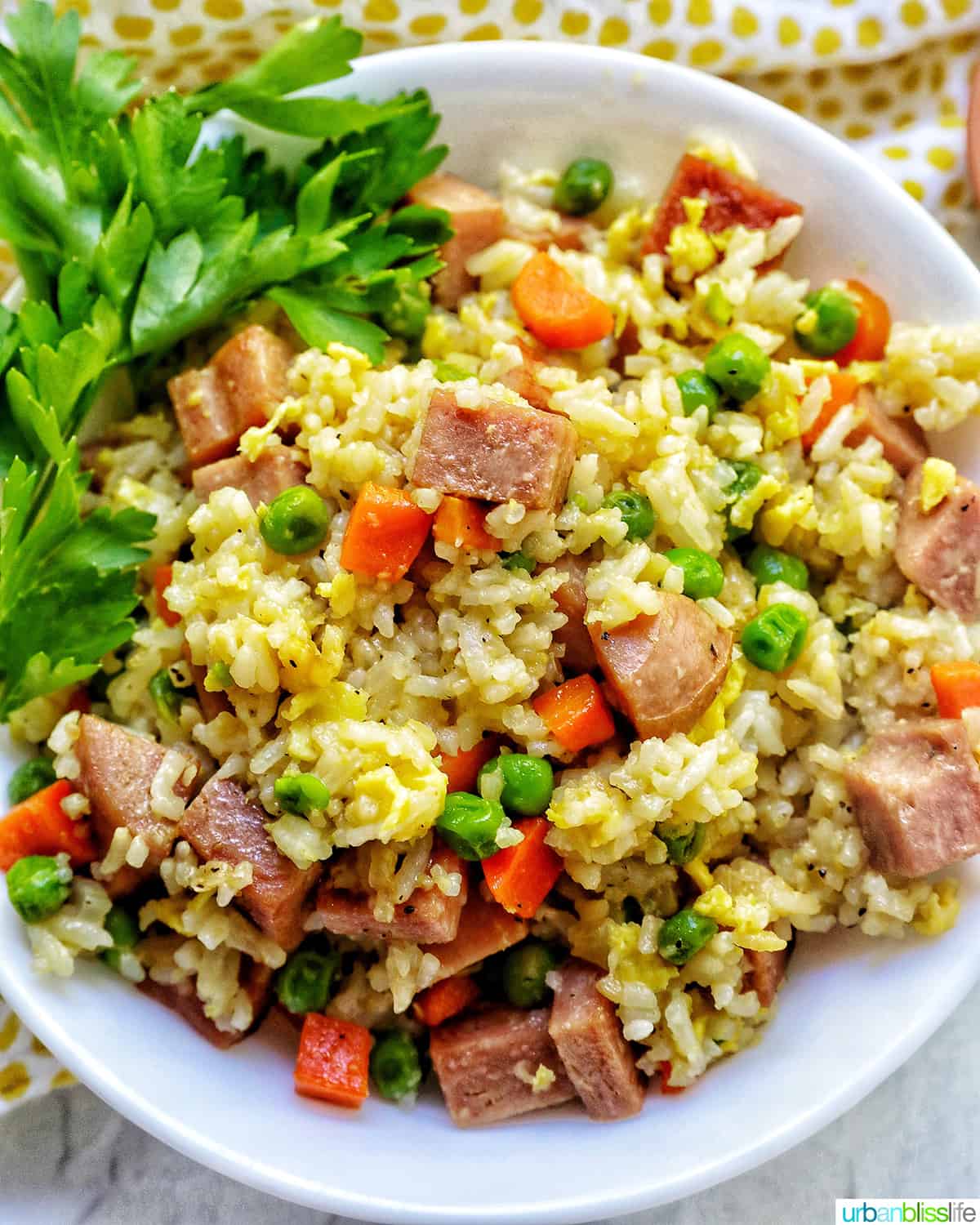 Growing up with Filipino parents and with my Lola Epyon (my great-grandmother) living with us, I ate a LOT of spam fried rice.
I mean: a lot. A lot, a lot, a loooottttt of Spam fried rice.
And to this day, the smell of garlic and onions sizzling alongside that savory spam brings back warm memories of childhood. Spam Fried Rice is the ultimate comfort food.
I've been making this easy spam recipe at home since my own kids were born (nearly two decades ago!). It's a go-to recipe I can make from memory, and one I think my kids may someday make with the same amount of love and nostalgia.
I am excited to share this very special and personal recipe with you. And, I hope that this fried rice recipe earns a special place in your own dinner rotation!
Jump to:
🍖 What is Spam?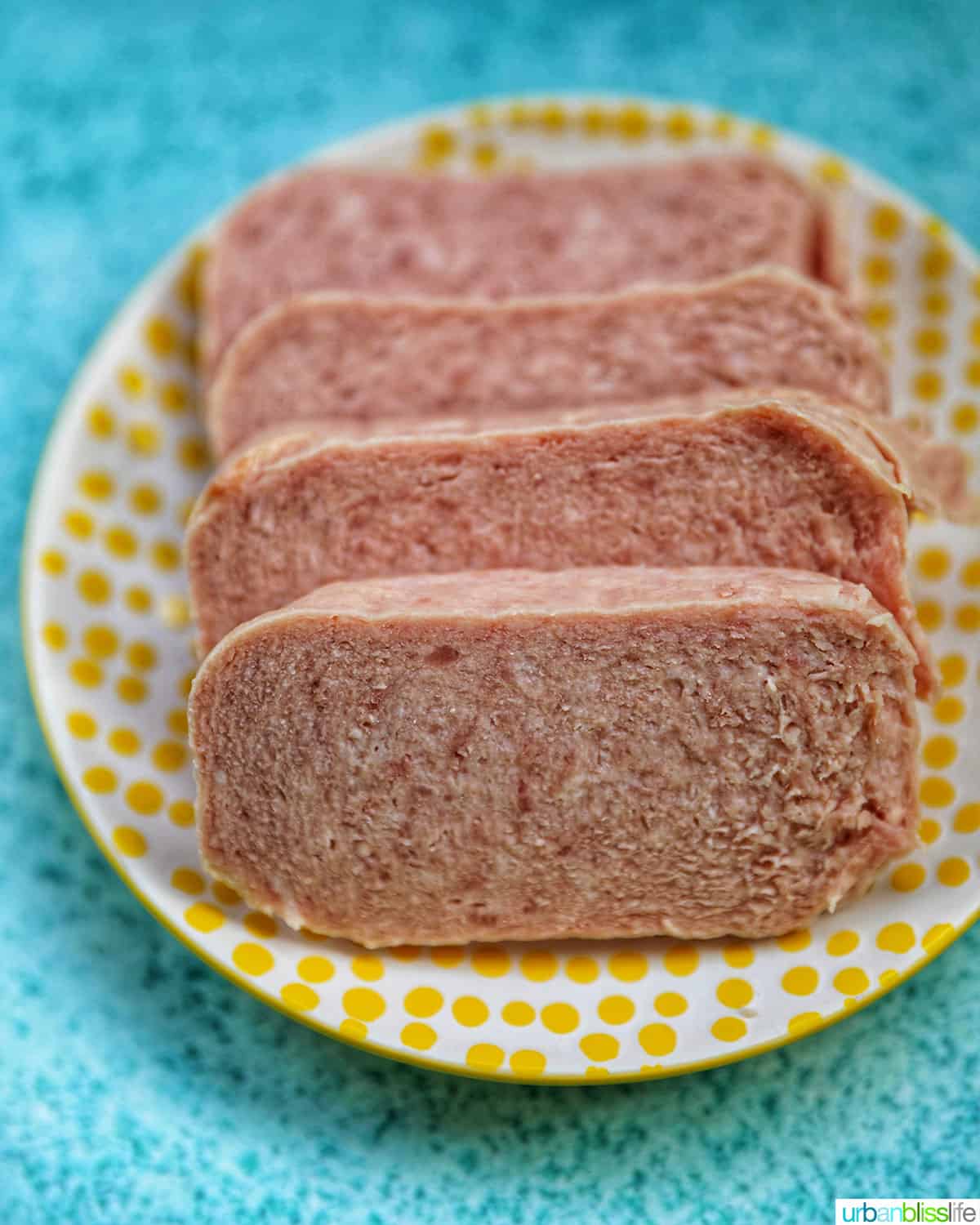 Spam is one of those ingredients that is made in the United States, but is more of a pantry staple in many Asian cultures. It was made popular in the United States during World War II. Since it has a long shelf life, it was served a lot in the military.
It was especially popular in US-occupied Philippines, Hawaii, and Guam. Perhaps the most popular dish many people are familiar with is Spam Musubi. But Spamsilog is also popular for breakfast and is basically a deconstructed spam fried rice.
If you're reading this out of curiosity, and you've never tried Spam, I encourage you to try this particular recipe. I think fried rice is the most delicious vessel for Spam. It really is the best fried rice, and may just turn you into a fan of Spam!
🌟 Why this recipe works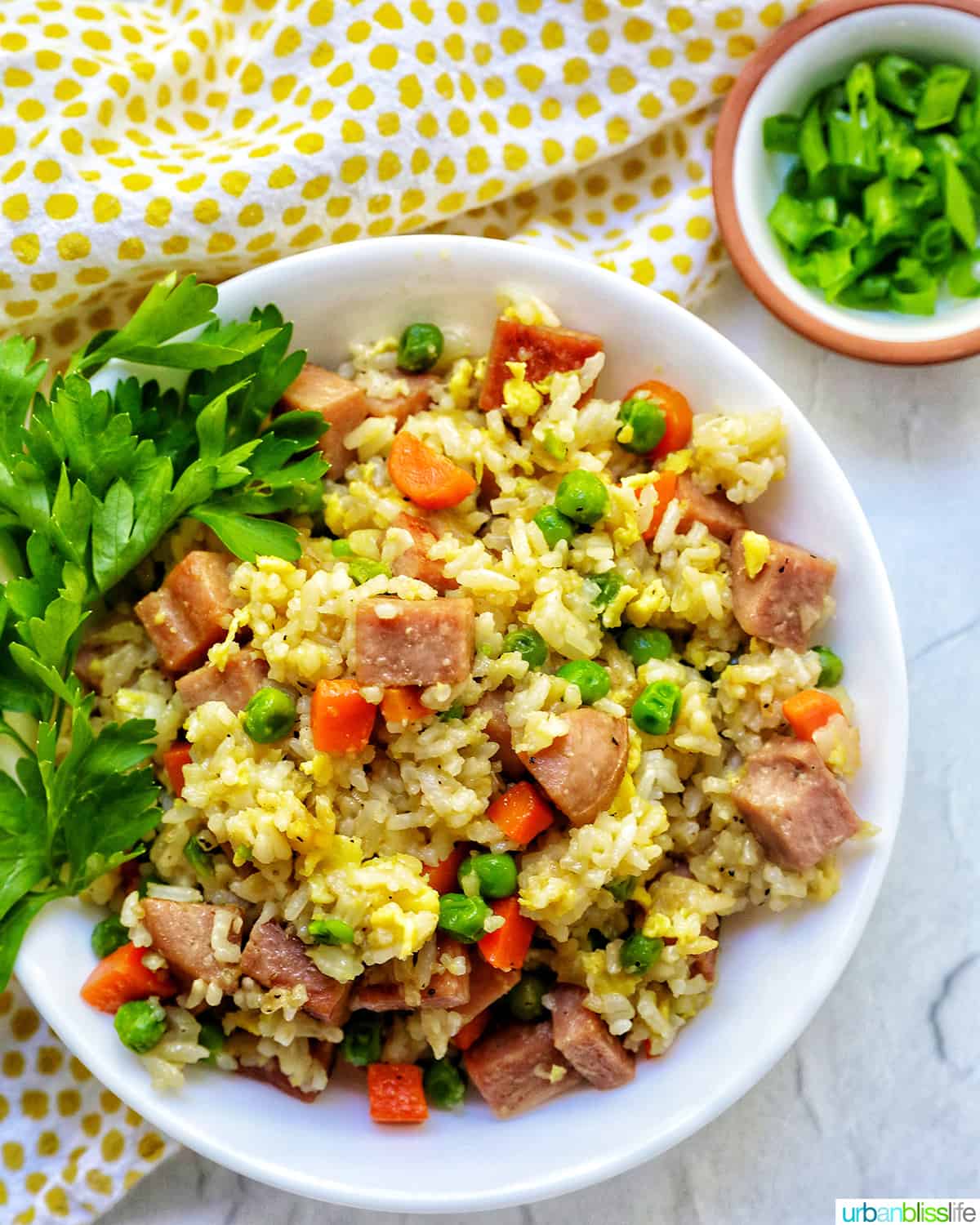 This is a classic, no-fail, great recipe for making fried rice.
You can find all of the ingredients at your local grocery store.
It's a great way to use up leftover rice.
Fried rice is also the perfect way to enjoy diced spam in all it's sizzling, savory deliciousness.
It's full of vegetables in each bite.
🛒 Ingredient notes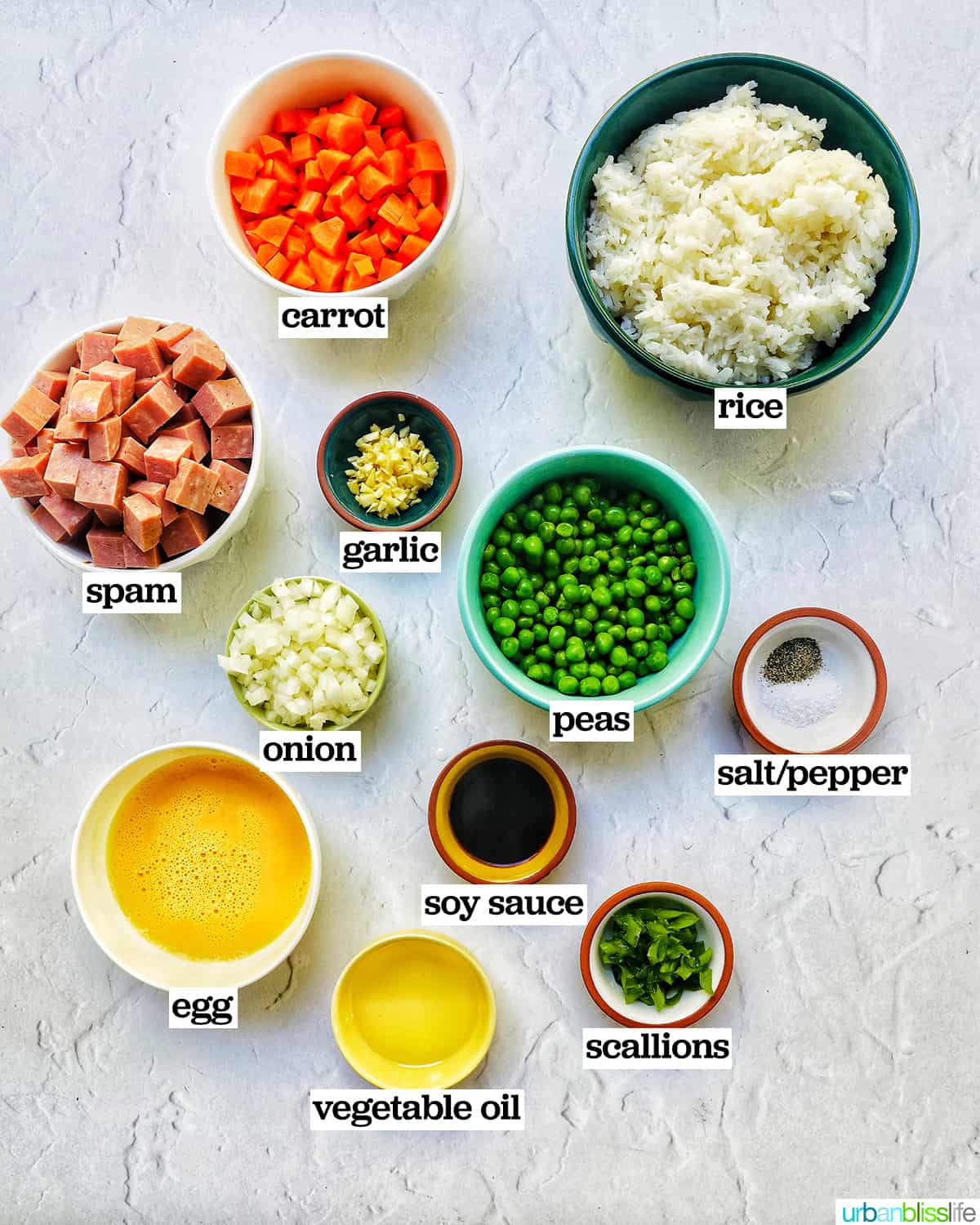 Spam - You'll find cans of spam in the Canned Meat section of your local grocery store. You can also find it in Asian supermarkets (usually lots of different flavors!), or online. For this recipe, the best spam is the classic, regular can or Lite spam. You won't use the whole can of spam, so save the rest in the refrigerator for later.
Rice - Use leftover rice if you have it, as day-old rice tends to make the best fried rice. Or cook your favorite white rice. We love using jasmine rice or basmati rice, but any long grain rice will work.
Oil - Vegetable oil or canola oil are the best for fried rice. You can also use a lighter olive oil or avocado oil.
Soy sauce - A little bit of soy sauce adds a nice deep umami layer throughout the rice. You can also add a bit of oyster sauce or hoisin sauce for even richer flavor.
Vegetables - Fried rice is a great dish to use up any leftover vegetables before they go bad! Or to use frozen veggies. This recipe uses chopped carrots and frozen peas. You could also use frozen mixed vegetables (usually a medley of corn, green beans, and carrots), broccoli, snap peas, bell peppers.
Egg - Lightly beat two eggs in a small bowl. You'll be scrambling the beaten eggs in the wok along with the rest of the stir fry.
Green Onion - slice a couple of stalks of green onions (spring onions/scallions) to garnish the fried rice before serving.
Salt and pepper - season with kosher salt and ground black pepper to taste.
✅ Step-by-step instructions
The full list of ingredients and detailed instructions for this easy dish are in the printable recipe card at the bottom of this post. To help you make the best spam fried rice ever, see the photo step-by-step guide below.
If you're cooking rice and not using leftover rice, rinse the rice and cook according to package instructions. You can also use our Instant Pot Basmati Rice recipe for fried rice.
Add the oil to a wok (or a large skillet with high sides) over medium-high heat. Add the cubed spam.
Cook the spam along with the garlic and onions.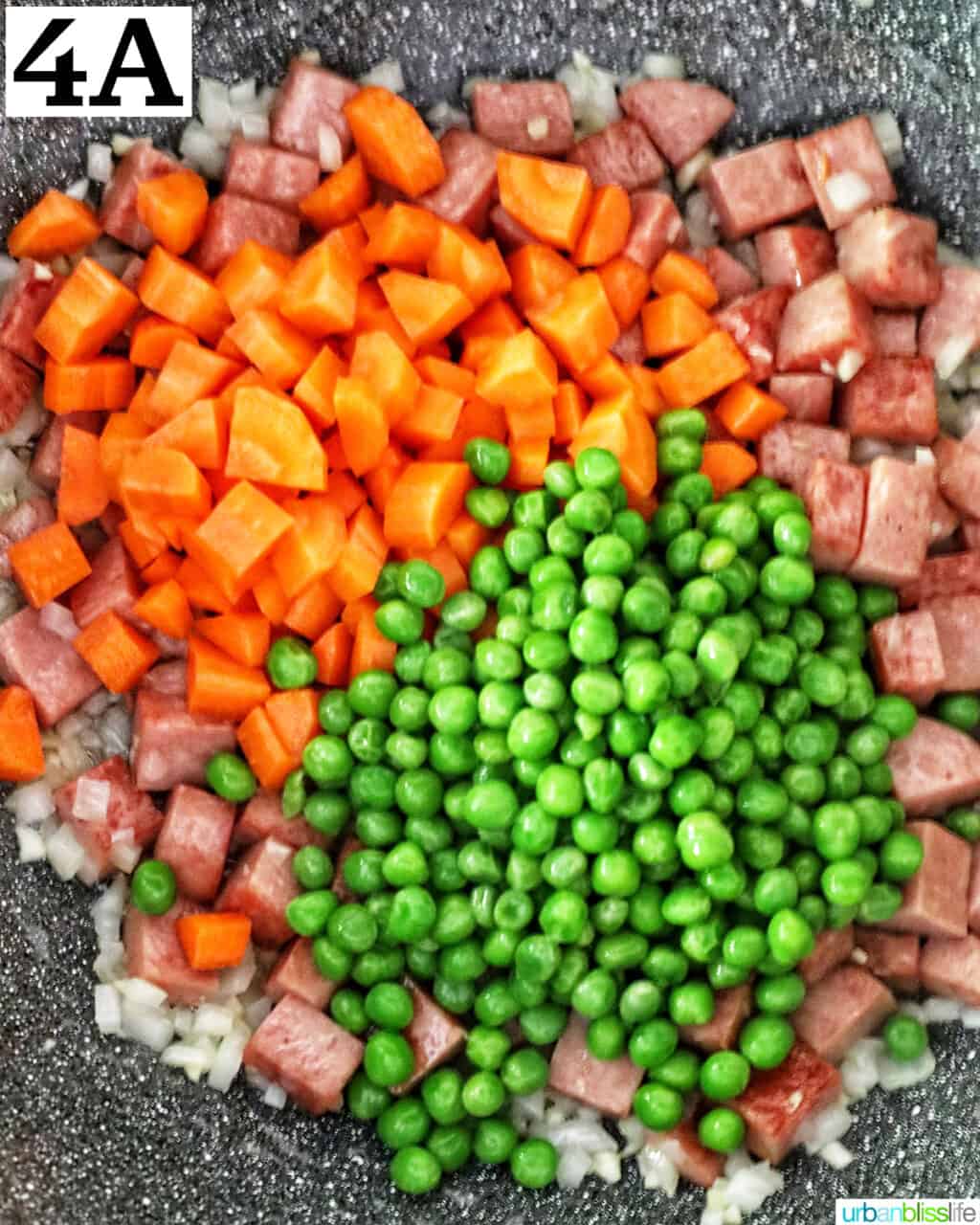 4. Add the carrots and green peas and stir fry. Then add in the cubes of spam.
5. Add the cooked rice and stir to combine.
6. Push the stir-fried rice to the side of the pan to create an empty space well in the center. You can pour in a little bit of oil if the pan is dry. Pour in the beaten egg and immediately start stirring with a wooden spoon to scramble the egg. Try not to bring the spam or veggies into the eggs as they are still scrambling, but if some strays make their way into the mix that's a-ok.
Use a wooden spoon to break up the scrambled eggs and mix all of the ingredients together. Continue to stir fry until the bottom of the rice is a little crispy and slightly golden brown.
👩🏻‍🍳 Cooking tips and recipe FAQs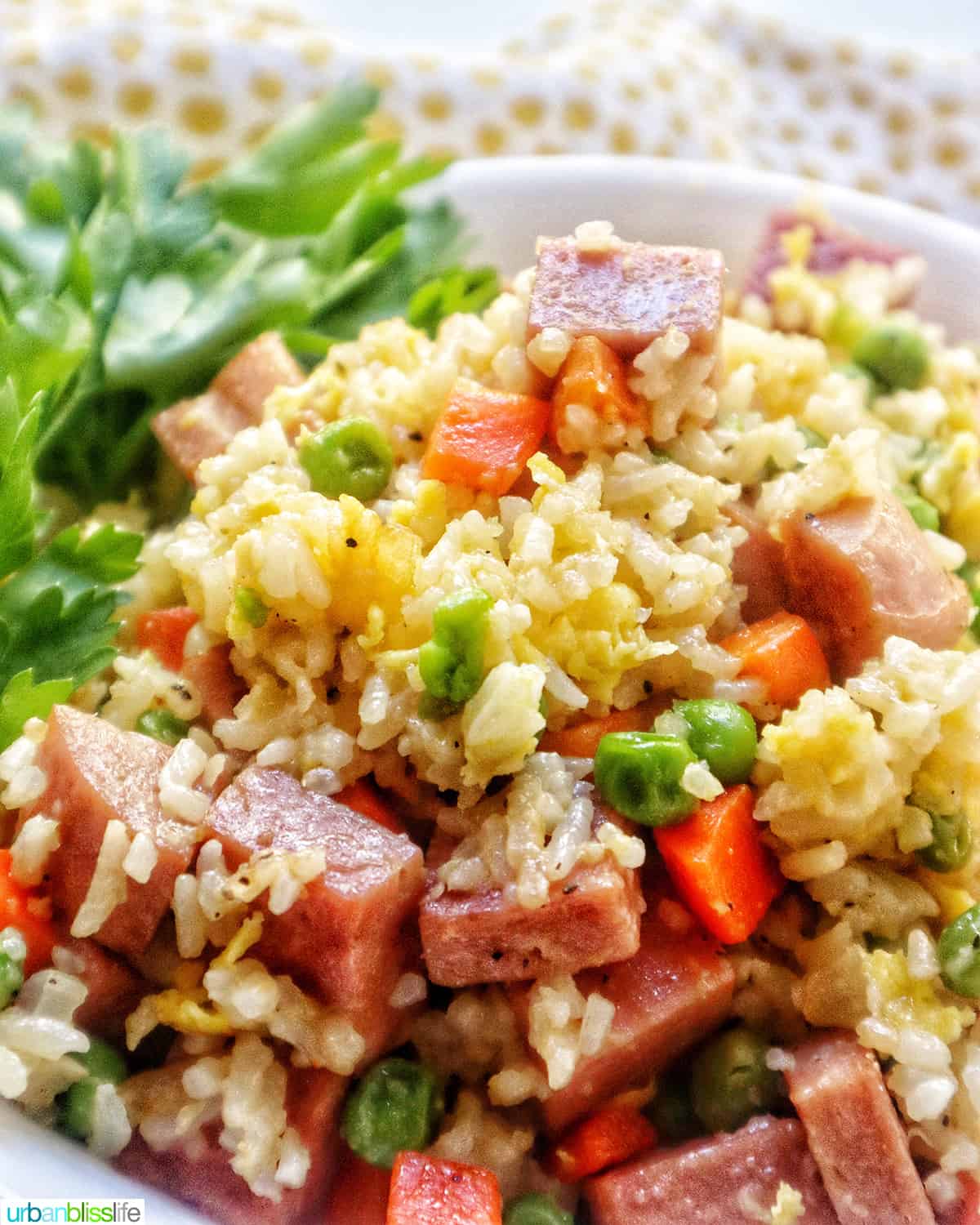 Day-old rice is best because it's had time to dry out, which results in the fluffy fried rice with crispy edges that most people desire.
Be sure to rinse your rice properly before cooking. This helps release starches and gives you the best, fluffiest texture. If you don't rinse the rice, it could make the fried rice too sticky and soft.
If you make the rice with the rest of the dish, make it first, then let it sit out for a bit while you make the rest of the fried rice.
Be sure to cut the spam into equal sizes so the cubes cook up evenly. Same goes for the carrots.
What can I substitute for Spam?
You can substitute cubed ham for spam if you prefer. It won't have the same rich flavor as spam does, but it will work well with this recipe.
What's the best way to store leftover fried rice?
Allow the rice to cool completely, then store in an airtight container in the refrigerator for up to 5 days.
🍽 Serving ideas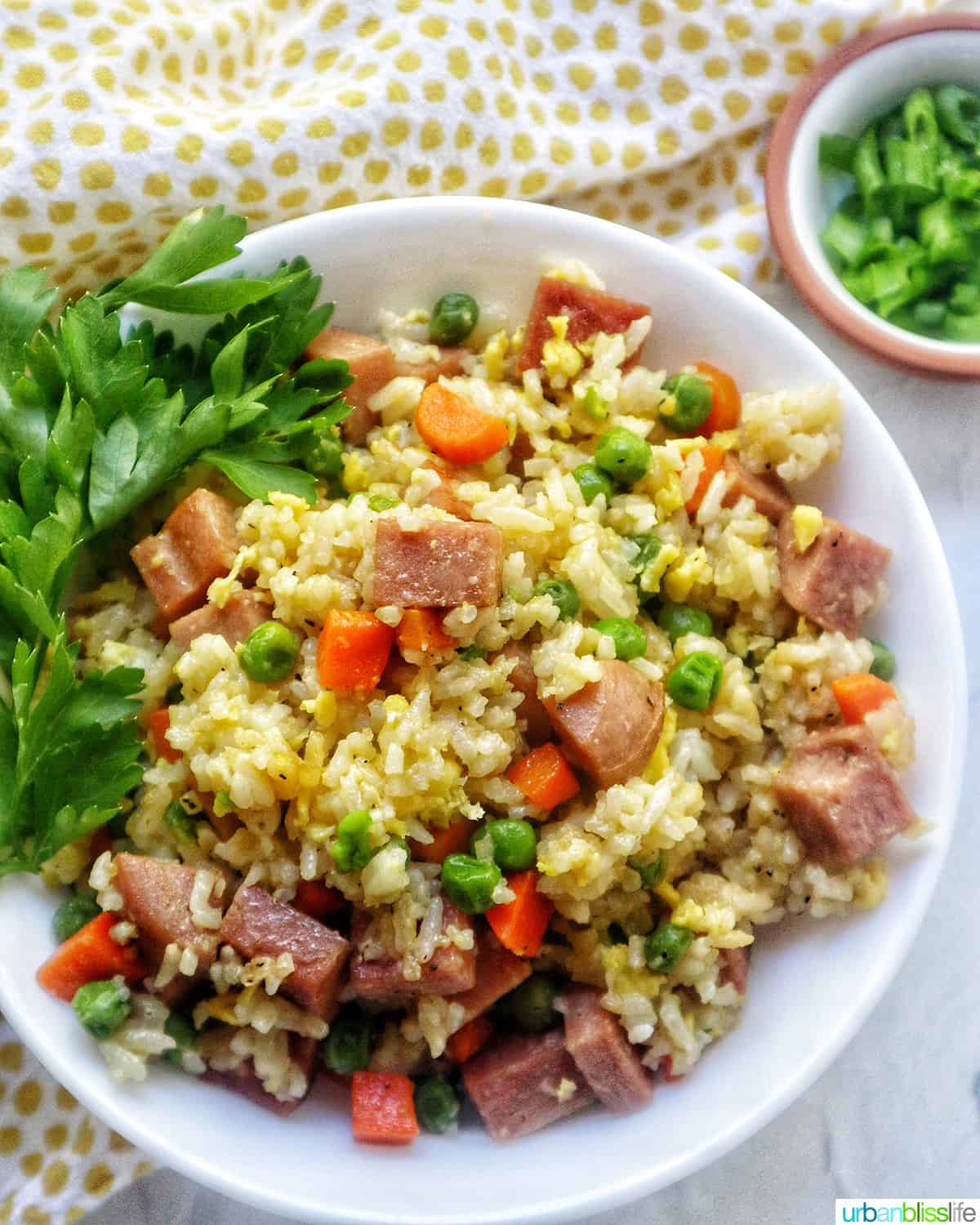 We will often serve spam fried rice with lumpia (Filipino egg rolls). The whole family loves lumpia and fried rice night!
If serving spam fried rice as a side dish, it's delicious with these main courses:
If serving spam fried rice as a main course, some delicious side dishes would be: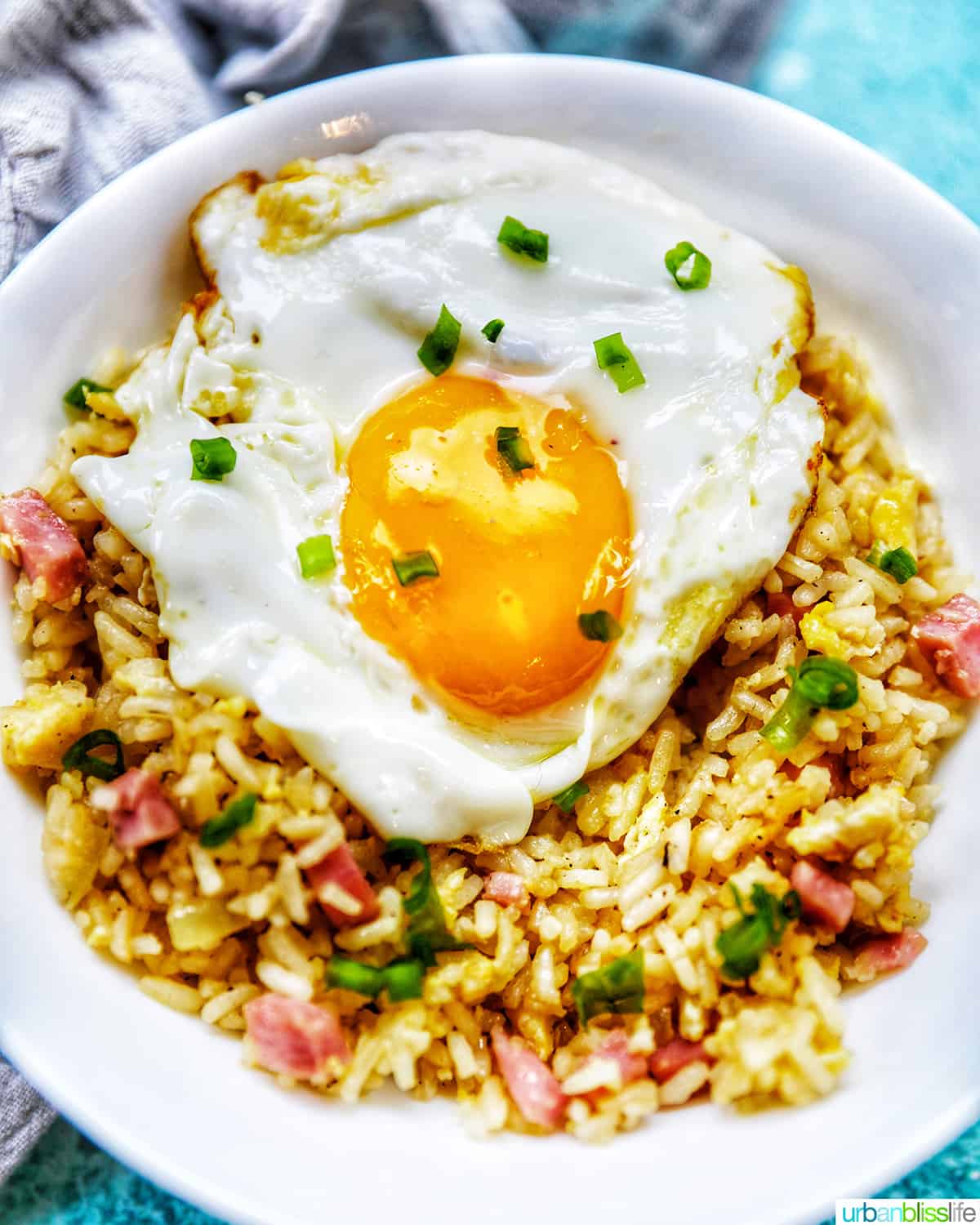 And, spam fried rice is even better the next day. Serve it for breakfast or brunch with a fried egg on top. So delicious!
🍷 🥂 Wine pairings
Spam fried rice, with its savory and slightly salty notes, offers a delightful canvas for wine pairings.
For a harmonious match, a crisp and refreshing Riesling would be an excellent choice. The wine's delicate sweetness and vibrant acidity can balance the saltiness of the spam while complementing the medley of flavors in the fried rice.
Additionally, a light-bodied Pinot Noir could also shine alongside this dish. With its red fruit undertones and subtle earthiness, the Pinot Noir can provide a nuanced contrast to the umami-rich flavors of the spam, enhancing the overall experience of the meal.
Both pairings bring out the best in the dish, enhancing its depth and ensuring a memorable culinary adventure.
🍳 Kitchen tools and equipment
Ready to make this delicious fried rice? Here are the kitchen tools and equipment you'll need:
More Filipino recipes
Did you make this recipe? Don't forget to leave a 5-Star 🌟🌟🌟🌟🌟 rating in the recipe card, and if you really loved it, please leave a comment further down on the page. Thank you!
Spam Fried Rice
This classic canned ham rice dish is comforting and oh so delicious!
PRINT
PIN
RATE
Ingredients
1

cup

uncooked white rice

OR 3 cups leftover cooked white rice

3

Tablespoons

vegetable oil, divided

1

can

SPAM

½

cup

diced onions

4

garlic cloves, minced

1

cup

chopped carrots

1

cup

frozen peas

½

teaspoon

kosher salt

¼

teaspoon

ground black pepper

1

Tablespoon

thinly sliced scallions

1

Tablespoon

soy sauce
Instructions
If using uncooked rice, cook 1 cup according to package directions.

In a wok or a large skillet with high sides, add 1 Tablespoon of vegetable oil. Then add the cubed SPAM and cook for about 2-3 minutes, just until you start to see some golden brown edges.

Add the onions and garlic and stir, sauteing for 1 minute.

Add the carrots and peas, and continue stirring to combine and cook the vegetables for about 2 to 3 minutes, just until the carrots have slightly softened.

Pour in the remaining 2 Tablespoons of vegetable oil. Then add the cooked rice and the soy sauce, and toss together to coat the ingredients with the soy sauce and use the wooden spoon to break up the rice. Cook for about 2 to 3 minutes.

Using the wooden spoon, push the rice to the edges of the wok to create a well in the center. Add the lightly beaten eggs and stir constantly with the wooden spoon as the egg cooks. If some of the rice or veggies get mixed in with the egg during this time, that's totally okay. Just keep stirring to cook the eggs.

Once the eggs are mostly scrambled, start stirring all of the ingredients together so the scrambled eggs get distributed throughout the fried rice.

Salt and pepper. Taste, and season more as needed.

Garnish with sliced scallions and serve.
Notes
Makes approximately 4 to 5 servings.
Rice: Use a long-grain white rice for this recipe. Basmati Rice and Jasmine Rice are great for fried rice. Using 3 cups of cooked rice it leads to a crispier fried rice. But you can cook 1 cup of uncooked white rice while making the rest of the fried rice. Just be sure you thoroughly rinse the rice before cooking to release excess starch.
Substitutions:
You can substitute cubed ham for the SPAM.
For the cooking oil, you can use any neutral oil such as vegetable oil, canola oil, coconut oil, or avocado oil.
For the veggies, you can use any combination of your favorites, but keep the same measurements. Try carrots, peas, snap peas, green beans, corn, broccoli, cabbage.
Storage: Store in an airtight container in the refrigerator for up to 5 days. You can also freeze fried rice. Store in a freezer safe container in the freezer for up to 1 month. Thaw completely in the refrigerator overnight.
Tried this recipe?
Please leave a star rating and comment! Then snap a pic of your dish and share it on social media. Tag @UrbanBlissLife and #UrbanBlissLife!
Nutrition
Calories:
617
kcal
|
Carbohydrates:
53
g
|
Protein:
21
g
|
Fat:
35
g
|
Saturated Fat:
11
g
|
Polyunsaturated Fat:
8
g
|
Monounsaturated Fat:
15
g
|
Trans Fat:
0.1
g
|
Cholesterol:
142
mg
|
Sodium:
1800
mg
|
Potassium:
679
mg
|
Fiber:
4
g
|
Sugar:
5
g
|
Vitamin A:
5758
IU
|
Vitamin C:
19
mg
|
Calcium:
58
mg
|
Iron:
2
mg
Nutrition information is a general estimate. Actual nutrition details may vary depending on the exact foods & brands you use to make this recipe. It does not take into account any substitutions, toppings, or optional ingredients.