(Content for 21+) Cap off sunny outdoor adventures with a simple summer backyard BBQ! I've partnered with sponsor Line 39 wine to bring you some ideas on how to turn your backyard into an every day celebration zone!
We are in the full swing of summer break here, and we are LOVING this season of sunshine!
In-between work, my family has been trying to make the most of these gorgeous sunny days. Summertime is about relaxing, but also exploring our great state of Oregon. We love berry picking, trips to the farmers markets, hiking at some of our fave beautiful Oregon waterfalls and parks, city trekking, and enjoying wine country.
At the end of an active day, the last thing we want to do is spend hours cooking. So to celebrate a summer day lived well, I love to throw a super easy, healthy, delicious simple backyard BBQ.
What do you serve at a backyard BBQ?

If you want to invite your friends and family over for a fun sunny gathering, definitely check out my tips for throwing the perfect summer soiree. For every day summer dinners, simplicity is key.
But everyday doesn't have to mean boring. If you're wondering what to serve at a backyard BBQ, keep it simple but yummy:
Corn with Basil Lime Butter - the perfect BBQ side dish!

fresh summer berries

crudités, like carrots, radishes, snap peas, and cucumbers

crackers and cheese
None of these dishes require much effort. Plus, they're all affordable for any budget. And, they're also healthy and delicious!
What kind of wine goes with BBQ?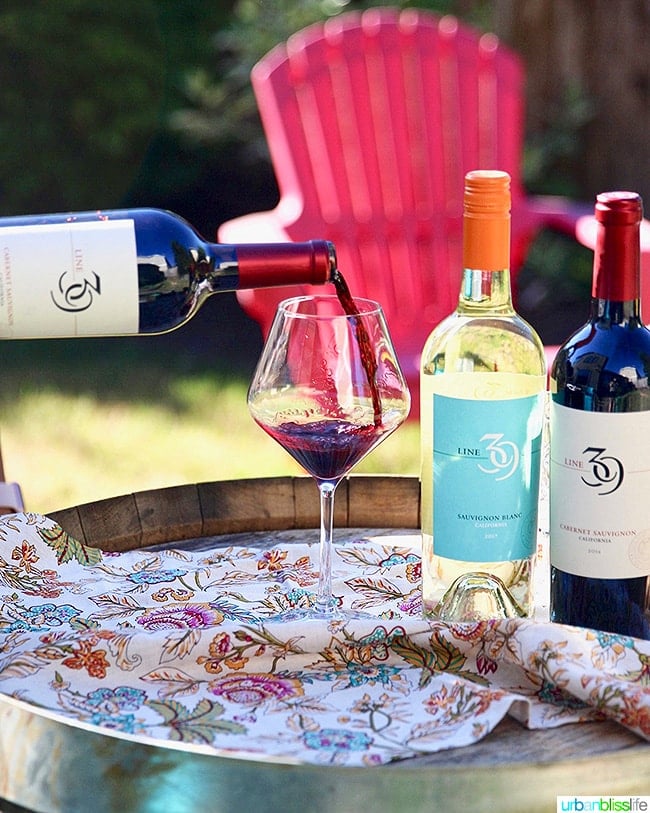 A simple backyard BBQ calls for everyday wines that are delicious and don't break the bank. I recently discovered Line 39 Cabernet Sauvignon and Line 39 Sauvignon Blanc. These two everyday wines are made for these kind of summer dinners!
Line 39 wines have consistently won Best Buy ratings, and can be found around the US for approximately $11 - that's an incredible value for the quality of the wine!
Sauvignon Blanc is an amazing white wine for some of the best side BBQ dishes and appetizers. The Line 39 Sauvignon Blanc is a citrusy wine that pairs well with my Simple Lemon and Herb Grilled Chicken. The crisp, clean finish is cool and refreshing for summer. It's also great paired with fruit salad or fruit parfaits.
If you're looking for a red wine to pair with richer summer BBQ dishes, check out Line 39 Cabernet Sauvignon. With big, bold blackberry, dark cherry, and chocolate flavors, this red wine pairs well with juicy hamburgers, pepper steaks, or even grilled veggies. I enjoyed this summer red with our grilled red peppers and zucchini.
So go ahead and celebrate the magic of everyday summertime. Throw a simple backyard BBQ. Cheers!
PIN IT:
More Summer Backyard BBQ Recipes