Add some tropical taste to your summer salsa with this easy, delicious pineapple mango salsa recipe!
Yesterday, I shared my latest summer grilling love: Grilled Pineapple Chicken.
While the chicken is so flavorful and tender and delicious on its own, I love layering flavors and textures so I made a salsa to go along with it. And what sort of salsa goes with Grilled Pineapple Chicken?
A salsa with MORE pineapple, of course!
Pineapple Mango Salsa
First, let's talk about how delicious and summery this salsa is.
I added tomatoes because it's a traditional salsa ingredient, for added color, and also because it soaks up the lime juice and the garlic and ginger as well as the pineapple does, and the flavor complements tropical fruits so well.
The mango gives you another layer of exotic flavor and the sweetness of the mango helps balance the tartness that can come with the puckery pineapple taste. The ginger, garlic, and cilantro help elevate the salsa and also make it a great pairing for food you're grilling, such as the Grilled Pineapple Chicken.
How do you make Pineapple Mango Salsa?
Now let's discuss just how EASY this pineapple mango salsa is to put together.
Chop the pineapple, mango, tomatoes, garlic, ginger, lime juice, and cilantro. Toss together.
BOOM. Done.
SO ridiculously easy, right? That means you'll have extra time on your hands to fancy up the presentation.
I love using hollowed out fruit that is used in a dish as a serving dish itself. Some fruits lend themselves easily to this: cantaloupe, watermelon, honeydew and, of course, pineapple.
If you want to use the pineapple for the salsa itself, cut the pineapple in half, and then use a knife to carefully cut out the inside without cutting through the sides or bottom of the pineapple. Then you can use the pineapple for the salsa.
When your salsa is ready, simply spoon into the hollowed out pineapple.
What to Serve with this Pineapple Mango Salsa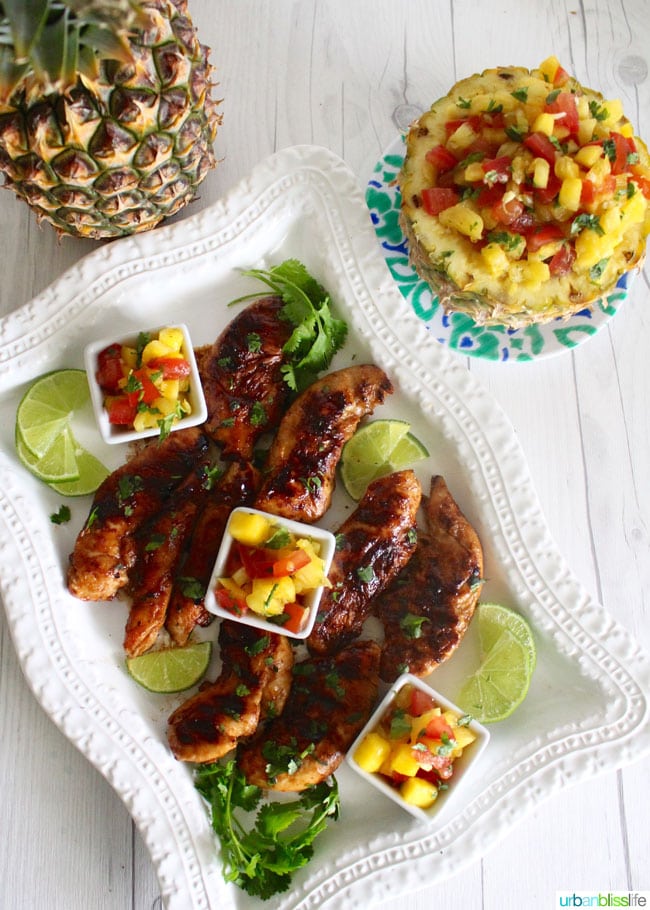 This pineapple mango salsa would go so well with:
Substituted for the slaw in these Teriyaki Turkey Burgers
As a topping for grilled hot dogs
With a simple side of jasmine rice for a light vegetarian meal
On a bed of lettuce as a salad
With plain ol' tortilla chips!
What else would you pair this pineapple salsa with?
Ingredients
2

cups

chopped pineapple

1

chopped mango

2

chopped Roma tomatoes

with seeds removed

1

teaspoon

minced garlic

1

teaspoon

minced ginger

2

teaspoons

lime juice

1

tablespoon

chopped cilantro
Instructions
Combine all ingredients in a large bowl.

Can be made a day ahead and is best refrigerated and used within 3 days.
How Kids Can Help Make This Recipe
Here are some of the tasks that kids can help you with to make this recipe:
With little kids who aren't yet skilled at chopping, you can have them measure out the ingredients as/after you chop them.
Older kids can carefully chop the mango, tomatoes, cilantro, garlic, ginger, and even the pineapple. Be sure to supervise, especially the pineapple, which can be tricky for even adults!
Kids of all ages can help pick the cilantro leaves off the stems and discard the stems, add the lime juice, and they can help toss all ingredients together in a large bowl.