Visiting San Jose, California? Consider a stay at Hotel Valencia Santana Row.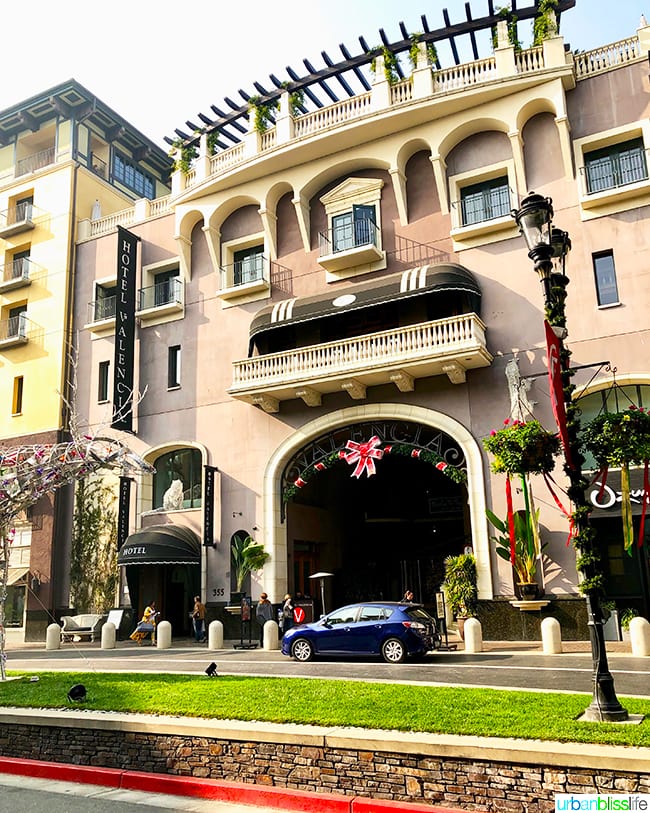 Often referred to as the birthplace of Silicon Valley, the cultural and technological hub of San Jose is the largest city in Northern California.
Recently, I had the chance to get away for a girls' weekend with three dear mom friends to the San Jose area. We ended up staying at Hotel Valencia Santana Row. It turned out to be a nice centrally located hotel for all of our weekend adventures.
If you're looking to stay in the San Jose area, here's a look at some of the main features of Hotel Valencia Santana Row.
How do I get to Hotel Valencia Santana Row?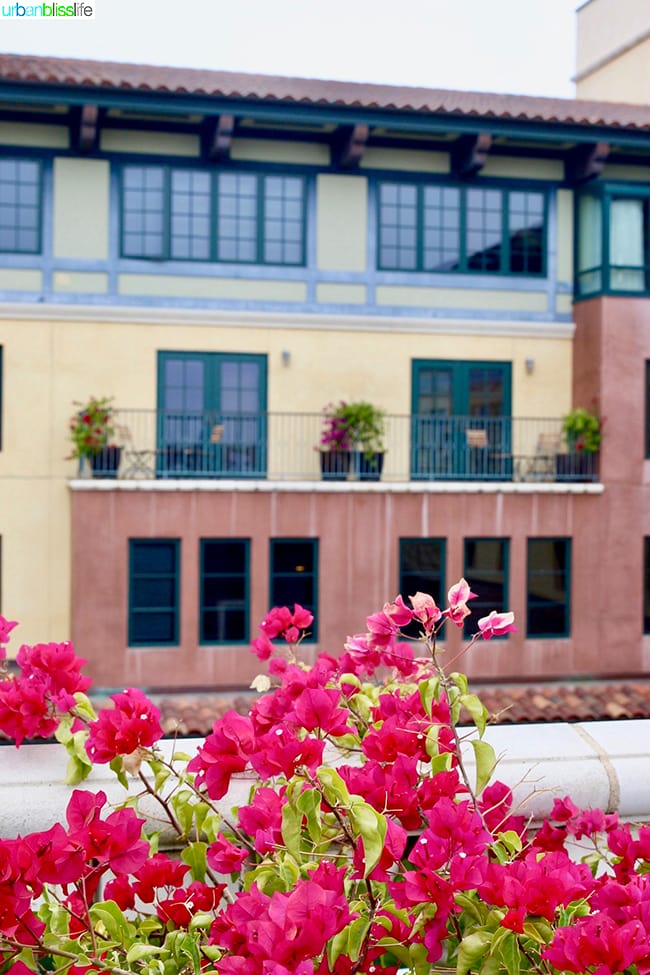 If you are flying to San Jose airport, Hotel Valencia is a short 15-minute drive from the airport. It's also located conveniently close to the freeway exit and entrance.
If you are renting a car, there are also several gas stations within a few blocks, making it convenient to gas up the car and hit the freeway before you head back home.
Hotel Valencia Santana Row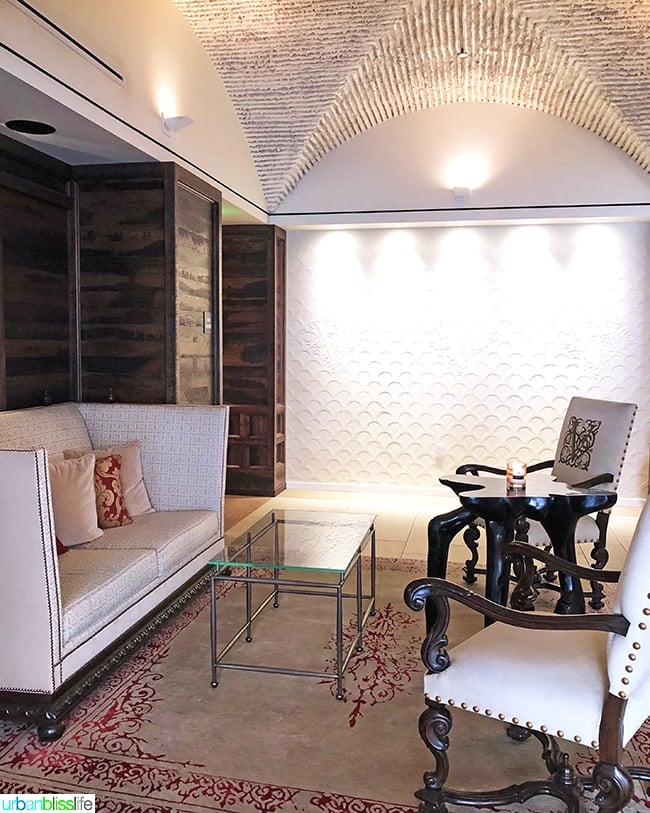 Hotel Valencia is a colorful, sophisticated urban getaway located toward the end of busy shopping and restaurant destination Santana Row. This long promenade features high end retailers such as Anthropologie, Kate Spade, Ted Baker, and Tesla.
You'll also find a wide array of cafes, wine bars, and restaurants on Santana Row. It was so nice to step outside of our comfy hotel and easily walk to the coffee shop, or walk back to the hotel after dinner.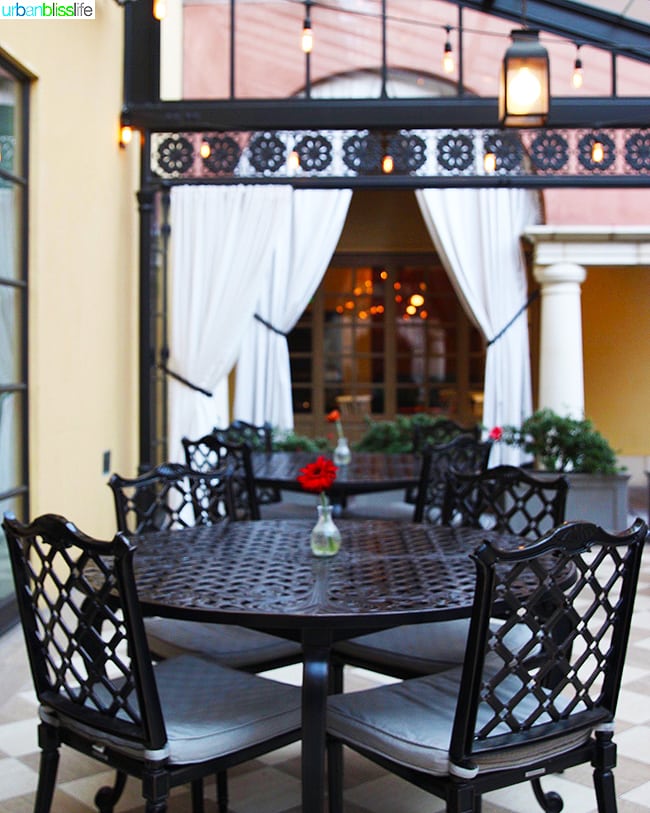 Once inside the hotel, the hustle and bustle of Santana Row slows down to a calm, restful scene. Part of this can be attributed to the fact that the lobby is actually located on the third floor, which helps alleviate ground level noise.
What are the Top Hotel Features & Amenities?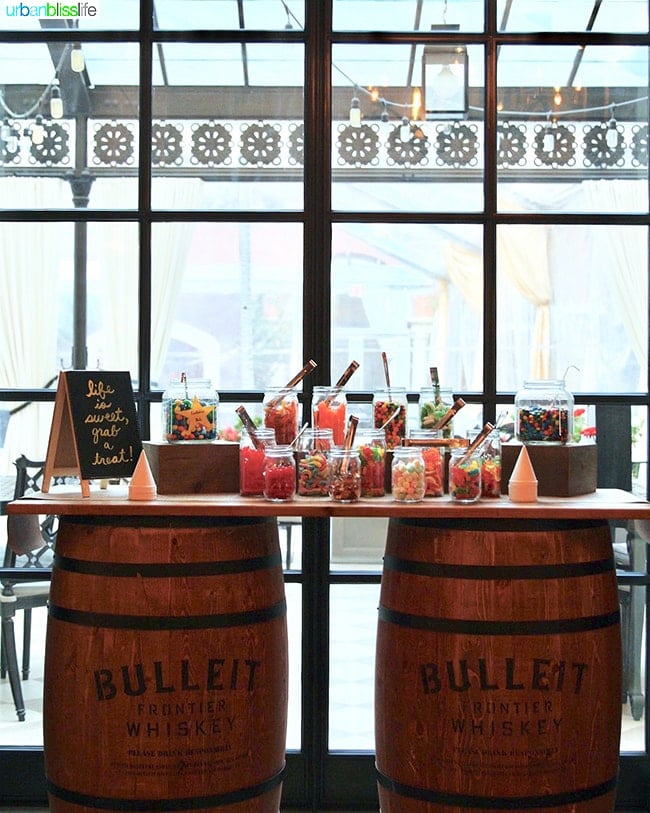 The hotel offers some fun unexpected perks. When we arrived, there was an adorable candy bar brilliantly set up atop Bulleit Whiskey barrels in the lobby as we checked in.
There's interesting artwork throughout the hotel, such as the above photographed wall mural.
I had a chance to enjoy the fitness center one morning, and although compact, there's enough equipment to help you get a full workout for a week's stay. The fitness center has treadmills, an elliptical, universal gym, weights, mirrored walls, yoga mats, and a couple of weight benches. I found the equipment to be clean and well maintained.
And of course, there is a hotel pool.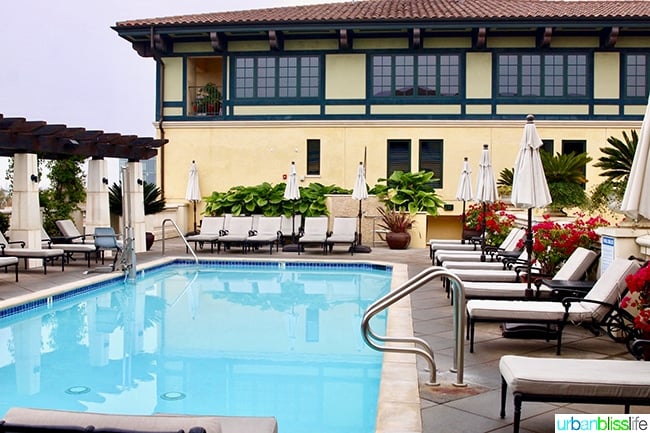 When you're on the rooftop pool, you feel like you're miles away from the city. Even though busy Santana Row is right below you, it's a nice oasis. The rooftop is large, with ample pool chairs for everyone, and there's a small jacuzzi next to the pool.
Hotel Valencia Santana Row Rooms & Suites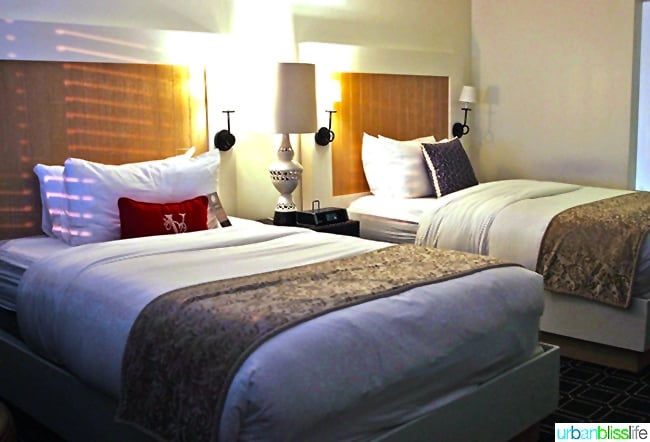 Hotel Valencia Santana Row offers guests a variety of rooms and suites to meet your travel needs. We stayed in double bed guest rooms, which, at 350 square feet, were spacious enough for two of us in each room.
The rooms are tastefully decorated and have comfortable beds and a corner armchair with ottoman. We had ample room for our clothes, the Wi-Fi was decent (you can pay more for premium Wi-Fi), and the bathrooms are nicely done.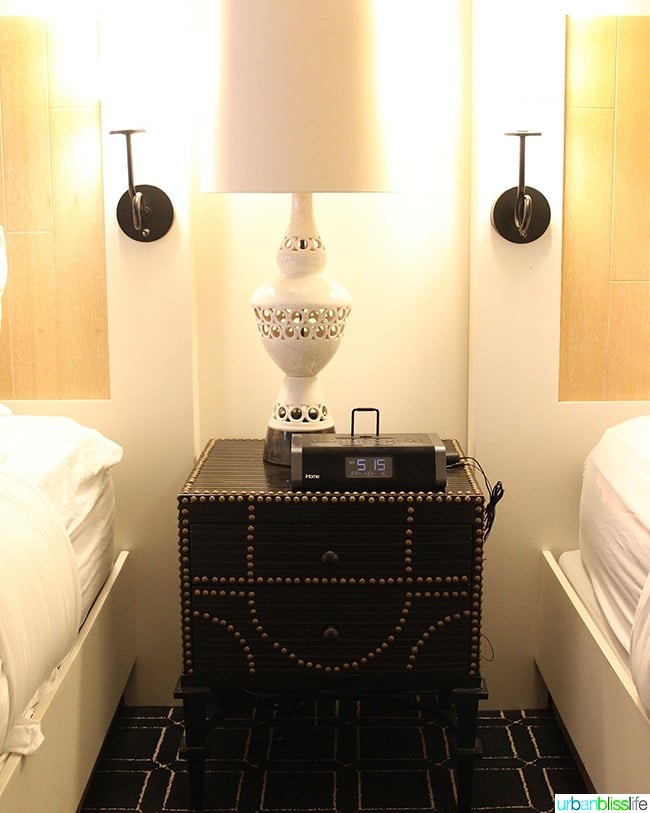 If you are here for a romantic getaway or traveling with young children, you should know that the walls are rather thin. There were a couple of birthday parties staying at the hotel at the same time, and we could hear the drunken girls as they ran up and down our hallway at night.
If you are looking for larger accommodations, consider one of the guest suites. There is also a Presidential Suite which is available upon request. It's perfect if you're staying here for a special occasion, or if you're just fancy like that.
What are the hotel dining options?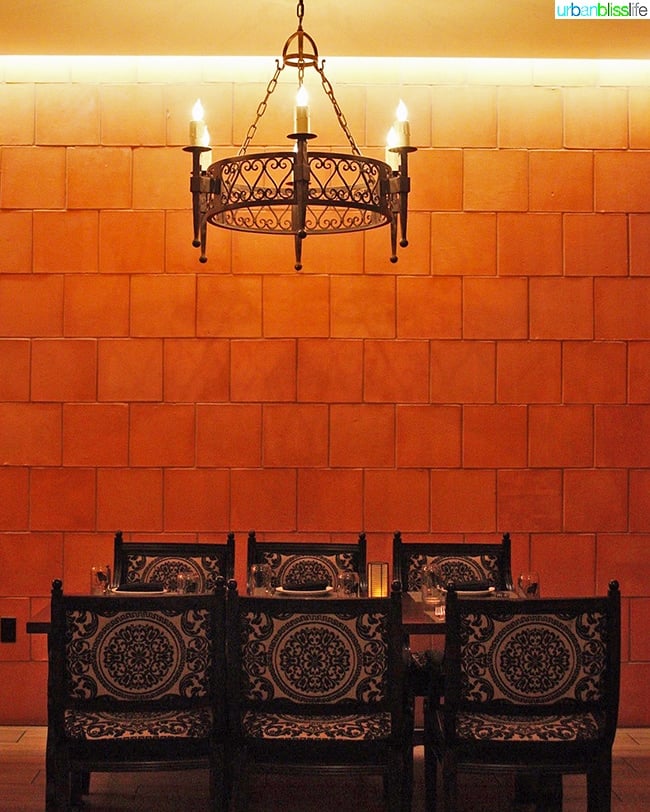 Hotel Valencia Santana Row has one full restaurant on-site, Oveja Negra, a tapas restaurant.There are also three other dining options at the hotel - a terrace wine bar, rooftop terrace and bar, and a lounge - but we didn't see them during our stay.
On our first night, we enjoyed dinner at Oveja Negra.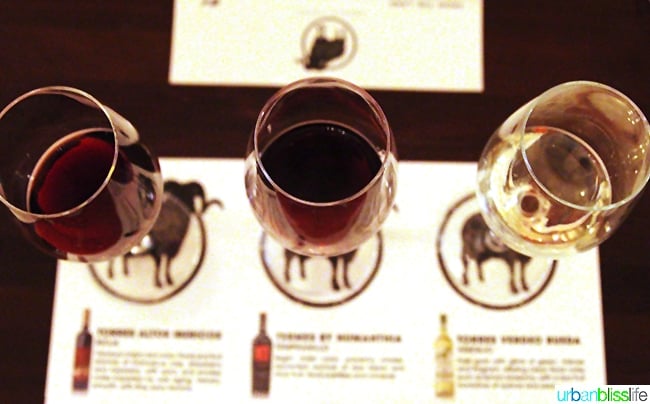 I ordered the Spanish wine flight, and absolutely adored two of the three wine pours. I love when wine flights come with descriptions of each wine listed on a flight tray.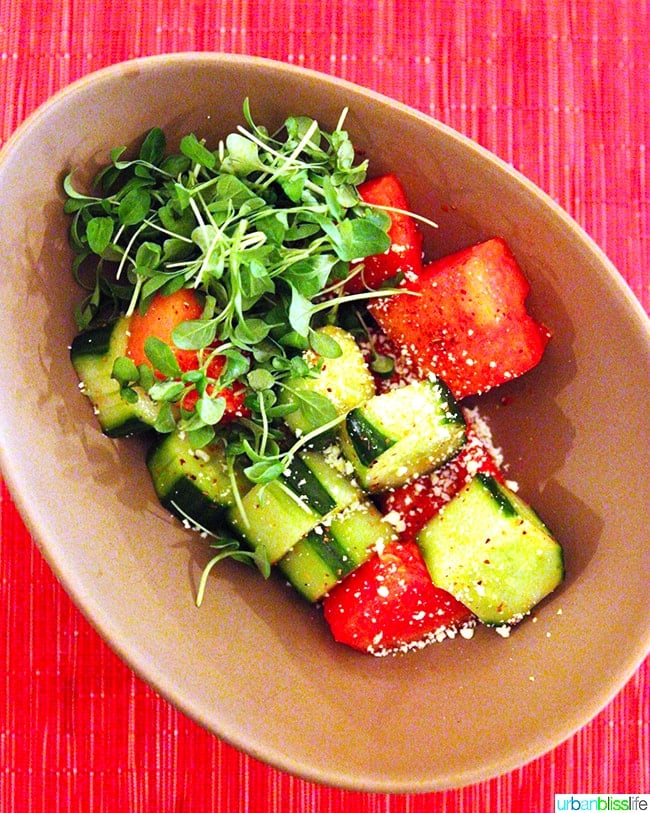 For dinner, we each ordered entrees and also shared a couple of salads. The salads were lovely. I highly recommend the Brussels Sprouts salad ($10).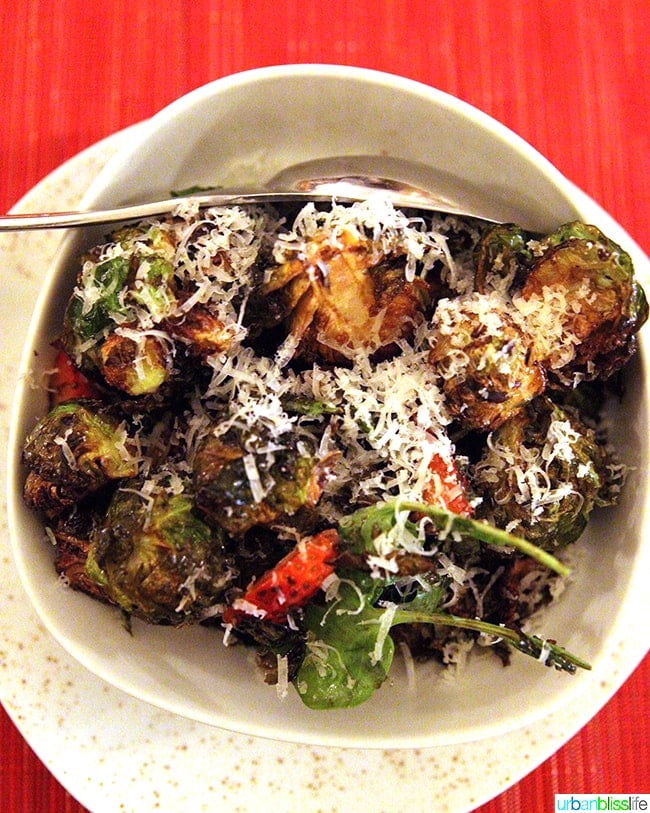 For main entrees, I recommend the Tiger Prawns. At $22, it's a bit pricey for the size of the dish. However, the prawns were beautifully prepared, served in a coconut broth with asparagus and carrots.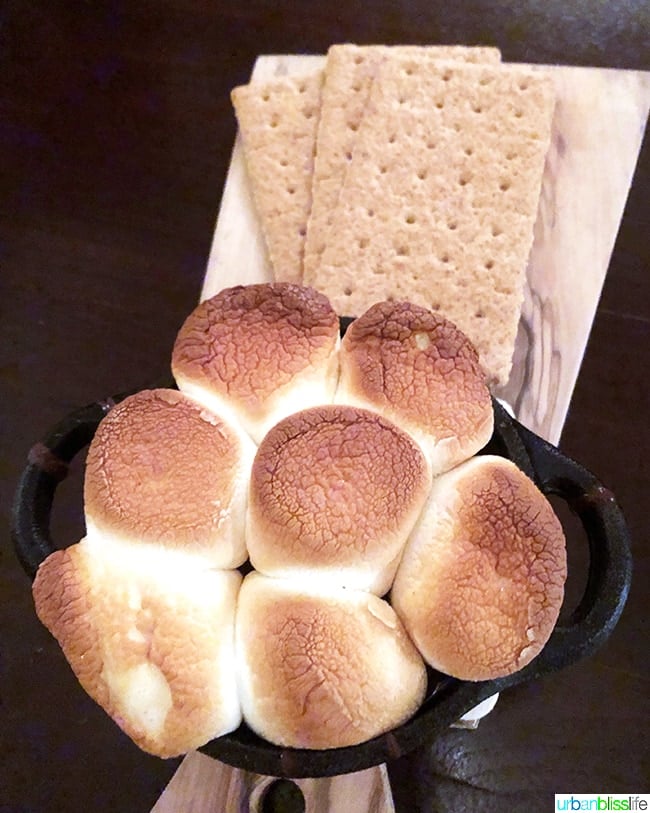 Desserts are not to be missed here. I recommend the Churros, which are served with scoops of vanilla ice cream. The skillet s'mores dessert was also delightful.
Is breakfast included with hotel stay?
For hotel guests, a complimentary continental breakfast is served daily in the same Oveja Negra space. Non-hotel guests are charged $18 for continental breakfast.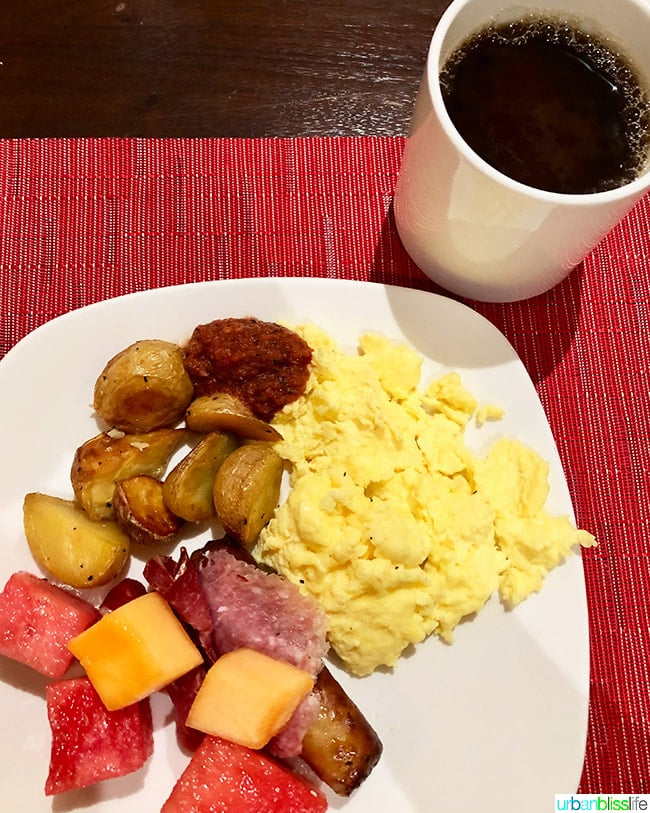 The breakfast is admirable for a hotel continental breakfast. In addition to the usual cereals, oatmeal, pastries, and fruit, there are also several hot food options. During our stay, these included scrambled eggs, sausage, bacon, breakfast potatoes, and more.
Should I stay at Hotel Valencia Santana Row?
If you are traveling to the San Jose, California area, Hotel Valencia Santana Row is a great place to stay. Especially if you are also visiting cities such as San Jose, Santa Clara, Livermore, Santa Cruz, Capitola, etc. The close proximity to the San Jose airport is fantastic.
The fact that it's on Santana Row is a plus for a girls' getaway weekend or other personal trips. I love how easy it was to head on down to so many awesome shops, restaurants, and bars.
As a luxury hotel, standardroom rates can range from approximately $325 - $425 a night, depending on the season and availability.
Book Your Stay at Hotel Valencia Santana Row
355 Santana Row
San Jose, CA 95128
Book Reservations: 855.596.3396

Hotel Valencia is part of the Valencia Hotel Group, based in Houston, Texas. The company's collection of hotels can be found throughout Texas. Hotel Valencia Santana Row currently is the only hotel in the portfolio located outside of Texas.
What time is check-in and check-out?
Check-in time: 3:00 pm
Check-out time: 12:00 pm
Can I bring my pet to this hotel?
Unfortunately, Hotel Valencia Santana Row does not allow pets.
Visit the Hotel Valencia Santana Row website for more details. Interested in researching more San Jose lodging options? Plan your San Jose trip here.

More California travel ideas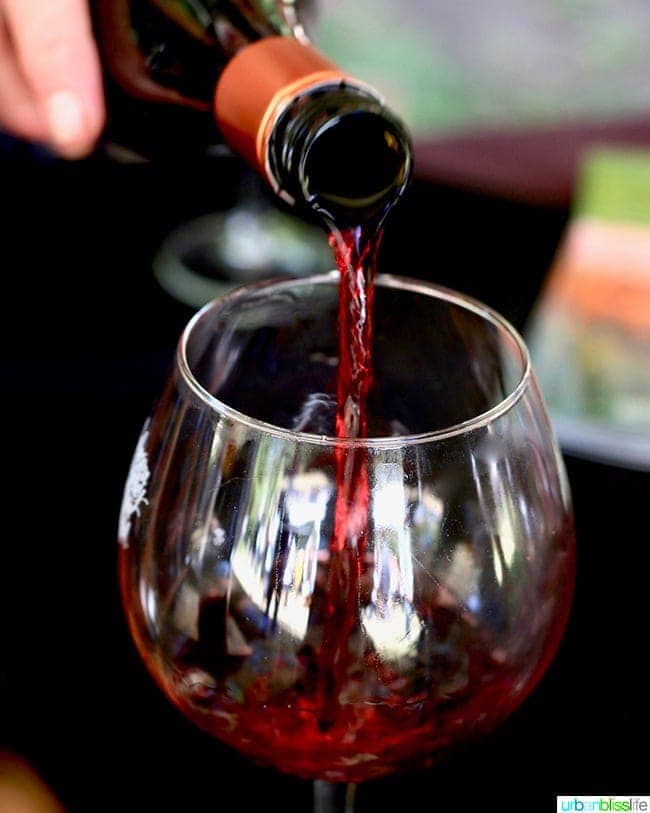 Wine Tasting in Anderson Valley, California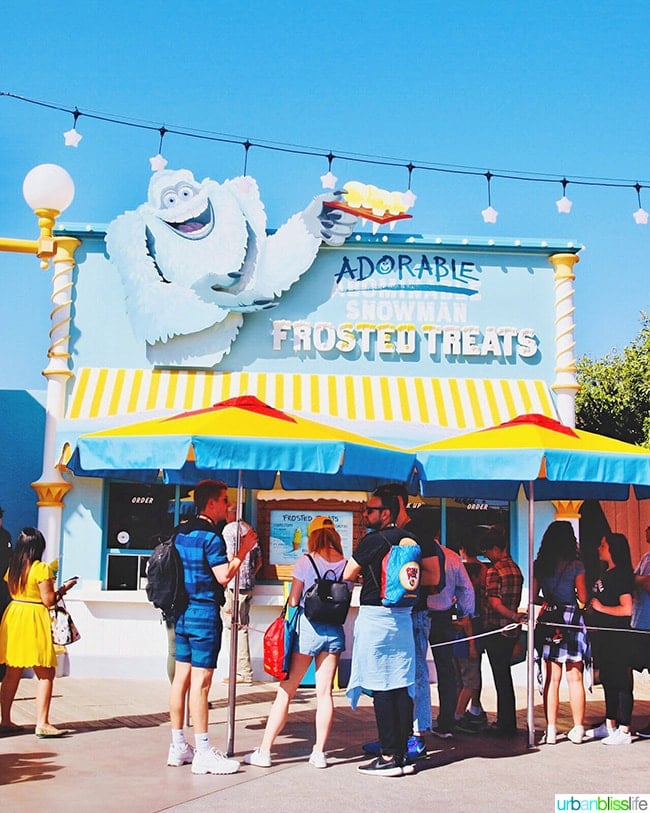 What to Eat in Disneyland's Pixar Pier
Where to Stay in Mendocino County: The Madrones
Disclosure: Our rooms were complimentary as part of a media stay to experience the hotel. As always, all opinions and photos are my own. I'd totally stay here again!